India and China had established diplomatic relations 70 years ago. 2020 saw the firing of shots for the first time in over 40 years. Even though disagreements between the two sides are not unusual, border disputes do pose a challenge for the security of both countries. Furthermore, it could have consequences for their economic relations. This paper tries to look at the recent face-off between the two states and explores the options India has in the times to come.
The India-China war took place in 1962, when Indian and Chinese troops fought over the Himalayan territory of Aksai Chin which is situated between Tibet, Xinjiang and Ladakh. At that time, India deployed its troops along the border, but China's strategy was to launch an all-out attack. The Chinese position was that they should have sovereignty over the territory they were fighting for. India in response had a defensive strategy and they lacked sufficient weaponry and personnel. Consequently, they suffered heavy casualties. The war ended when China announced a unilateral ceasefire on 21stNovember 1962.
Since then, Both India and China have made strides in bolstering their respective capabilities. However, China's growth has been faster and it has managed to outpace India both economically and militarily. China's per capita income in 1980 was even lower than that of India, but today it is almost four times higher. China has registered the biggest gains in its GDP share in the global economy in the last 20 years. The gap between the US and China is also closing fast. In 1999 the global GDP share of the US was 31% and that of China was a mere 1.8%. In 2020, the US GDP share is 23.6% and that of China is 15.5%.Hence, in terms of economic strength, no other country matches US and China or even comes close to either of them. It is this transformation that has made China aspire to be the world's second superpower. It appears that these are early times of the concretization of a bipolar world. This new power dynamics could have serious implications for the countries of the world.

Against this backdrop, India needs to figure out where it stands vis-a-vis China. Its efforts at cultivating China and keeping it pacified appear to have failed for now. China being a global player has a grand strategy and its latest moves at the LAC (Line of Actual Control) between Indian and China are a part of creating a new template for Sino-Indian relations. Clashes between troops of both countries have occurred regularly along the contested border, but this is the first deadly one in the last 45 years. In remote Tibet, ominously high above the Indian plains lies the source of the Brahmaputra, the Indus and other important rivers. The dams China has built and those it plans to construct in future, could pose an existential risk to hundreds of millions living downstream. The Brahmaputra is in great danger. In 2013, China launched a project to build six dams on the Lhasa River, which is one of its tributaries. The project, once completed, will convert the river into a series of artificial lakes. This would cause devastating damage to Tibet's environment and significantly limit water supply for downstream countries. As it did in 2017, water could again be used as a weapon by China. It could refuse to release water when India needs it, aggravating droughts. It could also release water during rainy seasons and cause dreadful floods. Geopolitically, these dams are weapons that give China an edge against its neighbours.
Many believe that India and China, the two nuclear-armed neighbours could not possibly go to war. The threat of uncontainable escalation is appalling. If one looks at their respective economic strength, India's per capita GDP is a little more than $2,104, while China's is a bit above $10,261. When it comes to defence, India's budget this year is about $66 billion while China's is almost $179 billion. Moreover, in terms of what in China is called its Comprehensive National Power (CNP), which incorporates scientific and technological power and human capital formation, China far outflanks India. In a long war, Chinese economic might, industrial production and defence superiority would guarantee massive advantage.

Why is China miffed?

There could be various explanations as to why China decided to act now at the disputed Sino-Indian border, which stretches some 3,500 km (2,175 miles). It was the first time in 45 years that shots were fired at the border. Both countries had agreed in 1996 not to use guns and explosives near the border so that any conflict there could be managed short of a hot war. However, some actions in the recent past by the Indian side seem to have irked China.

First, China has always been sensitive about Tibet, Aksai Chin and its border with India since the days of Mao Zedong and Zhou Enlai. In 1962, some in China claim to have taught India a lesson after it refused to back down on its forward policy and turned down its boundary deal. Last year, by a Constitutional amendment, India downgraded Article 370 of Its Constitution which had hitherto granted special status to the state of Jammu and Kashmir. New Delhi also carved out a new union territory of Ladakh. China was unhappy with these actions of India. Official Indian maps show Pakistani-held Gilgit and Baltistan as well as China-held Aksai Chin to be a part of Ladakh.
Second, India has built the world's highest airfield at Daulat Beg Oldi. Long back this was an old campsite on the base of the strategic Karakoram Pass that led to the Tarim Basin in southern Xinjiang. It lies on the legendary Silk Route through which travellers moved on their journeys from Beijing to Constantinople. Located at 5,065 meters above sea level, this airfield is close to Siachen Glacier, where Indian and Pakistani troops face off. India has also built the 255-kilometer Darbuk-Shyok-Daulat Beg Oldie road that offers it far better access to the LAC. Some experts believe that it is India's forward-moving posture in the LAC area that has peeved the Chinese.

Moreover, the LAC, has different connotations across the Western (Eastern Ladakh), Central (Himachal Pradesh and Uttarakhand), and Eastern (Sikkim, Arunachal) Sectors. In the Western Sector, the Indian claim line includes the whole of Aksai Chin and is based on the 1865 Johnson Line, while the Chinese had generally accepted the 1899 Macartney-McDonald Line along the Laktsang range till East of Karakoram Pass. After 1962, the Chinese have come further ahead. In the Central Sector, the boundary lies along the watershed has limited claims by China, while the Eastern Sector has the famous Macmahon line dividing Tibet and British India. It is drawn on a very small-scale map, with no clear definition, except that it follows the watershed, based on the 1914 Shimla Agreement between British India, Tibet, and China. After the annexation of Tibet by China in 1950, it has refused to accept the treaty the Qing dynasty had signed with the British in 1914. Hence, the fact remains that the LAC had neither been correctly defined nor segregated, even during British times. Thus it suffers from a weakness of differing perceptions of the LAC by both India and China.  These disputes have become increasingly difficult to contain in recent years. An exercise to clarify the LAC by the two countries could not take off in the early 2000s. The main region of disagreement was the Western sector where the Chinese did not agree to the Indian maps.
Third, India opposed the BRI (Belt and Road initiative) last year on the grounds of territorial sovereignty. The Doklam confrontation in 2017 occurred when India did not attend the first BRI summit earlier that year. In 2019, India joined the US in categorically opposing BRI. This raised many eyebrows in Beijing. Chinese have also taken umbrage at BJP MPs Meenakshi Lekhi and Rahul Kaswan's "virtual participation" in the swearing-in ceremony of Taiwan's President Tsai Ing-wen.

Fourth, India has questioned China's concealment of information and its role in the global spread of the COVID-19 pandemic. India's stand and statements on the pandemic have annoyed China.

Fifth, India has been pressing for moving manufacturing away from China in the post-COVID-19 world. It has made a big noise about a higher trust factor in India. India claims to be a democracy with a free press where investments would have a lower long-term risk. China is particularly sensitive to this argument.

Finally, some analysts argue that China's Xi Jinping was trying to divert attention from his handling of the Covid-19 fallout. He might also have been trying to ease domestic pressures. He might have even calculated that at the time when all countries were busy fighting Covid-19; it was perhaps a better time to take advantage of their divided attention.

Opinion in China:
Positions in China are divided to the extent that some people in China are strongly critical of Chairman Mao for his handling of the 1962 war with India. They call Mao a national sinner because China did not gain control over southern Tibet at that time.
There is a view among China's strategic community that China-India relations hold no great prospect in the current international situation. Zhang Jiadong, director of South Asian Studies Center of Fudan University rules out any possibility of a negotiated settlement of the border dispute in the near future. India, he argues, is already a quasi-ally of the United States and there is no way China can thwart further intensity in US-India relations. Hence, violent conflicts are predicted to be the new normal in China-India ties.
Some experts in China argue that China should prepare for simultaneous war-like situations on both fronts – with the PLA Navy, Air Force, and Marine Corps focusing on the eastern front, and the Chinese army concentrating on the western front with. Sui snow Mongolia of the School of International Studies, Renmin University of China maintains that they take inspiration from India on this matter, arguing that "Isn't India preparing on two fronts all the time? Why can't we fight on two fronts?"
A Chinese military expert Li Jie argued in Huanqiushibao, that by aggressive actions the Indian side is giving indication that if an irrepressible conflict occurs on the land between China and India on the border, it may choose to retaliate against China at sea by aiming at China's oil and gas transport vessels, thereby, urging the Chinese government to take proper countermeasures to deal with the disturbances at the sea.
Lin Minwang, a prominent expert from Fudan University, agrees that American political support is crucial to India's toughened stance against China. He further notes that since the outbreak of the epidemic, India and the United States have maintained close communication. India is now more anti-China than many of the other US allies. Lin argues that from the foreign policy of the Indian government it is now very clear that India has decided to stand with the United States in the great power competition.
Another argument is that the recent conflict is intended to sidetrack Indian public opinion, given the worsening COVID situation in the country and the sinking economy and create nationalistic fervor to bring together the people against China.
India's Options:
Against this backdrop one needs to see what are the options for India in the near term?
First, India needs to modernize its military and bolster its security. It does not need to put all its eggs in the American basket by assuming that the US will come to its help when it is threatened by China. Since all countries are guided by their national interests and so is the US, therefore, its support would be only to the extent it serves the US interest. Beyond it, India will have to fend for itself. Hence, the basic way of seeking security is to build deterrence capacity on its own. This however, appears to be a tall order in the immediate context, given the fragile condition of the Indian economy and its negative growth. However, it needs to be given top priority in the times ahead. At present, India has not articulated in definite terms the threats emanating from China as it still is not very sure about the extent of American assistance in restraining China. India is conscious of the domestic compulsions of the US and its limitations in backing India to the end. Moreover, there would be uncertainty in US politics till a new administration takes office in Washington. Picking a fight with China, therefore, is not the wisest strategy; obfuscating the exact nature of the China threat is indeed a much better strategy.

Second, India needs to get more active in arrangements like the Quad Security Dialogue. It may gain traction if all these countries make sincere efforts, as all of them have a common claim of being democratic countries and have common interests of unobstructed maritime trade and security. Quad underlines the rising importance of maritime geopolitics in an increasingly integrated world. Economically, the strategy is viewed as an answer to China's Belt and Road Initiative, which is instituting a China-centric trade route. However, India needs to tread carefully and not be taken in by the enthusiastic support which the others are offering India to contain China. Our actions in this group should be cautious and limited by our abiding national interest. We are the only ones sharing a long boundary with China and we have to live with this for all times.

Third, the government of India should not be guided by the aggressive nationalistic rhetoric, which has been mainstreamed in India by the party in power at the Federal level. The government needs to make a distinction between its domestic politics – where it might need to employ such a tactic- with international politics, where India needs to have a long term strategy. It needs to appreciate that China is a rising power with claims to superpower status. Understanding the consequences of a confrontation, India needs to tread carefully and avoid a skirmish with China in every possible way. However, it needs to continuously work on bolstering its deterrence capability.
India also needs to engage with China more meaningfully. China had been told, during the recent talks in Moscow, that its frontline troops were engaged in provocative behaviour and had disregarded bilateral agreements and protocols. It was also emphasised that the Indian troops had scrupulously followed all agreements and protocols pertaining to the border areas. In Moscow, the Foreign Ministers of both countries agreed on a five-point plan to deescalate the situation and thwart any unpleasant incident in the future.
 
Beijing's position is that New Delhi should meet it halfway, which is seen as an indication that India accepts the new Chinese claim lines. New Delhi has maintained that Chinese troops should move back to the pre-April 2020 position. Such an engagement would help India to limit the damage from Chinese incursions and to ensure that such unilateral aggressive behaviour from China is avoided in future.

Finally, in international politics, a country can choose its friends but she cannot choose its neighbours. China is a neighbour, sharing a boundary of thousands of kilometres with India. Since they have to live with China, Indian strategic planners need to do some out of the box thinking. They can even think of looking at China differently, not necessarily as an adversary but a potential partner. It cannot be denied that India's efforts at cultivating China till now have not borne much fruits, but India needs to think about its own missteps in engaging with China and stop harping on the same old line of playing a victim of Chinese betrayal. India would have nothing to lose if it invests more in this option. It is possible to engage constructively with both the US and China; India does not necessarily need to take sides between the two. We need not be over-excited with the sudden outburst of affection from the US. It is nobody's case that we should ignore the American overtures, but we need to have our feet firmly planted on the ground.
Notwithstanding age-old border tensions, India and China have considerable multilateral cooperation, mainly through alternate global institutions created over the last several years. The BRICS, including Brazil, Russia, India, China, and South Africa; the Asian Infrastructure Investment Bank (AIIB), in which India is the second-largest capital contributor; the New Development Bank; and the Shanghai Cooperation Organization, have all been platforms for cooperation regardless of the countries' continuous security competition. Hence, in today's world of interdependence, for India to totally cut off its entire links with China is neither possible nor desirable. We should bear in mind that China is India's primary trading partner with annual trade worth $92 billion.
However, China's periodic assertions complicate issues. For example, its recent contention that it abides by the LAC as proposed by Premier Zhou Enlai has complicated the border row in eastern Ladakh, and called into question Beijing's intention to restore status quo ante of early April and de-escalate the conflict. Basically they confirm that the old Confidence Building Measures Regime inaugurated by the Border Peace and Tranquility Agreement of 1993 is no longer valid. In the wake of the 15 June Galwan incident, India had decided to be pro-active in its engagement with Chinese troops. Defence Minister Rajnath Singh had given go ahead to the army to deal with China to protect Indian territory. Hence engaging China constructively is something which is easier said than done.
On the other side, to deal with a resurgent India, Chinese hardliners suggest a policy of "three nos": no weakness, no concession and no defensive defence. It means, China should take all openings to crack down on India, and have the enterprise to hit it hard whenever possible. This, it is maintained, will not dent China-India relations; on the converse, it will lend it more stability.
China also intends at conveying a message to the international community. Allen Carlson, director of Cornell University's China and Asia Pacific Studies program, argued that they are demonstrating to the global audience that China is no longer a reactive player on the world stage, it intends to be proactive, and more direct in achieving what are viewed as the country's core national interests.

Someanalysts say that these developments are a consequence of India's irresponsible posturing. But then India did something that irritated China. A few months after Modi won a landslide election, his Home Minister, Amit Shah vowed to take back Ahsai Chin. During a speech in Parliament about the disputed region of Kashmir, Mr. Shah declared that Aksai Chin and all of Kashmir was an inalienable part of India and it would go to any extent to regain it.
International Concern:
This ongoing conflict between India and China has elicited attention from other powers in the world. China's aggressiveness in pushing a brash narrative through 'Wolf Warrior' diplomacy has raised alarm bells in other countries of the world. Two prominent proponents of this are Hua Chunying and Zhao Lijian, top spokespeople at China's Foreign Ministry. China has shown extreme anxiety to show its might from the Western Pacific to Eastern Ladakh. The Americans consider it as a challenge to their ascendancy in world politics. Hence, there is the new emphasis on the Quad to contain China. The visit of high-level US officials to India just on the eve of US presidential elections, was to convey to New Delhi the urgency which the US attached to this issue and that it stands with India to respond to China's hegemonic plans.
The recent Indo-US 2+2 meeting and theinking of four foundational agreements between India and USA are indicative of India and the US getting closer. In addition, the Malabar military exercises where Australia participated for the first time pointed towards the fact that Quad is progressively getting more militarised. Under the US-India Exchange Memorandum of Agreement (LEMOA) huge amount of military equipment from the USA has already been delivered to Indian troops who are manning the borders in Ladakh. The US knows it.
Way ahead:
India is determined not to let the situation congeal into a status quo. Even though officially it has taken an indistinct stand, declaring that the Chinese were not in occupation of any Indian territory, the fact is that the Chinese have occupied some 1,000 sq kms of the grey zone in Depsang, Galwan, Gogra and Pangong Tso. The Indian plan now is to press the Chinese to the point where they are willing to return to status quo ante as of April in these areas. However, this is a loaded strategy, and any of these incidents could escalate to a wider skirmish with consequences neither side may intend.
Nonetheless, if relations continue to worsen over territorial boundaries and the border issues remains unsettled, this could have consequences for the future of relationship between both these countries. Furthermore, India should tread with caution as countries in the neighbourhood are becoming increasingly more accommodative of China.
A pig in a poke of Lithuanian Armed Forces
The proverb "a chain is only as strong as its weakest link" perfectly reflects the situation in the Lithuanian armed forces. It is it unclear how the army will carry out its tasks, if everything that happens there runs counter to common sense.
The conscription took place in Lithuania. The recruits once again were revealed by an electronic lottery on January 7, 2021. 3,828 recruits were selected from the list of 38 thousand conscripts aged 18 to 23.
The idea of using electronic lottery in such a serious procedure arises a lot of questions among Lithuanians. Young people are suspicious of this method and fully admit the possibility of corruption. Nobody could check the results and so nobody could be blamed for random selection. The more so, the armed forces could get weaker recruits than in case of using usual ways of choosing among candidates. So, the army buys a pig in a poke.
This approach to recruitment in Lithuania results in presence of those with criminal intents and inclinations. Сases of crimes committed by Lithuanian military personnel have increased. Incidents with the involvement of military regularly occurred in Lithuania in 2020.
Thus, a soldier of the Lithuanian army was detained in Jurbarkas in October. He was driving under the influence of alcohol. A Lithuanian soldier suspected of drunk driving was detained also in Siauliai in December. Panevėžys County Chief Police Commissariat was looking for a soldier who deserted from the Lithuanian Armed Forces and so forth.
Such behaviour poses serious risks to public safety and leads to loss of confidence in the Lithuanian army in society.
Lithuanian military officials have chosen a new way to discourage young people from serving in the army, which is already not popular.
"The road to hell is paved with good intentions." The ministry of defence decided to run a photo contest that would reflect service in the country's armed forces. It is doubtful that such pictures will attract to the army, but the real situation is provided.
Usually, popularization is the act of making something attractive to the general public. This contest served the opposite goal. Look at the pictures and make conclusions.
Fatah-1: A New Security and Technological Development About Pakistan's Indigenous GMLRS
Islamabad: It seems like 2021 has been a good start for Pakistan specifically with regard to stepping up its missile testing. On the 7th of January, the Pakistan military has successfully conducted a purely indigenously developed missile test flight known to be Fatah-1. As stated by various reports, Fatah-1 is an extended-range Guided Multi-Launch Rocket System (GMLRS) which itself is a developed variant of the guided MLRS family.
According to the recent statement given by the Inter-Services Public Relations (ISPR) about the newly developed rocket, it was stated: "The weapon system will give Pakistan Army capability of a precision target deep in the enemy territory." Director-General of Pakistan Army, Media Wing, major general Babar Iftikhar on 7th January tweeted: "Pakistan today conducted a successful; test flight of indigenously developed Fatah-1, Guided Multi Launch Rocket System, capable of delivering a conventional Warhead up to a range of 140 km."
Defense analyst Mr. Syed Muhammad Ali also stated in his capacity: "the new system was very fast, accurate, survivable, and difficult to intercept". A video was also shared by ISPR on their official website, in which the missile launch can be seen while being fired from the launcher however, the details on when and where the test flight has taken place, along with the specification of the rocket system are yet to be announced.
Currently, Pakistan Army owns a wide range of Short-Range Ballistic Missiles (SRBM), Medium-Range Ballistic Missiles (MRBM), Battlefield Ballistic Missiles (BBM), Rocket Artillery, and Surface to Surface Cruise Missile (SSCM). In the previous year, Pakistan had also maintained prime success in conducting the Ra'ad-II cruise missile and Ghaznavi surface-to-surface ballistic missile (SSBM). Besides, Pakistan Air Force (PAF) on 30thDecember made apt progress when it comes to the national air defense arsenal as it was announced that PAF is beginning the production of the State-of-the-art JF-17 Thunder Block 3 fighter jets, at the same time acquiring the 14 dual-seat Jf-17 aircraft.
According to various reports, the JF-17 Thunder Block 3 will be said to have a new radar operational capability which will be far better in the practical domain as compared to the Raphael aircraft acquired by India. Whereas, the exchange of 14 dual-seat aircraft, manufactured with Pak-China cooperation were also given to the PAF which will be used for extensive training.
The recent successful testing of Fatah-1 has been considered to be another milestone for Pakistan as it tends to be a fitting response to the recent developments in the conventional capabilities carried out by India and also to India's Cold Start Doctrine.
Aspects of the American maritime strategy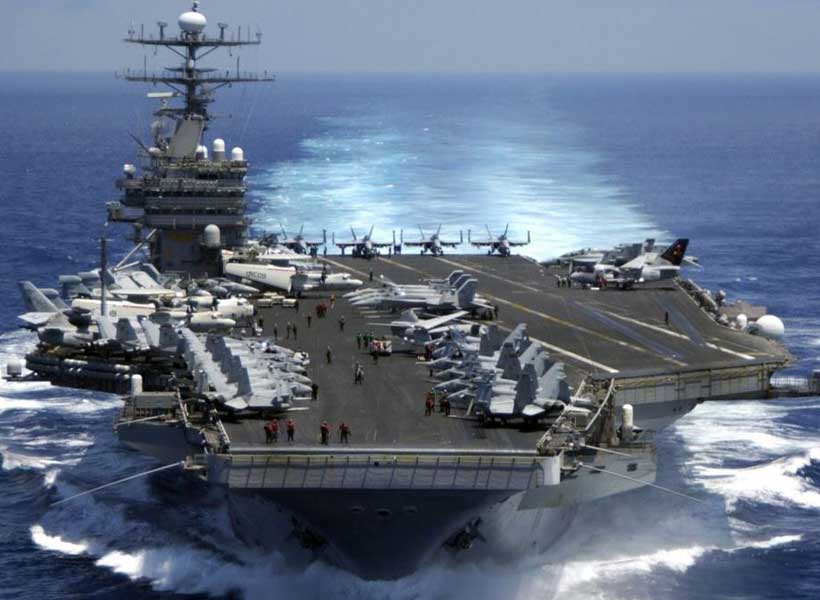 Let's start from a premise that should be completely obvious from a strategic point of view: Any maritime strategy, whether the English one – from the eighteenth century to the Second World War – or the American one, is necessarily a long-term strategy and therefore requires long-term investments by looking for where it is possible to anticipate future challenges. We think in this regard of the nuclear aircraft carriers of the Gerald Ford class whose first series should be put into place next year. If the United States has decided to invest substantial resources in the context of the projection of maritime power this depends on the need to consolidate its naval power, consolidation possible both thanks to the economic and financial power they have at least until today and thanks to technological innovation. (let's think both of the fact for example that the USA is the only nation that builds catapults for flat deck aircraft carriers and to the fact that with the new class of Ford aircraft carriers the Navy will equip itself with electromagnetic catapults that will be able to increase by about one third the current capabilities of the catapults).
Of course, such large investments on the aircraft carrier front are certainly not accidental since these play a fundamental role of traditional deterrence – both in the sense of being able to threaten armed intervention in the event of a crisis – and of nuclear deterrence as long as the aircraft departing from the aircraft carriers being equipped with nuclear weapons, albeit with low potential, they play a very important deterrent role. In short, the aircraft carrier allows the use of gradual or flexible deterrence.
But in order for the US naval power to be effectively consolidated – especially in the context of the Indo-Pacific and therefore as a function of anti-Chinese containment – today as yesterday (we allude to the cold war) the American military infrastructures present in key strategic junctions on a global level allows it to exercise its naval power effectively: the strengthening of the military partnership with Japan, South Korea, Taiwan and the Philippines must be read just as a renewed interest on the part of the American in the fundamental role of naval power. all these reasons together can only lead us to define the United States as a real modern thalassocracy.
It is no coincidence, on the other hand, that the Obama administration has turned its attention to East and South Asia starting from the realization that the future of the world is at stake in these geopolitical contexts.
In fact, on the front of economic competition with China, the Trans-Pacific Partnership (TPP) was signed in 2016, a treaty to which – among others – Brunei, Japan, Malaysia, Singapore, Vietnam, excluding China. Barack Obama has spelled out his foreign policy program, called The Obama Doctrine, rejecting isolationism and supporting multilateralism. In other words Obama has explicitly pursued the tradition of realism embodied by "senior" Bush and by Scowcroft military interventions, too often supported by the State Department, the Pentagon, and think tanks, should only be used where America is under imminent and direct threat. In an environment where the greatest dangers are now climate, financial or nuclear, it is up to US allies to shoulder their share of the common burden. While agreeing that the relationship with China will be the most critical of all, his political program emphasizes that everything will depend on Beijing's ability to take on its international responsibilities in a peaceful environment. If it did not do so and allowed itself to be conquered by nationalism, America will have to be resolute and take all initiatives aimed at strengthening its multilateralism in the function of anti-Chinese containment. It is therefore very likely that the current US president Biden will carry out a strategy of this nature.