ADB, Gojek to Initiate Research on Digitization, COVID-19 Impact on MSMEs
The Asian Development Bank (ADB) and Gojek, formally known as PT Aplikasi Karya Anak Bangsa, today signed a collaboration agreement to conduct joint research on the impact of digitization and the coronavirus disease (COVID-19) pandemic on the operations and development of Indonesia's micro, small, and medium-sized enterprises (MSMEs).
The agreement, signed by ADB Chief Economist Yasuyuki Sawada and Gojek Chief of Public Policy and Government Relations Shinto Nugroho, outlines research into the benefits of business digitization on MSMEs using Gojek's extensive digital ecosystem. This is ADB's first formal research collaboration with Gojek, one of Indonesia's prominent online platforms.
"We are excited about this pioneering knowledge partnership with Gojek, which will help assess how digital technology and facilitative platforms can support a more sustainable and inclusive economic development path, improve business resilience, and enhance consumer welfare—all within the context of the COVID-19 pandemic," said Mr. Sawada. "We anticipate the findings of this research will help shape policies that expand opportunities for unique and innovative online platforms like Gojek to further contribute to inclusive and sustainable development."
The collaboration is part of a wider knowledge and support technical assistance program to assess the impact of digitization on business resilience and consumer welfare during the COVID-19 pandemic. The research will include empirical analyses of Gojek's big data to capture the impact of COVID-19 on small businesses; descriptions of emerging patterns; and studies to identify targeted policy measures, public interventions to enhance the impact of recovery, and growth programs post-COVID-19.
"We are excited to establish our partnership with ADB and build upon our commitment to our ecosystem partners, especially small businesses and driver partners as individual entrepreneurs during this pandemic," said Ms. Nugroho. "We believe that the digital transformation enabled by our technology and ecosystem has been an important factor contributing to our partners' resilience during this pandemic and as we head towards recovery."
Gojek is a leading Southeast Asian on-demand, multi-service technology platform providing access to a wide range of services including transport, payments, food delivery, and logistics. As of October 2020, Gojek's application and its ecosystem have been downloaded over 190 million times by users across the region.
Digitalization crucial to SIDs' COVID-19 recovery, long-term development
The upscaling of digital technologies presents a host of opportunities for small island developing states (SIDS) to diversify their economies, boost manufacturing, gain greater access to global value chains, and improve disaster preparedness. However, significant obstacles remain, including inadequate digital infrastructure, insufficient training opportunities for women and young people, a growing digital divide, and a lack of data and policy knowledge. That's according to an expert panel convened for the Global Manufacturing and Industrialisation Summit's Digital Series on the topic: "How Information and Communication Technologies can foster inclusive and sustainable industrial development in Small Island Developing States".
Ralf Bredel, Chief of the Asia-Pacific Regional Programme at the United Nations Industrial Development Organization (UNIDO), said that SIDS share common challenges such as limited resource bases, long distances to primary markets, and vulnerability to climate change.
"ICT has the potential to help SIDS in overcoming some of the challenges derived from the isolation and remoteness. It can support trade in economic diversification. This is even more true under the current circumstances, with COVID-19 and the restrictions on people's movements and the heavy blow to SIDS' economies in relation to their continued reliance on tourism," said Bredel.
Vanessa Gray, Head of the Division for Least Developed Countries (LDCs), Small Island Developing States (SIDS) and Emergency Telecommunications at the International Telecommunication Union (ITU), added, "We know that small islands are naturally prone to disasters caused by earthquakes and severe weather events and are being affected by climate change, resulting in increased tropical cyclones, hurricanes, flood and landslides, to name a few. Connectivity can help address these events by providing remote communities with access to early warning systems, real-time weather information, remote sensing and geographic information systems."
Gary Jackson, Executive Director of the Caribbean Centre for Renewable Energy and Energy Efficiency (CCREEE), said that countries in the region are "pushing the envelope" towards energy efficiency.
"We have to recognize that islands don't have what we call a supergrid, don't have a lot of interconnections that would give us reliability and availability and that's what people really want," said Jackson. "So one of the things we have to consider is how we move towards decentralization, decarbonization and some of the things that we need to do to ensure that reliability, availability and affordability are consistent with what people require."
Michelle Marius, Publisher of the ICT Pulse blog highlighted a continuing gender gap concerning digital employment. "We do have so many girls and women in the workforce. Many of them, sometimes even in management positions in reputable organisations, but somehow we still have not been able to crack that barrier between women in tech and digital entrepreneurship by women" she noted.
Amjad Umar, Director and Professor of ISEM (Information Systems Engineering and Management) programme at Harrisburg University of Science and Technology, said, "We know that, in many cases, SIDS do not have 3G technologies – they are still at 2G range. So, we specifically designed this plan (for the ICT4SIDS Partnership) that produces solutions that would work with very, very low technologies…"
"Digitalization consists of people, processes and technologies," underlined Umar.
Concluding, moderator Martin Lugmayr, Sustainable Energy Expert at UNIDO, stressed that there is a long way to go towards realizing inclusive and sustainable industrial development in SIDS, particularly in light of current circumstances. "COVID-19 recovery must have a long-term perspective. Iit has to be green, it has to be blue in the case of Small Island Developing States, and it has to be digital," he said.
Fewer protections, lower wages, and higher health risks: Homeworking in the COVID era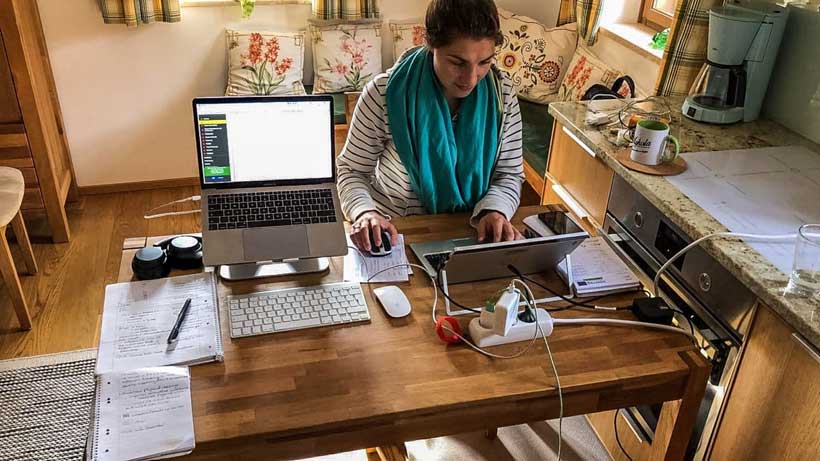 The UN's labour agency (ILO) called on Wednesday for greater recognition and protection for the hundreds of millions of people who work from home, accounting for almost eight per cent of the global workforce even before the COVID-19 pandemic.
Since movement restrictions linked to the global spread of the virus were implement in many countries, the number of people working from home has increased sharply, and that trend is expected to continue in coming years, despite the rollout of vaccines that began in late 2020.
Drop in wages in rich and poor countries
According to a new ILO report, many of these "invisible" workers experience poor working conditions, face greater health and safety risks, and lack access to training, which can affect their career prospects. They are also likely to earn less than their counterparts who work outside the home, even in higher-skilled professions.
"Homeworkers earn on average 13 per cent less in the United Kingdom; 22 per cent less in the United States; 25 per cent less in South Africa; and about 50 per cent in Argentina, India and Mexico", ILO said in a news release on Wednesday.
The report, "Working from home. From invisibility to decent work", also showed that homeworkers do not have the same level of social protection as other workers, and are less likely to be part of a trades union or to be covered by a collective bargaining agreement.
Homeworkers include teleworkers who work remotely on a continual basis, and a vast number of workers who are involved in the production of goods that cannot be automated, such as embroidery, handicrafts, and electronic assembly. A third category, digital platform workers, provide services, such as processing insurance claims, copy-editing, or cutting edge specializations such as data annotation for the training of artificial intelligence systems.
Growth likely to continue
According to ILO estimates, prior to COVID-19, there were approximately 260 million home-based workers globally, representing 7.9 per cent of global employment.
However, in the first few months of the pandemic, an estimated one-in-five workers found themselves working from home. Data for the whole of 2020, once available, is expected to show a "substantial increase" over the previous year, said the agency.
The ILO predicts that the growth of homeworking is likely to continue and take on greater importance in the coming years, bringing renewed urgency to the need to address the issues facing homeworkers and their employers.
Poorly regulated
At the same time, homeworking is often poorly regulated, with little compliance with existing laws, and homeworkers usually classified as independent contractors, which means that they are excluded from the scope of labour legislation. In response, ILO outlined clear recommendations to make working from home "more visible and thus better protected".
Industrial homeworkers should be made part of the formal economy, given legal and social protection, and made aware of their rights, ILO urged. Similarly, teleworkers should have a "right to disconnect", to ensure the boundaries between working life and private life are respected.
The report also urges governments to work closely with workers' and employers' organizations, to ensure that all homeworkers move from invisibility to decent work, "whether they are weaving rattan in Indonesia, making shea butter in Ghana, tagging photos in Egypt, sewing masks in Uruguay, or teleworking in France".
Which jobs will be made obsolete in 2021 by technology
Technology is becoming advanced every day, resulting in a rapid change in world circumstances. Even with professional education becoming more accessible, there is an increase in the fraction of unemployed individuals worldwide. Though, if you look into this yourself and search it online, you will notice many articles explaining and listing the jobs that will be obsolete, but Lottoland has explained their perspective and mentioned the jobs that will be replaced by technology in upcoming decades. So, this article enlists the dropdown thatLottoland looks at more jobs being replaced by technology.
Cashiers being replaced by self-check machines:
With the development of self-made checkout machines, the need for cashiers is becoming extinct. We know that the emerging deadly situation because of the covid virus has compelled millions of people to shop online. Amazon is one of the leading stores that merchandise each and everything. An individual can open the app, search online, and add to the cart. The company delivers the goods at your doorsteps. On the other hand, there is a plausibility that RFID tags will replace both the self-made machines and cashiers.
Newspaper delivery replaced by electronic reading devices:
This one's pretty obvious. Previously, newspaper delivery guys used to dispatch newspapers every morning at your doorstep, but unfortunately, these are gradually being replaced by the mighty internet. Every household has a mobile and internet. It has become effortless for folks to tune in to the latest news by searching online merely. Even the trend of visiting libraries for reading newspapers is also fading gradually.
Travel agents by travel websites:
With the excessive use of the internet, people around have found ways to make things super easy and accessible. Travel agents were previously booked or hired for traveling purposes, but nowadays, numerous travel websites can provide you with every detail on fingertips. Even discounts and packages regarding any foreign trips are available on every social media platform. But on the brighter side, there are still people like business folks or people who want to travel for pilgrimage readily hire travel agents to make all the bookings.
Taxi dispatchers or drivers replaced by mobile apps.
Who doesn't know to use Uber or Careem? It is indeed a fact that a person no longer has to stand on the road and wave to the taxi dispatchers to stop the car and bargain the rate. Everything is arranged online now. This is an excellent convenience for everyone who doesn't own a car and commute to their workplaces via public transportation. Uber drivers are located at every corner globally. All you have to do is book your car, see the fare and wait for it to arrive at your doorstep. And this part doesn't snatch a person's job as a driver. Anyone with a valid driver's license can register at one of these apps, become a car captain, and start earning instantly.
Referee replaced by video cameras or technology:
When it comes to sports, whether it's cricket or a football match, we know how critical the referee's role is. His sole objective is to look at live games and assess every minute. But with the advancement in video technology, there are chances that a referee's job may become obsolete in the coming years. But the importance and value it holds can never be replaced since we know how tactfully a referee works in every game of the show. Even if it is replaced by technology, people will miss the job of a referee and the way he uses it.
Robots replace telemarketers:
It seems like the whole world is going to be replaced by robots. We know that there was a distinctly individual voice behind every marketing object or company in our childhood. And these telemarketers use to guide us out wholly. It was fun. Kids even use to tease them by ringing them over several times, but again technology will replace this sort of employment. Since robots are trained to do human jobs, there is a high possibility that the companies will provide robotic help on call. That's a little off, isn't it?
The everyday individual replaces social media experts:
Previously, unique social media experts communicated their knowledge by assisting people in knowing how social media works. It was indeed a decent job, and many people were pursuing it as a professional career. People used to learn how to operate these platforms, but with the rise of Facebook, Instagram, and Twitter, countless people have learned how to use them and have taught everyone else how to use them. If you wonder who is left and who doesn't know how to run these social media platforms? It is now a simple job. We see bloggers almost at every forum representing the same thing over and over again. So, there's no difference left, which means everybody is a social media expert regardless of the generation.