Sarah Frier wins the Financial Times and McKinsey & Company Business Book of the Year Award 2020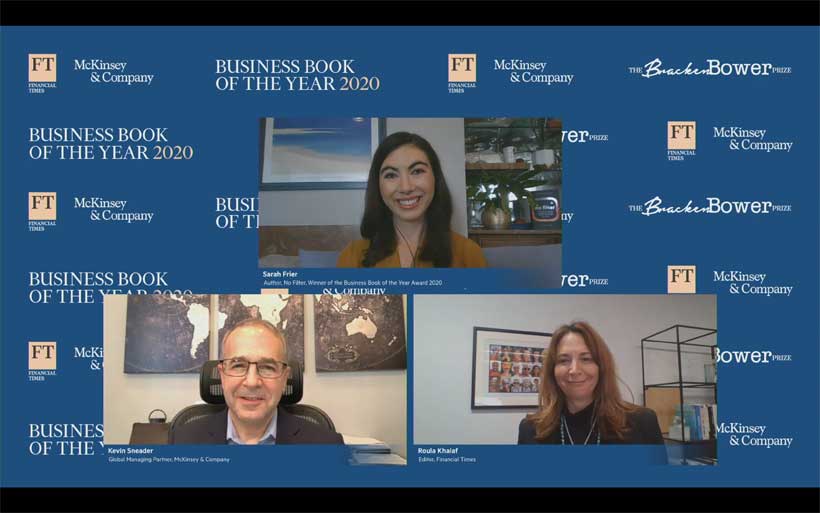 Stephen Boyle wins the Bracken Bower Prize 2020
The Financial Times and McKinsey & Company today announce that Sarah Frier is the winner of the 2020 Business Book of the Year Award for No Filter: The Inside Story of How Instagram Transformed Business, Celebrity and Our Culture, published by UK Random House Business in the UK, and Simon & Schuster in the US.

The Award recognises a work which provides the 'most compelling and enjoyable insight into modern business issues'. It was awarded today to Sarah Frier at a virtual event, co-hosted by Roula Khalaf, Editor of the Financial Times and chair of the panel of judges, and Kevin Sneader, Global Managing Partner, McKinsey & Company. The keynote speaker at the event was Laxman Narasimhan, Chief Executive of Reckitt Benckiser.

No Filter saw off strong competition from a shortlist of titles with a focus on subjects ranging from the future of work, corporate culture, technology and the US economy, to win the £30,000 prize. Each of the five runners-up will receive £10,000.

Roula Khalaf, Editor, Financial Times said, "No Filter is a topical and well-reported account of the rise of Instagram and its takeover by Facebook. But it also tackles two vital issues of our age: how Big Tech treats smaller rivals and how social media companies are shaping the lives of a new generation."

Kevin Sneader, Global Managing Partner, McKinsey & Company, said: "Sarah Frier has written a compelling saga about how this start-up phenomenon deeply embedded itself into the global cultural Zeitgeist of this digital era, in just one decade after its creation."

The distinguished judging panel for the 2020 Financial Times and McKinsey Business Book of the Year Award, chaired by Roula Khalaf, comprised:
Mitchell Baker, Chief Executive Officer, Mozilla Corporation; Chairwoman, Mozilla Foundation

Mohamed El-Erian, President of Queens' College, Cambridge, and Chief Economic Advisor, Allianz (BBYA Winner, 2008, When Markets Collide)

Herminia Ibarra, Charles Handy Professor of Organisational Behaviour, London Business School

Randall Kroszner, Professor of Economics and Deputy Dean for Executive Programs, University of Chicago Booth School of Business

Dambisa Moyo, Global Economist and Author, Non-Executive Director, 3M Company, Chevron & Conde Nast

Raju Narisetti, Global Publishing Director, McKinsey & Company

Shriti Vadera, Chair-elect of Prudential

The Financial Times and McKinsey & Company also announced Stephen Boyle as the winner of the 2020 Bracken Bower Prize. The Prize is designed to encourage young authors to tackle emerging business themes in a proposal for a book that is not yet published. Its aim is to unearth new talent and encourage writers to research ideas that could fill future business books of the year.

Stephen Boyle was awarded £15,000 for his book proposal, New Money, about how central bank digital currencies could transform the economy – and why you might not want them to.

The distinguished judging panel for the Bracken Bower Prize comprised:
Lorella Belli, Founder and Director, Lorella Belli Literary Agency Limited

Isabel Fernandez-Mateo, Adecco Professor of Strategy and Entrepreneurship, London Business School

Jorma Ollila, former Chairman, Royal Dutch Shell and Nokia

Saadia Zahidi, Managing Director and Head of the Centre for the New Economy and Society, World Economic Forum. (BBP Winner, 2014, Fifty Million Rising)
How to Make Your Hospitality Business More Sustainable
Climate change and its impact on the world has been a major news story for decades, but it's only in recent years that awareness has been pushed to the fore. This is thanks to the actions of activists such as Greta Thunberg and Sir David Attenborough.
However, it's also because 2020 was the joint hottest year on record, tying with 2016 – although, unlike 2016, there was no El Nino event last year to contribute to these temperatures.
While there is pressure on companies to play their part and think more sustainably, there are things that smaller businesses can do too. As someone who runs a hospitality business, you can make operations more environmentally aware. If you want to think green, here are some ideas to help.
Consider the materials
How much paper does your business use? There's a real trend for cardboard menus and paper flyers showcasing the latest dining deals. Hotel rooms are filled with directories and leaflets, too – and these need replacing when they get tatty.
To resolve the issue, try switching to digital. Create online menus that diners can access, have a screen detailing the latest meal deals and specials, and introduce tablets to bedrooms in your hotel. If you're reluctant to include tablets, try creating a directory on the TV where guests can browse the services your hotel offer, from breakfast serving times to the food on offer.
Rethink utilities
How much electricity does your business use a day? How much water is wasted?
Try looking at introducing motion sensitive lighting to avoid empty rooms being lit. Also, while it can be tricky to encourage guests to think about the water they use, you can get your staff to set an example by switching off taps when not in use. Even small changes can both save energy and money.
Manage waste
Hospitality businesses see a lot of waste, especially hotels. There's paper waste, bottles, and food waste to consider, among other things.
Having a robust recycling system in place can help to keep your business sustainable. Introduce recycling bins in guest bedrooms and have these in offices too to encourage best practice.
Additionally, separate food waste bins for your restaurant are an essential part of waste management. By keeping food waste separate, it can be easily removed from the premises.
As with any waste management, there are risks here. Staff could cut themselves on glass or encounter other injuries, so think about how to keep your team safe while they do their job. Arm protection and overalls, for instance, can be useful.
Look at the décor
As well as the day-to-day operations in your business, it's worth thinking about the materials used in the design and décor. Where possible, try to source reclaimed furniture and trawl the vintage and flea markets for beautiful pieces that could work well in your hotel foyer or guest rooms.
By taking the time to reassess the way your business runs, you could find that you're lowering your carbon footprint and becoming more sustainable.
Uzbekistan Continues to Modernize its Tax Administration System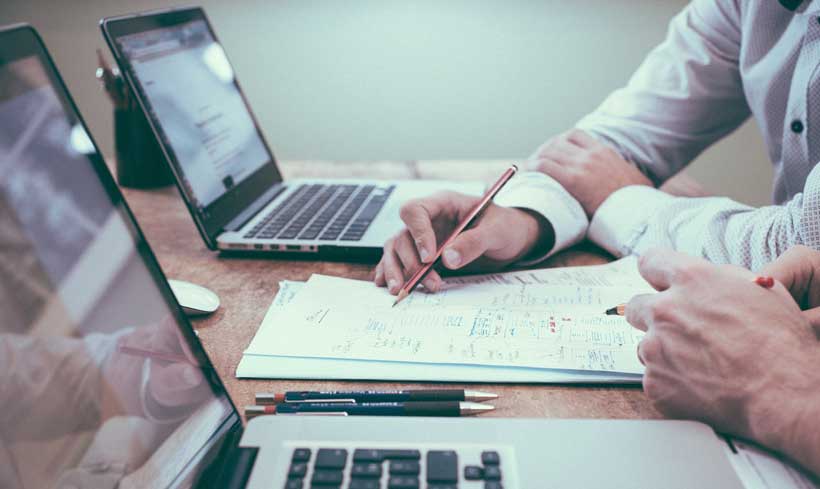 The World Bank's Board of Executive Directors approved today the Tax Administration Reform Project in Uzbekistan, which is designed to improve the operational efficiency and effectiveness of the State Tax Committee (STC) and deliver better services to local taxpayers.
The project will be supported by a $60 million concessional credit from the International Development Association (IDA), with financing provided to the Government at a very low-interest rate and a repayment period of 30 years.
"The Government of Uzbekistan has prioritized reforms in the tax administration system to create a better business and investment environment. The new project will help the STC improve its work in the interest of taxpayers," said Marco Mantovanelli, World Bank Country Manager for Uzbekistan. "In particular, the project will allow to broaden the tax base, leading to a reduction in the informal sector of the economy, which is estimated to be around 50% of GDP; to increase tax revenues; and to help firms and companies create new jobs, benefiting from a more efficient tax administration system."
The project includes three key components directed at improving the STC's operational, institutional, technological and human resource capacities, and promoting voluntary compliance across Uzbekistan.
Component 1 will invest in automating the STC's core tax administration business processes. This includes developing the STC's new tax management information system to reduce paperwork and simplify the process of paying taxes by businesses and individuals countrywide; upgrading hardware and technological infrastructure; creating a new data center for the STC; and improving governance and the planning capacity of the STC's IT department.
Component 2 will assist with designing and implementing measures to reduce the informal sector of the economy. This includes improving the STC's enforcement capabilities to detect and discourage tax evasion; encouraging businesses to stay out of the shadows, including through the use of non-tax incentives; and developing cooperative relationships with the private sector, including through designing new or simplified tax policies and procedures and building partnerships to change taxpayers' behavior.
Component 3 aims to strengthen the STC's human resource and institutional capacities to attract, develop, and retain skilled and knowledgeable tax officials. This includes improving STC's human resources management policies and building capacity through the continuous professional development of tax officials.
Top 5 Examples of Best Nonprofit Grant Proposals
Introduction
Compiling a grant proposal is a complicated task. Nonprofits have to conduct ample amounts of research, create multiple drafts and compile everything to fit the criteria of the grant foundation. The odds of getting your proposal accepted are already stacked against you and the best way to ensure success is by staying prepared. One way you can make your grant proposal air-tight is by reviewing successful grant proposals. You can add points from previously successful documents to strengthen your case.
Preparation is key
Drafting a grant proposal can be a lengthy process. It is a good idea to start gathering data and reviewing it beforehand. Reviewing successful grant proposals can help you get new ideas and perhaps, inspiration even. You can find a list of effective examples on the internet and we have compiled a few here to make things easy for you.
5 Examples of effective grant proposals
To ease the understanding, the examples are divided as per the sectors for which nonprofits often work.
Education
Education is a key foundation for society and if you are looking to seek a grant to support an educational initiative, this particular example might be conveniently helpful.
Salem Education Foundation: This particular grant was submitted by a school that sought to receive funding for enriched learning opportunities that lay beyond the scope of a conventional classroom. This particular grant proposal was written for history students of the school.
Youth
Children can be the most at-risk group of society and there are a multitude of nonprofits that aim to help them. Consequently, there are a huge number of grants that aim to help children fulfill their potential and lead happy lives. The following example is how a grant proposal should look like when the focus of their goal is improving the lives of children.
William T. Grant Foundation: This grant is given to those groups that actively conduct research that is solely focused on improving the lives of young people in the United States. The foundation often publishes accepted grant proposals to help guide those looking to apply. Review their proposals for a better idea on how to craft yours.
Individual and family support
If your nonprofit is actively seeking to serve the disadvantaged population of society, then you will need to submit a proposal that highlights their plight. The following proposal is an example that will help you decide the inclusions for your proposal.
Kennett Area Senior Center: This particular grant was submitted by the Kennett Area Senior Center to the community grant foundation. The grant proposal was a request for funds to provide assistance and necessary services for senior citizens.
Arts
If your nonprofit is aiming to raise funds for an arts program or a project, the following example demonstrates what your grant proposal should look like. Upon review you will be clear on what to include in your documentation:
University of Minnesota's Imagine Fund: Take a look at various successful proposals that were submitted to the Imagine Fund program. This program is known for supporting arts-related projects.
Science
Whether it is scientific research, conservation, or any form of scientific endeavor, the following proposals can provide you with ideas for your grant proposal. You can review them and figure out what to include and how you can solidify the strength of your proposal.
NIAID: The National Allergy and Infectious Diseases grants various funds to institutes and nonprofits looking to drive advancement in the field of science and scientific research. You can peruse through various types of successful grants and figure out what made each one stand out.
Final thoughts
These examples are just some of many grant proposals that have achieved success. By studying them and reviewing the literature, your nonprofit can take away ideas and insights which can be useful in drafting your proposal.