UN Committee urges end to impunity for enforced disappearances in Iraq
A pattern of enforced disappearance – and impunity for such acts – persists in Iraq, according to a report published on Friday by the UN Committee charged with monitoring how well the country upholds its international obligations in dealing with the issue.
In issuing its findings, the Committee on Enforced Disappearances – a group of 10 independent experts that monitors States' adherence to the International Convention for the Protection of All Persons from Enforced Disappearance – also noted that revictimization prevails in these cases.
The Committee called on Iraq to incorporate the offence of enforced disappearance into its domestic criminal legislation and to ensure that no person is held in secret detention.
Legislation Delays
To be sure, the Committee also welcomed that Iraq set up two fact-finding committees, in 2016 and 2018, to address enforced disappearances committed in the country. It also hailed the drafting of the Bill on the Protection of Persons from Enforced Disappearance, which is currently before the Council of Ministers.
But the experts also expressed concern at delays in adopting this legislation, which has fostered a lack of criminalization of the offence. It recommended that Iraq revise the bill, in compliance with the International Convention, and in consultation with all stakeholders, including civil society.
Lack of data
Committee experts are also worried by the lack of reliable data on cases of enforced disappearance and the large quantity of unidentified bodies and mass graves. It recommended Iraq establish a consolidated nationwide database of all cases of disappearance that have occurred in the country since 1968.
For its part, the Committee said it has received allegations concerning around 420 secret detention sites. It urged the State party to investigate thoroughly the allegations, and to close any such facilities or convert them into regular registered and supervised detention centres, as well as to take all necessary measures to ensure that no one is detained secretly in the future.
Experts on board
The Committee on Enforced Disappearances monitors States parties' adherence to the Convention for the Protection of all Persons from Enforced Disappearance. The Committee is made up of 10 members who are independent human rights experts drawn from around the world, who serve in their personal capacity and not as representatives of States parties. The Committee's concluding observations are an independent assessment of States' compliance with their human rights obligations under the treaty.
Over 1.9 billion people in Asia-Pacific unable to afford a healthy diet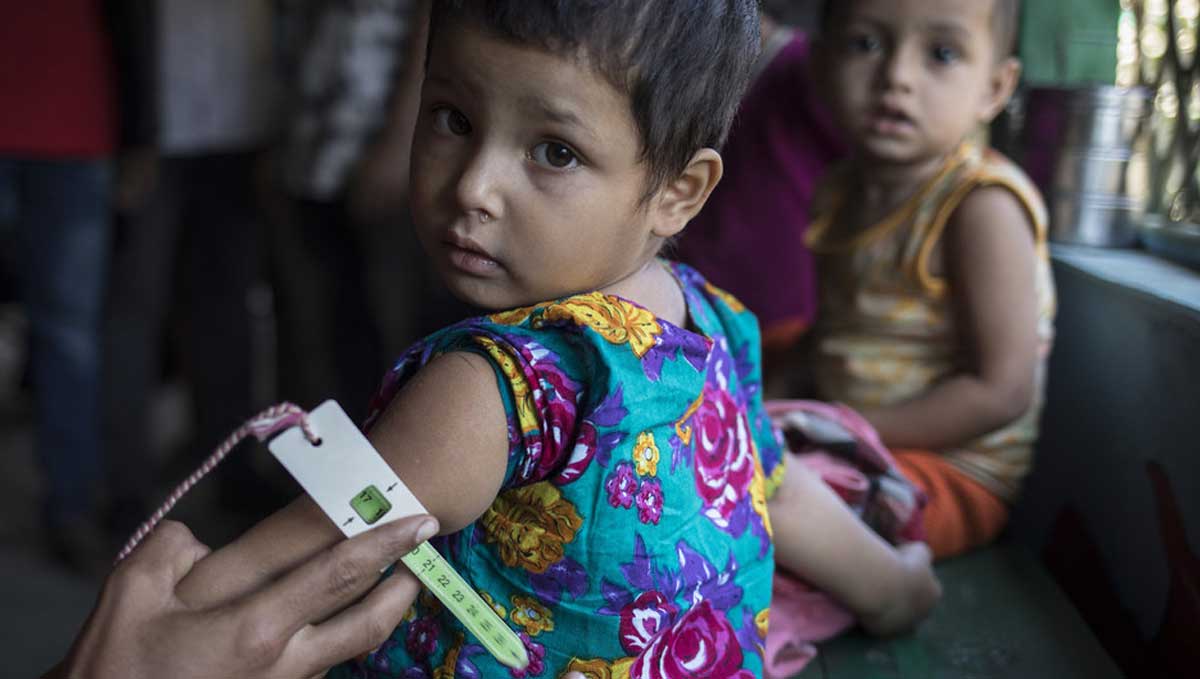 The economic impact of the coronavirus pandemic and surging food prices are keeping almost two billion people in Asia and the Pacific from healthy diets, United Nations agencies said on Wednesday.
According to the 2020 Regional Overview of Food Security and Nutrition, the region's poor have been worst affected, forced to choose cheaper and less nutritious foods. The report is jointly produced by the Food and Agriculture Organization (FAO), the UN Children's Fund (UNICEF), the World Food Programme (WFP) and the World Health Organization (WHO).
"The outbreak of COVID-19 and a lack of decent work opportunities in many parts of the region, alongside significant uncertainty of food systems and markets, has led to a worsening of inequality, as poorer families with dwindling incomes further alter their diets to choose cheaper, less nutritious foods," the agencies said.
"Due to higher prices for fruits, vegetables and dairy products, it has become nearly impossible for poor people in Asia and the Pacific to achieve healthy diets, the affordability of which is critical to ensure food security and nutrition for all – and for mothers and children in particular."
As a result, progress is also slowing on improving nutrition, a key target for the Sustainable Development Goals (SDGs). As of 2019, over 350 million people in the region are estimated to have been undernourished, with an about 74.5 million children under five stunted (too short for their age) and 31.5 million suffering from wasting (too thin for height).
'Impact most severe in first 1,000 days'
The UN agencies went on to note that while nutrition is vitally important throughout a person's life, the impact of a poor diet is most severe in the first 1,000 days, from pregnancy to when a child reaches the age of two.
"Young children, especially when they start eating their 'first foods' at six months, have high nutritional requirements to grow well and every bite counts," they said.
The agencies called for an integrated systems approach – bringing together food, water and sanitation, health, social protection and education systems – to address underlying factors and achieve healthy diets for all mothers and children.
'Changing face of malnutrition'
They also highlighted the "changing face" of malnutrition, with highly processed and inexpensive foods, readily available throughout Asia and the Pacific. Often packed with sugar and unhealthy fats, such food items lack the vitamins and minerals required for growth and development and also increase the risk of obesity, diabetes and cardiovascular disease.
The report urged governments to invest more in nutrition and food safety to promote healthy diets, as well as regulate sales and marketing of food for consumers, especially children. It also highlighted the need for action within the private sector, given the sector's important role in the food system and its value chains for achieving healthy diets.
Israel: 'Halt and reverse' new settlement construction
Israel's decision to advance plans for some 800 new settlement units, most of which are located deep inside the occupied West Bank, has sparked the concern of UN Secretary-General António Guterres.
In a statement issued on Monday by his spokesperson, Stephane Dujarric, the UN chief urged the Israeli Government to "halt and reverse such decisions", calling them "a major obstacle to the achievement of the two-State solution, and a just, lasting and comprehensive peace".
'No legal validity'
Mr. Guterres reiterated that Israel's establishing of settlements in the Palestinian territory occupied since 1967, including East Jerusalem, "has no legal validity and constitutes a flagrant violation under international law".
"Settlement expansion increases the risk of confrontation, further undermines the right of the Palestinian people to self-determination, and further erodes the possibility of ending the occupation and establishing a contiguous and viable sovereign Palestinian State, based on the pre-1967 lines", he said.
Pushing forward
Israel has given the green light to 780 new homes in West Bank settlements on Sunday in a move widely seen as being influenced by the imminent transfer of power in the United States.
Breaking with decades of US diplomacy, outgoing President Donald Trump, in 2019 unilaterally declared that the settlements no longer breached international law.
Against that backdrop, Israel has been increasing construction and either approved or made plans for more than 12,000 homes in 2020, according to news reports.
Spectre of unrest, violent repression looming over Haiti
Increasing political tensions in Haiti coupled with insecurity and structural inequalities could result in protests followed by violent crackdowns by authorities, the United Nations human rights office (OHCHR) warned on Tuesday.
According to the office, criminal activities, such as kidnappings, gang fights and widespread insecurity have increased, with "almost total" impunity.
Added to the volatile mix is resurging political tensions over the timing and scope of elections and a constitutional referendum proposed by the Government, OHCHR spokesperson Marta Hurtado told journalists at a regular briefing in Geneva.
"Calls for mass protests have been growing. This in turn raises concerns of renewed human rights violations by security forces during the policing of protests as seen during the months-long protests in 2018 and 2019, as well as during demonstrations in October and November of last year."
According to an OHCHR report on the unrest, protests started relatively peacefully in July 2018 but became increasingly violent over time, with many violations and abuses of the rights to life, security of the person and effective remedy.
'Pattern of violations'
The report also documented violations to the rights of peaceful assembly and freedom of expression. In 2019 demonstrations, barricades were set up that blocked people's access to hospitals and passage of ambulances. Health facilities were also attacked, severely impacting the daily lives of the Haitian people, particularly those in a vulnerable situation.
In addition, protesters and criminal elements imposed "passage fees", further impeding the movement of people and goods and exacerbating economic hardship.
"The report shows a pattern of human rights violations and abuses followed by near lack of accountability," Ms. Hurtado said.
'Guarantee accountability'
The OHCHR spokesperson called on Haitian authorities to take "immediate action" to avoid repetition of such violations and abuses by ensuring that law enforcement officers abide by international norms and standards regarding the use of force when dealing with protests; as well as ensuring that gangs do not interfere with people's right to demonstrate peacefully.
She also urged the Government to guarantee accountability for past violations and abuses, ensuring justice, truth, and reparations. Alongside, Haiti should take steps to address people's grievances and the root causes that fuelled the protests, she added.
"OHCHR stands ready to continue supporting State authorities in their fulfilment of human rights international obligations [and] expresses its willingness to continue working towards the establishment of a country office," Ms. Hurtado said, welcoming commitments made by the Haitian National Police to reform practices documented in the report.