First of four UN humanitarian airlifts for Ethiopia refugees lands in Khartoum
An airplane loaded with humanitarian supplies for people fleeing violence in Ethiopia's Tigray region has arrived in the Sudanese capital Khartoum, the UN refugee agency (UNCHR) said on Friday, in an appeal for international assistance to cope with the growing numbers seeking shelter in Sudan.
"This morning, a plane carrying 32 tonnes of UNHCR emergency aid from our global stockpiles in Dubai landed in Khartoum", said spokesperson Babar Baloch. "Another airlift is scheduled to leave Dubai on Monday with an additional 100 tonnes of additional relief items…In total, we plan to send four airlifts."
Growing exodus
Since the start of fighting in Ethiopia's northern Tigray region in early November, more than 43,000 refugees have crossed into Sudan.
People have sought shelter amid reports of a heavy build-up of tanks and artillery around regional capital Mekelle, following the Ethiopian Government's ultimatum to forces loyal to the Tigray People's Liberation Front (TPLF) to surrender, which has reportedly expired.
On Tuesday, UN Secretary-General António Guterres expressed deep concern over the unfolding situation, before urging "the leaders of Ethiopia to do everything possible to protect civilians, uphold human rights and ensure humanitarian access for the provision of much-needed assistance".
In a statement, the UN chief also called for the "free and safe movement of people searching for safety and assistance, regardless of their ethnic identity, across both national and international borders".
Echoing the Secretary-General's message, UN High Commissioner for Human Rights Michelle Bachelet, warned that both sides were using rhetoric that was "dangerously provocative and risks placing already vulnerable and frightened civilians in grave danger".
One million refugees
Even before violence erupted in Ethiopia's northern Tigray region causing mass displacement, Sudan was already home to nearly one million refugees, mainly from South Sudan.
In eastern Sudan, UNHCR has continued to step up its relief effort, together with national and local partners. "Aid is being mobilized to help refugees, almost half of whom are children", Mr. Baloch said, citing "complex logistical challenges".
To date the agency has helped to relocate nearly 10,000 refugees to Um Rakuba site, 70 kilometres inside Sudan, as work continues to put up shelters and improve services.
Family tracing services have been established and these have already reunited many separated refugees.
Mr. Baloch noted that although humanitarian agencies continue to provide shelter and other facilities to help refugees, "more resources are required and Sudan needs international support urgently".
Inside Tigray, concerns continue to grow for the safety of civilians in Mekelle, home to more than 500,000 people, and some 96,000 Eritrean refugees based in four camps.
No access
"Without humanitarian access, it's very hard to say what is actually going on, on the ground but there were worrying reports that fighting was getting closer to these refugee camps", Mr. Baloch told journalists via video link at a regular UN Geneva briefing.
Before the conflict erupted, UNHCR had "regular access to the refugees", the UNHCR official continued, but "since the start of it, we have lost access".
Highlighting the refugees' reliance on humanitarian distributions, Mr. Baloch said that "according to what they have had…they will be running out of food as of Monday".
Investing in Key Sectors to Help Nigeriens Recover From the Health and Security Crises
The Covid-19 pandemic crisis and the security situation continue to undermine the Nigerien economy, wiping out years of hard-won gains in poverty reduction. A number of fiscal policy options are, however, available to help the country enhance public expenditure efficiency and increase its GDP by up to 2%. These are the findings of the World Bank's latest economic and poverty update for Niger published today.
The report titled "Maximizing Public Expenditure Efficiency for Rebuilding Better" analyzes the impact of the health and security crises on Niger's economy. The economy grew by 5.9% in 2019, but slowed to 3.6% in 2020, as a result of the combined impact of these crises. This sharp downturn increased poverty levels and pushed an additional 400,000 people into extreme poverty.
"Nigeriens have been hard hit by the volatile security situation and these long months in the pandemic, with hundreds of thousands of children being kept out of school and deprived of proper health care, which will adversely affect their future," notes Joelle Dehasse, World Bank Country Manager for Niger. "Turning this situation around will require massive and effective investments in human capital over the next few years."
The report notes that these investments must be accompanied by bold structural and sectoral reforms aimed, among other things, at mobilizing more domestic resources, modernizing the administration, including the civil service, and promoting sound, prudent, and transparent government spending.
The projections for 2021 are nevertheless positive and economic growth is expected to rebound to 5.5%, driven by the reopening of the border with Nigeria, the resumption of large investment projects, and the normalization of several supply chains. However, these projections remain subject to the duration of the pandemic and the availability of vaccines, as well as to climate hazards and their impact on agricultural production and livelihoods.
"The government of Niger has made tremendous progress in recent years in managing its public finances, giving high priority to social spending," says Paolo Di Lorenzo, World Bank Senior Economist and co-author of the report. "However, public expenditure pressures remain high, partly due to the deteriorating security situation. Against this backdrop, the authorities should take further steps to improve domestic resource mobilization and public spending efficiency."
The report's authors recommend reprioritization across a number of key sectors in order to ensure Niger's strong economic rebound. These recommendations aim to redirect government revenues to basic social services and essential public infrastructure in order to maximize growth opportunities and social welfare. "Implementing the recommendations in the education sector will help improve spending and reallocate resources within the sector," says Blaise Ehowe Nguem, Country Economist for Niger. "This will improve the quality of education, thereby reducing repetition and dropout rates."
Partnership with Private Sector is Key in Closing Rwanda's Infrastructure Gap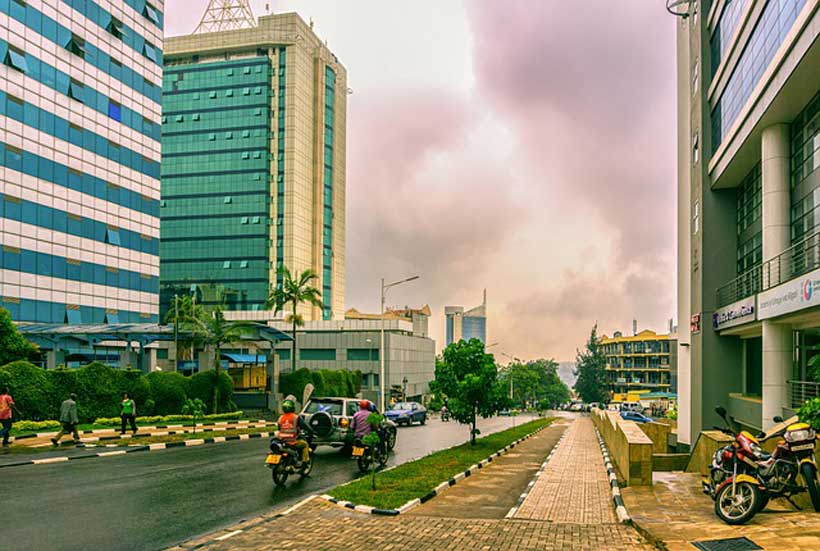 The COVID-19 (coronavirus) pandemic has pushed the Rwandan economy into recession in 2020 for the first time since 1994, according to the World Bank's latest Rwanda Economic Update.
The 17th edition of the Rwanda Economic Update: The Role of the Private Sector in Closing the Infrastructure Gap, says that the economy shrank by 3.7 percent in 2020, as measures implemented to limit the spread of the coronavirus and ease pressures on health systems brought economic activity to a near standstill in many sectors. Although the economy is set to recover in 2021, the report notes the growth is projected to remain below the pre-pandemic average through 2023.
Declining economic activity has also reduced the government's ability to collect revenue amid increased fiscal needs, worsening the fiscal situation. Public debt reached 71 percent of GDP in 2020, and is projected to peak at 84 percent of GDP in 2023. Against this backdrop, the report underlines the importance of the government's commitment to implement a fiscal consolidation plan once the crisis abates to reduce the country's vulnerability to external shocks and liquidity pressures.
"Narrowing fiscal space calls for a progressive shift in Rwanda's development model away from the public sector towards a predominantly private sector driven model, while also stepping up efforts to improve the efficiency of public investment," said Calvin Djiofack, World Bank's Senior Economist for Rwanda.
According to the Update, private sector financing, either through public-private partnerships or pure private investment, will be essential for Rwanda to continue investing in critical infrastructure needed to achieve its development goals. The analysis underscores the need to capitalize further on Rwanda's foreign direct investment (FDI) regulatory framework, considered one of the best in the continent, to attract and retain more FDI; to foster domestic private capital mobilization through risk sharing facilities that would absorb a percentage of the losses on loans made to private projects; and to avoid unsolicited proposals of public–private partnership (PPP) initiatives; as well as to build a robust, multisector PPP project pipeline, targeting sectors with clearly identified service needs such as transport, water and sanitation, waste management, irrigation, and housing.
While the report findings establish clearly the gains of public infrastructure development for the country as whole, it also stressed that these gains tend to benefit urban and richer households most.
"Rwanda will need to rebalance its investment strategy from prioritizing large strategic capital-intensive projects toward projects critical for broad-based social returns to boost the potential of public infrastructure to reduce inequality and poverty," said Rolande Pryce, World Bank Country Manager for Rwanda. "Any step toward the Malabo Declaration to allocate 10 percent of future infrastructure investment to agriculture, allied activities, and rural infrastructure, will go a long way to achieving this goal."
Greenpeace Africa responds to the cancellation of oil blocks in Salonga National Park
On Monday the UNESCO World Heritage Committee decided to remove Salonga National Park in the Democratic Republic of the Congo from the List of World Heritage in Danger. The decision follows clarification "provided by the national authorities that the oil concessions overlapping with the property are nul[l] and void and that these blocks will be excluded from future auctioning."
Oil blocks overlapping with Salonga were awarded by President Joseph Kabila in the twilight of his regime. Greenpeace Africa has repeatedly demanded their cancellation, while local leaders voiced their opposition to the project in light of its impacts on communities.
"A decision by President Felix Tshisekedi to cancel all oil blocks in Salonga Park must be followed by a decision to cancel oil blocks in Virunga Park and across the Cuvette Centrale region. These are vast areas rich in biodiversity that provide clean water, food security and medicine to local communities and which render environmental services to humanity," says Irene Wabiwa Betoko, International Project Leader for the Congo Basin forest.
The Salonga National Park, which is Africa's largest tropical rainforest reserve, was inscribed on the World Heritage List in 1984. The park plays a fundamental role in climate regulation and the sequestration of carbon. The park is also home to numerous endemic endangered species such as the pygmy chimpanzee (or bonobo), the forest elephant, the African slender-snouted crocodile and the Congo peacock. Salonga had been inscribed on the List of World Heritage in Danger in 1999, due to pressures such as poaching, deforestation and poor management. The government of DRC later on issued oil drilling licences that encroached on the protected area, posing a threat to the wildlife-rich site.
"DRC's auctioning of oil blocks has not only been scandalously lacking transparency and menacing for particularly sensitive environmental areas – they neither benefit Congolese people nor the planet. Instead of privileging a small group of beneficiaries of the toxic fossil fuels industry, diversifying the DRC's economy should be done through renewable energy investments that will make energy accessible and affordable for all," Irene Wabiwa concluded.
Greenpeace Africa urges full transparency from both UNESCO and the DRC government and calls for the publication of all supportive documents regarding the decision to cancel the aforementioned oil blocks, as well as the map of the nine oil blocks that are still being auctioned in the Cuvette Centrale region.