On November 18, 2020, Ambassador Extraordinary and Plenipotentiary of the Federal Republic of Germany to the Russian Federation Géza Andreas von Geyr was giving an open lecture at HSE University.
What is the place and role of the European Union in the modern world? How is the European integration project developing, and what role does Germany play in it? How are relations between the EU and Russia today?
The event was organized jointly by HSE University and the Embassy of the Federal Republic of Germany in Moscow as part of the Germany's Presidency of the Council of the European Union and of the Committee of Ministers of the Council of Europe, as well as in the framework of the Year of Germany in Russia.
Text of the Lecture
Building Europe's Future
Prof Kuzminov, Prof Prostakov, Dear Students,
Thanks a lot for the invitation to speak to you today.
I regret that, due to the pandemic, I can´t talk to you face to face—but I enjoy that I can reach out to so many of you online.
I´m especially grateful for the invitation as your university is one of the best and most prestigious in Russia. And it is an excellent venue for a discussion dedicated to Europe.
I
From the beginning, the HSE has established a strong cooperation with European Universities—and with European Institutions.
The ties in education and science between Russia and Europe go far back in history, they were mutually enriching—and they still are.
That's why we can say that the DNA of so many universities in Russia is very much European. And we Europeans learned a lot from Russians in the field of science and education as well.
If I take just my country, Germany:
Cooperation and exchange in education and science is one of the most stable and reliable links between our countries—and for me it is one of the most precious:
Because I take it as a strong investment in our common future.
Yes, I´m proud, that today Germany is the top destination for students from the Russian Federation going abroad.
More than 14,000 students and scientists came to Germany in 2019, each of them contributing to building bridges between our countries.
And the other way round Russia is attractive for German students, as its Universities offer great conditions and high standards.
Our scientific cooperation continues to produce excellent results. To mention just two fascinating projects:
Russian and German research centers work together on the European XFEL, the largest X-ray laser in the world, and Russian and German researchers jointly took part in the largest Arctic research expedition ever—"MOSAiC"—which was successfully completed a few weeks ago.
And this bond continues to grow:
We have just concluded a bilateral year of Higher Education Cooperation and Science, and in September, we have started our year of Germany in Russia, which includes a multitude of education and research related events and projects.
II
(Is the discussion on European-Russian relations adequate?)
What I just mentioned shines a light on only some of the many layers of relations Russian universities and scientific institutions enjoy with European countries.
I´m convinced, if we added them all up, the Euro-Russian dimension would turn out as one of the strongest partnerships in education and science worldwide.
This stands as an example for one part of the European–Russian reality: Things go well—in some areas.
The other one is: we all read and experience that EU-Russian relations are, to put it in diplomatic words: not in the best shape.
Or, to be more precise: On very fundamental, tangible political issues we very much disagree.
I could leave it at that, go on and talk about the need to paint a layered and nuanced picture and that a lot of work will have to be done to solve those problematic issues and to rebuild trust.
But my feeling is that the problem goes deeper.
Something went awry in the way we perceive each other.
Are we still both convinced that good European Russian relations are in our long-term interest?
So, do we give this relationship, be it currently good or bad, the strategic depth it should have?
And even more basic:
Do we still understand each other well enough? Do we explain our views well enough?
Are we attentive enough when listening to each other? And: how do we talk about each other?
I´m convinced that the time has come to reflect well on all of this; if we do not take our time to do that, the very core of our relationship could be seriously harmed.
This is what I have in mind talking to you about Europe today.
To explain and to be ready to understand, in both directions. This is, if you so wish, the essence of diplomacy.
So, what in fact I already started with, is to explain my views, offer some remarks on Europe—and I will do this in the form of answers to questions I often hear.
My remarks will be personal ones, not official positions of my government, nor of the German EU Presidency or Council of Europe Chairmanship.
It´s more a European talking with fellow Europeans. And the other way round, of course, I´m ready to hear your remarks and to learn from you.
And speaking about Europe, I mean of course a wider scope of countries than the 27 member states of the EU.
At the same time the EU as such is not only part of this Europe, it has the essential, decisive role.
It has reached a degree of integration the European continent in modern times has never seen before.
So, the first question is or rather was:
Is the current discussion on European-Russian relations adequate? You have just heard my answer—it is not.
My further remarks will be on the following questions:
Is there a core ratio of European integration? What is the motor keeping Europe alive?
Is the supertanker Europe able to adapt? Is the European model outdated?
Is Europe ready for the globalized future? Which future for European-Russian relations?
III
Is there a core ratio for European integration?
Sometimes when I follow discussions here in Russia—and not only here—I think that Europe must be a lost cause.
Statements are made creating an image of a continent all but united.
The EU is portrayed as having lost its moral compass, in foreign policy a poodle of the Americans, as if with Brexit European integration had run out of steam and as if migration would put an end to European identities.
So what does European Integration stand for?
This year we celebrated the 75th anniversary of the end of the Second World War all over the world, all over Europe, especially here in Russia.
I was deeply moved listening in September to Johannes Brahms´ requiem played and sung in Moscow´s Lutheran cathedral by Russian musicians, conducted by an Israeli maestro, in honor of the many millions who lost their lives in the most terrible of all wars and in the Holocaust, both caused by my country, Germany.
What did not succeed after World War I, was successful after 1945: Countries in the western part of this continent, who through centuries fought wars against each other, decided to integrate step-by-step, so that wars amongst them would no more be possible or indeed thinkable.
The dimension of this is unique: Proud nation states, hundreds of years old, started to merge parts of their sovereignty and handed them over to shared institutions.
A community of European nations was build, of nations committed to democracy, freedom and the rule of law.
Out of this very spirit and rationale evolved what is now the European Union.
And after the fall of the Iron curtain it attracted the countries who finally regained their freedom, including their freedom to choose partners—and this Europe seems to be very attractive, or let´s say convincing to many who wish to partner with or even join it, until today.
Yes, this community succeeded in creating a region of enormous economic prosperity – but first and foremost it is and remains a unique peace project.
It was the peaceful togetherness of democracies and the rule of law that gave the people an unprecedented degree of freedom to seize their economic opportunities—not the other way round.
And the encouraging effects of this reach out far beyond the boundaries of the EU.
This remains relevant today, when we talk about the "who we are" of the European institutions.
The answer to the "why" of European integration is to be found on the countless military cemeteries all over Europe, including here in Russia.
IV
What is the real motor keeping Europe alive?
Last week the Ermitage Museum and a Berlin Museum jointly opened a wonderful exhibition in Saint Petersburg on the Iron Age—with the wisely chosen subtitle: "A Europe without borders".
Yes, it´s worth recalling, that in former times Europe did not define itself by borders, people were trading their talents and goods across the continent, influencing each other´s development from the Italian Peninsula to the German regions and the Caucasus.
This is part of our common heritage, our common history.
And in a special way this reflection of the past also gives us a hint to how our future could look like: A Europe with boundaries, as we are used to it, is not a given or a must.
Since the 1990s big steps were taken into this direction: Within Europe almost 30 countries introduced the so-called Schengen system, de facto abolishing the boundaries amongst them. From Portugal to Estonia, from Sweden to Greece, people can travel without being controlled. Young people can study, work and live in any place they want.
The Erasmus program has enabled, over the last seven years alone, 2 million students to study and train abroad and thus gain a personal experience of Europe growing together. And by the way: This program explicitly includes Russia.
These are some of the most exciting successes of European integration.
Others are the Euro, a common currency well appreciated in the world, in which most EU members participate.
Or think about the economic powerhouses Germany, France or Italy: despite their national strength, trade agreements with Tokyo or Washington are not negotiated by Berlin, Paris or Rome, but by Brussels alone, in the name of all 27, protecting our joint interests with far more leverage than any of us individually could do.
Think about the Council of Europe with its unique mechanism of protecting human rights and defining human rights standards, accessible for every citizen—next year we´ll celebrate 25 years of Russia´s membership. 2019 alone some thousand Russians turned to the court.
Or recall the mechanisms established in the OSCE on transparency, confidence building and verification where again Russia is member.
Its mechanisms were essential for the overall peaceful end of the Cold War in Europe. Today its instruments serve to at least calming down the conflict in Eastern Ukraine, the OSCE is asked to continue giving a framework for negotiations on the future of Nagorno Karabakh and could well help solve the crisis in Belarus.
And, by the way, the OSCE was invited to observe the presidential elections in the USA, as it is in many European countries.
Or more recently, take PESCO, an initiative 25 EU members took for closer cooperation on defense matters: more efficient coordination and joint procurement, thus strengthening European defense.
And I could mention many more areas.
Has Europe established a perfect system? No, there is daily work being done to intensify, to improve, to readjust.
But is European Integration a lost cause? Definitely not, and this is the point I want to make:
What generated European Integration in the first place and pushes it further is its unique way of interacting: it is the culture of compromising.
In fact, European Integration, especially the EU as such, is probably the most efficient compromise machine the world has ever seen.
Every day EU member states meet on different levels on a multitude of issues to discuss, propose, regulate, improve, correct, decide together.
Yes, we all know that there are issues the Union sometimes can´t find a common view on—but compared to the amount of successful coordination and joint decisions those are just very few.
And yes, decision-making might be complicated, sometimes slow, requiring a lot of patience. But let me ask: is there any group of 27 countries constantly defining common policy on almost all areas of politics more quickly and effectively? I don´t think so.
It is the readiness to compromise which is the motor of European Integration.
And compromising becomes possible because all member states are convinced that peace and prosperity are best preserved in togetherness, and because they all are bound to democratic values and the rule of law.
And they can all carry the compromises because they know that in the decision-making process all points of view matter.
V
Is the supertanker Europe able to adapt?
The culture of compromising is demanding.
We experience this daily, even we EU Ambassadors do when meeting here in Moscow. Searching for common positions is not easy, but fair compromises make the solutions found sustainable.
Again, a deeper look into the EU—why not on the most difficult current crises situations:
Let´s take Corona: when the pandemic emerged, no country on the globe was really prepared, everywhere the search began for an acceptable balance between medical and economic health, and of course first reactions were national and inward-looking.
It took a while until the EU found a common approach, first comments from the outside were full of Schadenfreude/malicious joy—and not willing to recognize the fact that the EU succeeded to maintain the trans-border flow of goods: to the profit of countries inside and outside the Union.
Mocking the EU stopped when the 27 rather soon came up with the decision to support those who suffer bad economic consequences of the pandemic with an unprecedented volume of 750 billion €. All this in addition to the EU budget and national investments for recovery.
Or take the Brexit.
I do well remember EU council meetings I attended right after Great Britain took its decision to leave.
There were many in- and outside the Union who seemed to enjoy that the Union was shaken up by London, and who may have hoped that even more member states would follow.
But: it didn't take long until member states reconvinced each other that in this globalized world no European country could be more successful on its own than together as a Union. And since then my impression has been that the 27 regained even closer unity than before.
It might be surprising to some how quickly the EU adapted to this fundamentally new situation and how strong the common line for the negotiations with London proves to be.
Think about climate policy and the consensus found on the extremely ambitious, progressive "Green Deal", proposed last December by the European Commission, which might become a decisive, catalyzing element for the world to stop or at least slow down global warming.
Or take EU Foreign Policy in the last weeks:
The fact that the 27 rather quickly agreed on sanctioning those in Belarus responsible for election fraud and violence against their own people will have been a surprise for some, who
might have hoped that the Union be split—the EU is not and kept a clear position, faithful to standards we agreed upon in the frame of the OSCE.
Do these examples mean that everything is perfect?
No, we constantly have to work on our relations amongst each other, on very practical issues as well as sometimes on the mutual respect we have to pay to each other´s specific national experiences and identities.
But the ability of the supertanker EU to adapt should not be questioned.
VI
Is the European model outdated?
Is Europe, especially the EU a modern place, open to the future? My answer is two-fold:
First:
Europe has the industrial base, the scientific base, the human capital and the necessary open society which allows it to keep up with the other top players in the technological vanguard and in the competition for the top brains.
But we may not rest on our laurels, we have to ensure that we remain at the cutting edge of tomorrow's technologies, in areas such as digitalization, nanotechnology or biotechnology.
That's why the EU is intensely working on a Single European Digital Market and on a roadmap called the "Digital Compass". We are also discussing the issue of Europe's so-called Digital Sovereignty that to our understanding should pave the way for a rules-based framework for the digital sphere.
Our efforts in climate change I mentioned before, on health the European Commission and the German Presidency last week announced, drawing lessons from the pandemic, to be working on a "Common space of Health", part of a future European Health Union,
and Foreign policy is definitely a field, where we will have to find a way to better speak with one voice.
Now here comes the second part of my answer:
If we look at all the key challenges, we are faced by globalization—be it climate change, reducing poverty, a fair access of all to the more and more limited natural resources of the planet, establishing rules in the information and cyber space—we see that solutions will only be found in togetherness: across nations, countries and continents.
And I speak about challenges not only as problems.
It´s all the wonderful possibilities a globalized togetherness could offer, providing food and water to all humans, as well as education, medicine, and I would absolutely add: freedom and security.
To assure this, a willingness to open up to the world is needed—at the same time there needs to be a willingness to refrain from the wish or even the political goal to dominate others.
This is another lesson, we Europeans learned from the painful history during the last century on our continent.
A very wise European once said: If any European thinks he could be more than Nr 2—then Europe is in trouble.
So we Europeans know from our tragic past that any policy claiming: "my country first" will not work for us.
This is why we, in the EU, manage to be a community of equals—even if some of us might be economically or militarily stronger or politically more powerful than others.
This is sometimes hard to sell to others, because it does not match traditional lines of international power policy—but this is what defines the strength of our togetherness.
And more than that:
Just think about it the other way round: Because the EU members as Nation States regard and treat each other as equals, we together, since decades, are trained to cherish and to promote both: unity and diversity. Or, in other words: a high degree of tolerance.
A croissant in France, a cappuccino in Italy and a slivovic in Zagreb or Prague—on this small continent we enjoy diversity and our cultures will never melt into one—and that is good.
Diversity is at the core of our history, culture, arts, languages.
At the same time there is something that strongly unites us. And this goes beyond the joint code of legislation:
It´s our understanding of freedom and of the dignity of every single human being.
And here I´m not talking just about the EU.
Think about the Council of Europe with its 47 Members having established a highly sophisticated and intense human rights protection system.
Or think about those many issues covered by the Human Dimension of the OSCE, setting and observing standards to the freedom of press, for free and fair elections and so on.
The best expression for what I mean I found in the title of a book written by a British author some years ago: "dignity of difference". (Jonathan Sacks)
Without space for difference and diversity no Europe.
Does this mean that just everything is possible? Not at all: the protection of the dignity of each human and of their freedom is defining the limits of freedom.
Is this undisputed? No, it is not, we all witness intense discussions on the balance between freedom and security and these discussions are important as they show the vitality of our democracies.
An example: Chancellor Merkel, during the pandemic underlined – with a view to the necessity to limit rights and freedoms of the citizens – that the virus was a tough challenge to a democratic society ("das Virus ist eine demokratische Zumutung").
And in many European countries during the different crises of the last decade political forces gained momentum, who argue for exclusion and a very national way. My country, too, is not immune against this.
Currently an extraordinary exhibition of contemporary art is being put together, to be shown next year in Berlin, Paris and Moscow.
It brings together more than 80 of the most prestigious artists from 35 European countries, including Russians, expressing themselves on Europe under the slogan "Diversity United". I´m very much looking forward to this big European event that will be part of the Year of Germany in Russia and which fits so well with respecting and promoting cultural diversity being one of the core tasks of the Council of Europe.
So, this was my second answer to the question about Europe being modern:
Our globalized future will ask for a high degree of tolerance across continents and cultures—of tolerance, which has for a long time already been a prerequisite for our European Integration.
VII
Is Europe ready for the globalized future?
Europe as such does not claim to be a world power.
But we do have interest in peace, stability and prosperity in the world.
And the world means: a more and more globalized world, where problems and opportunities can quickly bridge any distance and cross any border.
During the last years we all learned a lot about this. Just a few examples concerning Germany:
When a few years ago Europe had to deal with an enormous influx of migrants a German politician, now President of the Federal Parliament, Wolfgang Schäuble, called this a "rendezvous with globalization".
Or: Just a decade ago nobody in Germany would have thought that our soldiers would be sent to Western Africa, Mali, training Sahel forces to fight Transnational Terror and trying to stabilize that fragile part of the world.
We have understood that, in the globalized reality, what seemed to be far away has become part of our own national and European security interests.
Currently especially climate change and the pandemic demonstrate that global problems need global solutions.
Europe´s answer can and will not be building a fortress that must be shielded from a dangerous outside-world. We know that our own well-being and security depend on the well- being and security of our neighbors.
Of course, we need a Europe that efficiently protects its external borders, and we are making progress on this. But at the same time we will have to intensify opening up to neighbours and beyond, and look for partnerships with like-mindeds.
And we will do this more and more together as EU, as our national interests become more and more identical with our joint European interests.
The rationale for this is rather clear:
The big geostrategic trends and dynamics shift towards Asia and away from Europe.
And the demographic trends describe shrinking societies in Europe, while those in Asia and Africa are growing.
As a consequence we Europeans have the choice between acting more nationally, each one of us becoming more and more irrelevant or to intensify our unity and thus stay relevant together.
This means for our partners, that relations with us will stay bilateral, but at the same time they will—like it or not—become more European.
VIII
Which future for European-Russian relations?
Having said all this—where does Russia come in? The simple answer is: on almost all of it.
No country can escape two things: its history and its geography.
In this sense we do already live in what was called "one common European house". Of course, we all make friends outside, seek best possible relations with neighbors. But moving out—that is not a realistic option for any one of us.
So, back to the questions from the very beginning: How do we think it is best to relate to each other? Do we still follow the rules we agreed upon?
How do we solve problems amongst us?
Do we both still wish to build our future together? And: How do we talk about each other?
Each side has to make up its mind.
I see, as a German and European, the following three perspectives:
First:
Concerning those current very political problems, on which we fundamentally disagree, we have to work very seriously on solutions.
Be it the annexation of the Crimea, the Skripal case, the poisoning of Alexej Navalny, the massive hacking attacks on the German Parliament and the OPCW, and so on:
on all of those issues we have very clear EU positions, and with the so-called "Tiergarten- murder" in Berlin some more might follow.
They all concern issues which are essential to the core of our European self: when international law is harshly violated and Human Rights are harshly violated, when rules we all are bound by are violated, we cannot stay indifferent, we speak out.
An EU or Europe being silent or simply tolerating this, would give up its identity.
And this is not an interference into internal affairs:
The Council of Europe and in particular its Convention on Human Rights guarantee access to a European Court to the citizens of all Member States.
On the OSCE side in the Charter of Paris of 1990 all members are bound to commitments like abiding by common standards of human rights, democracy and the rule of law, refraining from the use of force against each other, respecting territorial integrity and adhering to a concept of joint and indivisible security.
Because of these commitments, violations of basic democratic standards or human rights are no longer a purely internal affair of a member country.
These are standards that all European countries signed up to.
Second:
At the same time we have to care about the strategic view on our relations and about areas where we share the interest that cooperation is needed.
Two weeks ago, the EU Delegation and my Embassy organized an expert meeting with the Russian International Affairs Council about this.
Only one single Russian voice pronounced repeatedly a very skeptical position on the future of EU-Russian relations.
All others present, Russians and Europeans, tried to identify areas where and how cooperation could make sense and improve.
Especially on climate change and transnational health we seem to have a common interest in working on common solutions—not to speak about the crises in Libya, Syria, in Ukraine or in the Caucasus, which need pragmatic cooperation and concertation in order to develop solutions.
And about a strategic view on the relations:
From the EU side, there is a strategy and there are intense discussions about it, just a few weeks ago on the level of our Foreign Ministers.
The five principles of this strategy do have a forward-looking approach,
mentioning the possibility of selective engagement on areas of common interest and stating the way out for the toughest of the problems that stand between us, that is Eastern Ukraine and the implementation of the Minsk agreements.
Speaking about the Council of Europe, of which Germany is taking over the chairmanship today, my government worked hard in support of readmitting Russia to the parliamentary Assembly one and a half years ago.
And concerning the OSCE, we very much hope for more Russian engagement.
Currently Russia is in favour of using the OSCE Minsk Group instruments for working on the status of Nagorno Karabakh—but is not willing to advocate OSCE mediation in Belarus—why?
And I would ask about strategies the other way round:
Where is Russia, given all that happened since 2014, with a forward looking strategy on European Affairs?
I think we should continue the discussions on these questions. Our relations do need strategic depth and we should both find consensus on that.
What I would propose is reflecting on kind of a destination map.
To me, there seem to be many good reasons for that—and only very few against.
By the way, given comments I sometimes hear here in Russia about the EU: I´m convinced that a strong and powerful EU is in the long run the best partner Russia can find to cope with the challenges coming up by globalization.
Third:
The people are close to each other.
In my country there is great affection to Russian culture—and the same is the case all over Europe.
We should do our best to intensify contacts.
Let´s see how the people in Russia think about all this:
The last Levada poll dealing with the EU in Russian public opinion in May 2020 asked Russian citizens whether they consider Russia to be a European country. It brought a split result: 45 % answered yes, 44 % no, the others found it difficult to answer.
One other thing emerged from the Levada poll: The EU is seen positively and considered as an attractive place to study, work and live.
When Levada asked where Russians would like to go if they had to move abroad permanently, three EU countries were among the top-5.
The most appreciated qualities of the EU were a high standard of living, stability, democracy and the rule of law.
82 % said that closer relations with the EU would be in Russia's interest.
I wonder how a poll would look like if the question is asked how far people in Russia feel European and how far "western"—but this could be a good topic for a future lecture.
IX
These were my remarks on "Building Europe´s future". I gave you my view on different aspects of Europe,
I expressed my hope for Europe being taken here in Russia for what it is, not perfect, but, as many European politicians put it: The best Europe we have ever had.
And I was trying to show how far Russia is part of all this and could or should be in the future. But this is of course for Russians to decide.
So where are we?
Let me end with the title of a book written on a historical topic a few years ago: "un seul lit pour deux reves"—only one bed for two dreams.
We might have different dreams, but waking up we realize each day that we live together and that we better ought to look for harmony in the daily life of our relationship.
From our partner RIAC
EU: The stalemate in negotiations brings Serbia ever closer to Russia and China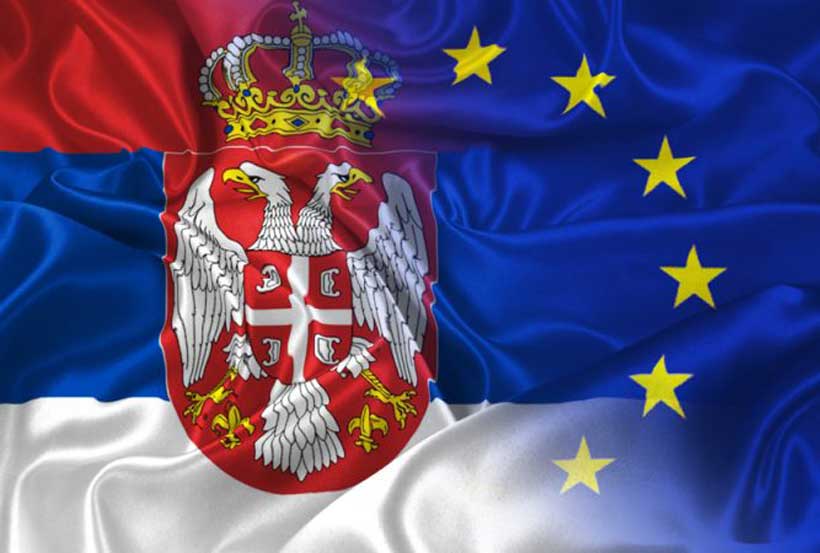 Serbia has been waiting since 2012 for the European Union to respond to its application to become a full member of the EU.
In spite of exhausting negotiations, this response is slow in coming and the main cause of the stalemate has a clear name: Kosovo. Before accepting Serbia's application for membership, the EU requires a definitive solution to the relations between Serbia and that region that broke away from it after the 1999 conflict – when NATO came to the aid of the Kosovo Albanians – and proclaimed its independence in February 2008.
Serbia has never recognised the birth of the Kosovo Republic, just as many other important countries have not: out of 193 UN members, only 110 have formally accepted the birth of the new republic, while the rest, including Russia, China, Spain, Greece and Romania – to name just the most important ones – refuse to recognise the independence of the Albanians of what was once a region of Serbia.
The European Union cannot accept that one of its members is in fact unable to guarantee control over its borders, as would be the case for Serbia if its membership were accepted.
In fact, since the end of the war between Kosovo and Serbia, there is no clear and controlled border between the two countries. In order to avoid continuous clashes, Kosovo and Serbia have actually left the border open, turning a blind eye to the 'smuggling economy' that thrives on both sides of the border.
In this situation, if Serbia were to become a full member of the European Union, it would create a gap in the borders of the entire Schengen area, as anyone passing through Kosovo could then move into all EU countries.This is not the only obstacle to Serbia's accession to the European
Union: many European chancelleries are wary of Serbian foreign policy which, since the dissolution of the Yugoslav Federation, has maintained a privileged relationship with Russia, refusing to adhere to the sanctions decided by Europe against Russia after the annexation of Crimea to the detriment of Ukraine.
During the Covid-19 pandemic, Serbia even agreed to produce the Russian vaccine 'Sputnik V' directly in its own laboratories, blatantly snubbing EU's vaccine offer.
For the United States and some important European countries, Serbia's formal accession to the European Union could shift the centre of gravity of Europe's geopolitics towards the East, opening a preferential channel for dialogue between Russia and the European Union through Serbia.
This possibility, however, is not viewed unfavourably by Germany which, in the intentions of the CDU President, Armin Laschet, the next candidate to succeed Angela Merkel as Chancellor, has recently declared he is in favour of a foreign policy that "develops in multiple directions", warning his Western partners of the danger resulting from "the interruption of the dialogue with Russia and China". In this regard, Laschet has publicly stated that 'foreign policy must always focus on finding ways to interact, including cooperation with countries that have different social models from ours, such as Russia, China and the nations of the Arab world'.
Today we do not know whether in autumn Laschet will take over the leadership of the most powerful country in the European Union, but what is certain is that Serbia's possible formal membership of the European Union could force Europe to revise some of its foreign policy stances, under the pressure of a new Serbian-German axis.
Currently, however, Serbia's membership of the European Union still seems a long way off, precisely because of the stalemate in the Serbia-Kosovo negotiations.
In 2013 Kosovo and Serbia signed the so-called 'Brussels Pact', an agreement optimistically considered by European diplomats to be capable of rapidly normalising relations between Serbia and Kosovo, in view of mutual political and diplomatic recognition.
An integral part of the agreement was, on the one hand, the commitment of Kosovo's authorities to recognise a high degree of administrative autonomy to the Kosovo municipalities inhabited by a Serb majority and, on the other hand, the collaboration of the Serbs in the search for the remains of the thousands of Kosovar Albanians presumably eliminated by Milosevic's troops during the repression that preceded the 1999 war.
Neither of the two commitments has so far been fulfilled and, during the meeting held in Brussels on July 21 between Serbian President Alexander Vucic and Kosovo's Prime Minister Albin Kurti, harsh words and reciprocal accusations were reportedly exchanged concerning the failure to implement the 'Pact', to the extent that the Head of European foreign policy, Josep Borrel, publicly asked the two parties to 'close the chapter of a painful past through a legally binding agreement on the normalisation of mutual relations, with a view to building a European future for its citizens'. This future seems nebulous, to say the least, if we consider that Serbia, in fact, refuses to recognise the legal value of degrees and diplomas awarded by the Kosovo academic authorities also to members of the Kosovo Serb minority.
Currently, however, both contenders are securing support and alliances in Europe and overseas.
Serbia is viewed favourably by the current President of the European Union, Slovenian Janez Jansa, who is a supporter of its membership because "this would definitively mark the dissolution of the Yugoslav Federation". The vast majority of European right-wing parties, ranging from the French 'Rassemblement National' to the Hungarian 'Fydesz', also approve of Serbia's membership application and openly court the Serbian minorities living in their respective countries while, after the years of US disengagement from the Balkans under Presidents Bush, Obama and Trump, the Biden administration has decided to put the region back on the list of priority foreign policy commitments, entrusting the 'Serbia dossier' to the undersecretary for European and Eurasian Affairs, Matthew Palmer, an authoritative and experienced diplomat.
With a view to supporting its application for European membership, Serbia has also deployed official lobbyists.
Last June, Natasha Dragojilovic Ciric's lobbying firm ND Consulting officially registered in the so-called EU 'transparency register' to promote support for Serbia's membership. ND is financed by a group of international donors and is advised by Igor Bandovic, former researcher at the American Gallup and Head of the Belgrade Centre for Security Policy, by lawyer Katarina Golubovic of the 'Committee of Human Rights Lawyers' and Jovana Spremo, former OSCE consultant.
These are the legal experts deployed by Serbia in Brussels to support its application for formal European integration, but in the meantime Serbia is not neglecting its "eastern" alliances.
Earlier this month, the Head of the SVR, the Russian Foreign Intelligence Service, Sergey Naryshkin, paid an official visit to Belgrade, a few weeks after the conclusion of a joint military exercise between Russian special forces (the "Spetznaz") and Serbian special forces.
In the Serbian capital, Naryshkin not only met his Serbian counterpart Bratislav Gasic, Head of the 'Bezbednosno Informativna Agencija', the small but powerful Serbian secret service, but was also received by the President of the Republic Alexander Vucic with the aim of publicising the closeness between Serbia and Russia.
The timing of the visit coincides with the resumption of talks in Brussels on Serbia's accession to the European Union and can clearly be considered as instrumental in exerting subtle diplomatic pressure aimed at convincing the European Union of the possibility that, in the event of a refusal, Serbia may decide to definitely turn its back on the West and ally with an East that is evidently more willing to treat the Serbs with the dignity and attention that a proud and tenacious people believes it deserves.
A piece of news confirming that Serbia is ready to turn its back on the West, should Europe continue to postpone the decision on its accession to the European Union is the fact that China has recently signed a partnership agreement with Serbia in the field of pharmaceutical research, an agreement that makes Serbia one of China's current largest commercial partners on the European continent.
When the Soviet Union collapsed and the Warsaw Pact died, there was much speculation that NATO would consider itself redundant and either disappear or at least transmogrify into a less aggressive body.
Failing that, Moscow at least felt assured that NATO would not include Germany, let alone expand eastwards. Even the NATO Review, NATO's PR organ, wrote self-apologetically twenty-five years after the fall of the Berlin wall: "Thus, the debate about the enlargement of NATO evolved solely in the context of German reunification. In these negotiations Bonn and Washington managed to allay Soviet reservations about a reunited Germany remaining in NATO. This was achieved by generous financial aid, and by the '2+4 Treaty' ruling out the stationing of foreign NATO forces on the territory of the former East Germany. However, it was also achieved through countless personal conversations in which Gorbachev and other Soviet leaders were assured that the West would not take advantage of the Soviet Union's weakness and willingness to withdraw militarily from Central and Eastern Europe."
Whatever the polemics about Russia's claim that NATO broke its promises, the facts of what happened following the fall of the Berlin wall and the negotiations about German re-unification strongly demonstrate that Moscow felt cheated and that the NATO business and military machine, driven by a jingoistic Cold War Britain, a selfish U.S. military-industrial-congressional complex and an atavistic Russia-hating Poland, saw an opportunity to become a world policeman.
This helps to explain why, in contrast to Berlin, NATO decided to keep Nicosia as the world's last divided city. For Cyprus is in fact NATO's southernmost point, de facto. And to have resolved Cyprus' problem by heeding UN resolutions and getting rid of all foreign forces and re-unifying the country would have meant that NATO would have 'lost' Cyprus: hardly helpful to the idea of making NATO the world policeman. Let us look a little more closely at the history behind this.
Following the Suez debacle in 1956, Britain had already moved its Middle East Headquarters from Aden to Cyprus, while the U.S. was taking over from the UK and France in the Middle East. Although, to some extent under U.S. pressure, Britain was forced to bring Makarios out of exile and begin negotiating with Greece and Turkey to give up its colony, the U.S. opted for a NATO solution. It would not do to have a truly sovereign Cyprus, but only one which accepted the existence of the Sovereign Base Areas (SBAs) as part and parcel of any settlement; and so it has remained, whatever the sophistic semantics about a bizonal settlement and a double-headed government. The set of twisted and oft-contradictory treaties that have bedevilled the island since 1960 are still afflicting the part-occupied island which has been a de facto NATO base since 1949. Let us look at some more history.
When Cyprus obtained its qualified independence in 1960, Greece and Turkey had already signed, on 11 February 1959, a so called 'Gentlemen's Agreement', agreeing that they would support Cyprus' entry into NATO.1 This was, however, mere posture diplomacy, since Britain—and the U.S. for that matter—did not trust Cyprus, given the strength of the Progressive Party of Working People (AKEL) and the latter's links to Moscow. The Ministry of Defence (MOD) wrote: 'Membership of NATO might make it easier for the Republic of Cyprus and possibly for the Greeks and Turks to cause political embarrassment should the United Kingdom wish to use the bases […] for national ends outside Cyprus […] The access of the Cypriot Government to NATO plans and documents would present a serious security risk, particularly in view of the strength of the Cypriot Communist Party. […] The Chiefs of Staff, therefore, feel most strongly that, from the military point of view, it would be a grave disadvantage to admit Cyprus to NATO.'2 In short, Cyprus was considered unreliable.
As is well known, the unworkable constitution (described as such by the Foreign Office and even by David Hannay, the Annan reunification plan's PR man), resulted in chaos and civil strife: in January 1964, during the chaos caused by the Foreign Office's help and encouragement to President Makarios to introduce a 'thirteen point plan' to solve Cyprus' problems, British Prime Minister Douglas-Home told the Cabinet: 'If the Turks invade or if we are seriously prevented from fulfilling our political role, we have made it quite clear that we will retire into base.'3 Put more simply, Britain had never had any intention of upholding the Treaty of Guarantee.
In July of the same year, the Foreign Office wrote: 'The Americans have made it quite clear that there would be no question of using the 6th Fleet to prevent any possible Turkish invasion […] We have all along made it clear to the United Nations that we could not agree to UNFICYP's being used for the purpose of repelling external intervention, and the standing orders to our troops outside UNFYCYP are to withdraw to the sovereign base areas immediately any such intervention takes place.'4
It was mainly thanks to Moscow and President Makarios that in 1964 a Turkish invasion and/or the island being divided between Greece and Turkey was prevented. Such a solution would have strengthened NATO, since Cyprus would no longer exist other than as a part of NATO members Greece and Turkey. Moscow had issued the following statement: 'The Soviet Government hereby states that if there is an armed foreign invasion of Cypriot territory, the Soviet Union will help the Republic of Cyprus to defend its freedom and independence against foreign intervention.'5
Privately, Britain, realising the unworkability of the 1960 treaties, was embarrassed, and wished to relieve itself of the whole problem. The following gives us the backstage truth: 'The bases and retained sites, and their usefulness to us, depend in large measure on Greek Cypriot co-operation and at least acquiescence. A 'Guantanamo'6 position is out of the question. Their future therefore must depend on the extent to which we can retain Greek and/or Cypriot goodwill and counter USSR and UAR pressures. There seems little doubt, however, that in the long term, our sovereign rights in the SBA's will be considered increasingly irksome by the Greek Cypriots and will be regarded as increasingly anachronistic by world public opinion.7
Following the Turkish invasion ten years later, Britain tried to give up its bases: 'British strategic interests in Cyprus are now minimal. Cyprus has never figured in NATO strategy and our bases there have no direct NATO role. The strategic value of Cyprus to us has declined sharply since our virtual withdrawal from east of Suez. This will remain the case when the Suez Canal has reopened.8
A Cabinet paper concluded: 'Our policy should continue to be one of complete withdrawal of our military presence on Cyprus as soon as feasible. […] In the circumstances I think that we should make the Americans aware of our growing difficulty in continuing to provide a military presence in Cyprus while sustaining our main contribution to NATO. […]9
Britain kept trying to give up the bases, but the enabler of the Turkish invasion, Henry Kissinger, did not allow Britain to give up its bases and listening posts, since that would have weakened NATO, and since Kissinger needed the bases because of the Arab-Israel dispute.10
Thus, by the end of 1980, in a private about-turn, Britain had completely succumbed to American pressure: 'The benefits which we derive from the SBAs are of major significance and virtually irreplaceable. They are an essential contribution to the Anglo-American relationship. The Department have regularly considered with those concerned which circumstances in Cyprus are most conducive to our retaining unfettered use of our SBA facilities. On balance, the conclusion is that an early 'solution' might not help (since pressures against the SBAs might then build up), just as breakdown and return to strife would not, and that our interests are best served by continuing movement towards a solution – without the early prospect of arrival [author's italics]11.
And so it is today: Cyprus is a de facto NATO territory. A truly independent, sovereign and united Cyprus is an anathema to the U.S. and Britain, since such a scenario would afford Russia the hypothetical opportunity to increase its influence in the Eastern Mediterranean.
From our partner RIAC
[1] Ministry of Defence paper JP (59) 163, I January 1960, BNA DEFE 13/99/MO/5/1/5, in Mallinson, William, Cyprus, a Modern History, I.B. Tauris (now Bloomsbury), London and New York, 2005, 2009, 2012, p.49.
[2] Ibid.
[3] Memorandum by Prime Minister, 2 January 1964, BNA CAB/129/116, in ibid, Mallinson, William, p.37.
[4] British Embassy, Washington, to Foreign Office, 7 July 1964, telegram 8541, BNA FO 371/174766, file C1205/2/G, in ibid.', Mallinson, William, p. 37.
[5] Joseph, Joseph S., Cyprus, Ethnic Conflict and International Politics, St Martin's Press, London and New York, 1997, p. 66.
[6] In 1964, Cuba cut off supplies to the American base at Guantanamo Bay, since the US refused to return it to Cuba, as a result of which the US took measures to make it self-sufficient.
[7] Briefing paper, 18 June 1964, BNA-DO/220/170, file MED 193/105/2, part A. Mallinson,William, Kissinger and the Invasion of Cyprus, p. 127.
[8] 'British Interests in the Eastern Mediterranean', draft paper, 11 April 1975, BNA-FCO 46/1248, file DPI/515/1.
[9] Cabinet paper, 29 September 1976, in op. cit. Mallinson, William, Kissinger and the Invasion of Cyprus, p.134.
[10] Mallinson, William, Britain and Cyprus: Key Themes and Documents, I.B. Tauris, London and New York, 2011, and Bloomsbury, London and New York, 2020, pp. 87-121.
[11] Fergusson to Foreign Minister's Private Secretary, minute, 8 December 1980, BNA-FCO 9/2949, file WSC/023/1, part C.
Belarus divorces from the Eastern Partnership: A new challenge for the EU Neighborhood Policy
The Eastern Partnership (EaP) is the Eastern dimension of the EU Neighborhood Policy adopted back in 2009 aimed at deepening relations between Brussels and six Eastern European partners – Armenia, Azerbaijan, Belarus, Georgia, Moldova and Ukraine. The EaP has been regarded as a strategic initiative based on mutual interests and common values with a goal of strengthening political and economic relations with those countries, helping them enhance their institutional capacity through sustainable reforms. While increasing stability and paving the way for the sustainable development of those societies, the EU's overall goal has been to secure its Eastern borders.
Since the very beginning the EaP has been suspiciously viewed by Russia as an attempt of expansion of the sphere of influence and as a first step of EU membership of these countries. Russians point to the EU and NATO ambitious expansion eastward as the main reason for complicated relations and in this context the EaP has been regarded with traditional fears and paranoic perceptions. The Russian hard power approach causes serious problems for the EaP which fails to mitigate security concerns of partner countries and to come up with serious initiatives for conflict settlement. Being a laggard in terms of soft power, the Russian ruling elite has continuously used all hard power foreign policy instruments at its disposal trying to undermine the coherence of the initiative. And the very recent démarche of Belarus to withdraw from the EaP should be seen in this context of confrontation.
On 28th of June, the ministry of foreign affairs of Belarus announced a decision to halt its membership in the EaP as a response to the EU sanctions imposed on Minsk accompanied by the recalling ambassadors from both sides. Actually, this isn't the first case of the EaP walkout blackmailed by Lukashenko. The first escape was attempted in September-October 2011, but the difficulties were soon resolved and Lukashenko revised his decision. This time situation seems very complicated and these far-reaching tensions may have tough consequences for Lukashenko's regime. This new group of sectoral sanctions which target banking, oil, telecommunication spheres and also ban the export of potash, is a harsh response from the EU against Lukashneko's scandalous hijacking activity in May to detain a Belarusian opposition journalist and blogger Roman Protasevich.
Lukashenko's administration not only challenges the EU Neighborhood Policy and shows no retreat, but also goes forward escalating the situation. Minsk takes high risks freezing the Readmission Agreement signed by the EU. This document is a legal basis for bilateral cooperation aimed at struggling against irregular migration flows. It's not a secret that the territory of Belarus has been used for illegal migration for the groups from the Middle East to penetrate into neighboring EU member states such as Poland, Lithuania and Latvia. Moreover, Belarus territory has served as a transit route for smuggling circles going from East to West and vice versa. And now closing eyes on all these channels, Minsk hopes to increase the bargaining power vis-à-vis Brussels. However, given the Western reactions, it seems that this time the EU is resolute.
Despite the fact that Charles Michel, the President of the EU Council, described this withdrawal as "another step backwards" and even threatened that "this will escalate tensions having clear negative impacts", the EU wants to continue working with the Belarusian society as Josep Borrel stated. The EU's determination to keep the bridges alive with the Belarusian people, in spite of Lukashneko's radical stance, is aimed at preventing further isolationism of Minsk which would benefit only Russia.
In contrast to the increasing level of tensions with the EU, the Russian authorities continue to support Lukasheno's administration, thus trying to deepen the gap and to bring Belarus under their total influence. Russia uses Belarus in its chessboard with the EU and the USA in Eastern Europe. Last year's fraud elections and brutal crackdown by Lukashenko left him alone with the only source of power stemming from the Kremlin. Thus the withdrawal from the EaP should be understood not only as a convulsion of the Belarusian authorities in response to the sanctions, but also Russia's employment of the Belarus card to respond to the recent joint statement of the EU-US summit in Brussels, when both parties declared their intention to stand with the people of Belarus, supporting their demands for human rights and democracy simultaneously criticising Lukashenko's regime and his reckless political behavior and also criticising Russian's unacceptable behavior.
So, Lukashenko's step to quit the EaP can be seen as a well-calculated adulatory sign towards Moscow sacrificing the last remnants of sovereignty in order to receive financial and political lifebuoy amid the increasing crisis in the result of sanctions. And the recent visit of N. Patrushev, the Secretary of the Security Council of Russia, to Minsk right after the withdrawal decision shows Russian inclination to strike while the iron is hot and to abuse the vulnerable situation of Belarus. Patrushev stated that the ultimate goal of foreign powers is to change the power in Belarus and he suggested instead of focusing on internal issues, to bring their forces together against external threats as their influence affects internal developments. For this reason, deeper integration of security and military services of both countries are on the table.
The reaction of opposition leader S. Tikhanovskaya was very rough, stating that this suspension will cut the opportunities of ordinary citizens who benefit from the political and economic outcomes of the EaP. Moreover, she claims that Lukashenko doesn't have a right to represent Belarus since August 2020 and his decisions don't have legal consequences for Belarus. This kind of approach is shared by the leadership of Lithuania too, whose president and minister of foreign affairs not only refuse to recognize Lukashenko as a legitimate president, but also highlight the role of the Kremlin in supporting the dictatorial power of Lukashenko in exchange for decreasing sovereignty.
The blackmail of Lukashenko to challenge the EU Eastern Neighborhood Policy in order to have the sanctions lifted may bring about such kind of precedents with other partnering countries as well. First of all, this concerns Azerbaijan which continues to face serious problems related with human rights, freedom of expression, the problem of Prisoners of War and other traits of authoritarian power. It's well-known that human rights issues have been the underwater stones in the EU and Azerbaijan relations and they continue to pose new challenges for Aliyev's non-democratice regime. Another weak ring of the EaP chain is Armenia. Even though reelected N. Pashinyan is eager to pursue a balanced foreign policy, post-war Armenia still faces serious limitations given its vulnerable dependence on Russia. Besides, Pashinyan's main rival and the former President R. Kocharyan, whose alliance will be the second largest faction in the newly elected Parliament has recently stated that this new parliament can last up to one and half years and nobody can exclude the possibility of new snap elections. His pro-Russian attitude and anti-Western stance are well-known and in case he becomes a prime-minister, there is no guarantee that he will follow the path of Lukashenko.
Therefore the statement of the Austrian MFA, that "we cannot leave South Caucasus to others" during the recent official visit of the Austrian, Romanian and Latvian MFA under the mandate of the EU High Representative to the South Caucasus, reminds about the EU presence in the region and also the fact that the 'normative power' can be a source of balance and a status quo changer.