On November 18, 2020, Ambassador Extraordinary and Plenipotentiary of the Federal Republic of Germany to the Russian Federation Géza Andreas von Geyr was giving an open lecture at HSE University.
What is the place and role of the European Union in the modern world? How is the European integration project developing, and what role does Germany play in it? How are relations between the EU and Russia today?
The event was organized jointly by HSE University and the Embassy of the Federal Republic of Germany in Moscow as part of the Germany's Presidency of the Council of the European Union and of the Committee of Ministers of the Council of Europe, as well as in the framework of the Year of Germany in Russia.
Text of the Lecture
Building Europe's Future
Prof Kuzminov, Prof Prostakov, Dear Students,
Thanks a lot for the invitation to speak to you today.
I regret that, due to the pandemic, I can´t talk to you face to face—but I enjoy that I can reach out to so many of you online.
I´m especially grateful for the invitation as your university is one of the best and most prestigious in Russia. And it is an excellent venue for a discussion dedicated to Europe.
I
From the beginning, the HSE has established a strong cooperation with European Universities—and with European Institutions.
The ties in education and science between Russia and Europe go far back in history, they were mutually enriching—and they still are.
That's why we can say that the DNA of so many universities in Russia is very much European. And we Europeans learned a lot from Russians in the field of science and education as well.
If I take just my country, Germany:
Cooperation and exchange in education and science is one of the most stable and reliable links between our countries—and for me it is one of the most precious:
Because I take it as a strong investment in our common future.
Yes, I´m proud, that today Germany is the top destination for students from the Russian Federation going abroad.
More than 14,000 students and scientists came to Germany in 2019, each of them contributing to building bridges between our countries.
And the other way round Russia is attractive for German students, as its Universities offer great conditions and high standards.
Our scientific cooperation continues to produce excellent results. To mention just two fascinating projects:
Russian and German research centers work together on the European XFEL, the largest X-ray laser in the world, and Russian and German researchers jointly took part in the largest Arctic research expedition ever—"MOSAiC"—which was successfully completed a few weeks ago.
And this bond continues to grow:
We have just concluded a bilateral year of Higher Education Cooperation and Science, and in September, we have started our year of Germany in Russia, which includes a multitude of education and research related events and projects.
II
(Is the discussion on European-Russian relations adequate?)
What I just mentioned shines a light on only some of the many layers of relations Russian universities and scientific institutions enjoy with European countries.
I´m convinced, if we added them all up, the Euro-Russian dimension would turn out as one of the strongest partnerships in education and science worldwide.
This stands as an example for one part of the European–Russian reality: Things go well—in some areas.
The other one is: we all read and experience that EU-Russian relations are, to put it in diplomatic words: not in the best shape.
Or, to be more precise: On very fundamental, tangible political issues we very much disagree.
I could leave it at that, go on and talk about the need to paint a layered and nuanced picture and that a lot of work will have to be done to solve those problematic issues and to rebuild trust.
But my feeling is that the problem goes deeper.
Something went awry in the way we perceive each other.
Are we still both convinced that good European Russian relations are in our long-term interest?
So, do we give this relationship, be it currently good or bad, the strategic depth it should have?
And even more basic:
Do we still understand each other well enough? Do we explain our views well enough?
Are we attentive enough when listening to each other? And: how do we talk about each other?
I´m convinced that the time has come to reflect well on all of this; if we do not take our time to do that, the very core of our relationship could be seriously harmed.
This is what I have in mind talking to you about Europe today.
To explain and to be ready to understand, in both directions. This is, if you so wish, the essence of diplomacy.
So, what in fact I already started with, is to explain my views, offer some remarks on Europe—and I will do this in the form of answers to questions I often hear.
My remarks will be personal ones, not official positions of my government, nor of the German EU Presidency or Council of Europe Chairmanship.
It´s more a European talking with fellow Europeans. And the other way round, of course, I´m ready to hear your remarks and to learn from you.
And speaking about Europe, I mean of course a wider scope of countries than the 27 member states of the EU.
At the same time the EU as such is not only part of this Europe, it has the essential, decisive role.
It has reached a degree of integration the European continent in modern times has never seen before.
So, the first question is or rather was:
Is the current discussion on European-Russian relations adequate? You have just heard my answer—it is not.
My further remarks will be on the following questions:
Is there a core ratio of European integration? What is the motor keeping Europe alive?
Is the supertanker Europe able to adapt? Is the European model outdated?
Is Europe ready for the globalized future? Which future for European-Russian relations?
III
Is there a core ratio for European integration?
Sometimes when I follow discussions here in Russia—and not only here—I think that Europe must be a lost cause.
Statements are made creating an image of a continent all but united.
The EU is portrayed as having lost its moral compass, in foreign policy a poodle of the Americans, as if with Brexit European integration had run out of steam and as if migration would put an end to European identities.
So what does European Integration stand for?
This year we celebrated the 75th anniversary of the end of the Second World War all over the world, all over Europe, especially here in Russia.
I was deeply moved listening in September to Johannes Brahms´ requiem played and sung in Moscow´s Lutheran cathedral by Russian musicians, conducted by an Israeli maestro, in honor of the many millions who lost their lives in the most terrible of all wars and in the Holocaust, both caused by my country, Germany.
What did not succeed after World War I, was successful after 1945: Countries in the western part of this continent, who through centuries fought wars against each other, decided to integrate step-by-step, so that wars amongst them would no more be possible or indeed thinkable.
The dimension of this is unique: Proud nation states, hundreds of years old, started to merge parts of their sovereignty and handed them over to shared institutions.
A community of European nations was build, of nations committed to democracy, freedom and the rule of law.
Out of this very spirit and rationale evolved what is now the European Union.
And after the fall of the Iron curtain it attracted the countries who finally regained their freedom, including their freedom to choose partners—and this Europe seems to be very attractive, or let´s say convincing to many who wish to partner with or even join it, until today.
Yes, this community succeeded in creating a region of enormous economic prosperity – but first and foremost it is and remains a unique peace project.
It was the peaceful togetherness of democracies and the rule of law that gave the people an unprecedented degree of freedom to seize their economic opportunities—not the other way round.
And the encouraging effects of this reach out far beyond the boundaries of the EU.
This remains relevant today, when we talk about the "who we are" of the European institutions.
The answer to the "why" of European integration is to be found on the countless military cemeteries all over Europe, including here in Russia.
IV
What is the real motor keeping Europe alive?
Last week the Ermitage Museum and a Berlin Museum jointly opened a wonderful exhibition in Saint Petersburg on the Iron Age—with the wisely chosen subtitle: "A Europe without borders".
Yes, it´s worth recalling, that in former times Europe did not define itself by borders, people were trading their talents and goods across the continent, influencing each other´s development from the Italian Peninsula to the German regions and the Caucasus.
This is part of our common heritage, our common history.
And in a special way this reflection of the past also gives us a hint to how our future could look like: A Europe with boundaries, as we are used to it, is not a given or a must.
Since the 1990s big steps were taken into this direction: Within Europe almost 30 countries introduced the so-called Schengen system, de facto abolishing the boundaries amongst them. From Portugal to Estonia, from Sweden to Greece, people can travel without being controlled. Young people can study, work and live in any place they want.
The Erasmus program has enabled, over the last seven years alone, 2 million students to study and train abroad and thus gain a personal experience of Europe growing together. And by the way: This program explicitly includes Russia.
These are some of the most exciting successes of European integration.
Others are the Euro, a common currency well appreciated in the world, in which most EU members participate.
Or think about the economic powerhouses Germany, France or Italy: despite their national strength, trade agreements with Tokyo or Washington are not negotiated by Berlin, Paris or Rome, but by Brussels alone, in the name of all 27, protecting our joint interests with far more leverage than any of us individually could do.
Think about the Council of Europe with its unique mechanism of protecting human rights and defining human rights standards, accessible for every citizen—next year we´ll celebrate 25 years of Russia´s membership. 2019 alone some thousand Russians turned to the court.
Or recall the mechanisms established in the OSCE on transparency, confidence building and verification where again Russia is member.
Its mechanisms were essential for the overall peaceful end of the Cold War in Europe. Today its instruments serve to at least calming down the conflict in Eastern Ukraine, the OSCE is asked to continue giving a framework for negotiations on the future of Nagorno Karabakh and could well help solve the crisis in Belarus.
And, by the way, the OSCE was invited to observe the presidential elections in the USA, as it is in many European countries.
Or more recently, take PESCO, an initiative 25 EU members took for closer cooperation on defense matters: more efficient coordination and joint procurement, thus strengthening European defense.
And I could mention many more areas.
Has Europe established a perfect system? No, there is daily work being done to intensify, to improve, to readjust.
But is European Integration a lost cause? Definitely not, and this is the point I want to make:
What generated European Integration in the first place and pushes it further is its unique way of interacting: it is the culture of compromising.
In fact, European Integration, especially the EU as such, is probably the most efficient compromise machine the world has ever seen.
Every day EU member states meet on different levels on a multitude of issues to discuss, propose, regulate, improve, correct, decide together.
Yes, we all know that there are issues the Union sometimes can´t find a common view on—but compared to the amount of successful coordination and joint decisions those are just very few.
And yes, decision-making might be complicated, sometimes slow, requiring a lot of patience. But let me ask: is there any group of 27 countries constantly defining common policy on almost all areas of politics more quickly and effectively? I don´t think so.
It is the readiness to compromise which is the motor of European Integration.
And compromising becomes possible because all member states are convinced that peace and prosperity are best preserved in togetherness, and because they all are bound to democratic values and the rule of law.
And they can all carry the compromises because they know that in the decision-making process all points of view matter.
V
Is the supertanker Europe able to adapt?
The culture of compromising is demanding.
We experience this daily, even we EU Ambassadors do when meeting here in Moscow. Searching for common positions is not easy, but fair compromises make the solutions found sustainable.
Again, a deeper look into the EU—why not on the most difficult current crises situations:
Let´s take Corona: when the pandemic emerged, no country on the globe was really prepared, everywhere the search began for an acceptable balance between medical and economic health, and of course first reactions were national and inward-looking.
It took a while until the EU found a common approach, first comments from the outside were full of Schadenfreude/malicious joy—and not willing to recognize the fact that the EU succeeded to maintain the trans-border flow of goods: to the profit of countries inside and outside the Union.
Mocking the EU stopped when the 27 rather soon came up with the decision to support those who suffer bad economic consequences of the pandemic with an unprecedented volume of 750 billion €. All this in addition to the EU budget and national investments for recovery.
Or take the Brexit.
I do well remember EU council meetings I attended right after Great Britain took its decision to leave.
There were many in- and outside the Union who seemed to enjoy that the Union was shaken up by London, and who may have hoped that even more member states would follow.
But: it didn't take long until member states reconvinced each other that in this globalized world no European country could be more successful on its own than together as a Union. And since then my impression has been that the 27 regained even closer unity than before.
It might be surprising to some how quickly the EU adapted to this fundamentally new situation and how strong the common line for the negotiations with London proves to be.
Think about climate policy and the consensus found on the extremely ambitious, progressive "Green Deal", proposed last December by the European Commission, which might become a decisive, catalyzing element for the world to stop or at least slow down global warming.
Or take EU Foreign Policy in the last weeks:
The fact that the 27 rather quickly agreed on sanctioning those in Belarus responsible for election fraud and violence against their own people will have been a surprise for some, who
might have hoped that the Union be split—the EU is not and kept a clear position, faithful to standards we agreed upon in the frame of the OSCE.
Do these examples mean that everything is perfect?
No, we constantly have to work on our relations amongst each other, on very practical issues as well as sometimes on the mutual respect we have to pay to each other´s specific national experiences and identities.
But the ability of the supertanker EU to adapt should not be questioned.
VI
Is the European model outdated?
Is Europe, especially the EU a modern place, open to the future? My answer is two-fold:
First:
Europe has the industrial base, the scientific base, the human capital and the necessary open society which allows it to keep up with the other top players in the technological vanguard and in the competition for the top brains.
But we may not rest on our laurels, we have to ensure that we remain at the cutting edge of tomorrow's technologies, in areas such as digitalization, nanotechnology or biotechnology.
That's why the EU is intensely working on a Single European Digital Market and on a roadmap called the "Digital Compass". We are also discussing the issue of Europe's so-called Digital Sovereignty that to our understanding should pave the way for a rules-based framework for the digital sphere.
Our efforts in climate change I mentioned before, on health the European Commission and the German Presidency last week announced, drawing lessons from the pandemic, to be working on a "Common space of Health", part of a future European Health Union,
and Foreign policy is definitely a field, where we will have to find a way to better speak with one voice.
Now here comes the second part of my answer:
If we look at all the key challenges, we are faced by globalization—be it climate change, reducing poverty, a fair access of all to the more and more limited natural resources of the planet, establishing rules in the information and cyber space—we see that solutions will only be found in togetherness: across nations, countries and continents.
And I speak about challenges not only as problems.
It´s all the wonderful possibilities a globalized togetherness could offer, providing food and water to all humans, as well as education, medicine, and I would absolutely add: freedom and security.
To assure this, a willingness to open up to the world is needed—at the same time there needs to be a willingness to refrain from the wish or even the political goal to dominate others.
This is another lesson, we Europeans learned from the painful history during the last century on our continent.
A very wise European once said: If any European thinks he could be more than Nr 2—then Europe is in trouble.
So we Europeans know from our tragic past that any policy claiming: "my country first" will not work for us.
This is why we, in the EU, manage to be a community of equals—even if some of us might be economically or militarily stronger or politically more powerful than others.
This is sometimes hard to sell to others, because it does not match traditional lines of international power policy—but this is what defines the strength of our togetherness.
And more than that:
Just think about it the other way round: Because the EU members as Nation States regard and treat each other as equals, we together, since decades, are trained to cherish and to promote both: unity and diversity. Or, in other words: a high degree of tolerance.
A croissant in France, a cappuccino in Italy and a slivovic in Zagreb or Prague—on this small continent we enjoy diversity and our cultures will never melt into one—and that is good.
Diversity is at the core of our history, culture, arts, languages.
At the same time there is something that strongly unites us. And this goes beyond the joint code of legislation:
It´s our understanding of freedom and of the dignity of every single human being.
And here I´m not talking just about the EU.
Think about the Council of Europe with its 47 Members having established a highly sophisticated and intense human rights protection system.
Or think about those many issues covered by the Human Dimension of the OSCE, setting and observing standards to the freedom of press, for free and fair elections and so on.
The best expression for what I mean I found in the title of a book written by a British author some years ago: "dignity of difference". (Jonathan Sacks)
Without space for difference and diversity no Europe.
Does this mean that just everything is possible? Not at all: the protection of the dignity of each human and of their freedom is defining the limits of freedom.
Is this undisputed? No, it is not, we all witness intense discussions on the balance between freedom and security and these discussions are important as they show the vitality of our democracies.
An example: Chancellor Merkel, during the pandemic underlined – with a view to the necessity to limit rights and freedoms of the citizens – that the virus was a tough challenge to a democratic society ("das Virus ist eine demokratische Zumutung").
And in many European countries during the different crises of the last decade political forces gained momentum, who argue for exclusion and a very national way. My country, too, is not immune against this.
Currently an extraordinary exhibition of contemporary art is being put together, to be shown next year in Berlin, Paris and Moscow.
It brings together more than 80 of the most prestigious artists from 35 European countries, including Russians, expressing themselves on Europe under the slogan "Diversity United". I´m very much looking forward to this big European event that will be part of the Year of Germany in Russia and which fits so well with respecting and promoting cultural diversity being one of the core tasks of the Council of Europe.
So, this was my second answer to the question about Europe being modern:
Our globalized future will ask for a high degree of tolerance across continents and cultures—of tolerance, which has for a long time already been a prerequisite for our European Integration.
VII
Is Europe ready for the globalized future?
Europe as such does not claim to be a world power.
But we do have interest in peace, stability and prosperity in the world.
And the world means: a more and more globalized world, where problems and opportunities can quickly bridge any distance and cross any border.
During the last years we all learned a lot about this. Just a few examples concerning Germany:
When a few years ago Europe had to deal with an enormous influx of migrants a German politician, now President of the Federal Parliament, Wolfgang Schäuble, called this a "rendezvous with globalization".
Or: Just a decade ago nobody in Germany would have thought that our soldiers would be sent to Western Africa, Mali, training Sahel forces to fight Transnational Terror and trying to stabilize that fragile part of the world.
We have understood that, in the globalized reality, what seemed to be far away has become part of our own national and European security interests.
Currently especially climate change and the pandemic demonstrate that global problems need global solutions.
Europe´s answer can and will not be building a fortress that must be shielded from a dangerous outside-world. We know that our own well-being and security depend on the well- being and security of our neighbors.
Of course, we need a Europe that efficiently protects its external borders, and we are making progress on this. But at the same time we will have to intensify opening up to neighbours and beyond, and look for partnerships with like-mindeds.
And we will do this more and more together as EU, as our national interests become more and more identical with our joint European interests.
The rationale for this is rather clear:
The big geostrategic trends and dynamics shift towards Asia and away from Europe.
And the demographic trends describe shrinking societies in Europe, while those in Asia and Africa are growing.
As a consequence we Europeans have the choice between acting more nationally, each one of us becoming more and more irrelevant or to intensify our unity and thus stay relevant together.
This means for our partners, that relations with us will stay bilateral, but at the same time they will—like it or not—become more European.
VIII
Which future for European-Russian relations?
Having said all this—where does Russia come in? The simple answer is: on almost all of it.
No country can escape two things: its history and its geography.
In this sense we do already live in what was called "one common European house". Of course, we all make friends outside, seek best possible relations with neighbors. But moving out—that is not a realistic option for any one of us.
So, back to the questions from the very beginning: How do we think it is best to relate to each other? Do we still follow the rules we agreed upon?
How do we solve problems amongst us?
Do we both still wish to build our future together? And: How do we talk about each other?
Each side has to make up its mind.
I see, as a German and European, the following three perspectives:
First:
Concerning those current very political problems, on which we fundamentally disagree, we have to work very seriously on solutions.
Be it the annexation of the Crimea, the Skripal case, the poisoning of Alexej Navalny, the massive hacking attacks on the German Parliament and the OPCW, and so on:
on all of those issues we have very clear EU positions, and with the so-called "Tiergarten- murder" in Berlin some more might follow.
They all concern issues which are essential to the core of our European self: when international law is harshly violated and Human Rights are harshly violated, when rules we all are bound by are violated, we cannot stay indifferent, we speak out.
An EU or Europe being silent or simply tolerating this, would give up its identity.
And this is not an interference into internal affairs:
The Council of Europe and in particular its Convention on Human Rights guarantee access to a European Court to the citizens of all Member States.
On the OSCE side in the Charter of Paris of 1990 all members are bound to commitments like abiding by common standards of human rights, democracy and the rule of law, refraining from the use of force against each other, respecting territorial integrity and adhering to a concept of joint and indivisible security.
Because of these commitments, violations of basic democratic standards or human rights are no longer a purely internal affair of a member country.
These are standards that all European countries signed up to.
Second:
At the same time we have to care about the strategic view on our relations and about areas where we share the interest that cooperation is needed.
Two weeks ago, the EU Delegation and my Embassy organized an expert meeting with the Russian International Affairs Council about this.
Only one single Russian voice pronounced repeatedly a very skeptical position on the future of EU-Russian relations.
All others present, Russians and Europeans, tried to identify areas where and how cooperation could make sense and improve.
Especially on climate change and transnational health we seem to have a common interest in working on common solutions—not to speak about the crises in Libya, Syria, in Ukraine or in the Caucasus, which need pragmatic cooperation and concertation in order to develop solutions.
And about a strategic view on the relations:
From the EU side, there is a strategy and there are intense discussions about it, just a few weeks ago on the level of our Foreign Ministers.
The five principles of this strategy do have a forward-looking approach,
mentioning the possibility of selective engagement on areas of common interest and stating the way out for the toughest of the problems that stand between us, that is Eastern Ukraine and the implementation of the Minsk agreements.
Speaking about the Council of Europe, of which Germany is taking over the chairmanship today, my government worked hard in support of readmitting Russia to the parliamentary Assembly one and a half years ago.
And concerning the OSCE, we very much hope for more Russian engagement.
Currently Russia is in favour of using the OSCE Minsk Group instruments for working on the status of Nagorno Karabakh—but is not willing to advocate OSCE mediation in Belarus—why?
And I would ask about strategies the other way round:
Where is Russia, given all that happened since 2014, with a forward looking strategy on European Affairs?
I think we should continue the discussions on these questions. Our relations do need strategic depth and we should both find consensus on that.
What I would propose is reflecting on kind of a destination map.
To me, there seem to be many good reasons for that—and only very few against.
By the way, given comments I sometimes hear here in Russia about the EU: I´m convinced that a strong and powerful EU is in the long run the best partner Russia can find to cope with the challenges coming up by globalization.
Third:
The people are close to each other.
In my country there is great affection to Russian culture—and the same is the case all over Europe.
We should do our best to intensify contacts.
Let´s see how the people in Russia think about all this:
The last Levada poll dealing with the EU in Russian public opinion in May 2020 asked Russian citizens whether they consider Russia to be a European country. It brought a split result: 45 % answered yes, 44 % no, the others found it difficult to answer.
One other thing emerged from the Levada poll: The EU is seen positively and considered as an attractive place to study, work and live.
When Levada asked where Russians would like to go if they had to move abroad permanently, three EU countries were among the top-5.
The most appreciated qualities of the EU were a high standard of living, stability, democracy and the rule of law.
82 % said that closer relations with the EU would be in Russia's interest.
I wonder how a poll would look like if the question is asked how far people in Russia feel European and how far "western"—but this could be a good topic for a future lecture.
IX
These were my remarks on "Building Europe´s future". I gave you my view on different aspects of Europe,
I expressed my hope for Europe being taken here in Russia for what it is, not perfect, but, as many European politicians put it: The best Europe we have ever had.
And I was trying to show how far Russia is part of all this and could or should be in the future. But this is of course for Russians to decide.
So where are we?
Let me end with the title of a book written on a historical topic a few years ago: "un seul lit pour deux reves"—only one bed for two dreams.
We might have different dreams, but waking up we realize each day that we live together and that we better ought to look for harmony in the daily life of our relationship.
From our partner RIAC
The new Silk Road: The agreement between the EU and China opens up new geopolitics scenarios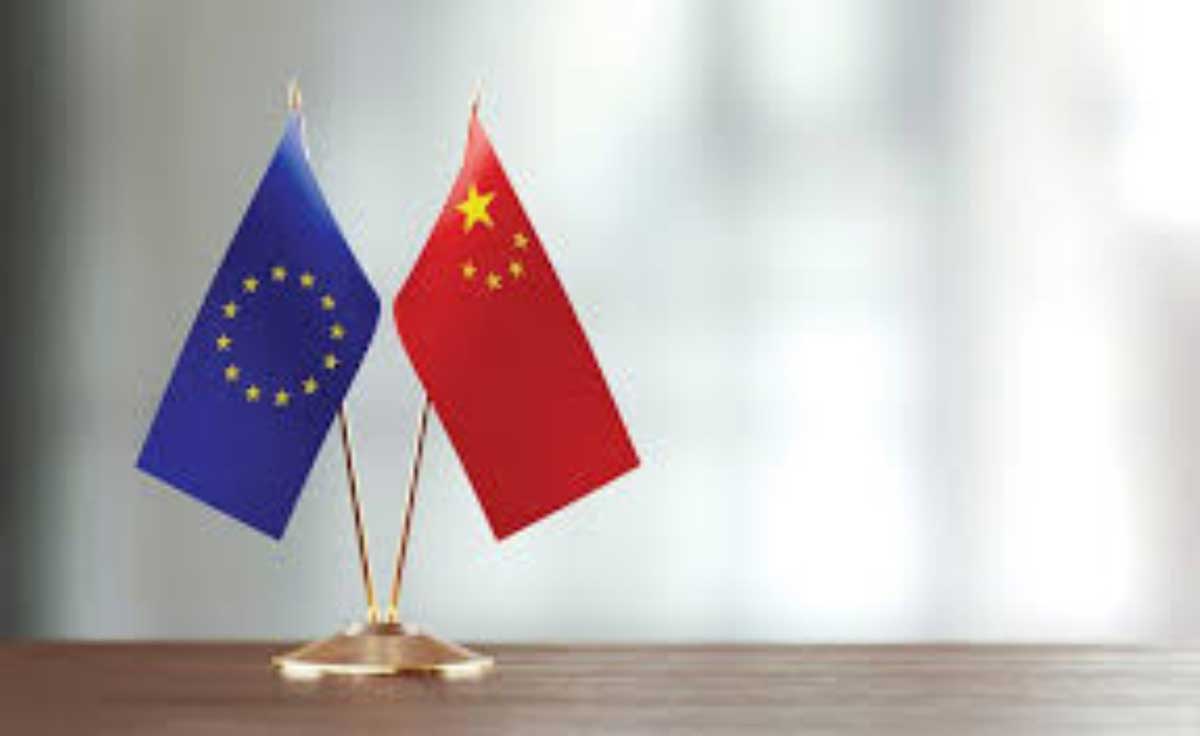 The year that has just started does not seem destined to be more peaceful than the one that has just ended.
While the world continues to be afflicted by the Covid-19 pandemic, the United States, which can boast to be "the oldest democracy" of the modern era, is not only helplessly suffering from the virus attack but is going through an unprecedented internal crisis that seriously calls into question its coveted role as world superpower.
On January 6 last, the Capitol Hill in Washington was assaulted by a crowd of "Trump supporters" who, inflamed by the subversive words of a President who does not seem to resign himself to electoral defeat, violently stormed the House in a bid to stop Congress from counting electoral votes to certify President-elect Joe Biden's victory in last November election. The attack brought America back to the dark times of Abraham Lincoln's first election when, in 1860, eleven Southern States refused to recognize the electoral result and started an attempt to disrupt the Republic that resulted in a bloody civil war.
Donald Trump's reckless adventurism which, in the coming days, could lead to his ousting, is not only causing a deep crisis in the internal set-up of the American society and its institutions, but also risks seriously undermining America's credibility globally and leading to a major downsizing of its geopolitical ambitions.
Throughout his four years in office, Donald Trump has attempted to "contain" China economically and politically, by imposing tariffs and duties on Chinese goods imported into the United States and supporting the "democracy movement" in Hong Kong that has been causing unrest in the former British colony for almost two years. By inciting his supporters to challenge and oppose the Presidential handover, he has handed a propaganda weapon on a silver platter to a country like China that, after being the first to be hit by the pandemic, was also the first to emerge successfully from it.
While recalling that when protesters stormed and ravaged Hong Kong's Capitol Hill in 2019, both Secretary of State Mike Pompeo and the Speaker of the U.S. House of Representatives, Democrat Nancy Pelosi, applauded the protesters' violent behaviour, it was easy for the Chinese Foreign Ministry's spokeswoman, Hua Chunying, to accuse the Americans of "double standards" in the moral and political assessment of their own and others' behaviours.
In a press conference convened to comment on the Washington attack on Capitol Hill, Hua Chunyingsaid: "I believe that this assault is a déjà vu … I see that in the United States there are different reactions to what happens at home compared to what happened in Hong Kong in 2019 …".
Over and above propaganda skirmishes, in the year in which the centenary of the CPC's is celebrated, China keeps on scoring points in its favour in the geopolitical and economic competition with the United States.
On December 30, 2020, the news of the historic investment agreement between China and the European Union was reported.
After seven years of negotiations, during a conference call between Chinese President Xi Jinping and the President of the European Commission, Ursula Von Der Leyen, with French President Emmanuel Macron, German Chancellor Angela Merkel and the President of the European Council, Charles Michel, the "Comprehensive Agreement on Investments" (CAI) was adopted.
It is a historic agreement that opens a new "Silk Road" between Europe and the huge Chinese market.
The CAI's basic principles aim at a substantial rebalancing of trade between Europe and China, as the latter has so far shown little openness towards the former.
With this agreement, China is opening up to Europe in many significant sectors, with particular regard to manufacturing and services.
In these sectors China commits itself to removing rules that have so far strongly discriminated against European companies, by ensuring legal certainty for those who intend to produce in China, as well as aligning European and Chinese companies at regulatory level, and encouraging the establishment of joint ventures and the signing of trade and production agreements.
In the manufacturing field, the "automotive" sector will be boosted, with specific reference to the production of electric cars, but also to the production of chemical products, materials for telecommunications and new generation health devices.
As far as the servicesector is concerned, China will foster European investment in cloud services, financial services, private healthcare and the services related to air and maritime transport.
In all the sectors covered by CAI, European investors and producers will no longer suffer any discrimination with respect to Chinese competitors, including state-owned companies, nor will they be denied access to productive sectors so far forbidden to foreigners.
The agreement also provides for guarantees that will make easier for European companies to deal with the paperwork needed to fulfil all administrative procedures and obtain legal authorizations, thus removing the bureaucratic obstacles that have traditionally made the operation of European companies in China difficult.
It is the first time in its history that China opens up in this way to foreign companies and investment.
In view of attracting them, China is committed to lining up in terms of labour costs and environmental protection, thus progressively aligning its standards with European ones, in terms of fight against pollution and trade union rights.
With a view to making this commitment concrete and visible, China adheres to both the Paris Climate Agreements and the European Convention on Labour Organization.
While commenting on the signing of the agreement, President Von Der Leyen stressed that "this is a fundamental step in our relations with China. The agreement will provide European investors with unprecedented access to the Chinese market, thus enabling our business to grow and create jobs. It also commits China to adhering to the principles of transparency and non-discrimination and fundamentally rebalances our economic relations with China.
The China-Europe agreement is another piece in the mosaic of commercial and political relations on which China wants to build the geopolitical role of a nation which, according to growth estimates, is destined to reach the first place in the world ranking in terms of GDP by the end of the decade.
In fact, CAI follows by just a month the signing of the "Regional Comprehensive Economic Partnership" (RCEP), an agreement of strategic importance signed by China with the ten ASEAN countries and with Japan, South Korea, Australia and New Zealand.
The RCEP has been described as "the world's largest trade and investment bloc" and essentially creates an area of economic cooperation and free trade involving 2.2 billion people producing 28%of world trade and over 30% of global GDP.
The RCEP countries account for 50% of the world's manufacturing output, 50% of automobile production and 70% of electronics. The RCEP eliminates 90% of tariffs on trade in the signatories' region, thus creating a huge Asian free trade area that sees, on the one hand, India's marginalization and, on the other, the growth of China's role throughout East Asia.
The CAI agreements with Europe and the RCEP agreements with Asian partners undoubtedly mark a historic turning point in relations between China and the rest of the world. The United States remains excluded from these relations, as it is currently blocked in a process of transition that limits not only its democratic activity, but also its operativity and international credibility.
After the hallmark of U.S. foreign policy in Trump's era was reduced to imposing tariffs on trade with China, the gradual loss of credibility of the U.S. administration has stultified Secretary of State Mike Pompeo's attempts to gather a broad international anti-Chinese coalition led by the United States.
The RCEP is there to demonstrate how fragile the U.S. attempts to counter China economically and politically have been, as two once strategic partners of the United States like South Korea and Australia have literally turned a deaf ear to American appeals and have struck a historic and strategic deal with China.
The CAI puts Europe in communication and in ever closer connection with what for centuries was "The Middle Kingdom", i.e. a China that has chosen to lower its ideological barriers in order to open up new pathways of economic progress and hopefully democratic development.
French and German representatives were present at the CAI signing.
While Europe was opening the "new Silk Road", the country that gave birth to De Gasperi, one of the founding fathers of the European Union, and to Marco Polo, protagonist of the opening of the first "Silk Road", was conspicuously absent from the negotiation table.
Has Germany Lost its NATO Compass?
Authors: Dr. Zlatko Hadžidedić, Adnan Idrizbegović
By the end of 2020, a strange information appeared in Bosnian and German media: having made unilateral concessions to the long campaign of Russia to put an end to the Office of the High Representative in Bosnia-Herzegovina, Germany now wants to overthrow the current High Representative, Valentin Inzko, and bring the OHR under control of its own man, Christian Schmidt. Does this bilateral initiative have any legal basis? And, is this petty manoeuvre in the Balkans going to open Pandora's box on the global level, again?
The Office of the High Representative was established in 1995 by the Dayton Peace Accords, to exercise the remaining10% of the Bosnian state sovereignty, which has in 90% been ceded to the two ethnically defined sub-state units, the so-called entities. As such, High Representative has the authority to overpower blockades and vetoes introduced by the entities. High Representative is an inseparable part of Bosnia's Dayton Constitution, no less than the entities and their veto power. In that sense, the Russian campaign to eliminate the Office of the High Representative while preserving the entities and their veto power is legally absurd: one cannot take one part of a contract out, while insisting on implementation of the rest; for, taking one part out nullifies a contract altogether. However, implementation of the Russian requests under the given conditions of the Dayton Constitution would destroy the last remnants of the Bosnian sovereignty and integrity, granting full sovereignty to the entities and resulting in Bosnia's dissolution. Russia, acting for years as a self-proclaimed supporter of Serbia and its interests to dissolve Bosnia, does not introduce any novelty in its foreign policy in the Balkans. Yet, what is going on with Germany, a NATO member, an EU leader, and a self-promoted supporter of Bosnia's sovereignty and integrity?
It should be noted that a High Representative can be replaced only by decision of the UN Security Council, under recommendation of the Peace Implementation Council, a body for implementation of the Dayton Peace Accords consisting of diplomatic representatives of the US, Russia, France, Germany, Italy, Great Britain, Canada, Japan, and the Organisation of the Islamic Conference represented by Turkey. The UN Security Council decisions can be reached only by consensus of the permanent members with veto power. Decisions of the Peace Implementation Council can also be reached only by consensus of its original members (US, UK, France, Russia, Germany, Italy). It is, therefore, legally absurd, again, to replace a High Representative by a bilateral agreement between Russia and Germany, without any such consensus. It would mean a violation, if not elimination, of all legal procedures, not only those referring to the institution of High Representative, but also those related to the Security Council and the UN as a whole. Indeed, what happened to the German foreign policy, hitherto absolutely devoted to international legal procedures and international law?
An explanation for the German change of course, presented in both Bosnian and German media, was German increasing dependence on Russian gas supply, bearing in mind that Germany has given up all alternatives to the Nord Stream pipeline, which delivers Russian gas to Germany. Once upon a time, the former German Foreign Minister, Joschka Fischer, strongly advocated an alternative pipeline, called Nabucco, which would bring Iranian gas to Germany and the rest of Europe. On the other side, Chancellor Gerhard Schroeder, who eventually became Chairman of the Board of both Nord Stream AG and Rosneft, a Russian oil corporation, advocated the Nord Stream pipeline as the preferential one. Eventually, Schroeder had enough luck to have a comprehensive anti-Iranian coalition (ranging from Russia to the US) on his side, so that the Nabucco project was eventually abandoned and the Nord Stream remained the only option. At the time, Schroeder was criticised by German media for linking his private interests with strategic interests of Russia: for, the company Nord Stream AG, of which he was the Chairman, was in 51% owned by the Russian corporation Gazprom. In this way, Schroeder made Germany dependent not only on Russian gas supply, but also on Russian geostrategic interests, articulated by the Kremlin and Gazprom. Schroeder's personal friendship with Russian President, Vladimir Putin, did not pass unnoticed, either. In this way, Germany not only gave up its own energetic sovereignty, but also abandoned the official EU energetic security strategy, which stipulates diversification of energy supply sources. Schroeder thus intentionally buried the traditional German Ostpolitik; but what was the reason for the next German government, led by Angela Merkel and controlled by the CDU/CSU coalition, to adopt the same course? What has happened to the German geostrategic orientation? Has Germany lost its NATO compass?
After the disastrous consequences of the 1973 oil crisis, German government invested heavily in construction of gigantic oil and gas storages, with a strategic goal to control negative effects of permanent oil price fluctuations on the German economy and population. Yet, these storages have eventually ended up in ownership of the Russian oil and gas giant, Gazprom. Such a development has given Gazprom effective control of the German energy market. Consequently, it has given Gazprom and Russia strategic influence on the entire economy of the European Union. One can only wonder, why has Germany decided to deliver not only its own destiny, but also that of Europe, to Russia? And then, no wonder that Great Britain has opted for Brexit to simply run away – this time, not from the Brussels bureaucracy, but from the Kremlin's oilgarchy and Russian energocracy.
This U-turn in geopolitical orientation, unilaterally performed by Germany but tacitly agreed upon by the rest of the EU countries, certainly generates shockwaves throughout the Euro-Atlantic structures, inevitably separating Europe from the Atlanticist part of its identity. In this context, the most loyal American allies among the NATO members, Turkey and Germany, have turned their backs on the US and started looking at Russia as a new strategic partner. Both of them utilised the crisis of leadership in the US, caused by President Trump, to reclaim their sovereignty and decide which side to turn to. Since Trump has managed to disable the entire global security architecture as constructed after the World War II, attacking all multilateral organisations and treaties and thus opening the gates of the West for the Russians and Chinese to enter, German and Turkish re-orientation can be justified as rational. Yet, a bitter taste of betrayal – by Germany, by Turkey, but no less by Trump – lingers on. Does it mean that America, under Donald Trump, has eventually lost the Cold War, as Russia had once lost it under Boris Yeltsin? Will American influence be reduced to the English-speaking world? Is Germany, together with Russia, establishing a new, Eurasian Union? Is China going to be a part of it, given its hasty trade deal with the EU? Has the worst Anglo-American nightmare, that of a united Eurasian "World Island", finally come true? Or the current German-Russian pact is going to end up like the previous one, smashed under the weight of the Anglo-American axis?
Global Pandora's box has obviously been opened and the world geopolitical order, as we knew it, has fallen apart. A new order, or perhaps a disorder, is approaching. Such a development can be detected at all levels, looking at the top or at the bottom, and is signalled even by the clumsy German attempt to court the Russians by abandoning fundamental legal principles and its own foreign policy postulates in a seemingly insignificant place like Bosnia. Strangely, both Germany and Russia have accepted to play the roles assigned to them in the 1990s by the then British propaganda, which labelled them as patrons of Croatia and Serbia in their efforts to carve up Bosnia along the lines of its multiple religious identities. Whereas Russia openly adopted its role as the protector of the Orthodox Serbs many years ago, Germany's adoption of the parallel role, that of the protector of the Catholic Croats, is a relative novelty. While in the 1990s both Germany and Russia were reluctant to play the roles casted by others, now they have become eager to demonstrate their rising power through such a game. The attempted appointment of Christian Schmidt leaves no place for doubt that Germany has fallen into this trap with a surplus of enthusiasm. For, the former German Minister of Agriculture, and a member of the Bavarian Christian Social Union (CSU),was publicly decorated by Croatia with a medal of "Order of Ante Starčević" for his promotion of Croatian national interests. He proudly shares this medal with prominent Croatian ultra-nationalists and war criminals, such as Gojko Šušak, Mate Boban, Dario Kordić, Jadranko Prlić, and many others, who were inspired by the Croatian Ustash a regime from the World War II, as much as the Ustashas themselves had been inspired by the then German Nazi regime. In this context, it should be noted that Schmidt's inclinations are not derived from some religious, pan-Catholic sentiments, but rather from his ideological, ultra-nationalist affinities, for which he was rewarded by his ideological brethren. If appointed a High Representative, Schmidt will probably follow the same path, so he will promote interests of Croatian ultra-nationalists, whose goal is to cede a part of the Bosnian territory and make it a part of Croatia, rather than interests of Catholics in Bosnia. Does it imply that he is going to work together with ultra-nationalists of all sorts – and there are enough of them in Bosnia – on the country's final dissolution? Is that outcome in Germany's best interest, and what kind of image does Germany project if it sends Schmidts as its representatives? Finally, what message does Germany leave to the world, if it takes the advantage of the uncertain power transition in America to prepare dissolution of a US-sponsored international treaty, the Dayton Peace Accords, thereby introducing, with a help of Russia, a new era of lawlessness?
There are so many questions to which German authorities should offer valid answers, before they pull the trigger to assassinate both Dayton and Bosnia, and destroy some of the last remnants of the international order. Do they think that they owe these answers to the rest of us?
How does the UK-Spain Deal Saves Gibraltar from a Hard Brexit
The new year's eve brought Spain and Britain to reach a last minute deal making Gibraltar part of the Schengen zone even though it is a British overseas territory. Located at the southern tip of the Iberian Peninsula and bordered by Spain on the north, Madrid and London were engaged for months in diplomatic negotiations over the post-Brexit future of Gibraltar. Now this deal ensures that Gibraltar is not separated from Europe from a hard border.
Gibraltar
The name Gibraltar is derived from Arabic word Jabal Tariq translated as Mount of Tariq. In 1713, it came under the power of Britain after the kingdom of Spain ceded Gibraltar in the Treaty of Utrecht and has remained with Britain since then. Located at a strategic location, Gibraltar was used as a key base during the Napoleonic wars and its importance grew with the opening of Suez canal. Thereafter, Gibraltar was fortified and earned the title, 'the Rock.' During the second world war, it became one of the bases for the allies.
After the war, in the 1950s, Spain claimed sovereignty on Gibraltar following which the 1967 Gibraltar sovereignty referendum voted to remain with Britain. Even during the referendum of 2002, people of Gibraltar voted against shared sovereignty by Britain and Spain. Gibraltar has thus remained as a Britain overseas territory and the citizens have British citizenship.The governance of Gibraltar is managed by its own government through a parliament. Britain governs on matters of defence and foreign policy.
Britain (including Gibraltar) became part of the European Union in 1973. It was the only British Overseas Territory included in the European Union. In the 2016 UK European Union membership, 96% of the Gibraltarians voted to remain, however since a total of 51.9% of the votes in the UK was cast in favour of leaving the EU, Brexit followed. Gibraltarians mainly voted 'Remain' because the territory's economy depends on an open border with Spain, which sends over 15,000 workers and 200 trucks there daily. UK's withdrawal from the European Union also implies Gibraltar's exit from European Union.
The UK-Spain Deal
Brexit left Gibraltar with a hard border situation with the EU. With the UK-Spain Deal, Gibraltar is being placed in the Schengen area, with Spain acting as a guarantor and it will follow other EU rules. This will restore free movement of people across Gibraltar and EU, meaning citizens of EU and Gibraltar can move across without passport checks. The Gibraltar deal will mean the EU sending Frontex border guards to facilitate free movement to and from Gibraltar. Their role is planned to last four years.
The agreement between Madrid and London has been signed off on an agreement in principle. So it remains to see what the nitigrities of the deal would mean for all parties. British Foreign Secretary Dominic Raab has said that, "we reached agreement on a political framework to form the basis of a separate treaty between the UK and the EU regarding Gibraltar. We will now send this to the European Commission, in order to initiate negotiations on the formal treaty. In the meantime, all sides are committed to mitigating the effects of the end of the Transition Period on Gibraltar, and in particular ensure border fluidity, which is clearly in the best interests of the people living on both sides."