Quality and standards: Game-changers for the post-COVID recovery of African economies?
The United Nations Industrial Development Organization (UNIDO) has organized a webinar onquality and standards in the context of post-COVID-19 recovery of African economies. It provided a multi-stakeholder platform to discuss the role of quality institutions and services for the sustainable and inclusive industrialization of Africa.
The discussion took place in the framework of the UNIDO–African Union joint celebration of Africa Industrialization Week 2020 on the theme, "Inclusive and sustainable industrialization in the African Continental Free Trade Agreement (AfCFTA) and COVID-19 era". It also represented a follow-up to the International Quality Infrastructure Forum held in April 2019 in Brussels, which focused on the contribution of Quality Infrastructure (QI) to achieve the Sustainable Development Goals (SDGs) and to implement the AfCFTA.
The session was moderated by Patrick Gilabert, Head of the UNIDO Liaison Office in Brussels, and introduced by Bernardo Calzadilla-Sarmiento,Managing Director of UNIDO Directorate of Digitalization, Technology and Agri-Business, at UNIDO headquarters. Calzadilla-Sarmiento stated that standards and quality for the AfCFTA, strong partnerships, and investments, were key to ensure inclusive and sustainable industrial development in Africa and achieve the SDGs for people, planet and prosperity. He also highlighted that "digitalization will be an integral part of the new normal".
The keynote speech was delivered by Elsie Meintjies, Chief Technical Adviser for the UNIDO South Africa office, who presented case studies in the South African region. For her, "it is clear that we are facing challenges, but also opportunities to uniquely position ourselves in the world". COVID-19 is, in her view, "the catalyst for South African technical infrastructure to take a quantum leap to the next level of service for our industry and our citizens". She also confirmed the role and significance of standards, conformity assessment, accreditation, and metrology in the economy of South Africa.
Antti Karhunen, Acting Head of Unit at DG DEVCO, presented the European Union (EU) common response to the pandemic, called "Team Europe", which will support Africa with a recovery package of 3.8 billion €.From an EU perspective, improvements in quality infrastructure and standards harmonization in Africa, together with investment promotion, private sector support (especially SMEs), and value chain diversification, are seen as great opportunities for Africa to emerge as a strong international trading partner. Karhunen recognizedthe need to build international partnerships, based on mutual interests and shared values to "build back better" and aim for a green, digital, and resilient recovery. He concluded by acknowledging that DEVCO was looking forward to continuing the excellent cooperation with international partners such as UNIDO and the Organisation of the African, Caribbean and Pacific States (OACPS).
Escipión Joaquín Oliveira Gómez, Assistant Secretary General of the OACPS in Brussels, warned that the COVID-19 pandemic had disrupted all economic and social processes. Value chains are being put in a very difficult position, hence the time for a paradigm shift towards more competitiveness based on "value propositions". He said the guiding principles for OACPS to successfully tackle the COVID-19 pandemic are clear: recognize that it is not a crisis that can be tackled by one continent, region, country or sector alone; foster public-private sector dialogue and cooperation at all levels; promote national consumption of locally produced goods and services; assist vulnerable groups such as youth and women via special programs; take advantage of the crisis to promote the use of "leapfrog" technologies by MSMEs.
Eve Christine Gadzikwa, past President of the African Organisation for Standardisation (ARSO), recognized that we live through times that are both exciting, where the concept Made in Africa is becoming more and more a reality, and challenging. For her, the critical elements to unlock value from the continent are the participation of SMEs and the contribution of women and youth. Obvious gaps are also access to information, logistics facilitation, intellectual property rights, payment options, and data storage. Even more importantly, she believes the mindset of the private sector has to change and become one of productivity, competitiveness, sustainable growth, market penetration and recognition of the value of the digital economy.
Dorsaf Labidi explained how the African Development Bank (AfDB) has contributed to the global efforts against the crisis. She mentioned the quick response mechanism put in place through loans amounting to 10 billion dollars. These budgetary measures for governments and private sector intend to mitigate the direct impacts of COVID-19. However, they should also be complemented by capacity-building measures and technical assistance in order to anticipate the needs for the economic recovery and future shocks.
Papa Demba Thiam, economist and industrial development expert, argued that shared growth with wealth distribution can only take place through value chains with value addition. In the AfCFTA context, quality standards, metrology, and testing truly matter. He suggested to focus on the strengths of the continent to support industrialization and to follow a more integrated approach through minimum integrated trade expansion platforms and operational services.
Ron Josias, Chair of the African Accreditation Cooperation (AFRAC), shared his view regarding the impact of COVID-19 on accreditation corporations responsible for evaluating and establishing regional arrangements for accreditation bodies on the continent. Challenges occurred in two main ways: people and processes. One the one hand, social distancing changed the way communication, trainings, and administrative management usually worked. On the other hand, preventing laboratory visits and the verification of technical competences proved to challenge accreditation bodies to witness the quality of processes. In this context, smart technologies became key. Despite these challenges, his view is that the crisis introduced new grounds for innovation as it "made us think in different ways".
To conclude the webinar, speakers were invited to share their views on how they see the future of quality and standards. In a nutshell, key take-aways showed a common enthusiasm regarding the prospect of internationally accepted Made in Africa products, and a call for change in mindset that ensures consumers believe and trust in the quality of African products.
Panellists also agreed that collaboration was more than ever needed and especially through public-private partnerships. Joint efforts are required to ensure that pan-African quality infrastructure works, that concrete steps for the intra-African and South-South cooperation in regard to industrial development are made, and that integration is reinforced between all institutions.
Other concluding remarks urged the need for investments, capacity-building, digitalization of QI (especially data security, confidentiality and connectivity) and for taking more holistic approaches by working at regional level.
The discussion led to the conclusion that it is high time for a paradigm shift. Africa and key partners should build on the social and economic disruptions related to COVID-19, the opportunities offered by the momentum of AfCFTA, and the innovations brought by digital transformations. Looking ahead, quality and standards will remain cornerstones of competitiveness and essential services for resilient, inclusive, and sustainable industrialization in Africa "to build back better".
Humanitarian catastrophe in northern Mozambique 'beyond epic proportions'
The UN and partners are "following with deep concern" new reports of violations against civilians in northern Mozambique, the UN Spokesperson said on Thursday.
Citing reports of atrocities carried out by child soldiers, alleged beheadings during attacks by non-State armed groups, and clashes in the Cabo Delgado region, Stéphane Dujarric told journalists at the regular daily briefing that although verifying information was extremely difficult, "we are concerned about the situation of civilians who fled the violence and those who remain in Palma".
The coastal town just south of the border with Tanzania, was reportedly overrun by militant extremists on 24 March, but three days ago, Mozambique's military reported that it had regained control.
According to the UN Office for Coordination of Humanitarian Affairs (OCHA), attacks in and around Palma uprooted many who had been sheltering there after having fled conflict in other parts of the province.
Prior to that, nearly 670,000 – including some 160,000 women and adolescent girls as well as 19,000 pregnant women – were internally displaced in Cabo Delgado, Niassa and Nampula provinces, the vast majority of them reliant on host families, whose scarce resources are being exhausted. 
On the ground
The UN spokesperson said that nearly 12,800 people, 43 per cent of whom are children, have arrived in the districts of Nangade, Mueda, Montepuez and Pemba since violence erupted.
"Many more are expected to still be on the move in search of safety and assistance", he added.
Humanitarian partners in Mozambique are assisting displaced people at arrival points and scaling up the ongoing humanitarian response in Cabo Delgado.
"So far in 2021, more than 500,000 people in the province have received humanitarian assistance", he said.
Humanitarians stretched
On top of conflict in Cabo Delgado, in the first months of 2021 and prior to the Palma attacks, the humanitarian community in Mozambique was already stretched, having responded to multiple climate emergencies.
Yet, the humanitarian appeal for the current crisis is currently just one per cent funded.
"More resources are immediately required to meet the needs of people fleeing the violence in Palma", underscored the UN spokesperson.  
"The United Nations calls on all parties to the conflict in Cabo Delgado to protect civilians."
Trapped and displaced
Earlier in the week, the UN Refugee Agency (UNHCR) said the insurgent attack on Palma had forced at least 11,000 people to leave their homes and reportedly rendered thousands of others trapped as it "continues to work around the clock" to assist them.
UNHCR said that its teams in Pemba were following up on worrying reports that more than 1,000 displaced people were prevented from crossing the border into Tanzania and called on Mozambique's neighbours to provide access to territory and asylum for people escaping violence.
This is a humanitarian catastrophe beyond epic proportions — WFP Representative
'Saving lives' priority
At the same time, the World Food Programme (WFP) said that the deteriorating security situation has caused evacuation flights to be suspended and left UN agencies struggling to get into Palma with food assistance.
"This is a humanitarian catastrophe beyond epic proportions", said Antonella D'Aprile, WFP Representative and Country Director for Mozambique, on Tuesday.
The UN food relief agency warned that hunger is rising in Palma, with some arrivals into Pemba saying they had not eaten for weeks.
"People fleeing Palma are completely traumatized by the violence they've witnessed in the past few days, and now, more than ever, they need our help", said Ms. D'Aprile. "Our priority is saving lives and making sure emergency assistance reaches those who need it most".
Ethiopia: Humanitarian situation remains 'dire'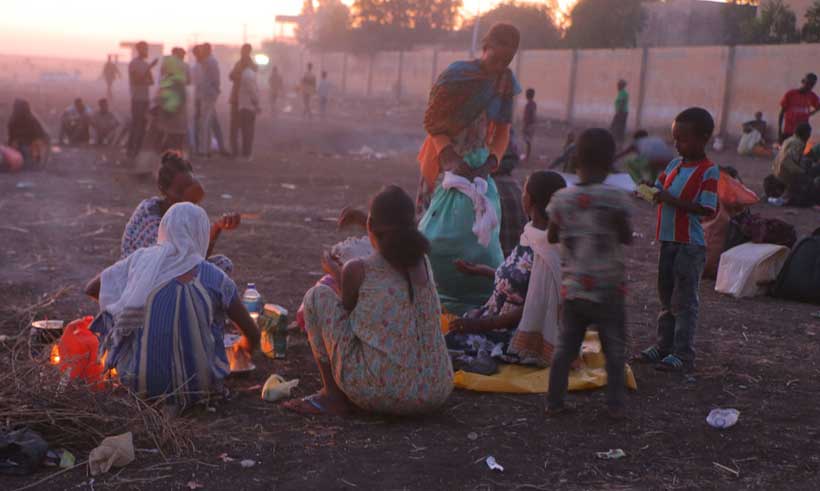 The humanitarian situation in Tigray, Ethiopia, remains "dire", the Spokesperson for the UN Secretary-General said on Wednesday.
"While there has been substantial improvement in humanitarian access, active hostilities have been reported in the north-western, central, eastern, south-eastern and southern zones", Stéphane Dujarric told correspondents at a regular press briefing. 
Following months of escalating tensions between the Ethiopian Government and the dominant regional force, the Tigray People's Liberation Front (TPLF), Prime Minister Abiy Ahmed ordered a military offensive after rebels attacked a federal army base.
Within days, militias from the neighbouring Amhara region had joined the fray, reportedly followed by some troops from neighbouring Eritrea – a long-time rival of Tigray.
According to government forces, the region had been secured by the end of November, however TPLF resistance has continued amid accusations of extrajudicial killings and rights abuses on all sides. 
Mass displacement
The UN Spokesperson said that some humanitarian partners have accessed the towns of Gijet and Samre, in the southern and southeastern zones.
"They reported that most of the population in these towns has fled", he said, adding that the Alamata-Mekelle-Adigrat-Shire road remains "partially accessible".  
Mr. Dujarric referenced the Office for the Coordination of Humanitarian Affairs (OCHA) in saying that an estimated 2.5 million people in rural Tigray have not had access to essential services over the last five months.
Moreover, the conflict continues to drive massive displacement across the region, with tens of thousands of people moving towards urban areas, including to Mekelle and Shire. 
"According to a recent assessment report, there could be as many as 450,000 people displaced in Shire", he stated.
As UN humanitarian partners scale up the response, they are grappling with capacity and resource challenges, "which remains inadequate for the estimated 4.5 million people who need life-saving assistance", said Mr. Dujarric.
New programme to support Kenya's coast and blue economy
Team Europe, together with the Governors of six coastal counties in Kenya, the Ministry of Devolution and the Blue Economy Secretariat, launched the Go Blue initiative in Kenya on March 25, 2021. The four-year programme aims to protect Kenya's coastal ecosystems while creating environmentally friendly jobs in a host of industries, including recycling, tourism and small-scale fishing. It is designed to foster a "sustainable blue economy" in six coastal counties and generate more than 3,000 jobs for youth and women alone.
Go Blue has received 25 million euros in funding from the European Union. Four EU Member States – France, Germany, Italy, and Portugal – will provide technical expertise on economic growth, while two UN agencies – the United Nations Environment Programme (UNEP) and UN-Habitat – will ensure that interventions are aligned with environmental conservation and urban planning goals and that the initiative helps coastal cities and communities adapt to adverse effects of climate change.
"Our marine and coastal ecosystems are extremely valuable in terms of providing ecosystem services – with many people earning their livelihoods through them," said Inger Andersen, Executive Director of the United Nations Environment Programme (UNEP). "Rather than depleting or polluting these resources, we must develop ways in which to harness and protect them."
The push comes with maritime environments around the world, including those in Kenya, facing increasing pressure from climate change and pollution.
Kenya has an abundance of untapped maritime resources along its coast. Go Blue will focus on helping coastal communities develop those resources in a way that is sustainable and that provides economic opportunities for women and youth. The initiative will bring inclusive, integrated and sustainable approaches to economic growth, while developing new work streams, like small-scale fisheries, waste recycling, aquaculture or tourism, and technical skills in blue economy sectors, strengthening value chains and tackling regional bottlenecks.
It will also promote coastal counties' efforts to develop integrated approaches to land-sea planning and management with a focus on restoring key coastal and marine ecosystems. Lastly, the capacity of Kenya's Coast Guard will be strengthened to safeguard ocean assets.
"Jointly working on integrated spatial planning solutions–both on land and in water–on different levels of government and with consideration to different sectors is key to achieving a sustainable blue economy," said Maimunah Mohd. Sharif, Executive Director of UN-Habitat.
Go Blue will be implemented in cooperation with the Jumuiya ya Kaunti za Pwani – Kenya's coast regional counties Economic Development Organization – together with national ministries, such as the Blue Economy Secretariat, Ministry of Agriculture and Fisheries, the Kenya Coast Guard Service, Ministry of Interior, Ministry of Transport and Bandari Maritime Academy.
UN-Habitat and UNEP will support the six counties in developing three methodologies:
an integrated, ecosystem-based land-sea planning and management framework, which will improve spatial planning
a regional land-sea vision to prioritize blue economy-related issues
mapping, data collection and analysis on spatial planning and ecosystems assessments
This will feed into each county's GIS data lab, as well as a regional GIS data hub, to strengthen data collection and analysis on land use changes, urbanization and environmental change patterns, marine and coastal natural assets, and human activity (e.g. fisheries, tourism, waste). In addition, the project will support waste management, constructed wetlands, blue carbon, mangrove restoration, spatial planning and community empowerment.
The information and evidence from all activities will support replication in other Kenyan towns through the initiative's online knowledge-sharing platform and trainings. Furthermore, four counties should have developed their own land-sea planning proposals as a result of the project, and six innovative activities will be funded by investors that directly contribute to the blue economy and land-sea planning.