Heartbreaking stories from refugees fleeing Ethiopia violence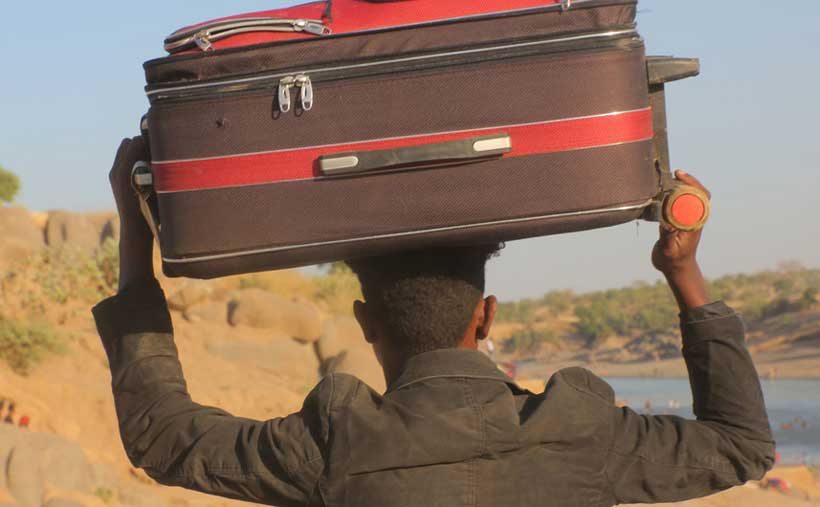 In a briefing to journalists on Thursday, a senior UN humanitarian official in Sudan recounted moving testimony from refugees who are crossing the border from Ethiopia in their thousands, fleeing fighting in Tigray province.
"Many of the refugees left behind children, and parents. They did not have time to assemble their families and leave together", said Babacar Cissé, the UN Resident and Humanitarian Coordinator in Sudan. "They arrived at the camps after having walked for several days, exhausted and with nothing. Seeing families and children sleeping in the open was heartbreaking".
Many of the refugees are young men, who told UN staff that they had been targeted by armed fighters. One man told Mr. Cissé that he had walked for two days, and had seen two family members killed. Another, a medical doctor, said that he had been forced to leave his family behind: he is now treating other refugees in the camp.
Response plan by the weekend
With the influx of refugees higher than expected, the UN in the region is planning for the arrival of some 200,000 over the next six months, said Mr. Cissé.
The UN, donors, and local authorities, are working closely on a response plan, which should be finalized by this weekend, he added. In the meantime, enough food to support 60,000 people for one month is being prepared for delivery from Kassala in the coming days.
"This crisis started on 7 November. After a week, we had about 20,000 and now over 30,000 refugees", Mr. Cisse explained. "People were in reception centres for registration before being relocated in refugee camps. They are not supposed to stay there for more than two days and we are committed to immediately addressing this urgent challenge."
Mr. Cissé was speaking following his return from a two day mission – along with the country representatives of the UN refugee agency (UNHCR), World Food Programme (WFP), UN Childrens' Fund (UNICEF) and UN Population Fund (UNFPA) – to assess the situation in refugee camps in the southeastern region of Sudan.
So far, the largest number of refugees are entering Sudan at the small town of Hamdayet. During the two-day mission, the UN officials, and Sudanese authorities, visited the Hamdayet Reception Centre, where an emergency response has been set up to register and provide assistance to thousands of women, children and men crossing into the country.
Urgent health needs
The main concern centres around hygiene, as more and more people arrive. At their arrival in the camp, refugees can access clean water and soap, and receive hot meals and high-energy food supplies. More latrines are being built, and WFP has delivered supplies such as cooking pots, tank loads of water, and a mobile storage unit.
Tigray is Ethiopia's third most-affected region in terms of COVID-19, and there is concern surrounding the movement of people and the risk this entails for the spread of pandemic.
Mr. Cissé warned that refugees are arriving at the camps without any masks or other forms of protection against the virus. Masks are being distributed in the camps but, as of now, there is no capacity for testing.
The most urgent needs are food, clean water, and shelter. The UN and partners are providing health and nutrition services, as well as hygiene and other non-food kits, and are working non-stop to address the needs of the population.
This includes supporting pregnant women, those who are breastfeeding, traumatized children and others who immediately need psychosocial assistance.
'Keep children out of harm's way'
Also on Thursday, UNICEF underscored the growing risks children on both sides of the border – the child refugees sheltering in Sudan, and the children inside Ethiopia's Tigray region.
Henrietta Fore, Executive Director of UNICEF, said that conditions for refugee children are "extremely harsh" and that the UN agency is working to urgently provide critical life-saving support, including health, nutrition, water, sanitation and hygiene services.
Inside Ethiopia's Tigray region, "restricted access and the ongoing communication blackout have left an estimated 2.3 million children in need of humanitarian assistance and out of reach," she added.
According to UNICEF, there is also a growing threat of malnutrition rates in the region, with acute malnutrition rates rising by a third since last year, primarily due to a desert locust infestation and COVID-19.
"I am concerned that, without sustained humanitarian access, many more children will be at risk as malnutrition treatment supplies in the region will last only until December," warned Ms. Fore.
She called on all parties to the conflict to allow urgent, unimpeded and sustained humanitarian access to all affected communities, underscoring that "every effort" be made to keep children out of harm's way, and to ensure that they are protected from sexual and gender-based violence, as well as from recruitment and use in the conflict.
Africa Industrialization Week 2021 at UNIDO
A series of webinars on themes such as the Fourth Industrial Revolution, climate-related challenges in industrialization, and opportunities for Japanese and other international investors on the African continent, marked the beginning of Africa Industrialization Week 2021 at the United Nations Industrial Development Organization (UNIDO).
Africa Industrialization Week, observed by the United Nations system each year in November, focuses on raising awareness of the importance of Africa's industrialization and the challenges faced by the continent.
"The African Continental Free Trade Area – AfCFTA – agreement, which came into being this year, opens up a huge market of 1.3 billion people and is a US$3.4 trillion economic bloc with the potential to lift 30 million Africans out of extreme poverty. Coupled with the African Union's Agenda 2063 and the 2030 Agenda for Sustainable Development Goals, it will help focus on addressing the existing challenges and opportunities to accelerate the industrial development of the continent," said UNIDO Director General, LI Yong, in his message on the occasion.
"The Fourth Industrial Revolution (4IR) has deep implications for sustainable development of Africa, and governments' policymaking approach towards new technology and innovation needs to be more agile, flexible and resilient," according to Bernardo Calzadilla-Sarmiento, UNIDO Managing Director of the Directorate of Digitalization, Technology and Agribusiness at UNIDO.
At a webinar on 'Road to 4IR for Africa,' Calzadilla-Sarmiento said that by 2030 Africa's potential workforce will be among the world's largest and there is a massive opportunity for growth when this is coupled with the needed infrastructure and suitable skills for innovation and technology use.
Other panellists from the field of robotics, Artificial intelligence and the Internet of Things also discussed the potential strengths and opportunities, as well as the challenges for African industrialization.
In a separate webinar, hosted by UNIDO's Investment and Technology Promotion Office (ITPO) in Tokyo, the panelists discussed ways to facilitate and promote investment and technology transfer, especially from Japan, for industrial development in Africa. Panelists emphasized that there was a need to increase manufacturing capabilities and improve capacity building, especially in sectors like pharmaceuticals, both for domestic consumption and for export.
"There are projected business opportunities valued at US$ 5.6 trillion by 2025 due to the increased spending capacity of US$ 3.5 trillion and growth in household consumption to US$2.1 trillion. This creates great business opportunities for investors from Japan, as well as from the rest of the world," opined Mansur Ahmed, Vice President of the Africa Business Council.
In a webinar on "Carbon-Neutral and Resilient industrialization in Africa," the panelists discussed ways of addressing the challenges of climate change and ensuring an inclusive and sustainable industrial development on the continent. They agreed there is a need for a policy environment that allows private sector participation in energy generation, and a need to develop pathways aligning industrial policy goals with national climate action priorities and policies.
In 2016, the United Nations proclaimed the period 2016-2025 as the Third Industrial Development Decade for Africa (IDDA III) and tasked UNIDO with leading the implementation of the Decade, in collaboration with a range of partners. According to Victor Djemba, chief of UNIDO's Africa division, UNIDO coordinated the development of a Joint Roadmap to better streamline international efforts into programmes and projects for the continent's industrial development activities. "The vision for the implementation of IDDA III is to firmly anchor Africa on a path towards inclusive and sustainable industrial development," he added.
Ethiopia: Humanitarian aid needed as situation deteriorates in Tigray
With the dire humanitarian situation in Tigray, Ethiopia, continuing to deteriorate, it is critical to establish a regular flow of humanitarian aid into the region, the Deputy Spokesman for the UN Secretary-General said on Wednesday.
Yesterday, almost 40 trucks with humanitarian supplies, including food, left the Afar capital of Semera for Tigray – the first convoy to do so since 18 October.
Meanwhile, trucks containing fuel and medical supplies are still waiting for clearance in Semera.
Around 500 trucks of humanitarian supplies are required per week, Farhan Haq informed journalists at a regular press briefing.
Seven million food insecure
In November 2020, heavy fighting between central Government troops and those loyal to the Tigray People's Liberation Front (TPLF) have left Ethiopia's northern regions of Tigray, Amhara and Afar in dire need of humanitarian assistance.
And after months of killings, looting and destruction of health centres and farming infrastructure, including irrigation systems that are vital to the production effort, those needs have only surged.
Currently, some seven million people throughout the country are suffering acute food insecurity.
Growing needs
Meanwhile following their suspension on 22 October, UN Humanitarian Air Service flights to Mekelle have resumed, allowing the UN and humanitarian partners to rotate staff in and out of Tigray and transfer a limited amount of operational cash.
However, said the Deputy Spokesperson, "humanitarian partners on the ground continue to report significant challenges due to cash shortages for operations".
Despite a $40 total injection of new resources to Ethiopia – $25 million from CERF and $15 million from the country-based Ethiopia Humanitarian Fund (EHF) –  the country still faces a funding gap of $1.3 billion, including $350 million for the response in Tigray.
Despite an extremely challenging operating environment, humanitarian partners continue to respond to urgent and growing needs across northern Ethiopia, including in Amhara and Afar.
In Amhara, a major food assistance operation kicked off in Kombolcha and Dessie towns, targeting more than 450,000 people over the next two weeks.
Relocate families
Yesterday, the UN announced that given the security situation in the country, and out of an abundance of caution, it is reducing its footprint in Ethiopia by temporarily relocating all eligible dependents.
"It is important to note that staff will remain in Ethiopia to deliver on our mandates", said Stéphane Dujarric, Spokesman for the Secretary-General.
The UN will monitor the situation as it evolves, keeping in mind the safety of the staff and the need to continue its operations and support all those who need assistance.
Earlier this month, the Organization confirmed that at least 16 UN staff and dependents had been detained in the Ethiopian capital, Addis Ababa, and that it was working with the Government of Ethiopia to secure their immediate release.
Ghana Can Create Better Jobs through Accelerated Economic Transformation
Ghana has an opportunity in the coming decades, to accelerate economic transformation and create more and better jobs, after navigating through the heights of the pandemic. It can achieve this through fostering greater global integration, technological transformation, macroeconomic stability, and financial sector development, says the World Bank's latest economic analysis for the country.
The newly released Country Economic Memorandum, Ghana Rising – Accelerating Economic Transformation and Creating Higher Quality Jobs says Ghana has all it takes to continue being an economic development star, if it takes the right steps to nurture growth and job creation.
"Ghana faces an acute challenge of generating more and better jobs and has a 'missing middle' of employment in mid productivity sectors", notesPierre Laporte, World Bank Country Director for Ghana, Liberia and Sierra Leone. "This is the time for Ghana to fill that 'missing middle' by cultivating export-oriented activities in both manufacturing and services and harnessing the transformative potential of trade; it faces an historic opportunity to do so with the Africa Free Trade Continental Area (AfCFTA)."
The report highlights four main pillars for accelerating economic transformation and improving jobs outcomes:
To create jobs, Ghana will need to drive sectoral transformation through the movement of workers into higher productivity firms and sectors and spatial transformation through trade, urbanization, and connectivity. 'Global innovator' services, in particular ICT and business services, could play a critical role.
To deliver productivity growth and boost innovation and entrepreneurship, it will need to drive technological transformation through the adoption of digital and complementary technologies in domestic firms. To enable this change it will be key to improve internet connectivity, invest in foundational skills and advanced digital skills, and facilitate technology adoption for firms.
To support more inclusive private sector development, Ghana will need to leverage the financial sector to facilitate firm expansion, technology adoption and innovation.
To enable long-term inclusive growth, Ghana will need to double down on macro-fiscal stability, natural resources management and revenue mobilization (to generate the revenues to fund reforms for economic transformation). Environmental taxation can boost revenues while helping to minimize the impact of climate change on households and incentivize sustainable land-use.
"This report lays out three scenarios for an accelerated economic transformation for better jobs" adds David Elmaleh, World Bank Senior Economist, and co-author of the report. "Without reforms, in a 'business as usual' scenario, Ghana's economy is currently projected to reach upper middle-income status by 2037, while under a 'bright horizons' scenario, which includes the adoption of some key reforms to drive economic transformation, Ghana's economy could reach upper-middle-income status by 2032. However, under a 'pitfalls' scenario, Ghana would have to wait until 2040. The greatest impact on GDP would be from reforms to raise the productivity of export-oriented global innovator services and manufacturing. This can start now, under the new budget."