"The best lack all conviction, while the worst are full of passionate intensity."-W.B. Yeats, The Second Coming
From the start of his sordid presidency, Donald J. Trump has presented himself as a "friend of Israel." Surprisingly, because it is generally a country of smart and well-educated people, this sham has been widely accepted among otherwise thoughtful Israelis. In time, however, there will be a continuously high price to pay for such demeaning and destructive complicity.
More precisely, the cumulative costs to Israel will be experienced in moral, jurisprudential and strategic terms.
Plausibly, they will be suffered along several intersecting fronts, whether in assorted spasms of rapid misfortune or "just" incrementally.
What has actually been happening? De facto, though not by any conscious policy decision, the Trump administration sought to replicate some of the worst dissembling features of authoritarian governance. While such a grievous charge might ordinarily have seemed unreasonable, gratuitous or even outrageous, this is no longer the case. With his continuously open support of white supremacy, and by his repeated subordinations of national and international law to personal whim, this bitterly corrosive president has focused more on dominating his nation's mean streets than on maintaining even a thin veneer of justice.[1]
In law and in life generally, truth is exculpatory. The uniformly anti-intellectual tone and orientation of dissembling Trump rallies has more closely resembled Der Fuehrer shrieking at 1930s Nuremberg rallies in Germany than the public activities of any previous American president. Even this now outgoing president's ostentatiously vulgar and bellicose language seems to have been plucked from the playbook of Joseph Goebbels.
To be sure, there has been no discernible resonance here with the high-minded writings of Thomas Jefferson or any other respected US president.
"Intellect rots the brain," concluded Der Fuehrer's Minister of Propaganda at a Nuremberg party rally in 1935.
"I love the poorly educated," said candidate Donald J. Trump in 2016.
On November 14, 2020, in an especially crude tweet, even for this atavistic president, Trump declared: "ANTIFA SCUM ran for the hills today when they tried attacking the people at the Trump Rally, because those people aggressively fought back…..DC Police, get going — do your job and don't hold back!!!"
What "job" was this? Were the American people listening here to an authentic American head of state, or the incoherent ramblings of Il Duce? This is not a silly question.
Not at all.
Moral and intellectual judgment ought never be so easily cast aside in Jerusalem. From the start, Israel ought to have known much better than to align its core interests with utterly conspicuous and unprecedented Trump derangements. Also stingingly ironic is that a principal surviving remnant of the Jewish People – that is, the Jewish State born directly from the ashes of genocidal murder[2] – could have chosen to identify both its interests and ideals with such a sorely derelict foreign leader.
Why accept such stark asymmetries? Though Israel has always been prompt to declare "Never Again" for the Jewish People, its citizens have generally accepted Donald J. Trump's disregard for the coinciding human rights of other peoples and nations, and for the derivative imperatives of dignity and learning.
There are distinctly concrete or tangible wrongs that must be re-considered and taken into account. Proudly, Donald Trump has cheerfully stood by assorted hate groups that vilify universal human rights[3] and also the ancient Jewish ideals of law and justice. When this president adopted barbarous illegal positions on immigration (e.g., positions that undermine various peremptory[4] legal obligations that concern the legitimate rights of refugees) and separated thousands of young and infant children from their families at US borders,[5] the associated American offenses were much more serious than "merely" illegal.
They were also a slap in the face to a people that had long-suffered from a history of forced expulsions and international exclusions – the Jewish People. Stephen Miller, Trump's personal "architect" of immigrant exclusions, is the grandson of Jewish refugees from anti-Semitic pogroms. A key tenet of his grim standard for refugee admission to the United States has been "merit." Like Trump, he has stipulated that America admit only "the good ones."[6]
In once unimaginable cases, Trump-created immigration offenses[7] and corollary criteria of selection reek of earlier harms perpetrated against defenseless European Jews.[8]
The ironies are unspeakable, but still worth noting. For Israelis cultivating US presidential support at all costs, the pertinent details are painful to recount and impossible to contest. Under the indifferent aegis of Donald J. Trump and his coterie of dedicated administrative sycophants, this pattern of illegality continues to include forced deportations of minor children and forcible expulsions of the most severely disadvantaged.
It is not a pattern that ought ever be overlooked or embraced by a decent "Jewish State."The ironies are simply too conspicuous, too great and too defiling.
"Give me your tired, your poor, your huddled masses….." say the words inscribed on the pedestal of the Statue of Liberty from a never-to-be-forgotten poem by Jewish author Emma Lazarus.
There are other serious issues involved in Israel's regrettable willingness to betray its most sacred ideals in cynical exchange for Trump patronage. Most perplexing and worrisome of all have been those matters that center on the always-key realms of war avoidance and peacemaking. In these essential matters, this US president's complete lack of any informed and coherent vision of foreign affairs has been obvious.
By preferring visceral seat-of-the-pants planning ("attitude, not preparation," says Trump) to any focused forms of policy creation,[9] Donald Trump has sought to "reward" Israel with a series of marginal "victories" – e.g., moving the American Embassy from Tel Aviv to Jerusalem, and a demonstrably Faustian agreement to arm the UAE with US F35s as the quid pro quo for diplomatic recognition by Abu Dhabi. At best, these alleged "gains" will represent Pyrrhic victories for Israel.[10]
And all of the presumed benefits to Israel ignore or exacerbate the more authentically critical security problems still at issue in its volatile region. Most obvious and problematic here are the expectedly continuous antipathies of the Palestinians.
Whatever the issue, truth is always "exculpatory." The many Palestinian elements seeking sovereignty with a determined prise de conscience, with an aroused consciousness, will not only remain fixed on achieving their still-overriding national goal. Now, too, they will more likely prepare for the next round of inter-communal violence. This suggests, most urgently and with the ironic compliments of Donald J. Trump, another intifada.[11]
At every level of assessment, the UAE "deal" negotiated by the American president's "good offices" to Israel – and also the kindred deals with Bahrain and Sudan – was devoid of any gainful substance. In essence, to praise the US-UAE agreement for enhancing Israel's security is a bit like commending US President Ronald Reagan's October 1983 invasion of Grenada on the grounds that Americans have not since had to face any Grenadian-inflicted aggressions.
When Israel-Palestinian relations are taken into account, as they must, the net costs of these Trump-brokered agreements will significantly exceed their net gains. This means, by definition – at least as long as we can assume an Israeli capacity to estimate costs and benefits of alternative courses of action – that Jerusalem's behavior in these contrived matters was literally irrational.
Self-evidently irrational.[12]
In even the best of times, no one could reasonably describe the Middle East as an area of impending stability or prospective security. In the worst of times, this endlessly-volatile region could quickly descend into a substantially more far-reaching condition of chaos.[13] Such a potentially lethal descent could have its origins in an impending nuclear confrontation with Iran[14] – a crisis made more likely by Trump's earlier withdrawal from the Obama-era Iran pact and by his mid-November 2020 queries about launching an American military first strike – or in the still-expanding interstices of microbial assault. In a credibly worst case scenario, these causes, augmented by the similarly incoherent Trump withdrawals from Afghanistan and Iraq, would intersect synergistically.[15]
Then, again by definition, the calculable "whole" of tangible injurious effects suffered by Israel[16] would be greater than the simple sum of its component "parts."[17]
Matters have not been helped by Donald Trump's mid-November 2020 national security purges, including his removal of the Secretary of Defense and his firing the Director of the Department of Homeland Security's Cyber Security Branch.
There is more. From its starkly disjointed beginnings, the posturing Trump presidency was detached from any identifiable considerations of history, law[18] or diplomacy.[19] Even now, saddled with such overwhelming and self-inflicted debilities, the outgoing American president "advances" unashamedly toward more conspicuous postures of anti-reason. These flagrantly non-analytic postures include conspiracy theories so utterly vacuous and outrageous that they would make even the most witting fools blush with a well-deserved embarrassment. If this were not enough humiliation to worry about, all this critique ignores Donald Trump's unhidden disrespect for elementary logic, most distressingly his false correlation of Covid19 testing with increasing illness and his corresponding "medical" recommendation that citizens consider taking household disinfectants by injection.
There is little here that is subject to dispute. President Trump's disjointed Corona Virus policy continues to result in the needless deaths of a great many trusting Americans. Though lacking the "intent" or mens rea that is integral to the codified crime of genocide, the president's Covid19 policy's effect upon US civilian populations has been effectively genocidal.[20]
From the standpoint of both the victims and their families, the juridical fine point here is immaterial. It's a bit like the frogs who are killed by the playful rock-throwing of young children. The boys may not have meant any harms, but the frogs remain dead nonetheless.
From the start, Israel had been forewarned. In all complex matters of world politics and foreign policy, this American president had always been operating ad hoc, without any considered plan or doctrine, lurching fitfully from one inane whim to another, always without any sturdy analytic moorings.[21] Whatever the subject, Trump has navigated precipitously, leaping wildly from crisis to crisis, and always without an elementary grounding in theory,[22] ideology or science. Like his frivolously appointed and obsequious subordinates, Trump still reads nothing, nothing at all.
Is this an American president from whom Israel should ever have expected wisdom, reason or informed guidance?
The question is silly, prima facie.
For Jerusalem, though already very late in the "game," the cumulative security consequences of any Trump-induced regional disorder (Trump has said on several occasions, "I love chaos") are apt to be far-reaching and at least partially irremediable. By assuming, without good reason, that this US President ever had Israel's best interests in mind, or that he could figure out intellectually what those national interests might be, Israel could soon find itself dealing with progressively debilitating regional crises. Among major examples of especially serious Trump errors and deceptions, the American President's April 2018 attack against Syrian chemical warfare facilities had little if any impact upon Bashar al-Assad's genocidal dictatorship.[23]
Even worse, this publicity-generated attack merely emboldened various anti-Damascus regime insurgents with jihadist orientations. Subsequently, these insurgents were crushed by al-Assad's armed forces, hardly a victory for democratic rule in Syria or for any other society allegedly bound to the peremptory Biblical principle, "Justice, justice shall you pursue."[24] Also, because of the Trump operation's lack of strategic theoretical underpinning, matters could reasonably have gone the other way, favoring what was then a pro-ISIS adversary.
Other basic questions should now arise. Whatever the specific issue at hand, Donald Trump has remained steeply beholden to Vladimir Putin, and would never consider doing anything assisting Israel or impacting the Middle East that did not first comport with the Russian dictator's presumptive preferences.[25] Why?
It's not a silly question. It finally deserves a proper answer.
Donald J. Trump could care less about Israel's well-being or physical survival. His inauthentic outreach to Israelis and American Jews has had only one self-serving objective. This was to re-elect Donald Trump and receive ego-salving homage as America's boldly reigning "emperor."
Now, more than ever, history deserves appropriate pride of place. Since the seventeenth-century, the core structure of world politics has been consistently anarchic or "Westphalian."[26] But anarchy means "only" the absence of any authoritative central government. To fully unravel still-meaningful effects of the destabilizing Trump presidency, Israel would need to prepare more systematically for "centrifugal" foreign policy developments. Any such condition of geo-strategic disorder would be correctly identifiable as chaos.
Quo Vadis? For Israel, a true condition of chaos could be more threatening than "mere" anarchy. In virtually any still-expressible form, this bewildering condition could play havoc with the best laid plans of any nation. From the always-critical standpoint of Israel's military preparedness, it represents a persistently unpredictable and ever-changing correlation of forces.[27] Suddenly or incrementally, this correlation could impair all "normal" national security preparations. This fearful impairment could arrive suddenly, as a dissembling "bolt-from-the-blue" enemy attack, or less dramatically, in tangible but unforeseeable increments.
Whatever its mode of arrival, the results, for Israel, could be intolerable.
These results will have been generated by misconceived and manipulative US presidential thinking. In consequence, any residual Israeli gratitude to Donald Trump as a "friend of Israel" will have been sorely misplaced. Donald J. Trump is a friend only to himself, and even this "friendship" is self-distorted.
There is more. The now-impending chaos must be differentiated from the more "normal"disorder associated with Carl von Clausewitz's (the nineteenth-century Prussian military strategist) "friction" and "fog of war."[28] At its core, this Trump-boosted chaos describes a deep and systemic level of unraveling, one that could create unprecedented and residually primal forms of international conflict. It follows, for Israel, that regional chaos could quickly and conclusively smother any still-simmering hopes for some cumulatively gainful "Trump Effect."
There was never any defensible reason for Israel to make sordid deals with a deranged American president, to betray its interests and its ideals at the same time.
At best, the US embassy move and the UAE/Bahrain/Sudan "peace agreements" will prove to be of very limited consolation to Israel. At worst, these "rewards" (designed only for Trump's domestic political benefit) will be responsible for newly accelerating anti-Israel passions and policies, including new waves of Palestinian terror in Judea. Samaria (West Bank) and Israel proper. Any such revived instances of Sunni-Arab terror[29] could hasten rather than hinder the creation of a Palestinian state,[30] a portentous outcome that could then generate continuously ominous synergies with Iranian nuclear weapons development.[31]
Also worrisome, in this regard, is that once such creation had become a fait accompli, Israel would likely experience new incentives to initiate "anticipatory self-defense" options.[32]
Wittingly, many states in world politics, not just Israel, must acknowledge the steadily increasing risks from assorted forms of nuclear conflict.[33] In this connection, Donald Trump's evident incapacity to suitably manage a nuclear crisis and/or control any more-or-less related military escalations is difficult to dispute. Should this outgoing US President still fail to prevent a single escalation from an ongoing crisis to overt nuclear warfare, the corollary effects would impact other parts of the world. These palpable effects would arrive in the form of prompt, immediate or latent physical casualties, and less dramatically, as the probable cause of unique social and economic misfortunes.[34]
World politics is not geometry. In these complex spheres of interaction, ones where complex synergies are often involved, the whole can be greater than the sum of its parts. For Israel, going forward, the most obvious chaos-generated perils could concern (1) escalating violence in Iraq, Afghanistan, Lebanon, Sudan, Libya and/or Syria; and (2) near-simultaneous deteriorations in the still-ongoing Iranian nuclearization effort and/or in the many-sided Palestinian insurgency. Facing these prospectively intersecting and synergistic perils, Jerusalem is already well aware that the Hashemite monarchy in neighboring Jordan remains vulnerable to assorted new forms of Islamic radicalism. Also apparent to decision-makers in Jerusalem is that a continuously authoritarian el-Sisi military regime in Cairo might not be able to control the re-aspiring Muslim Brotherhood indefinitely.
Nothing done by the Trump administration addressed any of these key problems.
In principle, at least, the Brotherhood or its kindred organizations could seek to get its hands on various weaponized pathogens or even nuclear explosives.[35] Regarding the "germ warfare" components, there would be very great uncertainties about plausible effects of use during an already ongoing viral pandemic. What then?
These are not policy problems for the analytically unprepared or intellectually faint-hearted. How, in his presumptively final days in office, will US President Donald J. Trump respond to bewildering threats in the Middle East? Will it be with some residual intellection and geo-strategic planning, or instead, with predictably spasmodic explosions of aimless rancor and ad hominem bluster?
Extrapolating from his past, the correct answer is distressingly obvious.
To the end, Donald Trump has continued to function with only a skeletal and constantly changing national security establishment – by intention, one utterly lacking in seriousintellectual gravitas or thought.[36] Never did he effectively fill the still-yawning directorial gaps in senior national governance with individuals of any real intellectual accomplishment. Never.
With precious few exceptions, this president has staffed the upper levels of all principal government departments with viscerally obedient apparatchiks, not with capable and courageous thinkers.
There is more. Apropos of any derivative "Trump effects" upon Israel's national security, Pakistan reveals another critical site of wider-area disintegration, one that could suddenly transform a "merely" volatile Middle East from basic Westphalian anarchy to a genuine chaos. To wit, if the already-nuclear regime in Islamabad should sometime fall toJihadists, all other regional sources of chaotic disintegration could promptly pale into comparative insignificance. In this regard, there is no evidence that the Trump administration has done even a modicum of appropriate planning.
For Jerusalem, it is high time to inquire with recognizable interest and conviction: What would US President Trump do in this sort of grave development, and how would this expected American reaction impact Israel's security and survival?
This will not be an easy question to answer, but it must be considered carefully in Jerusalem. Naturally, the question must also be kept in Israel's "mind" post-Trump, as the regional effects of this president's multiple misunderstandings and derelictions could endure long after January 20, 2021. Specifically, there could occur various significant synergies between India-Pakistan rivalries, Iranian strategic apprehensions and the various consequences of US military withdrawals from Afghanistan and Iraq.
Not for the intellectually faint-hearted or obedient clerk class to work out.
In another expectedly worse case scenario for Israel, assorted Jihadists, emboldened by multiple expressions of Trump administration confusion and indecisiveness, would take singular or "hybrid" control in one or several of the more plainly unstable Arab and/or North African governments. Ultimately, these "martyrdom-driven" leaders could acquire certain game-changing weapons of mass destruction. This worrisome prospect, even if all the acquired weapons were to remain non-nuclear, bring to mind the correlative scenario of a "suicide-bomber in macrocosm."[37]
Also worth noting here is that a Jihadist "hybrid" could be a terror-group amalgam (that is, no direct state component) or an asymmetrical alignment between a particular terror-group/groups and a kindred state.
With the expected advance of Trump-enhanced chaos in the Middle East, Israel could sometime have to face certain nuclear and ideologically Islamist enemies on both the Iranian (Shiite) and Arab (Sunni) fronts. Even in the absence of old enemies with new atomic arms, nuclear and biological materials could find their way to Hezbollahin Lebanonand/or Hamas in Gaza. Along the way, Jerusalem – perhaps still following Trump's predictably uncertain and residually disjointed policies – could find itself having to take sides with one or another set of mortal enemies.
Back in the seventeenth-century, the English philosopher, Thomas Hobbes, had already recognized that although international relations exist indefinitely in a "state of nature," a condition of anarchy (not one of genuine chaos), these decentralized relations are nonetheless more tolerable than the condition of individual human beings living in similarly "everyone-for-himself" circumstances. This is the case, argued Hobbes, because nations, unlike individuals, lack the capacity to destroy one another.
But this once reassuring distinction is no longer meaningful.[38] Thomas Hobbes was clearly unable to conceptualize a world with nuclear weapons. Now, proliferation of these weapons, especially in the Middle East, could quickly reduce the orthodox and relatively tolerable Westphalian anarchy of international relations to an authentically Hobbesianchaosof "nature," one that could normally exist only between individuals.
Here, as more and more nations came to share what Hobbes had cleverly called a "dreadful equality," a more-or-less symmetrical capacity to inflict mortal destruction, the portent of regional nuclear calamity could become correspondingly more likely.
In his modern classic poem "The Second Coming," William Butler Yeats wrote of a time in which "the blood-dimmed tide is loosed, and everywhere the ceremony of innocence is drowned." Succinctly, the celebrated Irish poet then revealed what continues to elude historians, diplomats, statesmen, and scholars:In the not-too-distant future, there could arrive a moment wherein there would be no safety in numbers, treaties, or armaments; no help from "civilizations;" no counsel from public authority; and no last-minute rescues from science. Such an apocalyptic "moment," one made more likely by America's manifestly ill-prepared and corrupted President Trump, might rage for a long while, perhaps until every flower of human culture had been trampled and once-intact human communities had been ground insidiously into the dust. From this seemingly resurrected medieval darkness, from this foreseeably Trump-facilitated chaos, there would be neither escape nor sanctuary.
Rather like the "America First" or "know nothing" illiteracy that Mr. Trump had been championing in the United States, such darkness could envelop entire regions of our long-suffering world in a single suffocating pall.
What then? What will we have learned from still-enduring horrors of the Trump declension?
For Israel, the prime inheritor of Genesis, Trumpian chaos has augured severe and paradoxical kinds of national fragility. As a continuously beleaguered microstate, Israel could still become (depending upon the precise extent to which it would have allowed itself to be manipulated and misguided by Trump "rewards") the principal victim of even more-rampant regional disorder. In view of the far-reaching interrelatedness of all world politics -everything is "system" – this victimization could arise even if the actual precipitating events of war and terror[39]were to occur elsewhere.
Oddly, a hideously triumphant global chaoscould reveal both sense and form. Generated by mutually reinforcing explosions of mega-war and mega-terror, any further Trump-induced disintegrations of world authority could assume a revealing shape. But how should such a unique shape, this sobering "geometry" of chaos, be suitably deciphered and understood in Jerusalem? As a correlative and similarly vital question, Israel's leaders would then need to inquire as follows:
"How, exactly, should we deal with potentially irrational nuclear adversaries, dedicated foes operating within both state and terrorist groups?"[40]
What if US President Donald Trump should make certain irrational last-minute decisions? What would this mean for Israel? Scientifically, there is no reliably analytic way to make any such predictions probabilistic (because scientific probabilities must always be calculated according to the determinable frequency of pertinent past events), but this significant prospect remains conceivable.
There is more. Among other things, the whole world, like the individual nation-states that comprise it, is best understood as a system. By definition, therefore, what happens in any one part of this world always affects what happens in some or all of the other parts. When, for example, global deterioration is marked, and begins to spread from one country to another, the effects could undermine international stability in general. When deterioration is sudden and catastrophic, as it would be following the onset of any unconventional war and/or act of unconventional terrorism, the unraveling effects could become immediate and overwhelming.
The State of Israel, a system of interdependent and interpenetrating parts like every other state, exists precariously in our larger world system. Aware that any Trump-inspired collapse of regional authority structures (most plausibly, in increments) would, in one way or another, impact its few friends as well as its many enemies, leaders of the Jewish State should now advance variously informed expectations or scenarios of collapse in order to best prepare suitable forms of response. Ultimately, recognizing that any rapid and far-reaching global collapse could spawn a more or less complete return to "everyone for himself" in world politics, or what philosopher Thomas Hobbeshad earlier called in Leviathan a bellum omnium contra omnes, a "war of all against all," Israel's leaders must consider just how they should respond to any future national life in a global "state of nature."
These would not present encouraging or pleasing forms of analytic consideration. Still, they would represent prudential policy steps, and must be undertaken.
Such eleventh-hour considerations could be critical to the extent that the triggering mechanism of collapse would originate within the Middle East itself, from massive chemical, biological and, in the future, nuclear attacks against Israel. In these fearful times of biological "plague," the specific actions of any microbial assault would be largely unpredictable but nonetheless highly consequential.
Any chaotic disintegration of the regional or wider-world system, whether slow and incremental or sudden and catastrophic, would impact the Israeli system. Accordingly, following the intellectually and morally deficient Trump presidency, Israel will have to orient its military planning doctrines more expressly toward worst-case possibilities. Already, Trump-initiated US troop withdrawals from Iraq and Afghanistan, opposed internally by the Joint Chiefs of Staff, are accelerating regional instabilities in ways that are both foreseeable and unforeseeable.
Will one predictable result of these ill-considered withdrawals be increasing pressure upon Israel to carry out assassinations/targeted killings[41] on behalf of Washington?[42] If so, what would this suggest about the true cumulative costs to Israel of the Trump-brokered "peace" agreements? This is a question well worth answering.
In the final analysis, it will be apparent that the overall security costs of these pacts to Jerusalem will exceed the overall benefits. And this is to say nothing about the corresponding Israeli violations of international law mandated by American "largesse," or about the indiscriminate Israeli submission to misconceived US presidential authority. Though every sham can have a patina, this moral and intellectual surrender could haunt Israel's national integrity and self-respect for a painfully long time to come.
There is one last time-urgent observation to make about Israel's witting subordination to Donald J. Trump's incoherent plans and expectations. Very recently, in mid-November 2020, Israel felt itself obligated to strike out at selected Iranian military targets in Syria. Simultaneously, in large part because of Trump's earlier (and counter-productive) withdrawal from the Iran nuclear pact, Tehran has been accelerating its preparations to "go nuclear." On both conventional and unconventional weapon fronts, this American president's errors and incapacities have been encouraging Iranian belligerence and strategic threats toward Israel.
In the end, Israelis, not Americans, will have to extricate from Trump-engineered humiliations and misfortunes.
To avoid similar judgments or mistakes in the future, Israeli leaders ought never calculate that the flamboyant wishes of an American president are ipso facto coincident with their own nation's best interests. At this late date, outgoing President Donald Trump has inflicted deeply corrosive harms upon the United States, but he has also set the stage for continuously creating certain corollary or corresponding harms to Israel. These significant harms, left unresolved, would not only imperil the Jewish State's physical security, but also its still-residual "convictions" concerning international justice and human rights.[43]
Israel take heed. "Passionate intensity," when unsupported by intellect and self-respect, can never lead a nation toward safety or virtue.[44] Rather, any such tangible lack of support for Reason, anywhere in the world, augurs a sober existential warning. A small nation that had chosen to follow a dissembling and dishonest American patron could expect a future of unceasing lamentations and irremediable despair.[45]
This should not be difficult to understand.
For Israel, from the start, any deal made by US President Donald J. Trump "on its behalf" has been a bad deal.[46] "Proof" of this once-preventable result is already plainly evident in the moral and legal realm,, and will soon become similarly clear in pertinent matters of strategy and self-defense. These matters will involve, inter alia, adversarial actions issuing forth from various sectors of the Sunni Arab world (including some that have been beneficiaries of Trump deal making); Shiite Iran (including various cooperating elements of both Sunni al-Qaeda and Shiite Hezbollah); and Afghanistan (mainly once-dormant Taliban foes newly-resurrected by Trump's recently announced US troop withdrawals).
In this last example, the negative consequences of Donald Trump's misconceived foreign policy (terrorist training and terrorist safe havens) will not stem directly from any US actions undertaken "on behalf of Israel." Rather, these unwanted results will stem indirectly from a policy intended originally by the outgoing American president for the presumed benefit of the United States. Some or all of these discrete consequences, of course, could sometime combine in more-or-less unforeseen ways, creating synergistic outcomes that are expectedly far worse than the calculable sum of their component parts.
In such cases, the relevant costs to Israel of having acceded to Donald Trump's seat-of-the-pants deal making will have become still more apparent and even less remediable.
---
[1]https://news.yahoo.com/trumps-new-pentagon-chief-counterterrorism-agency-white-supremacy-100030848.html
[2] See, for example, Louis René Beres, "Genocide and Genocide-Like Crimes," in M. Cherif Bassiouni., ed., International Criminal Law: Crimes (New York, Transnational Publishers, 1986), pp. 271-279. On the crime of genocide under international law, see: See Convention on the Prevention and Punishment of the Crime of Genocide, opened for signature, December 9, 1948, entered into force, January 12, 1951, 78 U.N.T.S. 277. Although the criminalizing aspect of international law that proscribes genocide-like conduct may derive from sources other than the Genocide Convention (i.e., it may emerge from customary international law and also be included in different international conventions), such conduct is always an egregious crime under international law. Even where the conduct in question does not affect the interests of more than one state, a traditional canon of international legal validity, it becomes an international crime ipso facto whenever it constitutes an offense against the world community delicto jus gentium.
[3]Though Trump's Israeli and American supporters sometimes advance a purportedly utilitarian argument about these evident infractions of law and justice, they ought best bear in mind the following peremptory principle of jurisprudence: "Rights cannot derive from wrongs" (Ex injuria jus non oritur).
[4]In the precise words of Article 53 of the Vienna Convention on the Law of Treaties (1969: "A peremptory norm of general international law….is a norm accepted and recognized by the international community of States as a whole, as a norm from which no derogation is permitted, and which can be modified only by a subsequent norm of general international law having the same character."
[5] We must remember here that the core obligations of general international law are simultaneously obligations of US law. Recalling the precise words of Mr. Justice Gray, in delivering the judgment of the US Supreme Court in Paquete Habana (1900): "International law is part of our law, and must be ascertained and administered by the courts of justice of appropriate jurisdiction…." (175 U.S. 677(1900)) See also: Opinion in Tel-Oren vs. Libyan Arab Republic (726 F. 2d 774 (1984)).The specific incorporation of treaty law into US municipal law is codified at Art. 6 of the US Constitution, the so-called "Supremacy Clause." It is manifest that neither Donald J. Trump nor his Attorney General has any awareness of these facts.
[6]By such alleged criteria of "merit," it is plausible that neither Stephen Miller's Eastern European refugee forbears or Donald Trump's own refugee mother (who came to the US penniless from Scotland to work as a domestic) would have been granted legal admittance.
[7]When President Trump's executive orders directed the Department of Homeland Security (DHS) to expand his coercive program of "expedited removal," he was in conspicuous violation of the legal principle known as non-refoulement. This principle is unambiguously codified at Article 33 of the 1951 Refugee Convention. Automatically, owing to the prior incorporation of international human rights law into US law, these very serious violations extend to the authoritative immigration laws of the United States.
[8] The author, Professor Louis René Beres, was born in Switzerland at the end of the War, the only son of Austrian Jewish Holocaust refugees.
[9]The "mass-man," we may learn from 20th century Spanish philosopher Jose Ortega y' Gasset, The Revolt of the Masses, "learns only in his own flesh." Donald J. Trump is the quintessential "mass-man."
[10]At worst, of course, the Trump-supplied massive weapons transfer to UAE (his quid pro quo for UAE recognizing Israel) will quickly find its way into the hands of more belligerent adversaries of Israel, including assorted Sunni terrorist groups. https://www.yahoo.com/huffpost/senate-block-trump-weapons-sale-uae-192114064.html
[11] For authoritative legal criteria to distinguish permissible insurgencies from impermissible ones, see: Louis René Beres, "The Legal Meaning of Terrorism for the Military Commander," CONNECTICUT JOURNAL OF INTERNATIONAL LAW, Vol. 11., No. 1., Fall 1995, pp. 1-27.
[12]More generally, expressions of decisional irrationality in world politics could take different and overlapping forms. These include a disorderly or inconsistent value system; computational errors in calculation; an incapacity to communicate efficiently; random or haphazard influences in the making or transmittal of particular decisions; and the internal dissonance generated by any structure of collective decision-making (i.e., assemblies of pertinent individuals who lack identical value systems and/or whose organizational arrangements impact their willing capacity to act as a single or unitary national decision maker).
[13] See latest book by this writer, Louis René Beres, Surviving Amid Chaos: Israel's Nuclear Strategy (2016; 2nd. ed. 2018). https://paw.princeton.edu/new-books/surviving-amid-chaos-israel%E2%80%99s-nuclear-strategy
[14] Presently such a confrontation could not involve a full-fledged nuclear war (because Iran is not yet nuclear). For the moment, therefore, it is not an imminent risk. Looking ahead, however, for informed assessments of the probable consequences of nuclear war fighting, by this author, see Louis René Beres, SURVIVING AMID CHAOS: ISRAEL'S NUCLEAR STRATEGY (London: Rowman and Littlefield, 2016/2018); Louis René Beres, APOCALYPSE: NUCLEAR CATASTROPHE IN WORLD POLITICS (Chicago: University of Chicago Press, 1980); Louis René Beres, MIMICKING SISYPHUS: AMERICA'S COUNTERVAILING NUCLEAR STRATEGY (Lexington MA: Lexington Books, 1983); Louis René Beres, REASON AND REALPOLITIK: U S FOREIGN POLICY AND WORLD ORDER (Lexington MA; Lexington Books, 1984); and Louis René Beres, ed., SECURITY OR ARMAGEDDON: ISRAEL'S NUCLEAR STRATEGY (Lexington MA: Lexington Books, 1986).
[15]Regarding Israel and Iran, see Louis René Beres and John T. Chain (General/USAF/ret.), "Could Israel Safely Deter a Nuclear Iran"?, The Atlantic, August, 2012; and also: Professor Louis René Beres and General Chain, "Israel and Iran at the Eleventh Hour," Oxford University Press (OUP Blog), February 23, 2012. General Chain was Commander-in-Chief, U.S. Strategic Air Command (CINCSAC).
[16]On occasion this "whole" could be minimized by certain lawful expressions of anticipatory self-defense. Non-nuclear preemption has figured importantly in previous Israeli strategic calculations. This was most glaringly apparent in the wars of 1956 and 1967, and also in the destruction of the Iraqi nuclear reactor in 1981. It was essentially the failure to preempt in October 1973 that contributed to heavy Israeli losses on the Egyptian and Syrian fronts during the Yom Kippur war, and almost brought about an Israeli defeat. During January, May, and October 2013, Israel, understandably apprehensive about Damascus' supply of military materials to Syria's Hezbollah surrogates in Lebanon, preemptively struck pertinent hard targets within Syria itself. For a jurisprudential assessment of these undeclared but still-appropriate expressions of anticipatory self-defense, by this author, see: Louis René Beres, "Striking Hezbollah-Bound Weapons in Syria: Israel's Actions Under International Law," Harvard National Security Journal, Harvard Law School, Online, August 26, 2013.
[17] See, by this writer, at Harvard Law School: Louis René Beres, https://harvardnsj.org/2015/06/core-synergies-in-israels-strategic-planning-when-the-adversarial-whole-is-greater-than-the-sum-of-its-parts/ See also, by this writer, at West Point (Pentagon): Louis René Beres https://mwi.usma.edu/threat-convergence-adversarial-whole-greater-sum-parts/
[18] For early pertinent decisions on US "incorporation" of authoritative international law by Chief Justice John Marshall, see: The Antelope, 23 U.S. (10 Wheat.) 66, 120 (1825); The Nereide, 13 U.S. (9 Cranch) 388, 423 (1815); Rose v. Himely, 8 U.S. (4 Cranch) 241, 277 (1808) and Murray v. The Schooner Charming Betsy, 6 U.S. (2 Cranch) 64, 118 (1804).
[19] See, by this writer: Louis René Beres, https://nationalinterest.org/feature/wanted-plan-nuclear-diplomacy-26395
[20]https://www.yahoo.com/huffpost/mary-trump-blood-on-his-hands-101528091.html
[21]See, on this point, by Louis René Beres at Israel Defense: https://www.israeldefense.co.il/en/node/28532
[22]"Theory is a net; only those who cast, can catch." This metaphor is generally attributed to Novalis, the late 18th-century German poet and scholar. See introductory citation by Karl R. Popper, in his The Logic of Scientific Discovery (1959). Ironically, perhaps, Novalis' fellow German poet, Goethe, declared, in his early Faust fragment (Urfaust): "All theory, dear friend, is grey. But the golden tree of life is green." (Grau, theurer Freund, ist alle Theorie, Und grűn des Lebens goldner Baum.)
[23]Regarding illegal US support for the Syrian regime, see, by this author at Jurist: Louis René Beres, https://www.jurist.org/commentary/2018/07/us-abandoning-legal-obligations-in-syria/
[24]Deuteronomy, 16:20
[25] Vladimir Putin has remained Donald Trump's evident puppet-master. In essence, this US president has been "The Manchurian Candidate" on steroids.
[26]Reference here is to the world system creating Peace of Westphalia, which concluded the Thirty Years War in 1648. See: Treaty of Peace of Munster, Oct. 1648, 1 Consol. T.S. 271; and Treaty of Peace of Osnabruck, Oct. 1648, 1., Consol. T.S. 119. Together, these two treaties comprise the "Peace of Westphalia." When compared to "Westphalian" anarchy, any impending chaos could be more expressly primal, more primordial, perhaps even self-propelled and "lascivious." We may think here, for further elucidation, of the near-total "state of nature" described in William Golding's prophetic novel, Lord of the Flies. Before Golding, the 17th century English philosopher Thomas Hobbes (see Ch. XIII of Leviathan) had warned that in any such rabidly dissembling conditions, the "life of man" must inevitably be "solitary, poor, nasty, brutish and short."
[27]For earlier examinations of this "correlation," by this author, see: https://www.jewishpress.com/indepth/columns/louis-bene-beres/israel-palestine-and-correlation-of-forces-in-the-middle-east/2005/04/20/; and also, at Israel Defense: https://www.israeldefense.co.il/en/content/idf-correlation-forces-strategy-order
[28] See, by this author, Louis René Beres, https://thehill.com/blogs/pundits-blog/foreign-policy/344344-risks-of-accidental-nuclear-war-with-north-korea-must-be
[29]Under international law, terrorist movements are always Hostes humani generis, or "Common enemies of mankind." See: Research in International Law: Draft Convention on Jurisdiction with Respect to Crime, 29 AM J. INT'L L. (Supp 1935) 435, 566 (quoting King v. Marsh (1615), 3 Bulstr. 27, 81 Eng. Rep 23 (1615)("a pirate est Hostes humani generis")).
[30] Prime Minister Benjamin Netanyahu's steady insistence that any Palestinian state remain "demilitarized" is not merely unrealistic, but also potentially inconsistent with pertinent international law. On this point, see: Louis René Beres and (Ambassador) Zalman Shoval, "Why a Demilitarized Palestinian State Would Not Remain Demilitarized: A View Under International Law," Temple International and Comparative Law Journal,Winter, 1998, pp. 347-363. See also, by Professor Beres and AMB. Shoval, at West Point (US Department of Defense): https://mwi.usma.edu/creating-seamless-strategic-deterrent-israel-case-study/ Zalman Shoval is two-times Ambassador of Israel to the United States.
[31]In principle, such synergies could shed light upon our entire world system's state of disorder (a view that would reflect what the physicists call "entropic" conditions), and could be dependent upon each pertinent decision-makers subjective metaphysics of time. For an early article by this author dealing with plausible linkages between such a metaphysics and national decision-making processes, see: Louis René Beres, "Time, Consciousness and Decision-Making in Theories of International Relations," The Journal of Value Inquiry, Vol. VIII, No.3., Fall 1974, pp. 175-186.
[32] The customary right of anticipatory self-defense, which is the legal expression of preemption, has its modern origins in the Caroline Incident. This was part of the unsuccessful rebellion of 1837 in Upper Canada against British rule. (See: Beth Polebau, "National Self-Defense in International Law: An Emerging Standard for a Nuclear Age," 59 N.Y.U. L. REV. 187, 190-191 (noting that the Caroline Incident transformed the right of self-defense from an excuse for armed intervention into a customary legal doctrine). Following the Caroline, even the threat of an armed attack has generally been accepted as justification for a militarily defensive action. In an exchange of diplomatic notes between the governments of the United States and Great Britain, then-U.S. Secretary of State Daniel Webster outlined a framework for self-defense that does not actually require a prior armed attack. (See Polebau, op. cit., citing to Jennings, "The Caroline and McLeod Cases," 32 AM. J. INT'L L., 82, 90 (1938).) Here, a defensive military response to a threat was judged permissible as long as the danger posed was "instant, overwhelming, leaving no choice of means and no moment for deliberation." (See Polebau. supra, 61).
[33] It warrants pointing out that no state on earth, including Israel, is under any per se legal obligation to renounce access to nuclear weapons, and that in certain residual circumstances, even the actual resort to such weapons could be construed as lawful. On July 8, 1996, the International Court of Justice at The Hague handed down its Advisory Opinion on "The Legality of the Threat or Use of Force of Nuclear Weapons." The final paragraph of this Opinion, concludes, inter alia: "The threat or use of nuclear weapons would generally be contrary to the rules of international law applicable in armed conflict, and in particular the principles and rules of humanitarian law. However, in view of the current state of international law, and of the elements of fact at its disposal, the Court cannot conclude definitively whether the threat or use of nuclear weapons would be lawful or unlawful in an extreme circumstance of self-defense, in which the very survival of a State would be at stake." Nonetheless, prima facie, should Israel ever allow itself to reach a point where nuclear weapons use were judged indispensable to continued survival, everything of existential meaning would already have been lost.
[34]See, by this author, at Harvard National Security Journal, Harvard Law School: Louis René Beres, https://harvardnsj.org/2020/03/complex-determinations-deciphering-enemy-nuclear-intentions/
[35] See, by this author, at BESA (Israel): Louis René Beres, https://besacenter.org/perspectives-papers/terrorism-power-death/
[36]In the 17th century, the French philosopher Blaise Pascal remarked prophetically, in his justly celebrated Pensées: "All our dignity consists in thought….It is upon this that we must depend…Let us labor then to think well: this is the foundation of morality." Similar reasoning characterizes the writings of Baruch Spinoza, Pascal's 17th-century contemporary. In Book II of his Ethics Spinoza considers the human mind, or the intellectual attributes, and – drawing further from Descartes – strives to define an essential theory of learning and knowledge.
[37] See early book on this subject by this author, Louis René Beres, https://www.routledge.com/Terrorism-And-Global-Security-The-Nuclear-Threatsecond-Edition-Completely/Beres/p/book/9780367289881 See also: Louis René Beres, https://elibrary.law.psu.edu/cgi/viewcontent.cgi?referer=https://search.yahoo.com/&httpsredir=1&article=1335&context=psilr
[38] In this connection, see, by this author, at US Army War College (US Department of Defense): Louis René Beres, https://warroom.armywarcollege.edu/articles/nuclear-decision-making/
[39] See, by this author, Louis René Beres, https://scholarlycommons.law.case.edu/cgi/viewcontent.cgi?article=1317&context=jil
[40] See, for example, by this author at Besa (Israel): Louis René Beres, https://besacenter.org/perspectives-papers/north-korean-threat-rationality-intentionality-nuclear-war/
[41]For important legal distinctions between assassination and targeted killing, see: Amos N. Guiora, Legitimate Target: A Criteria-Based Approach to Targeted Killing (New York and Oxford: Oxford University Press, 2013), 107 pp.
[42]A current example may be found in Israel's August 2020 elimination of Abu Muhammad al-Masri, al-Qaeda's second-in-command. While not possible to confirm, it is plausible that Israel acted here as a "sub-contractor" for the United States. When the Taliban fell in Afghanistan, certain senior al-Qaeda leaders fled to Iran. This suggests, inter alia, (1) that upcoming US withdrawals from Afghanistan could occasion a partial or full return of al-Qaeda from Iran, and (2) that there can be significant ad hoc relationships forged between the Shiite majority regime in Tehran and the Sunni-jihadist terrorist group.
[43] Israel can expect no rescue from a deus ex machina. In ancient Greece, classic playwright Euripides sometimes concluded his plays with a reassuring "god out of the machine." Appearing above the action, in a sort of theatrical crane, the specifically relevant god was seemingly able to solve all sorts of dreadful complications arising from the action, and thereby to supply a decipherable and more-or-less happy ending.
[44] "There is no longer a virtuous nation," wrote the Irish poet W B Yeats, "and the best of us live by candle light."
[45] Appropriately here, the specific importance of Reason to moral judgment and legal order was prefigured in ancient Israel, which accommodated Reason within its own system of revealed law. In jurisprudence, Jewish theory of law, insofar as it displays elements of Natural Law, offers a transcending order revealed by the divine word as interpreted by Reason. In the words of Ecclesiastics 32.23, 37.16, 13-14: "Let Reason go before every enterprise and counsel before any action…And let the counsel of thine own heart stand…For a man's mind is sometimes wont to tell him more than seven watchmen that sit above in a high tower…."
[46] Where these deals are thought of as "Faustian bargains," they call into question not only Israel's tangible national security, but also its "soul. Sigmund Freud and Carl Jung thought of "soul" (in German, Seele) as the essence of every human being. Neither Freud nor Jung provides a precise definition of the term, but it was not intended by either thinker in any ordinary religious sense. For both, it was a recognizable and critical seat of mind and passions in this life. Interesting, too, in the present context, is that Freud explained his predicted decline of America by express references to "soul." He was seemingly disgusted by any civilization so apparently unmoved by considerations of true "consciousness" (i.e., awareness of intellect and literature), and supposed that the crude American commitment to a perpetually shallow optimism and material accomplishment would inevitably cause sweeping psychological misery. One might reasonably extrapolate from this indictment that Freud would have had the same or similar apprehensions about any other society that looked to the United States as a suitable model for imitation, e.g., Israel.
Was Trump better for the world than Biden, after all?
Joe Biden and the State Department just approved a major deal with the Saudis for 500mln in choppers maintanance. Effectively, the US sold its soul to the Saudis again after the US intelligence services confirmed months ago that the Saudi Prince is responsible for the brutal killing of journalist Jamal Khashoggi. The Biden administration is already much more inhumane and much worse than Trump. Biden doesn't care about the thousands of American citizens that he left behind at the mercy of the Taliban, the Biden administration kills innocent civilians in drone strikes, they are in bed with the worst of the worsts human right violators calling them friendly nations.
Biden dropped and humiliated France managing to do what no US President has ever accomplished — make France pull out its Ambassador to the US, and all this only to go bother China actively seeking the next big war. Trump's blunders were never this big. And this is just the beginning. There is nothing good in store for America and the world with Biden. All the hope is quickly evaporating, as the world sees the actions behind the fake smile and what's behind the seemingly right and restrained rhetoric on the surface. It's the actions that matter. Trump talked tough talk for which he got a lot of criticism and rarely resorted to military action. Biden is the opposite: he says all the right things but the actions behind are inhumane and destructive. It makes you wonder if Trump wasn't actually better for the world.
Biden's worrisome construct of security and self-defense in the first year of his term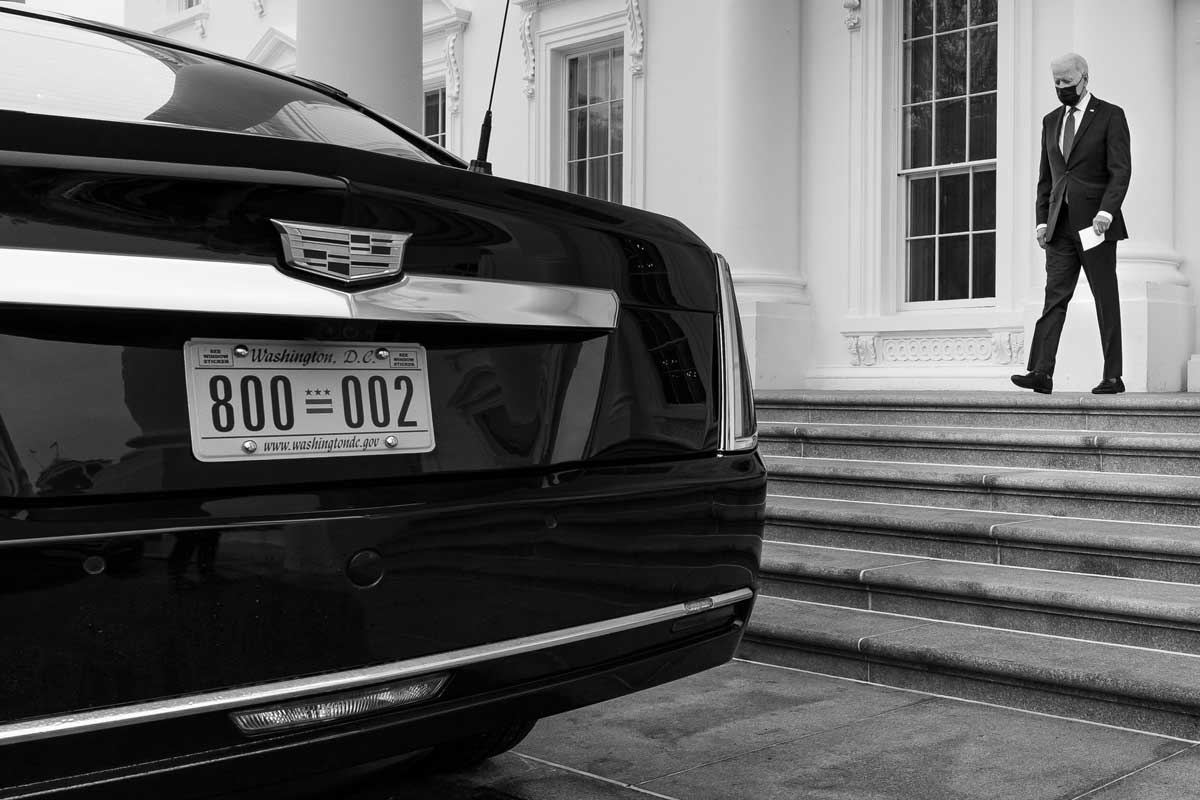 US President Joe Biden's foreign policy is failing so far. He can't get the Iran nuclear diplomacy on track. The Afghanistan withdrawal was a disaster seen by all, placing an unusually high number of weapons and armaments in the hands of the Taliban and leaving everyone behind, to the point that one wonders if it was intentional. The US military has been able to accomplish far more impressive and bigger logistics tasks in the past, so when they want to they can do it.
More worrisome, however – and because it is also oriented towards future impacts – is Biden's construct of vital concepts such as security, international peace and self-defense which has already displayed a consistent pattern during the first year of his term. The signs are already there, so let me bring them out to the surface for you.
Treating a counter-attack in self-defense as an original, first-move strike
This is a pattern that can be noticed already in Biden's reading of what constitutes defense. It first struck me in a place where you might not think of looking. It originated from the criticism of the previous Trump administration's support for the destructive Saudi Arabia campaign on Yemen, leaving Yemen as the biggest famine and disaster on the planet. To avoid the same criticism, the Biden administration decided to do what it always does – play technocratic and legalistic, and hope that people won't notice. On the face of it, it looked like Biden ended US participation by ending the "offensive" support for Saudi Arabia. Then in the months after the February decision, reports started surfacing that the US actually continues doing the same, and now most recently, some troops from Afghanistan were redirected towards Yemen. Biden didn't end Yemen; he set up a task force to examine and limit US military action only to defensive capabilities, which sounds good to a general observer. It reminds me of that famous Einstein saying that all the big decisions were to be taken by him and all the small decisions were to be taken by his wife, but there hasn't been one big decision so far. So see, it just turns out that everything falls under defense, ask the lawyers. Usually no one would object to the well-established right to defend yourself. The problem with that is that the US is actually in Yemen. Treating any counter-strike and any response to your presence as an original, first-move attack is not only problematic but it also simply doesn't work in legal terms. It goes along the lines of "well, I am already here anyways, so your counter-response in self-defense is actually an attack and I get to defend myself". If the issue was only with terrorist or rebel organizations (because let's face it, who cares about the Houthies in Yemen?) I don't think we would be discussing this. But as you guessed it, this approach can already be traced as a pattern in Biden's thinking and the way he forges alliances, draws red lines and allows things to happen, and it stretches to areas that most people definitely care about such as a possible military conflict between the US and China.
Let's take the newest development from today. The US just announced that it has entered into a trilateral partnership with the UK and Australia in the Indo-Pacific, which is encirclement of China par excellence. Where it gets interesting is that the trilateral partnership is purported to be only for "advanced defense capabilities". The equivalent of this is someone from another city squatting at the door step in your apartment, inviting two others to join, and then when in the morning you push them and step on them to go to work, the squatters claiming that you attacked them and calling the police on you in your own apartment. This is Biden's concept of self-defense: since I am already here in your space, you are attacking me.
The US is trying to start something with China but it doesn't know how to, and China seems completely unconcerned with the US. Chinese leader Jinping doesn't even want to meet Biden, as became clear this week. China doesn't care about the US and just wants to be left alone. They already said that in clear terms by reading it out loud to Wendy Sherman last month. Biden didn't have to ask for a meeting in that phone call this week because he already knew the answer. Wendy Sherman got a clear signal on her China visit that the US president won't be getting that coveted red carpet roll-out any time soon.
So the story says that the US is going all the way to the other side of the world and staging military presence there but only to defend itself. The US has no choice but to move in to defend all the US citizens at risk in the Indian Ocean — that's the stand-up comedy line of the week. It is staging military presence right at China's doorstep — if not in Chinese waters, and the idea is "yes, that's your turf but now that I'm here, if you push me to leave, you are attacking me". This is the strategy of narcissists and those that are looking to point the finger to their opponent when they just don't have anything, so they stage something. China is in the long-term game, playing against itself. The US is that number 2 that's trying to create provocation. In the Indo-Pacific, the US is biting more than it can chew. China is not a big mouth or one to throw around military threats. That's the US style: "be very careful, we might bomb you if you don't do what we say". A dog that barks doesn't bite. On the other hand, China is more like a Ferrari — it will go from 0 to 200 in seconds and then it will go back to its business. The US and Biden will be left whimpering but no one will jump to save the US from its own folly because self-defense in the US packaging is not even bought by the US government itself. Even they don't buy their own packaging. So why should anyone else?
Treating embarrassing discoveries and things that don't go my way as a threat to international peace
This one is a big one. With this one, Biden is playing with the queen, namely action under Chapter 7 of the UN Charter in the name of international peace and security. A threat to international peace and security is grounds for action under Chapter 7 which includes military action, and it's never to be spoken lightly. Words have consequences. The UN Security Council rarely specifies grounds for action under chapter 7 for threats to international peace and security but it's enough to take a look at the practice: resolutions were passed when Iraq invaded Kuwait in 1990, in response to 9/11, against Kaddafi who was marching toward Benghazi to wipe out the people in 2011, in relation to genocide, etc. Grounds for a threat to international peace can't be "because I don't like the way things are turning out for me".
Peace and security are not like beauty – in the eye of the beholder. There has to be an actual or imminent attack and actual military action or violence. Loose interpretations of threats to peace and security are a sign of weak leadership.
Leaders who construct dissent and criticism as terrorism in relation to the Black Lives Matter movement, as I have argued about the FBI previously in the left media, are weak leaders. In smearing Martin Luther King, the FBI argued national security. As director Oliver Stone said in Cannes this summer, when he was investigating the JFK assassination, every time he was getting close, he heard "national security".
You can see a lot about the character of a nation by the way it constructs security, and notice traits such as narcissism, weakness, cheating. The Biden Administration has to know that a threat to international peace and security can't be "things that make my government look bad". In 2001, the world followed the US in Afghanistan because there was an actual military attack. The world won't follow the Biden administration on a bogus threat to international peace that can best be summed up as a major embarrassment for the US government. Suggesting a link is a threat to the fabric of international society. Not only is it a sign of national narcissism but also a sign of arbitrariness and authoritarianism. Treating criticism and the exposure of US government crimes as if it were a military attack is what horror movies are made of. What's next? Droning journalists?
Treating issues which are a subject to treaties, rules and negotiations as a threat to international peace
The Biden security construct stretches to various regions, including my own. This first struck me with Biden's executive order regarding the Western Balkans when he tied blocking these countries from EU accession to a threat to international peace, which carries significant consequences. If a country, let's say Bulgaria, is exercising its lawful right to veto EU processes, hypothetically, based on Biden's understanding, the US could table a resolution for Chapter 7 action to punish an EU member-state for blocking the accession of an EU candidate because that's a threat to international peace. That could hypothetically lead to military action against an EU country making use of its veto. Biden doesn't have a veto in the EU. Do you know who does? Bulgaria. So until Biden becomes an EU country he doesn't have a say.
Biden was visibly irritated that the process of EU accession has been stalling for quite some time, especially with N. Macedonia and Albania at the EU's doorstep, so he decided to give it a go. Let's not forget that the Balkans are a favorite Biden region and this goes back to the 1990s. I have written about it before: Biden is stuck in the 2000s when if you mentioned the Western Balkans the words international peace were a guaranteed association. Not anymore. Negotiations, rules and voting are the peaceful and reasonable way to resolve issues, agree or even not agree in some situations, and are the opposite of war and aggression. Treating these ways as a threat to peace is just the rhetoric of those who can't get their way. But it's also indicative of a worrisome trend with Biden that anything that the US government doesn't like can be dressed as a threat to international peace, which carries the most significant of all consequences in the international arena.
Treating lawful counter-measures as a threat to national security
Perhaps the best and most fascinating example of lawful counter-measures I ever heard was brought by Andrew Clapham at the Graduate Institute in Geneva. Here is the story. The UK issued unlawful sanctions on a country. In response, lawful counter-measures by that country targeted jam exports because a jam factory in Scotland was the key to turning the elections. The targeted counter-measures worked, hit jam exports, discontent people in the region voted the other way and the government that put in place the sanctions to begin with was ousted. This was a brilliant example that you hit where it hurts and you do it lawfully. Counter-measures don't have to be identical. The US likes to put tariffs on Louis Vuitton bags in retaliation when it deals with France, for example. In the Trump trade wars, Europe would hit bourbon and jeans exports as a counter-measure. You hit their signature product. Not all counter-measures are illegal and count as an attack. International law is full of examples.
Similarly, lawsuits against a government are a lawful counter-measure. This area reveals another part of Biden's worrisome construct of national security. A threat to sue the US government cannot in and of itself be a threat to national security. Tortured reading of what is national security is a sign of weak leaders, narcissists, those on the losing end, or straight up losers – or all of the above.
Treating lawful counter-measures as a cause for self-defense is not only a sign of a wrong understanding of self-defense, but is the ultimate sign of narcissism. Usually those who attack know better and brace for impact in anticipation of the counter-measures. Narcissists, on the other hand, cry that they are being attacked when they receive a counter-strike in response. Strategists know better.
Mistreatment of whistleblowers, critics and opponents as spies and as a threat to national security
This one is an easy one. Only losers treat whistleblowers and critics as spies and as an automatic threat to national security. Take the treatment that Gary Stahl has received at the hands of the Biden Administration and the FBI, for example. Again, the US government doesn't get to construe a huge embarrassment (in what will soon be revealed to shows the true criminal nature of the US government) as a threat to international peace. This is a problem for America. Not only doesn't China plan to attack militarily the US any time soon over what's to come, but China is largely unconcerned with the US and would like to be left alone. Any talk about a risk of military conflict could only mean that it is the US that plans to attack because they are embarrassed they got caught red-handed and the world will see the US government's true nature. Talk of threat to international peace has a very high threshold. No one cares about how America would feel – that's your problem, not an issue of international peace.
The Biden concept of security is that of an ugly, pretentious, old woman who is told she can't enter because her ticket is not valid. She then throws a feat screaming she was attacked, beaten and insulted, expecting everyone to be on her side. But the world simply doesn't care about the problems of this pain-in-the-ass anymore. The US government will have to try much harder if they want to present the issue as anything close to security and self-defense, let alone a threat to international peace. That tune is old and there are no buyers.
The US surely thinks very highly of itself if they think that a scandal like that is worthy of a military conflict but literally no one else sees the US as this important anymore. This scandal will matter only to America in what it reveals about all the layers of the US government across rank, institutions and administrations. That's it. It ends there. Any talk of Chapter 7 threshold is war mongering and no one will care.
People talk about the Biden doctrine on Afghanistan but the Biden doctrine that will be sealed in history will be something along the lines of "Anytime I get caught, it's a threat to international peace and security." This is how Biden will be remembered in history: for creative writing endeavors in the security field and no substantial foreign policy achievements.
Biden's credibility restoration plan
Although damages of the United States' withdrawal from Afghanistan cannot be easily undone, by taking a series of wise steps, Biden can send a strong signal that America is coming back.
Joe Biden's botched withdrawal from Afghanistan has shattered his reputation as a safe haven for allies. This is while, he pledged to restore U.S. leadership after Trump by confronting China's and Russia's growing totalitarian ambitions, restoring historic alliances with European allies, and ending the never-ending conflicts in Afghanistan and the Middle East.
But he is not the only President whose decision has eventually damaged the United States' global reputation. Donald Trump's capitulation deal with the Taliban, Barack Obama's indolence in Syria, and George W. Bush's invasion of Iraq have all tarnished the United States' credibility around the world. The question now; however, is no longer whether Biden and his predecessors should have acted differently. It's how the United States can minimize the damage.
Biden should begin by speaking the truth. So far, the President has failed to admit the failure of his withdrawal plan. Biden ought to be straightforward with himself, the American people, and the whole world.
Biden's policy should, of course, vary depending on the area and global conditions. To promote its interests in the Indo-Pacific area, the United States should station a few ambassadors, including a Navy or Coast Guard attaché, in the Pacific Island countries of Tonga, Tuvalu, and Kiribati. In addition, a considerable number of troops currently stationed in Afghanistan should be redeployed to the Pacific. Finally, Biden's administration should engage with U.S. defense contractors to speed up the transfer of military equipment to Taiwan. Getting Taiwan its armaments swiftly would be a powerful show of support as a steadfast ally, as well as provide modern platforms to prevent a Chinese amphibious invasion.
The Biden administration should also do all in its power to rebuild relations with European partners. For the very first time, NATO invoked Article 5, which identifies an assault on one member as an assault on all. Since then, soldiers from a variety of countries have fought and died alongside US troops. Nonetheless, Biden decided to leave Afghanistan without consulting the governments of these countries, leaving them to plan emergency rescue efforts for their populations. Close allies of the United States are understandably enraged. America's behavior is being chastised in Paris, Berlin, and the British House of Commons on both sides of the aisle.
Last month, at a meeting of regional leaders in Baghdad, Macron made it clear that, unlike the Americans, he was dedicated to remaining in the Middle East. "Whatever the American choice is," he stated in public remarks in Baghdad, "we will maintain our presence in Iraq to fight terrorism as long as terrorist groups function and the Iraqi government requests our assistance." It was a clear example of Macron's idea of "strategic autonomy," which implies European independence from U.S. security policy, and an attempt to use the United States' humiliation to underline that Europe and Washington were not always on the same page. At an emergency G7 summit, Mr. Biden is said to have turned down allied requests to extend the August 31 deadline for exit.
The Biden administration's recent decision not to penalize Nord Stream 2 pipeline participants has enraged Europeans as well. Poland and Ukraine underlined their worries in a joint statement about the ramifications of choices taken on the pipeline without the participation of nations directly impacted, claiming that Nord Stream 2 poses both geological and ecological risks to Europe.
As a result, whether it's diplomatic recognition of the Taliban regime, humanitarian aid for the Afghan people, or any other major issue, the US should not take any more action without engaging partners. Mr. Biden should also dispatch senior members of his national security team to Europe and other regions of the world to reinforce America's commitment to their security.
As to the Middle East, Jake Sullivan, Biden's national security advisor, in a Foreign Affairs article described "America's opportunity in the Middle East," suggesting that diplomacy may work where previous military interventions have failed. The United States' involvement in the area is frequently portrayed in military or counter-terrorism terms, and as a binary option between going all-in or going all-out. Instead, Sullivan advocated for a strategy that relied more on "aggressive diplomacy to generate more long-term benefits."
Accordingly, the President and his team in Vienna should get the new Iranian administration back to the negotiating tables and rejoin the JCPOA and ease the tensions in the Middle East. Also, the United States should do all possible in Afghanistan to secure the safe transit of Afghans who qualify for U.S. visas to the Kabul airport – and to keep flights flying until they are able to leave. This should apply to both Afghans who dealt closely with the United States' military, and to those who engage with U.S. media and humanitarian organizations and must get visas from a third country. In addition to ensuring that the United Nations and humanitarian groups have the resources they need, the United States should cooperate with its Security Council allies to guarantee that the Taliban does not hinder the free flow of help.
Moreover, to follow any influx of jihadists to Afghanistan, intelligence agencies will have to rededicate resources and increase surveillance. They must be pushed to coordinate their efforts on the Taliban in order to keep the most threatening groups under control. The United States could set an example by agreeing to accept a fair share of any displaced Afghans. Neighboring countries like Iran and Pakistan, which already have millions of Afghan refugees, are closing their borders.
Biden may not be able to prevent all of the disastrous repercussions of the Afghan catastrophe, but he must act now before the harm to U.S. interests and moral stature becomes irreversible. By taking these steps, he can send a strong statement to the world that he has learned his lessons and that America is coming back.