Africa Industrialization Day: Unlocking Africa's "value-added" industrial potential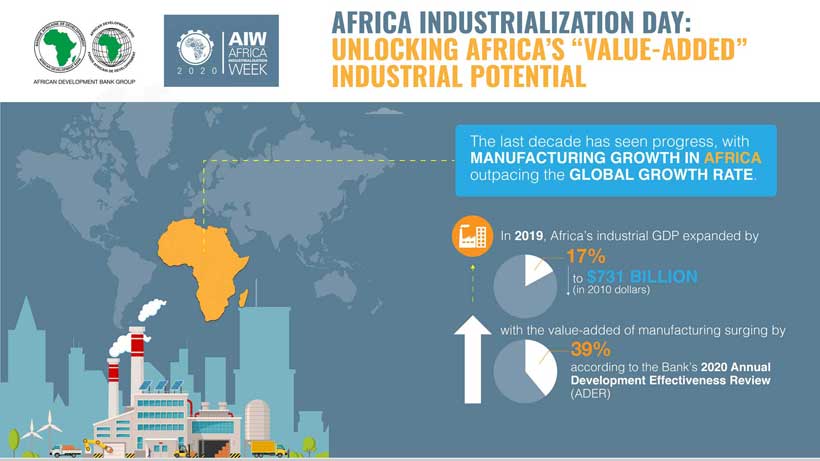 Africa Industrialisation Day, which falls on Friday, mobilizes the commitment of the international community to the continent's industrialisation and gives us the opportunity to reflect on the Bank's impact in this sector, one of its High 5 priorities. 
From oil to cocoa, cotton to vanilla, Africa is rich in naturual resources but its heavy dependence on commodity exports means it has yet to take full advantage of the added value that processing raw materials and manufacturing can bring.
The African Development Bank is working to change this by promoting successful industrial policies, attracting funding to infrastructure and industry and supporting the growth of capital markets to create quality employment that alleviates poverty.
The last decade has seen progress, with manufacturing growth in Africa outpacing the global growth rate. In 2019, Africa's industrial GDP expanded by 17% to $731 billion (in 2010 dollars), with the value-added of manufacturing surging by 39%, according to the Bank's 2020 Annual Development Effectiveness Review (ADER).
But Africa's industrialisation is geographically limited, with around two-thirds of value-added manufacturing taking place in just five nations: Algeria, Egypt, Morocco, Nigeria, and South Africa.
This year, progress has been reversed by the COVID-19 pandemic, which has upended economic growth, disrupted trade and financial flows and triggered losses of millions of jobs.
The economic and social impact of the pandemic has injected more urgency into the drive to industrialise Africa, just as the African Continental Free Trade Area is set to reshape the continent into a singular market of 2.5 billion people by 2050.
As the African Development Bank joins the international community to mark Industrialization Day, some stories of women and men turning the tables on Africa's industrialisation front merit all our attention.
PROCESSING, MANUFACTURING AND TECH
Just outside Cairo, the Egyptian Refining Company (ERC), a greenfield petroleum refinery, is one of the largest industrial units of its kind in Africa.
With nearly $222 million in funding from the Bank, the refinery converts the lowest-value fuel into 4.7 million tons of refined products and high-quality oil derivatives per year, meeting domestic consumption needs, cutting emissions from dirty fuels and reducing Egypt's balance of payment deficit.
The huge project created more than 15,000 jobs at peak construction and 1,000 permanent local job opportunities.
"From day one they were able to see that this project, which has been 12 years in the making, was going to have a transformative effect on Egypt's economy," said Ahmed Heikal, chairman and founder of ERC's parent company, Qalaa Holdings.
In 2019, 1 million people across Africa benefited from the Bank's industrial investee projects. Turnover from Bank investments in micro, small and medium-sized enterprises (MSMEs) almost trebled, reaching $1 billion and far exceeding targets.
Some of the best opportunities for Africa's industrialization lie in agriculture. Crucial to this sector is the Bank's support of Special Agro-Industrial Processing Zones (SAPZs), which strengthen African countries' ability to attract private sector investment by bringing policy, investment and infrastructure together, usually in a rural area with high agricultural output.
Take South Africa, where the Bank is supporting the development of 22 SAPZs. One of them, Bokomoso Ba Rona SAPZ, aims to rehabilitate an area and develop a post-mining economy on a 30,000-hectare site owned by mining company Sibanye-Stillwater.
"We are aiming to attract private sector investment, which will drive agro-processing and build a strong value chain," said Noxolo Mtembu, Project Manager at the Gauteng Infrastructure Financing Agency, which is responsible for developing the SAPZ.
Africa's emerging connectivity and a workforce increasingly familiar with the digital world and new technologies will make it possible for the continent to take advantage of the fourth industrial revolution to improve productivity, create jobs, and extend social welfare.
New industries have transformed the fabric of local economies, for example in Nabeul, in north-eastern Tunisia, once most famous as a craft and tourist centre.
Now Nabeul is becoming as well known for its high-tech industries. With financing from the Bank, the MEDIS pharmaceutical laboratory was established to produce generic medicines, creating thousands of skilled jobs and becoming one of the region's biggest employers.
The laboratory has provided formal, secure jobs for many who otherwise would have been confined to informal work or unemployment.
"My job with MEDIS has given me freedom and dignity. I'm not asking for a handout and I'm not asking anything of anyone," said employee Sabra Gmati.
"If MEDIS or a business like it wasn't in Nabeul, I'd be unemployed and I would stay at home."
Kenya's GDP Contracts Under Weight of COVID-19, Impacting Lives and Livelihoods
The latest World Bank economic analysis for Kenya projects the economy to contract by between 1.0 percent and 1.5 percent in 2020, as ongoing COVID-19 containment measures and behavioral responses restrict activity in Kenya and its trading partners.
The Kenya Economic Update, Navigating the Pandemic, notes the downturn in economic growth reflects the more severe economic impact of the pandemic to date than had been initially anticipated, including a large impact on the national accounts of the closure of education institutions since March. In response, the government has deployed both fiscal and monetary policies to support the healthcare system, protect the most vulnerable households, and support firms to help preserve jobs, incomes and the economy's productive potential. With a sharp decline in tax revenues due to the weakening in economic activity, and tax relief, and an increase in COVID-related spending needs, the fiscal deficit has widened, and debt vulnerabilities have risen. The fiscal deficit widened to 8.2 percent of gross domestic product (GDP), up from the pre-COVID budgeted target of 6.0 percent of GDP, and Kenya's debt to GDP ratio has risen to 65.6 percent of GDP as of June 2020, up from 62.4 percent of GDP in June 2019.
"As the COVID-19 pandemic continues to threaten both the lives and livelihoods of Kenyans, we remain committed to supporting the government to allocate sufficient resources to the health sector to combat the pandemic, continue with mass testing, support self-quarantine, social distancing, and protect the most vulnerable groups," said Keith Hansen, World Bank Country Director for Kenya. "It is equally critical to provide well-targeted support to the most vulnerable affected households."
Beyond strengthening health systems and protecting incomes, the report recommends several near-term actions that can play a role to combat recession and revive the economy's productivity, creating the conditions for a resilient and inclusive recovery. Ensuring continued access to safe healthcare, including for non-COVID-19 related health concerns, remains a priority. Given fiscal constraints, this will require redirecting expenditures to the highest priority areas, whilst maintaining a focus on raising the efficiency of spending and ensuring the transparent use of funds.
Following the job and income losses precipitated by the crisis, the report notes support is needed for the "new poor" whose livelihoods have been affected. This could be achieved through a horizontal scale-up of social protection programs, appropriately targeted, timely, and temporary while the crisis persists.It is critical to ensure continued support to vulnerable households, while safeguarding human capital through expanded access to digital technology, combined with better access to information to mitigate usage of negative coping strategies (i.e. asset liquidation) and combat food insecurity while offsetting the increase in poverty.
"Following the extraordinary economic support efforts necessitated by the crisis, Kenya's economic recovery can be supported by the authorities returning to an appropriately-timed and balanced fiscal consolidation path, to reduce mounting debt vulnerabilities and safeguard macroeconomic stability," said Alex Sienaert, World BankSenior Economist and lead author of the report. "Kenya will also need to enhance its existing institutional setup for monitoring and responding to future communicable disease outbreaks, and further the still-critical "Big 4" agenda for medium-term inclusive growth, including realizing the government's vision of sustainably providing universal healthcare."
Kenya's economic outlook remains highly uncertain, as the COVID-19 pandemic continues to unfold in the country, and globally. Under baseline assumptions, the economy is projected to rebound quickly in 2021, lifting real GDP by 6.9 percent y/y. A major factor in this strong rebound is the unusual impact on the national account's treatment of education sector output normalizing, which is projected to add 2.2 percentage points to real GDP growth next year.Delayed availability of vaccines, and prolonged social distancing and other needed COVID-19 countermeasures, could undermine the projected recovery in economic activity.
The report's policy section focuses on options to strengthen healthcare system and testing capacity, to support firms, and to protect the most vulnerable households to cope with the COVID-19 global pandemic.
Closer Africa-Europe collaboration needed to deliver food and nutrition security roadmap
Africa's apex organization for coordinating and advocating for agricultural research and innovation has called on more African and European countries to prioritize investment in science, technology and innovation for agriculture on the continent.
The Forum for Agricultural Research in Africa (FARA) updated partners on a joint initiative between the European Union and the African Union to promote sustainable agriculture during its General Assembly this week. FARA also called on the agricultural research for development sector on the continent to unite and implement a roadmap for food and nutrition security.
The Long-term EU-AU Research and Innovation Partnership for Food and Nutrition Security and Sustainable Agriculture (LEAP4FNSSA), which is running from 2018 to 2022, supports intercontinental collaboration over agricultural research and innovation. This partnership will establish, by 2022, an International Research Consortium (IRC) to facilitate cooperation in agricultural research and innovation of mutual benefit to Africa and Europe.
"The general objective of LEAP4FNSSA is to establish a sustainable platform for the efficient and coherent implementation of the AU-EU Research and Innovation Partnership," said Yemi Akinbamijo, Executive Director of FARA.
"Agriculture is biology, and our agriculture is as good as our science. FARA drives the AU's mandate to strengthen the application of science and technology to accelerate agricultural transformation in Africa and ensure equitable access to resources like the International Research Consortium. Meanwhile,it is vital that African partners play their part to help drive the agenda for improved food and nutrition security across the continent."
The 8th FARA General Assembly included presentations from Dr Philippe Petithuguenin from the French research centre CIRAD, Dr. Shadrack Moephuli the President of South Africa's Agricultural Research Council and Dr George Essegbey from the Science and Technology Policy Research Institute (CSIR-STEPRI) in Ghana. The Assembly called on African institutions to rally around FARA in its efforts to coordinate agricultural research for development on the continent.
"FARA holds an important mandate on the continent, which the LEAP4FNSSA can leverage for the establishment and operation of the International Research Consortium by Africa and Europe," said Dr. Bouchaib Boulanouar, Partnerships Coordinator in Agriculture and Agro-industry at the African Development Bank and FARA Board Member.
"The roles of FARA and sub-regional organisations in building the IRC partnership platform are crucial. Among others, they involve inviting partners and disseminating information among stakeholders. FARA will ensure the IRC composition is equitable to advocate for mutual interests of Africans and Europeans."
Speaking at the high level plenary panel of the 16th Comprehensive Africa Agriculture Development Programme (CAADP) Partnership Platform, which preceded discussions on the LEAP4FNSSA, FARA's Executive Director also updated the African Union Commission and other stakeholders on the organisation's perspectives in mobilizing support to African countries to enable them achieve CAADP targets, with the EU-funded CAADP XP4 programme as case study.
Several international development partners such as the International Fund for Agricultural Development (IFAD), the Organisation of African, Caribbean and Pacific States (OACPS), the European Commission and the African Union Commission reiterated their support around the interventions that FARA is leading on the continent.
FARA has also recently acquired web-based survey instruments and training materials on Capacity Strengthening on Knowledge Management as legacy products of another joint institution, the Technical Centre for Agricultural and Rural Cooperation (CTA), which is winding down in December 2020. These will be used by African institutions to assess the state of institutional knowledge management and design appropriate responses to their needs.
CTA was established under the Cotonou Agreement between the EU and Africa, Caribbean and Pacific (ACP) states to support smallholder agriculture.
"FARA appreciates the support received from CTA in sharing these intellectual assets so that we can continue the important work of fostering EU and African collaboration by ensuring they remain shared resources for a common vision," added Dr. Akinbamijo.
"As neighbours and, increasingly, as trading partners, Europe and Africa have many shared interests and much to learn from one another as our food systems face the challenges of the future."
As part of FARA's ongoing support for sustainable food systems across Africa, the organisation will also host the virtual Biennial Africa Climate Smart Agriculture Stakeholders Conference on December 1-2, which will provide updates on the state of CSA initiatives and contributions of science to a food systems approach in Africa.
Somalia at a crossroad, UN envoy urges 'deepened' political consensus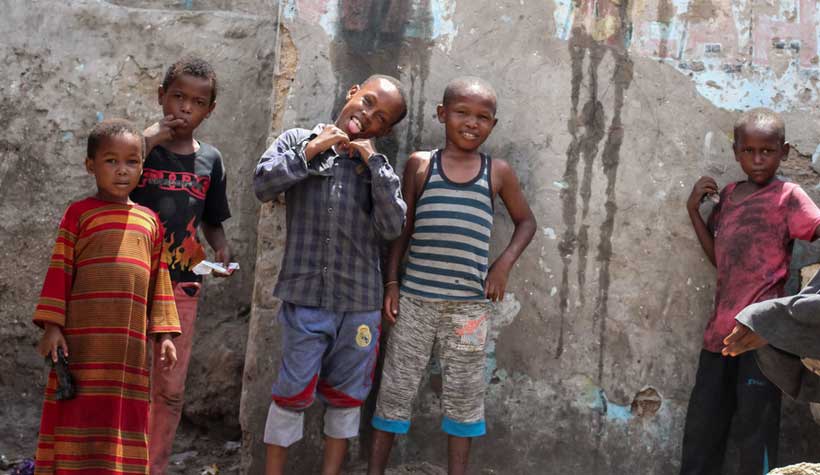 The "broad political consensus" reached in September that ended a two-year stalemate in Somalia must be "preserved and indeed deepened", the country's UN envoy told the Security Council on Monday.
Although the agreed model of voting "regrettably fell short" of the constitutional requirement for parliamentary elections based on the principle of universal suffrage, Special Representative James Swan, who also heads the UN Assistance Mission in Somalia (UNSOM), acknowledged that it did reflect "wide Somali political consensus and ownership".
"In addition to the support of the President and federal member state leaders, the indirect model was also endorsed by other key Somali stakeholders, including political parties and civil society, and was ratified by the Federal Parliament", he said via videoconference.
"A transition year'
The UN official painted a picture of a country facing critical decisions, namely "an electoral process to choose the parliament and president in the coming few months; a security transition so that Somalis can assume lead security responsibility by the end of 2021; and urgent priorities for humanitarian response and economic reforms".
Dubbing 2021 "a transition year in which Somalia takes lead responsibility on security matters", Mr. Swan sought a "strategic vision" for the country's security that would be supported by diverse backers, including "external actors".
He also lauded, among others, the Somali security forces and African Union (AU) Mission in the country, for contributing to collective gains in the security realm.
Inclusive processes
The UNSOM chief underscored that agreed-upon processes must be "more participatory and inclusive" and welcomed the agreement of political leaders to ensure a 30 per cent quota for women to sit in Parliament.
As Somalia focuses on the electoral process, he upheld that the UN would continue to press for "participation by historically underrepresented groups", including women, youth and marginalized communities.
"They all have much to contribute to peace, stability, and development in their country", upheld the Special Representative.
Turning to the longer-term, Mr. Swan explained that in collaboration with the UN Development Programme (UNDP), the U Support Office in Somalia (UNSOS) and international partners, UNSOM would contribute to implementing the electoral agreement and "universal suffrage elections in the future".
"To this end, we urge Somali leaders to prepare consensually a roadmap with clear timelines and benchmarks to ensure one-person-one-vote elections take place in 2024/25", he said.
Freedom and respect
The UN's development work in Somalia is centred around human rights and justice, according to the UNSOM chief.
"With elections approaching, I underscore my previous calls for the protection of political space, for tolerance of divergent opinions, for respect of free speech and association, and for media freedom", he reiterated.
In closing, Mr. Swan assured the Council of UNSOM's ongoing work in promoting political cooperation.
"Our good offices are aimed at fostering the widest levels of inclusion and consensus possible", he stated.
Protracted dialogue necessary
Also briefing was Francisco Caetano Jose Madeira, Special Representative of the Chairperson of the AU Commission for Somalia and Head of the AU Mission, who said that "protracted and painstaking" dialogue was needed to achieve consensus on a parliament-endorsed electoral process.
Mr. Madeira also expressed confidence regarding recent State efforts to improve governance, promote dialogue and strengthen security while underscoring the AU's role in ensuring successful elections and highlighting the need for increased support and training of Somali police forces.