Mongolia is an exceptional country when it comes to Eurasian geopolitics, linking China with Russia, two great countries in terms of military and economic capabilities, geographical area and population. In June 2016, the China-Mongolia-Russia Economic Corridor (CMREC) was announced in order to consolidate friendly relations and promote economic exchanges for the success of the Belt and Road Initiative. Many reports indicate the great position of Mongolia on the Chinese economic map as a pillar of the modern Chinese initiative. Mongolia is a major economic partner of China, and the Chinese administration aspires to forge permanent relations of cooperation and coordination with Mongolia by virtue of its common geography and strategic location, in order to open up through it to Russia and other Mongolia is a key economic partner of China, and the Chinese administration aspires to forge permanent relations of cooperation and coordination with Mongolia by virtue of its common geography and strategic location, in order to open up through it to Russia and other international partners.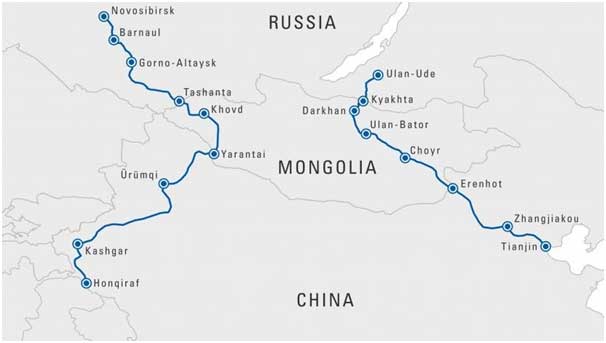 Mongolia is rich in natural resources, for example the mining industry provided up to 30% of GDP and almost 90% of exports, but its economy is not as developed compared to China. Some economic reports indicate the great economic benefit to Mongolia from the China-Mongolia-Russia Economic Corridor. Mongolia is expected to witness unparalleled economic growth in terms of international economic cooperation, which will positively affect the national economy. The Mongolian economy depends heavily on China's investment; data of the two largest ports in Inner Mongolia Autonomous Region in northern China indicates enormous economic benefits. In the chart below, the continued economic progress achieved in Inner Mongolia is shown. In addition, rail trade increased by 16 percent year-on-year to 11.2 million tons in 2017. In the same year, 570 trips were made on the China-Europe railways passing through Ernhot (a county-level city of the XilinGol League, in Inner Mongolia Autonomous Region, located in the Gobi Desert along the Sino-Mongolian border, across from the Mongolian town of Zamyn-Üüd).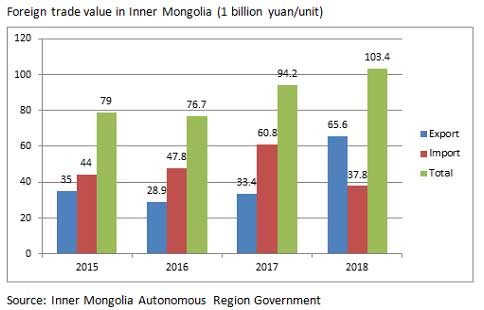 The Belt and Road Initiative aims for mutual profit, cooperation and peaceful communication. China shares an ancient cultural history with Mongolia, long common borders, and economic cooperation that has never stopped. The strategic geographic location of Mongolia makes it a priority for China on the new Silk Road, in addition to the richness of natural resources and livestock that China needs.
The Mongolians are a horse-loving people, a country known for its large number of horses. Mongols without horses are like birds without wings. Despite globalization and the great economic progress in the neighbor (China), as well as the cold weather and difficult geography, the Mongolians did not abandon their traditions and the Mongolian way of life still exists today. In Mongolia there are herders of horses, camels and cattle to benefit from milk, meat, wool, etc. During the pandemic in China, for example, President Battulga set up what is known as "Sheep Diplomacy" where Mongolian President donated 30,000 sheep to China. This initiative indicates the Mongolians' positive intentions towards the Chinese and the desire to open up more. In this context, I would like to point out that China is a big importer of meat and the Chinese demand for meat is constantly increasing, as shown in the chart below. Here is a great opportunity for Mongolia to increase its exports of meat to the Chinese market.
The reading of Mongolian history indicates that this country has passed through periods of prosperity. Mongolia may be a good example of power and rule, as its borders extended to many countries during the rule of Genghis Khan (1162-1227), the man whom the Mongolians consider their historical leader and has turned into a hero and a national symbol. The Mongolians did not abandon their land despite the cold weather and difficult geography, indicating that they are a deeply rooted people with land. Mongolia, with its vast territories and few people, has turned into a meeting place for Russia and China, and a strategic center for Chinese economic expansion. Therefore, it is impossible for the Chinese administration to abandon the partnership with Mongolia.
The Mongolian economy is heavily dependent on livestock, and the number of pastures has increased significantly since the Soviet era because of the transfer of ownership to the people. However, the government is still not able to provide all services to citizens "the government has failed to promote education and health care and veterinary care in pastoral communities, so there is no longer any incentive to stay in rural areas" said Sarol Khuadu, an official at the Institute for Environmental Research in the Mongolian capital. The policy, which no longer places much emphasis on the countryside, has led to the transfer of large numbers of citizens to the capital and to engage in the world of money and business.
Unfortunately, the Mongolian government is not working seriously to support citizens in remote areas. The conditions of life are not good and the loans granted are high interest, in addition to the weather that adversely affects their businesses. In order to help the poor and rural people, in cooperation with national governments, humanitarian, development and scientific partners, FAO has developed an early warning approach by monitoring risk information systems and turning warnings into proactive actions. International organizations contribute to permanent humanitarian and social assistance in Mongolia.
Mongolia's strategic policy through the "Mongolia Steppe Road Program 蒙古国"草原之路" is largely in line with the belt and road initiative, which is a road connecting Mongolia, China and Russia. Consequently, Mongolia, a country that mainly depends on the agricultural sector, will be a center for economic communication between China and Russia, and thus will witness a great economic development. The Steppe Road Program aims to boost Mongolia's economic standing and create an advanced network of infrastructure for communication with China and Russia and build an oil and gas pipeline. In 2014, during his historic visit, Chinese President Xi Jinping raised the level of relations between the two countries to "Comprehensive Strategic Partnership Relations". Since then, bilateral cooperation has begun to move faster.
China has never abandoned Mongolia; it is a country of advanced strategic location as a bridge between Asia and Europe, in addition to the important agricultural sector in Mongolia which benefits China greatly, not to forget to mention the China-Mongolia-Russia Economic Corridor which has become an important part of the belt and road initiative and a key component of Sino-Russian cooperation.
The relationship between China and Mongolia today is an ideal example of the bilateral relationship between two neighboring countries. Cultural, economic, political and tourism communication is in continuous progress between the Chinese and Mongolians, and the Belt and Road Initiative will push this communication forward. The Chinese aspire to increase free trade areas and economic connectivity through a developed infrastructure network.