In this globalized world, time and space are shrinking with the advent of technologies. But the prevailing global interconnections are creating some irreversible collision among the sovereign units, which suggest that this Liberal democratic world became so complicated and peculiar that at this stage no one can control anything, not even superpower. Though they can regulate to some extent but can't control. Most of the sovereign units are running on democratic principles; nevertheless, there are still several unregulated territories are operating, which is a major concern for democratic nations to deal with them. Hence, these territories provide a breeding ground for illegal activities due to the absence of law and order in that particular area. Most critical of among those territories is the Afghanistan, which became a hub of illicit trade and drug trafficking as well as the global source of terroristic movements.
Afghanistan is not only posing severe hurdles to neighbouring countries, but it is a menace to global peace. Notwithstanding, a full-fledged Afghan government, Taliban are accompanying with Al-Qaeda is the major key players in the region. They entirely disregard the policies of the government, also seeks to counterbalance the power politics in its favour. In praxis, there is no indivisible supreme authority with the capability to command over the whole territory which renders sufficient space for anarchy and turbulence in the region. This implies that afghan, as a state, failed to administer in its real sense. Consequently, it inflates the mystery to classify the nature of Afghanistan to have a meaningful analysis. Presently, Ashraf Ghani, the successor of Hamid Karzai leading the country since 2014, which signifies that Afghanistan is not a completely failed state; instead, it has some fragmented parts. This inefficiency of the state to govern according to global norms is disrupting the peace and also serve as a reservoir of illegal activities. The attack of 9/11 is a suitable example of lawlessness accompanying with the grave consequences of outgrowth of terrorism. Briefly, the geographical terrain in and around the afghan region gives a very suitable space for terrorists to flourish and hide. Hence, these non-state actors are striving to expand their magnetism to the neighbouring countries, which may prompt major security implications for the bordering countries primarily for CAR due to the weak political system and porous borders. Similarly, India is also affected by radical and extremist tendencies that stem from volatile Afghanistan. Moreover, India commenced pursuing its interests in Afghanistan with the well-established engagement. Therefore, India needs to pedal carefully to remain intact in the Taliban headed Afghanistan.
Afghanistan: Failed or Fragmented state?
Afghanistan is known for the history of invasion following with its internal strife and open- ended battle that is intensifying the situation even further without any foreseeable end. All the international efforts have been ineffective to render any useful explication of the conflict chiefly because of ethnic clashes among the civilians and Pakistani interferences. As a consequence, this engendered into convulsions and disruptions within Afghanistan. The instability and the legacy of the Taliban is also a major cause of conflict which leaves no option for the government to execute any practical solutions. However, it is quintessential to identify the speculations behind the germination of non-state actors, nonetheless the world's most potent military interventions. Why only Afghanistan, not Pakistan or Central Asia or any other region of the world? This question diverts the attention to diagnose the nature of Afghanistan as a state first.
According to Max Weber, the territorial boundary of the country is governed by an exclusive sovereign authority termed as government or state (Gauba, 2009). However, in the case of Afghanistan, not only the state but the non-state actors also regulating different territorial area within a country. There are numerous autonomous units operating to stretch their influence over the territory. This signifies that Afghanistan failed to perform the process of law and governance efficiently. In short, the Afghan government failed to comply with all the principal features of the state, which indicates that power is divided among various stakeholders primarily where the state is weak, fragmented or in extreme cases failed (Barfield, 2010). Hence, it is incompetent for the state to exert authority over all actors within the borders of the state. Mainly if there are non-state armed actors who are maintaining autonomous character mostly by force, then it is almost impossible for the government to execute any order in that region (Rotberg, 2005). On the other hand, Afghanistan has elected president including a political system which restrains us from distinguishing Afghanistan as a failed state.
Hamid Karzai was the first Democratically elected president of Afghanistan and subsequentially his successor Ashraf Ghani is leading the country since 2014 (Nick B. Mills, 2007). It exhibits that Afghanistan has unusual features of the state but not complying with all the authentic features of a nation-state. However, it is imprecise to delineate Afghan as a failed state; instead, it shows the symptoms of fragmentation. Therefore, there is a need to crystalize the understanding of failed state and fragmented state to have a feasible conclusion. State failure is a difficult situation where state agency ceases to operate entirely or partly. In Afghanistan, the circumstances are more similar to the fragmented state where the so-called illegal non-state actors have a significant role to play accompanying with state authorities. Lastly, non-state actors do not acknowledge the hierarchy of authorities which eventually drives to the anarchy and lawlessness within a state.
The threat for Democratic World Order
In the 21st century, the world regulates on the orbit of liberal principles. The post-soviet era with a twist from fixed to flexible exchange rate system gave enormous space to flourish the liberalism or in another way globalization to its zenith. Globalization not only demands the flexible economy but also requires a stable political system for its growth. In contrast, the political system of Afghanistan is precarious and led to the outgrowth of baneful factors. The politically destabilize country consists of numerous Clan leaders, which are the main components of the political fabric of the country. The presence of these clans with diverse and distinct social beliefs and norms paves the way of the tussle. Besides, the existence of external forces since the last half-century also contributing to antagonize the culture and ignited the growth of extremist ideologies. Ever since millions of dollars and human resources has been injected, but the story remains unchanged.
Gradually, Afghanistan became the hub of transnational organized crimes with the support of highly sophisticated weapon systems. Mostly, the funding for these activities is obtained with the help of illicit financial flows and the narco trade estimated around $400 in 2018. The growth of the illicit trade in Afghanistan is indestructible, and the country is now the origin of around 90% of the global supply of heroin (Gregorian, 2020). This opium poppy cultivation is one of the primary sources of livelihood in the region. On the other hand, it also serves as a platform to establish strong linkages among the farmers and illegal outsourcing agents, furthermore undermines the credibility of state authorities. These illegitimate connections deviate and alienate the civilians from state apparatuses and inclined them towards the radical or jihadist ideologies. The "Idea of Jihad" befuddles the individual to the extent that they can be used as a suicide bombers in the name of sacrifice. Therefore, the suicidal tactics became one of the unbeatable apocalyptic methods to perpetrate terror on a broader aspect. Moreover, these new tactics bashing the U.S. and NATO to reassess its counterterrorism measures and policies to secure peace and stability. Since the last two decades, the U.S. analysts and policymakers are incompetent to design the concrete path of victory despite the persistent multilateral engagements and consistent failure, eventually leading to an unsettled withdrawal of U.S. forces in a desultory manner.
According to the Council on Foreign Relations, the conflict status of Afghanistan is still getting worse notwithstanding multilateral peace talks among prominent leaders and stakeholders, which may undermine the future prospects of any settlement and inter-afghan mediations. Furthermore, the stage of reconciliation after year-long consultations once again lost its sanctity with the emergence of a global pandemic and declining interest of the Taliban. However, the Afghan crisis sinking a massive amount of human and financial resources following with the unprecedented deaths and casualties to settle the battle. Consequentially, it became a global solicitude to safeguard Afghanistan from turning into a terrorist safe haven. Terrorism and extremism are dangerous for all nations around the world. Also, the drug mafia within Afghanistan is posing a hard blow, domestically and internationally and expanding its root in the region due to its lawlessness. The development of these illegal movements within Afghanistan and around the region raises serious security concerns for the world, can also break off the stability and impede the global economic growth. Lastly, it can be said that without any focused effort to dismantle the unauthorized trade and activities, Afghanistan will continue to captivate the corruption and violence that have plagued the world throughout the turbulent history. Henceforth, it is essential to track the development process in Afghanistan and harmonize the situation with the help of the U.S. and other NATO allies to sustain a peaceful world order.
Security Implications on CAR
As it has been previously stated that Afghanistan is a war-torn nation and its devastating repercussions left the economy crumbled. This economic insufficiency plus unemployment constrain civilians to join the militancy groups. These groups have very active linkages from the Islamic world, especially from Pakistan and Saudi Arabia moreover, they were creating robust linkages to extend their scope in the other bordering countries to harbour themselves during the crisis. Additionally, they also try to woo the civilians of other nations in the name of holy wars.
Afghanistan crisis became a global threat due to the mounting narco trade and outreach of terrorist. Historical pieces of evidence reveal that religious extremism provides the base for terrorism while ultimately, Afghanistan is surrounded by the hard-core Islamic countries. Consequentially, the threat is not only confined to Afghanistan; slightly, it has flooded the neighbouring countries with severe repercussions. Most affected is Central Asia the immediate neighbours of Afghanistan, which provides a substantial base for the terrorist to deceive and accomplish their goals along with Pakistan's strategic support. Central Asia's corrupt bureaucracy and weak political system present ample possibilities to prosper the so-called unauthorized activities without any legal risk vis a vis militant groups in Afghanistan are also forming a very close nexus with the neighbouring countries to acquire human and financial resources, especially in CAR.
The threats emanating from Afghanistan is not only using Central Asia as a breeding ground for subversive activities; somewhat, it is also ruining the indigenous culture of these countries. Afghanistan is posing multifaceted economic, political and cultural challenges to the CAR because of the defective political system. The unsteady civic institutions of Central Asia and regional conflict gives leverage to infiltrators to operate under their nose. Besides, religious extremism, ethnic divisions, drug trafficking, illicit trade, and the supply of deadly weapons is the major security threats instigated by Afghanistan. Further, Central Asian routes are used for the opium trade, which is a major source of funding for the Afghan warlords. Moreover, the unresponsive governments of the region failed to harmonies the situation for better economic growth which is worrisome for the major trading partners, including India. Henceforth, the failing economies and the lack of a powerful motivation to engage with India is obstructing the fruits of mutual benefits.
India's engagement with Afghan's and Afghanistan
India and Afghanistan hold deep cultural linkages which can be traced back to antiquity simultaneously with the trade relations which proceeded in fragmented layers with the rise and fall of different regimes. This deep-rooted mutual connection underwent a major setback since the partition accompanied with organized stifling by Pakistan. Unquestionably, Afghanistan holds a vital status from the perspective of India's security calculus. The vitality of Afghanistan for India are not precisely because of Pakistan but proportionately , if not more vital, attached to India's aspiration to be and to be seen as a major player in the region. Besides, the undeniable fact is that India has always seen Afghanistan as a viaduct to extend its strategic reach beyond south Asia. However, Strategic calculations are not the sole factor; slightly, various other underlying factors are also responsible for India's direct engagement with Afghanistan.
Firstly, due to the close alliance of mujahideen with ISI (Intelligence agency of Pakistan), Afghanistan poses serious security challenges to India. On the other hand, Pakistan has continuously tried to stimulate the turmoil in the Kashmir to disorientate the region from India, which is a primary cause of the contentious relationship between India and Pakistan. Islamabad also using Afghanistan as a vault of insurgent groups and trained them with core military tactics to meet the perverted interests against India. Pakistan is using Afghanistan, as a launchpad for training and sending Islamic militants to Kashmir. Hence, the stability of Afghanistan is the primary concern of India from Kashmir's perspective.
Secondly, India's engagement with Afghanistan strongly motivated with friendly gestures to advance more excellent regional stability in entirely coincides with Kautilya's Rajamandala theory (Circle of States). Although, the world is quite different now in comparison to the Kautilya's age (Boesche, 2002)but the geopolitical scenario of the Afpak region utterly compatible with his theory. This theory illustrates the bordering nation (i.e., Pakistan) as a hostile and the country which has aligned borders to a hostile country (i.e. Afghanistan) is a natural ally (In case of India). Accordingly, it is imperative for India to maintain a cordial relation with Afghanistan. Additionally, India can use Afghanistan to keep a check on Pakistan to dismantle the Mujahideen's sheltered by Pakistan from time to time.
Thirdly, India's economy is proliferating to satisfy the daily demands of the nation, following with an ambition to become a global power. To sustain this economic growth, India needs an uninterrupted supply of energy resources which can be complemented by CAR. Therefore, Afghanistan can provide a viable transit route to Central Asia to tap the unexplored chunk of energy reserves to relieve India's energy thirst. India can utilize Afghanistan as a gateway to access Central Asian markets and to enhance energy and economic collaboration to foster the dream of South and Central Asian connectivity.
Though gradually India has advanced its position in Afghanistan with the projection of soft power and infrastructure development. This makes India as one of the largest donors to Afghanistan, which can be manifested through milestone projects concluded by India like Delaram-Zaranj
Highway, transmission lines, Salma Dam and a parliament building in Kabul. On the other aspects, India is also cementing its position through soft power in the field of education, medical and most significantly the passion for Indian cinemas. In spite of that, India needs to recalibrate its approach to root itself as a major player in the Taliban headed Afghanistan. It is also equally significant for India to obstruct the emergence of any radical regime in Afghanistan to pacify the whole South Asian Region.
Conclusion
Over the decades, Afghanistan became more volatile than it was ever before. The rationale behind this is not the external force rather internal radicalization targeted on vulnerable groups in and around the region. The insurgent groups have different origins and motives which is stretching across the South Asian Region and its more threatening for the neighbouring countries in particular, whereas the bordering nations around Afghanistan provide the source of shelter and various other assistance anonymously. The most unstable among them is the CAR which also became an alternate transit route for the contraband products. To sum up, it can be said that internally fractured central Asia needs to captivate the foreign investment and strengthen the security measures to overcome the crisis. The effects of the catastrophe are not only confined to bordering nations; preferably, it has also elongated to the Indian soil at a full-scale. This signifies that India has to contain numerous direct and indirect security challenges arising from Afghanistan, which derailed the bilateral progress between Central Asia and India.
References
Barfield, T. (2010). Afghanistan a cultural and political history. New Jersey: Princeton University Press Princeton & Oxford.
Boesche, R. (2002). The First Great Political Realist: Kautilya and His Arthashastra. Maryland: Lexington Books.
Gauba, O. (2009). An Introduction to Political Theory. New Delhi: Macmillan.
Gregorian, D. H. (2020, 03 21). Trialogue. Retrieved from Institute of World Affairs:
Nick B. Mills, N. D. (2007). Karzai: The Failing American Intervention and the Struggle for Afghanistan. New Jersey: John & Wiley sons.
Rotberg, R. I. (2005). State Failure and State Weakness in a Time of Terror. Washington, D.C.: Brookings Institution press.
Lithium in Afghanistan: Gold or Dust?
With Lithium being much in focus due to the increasing demand for the electrification of many areas on the planet, expectations and dreams around the delicate metal grow by the day. Many electronics devices, most devices with rechargeable batteries, modern electric vehicles in particular, but also in storage and balancing battery systems for the electric grid – they require Lithium. All this is stirring the dreams of those governments, regions and countries having Lithium as one of their raw materials at hand. Like Afghanistan.
Besides some precious stones – which illegally are mined by many groups since decades – Afghanistan has several other raw materials, and a huge supply of Lithium among them. The war-worn country officially is led by the Taliban but with many regions under control by other groups and even terrorists. Situated in Nangarhar province, one of these opposing groups, the ISIS-K, seeks control over Ghazni province, with the goal to occupy the south of the capital Kabul and, therefore, having access to some of the raw materials as well as the smuggling routes towards Pakistan. One focus lies on Lithium in the Ghazni province. In parallel, the government seeks to find cooperating partners for mining Lithium as well – in the Ghazni province, for instance. Conflicts, therefore, can be expected. However, there are other areas where the Afghan people could mine Lithium, in the provinces of Helmand, Daykundi and Uruzgan, for instance.
Foreign countries and companies are interested in Lithium


This puts light onto a number of opportunities but even more on the obstacles. First and foremost, all known facts of the areas where Lithium can be found, and the calculated amount are based on Russian explorations from the mid 80ies and even earlier British information. Thus, the database is at least 40 years old. These figures neither have been thoroughly updated, nor verified, and not properly aggregated, too. Furthermore, there is a good chance to find more regions with Lithium as well as other sought-after minerals and metals.
Besides exploration, the infrastructure, dependability, safety, continuous supply, social and environmental sound mining are further obstacles which need to be overcome. And this are a huge tasks. As of today, there are five Chinese companies – like Ganfeng Lithium corporation – looking into the Lithium business in Afghanistan. Many of the country's Lithium deposits are in remote locations with limited infrastructure. Decades of war and economic hardship have deteriorated the situation. China has been willing to undertake risky projects to support strategic investments in other countries like Nigeria and learned it is not worth the hassle. As a result, the Chinese are interested, but also reluctant to go for the Lithium in Afghanistan.

What is needed to attract foreign countries and companies to go into the Lithium mining business in Afghanistan? To obtain the raw materials lots of rocks/minerals need to be transported to the processing plants, ideally located nearby. Thus, safe well-built roads for heavy-duty trucks or heavy-duty train tracks coming from the mines to the processing plants and from there to the borders for export are needed. Access to these remote areas, thus the infrastructure, plays a significant role.
To run these activities, many people are needed to do all the jobs and these people need accommodation as well as healthy food, medical help, transport, communications, entertainment, education, and more. Mining and particularly mining of Lithium needs lots of water. Water supply as well as environmental sound mining including saving water have become major issues. Many markets and the car & truck businesses in particular require a number of (independently controlled) actions to ensure social and environmental sound mining as well as the use of water: the car industry learned from the Cobalt disaster to closely monitor the situation at each mining facility.
Time and dependability
It takes about seven years to build, install and put a large and well monitored mining facility for Lithium into operation. In a situation of uncertain exploration data, two years for exploring the area, sources and mines must be added. These huge investments in geology, technology, labor, and time makes sense only if such a facility can safely run for as long as possible, preferably over decades. Thus, dependability is key. To make all parties profiting from such a mine, continuous supply, transport and sale of the metals and materials must be ensured. All this can only be achieved in a safe and stable environment. Frankly, Afghanistan neither will be able to provide the required infrastructure, nor the dependability, safety and continuous supply to achieve an economically successful operation. Not even mentioned the social and environmental sound mining which needs to be ensured, controlled, and confirmed.
Mining on a small scale as done today in Afghanistan is a way to sell raw materials like Lithium into secondary channels. These channels do not pay market prices and they do not ask questions. This might be an opportunity for ISIS-K and others, but it certainly isn't an option for the Afghan government in the long term since it is not economically sound. In order to properly and continuously make money with Lithium and other raw materials, the preconditions have to be established, adapted and improved, first
Lithium is not at short supply
With crude oil, we were informed to see peak [supply of] oil very soon. Such stories came up first about 100 years ago, but the fossil fuel companies found more oil in countless new areas worldwide. Today, we talk about peak [oil] demand and this is more likely to happen before peak oil. Same applies to Lithium. Several analysts said we already are facing a shortage of Lithium. This, as well, is not true. Lithium is at high supply and rising demand. Several new Lithium sources – many easily accessible – have been found during the past few years. There are large new ones in Iowa, a huge source underneath the river Rhine in Europe, many more have been found in several countries, including China, but most of them in South America. Furthermore, there is lots of Lithium in sea water, too. Why do we suddenly find so many Lithium sources, now? Simply said, if you search for something very specifically you probably will find some – like California's Salton Sea area which is abundant with Lithium and is enough to build tens of million electric vehicles. Furthermore, this Lithium source is easily accessible.
There is a high and rising demand for Lithium, but no, there is no need to go far into remote areas of instable countries like Afghanistan to obtain the metal. Prices for Lithium came to an all-time high in late 2018 but then gradually dropped and now are relatively stable. New battery designs require less Lithium while the battery sizes become bigger. Furthermore, recycling will become the most important source of Lithium within the next ten years. As a result, Afghanistan is no treasure trove, companies can more easily acquire Lithium (and other critical minerals) from alternative sources. Most countries and companies are well aware of the risks and headaches that come with doing business in and with Afghanistan. As a result, China is not going to rush into Afghanistan, nor does any other country.
In response to the question above Lithium is not the new gold for Afghanistan since the preconditions are so questionable: The Taliban and ISIS-K dreams of a money flow by Lithium will not happen. And this applies to other raw materials, too. For instance, many rare earth elements can be found in Afghanistan. But with their name comes a misunderstanding: rare earth elements are not rare by the means of abundancy, they are "rare" since they "rarely exist in their purified form". Thus, rare earth elements require extensive processing – which as well requires infrastructure locally.
For Afghanistan it becomes vital to sort the infrastructure issues out which not only means roads and train tracks, but also hospitals, educational facilities, stores, entertainment, and social life – since with the investments in mining and processing by foreign countries and companies' specialists are coming and will work in Afghanistan: they want a normal life. The government's plans for such investments are highly important for being able to profit from all the raw materials. Otherwise, it all remains dust.
Which would be very sad since the country and particularly the areas where raw materials can be found are of an exceptional beauty with inhabitants of unparalleled hospitality.
Somalia: Security Council adopts resolution to keep pirates at bay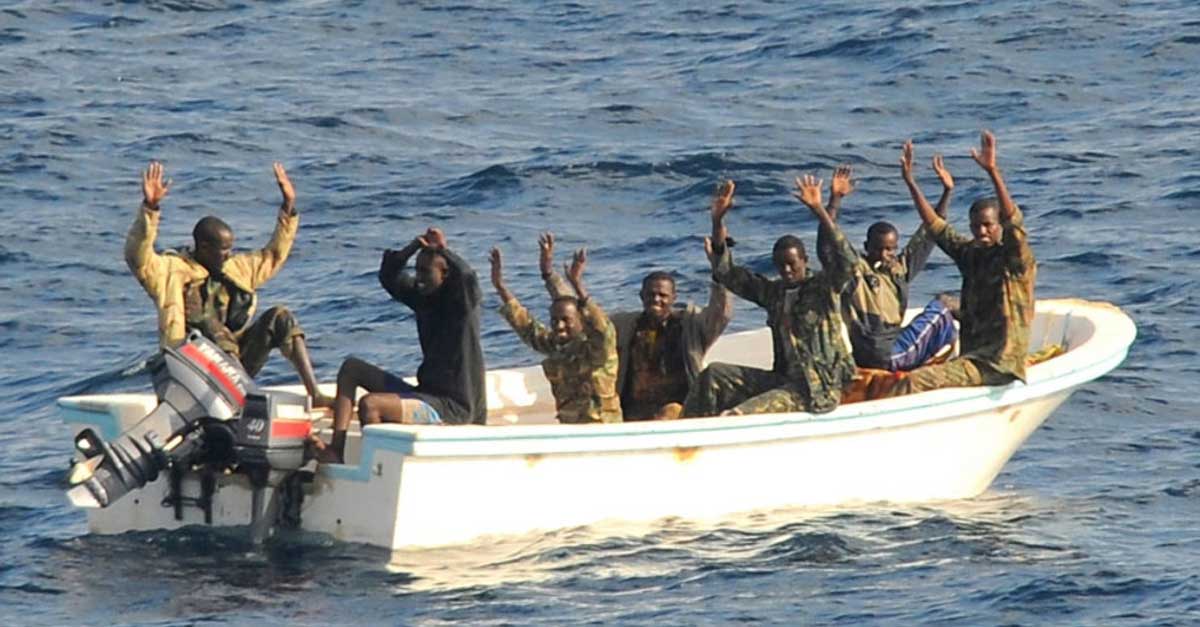 The UN Security Council on Friday adopted a resolution to combat the continuing threat of piracy off the coast of Somalia, as shipping and protection measures to keep vessels safe, have returned to levels not seen since before the COVID-19 pandemic.
The Secretary-General's latest report on the situation in the country illustrates that joint counter-piracy efforts have resulted in a steady decline in attacks and hijackings since 2011.
However, although piracy off the coast of Somalia has been "repressed", the ongoing threat of resurgence remains.
As such – under Chapter VII of the Charter, which provides for enforcement action – the Security Council adopted Resolution 2608, which, among other things, condemns piracy and armed robbery at sea off the Somali coast, underscoring that it exacerbates instability by introducing "illicit cash that fuels crime, corruption and terrorism".
Making amends
Through its resolution, ambassadors said that investigations and prosecutions must continue for all who "plan, organize, illicitly finance or profit from pirate attacks off the coast of Somalia".
The Somali authorities were called upon to put in place mechanisms to safely return effects seized by pirates and to patrol the coastal waters to prevent and suppress future acts of armed robbery at sea.
At the same time, they were requested to bring to justice those using Somali territory to "plan, facilitate, or undertake criminal acts of piracy and armed robbery at sea".
Member States were asked – at the request of the Somali authorities and with notification to the Secretary-General – to strengthen maritime capacity in the country and to appropriately cooperate on prosecuting suspected pirates for taking hostages.
The resolution also encourages the Somali Government to accede to the UN Convention against Transnational Organized Crime, and develop a corresponding legal architecture as part of its efforts to target money laundering and financial support structures on which piracy networks survive.
Authorization to fight piracy
The Security Council renewed its call to States and regional organizations to deploy naval vessels, arms, and military aircraft to combat piracy, and stressed that the importance of international coordination.
At the same time, the resolution authorized – for a further three-month period – States and regional organizations cooperating with Somali authorities, to fight against piracy and armed robbery at sea off Somalia, "for which advance notification has been provided by Somali authorities to the Secretary-General".
Calls to action
Through its resolution, the Council called upon all States to "take appropriate actions…to prevent the illicit financing of acts of piracy and the laundering of its proceeds…[and] to criminalize piracy under their domestic law".
Countries were also petitioned to cooperate in the investigation and prosecution of anyone responsible for or associated with acts of piracy and armed robbery off the coast of Somalia, including international criminal networks.
Resolution 2608 welcomed the continued work of the UN Office on Drugs and Crime's (UNODC) Global Maritime Crime Programme to ensure that those suspected of piracy are prosecuted, and those convicted, imprisoned in accordance with international legal standards.
Finally, the resolution recognized the International Maritime Organization's (IMO) role concerning privately contracted security personnel on board ships in high-risk areas and welcomed its continued anti-piracy role – particularly in coordination with UNODC, the World Food Programme (WFP), the shipping industry and all other parties concerned.
ISIS-K, Talc, Lithium and the narrative of ongoing jihadi terrorism in Afghanistan
Chinese and Russian efforts are underway to strengthen the Taliban government economically and militarily, along with legitimacy and international recognition. In return, Pakistan is trying to disrupt the Taliban government's relations with Iran and Tajikistan, as well as with China and Russia. Subsequent to the fall of the previous republican government, following Russia and China, Iran is a major supporter of the Taliban.
Iran plays a significant role in a new intelligence surge launched by major regional players in Afghanistan, which includes ISIS-K campaign against the Taliban government in country. Although Taliban have been able to crush, ISIS-K in several provinces of Afghanistan, but the group was able to mobilize a bunch of other terrorist organizations such as Turkistan Islamic Party, Khetabat Iman Ul Bekhari, Khetabat ultauhied Waljihad, Islamic Jihad Union, Jamaat Ansarullah and East Turkistan Islamic Movement, and The Army of Justice. According to sources on the ground, the group has also established contacts with the resistance front led by Ahmad Massoud to fight Taliban.
Seemingly, the group joined forces with the Resistance Front in northern part of the country to downfall the Taliban particularly in northern Afghanistan. In addition to defeating the Taliban in the central and southern provinces of Afghanistan, the group has started a sectarian war between the Sunnis and Shiites, which has partly soured relations between the Afghan Taliban and Iran. The group had the support of Pakistan as well as other regional countries and beyond. Furthermore, Lashkar-e-Taiba fighters entered Afghanistan with the help of the Pakistani army, joining the fight between Sunni and Shia in Afghanistan. Efforts are underway to start a civil war in the country. According to the information, ISIS militants have been mostly funded and financed by the Saudi government, as well as other Salafi Gulf States to minimize and even eradicate Shiites in the region.
In accordance with some sources, additional costs are being borne by the United States and Great Britain. Beside all such financial support, Islamic State (ISIS-K) militants also obtain some funding and thrive through mining and establishing business firms throughout the region.
Let us say, Islamic State militants relatively control the oil reserves in Iraq and they illegally extract it, meantime they have hands on talc and other precious stones in Afghanistan to cover their propaganda campaign expenses. ISIS-K uses the same tactics applied by Taliban during the US occupation; Taliban began illegal mining in Afghanistan to finance their activities in order to wage the war against the US aggression. During the Taliban's resistance, Taliban fighters had also a strong financial support from Pakistan, and the Pakistani government accordingly received that financial sustenance from other countries namely western and the Arab world. However, the Taliban forcibly mined Afghanistan's lapis lazuli and smuggled it to Pakistan. Under the auspices of the Pakistani government, the gems were shipped to the United States and the European countries. In return, the Taliban were paid in cash. Likewise, the Taliban, ISIS chose the same path, and made the most of money via mining in Afghanistan.
Subsequently, the ISIS group has chosen Nangarhar province as its stronghold in Afghanistan, since it has mineral deposits of talc, chromite, marble and other precious and rare earth minerals in addition, the group is also trying to control smuggling routes, to launch cross border terrorism.
Consequently, ISIS-K endeavors to bring Ghazni province under its control, since a huge Lithium, mine exists in the province. The group is well aware of its preciousness in the world market because the element is mainly used by automotive industries to produce batteries for electric cars.
The anti-corruption network of the former Afghan government reported that the Taliban and the Islamic State together received about 46 million in 2016 thru illegal mining from a single district of Nangarhar province. That is why ISIS has spent millions of dollars in Afghanistan because of holding its campaign and propaganda, allegedly, most of which came from mining.
Furthermore, district governors have been appointed by ISIS for Afghanistan's 387 major districts, with a monthly salary of up to 80,000 Afghanis. This is a huge financial burden for the Islamic State, but the Islamic State group's representatives say that they stick to their words, so that everyone will be paid on time. The ISIS group needs a large amount of financial support to achieve its major goals, but the group is not overstrained financially, because it receives a chockfull financial support.
Conversely, Iran is trying to increase the number of Shiite orientated proxies in the world and especially in Afghanistan to eliminate ISIS-K in return; the Saudi and other Gulf Sates want to prevent it. Therefore, they use ISIS and other associates of the group to counter Iran's ambitious trans-national agenda; ISIS-K takes advantage of having been provided with huge financial support by anti-Iran camp.
Iran has repeatedly tried to spread Shia religion around the world, most notably at Mustafa International School in Bamko, the capital of Mali in Africa. There have been several attempts by the Iranian government to convert the students to Shi'ism, an issue that has become the topic of international debate supported by Saudi Arabia. Finally, all of these events are currently having a direct and indirect impact on Afghanistan and the country's ongoing security crisis, which will affect the entire region at the end.