Reported Ethiopia massacre: UN rights chief warns of spiralling situation, war crimes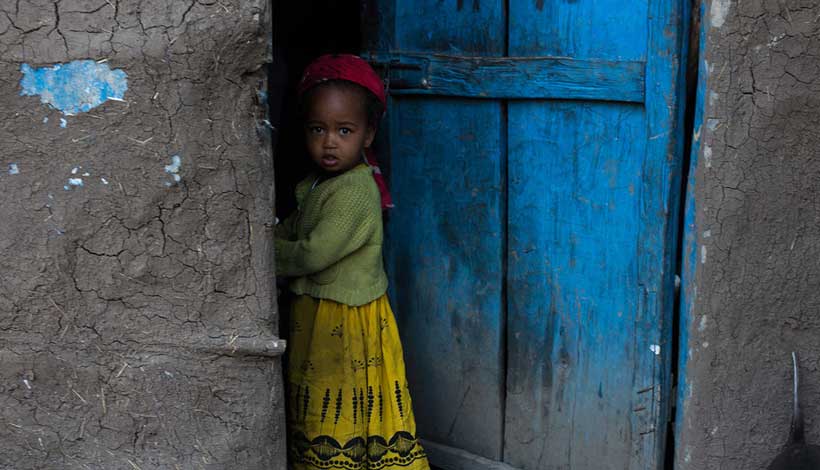 Disturbing reports of an alleged massacre have surfaced in Ethiopia's Tigray region, amid fighting between national and regional forces that may become impossible to control, the UN human rights chief warned on Friday.
Reacting to emerging details of mass killings involving scores of victims in the town of Mai-Kadra, Michelle Bachelet said that "if the Tigray national (and) regional forces and Ethiopian Government forces continue down the path they are on, there is a risk this situation will spiral totally out of control".
This risked "heavy casualties and destruction, as well as mass displacement within Ethiopia itself and across borders", her spokesperson, Rupert Colville, told journalists at a press briefing in Geneva.
Equally worrying were "ethnically and religiously motivated hate speech, incitement to violence", arbitrary arrests, killings, mass displacement and destruction in various parts of the country, said senior UN prevention of genocide special adviser Pramila Patten, and the UN's Responsibility to Protect senior adviser Karen Smith.
Such ethnically motivated attacks and reportedly ethnic profiling of citizens heightened the risk of genocide, war crimes, ethnic cleansing and crimes against humanity, the UN senior officials added.
War crimes
Although the UN rights chief noted that the details of the alleged atrocity reported by Amnesty International in southwest Tigray "have not yet been fully verified", she urged a full inquiry.
"If confirmed as having been deliberately carried out by a party to the current fighting, these killings of civilians would of course amount to war crimes", she said.
The High Commissioner repeated her call to "stop the fighting and prevent any further atrocities from taking place", before highlighting the devastating military power being brought to bear in the conflict.
"Despite the severing of communications with Tigray making it difficult to verify the extent of the damage so far, we've received reports from a variety of sources suggesting increased airstrikes by Government forces as well as fierce ground fighting between the opposing forces", she said.
Cuts to water, electricity
Cuts to essential services for vulnerable populations as well as a communications blackout and access problems "by road and by air" for relief agencies were also deeply worrying, Ms. Bachelet added.
Regional and political tensions have risen since 2018, when newly-elected Ethiopian Prime Minister Abiy Ahmed merged several ethnically based regional parties into a single national force, amid an ambitious reform programme.
Violence erupted at the start of the month in Tigray involving federal and local forces, following the reported takeover of an army base in the Tigrayan capital, Mekelle, which prompted the Prime Minister to order a military offensive.
Prior to the Tigray escalation, dozens of people in western Oromia region were killed and injured in attacks.
Refugee alert
In a new alert over the safety of civilians in Tigray, the UN refugee agency, UNHCR, reiterated concerns for the safety of more than 96,000 Eritreans living in four refugee camps, and host communities living alongside them.
They are in addition to the 100,000 people in Tigray who were already internally displaced at the start of the conflict.
"Fighting in Tigray yesterday moved closer to Shimelba refugee camp – which hosts 6,500 Eritrean refugees – raising concerns of mass displacement from the camp itself", said Babar Baloch, UNHCR spokesperson. "UNHCR is making preparations to receive refugees who have already begun arriving at another refugee camp, Hitsats, 50 kilometres away, and is considering further relocation options in the region."
Refugees from Ethiopia continue to flee into neighbouring Sudan "increasingly rapidly", Mr. Baloch said, "with over 4,000 crossing the border in just one day".
Inside Sudan, those arriving from Ethiopia have been offered temporary shelter in transit centres near the border entry points of Ludgi in Gederef and Hamdayet in Kassala state.
They receive water and meals, while UNHCR and local authorities jointly screen and register the men, women and children seeking safety.
"The transit centre at Hamdayet border crossing has a capacity to accommodate only 300 refugees, but is already overwhelmed with 6,000 people", Mr. Baloch explained. "Sanitation facilities are insufficient, impacting hygiene."
No winners from conflict
Reiterating her 6 November appeal for talks and resolve differences "without delay" and an immediate cessation of hostilities, UN Human Rights chief Bachelet insisted that both sides should understand that fighting would produce "no winner".
A protracted internal conflict "will inflict devastating damage on both Tigray and Ethiopia as a whole, undoing years of vital development progress," she said. "It could, in addition, all too easily spill across borders, potentially destabilizing the whole sub-region."
In a statement condemning reports of targeted attacks against civilians based on their ethnicity or religion, UN Special Advisers Patten and Smith said that ethnic violence in Ethiopia had reached an alarming level over the past two years.
The stigmatization of certain ethnic groups – including the Tigray, Amhara, Somali and Oromo – has significantly contributed to ethnic intolerance in the country, they insisted.
Genocide risk
"We strongly urge the Ethiopian authorities to take urgent measures to protect its population from further violence and strongly encourage them to seek assistance from the international community", the Special Advisers said.
The need to de-escalate rising tensions in the country was especially important ahead of forthcoming elections", the Special Advisers stated, in reference to the national poll that was suspended in August because of the COVID-19 crisis for nine to 12 months, to give the authorities sufficient time to get the pandemic under control.
They warned that if these urgent measures are not immediately taken, the risk of atrocity crimes in Ethiopia remains high.
Children under fire
The UN Children's Fund has also been voicing fears that the most vulnerable civilians, will suffer the most: "UNICEF is deeply concerned about the safety and wellbeing of children affected by ongoing military operations in the Tigray Region of Ethiopia", said UNICEF Regional Director for Eastern and Southern Africa, Mohamed Malick Fall. 
"UNICEF calls on all parties to the conflict to adhere to international humanitarian law and to protect children from harm. UNICEF also calls on all parties to ensure that humanitarian actors have unconditional and sustained access on the ground to reach civilians in need, and to preserve children's access to basic social services."
Joining hands to strengthen food safety knowledge in West Africa
In the context of the Guinea-Bissau component of the European Union-funded West Africa Competitiveness Programme (WACOMP), implemented by the United Nations Industrial Development Organization (UNIDO), 30 Bissau-Guineans received training on the Hazard Analysis and Critical Control Point System, HACCP, and on the ISO standard for Food Safety Management System, ISO 22000.
This virtual training was made available to all those participating in the WACOMP, which allowed additional 30 people to benefit from the training. The 60 participants who attended the training came from nine countries in the region: Benin, Burkina Faso, Côte d'Ivoire, The Gambia, Ghana, Guinea-Bissau, Guinea, Liberia and Togo.
In his opening remarks, Christophe Yvetot, UNIDO's representative to Senegal, Guinea-Bissau, The Gambia, Cabo Verde and Mauritania, emphasized that the "training sessions on HACCP and ISO 22000 are crucial to provide capacity-building in the fields of food safety assurance and management for people responsible for performing conformity assessment activities, and technicians involved in food safety and quality."
The WACOMP Programme is funded through a €116m contribution under the 11th European Development Fund and includes one regional and 16 country components. The objective of the programme is to strengthen the competitiveness of West African countries and enhance their integration into the regional and international trading system. UNIDO has been entrusted with the implementation of the WACOMP regional component, as well as six country components, namely The Gambia, Ghana, Guinea, Guinea-Bissau and Sierra Leone, and a component of the one for Cabo Verde. With a portfolio of €29m, UNIDO is the main implementing agency of the WACOMP.
Somalia recognizes decent work for women and men
Somalia has become the second country in Africa to ratify international labour standards seeking to end violence and harassment in the world of work.

The Somali Minister of Labour and Social Affairs, Duran Farah, presented the instrument of ratification of the Violence and Harassment Convention, 2019 (No. 190) to ILO Director-General, Guy Ryder.

He also presented the ratification instruments of the Tripartite Consultation (International Labour Standards) Convention, 1976 (No. 144) ; the Occupational Safety and Health Convention, 1981 (No. 155) ; the Promotional Framework for Occupational Safety and Health Convention, 2006 (No. 187 ); the Migration for Employment (Revised) Convention, 1949 (No. 97) ; the Migrant Workers (Supplementary Provisions) Convention, 1975 (No. 143) ; and the Private Employment Agencies Convention, 1997 (No. 181) .

The seven Conventions are the first ratifications by Somalia since 2014 and bring to 26 the total number of Conventions Somalia has ratified.

"I welcome the deposit of these seven key ILO instruments. They mark the desire of the Somali people for peace, stability and good governance and their resilience in insisting democracy delivers on its promise" said Guy Ryder.

He highlighted the importance of continuous dialogue, patience, compromise and strong legal, political and civic institutions to nurture peace and guide democracy, as illustrated by Somalia's ratification of Convention No. 144.
"Promoting peace, preventing conflict, enabling recovery and building resilience often start at the workplace" Guy Ryder added. "With the early ratification of Convention No. 190, Somalia recognizes the critical importance of gender equality and the empowerment of women and girls in promoting peace."

Convention No. 190 calls on ratifying States to respect, promote and realize the right of everyone to a world of work free from violence and harassment and to this end adopt an inclusive, integrated and gender-responsive approach for the prevention and elimination of violence and harassment in the world of work.

The Somali Minister stressed the importance of the moment. "As a member state of the ILO, the Somali government is committed to enforcing the international labour organization's Constitution and standards to promote social and economic justice and uphold internationally recognized human and labour rights. Somalia, over the years, has ratified numerous conventions essential to improving labour standards in its domestic economy, and the recently approved conventions were a Government priority crucial for the reforms, regulatory laws, policies, and frameworks in implementing the National Development Plan."

With the support from ILO, social dialogue and tripartism have been embraced by tripartite constituents in recent years. A conducive working relationship based on consensus, confidence and trust building between the government and trade unions has enhanced social peace in Somalia and opened the door for the establishment of the first formal tripartite structure, the Somali National Tripartite Consultative Committee to deal with labour issues including policies of relevance to the post-war rehabilitation and reconstruction, including a new Labour Code, National Employment Policy, Social Protection Policy and National Development Plan, all anchored in the ILO Decent Work Agenda.

At the conclusion of the ceremony, the ILO Director-General thanked H.E. President Mohamed Abdullahi Mohamed, the Federal Government of Somalia, led by Prime Minister Mohamed Hussein Roble and Somalia's workers and employers organizations for their "commitment to the rights of working men and women, as set out in ILO instruments."

The seven Conventions will enter into force in Somalia on 8 March 2022.
Climate change link to displacement of most vulnerable is clear
Weather-related crises have triggered more than twice as much displacement as conflict and violence in the last decade, the UN refugee agency (UNHCR) said on Thursday.
Coinciding with Earth Day on Thursday 22 April, the UN High Commissioner for Refugees, UNHCR, published data showing how disasters linked to climate change likely worsen poverty, hunger and access to natural resources, stoking instability and violence.
"From Afghanistan to Central America, droughts, flooding, and other extreme weather events are hitting those least equipped to recover and adapt", said the UN agency, which is calling for countries to work together to combat climate change and mitigate its impact on hundreds of millions of people.
Since 2010, weather emergencies have forced around 21.5 million people a year to move, on average.
Home countries worst hit
UNHCR said that roughly 90 per cent of refugees come from countries that are the most vulnerable and least ready to adapt to the impacts of climate change.
These countries also host around 70 per cent of people internally displaced by conflict or violence.
Citing the case of Afghanistan, UNHCR noted that it is one of the most disaster-prone countries in the world, as nearly all of its 34 provinces have been hit by at least one disaster in the past 30 years.
The country is also ranked the least peaceful globally, owing to longstanding conflict that has killed and injured thousands of people and displaced millions.
Chronic floods, droughts
Recurring floods and droughts – along with population growth – have compounded food insecurity and water scarcity and reduced the prospects of refugees and IDPs being able to return to their home areas, UNHCR said.
It pointed to indications that 16.9 million Afghans – nearly half of the country's population – lacked enough food in the first quarter of 2021, including at least 5.5 million facing emergency levels of food deprivation.
As of mid-2020, more than 2.6 million Afghans were internally displaced and another 2.7 million were living as registered refugees in other countries, mainly Pakistan and Iran, according to UNHCR.
Mozambique is experiencing a similar confluence of conflict and multiple disasters, says the agency, with one cyclone after another battering the country's central region while increasing violence and turmoil to the north displaces hundreds of thousands of people.
Hosts hit too
Many of the countries most exposed to the impacts of climate change are already host to large numbers of refugees and internally displaced.
In Bangladesh, more than 870,000 Rohingya refugees who fled violence in Myanmar are now exposed to increasingly frequent and intense cyclones and flooding.
"We need to invest now in preparedness to mitigate future protection needs and prevent further climate caused displacement," said UN High Commissioner for Refugees Filippo Grandi, earlier this year.