The South Asian region is home to 860 million women, three-fourths of whom live in India alone. However, women and young girls continue to be systematically disadvantaged across the region. In fact, according to the Global Gender Gap Report 2020, South Asia's gender gap is the second largest among the eight other regions of the world.
This situation is likely to worsen due to the COVID19 pandemic. Nevertheless, to fulfil the goal of building long-term and inclusive recovery systems in light of the current pandemic; for the pursuit of conflict prevention and international peace; and to ensure that policy responses address the specific needs of women, perhaps, it is time for the South Asian nations to consider the adoption of a Feminist Foreign Policy (FFP).
The South Asian Scenario
Anecdotal evidence reveals that in all South Asian countries, gender-based discriminatory practices begin even before the birth of a child and rigid patriarchal values subsequently, keep these inequalities alive. Rape, sexual violence and harassment along with women's economic vulnerability, lack of participation and leadership are thus, endemic features of South Asia's socio-political landscape. These inequalities are further intensified in situations of anti-state rebellions, conflicts and extremism.
For instance, in Afghanistan, at least 51 per cent of women have experienced lifetime physical and/or sexual intimate partner violence. Similarly, in the disputed zones of Kashmir, women are living under a constant threat of violence, molestation and abuse. According to certain estimative statistics ranging from January 1989 until September 2020, crime rates against women, particularly gang rapes and molestations hovered roughly at around 11,219.
These converging evidence point towards gender-based violence being one of the most common types of violence in South Asia, which continues to deprive women of their fundamental freedom and dignity of life.
In terms of female political agency, at present, only 13 per cent of parliamentarians in India are women, 20.63 per cent in Bangladesh, 20.17 per cent in Pakistan, 11.32 per cent in Myanmar etc. However, while these statistics showcase an improvement from the previous years, the numbers are not even nearly proportional to the total number of women residing within the countries.
This paucity of women's representation in the uppermost echelons of lawmaking poses a serious problem for the promotion of human rights, peace, justice and humanitarian development of the entire region.
Adding to this is the problem of the COVID19 pandemic and the measures to contain it, which comes bearing a risk of exacerbating pre-existing inequalities and to some extent, deepen them. Thus, in the current scenario women in South Asia are likely to be confronted with increased gender-based violence, unintended pregnancy and economic insecurity. For instance, according to the United Nations Development Programme, while, the pre-pandemic female poverty rate in South Asia was projected to be 10 per cent in 2021, it is now expected to reach 13 per cent.
Nonetheless, despite the disproportionate impact, women in South Asia have not been included in the development of response strategies to deal with the pandemic, just like they were never included in conflict resolution and peace-making mechanisms within the region.
Practicability of FFP
The COVID19 pandemic has brought to fore urgent questions on gender-equality in South Asia, demanding a remodification of the decision-making actors within its national, regional as well as international systems. And the best way this can be made possible is through the facilitation of an active involvement of women, and by taking into consideration their specific needs and challenges. Thus, in a way, the ongoing crisis is precisely the time to be talking about a feminist shift in South Asia's foreign policy.
A FFP is a political framework that promotes the overarching goals of gender equality, human rights, peace and environmental integrity. This innovative strategy is basically a reflection of the larger worldwide efforts following the United Nations Security Council Resolution 1325.
But why is FFP important for South Asia? The reasons for this are multiple. To begin with, a South Asian FFP will help in transgressing beyond the entrenched patriarchal notions that believe in the inherently masculine traits of using force and manipulating access to resources, good and services for a particular group of people. It would thus, serve as a transformative and rights based approach across all auspices of policy-making and diplomacy, prioritising the needs of the most vulnerable communities, especially the women.
This is particularly significant for the conflict zones in South Asia, where enmity and hostility often hinder mutual accommodation and obstruct potential solutions to end heightened tensions. Henceforth, by encouraging a greater participation of women, the South Asian FFP can potentially prevent conflict through innovative ideas and solutions of co-existence. In addition, by following a humanitarian approach, the FPP can also prevent the widespread violation of women's rights in conflict zones, which is predominant in the region.
Secondly, from a development point of view, overwhelming evidence suggests that gender equality is an important precondition for sustainable growth, welfare and security. The adoption of FFP by the South Asian nations will enhance gender equality within the region and beyond, further having positive effects on food security, economic growth, health, education and numerous other key global concerns.
Thirdly, it would help in improving and transforming the image of the South Asian region at the international stage. Given that South Asia's gender gap is the widest in the global human development index, a FFP would be a step towards closing this gap.
Moreover, with more women in traditional forms of organisation in defence, trade and diplomacy, the South Asian FFP will foster greater respect for the international humanitarian law, enhance the credibility of international commitments ratified by the member states, and assist in building closer relations with countries that are already deliberating over women's rights and security.
Last but not the least, to deal with the COVID19 effectively, it is imperative for the South Asian countries to promote health as a human right, apply a gender lens to policy making, prioritize and safeguard the continuum of sexual and reproductive health and rights, and continue to facilitate the provision of comprehensive sexual education. And all this can be achieved through the adoption of a FFP.
But while, FFP might serve as a significant tool to develop peaceful, inclusive and prosperous communities in South Asia, any talks about the concept of feminism within the region is automatically linked with a normative and an inferior soft power strategy. As a result, debates around systematically changing patriarchal structures and institutions have and will most certainly continue to be met with resistance and rejection based on the premonition that FFP will fail to confront aggression and hard-core security issues.
Conclusion
Nonetheless, for too long, South Asia has followed a gender-blind approach and failed to listen the voices of almost half of its population. Considering that foreign policy and diplomacy describes a country's character, and is a reflection of its domestic ideas and values, it is perhaps time for the entire South Asian region to change its persona by giving equal space to their women. It is indeed necessary for both, to meet the short-term challenges of the COVID19 pandemic as well as to develop long-term, sustainable and inclusive peace within the region.
The World Biggest COVID-19 Crisis: Failure of India's Vaccine Diplomacy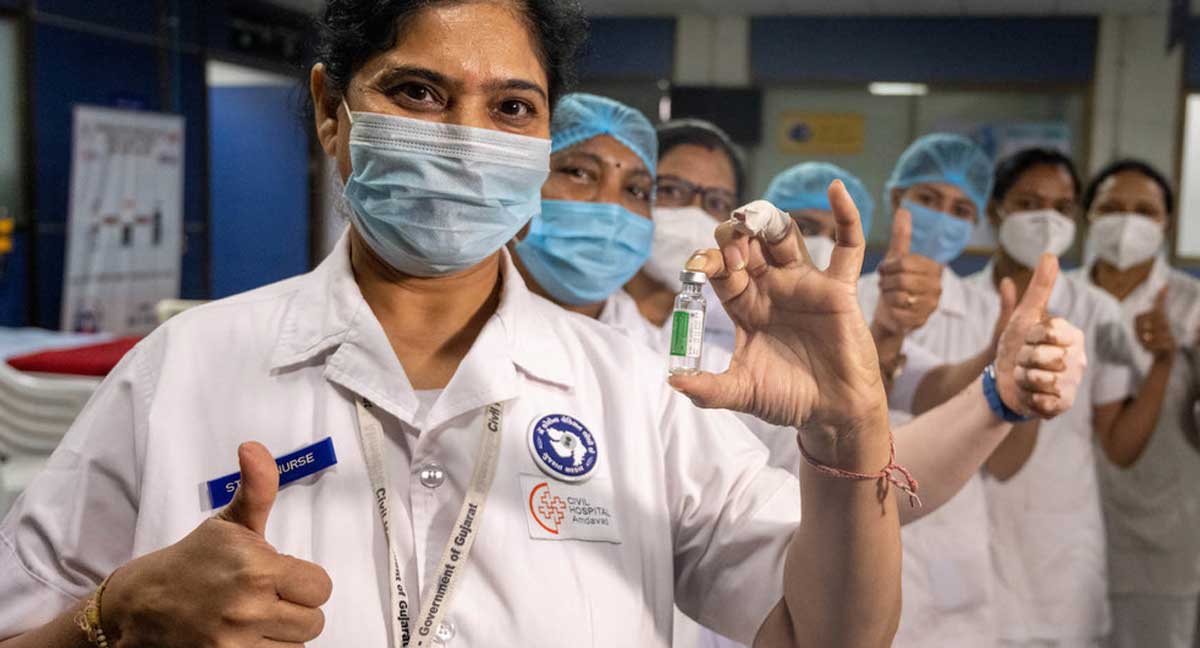 As over 100 million people in the U.S. are fully vaccinated and the world's daily count of new cases is falling, India faces healthcare system collapse as a second coronavirus wave is devastating. In accordance with the recent statistics of the WHO, in the past week approximately 2 million new confirmed cases were reported worldwide – almost half were from India. Interestingly, India is one of the main producers and exporters of coronavirus vaccines in the world and since mid-January, the federal government has approved a British-made Oxford-AstraZeneca, and a locally developed– a national pride Covaxin (both are being produced in India) for the massive immunization drive that has set the ambitious goal of fully immunizing 300 million people, particularly healthcare workers by the end of summer. Meanwhile, India had initially been planning to set the world record for mass vaccination but they ended up with the world record coronavirus cases, surpassing 400.000 daily COVID-19 cases for the first time.
The development and deployment of an effective and safe vaccine against the coronavirus was a key pillar in the authority's current strategy to break down the chain of transmission. However, despite a promising start of a vaccination campaign at the beginning of this year, one of the largest immunization programs across the globe, it turns out there is not a sufficient amount of vaccine supplies in a number of states across the country. As cases continue to surge, many across the country have rushed to register for shots but most states are running out of doses and a large number of vaccination centers across India turned away people due to chronic shortages or complete lack of availability of jabs. While India is one of the major producers of COVID-19 vaccines with a monthly capacity of 70 million doses, now forced to import jabs, as local manufacturing facilities are facing challenges to meet growing demand. As India's expansion of its immunization campaign has been failing badly, it makes a disastrous situation even worse. On the other hand, the current devastation leads to a depression in global vaccine supply and consequently, it hits the low and middle-income countries, as they rely on the Indian pharmaceutical industry.
The second devastating wave was hitting the country since mid-April and apparently, India's poorly funded public healthcare system is not capable enough to overcome the world's largest surge in COVID cases. Health facilities overwhelmed as infection rates explode; therefore, many hospitals in the large cities already suspended admitting even the critically ill coronavirus patients as all beds were full and medical equipment, particularly oxygen concentrators, ICU beds, test kits, PPEs and ventilators in short supply, while corpses pile up at morgues and crematoriums. As a death toll rises sharply, additional crematoriums are being built in order to deal with the grim situation, especially in the hardest-hit cities and states. Furthermore, in the midst of a big surge Indian government also launched a vaccination drive for anyone over the age of 18 starting 1st of May. Ironically, along with China and Russia, India was a country that had begun exporting home-grownCOVID-19 vaccine doses to foreign countries, but only less than 3% of its population has been fully vaccinated so far. During a global pandemic, thanks to its massive production capacity, India actively donated locally produced Coronavirus vaccines to the Southeast Asian, Middle Eastern and African low and middle-income nations under the "Vaccine Friendship" program. The initiative was launched in early 2021 and it sought to promote cooperation and cement ties by distributing a dozen of jabs through the Vaccine Diplomacy. In reality, in the battle to gain political influence across the developing world, India shipped millions of doses to poorer countries before managing to secure an adequate amount of vaccines for its own people.
India's infections keep surging due to the unavailability of medical resources and thus the crisis also affecting the global vaccine and medical supply chains, as over 40 countries, including Russia, European Union, China and the United States and numerous international charities are proactively providing a range of humanitarian aid and emergency assistance.
Many events marking religious festivals and cultural events across the world have been banned because of Coronavirus; on the contrary, despite the high risks of infection several crowded religious festivals and gatherings have been taking place in India's various holy sites and places of worship with a thousand of unmasked pilgrims and devotees. Additionally, Prime Minister Narendra Modi's total23campaign rallies that brought tens of thousands of incautious supporters together caused the spike in coronavirus cases. Hence, the federal government acted reluctantly to impose major restrictions for containing the virus by relying on local authorities to take action.
Indeed, India is the third country with over130 million doses administrated in the world, the highest figure just behind the United States and China respectively, but even the large-scale vaccination process was insufficient to prevent the second wave for a population of more than 1.3 billion people. Although international flights are being suspended to and from India by many governments, a more transmissible India COVID variant, formally known as B.1.617has already been detected in multiple countries and territories worldwide. India's COVID -19 crisis warns that the risk of infection remains high and many countries could face a strong resurgence of COVID-19similar to India. Health experts concern that a new and more contagious strain spreads more easily and it could even evade vaccines. The current outbreak shows that every country remains vulnerable and could find itself in dire straits unless the adaptation and implementation of strict anti-pandemic measures and policies. However, strengthening the public health system, enhancing safety protocols and sanitary measures, ensuring transparency and accountability, and initiating a successful immunization campaign will be seemingly crucial to combat the pandemic, otherwise, a similar crisis could soon become a common tragedy for the entire world in the foreseeable future.
Pakistan desires dialogue and cooperation with the EU
Renew Europe, a liberal, pro-European political group of the European Parliament, presented a resolution and was passed by the EU by an overwhelming majority of 681 votes against six only. Extremist, racist groups influence the EU. No doubt, the whole world is suffering from intolerance and extremism. There are many racist movements in America and Europe too.
Pakistan being an open and democratic country, enjoys total freedom of expression to its citizen. There must be diverse voices within Pakistan. The Government of Pakistan is a parliamentary system. All matters are discussed in the parliament, which is responsible for building consensus on all crucial issues and addressing the concerns of all groups, factions, parties, minorities, etc.
Historically, Pakistan was a very tolerant and peace-loving, balanced society, but during the 1980s war in Afghanistan, Pakistan was radicalized by design. The western world deliberately promoted intolerance, religious extremist, and terrorism. Almost all intelligence agencies of the leading Western World were engaged in Pakistan for arming, training, and inspiring youth for Jihad in Afghanistan. These international intelligence agencies collected radical individuals from all over the world and concentrated them in Pakistan to launch Jihad in Afghanistan; Many terrorist organizations were created by them in the whole Muslim world, was either, Mujahideen, Taliban, Daesh, Al-Qaida, or ISIS, Boko-Haram, or any other militant group, was the creation of Western World and used for particular objectives. After achieving their goals, they banned them and kept their distance from them. And she was now blaming them for terrorism, Unfortunate!
Pakistan was a close ally of the US, NATO, and Europe (Western World), an essential front-line state in the Afghan war, and a non-NATO ally in the war on terror. Pakistan suffered extremism, intolerance, terrorism, gun culture, and drug culture, promoted by the Western world. Pakistan is a victim state.
The visionary leadership in Pakistan is very much clear about the situation and determined to establish the rit of government while staying within the democratic values of our system. The recent unrest in Pakistan was a domestic issue, just like in many parts of Europe and America. The incident of Capitol Hill, Killing of Gorge Floyd, and followed continued protests and demonstrations in America; agitations, demonstrations in many parts of Europe are witnessed often, it is believed that all governments are trying to resolve their domestic issues within their Constitution. There was no external pressure on either of these governments. It is expected that let Pakistan overcome its domestic crisis, and the capable Government of PM Imran Khan has already resolved the issue amicably.
Under this scenario, the adoption of a resolution by the EU is not appreciated and, in fact, has hurt the feeling of ordinary Pakistani. It reflects the bias of EU only. A resolution presented by the extremist group should not be the voice of the whole EU. Trust, there must be many reasonable, moderate, and unbiased members in the EU parliament who think logically and rationally. The adoption of such a resolution is totally irrational, irresponsible, and against the globalization spirit.
While Pakistan is engaged to clear the mess created by Western World and almost near to succeed entirely, there is a dire need for International support, and coercion may not be fruitful at this critical moment. It is hoped that the EU may re-consider the resolution and revert it immediately. All peace-loving parliamentarians in the EU are appealed to think rationally and logically to promote international cooperation and understanding to defeat intolerance, bais, extremist, terrorism and turn the whole world into a better place to live and gift our next generation peace, stability, harmony, and prosperity.
However, Islamophobia is an international phenomenon in recent decades all over the Western World. The Prime Minister of Pakistan mentioned it in his speech at the United Nations General assembly (UNGA) last year. A similar resolution was also passed in the OIC. The whole Muslim World is worried and unhappy over blasphemy in the few western countries. There were protests and demonstrations by Muslims all over the world, with various intensities. At the same time, Muslims respect other religions and deserve to reciprocate respect for Islam.
The federal government in Pakistan has decided to address the European Parliament's reservations after the body had called for an appraisal of Pakistan's GSP Plus status. The development came after Prime Minister Imran Khan chaired a meeting involving senior ministers of the cabinet. It was called in response to a resolution approved by the European Parliament a few days ago, calling for an assessment of Pakistan's GSP Plus status. The premier stressed the government would not compromise on the laws about the finality of the Prophethood. The participants, during the meeting, decided to address the reservations of the European Union. It was also unanimously agreed that the protection of minorities in the country would be ensured. The participants believed the GSP Plus trade agreement has nothing to with blasphemy laws.
In response to the European Parliament's resolution, the Foreign Office had expressed disappointment over the development."The discourse in the European Parliament reflects a lack of understanding in the context of blasphemy laws and associated religious sensitivities in Pakistan – and the wider Muslim world. The unwarranted commentary about Pakistan's judicial system and domestic laws are regrettable," read a statement by the FO.
"Pakistan is a parliamentary democracy with a vibrant civil society, free media, and independent judiciary, which remains fully committed to the promotion and protection of human rights for all its citizens without discrimination," the Foreign Office had added.
The FO had emphasized that Pakistan is proud of its minorities who enjoy equal rights and complete protection of fundamental freedoms as enshrined in the Constitution. Judicial and administrative mechanisms and remedies are in place to guard against any human rights violations.
"Pakistan has played an active role in promoting freedom of religion or belief, tolerance, and inter-faith harmony. At a time of rising Islamophobia and populism, the international community must exhibit a common resolve to fight xenophobia, intolerance, and incitement to violence based on religion or belief and work together to strengthen peaceful co-existence."
There exist multiple mechanisms in place between Pakistan and the EU to discuss the all-inclusive spectrum of bilateral relations, including a devoted Dialogue on Democracy, Rule of Law, Governance, and Human Rights. Pakistan would continue to remain definitely engaged with the EU on all issues of mutual interest. Pakistan believes in dialogue under the charter of the UN. Pakistan desires an early dialogue and settlement of all differences amicably. Any unilateral decision may not be fruitful to either side. It is time to strengthen our ties and mutual support. Only by collective efforts may we turn this universe into a better place to live for humankind. Pakistan assures its best possible cooperation at all times and awaits reciprocity from the EU.
Religion Freedom Index of Bangladesh: Current Developments and Government Responses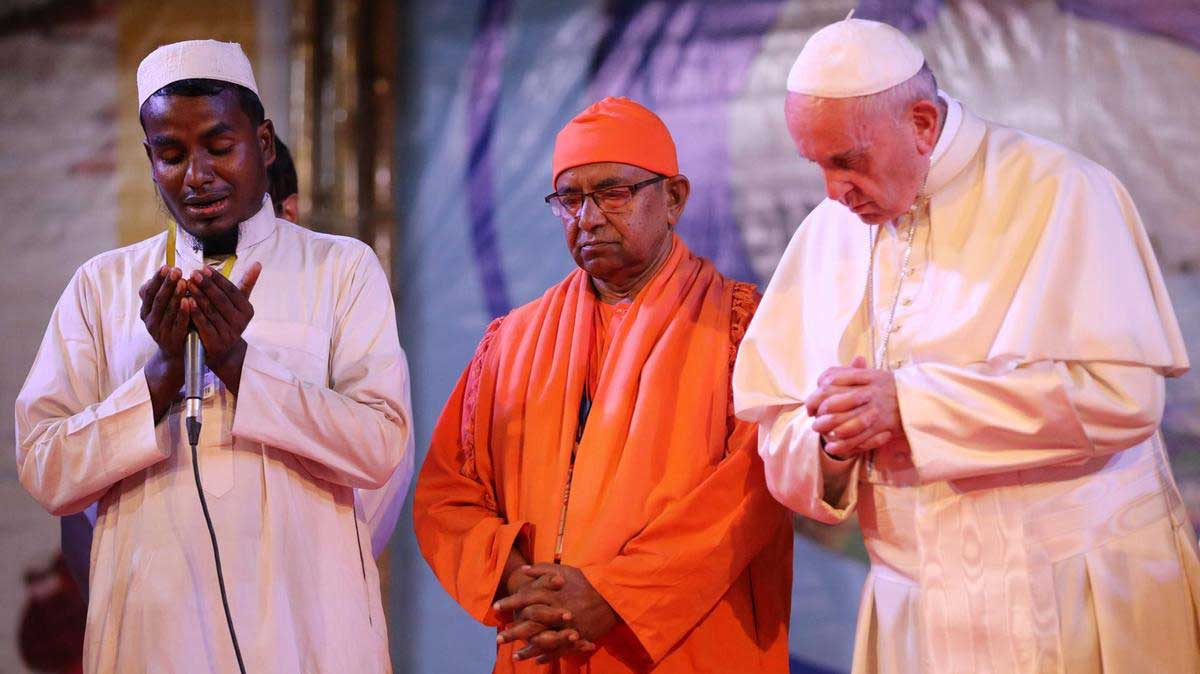 Aid to the Church in Need (ACN) recently published its annual Religious Freedom in the World 2021 Report (RFR) that scrutinizes the situation for all major religion groups in 196 countries across the world. The report found that, over the past two years, oppression against susceptible faith communities has augmented in all but one of the 26 countries listed in the survey's worst ('red') category. Bangladesh is that only country whose position on the red list of religious persecution remains unchanged.
The annual report says that religious freedom is being undermined in one out of every three countries in the world which composed two-thirds of the world population. 62 countries out of a total of 196 face severe violations of religious freedom. The situation of minorities in India and Pakistan is deteriorating further. The situation in China and Myanmar is the worst. According to the report, the situation is worse in 95 percent of the 26 countries where persecution is taking place. Nine new countries have been included in this list- seven from Africa and two from Asia.
The report on Bangladesh says that the torture of minorities has not increased in recent years but the influence of Islamic groups is increasing in the politics of Bangladesh. However, the government has been successful in subdue the influence and maintaining religious freedom. For instance, after the rise of Islam-fabric politicization leading by "Hefazat-e-Islam", the top leaders and at least 375 people nabbed for their recent violent activities. The strict position of law enforcement agencies against the rampage of the group denotes the zero-tolerance of Bangladesh government in ensuring religious freedom and upholding "secularism" which is one of the state principals of its constitution. The argument can be evident with the recent report of the European Foundation for South Asian Studies (EFSAS) titled, "Bangladesh and Pakistan: acting against extremism versus making a show of acting against extremism". Highlighting the activities of the Islamist group Hefazat-e-Islam (HIB) in Bangladesh and the radical Tehreek-e-Labbaik (TLP) in Pakistan, the report comments that Bangladesh government has been making "noticeable progress in dealing with the radical Islamist HIB whereas Pakistan has floundered dramatically in its inconsistent, ill-considered and ill-implemented attempts to pacify the TLP". Besides, the initiatives of the Bangladesh government in protecting the minority rights are so much praiseworthy.
According to the 2019 Report on International Religious Freedom of US Department of State, to advocate the minority rights and to foster religious tolerance, Bangladesh government has taken a number of initiatives such as-
•Providing guidance to imams throughout the country to prevent militancy and monitoring mosques for "provocative messaging".
•Deploying law enforcement personnel at religious sites, festivals, and events considering potential violence. The Economic Times reported that 30,000 and 31,272Durga Pujas were organized across the country in 2017 and 2018 respectively without any security issue.
•Zero-tolerance to Islamic militancy. For instance, Special Tribunal convicted and sentenced to death seven of eight defendants who were accused in the 2016 killings of 22 mostly non-Muslim individuals at the Holey Artisan Bakery in Dhaka.
•Offering stipends to students from the minority groups in the primary and secondary level; and
•Providing funds for minority rituals and social activities.
Most importantly, Bangladesh ensures a level playing field in the employment sectors and a viable people-to-people contact. 'Dhormo Jaar Jaar, Utsob Shobar,' (Religion for own, but festivals for all" is a testimony of its secular values and communal harmony. The ACN report itself showed, in Bangladesh, where due to fear of infection, minority faith groups were incapable of offering the last rites to family members, an Islamic charity buried not only Muslim but also Hindu and Christian victims of COVID-19. Besides, reliefs were equally provided to every sector of the society regardless of their race or religion.
To conclude, Bangladesh always believes in fraternity beyond ethno-religious affiliations and practiced secularism in daily life throughout the history. But at present, due to the rise of right-wing populist politics both at regional and global level and rise of fundamentalism, religious harmony in Bangladesh is also affected. However, comparatively, Bangladesh is doing better than many regional states and the country is destined to overcome the challenges in near future due to the pro-active role of the government in this regard.