Azeri, Turkish War Crimes Against Armenians Must Not Go Unpunished
The war launched by Azerbaijan and Turkey against the Armenian Republic of Artsakh (Nagorno Karabakh) in the South Caucuses on September 27 has been halted through an agreement, which was brokered by Russia and imposed on Armenia. Based on the circulating agreement, Armenians must relinquish most of their homeland in Artsakh to Azerbaijan by December 1, forcing any Armenians living in those regions to depart before that date.
During their indiscriminate shelling of Artsakh, the aggressors – Azerbaijan, and Turkey, accompanied by Syrian jihadist forces – have committed many war crimes against Armenians. They have murdered civilians and injured journalists. They have burned villages, forests, and churches. They have tortured and beheaded Armenians, and executed prisoners.
BBC reported on October 24:"One video posted on a messaging app shows what appears to be two Armenians in military uniforms being captured by troops from Azerbaijan.A second video seemingly shows the same Armenians being shot with their hands behind their backs.Armenian authorities have identified the men as Benik Hakobyan, 73, and 25-year-old Yuri Adamyan."
Azerbaijani forces also used cluster munitions and white phosphorus against Artsakh. "Azerbaijan has repeatedly used widely banned cluster munitions in residential areas in Nagorno-Karabakh," according to an October 23 report by Human Rights Watch (HRW). "Cluster munitions have been banned because of their widespread indiscriminate effect and long-lasting danger to civilians," it added.
The false, obsessive belief that Artsakh belongs to Azerbaijan has resulted in an ethnic cleansing against indigenous Armenians from their lands.
The area called Artsakh, originally one of the ancient provinces of Armenia, has preserved a majority Armenian population throughout the centuries. Despite this, Artsakh was annexed by Soviet dictator Joseph Stalin to the New Soviet Republic of Azerbaijan in the early 1920s. Armenian peaceful requests for self-determination were violently punished by Azerbaijan.
Under Azeri control, Armenians were subject to severe persecution such as pogroms in Sumgait and Baku from 1988 to 1990. The Soviet Union collapsed the following year, and Azerbaijan, Armenia and Artsakh declared independence. Azerbaijan, however, rejected Artsakh's independence claim and chose to launch a war in 1992, which lasted two years and cost the lives of approximately 30,000 people.
26 years later, Armenians in Artsakh are once again assaulted by Azerbaijan. This time, arms supplies and diplomatic support from Turkey helped give Azerbaijan the upper hand in the conflict. Several news agencies, governments and the United Nations have also reported that Turkey sent jihadist terrorists from Syria to support Azerbaijan in its fight against the Armenians.
"We now have information which indicates that Syrian fighters from jihadist groups have (transited) through Gaziantep (southeastern Turkey) to reach the Nagorno-Karabakh theatre of operations," French President Emmanuel Macron told reporters at an EU summit in Brussels. "It is a very serious new fact, which changes the situation."
The Office of the High Commissioner for Human Rights (UN Human Rights)also reported on November 11:
"The UN Working Group on the use of mercenaries said there were widespread reports that the Government of Azerbaijan, with Turkey's assistance, relied on Syrian fighters to shore-up and sustain its military operations in the Nagorno-Karabakh conflict zone, including on the frontline. The fighters appeared to be motivated primarily by private gain, given the dire economic situation in the Syrian Arab Republic, the UN experts said. In case of death, their relatives were reportedly promised financial compensation and Turkish nationality.
"'The way in which these individuals were recruited, transported and used in and around the Nagorno-Karabakh conflict zone appeared consistent with the definition of a mercenary, as set out by relevant international legal instruments, including the International Convention against the Recruitment, Use, Financing and Training of Mercenaries, to which Azerbaijan is a party,' said Chris Kwaja, who chairs the Working Group.
"'Moreover, reports indicate that Turkey engaged in large-scale recruitment and transfer of Syrian men to Azerbaijan through armed factions, some of which are affiliated with the Syrian National Army. The alleged role of Turkey is all the more concerning given the similar allegations addressed earlier this year by the Working Group in relation its role in recruiting, deploying and financing such fighters to take part in the conflict in Libya,' Kwaja added."
The UN report was released two days after the treaty was signed, but Turkey's President Recep Tayyip Erdogan was always transparent about his support for the war against Artsakh. "We support Azerbaijan until victory," Erdogan said on October 6. "I tell my Azerbaijani brothers: May your ghazwa be blessed."
Ghazwa in Islam refers to a battle or raid against non-Muslims for the expansion of Muslim territory and/or conversion of non-Muslims to Islam.
In another speech on November 1, Erdogan said, "We are in Syria, Libya, Azerbaijan. We have displayed the same dignified attitude from the Mediterranean to the Black Sea, from Syria to Libya, from Cyprus to Karabakh."
Prior to the war, Artsakh's population was around 150,000. Turkish and Azeri aggression against the region has caused massive destruction on civilian infrastructure including homes and hospitals and the displacement of about 90,000 Armenians. On October 23, a group of genocide scholars issued a statement "on the imminent genocidal threat deriving from Azerbaijan and Turkey against Artsakh."
Completely abandoned by the international community and faced with an existential threat, Armenia had to sign an agreement which allows Azerbaijan to take over much of Artsakh. With 60% of Artsakh destroyed and the remainder of land to be surrounded by hostile Azeri forces, many indigenous Armenians who have lived in Artsakh for generations see no choice other than to flee their homeland.
Meanwhile, during the war, hundreds of Turks and Azeris took to the streets in the French city of Lyon, looking for Armenians. They marched with Turkish flags, chanting Allahuakbar (Allah is the greatest), and "Where are you Armenians? Where are you? We are here… sons of bitches."
Jonathan Lacôte, French ambassador to Armenia, announced that French police were protecting Armenian community centers in France from Turkish and Azeri attacks and vandalism.
In another move to counter Turkish aggression, the French Interior Ministry banned a Turkish ultra-nationalist group known as the Grey Wolves after a memorial to victims of the 1915 Armenian Genocide was defaced.
The Turkish Ministry of Foreign Affairs condemned the decision, saying that "there is no such a movement called 'Grey Wolves'. Attempts to resort to imaginary decisions presuming the existence of such a movement or formation based on some individuals and their actions, reflects the latest contradictory psychology that this country lives in."
The Grey Wolf movement, however, does exist. The Grey Wolves (Turkish: Bozkurtlar), officially known as Idealist Hearths (Turkish: Ülkü Ocakları) is a Turkish far-right, racist organization and movement affiliated with Turkey's Nationalist Movement Party (MHP). The movement has been involved in many acts of violence against civilians as well as political and religious figures. This includes the Alevi massacre in the city of Maras in southeast Turkey in 1978 and the attempted assassination of Pope John Paul II in 1981.
Attacks against Armenians in the South Caucasus and Europe demonstrate that this war is not only about land. It is about pan-Turkic, expansionist aspirations of Turkey and Azerbaijanas well as their unrelenting, genocidal hatred against Armenians.
As was the case during the 1915 Armenian genocide by Ottoman Turkey, the international community has once again abandoned Armenians, who are an indigenous and peaceful people. If new and effective steps are not taken by the civilized world immediately, neo-Ottomanism, pan-Turkism and jihad will win through the agreement imposed on Armenia.
Meanwhile, some opposition to the agreement has begun emerging in Europe. On November 11, France 24 reported that the French presidency said it was studying the parameters of the Russian-brokered ceasefire, adding that a long-term deal should also "preserve Armenia's interests." Macron's office quoted him as saying that efforts should be made "without delay" to try to come up with a "lasting political solution to the conflict that allows for the Armenian population of Nagorno-Karabakh to remain in good conditions and the return of tens of thousands of people who have fled their homes."
To guarantee the return of Armenians to their ancient homeland and to prevent the complete erasure of the remaining Armenian cultural heritage by totalitarian Azerbaijan, Western governments must officially recognize Artsakh. The West must let dictators know that their war crimes and genocidal ambitions will not go unpunished.
Caspian: Status, Challenges, Prospects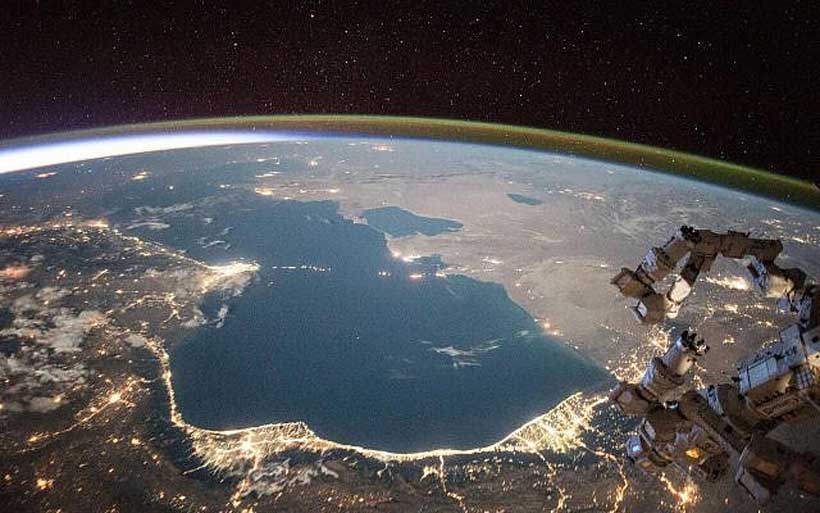 An Analysis into the Legal Classification, Security and Environmental Concerns, Geopolitics and Energy Flow Impact of the Caspian Plateau
How has the world's largest inland body of (salty) water escaped the economic and political notice for so long? And it is for a resource-rich area of a unique locality that connects Europe and Asia in more than just geography. Simply, the Caspian Basin is an underrated and underexplored topic with scarce literature on its geomorphology, mineral deposits and marine biota, its legal disputes, pipeline diplomacy,environmental concerns and overall geopolitical and geo-economic interplays.
As the former Minister of the Canadian government and Secretary General of the OECD – Honorable Donald J Johnston – states in the foreword, Caspian – Status, Challenges, Prospects"is a fitting title for a book that masterfully gives an objective, comprehensive overview of the region. The authors have compiled an analysis of Caspian's legal classification, security and environmental concerns, geopolitical scenarios, and energy flow impacts as they affect the world's largest continental landmass – Eurasia."
From comprehensive but content intensive insights on Caspian littoral states Azerbaijan, Kazakhstan, Iran, Russiaand Turkmenistan, to external actors like Turkey, EU, China and the United States, readers are presented how separate actors and factors interact in this unique theater. The book elaborates on the legal classification of the Caspian plateau including the recent 'Convention on Legal Status of the Caspian,' to the numerous territorial and environmental security concerns.
Prof. Anis H. Bajrektarevic and his co-authors present Caspian as the most recent, fresh and novel way, in one stop-shop offering broad analysis on the Caspian region. It is a single volume book for which extensive information is exceptionally rare to find elsewhere. Following the read, authors are confident that a new expanse of scholarly conversation and actions of practitioners will unfold, not only focused on Caspian's unique geography, but its overall socio-economic, politico-security and environmental scene.
Welcoming the book, following words of endorsements have been said:
The Caspian basin and adjacent Central Asian region (all being OSCE member states, apart from Iran) have, since the early Middle ages, acted as a crossroads between different civilizations and geopolitical spaces. In an increasingly interconnected world, growing geopolitical competition, economic interdependence and the emergence of new global challenges, particularly those related to water, energy and the climate emergency, have highlighted the relevance of this region, making it of increasing interest to researchers and academics. This book presents a thorough analytical compendium of historical factors, political dynamics, economic trends, legal frameworks and geopolitical interests which underpin, but also affect, the stability and development of this complex, diverse and strategically significant region.
Amb. Lamberto Zanier,Secretary-General, Organization for Security and Cooperation in Europe (2011-2017) OSCE High Commissioner on National Minorities (2017-2020)
A thoughtful, comprehensive and balanced analysis of the complex interplay between geopolitics and geo-economics in Central Eurasia, and pivotal energy plateau – that of Caspian. We finally have an all-in reader that was otherwise chronically missing in international literature, which will hopefully reverse the trend of underreporting on such a prime world's spot.
Hence, this is a must-read book for those wondering about the future of one of the most dynamic and most promising regions of the world and what it could entail for both reginal and external players. 
Andrey Kortunov Director General, Russian International Affairs Council
Although of pivotal geopolitical and geo-economic importance, Caspian energy plateau represents one of the most underreported subjects in the western literature. Interdisciplinary research on the topic is simply missing.
Therefore, this book of professor Bajrektarevic and his team – unbiased, multidisciplinary, accurate and timely – is a much-needed and long-awaited reader: A must read for scholars and practitioners, be it from Eurasia or beyond.
It is truly a remarkable piece of work!
Authors were able to tackle a challenging subject with a passion, knowledge and precision, and turn it into a compelling, comprehensive yet concise read which I highly recommend.
Former Minister of Foreign Affairs, Republic of Kazakhstan Erzhan Kazykhanov, Ambassador Embassy of Kazakhstan, Washington dc, USA
ARTNeT secretariat is pleased to see how our initial invitation to Prof. Anis H. Bajrektarevic to present at the ARTNeT Seminar Series in 2015 evolved. The talk was initially published as a working paper for ARTNeT (AWP 149). Now Prof. Bajrektarevic, in collaboration with another two co-authors, offers a comprehensive study on a nexus of legal, security, and environmental issues all emanating from and linked to energy cooperation (or lack thereof) in the subregion. This volume's value extends beyond the education of readers on the Caspian Basin's legal status (e.g., is it a sea or a lake?). It is just as relevant for those who want a more in-depth understanding of an interplay of economic, security, and political interest of players in the region and outside. With the global institutions increasingly less capable of dealing with rising geopolitics and geo-economic tensions, more clarity – even if only about some aspects of those problematic issues – should be appreciated. This volume offers such clarity.
Mia Mikic, Director UN Economic and Social Commission for Asia and the Pacific (UN ESCAP) ARTNeT coordinator
It is my honor to reflect on this work on Caspian. Comprehensive and content rich, this book of professor Anis H. Bajrektarevic and his co-authors brings up comprehensively all the useful information on Caspian, with the geographical and historical background and cultural, economic as well as security aspects related to it.
Authors' novel and unbiased approach shall certainly help decision makers in their bettered understanding of the region that has centuries-long history of peace and cordial neighbourly relations. Long needed and timely coming, I warmly recommend this reader to those who want to know, but more importantly to all those who want to understand, this pivotal region of the world.
Ali Asghar Soltanieh Former Ambassador of Islamic Republic of Iran to United Nations and other International Organizations in Geneva & Vienna
The book by Professor Bajrektarevic and his co-authors embodies a wide-ranging overview of the intertwined interests pursued by the young democracies of the Caspian basin, battling with inherited land and water disputes, and their interplay with regional and global powers. Apparently, supporting political independence of the formers and promoting their integration into the latter's markets requires adequate analyses, timely outreach policies and consistent engagement. In this sense the publication serves as one of the scarce handbooks to understand diverse interests of stakeholders, dynamically changing security architecture of the region and emerging opportunities of cooperation around the Caspian Sea.
Ambassador GalibIsrafilov Permanent Representative to the UN Vienna and to the OSCE Embassy of Azerbaijan to Austria
Caspian: Status, Challenges, Prospects
An Analysis into the Legal Classification, Security and Environmental Concerns, Geopolitics and Energy Flow Impact of the Caspian Plateau
As Georgians Fight Each Other, Russia Gleefully Looks On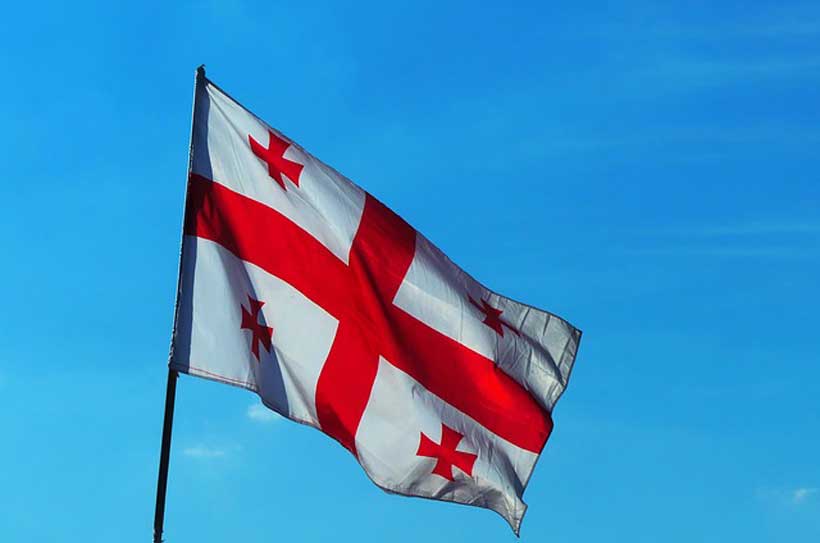 Earlier today, the leader of Georgia's major opposition party – United National Movement (UNM) – was detained at his party headquarters by government security forces, the most recent escalation in a drawn-out political crisis. This could well be the beginning of a new troubled period in the country's internal dynamics, with repercussions for the country's foreign policy.
The optics favor the opposition. Images of armed and armored police storming UNM's headquarters was damaging to the ruling party, Georgian Dream (GD). Western diplomats expressed grave concern over the events and their repercussions. Protests have been called, and will likely be covered closely in Western media.
What comes next, however, is not clear.
Much will depend on what long-term vision for the country the opposition can articulate in the aftermath of the most recent events. It was not that long ago that UNM was declining as a political force in Georgian politics. There is a real opportunity here. But the burden is on the opposition to make a play for the loyalty of voters beyond its circle of already-convinced supporters.
Appealing to ordinary Georgian voters is ultimately the key to resolving the crisis. Beyond the intra-party clashes about the legitimacy of the most recent elections, there is a growing chasm between political elites and the challenges faced by people in their daily lives. And tackling these challenges successfully will not be easy.
Both the ruling party and the opposition have been facing declining support from the public at large. Long-term economic problems, which have been greatly exacerbated by the pandemic, have not been credibly addressed by either side. Instead of solutions, both sides have engaged in political theatrics. For many voters, the current crisis is more about a struggle for political power, rather than about democracy and the economic development of the country. No wonder that most people consider their social and economic human rights to have been violated for decades no matter which party is in power. These attitudes help explain high abstention rates during the most recent election. Despite remarkable successes in the early years after the Rose Revolution, Georgia has lacked a long-term policy for reimagining its fragile economy since its independence and the disastrous conflicts of the 1990s.
None of this, however, should minimize the threats to Georgian struggling democracy. Today's arrests reinforce a longstanding trend in Georgian politics: the belief that the ruling party always stands above the law. This was the case with Eduard Shevardnadze, Mikheil Saakashvili, and is now the case with the current government. For less politically engaged citizens, plus ça change: Georgian political elites for the last 30 years have all ended up behaving the same way, they say. That kind of cynicism is especially toxic to the establishment of healthy democratic norms.
The crisis also has a broader, regional dimension. The South Caucasus features two small and extremely fragile democracies – Armenia and Georgia. The former took a major hit last year, with its dependence on Moscow growing following Yerevan's defeat in the Second Karabakh War. Today, Russia is much better positioned to roll back any reformist agenda Armenians may want to enact. Armenia's current Prime Minister Nikol Pashinyan has been weakened, and easily staged protests are an easy way to keep him in line.
Georgia faces similar challenges. At a time when Washington and Brussels are patching things up after four years of Trump, and the Biden administration vigorously reiterates its support for NATO, Georgia's woes are a boon for Moscow. Chaos at the top weakens Georgia's international standing and undermines its hopes for NATO and EU membership. And internal deadlock not only makes Georgia seem like a basket-case but also makes a breakthrough on economic matters ever more unlikely. Without a serious course correction, international attention will inevitably drift away.
At the end of the day, democracy is about a lot more than finding an intra-party consensus or even securing a modus vivendi in a deeply polarized society. It is about moving beyond the push-and-pull of everyday politics and addressing the everyday needs of the people. No party has risen to the occasion yet. Georgia's NATO and EU aspirations remain a touchstone for Georgian voters, and both parties lay claim to fully representing those aspirations. But only through credibly addressing Georgia's internal economic problems can these aspirations ever be fully realized. The party that manages to articulate this fact would triumph.
Author's note: first published in cepa.org
A Fateful Step Towards Annexation
It's easy to lose sight of regional developments amid high political drama. The story of Alexei Navalny's poisoning, flight to Germany, return, and arrest has dominated Russia coverage in the West. Specialists have also been focusing on the struggle over the Nord Stream 2 pipeline, and the fallout of the Nagorno-Karabakh War. Meanwhile, when in November of last year Georgia's Russian-occupied region of Abkhazia signed a 46-point agreement to create a unified socio-economic space with Moscow, not many took note. While pitched as a move to alleviate the territory's economic troubles, the program marks a huge step toward eventual annexation of Georgia's region by Russia.
Multiple new provisions feature in the new document which were absent in the 2014 military agreement. The new pact creates various provisions for the sale of local real estate, among them a stipulation on dual citizenship allowing Russians to get Abkhaz passports. A whole range of laws will be introduced whereby Russian investors will be able to invest money into and buy majority shares in what still remains valuable in Abkhazia.
The latest agreement also proposes allowing the Russians to buy into Abkhazia's energy sector. Additionally, the Abkhaz will make legislative and administrative amendments according to the Russian law in social, economic, health, and political spheres. There is also a stipulation on simplification of law procedures for Russian investors.
While this may end up giving a shot in the arm to a decrepit Abkhaz economy, the high level of harmonization with Russian laws lays the groundwork for a future merger with Russia. It is this dilemma between closer cooperation with Russia and deep fear of Russian intentions that will haunt the Abkhazian political class for the foreseeable future. Though officially the new "socio-economic" program does not involve a change in Abkhazia's political status, Abkhaz elites fret they are heading down the path to eventual incorporation into Russia.
Criticism of the pact in Abkhazia forced the region's leader Aslan Bzhania to forcefully deny that Abkhazia was losing any sovereignty. Instead, he emphasized the positive elements of the document, especially the re-opening of Sukhumi airport. Bzhania also cited Abkhazia's chronic energy shortages and the acute need for Russian assistance as justification for the deal. Still, fears persist. After all, unlike South Ossetia, the other Russian-occupied region in Georgia, Abkhazia has never entertained the idea of merging with Russia.
But Russia is playing a long game. Pressure on Abkhazia has been building up gradually over the course of 2020. After the resignation of Moscow's preferred client Raul Khajimba, Bzhania's candidacy was regarded with suspicion by Kremlin officials. As a result, when he won, Bzhania had to make multiple visits to Moscow to kiss the ring, even as Russian funding continued to dry up amid the pandemic. The cost of resuming aid, it appears, was increasing economic harmonization and with the looming threat of eventual assimilation.
With Russian investments into the energy sector and land purchases, Abkhazia will slowly lose its last vestiges of de-facto independence. On an economic level, Abkhazia is far richer than South Ossetia. But controlling it has other virtues. Out of all the separatist regions Russia controls, Abkhazia is arguably the most strategically located. A passage from the North to the South Caucasus, the region is also famous for its harbors and military infrastructure. Control over it gives Russia capabilities to check NATO/EU expansion into the region.
Russian plans in Abkhazia should be also seen within the context of Russia's push to solidify its presence in the South Caucasus, especially in the aftermath of events in Karabakh and Russia's peacekeeping mission there. Economic inroads into Abkhazia also mean a further distancing of other potential players such as Tbilisi and the collective West.
Author's note: first published in cepa.org