World Bank Group Supports Ghana To Boost its COVID-19 Response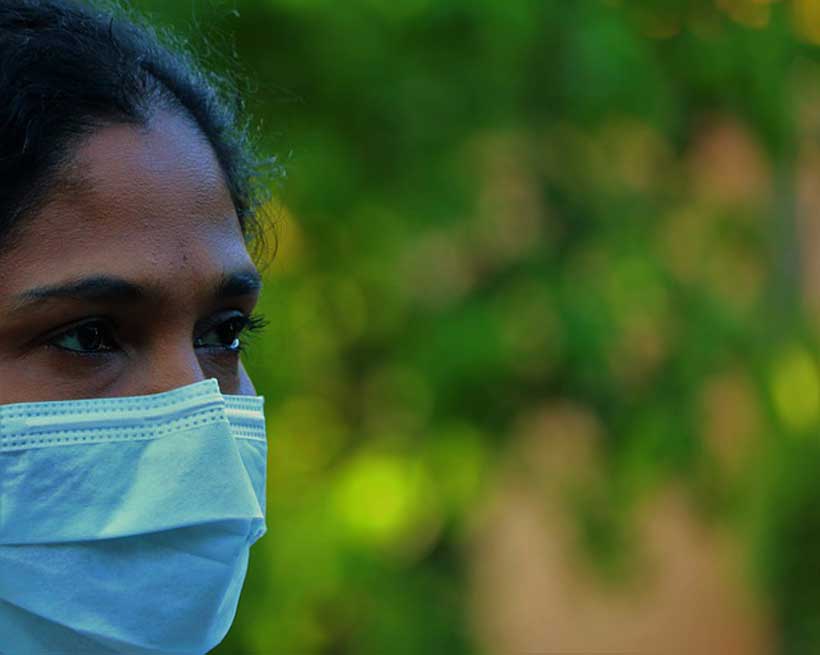 The World Bank Board of Executive Directors today approved an additional credit of $130 million from the International Development Association (IDA) for the Ghana COVID-19 Emergency Preparedness and Response Project. The additional financing in the health sector will support the Government of Ghana to scale up its efforts to mitigate the resurgence of the COVID-19 pandemic and to safely reopen its economy.
"This additional funding is timely and critical to save lives and build resilient systems by further increasing capacity of surveillance, diagnosis, treatment with increased availability of intensive care unit beds and adopt new COVID-19 medications. These are integral efforts towards achieving Universal Health Coverage, which Ghana has committed as a priority," said Pierre Laporte, The World Bank Country Director for Ghana, Liberia and Sierra Leone.
The project will strengthen the Government of Ghana's efforts to prevent and contain the virus and to safely revive socioeconomic activities in the country. It will also help prepare for future COVID-19 vaccine deployment.
"The project complements both the World Bank Group and other development partners' investments in disease control and surveillance, and citizen engagement. We will continue to work closely with other partners to support the scale up of Ghana's COVID-19 response and secure essential health and nutrition service delivery," said Anthony Seddoh, Senior Health Specialist at the World Bank Group.
The project will also expand communications and awareness campaigns nationwide to reduce risks of infection and to increase understanding of the COVID-19 vaccines. It will increase support to persons with disabilities and other vulnerable groups such as survivors from gender-based violence, who have been disproportionally affected by the pandemic.
The World Bank Group, one of the largest sources of funding and knowledge for developing countries, is taking broad, fast action to help developing countries strengthen their pandemic response. It is supporting public health interventions, working to ensure the flow of critical supplies and equipment, and helping the private sector continue to operate and sustain jobs.
The World Bank Group is making available up to $160 billion over a 15-month period ending June 2021 to help more than 100 countries protect the poor and vulnerable, support businesses, and bolster economic recovery. This includes $50 billion of new IDA resources through grants and highly concessional loans and $12 billion for developing countries to finance the purchase and distribution of COVID-19 vaccines.
Kishore Mahbubani: "A Russian defeat would not be in the interests of the Global South"
"Today Western diplomacy is clumsy. The Cambridge's Bennett Institute for Public Policy survey argues that America's tendency to divide the world into friends and enemies — the "forces of democracy against autocracy" — has become self-fulfilling. Regimes that see themselves as victims of American hostility, especially because of local human-rights shortcomings, collaborate defensively in mutual support, fueling opposition to Washington," Max Hastings, a Bloomberg opinion columnist, experienced and hardened political scientist – a former editor in chief of the 'Daily Telegraph' and the 'London Evening Standard', writes at Bloomberg. He notes:
"Singaporean diplomat Kishore Mahbubani, a former president of the UN Security Council, asserts that most people on the planet want to inhabit a multipolar world, not one dominated by the US or Russia or China. This, he claims, is why many nations are not enforcing sanctions over Ukraine. "A Russian defeat," says Mahbubani, "would not be in the interests of the Global South. Many countries in the South who still retain memories of the once-dominant West know the West will once again become arrogant and insufferable if it defeats Russia completely."
All this is frustrating for us Westerners. We know that we are the "good guys". Our leaders repeatedly declare that it is in the "vital interests of democracy and freedom-loving peoples everywhere" for the Russians to be driven back to where they came from. Yet moral conceit is a besetting vice of our culture.
Western nations might fare better in the conduct of foreign policy if we tried harder to understand why many don't support our campaign for Ukrainian freedom. In our own times, a YouGov poll shows that while 65% of respondents in the European democracies see Russia as an adversary, 51% of Indians, for instance, view Putin's nation as an ally (29% see it as a "necessary partner" and only 5% as an adversary).
Memories still rankle among Indians of how US sanctions against Iraq and Iran drove up energy costs in the sub-continent. India's former ambassador to Russia said in an influential recent interview: "We have not accepted the Western framing of the [Ukraine] conflict"…
Following Lavrov's recent visit to South Africa, its foreign minister Naledi Pandor recanted an earlier denunciation of Russian aggression. She applauded her country's "growing economic bilateral relationship" with Moscow. Meanwhile, almost all the North African nations are enthusiastically buying Russian oil.
Some people characterize Russia's current activism as its Great Return to Africa, of which the most conspicuous manifestation is the deployment of Wagner mercenaries to stem Islamic insurgencies in Francophone West Africa and the Arabic-speaking north. In Africa, the Moscow-controlled TV outlets Sputnik and Russia Today command big audiences.
China is responsible for one-third of all infrastructure projects in sub-Saharan Africa.
In Putin's recent speech to the Russian Assembly, he denounced past Western foreign interventions in Yugoslavia, Iraq, Libya and Syria, saying: "they will never be able to wash off this blood." A large foreign audience agrees with him.
Lavrov is obviously right when he says: "The unipolar world is irretrievably receding into the past. A multi-polar world is being born."
It is not that many people wish to live in Russia or China. But neither do they wish their countries to fall under American hegemony.
Not to be forgotten, the US and Britain were for decades prominent supporters of South Africa's white apartheid government, because of its perceived value as an anti-communist bastion in the Cold War. And efforts to export democracy by force — notably in Iraq — have backfired by resurrecting memories of colonialism.
In the new world order that Lavrov believes to be evolving, the autocracies and democracies pit themselves against each other as adversaries.
But many nations in between are determined to remain neutral, both from self-interest and skepticism about absolute virtue," Max Hastings concludes.
Greece: New report urges better protection for human trafficking victims
In its second report on Greece, the Council of Europe's Group of Experts on Action against Trafficking in Human Beings (GRETA) acknowledges positive steps taken by the Greek authorities to combat human trafficking, but also highlights a number of shortcomings.
The report examines progress made by Greece in the implementation of the Council of Europe Convention on Action against Trafficking in Human Beings since the publication of GRETA's first report in October 2017. The adoption of a national action plan for preventing and combating human trafficking, and the setting up of the National Referral Mechanism for the identification of victims of trafficking, are among the important steps taken by the Greek authorities. The legislative framework has also been revised, as recommended by GRETA in its first report.
The report pays particular attention to combating human trafficking for the purpose of labour exploitation. In the wake of the Chowdury judgment of the European Court of Human Rights, the Greek authorities have taken a number of measures, including the regularisation of undocumented Bangladeshi workers. GRETA calls for further improvements, such as increasing the number of labour inspectors and training them to detect cases of human trafficking and exploitation.
Another focus of the report is preventing child trafficking. GRETA welcomes the setting up of the Special Secretariat for the Protection of Unaccompanied Minors, the establishment of safe zones for unaccompanied children, and the increase in the number of accommodation facilities. However, GRETA urges the Greek authorities to increase their outreach work to identify child victims of trafficking, and to provide them with long-term assistance.
The report stresses that the identification of victims of trafficking should not depend on the presumed victim's complaint and co-operation in the investigation or criminal proceedings. The expertise of specialised NGOs, psychologists, health-care staff and labour inspectors should be duly considered during the identification procedure. Noting with concern reports of pushbacks and forced removals of migrants and asylum seekers at the land and sea border with Türkiye, GRETA calls on the Greek authorities to ensure that individualised risk assessment is conducted prior to any forced removals and that it assesses the risks of trafficking or re-trafficking on return.
The report also expresses concern over the failure of the authorities to apply protective measures to victims of trafficking, thus exposing them to re-traumatisation and re-victimisation. GRETA urges the Greek authorities to make full use in practice of the available measures to protect victims, including children. Police officers, prosecutors and judges should be provided with the necessary training in order to ensure the application of such measures in practice.
Furthermore, GRETA notes that no applications for state compensation have been submitted by victims of trafficking, and asks the Greek authorities to take steps to ensure that state compensation is effectively accessible to victims of trafficking.
The report also calls on the Greek authorities to ensure that the police units investigating trafficking offences are properly resourced and enabled to carry out proactive and prompt investigations, including financial investigations.
Pompeo: The Biden administration allowed the Chinese and Russians to come together
Former Secretary of State Mike Pompeo on Fox News weighs in on the Biden administration's response to the meeting between Presidents Xi and Putin:
– To hear the White House place this down as if it's unimportant is a strategic mistake. They often speak in riddles but this is no riddle.
– The Biden administration allowed the Chinese and Russians to come together and presents a risk to every American citizen.
– A couple things we should think of…1,000 nuclear weapons to add to the Chinese arsenal.
– Now two members of the U.N. Security council join against the United States of America. Bad for the United States as well.
– I think we may be in a situation again where this administration has drawn a 'red line' and the Chinese communist party has crossed it willy-nilly.
– We spent a lot of time thinking our way through how to separate the Chinese communist party and Russia. They have now found a way to come together…
– The economic engagement between the two is important and will impact the United States and jobs all around our country. And we should be absolutely on point in pushing back against what it is they're trying to do.
– We aren't victims but have to be.