Authors: Ash Narain Roy and Shimone Jaini
The rise and fall of a leftist government in Latin America evoke passion, nostalgia, optimism and rhetorical exuberance among commentators on the region that may not withstand rigorous academic scrutiny. The outcome of presidential elections in the region is often explained in terms of a victory or defeat for the left and the right. Experts and analysts spin their fine theories in their own imaginary laboratories. Media pundits have had notorious difficulty in predicting developments as they often defy the conventional wisdom.
Binaries usually suffer from blinkered vision. While one section has strong belief in the left's redemptive power and sees a virile bloom in its upsurge, the other sees only gloom and doom. The analysis of the recent Bolivian election too conforms to this pattern. Such prognosis of Latin American politics is at once admirably catholic and regrettably myopic.
This paper seeks to contextualize the victory of the Movement Toward Socialism (MAS) in Bolivia and attempts a critical analysis of the new Latin American left and its agendas and trajectories.
Left on comeback trail or Bolivian exceptionalism?
Bolivians have shown an abiding faith in the Movement Towards Socialism (MAS), electing Luis Arce, the party's presidential candidate, with a staggering majority. It is a vindication of MAS's popularity and legacy of Evo Morales leadership. Should the election of Luis Arce be seen as a harbinger of re-emergence of Latin American left, a Pink Tide 2.0 in the region or is it a case of Bolivian exceptionalism?
Luis Arce as Finance Minister in the Morales government was the architect of the "Bolivian miracle". The triumph of MAS is no less a victory of Arce, an academic, low-profile and soft-spoken leader. He ran a smart campaign and avoided inflammatory utterances and Morales rhetoric. The former Finance Minister has been rewarded for successfully managing the country's economy with significant poverty reduction, inflation control and unprecedented growth for almost 14 years. Interestingly, Arce's vice-presidential candidate David Choquehuanca had opposed Morales' decision to run for the fourth term.
MAS has moved away from Morales' style of governance. It is now more institutionalised than ever before. Bolivia has demonstrated that there is no need for extreme populism or violation of democratic process to win. Democracy can triumph without establishing presidencies for life or manipulating constitutional procedures.
Bolivia under the interim president Jeanine Áñez had retreated into neoliberal wilderness. The intervening period in Bolivian history will be known for racist state oppression. According to a report of the Harvard School's International Human Rights Clinic and the University Network for Human Rights, the month of the coup was "the second deadliest month in terms of civilian deaths committed by state forces since Bolivia became a democracy nearly four decades ago.Bolivia has recovered from that dark phase and it needs to follow a pragmatic policy. President Arce has made right kind of noise assuring the people that Bolivia is back on democratic rails. He said, "We are going to create a government of national unity. Without hate and learning from our mistakes as Movement towards socialism."
As to the victory of MAS, two factors deserve special mention. Firstly, state repression apart, the interim government was plagued by various corruption scandals and the Áñez government was never in control (Áñez had 34 different cabinet ministers in less than a year). Jeanine Áñez became even more unpopular when she announced her candidacy for the 2020 presidential elections, after having said that she wouldn't contest elections. Her constant refusal to act as a transitional president effectively boosted Morales and his party, reminding Bolivians why they had supported MAS in the first place.
Secondly, while Morales legacy may have helped mobilise people in favour of MAS, it is more likely that Evo's absence helped strengthen MAS and "enabled the rise of a new group of leaders".The credit for an impressive turn of events equally goes to Arce's moderate temperament and his technocratic style that set him apart from Morales. But he will need to guard against populist forces hijacking the government's agenda. President Arce must ensure that Bolivia doesn't go the Argentina or the Ecuador way: In Argentina, Cristina Fernández de Kirchner, facing corruption charges, returned to office as the Vice president and promoted Alberto Fernández – who won by a large majority- as her party's presidential candidate. He has been living under her shadow and has struggled to hold firm control of power. In Ecuador, Rafael Correa and his successor,Lenín Moreno have ended up becoming arch rivals.
Though Arce has said that Morales will have no part in this government, it remains to be seen whether Evo Morales stays on the periphery or Arce mirrors the trajectory of Lenin Moreno, who succeeded Rafael Correa in the name of continuity but reversed sharply the previously held stances and policies of the government. Arce will be governing a country which is now quite divided, economically weakened, far from the economic boom experienced by Morales, and lacks good diplomatic relations with several neighbours in the region. Arce's government has an opportunity to rebuild these relations as most Latin American countries and the United states have welcomed Arce and expressed their wish to establish good relations.
All said, Bolivians have disavowed 12 months of a thuggish administration and rejected a period of ugliness, divisiveness, racism and sustained onslaught on democracy. The vote is as much a vindication of MAS's legacy as a vote against Áñez government's daylight delinquency. The OAS, the Carter Centre and the European Union have commended Bolivia for holding a clean and transparent election. British playwright Tom Stoppard had once said, "it is not the voting that is democracy, it is the counting". Bolivia has sent a powerful message as well as a warning to nascent and struggling democracies around the world.
Revolutionising democracy or democratising revolution?
Till the collapse of the Berlin Wall and the disintegration of the Soviet Union, the make-up of the old left revolved around class and nation. The new left has added democracy building as its third axis.The demise of the old left is universally acknowledged. If the old left articulated and defended the interests of the proletariat, the new left is championing the interests of the 'pobretariado', the poor and disenfranchised class as victims of exploitation and social exclusion.
With the Berlin Wall collapse, Soviet utopia dissolved. Though China, nominally a Communist country, still uses the language of equality and brotherhood, it is only a tactical device to woo the dispossessed. 'Communism with Chinese characteristics' is indeed a one-party authoritarian system which sees nothing wrong in becoming rich. To Deng Xiaoping, reform was "China's second revolution," and he wanted to "let some people get rich first." Today what is being pursued in Xi Jinping's China is 'CCPology' and 'CCPism'.
The Vietnamese revolution had strong nationalist credentials. Some say, Ho Chi Minh was half Lenin and half Gandhi. Others say, he was a cross between 'Mao of the Long March' and 'Gandhi at the Spinning Wheel'. Ho Chi Minh was both a Confucian humanist and a Communist revolutionary. Among 20th-century statesmen, Ho Chi Minh was remarkable both for the tenacity and patience with which he pursued his goal of Vietnamese independence and for his success in blending Communism with nationalism. Ho was an enormously pragmatic Communist, a doer rather than a theoretician. That explains Vietnam's success and not Communism.
Initially, Nicaragua's Sandinista leaders defined themselves as Marxist or revolutionary socialist. Later they denied being Marxists. They also denied that they wanted Cuba-style communism in Nicaragua. Instead, they claimed they were fighting for a "New Nicaragua" that will be a pluralist democracy. Today, Nicaragua is under a one-man despotic rule of Daniel Ortega.
Cuba's revolutionary credentials are still largely intact, perhaps the only country in the world that belongs to the old left but it is struggling to survive against economic adversities. It is true, Cuba benefited from the strategic alliance that Castro forged with Hugo Chavez as the Venezuelan leader lavished generous aid and trade benefits on Cuba. But Cuba had overcome economic crisis earlier without any help from outside. Between 1989 and 1991, USSR's aid to Cuba evaporated. During this 'Special Period', oil imports dropped precipitously and the island-nation faced an unprecedented crisis. But Cuba gradually recovered from the crisis by "doing more with less". As Christian Science Monitor says, Socialist Cuba has hung on "in spite of itself, achieving inspirational heights in public health and education, and enjoying international influence far beyond its means." (1)
New left is distinctively Latin American
Who constitutes the new left? Andrew F Cooper and Jorge Heine maintain that "some elements of the old left have morphed considerably and a very different left has emerged."(2).Jorge Castaneda and Marco A Morales say, "some are updated versions of the old Latin American left with a long term vision; others are populist versions of the left that seek power with short-term goals." (3)The new left is grounded in Latin America's long tradition of populism. It is not Castro and Che Guevara, but the legacies of Peru's Victor Raul Haya de la Torre, Colombia's Jorge Gaitan, Mexico's Lazaro Cardenas, Brazil's Getulio Vargas and Argentina's Juan Peron that explain the rising tide of the new left in Latin America (4). The "pink tide" in Latin America was much misunderstood by outside observers. It was neither a "tsunami" nor a "tornado"; it was at best "a mild breeze".(5)
What are the main traits of the new left? Revolution is no longer an objective of the new left. It follows reformist, not insurrectionary agendas. Andre Gorz characterizes its agenda as "non-reformist reforms" which means "to fight for alternative solutions and for structural reforms… (and) not to fight for improvements in the capitalist system; it is rather to break it up, to restrict it, to create counter-powers which, instead of creating a new equilibrium, undermine its very foundations." (6)
Social and reformist agendas have the intended objective of not just seeking immediate improvements in people's lives, but also to build popular political capacity so as to lay the foundation for further advances at subsequent stages of political struggle. The relative success of the new left in Latin America is thanks to its dynamic strategies, decentralised social bases and building coalitions and partnerships with multiple organisations, movements and stakeholders.
The Latin American left has moved in the direction of creating a new narrative of nationhood, challenging long-held assumptions and representations of culture, history, race, gender, citizenship and identity.What is common among new left governments is their strong emphasis on social egalitarianism. They have been working to bring politics on a new footing as they are engaged in deeper social transformations.
The new left is primarily the electoral left. Venezuelan leader Hugo Chavez described it as the "21st century socialism". It is very different from the traditional left. Hugo Chavez was the most radical exponent and practitioner of the new left. He saw himself as a revolutionary and a liberator and won the hearts of his voters and left-leaning individuals and groups across the region. Chavez, to many analysts, represented the social division of the Latin American society. As Colombian social historian Andres Otavaro says, Chavez "revived the political and ideological debate in Latin America" and thanks to him socialism once again became "an alternative to the long-prevailing neoliberal model."And yet, Chavez was no Castro and Venezuela is no Cuba.Chavez held largely credible elections and used the vast energy resources to promote his agenda. He did radicalise the new left agenda and made profound impact on other leaders.It is important to note that neither Lula nor Morales followed Chavez's style or agenda.
During US President George W Bush's visit to Latin America in 2007, while Bush and Chavez sparred at a distance over their visions about Latin America, Bush-Lula meeting was cordial and the two countries signed a biofuel agreement. Their ideological differences did not chill their official meetings. On his part, Chavez went to Buenos Aires while Bush was on official visit to Argentina and led a stadium full of leftists in screaming "Gringos go home."
Morales had a different profile and support base from Ecuador President Rafael Correa. In fact, Morales avoided 'Venezuela-ization" of Bolivia by following a pragmatic policy. Even the IMF recognised that Bolivia under Morales was "more effective in combating extreme poverty than any other South American government, slashing it from 33 % of the population in 2006 to 16 % in 2018. The Washington Post was all praise for Morales saying, "it is indisputable that Bolivians are healthier, wealthier, better educated living longer and more equal than at any time in this South American nation's history."
Argentine President Nestor Kirchner also steered clear of anti-Bush rhetoric though he questioned US-backed market policy. Uruguayan left leaders had no love lost for Chavez and Maduro. In fact, President Jose Mujica, a former Tupamaros guerrilla leader, said Maduro is "as mad as a goat". Organisation of America States chief Luis Almagro, who earlier served as Mujica's foreign minister, warned Maduro that he risked becoming "just another petty dictator."
The left in Brazil and Chile and in Bolivia and Uruguay is as different as day and night. Neither the rhetoric nor the worldviews of Hugo Chavez, Luis InacioLula Da Silva, EvoMorales, Jose Mujica and Michelle Bachelet were similar. What was of course common among them was their opposition to the neoliberal reforms and policies that emanated from the Washington consensus.
Latin America's new left leaders have not emerged from socialist movements. The new left parties are not the vanguards of revolution. The past and present presidents belonging to the new left don't exercise hegemonic control over the government.
Social movement is new left's novelty
Latin Americans, the indigenous and marginalized groups in particular, seem to have perfected the art of collective action. What Latin America has witnessed in this century could be called 'festivals of protest' or 'politics of crowd'. "Dancing in the streets", as described by Barbara Ehrenreich, has manifested amply in the region like nowhere else. The protesters, mostly the indigenous and marginalized groups, that the left parties have mobilized in their support, revel in feasting, costuming and dancing, long part of communal celebration of their culture. These techniques have been used while protesting, campaigning or marshalling support for their cause.
While street power in general evaporates fast, this has not happened in Latin America thanks to the good management of the 'politics of crowd'. Elias Canetti, winner of the Nobel Prize in Literature in 1960, in his treatise "Crowds and Power" refers to four defining attributes in a crowd. First, the crowd always wants to grow. There are no natural boundaries to its growth. Second, within the crowd there is equality. Third, the crowd loves density. It can never feel too dense. Fourth, the crowd needs a direction. It is in movement and it moves towards a goal.
Indigenous movements and nationalist forces have asserted their presence in national politics in unprecedented fashion in the past few decades. The indigenous people have forged strong national movements and built alliances with other progressive groups highlighting principally their land rights and cultural specificities. It is primarily a fight for asserting their control over their lands, waters and other natural resources. In nearly all Latin American countries with substantial indigenous populations, indigenous movements have gathered force.
Socialism in one country has proved to be a defeated enterprise. As François Chesnais says, socialism can only be conceived as a global / universal enterprise. Its effectiveness in the national space will depend, decisively, on its development in other national spaces, which tends to give it a historical-world process(7). The same is true of the new left.
New geometry of power
The 21st century has witnessed the rise of a new geometry of power in Latin America, that of below and above. With this has emerged new political actors. The most significant has been the rise of the indigenous. Democratization has opened up new spaces. With the traditional left in decline, indigenous groups have stepped in to fill the vacuum in many countries. Several countries in Latin America, Andean countries in particular, have seen sustained struggles for land and water and long marches and protests against mining and road construction through the forests. A host of grassroots movements from the Zapatista National Liberation Army (EZLN) in Mexico to the Brazilian Landless Rural Workers Movement (MST) in Brazil, and from the Argentinean piqueteros to the indigenous movements of Bolivia and Ecuador, a host of mass-based movements have occupied the social and political spaces vacated by the collapse of the traditional left.
Social movements are the principal novelty of the new left. The streets have become new theatres of politics. The more robust the street protests, the more pressure on government. Governments in Ecuador, Bolivia and Argentina have been ousted by street power.MAS has become one of the pillars of democracy in Bolivia, but if the government doesn't perform well, the highly politicised indigenous movements and street power may turn their ire against the government.
The third left
Besides the electoral left, there is 'third Left' stirring in Latin America. The Zapatistas and the piqueteros have shown utter disdain for power though they avow autonomy from the state and promote bottom-up decision-making, rather than pursuing state power. John Holloway, Marxist sociologist, has done considerable work on the Zapatista movement and the piqueteros in Argentina (8).These movements and others dismiss all political institutions as untrustworthy and authoritarian. Such distrust of power—bureaucratic, electoral and governmental is reflected in the slogan 'que se vayantodos' at the height of the piqueteros movement. Holloway sees revolution as a struggle against power, not for power.
The third left believes that the world can't be changed through the state. The notion of revolution was strongly associated with gaining control of the state. This view has been challenged. As Holloway says, "the failure of those attempts to change the world through gaining control of the state has led very many people to the conclusion that revolution is impossible."
It is the Zapatistas who first said that they want to make the world anew, to create a world of dignity, a world of humanity, but without taking power. Holloway argues that what is at issue in the revolutionary transformation of the world "is not whose power but the very existence of power. What is at issue is not who exercises power, but how to create a world based on mutual recognition of human dignity." The third left makes demands for economic justice and human rights but it strives for the transformation of people—"self-management, independent thought, and self- construction."
The third left has supported new left governments but has continued to be critical of their policies. Another characteristic of the third left is horizontalism which means "having everybody decide." The Zapatistas use village-wide meetings to decide local issues, rotate regional leaders, and use intensive consultation to reach movement-wide decisions. The MST uses a more traditional set of pyramidal elected councils (with some less traditional aspects, such as mandating an equal number of women and men representatives at every level).
Challenges
The leftist governments in Latin America benefited from the commodities boom. While the economy expanded, the period also witnessed sharp reduction in poverty. That boom has now ended largely as a consequence of a slowdown in China's economy.
Because of the Pink Tide, women in power are no longer a novelty in Latin American politics;in 2014, female presidents ruled in Argentina, Brazil, and Chile. Their policies leave little doubt about the transformative nature of their leadership. Much of the economic development happened due to an intense extractive development model. The indigenous groups have sharpened attacks on the Left regimes. This model of development, which relies on the rapacious extraction of natural resources, entails environmental destruction and the fragmentation of indigenous territory.
From Mexico to Chile, Latin Americans frustrated with scandals, stagnant economies and government incompetence are taking to the streets. Often the protesters' ire is aimed against the very populist leaders they rallied around earlier when rising wealth from a commodities boom fueled a surge in government spending and helped mask corruption. There are no takers for left governments' slogans like "paradise with us or hell with the opposition".
Some governments tried to justify their extractive development by saying how they need these projects to fight poverty. Governments sought to differentiate their prudent and indispensable extractivism from "predatory" extractivism. Some governments even preferred not to take away money from rich people since money came from extractive policies. However, this "hydrocarbon-fuelled social-democratic bargain" could not save their governments. The indigenous protesters who consider Nature as patrimony, not capital, refused to relent.
The fall of some leftist governments, not all, was due to what Santiago Anriaand Kenneth M Roberts call the "autocratic temptation". Charismatic leaders began to believe that they speak "for the entire nation" and that "they can do so forever."
Conclusion
Inequality and poverty have sharply fallen in Latin American countries ruled by the leftist governments even though some have had better record in redistributing income than others.
It would be erroneous to view the rise and fall of a government in Latin America as pendulum swings between the left and the right. There has been a steady expansion of democratic institutions and political rights in recent decades. The deepening of democracy has created political space and Latin America has seen the emergence of several new political parties and social movements. The changing political fortunes of governments are part of what political scientist Sidney Tarrow calls "cycle of contention".
Social mobilisations and protest movements across Latin America have given a new dimension to democracy. Just as protests and social movements become protest cycles if these are well-organised, sustained and diffused to several sectors, the rise and fall of leftist government becomes cyclic.Like protests and social movements, the advent of a left government has followed a parabolic pattern. It expands to more sectors and more countries.
The new left has made Latin America the epicentre of left-wing politics in the world. It is now part of democratic politics.The region's experiments in institutional innovations have gone a long way in deepening democracy. As they say, before the deed comes the doing. The unprecedented explosion of rage against injustices of various kinds in Latin America portend a radical change. The rage is the starting point. The rage implies doing. Will it prove to be another utopia?It may well be. But isn't utopia the process of making a better world?
1. French, Anya Landau. Can Cuba survive the loss of Venezuela's Hugo Chávez. March 07, 2013.
2. Cooper, Andrew F and Heine, Jorge. The effect of national and global forces on the Americas: Tsunami, tornado or just a mild breeze? Which way Latin America? Hemispheric politics meets globalization. Tokyo : United Nations University Press, 2009.
3. Castaneda, Jorge and Morales, Marco A. The emergence of the new left. Which way Latin America? Hemispheric politics meets globalization. Tokyo : United Nations University Press, 2009.
4. Latin America in India's foreign policy. Roy, Ash Narain. s.l. : International Studies, 2010, Vol. 47, pp. 2-4.
5. Cooper, Andrew F and Heine, Jorge. "The effect of national and global forces on the Americas: Tsunami, tornado or just a mild breeze?".
6. Gorz, Andre.Strategy for Labor. Boston : Beacon Press, 1964.
7. Chesnais, François.The globalization of capital. s.l. : Syros Editions, 1996.
8. Holloway, John.Change the World without Taking Power:The Meaning of Revolution Today. s.l. : Pluto Press, 2002.
Was Trump better for the world than Biden, after all?
Joe Biden and the State Department just approved a major deal with the Saudis for 500mln in choppers maintanance. Effectively, the US sold its soul to the Saudis again after the US intelligence services confirmed months ago that the Saudi Prince is responsible for the brutal killing of journalist Jamal Khashoggi. The Biden administration is already much more inhumane and much worse than Trump. Biden doesn't care about the thousands of American citizens that he left behind at the mercy of the Taliban, the Biden administration kills innocent civilians in drone strikes, they are in bed with the worst of the worsts human right violators calling them friendly nations.
Biden dropped and humiliated France managing to do what no US President has ever accomplished — make France pull out its Ambassador to the US, and all this only to go bother China actively seeking the next big war. Trump's blunders were never this big. And this is just the beginning. There is nothing good in store for America and the world with Biden. All the hope is quickly evaporating, as the world sees the actions behind the fake smile and what's behind the seemingly right and restrained rhetoric on the surface. It's the actions that matter. Trump talked tough talk for which he got a lot of criticism and rarely resorted to military action. Biden is the opposite: he says all the right things but the actions behind are inhumane and destructive. It makes you wonder if Trump wasn't actually better for the world.
Biden's worrisome construct of security and self-defense in the first year of his term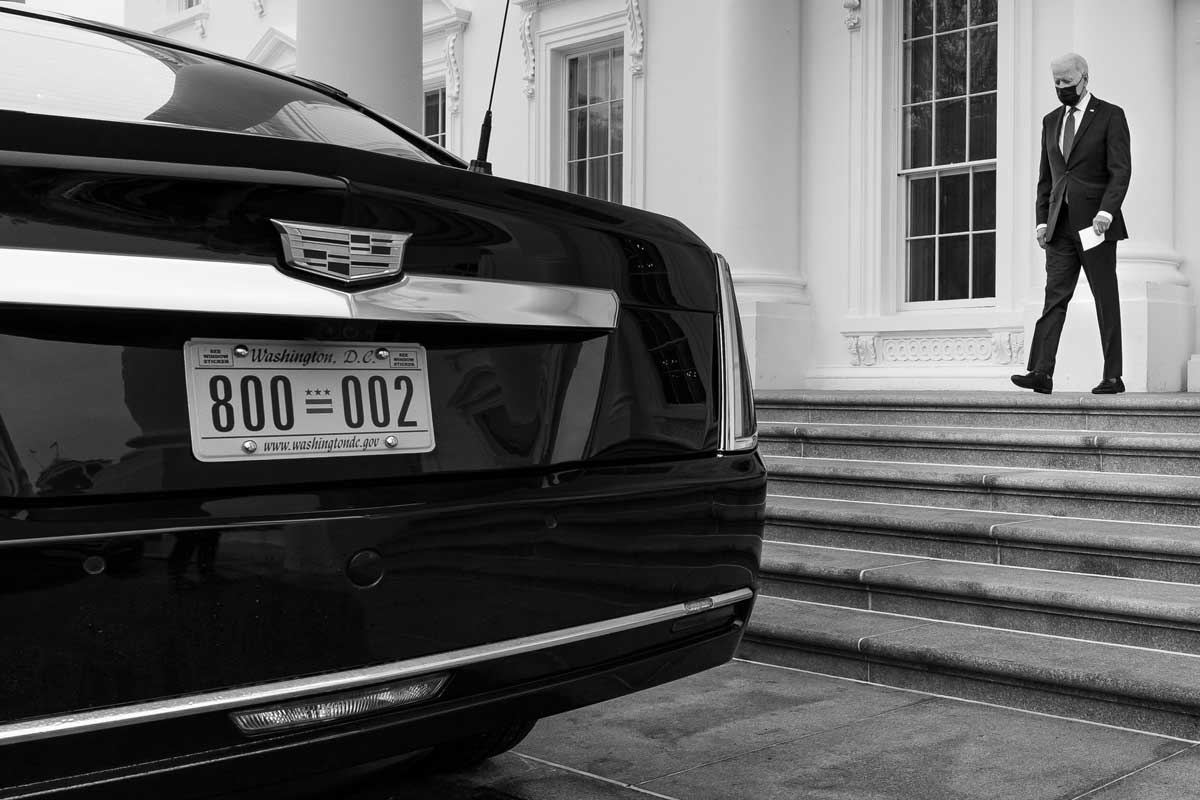 US President Joe Biden's foreign policy is failing so far. He can't get the Iran nuclear diplomacy on track. The Afghanistan withdrawal was a disaster seen by all, placing an unusually high number of weapons and armaments in the hands of the Taliban and leaving everyone behind, to the point that one wonders if it was intentional. The US military has been able to accomplish far more impressive and bigger logistics tasks in the past, so when they want to they can do it.
More worrisome, however – and because it is also oriented towards future impacts – is Biden's construct of vital concepts such as security, international peace and self-defense which has already displayed a consistent pattern during the first year of his term. The signs are already there, so let me bring them out to the surface for you.
Treating a counter-attack in self-defense as an original, first-move strike
This is a pattern that can be noticed already in Biden's reading of what constitutes defense. It first struck me in a place where you might not think of looking. It originated from the criticism of the previous Trump administration's support for the destructive Saudi Arabia campaign on Yemen, leaving Yemen as the biggest famine and disaster on the planet. To avoid the same criticism, the Biden administration decided to do what it always does – play technocratic and legalistic, and hope that people won't notice. On the face of it, it looked like Biden ended US participation by ending the "offensive" support for Saudi Arabia. Then in the months after the February decision, reports started surfacing that the US actually continues doing the same, and now most recently, some troops from Afghanistan were redirected towards Yemen. Biden didn't end Yemen; he set up a task force to examine and limit US military action only to defensive capabilities, which sounds good to a general observer. It reminds me of that famous Einstein saying that all the big decisions were to be taken by him and all the small decisions were to be taken by his wife, but there hasn't been one big decision so far. So see, it just turns out that everything falls under defense, ask the lawyers. Usually no one would object to the well-established right to defend yourself. The problem with that is that the US is actually in Yemen. Treating any counter-strike and any response to your presence as an original, first-move attack is not only problematic but it also simply doesn't work in legal terms. It goes along the lines of "well, I am already here anyways, so your counter-response in self-defense is actually an attack and I get to defend myself". If the issue was only with terrorist or rebel organizations (because let's face it, who cares about the Houthies in Yemen?) I don't think we would be discussing this. But as you guessed it, this approach can already be traced as a pattern in Biden's thinking and the way he forges alliances, draws red lines and allows things to happen, and it stretches to areas that most people definitely care about such as a possible military conflict between the US and China.
Let's take the newest development from today. The US just announced that it has entered into a trilateral partnership with the UK and Australia in the Indo-Pacific, which is encirclement of China par excellence. Where it gets interesting is that the trilateral partnership is purported to be only for "advanced defense capabilities". The equivalent of this is someone from another city squatting at the door step in your apartment, inviting two others to join, and then when in the morning you push them and step on them to go to work, the squatters claiming that you attacked them and calling the police on you in your own apartment. This is Biden's concept of self-defense: since I am already here in your space, you are attacking me.
The US is trying to start something with China but it doesn't know how to, and China seems completely unconcerned with the US. Chinese leader Jinping doesn't even want to meet Biden, as became clear this week. China doesn't care about the US and just wants to be left alone. They already said that in clear terms by reading it out loud to Wendy Sherman last month. Biden didn't have to ask for a meeting in that phone call this week because he already knew the answer. Wendy Sherman got a clear signal on her China visit that the US president won't be getting that coveted red carpet roll-out any time soon.
So the story says that the US is going all the way to the other side of the world and staging military presence there but only to defend itself. The US has no choice but to move in to defend all the US citizens at risk in the Indian Ocean — that's the stand-up comedy line of the week. It is staging military presence right at China's doorstep — if not in Chinese waters, and the idea is "yes, that's your turf but now that I'm here, if you push me to leave, you are attacking me". This is the strategy of narcissists and those that are looking to point the finger to their opponent when they just don't have anything, so they stage something. China is in the long-term game, playing against itself. The US is that number 2 that's trying to create provocation. In the Indo-Pacific, the US is biting more than it can chew. China is not a big mouth or one to throw around military threats. That's the US style: "be very careful, we might bomb you if you don't do what we say". A dog that barks doesn't bite. On the other hand, China is more like a Ferrari — it will go from 0 to 200 in seconds and then it will go back to its business. The US and Biden will be left whimpering but no one will jump to save the US from its own folly because self-defense in the US packaging is not even bought by the US government itself. Even they don't buy their own packaging. So why should anyone else?
Treating embarrassing discoveries and things that don't go my way as a threat to international peace
This one is a big one. With this one, Biden is playing with the queen, namely action under Chapter 7 of the UN Charter in the name of international peace and security. A threat to international peace and security is grounds for action under Chapter 7 which includes military action, and it's never to be spoken lightly. Words have consequences. The UN Security Council rarely specifies grounds for action under chapter 7 for threats to international peace and security but it's enough to take a look at the practice: resolutions were passed when Iraq invaded Kuwait in 1990, in response to 9/11, against Kaddafi who was marching toward Benghazi to wipe out the people in 2011, in relation to genocide, etc. Grounds for a threat to international peace can't be "because I don't like the way things are turning out for me".
Peace and security are not like beauty – in the eye of the beholder. There has to be an actual or imminent attack and actual military action or violence. Loose interpretations of threats to peace and security are a sign of weak leadership.
Leaders who construct dissent and criticism as terrorism in relation to the Black Lives Matter movement, as I have argued about the FBI previously in the left media, are weak leaders. In smearing Martin Luther King, the FBI argued national security. As director Oliver Stone said in Cannes this summer, when he was investigating the JFK assassination, every time he was getting close, he heard "national security".
You can see a lot about the character of a nation by the way it constructs security, and notice traits such as narcissism, weakness, cheating. The Biden Administration has to know that a threat to international peace and security can't be "things that make my government look bad". In 2001, the world followed the US in Afghanistan because there was an actual military attack. The world won't follow the Biden administration on a bogus threat to international peace that can best be summed up as a major embarrassment for the US government. Suggesting a link is a threat to the fabric of international society. Not only is it a sign of national narcissism but also a sign of arbitrariness and authoritarianism. Treating criticism and the exposure of US government crimes as if it were a military attack is what horror movies are made of. What's next? Droning journalists?
Treating issues which are a subject to treaties, rules and negotiations as a threat to international peace
The Biden security construct stretches to various regions, including my own. This first struck me with Biden's executive order regarding the Western Balkans when he tied blocking these countries from EU accession to a threat to international peace, which carries significant consequences. If a country, let's say Bulgaria, is exercising its lawful right to veto EU processes, hypothetically, based on Biden's understanding, the US could table a resolution for Chapter 7 action to punish an EU member-state for blocking the accession of an EU candidate because that's a threat to international peace. That could hypothetically lead to military action against an EU country making use of its veto. Biden doesn't have a veto in the EU. Do you know who does? Bulgaria. So until Biden becomes an EU country he doesn't have a say.
Biden was visibly irritated that the process of EU accession has been stalling for quite some time, especially with N. Macedonia and Albania at the EU's doorstep, so he decided to give it a go. Let's not forget that the Balkans are a favorite Biden region and this goes back to the 1990s. I have written about it before: Biden is stuck in the 2000s when if you mentioned the Western Balkans the words international peace were a guaranteed association. Not anymore. Negotiations, rules and voting are the peaceful and reasonable way to resolve issues, agree or even not agree in some situations, and are the opposite of war and aggression. Treating these ways as a threat to peace is just the rhetoric of those who can't get their way. But it's also indicative of a worrisome trend with Biden that anything that the US government doesn't like can be dressed as a threat to international peace, which carries the most significant of all consequences in the international arena.
Treating lawful counter-measures as a threat to national security
Perhaps the best and most fascinating example of lawful counter-measures I ever heard was brought by Andrew Clapham at the Graduate Institute in Geneva. Here is the story. The UK issued unlawful sanctions on a country. In response, lawful counter-measures by that country targeted jam exports because a jam factory in Scotland was the key to turning the elections. The targeted counter-measures worked, hit jam exports, discontent people in the region voted the other way and the government that put in place the sanctions to begin with was ousted. This was a brilliant example that you hit where it hurts and you do it lawfully. Counter-measures don't have to be identical. The US likes to put tariffs on Louis Vuitton bags in retaliation when it deals with France, for example. In the Trump trade wars, Europe would hit bourbon and jeans exports as a counter-measure. You hit their signature product. Not all counter-measures are illegal and count as an attack. International law is full of examples.
Similarly, lawsuits against a government are a lawful counter-measure. This area reveals another part of Biden's worrisome construct of national security. A threat to sue the US government cannot in and of itself be a threat to national security. Tortured reading of what is national security is a sign of weak leaders, narcissists, those on the losing end, or straight up losers – or all of the above.
Treating lawful counter-measures as a cause for self-defense is not only a sign of a wrong understanding of self-defense, but is the ultimate sign of narcissism. Usually those who attack know better and brace for impact in anticipation of the counter-measures. Narcissists, on the other hand, cry that they are being attacked when they receive a counter-strike in response. Strategists know better.
Mistreatment of whistleblowers, critics and opponents as spies and as a threat to national security
This one is an easy one. Only losers treat whistleblowers and critics as spies and as an automatic threat to national security. Take the treatment that Gary Stahl has received at the hands of the Biden Administration and the FBI, for example. Again, the US government doesn't get to construe a huge embarrassment (in what will soon be revealed to shows the true criminal nature of the US government) as a threat to international peace. This is a problem for America. Not only doesn't China plan to attack militarily the US any time soon over what's to come, but China is largely unconcerned with the US and would like to be left alone. Any talk about a risk of military conflict could only mean that it is the US that plans to attack because they are embarrassed they got caught red-handed and the world will see the US government's true nature. Talk of threat to international peace has a very high threshold. No one cares about how America would feel – that's your problem, not an issue of international peace.
The Biden concept of security is that of an ugly, pretentious, old woman who is told she can't enter because her ticket is not valid. She then throws a feat screaming she was attacked, beaten and insulted, expecting everyone to be on her side. But the world simply doesn't care about the problems of this pain-in-the-ass anymore. The US government will have to try much harder if they want to present the issue as anything close to security and self-defense, let alone a threat to international peace. That tune is old and there are no buyers.
The US surely thinks very highly of itself if they think that a scandal like that is worthy of a military conflict but literally no one else sees the US as this important anymore. This scandal will matter only to America in what it reveals about all the layers of the US government across rank, institutions and administrations. That's it. It ends there. Any talk of Chapter 7 threshold is war mongering and no one will care.
People talk about the Biden doctrine on Afghanistan but the Biden doctrine that will be sealed in history will be something along the lines of "Anytime I get caught, it's a threat to international peace and security." This is how Biden will be remembered in history: for creative writing endeavors in the security field and no substantial foreign policy achievements.
Biden's credibility restoration plan
Although damages of the United States' withdrawal from Afghanistan cannot be easily undone, by taking a series of wise steps, Biden can send a strong signal that America is coming back.
Joe Biden's botched withdrawal from Afghanistan has shattered his reputation as a safe haven for allies. This is while, he pledged to restore U.S. leadership after Trump by confronting China's and Russia's growing totalitarian ambitions, restoring historic alliances with European allies, and ending the never-ending conflicts in Afghanistan and the Middle East.
But he is not the only President whose decision has eventually damaged the United States' global reputation. Donald Trump's capitulation deal with the Taliban, Barack Obama's indolence in Syria, and George W. Bush's invasion of Iraq have all tarnished the United States' credibility around the world. The question now; however, is no longer whether Biden and his predecessors should have acted differently. It's how the United States can minimize the damage.
Biden should begin by speaking the truth. So far, the President has failed to admit the failure of his withdrawal plan. Biden ought to be straightforward with himself, the American people, and the whole world.
Biden's policy should, of course, vary depending on the area and global conditions. To promote its interests in the Indo-Pacific area, the United States should station a few ambassadors, including a Navy or Coast Guard attaché, in the Pacific Island countries of Tonga, Tuvalu, and Kiribati. In addition, a considerable number of troops currently stationed in Afghanistan should be redeployed to the Pacific. Finally, Biden's administration should engage with U.S. defense contractors to speed up the transfer of military equipment to Taiwan. Getting Taiwan its armaments swiftly would be a powerful show of support as a steadfast ally, as well as provide modern platforms to prevent a Chinese amphibious invasion.
The Biden administration should also do all in its power to rebuild relations with European partners. For the very first time, NATO invoked Article 5, which identifies an assault on one member as an assault on all. Since then, soldiers from a variety of countries have fought and died alongside US troops. Nonetheless, Biden decided to leave Afghanistan without consulting the governments of these countries, leaving them to plan emergency rescue efforts for their populations. Close allies of the United States are understandably enraged. America's behavior is being chastised in Paris, Berlin, and the British House of Commons on both sides of the aisle.
Last month, at a meeting of regional leaders in Baghdad, Macron made it clear that, unlike the Americans, he was dedicated to remaining in the Middle East. "Whatever the American choice is," he stated in public remarks in Baghdad, "we will maintain our presence in Iraq to fight terrorism as long as terrorist groups function and the Iraqi government requests our assistance." It was a clear example of Macron's idea of "strategic autonomy," which implies European independence from U.S. security policy, and an attempt to use the United States' humiliation to underline that Europe and Washington were not always on the same page. At an emergency G7 summit, Mr. Biden is said to have turned down allied requests to extend the August 31 deadline for exit.
The Biden administration's recent decision not to penalize Nord Stream 2 pipeline participants has enraged Europeans as well. Poland and Ukraine underlined their worries in a joint statement about the ramifications of choices taken on the pipeline without the participation of nations directly impacted, claiming that Nord Stream 2 poses both geological and ecological risks to Europe.
As a result, whether it's diplomatic recognition of the Taliban regime, humanitarian aid for the Afghan people, or any other major issue, the US should not take any more action without engaging partners. Mr. Biden should also dispatch senior members of his national security team to Europe and other regions of the world to reinforce America's commitment to their security.
As to the Middle East, Jake Sullivan, Biden's national security advisor, in a Foreign Affairs article described "America's opportunity in the Middle East," suggesting that diplomacy may work where previous military interventions have failed. The United States' involvement in the area is frequently portrayed in military or counter-terrorism terms, and as a binary option between going all-in or going all-out. Instead, Sullivan advocated for a strategy that relied more on "aggressive diplomacy to generate more long-term benefits."
Accordingly, the President and his team in Vienna should get the new Iranian administration back to the negotiating tables and rejoin the JCPOA and ease the tensions in the Middle East. Also, the United States should do all possible in Afghanistan to secure the safe transit of Afghans who qualify for U.S. visas to the Kabul airport – and to keep flights flying until they are able to leave. This should apply to both Afghans who dealt closely with the United States' military, and to those who engage with U.S. media and humanitarian organizations and must get visas from a third country. In addition to ensuring that the United Nations and humanitarian groups have the resources they need, the United States should cooperate with its Security Council allies to guarantee that the Taliban does not hinder the free flow of help.
Moreover, to follow any influx of jihadists to Afghanistan, intelligence agencies will have to rededicate resources and increase surveillance. They must be pushed to coordinate their efforts on the Taliban in order to keep the most threatening groups under control. The United States could set an example by agreeing to accept a fair share of any displaced Afghans. Neighboring countries like Iran and Pakistan, which already have millions of Afghan refugees, are closing their borders.
Biden may not be able to prevent all of the disastrous repercussions of the Afghan catastrophe, but he must act now before the harm to U.S. interests and moral stature becomes irreversible. By taking these steps, he can send a strong statement to the world that he has learned his lessons and that America is coming back.