On Monday, November 9, the talks that should decide Libya's future began in Tunis.
After almost a decade of unrest, chaos and civil war, probably the United Nations – with the direct commitment of the new "special envoy", Stephanie Wilson, will succeed in reasoning with the various factions that have fought one another, with no holds barred, in recent years and in organizing the first national election from which the new Libya after Gaddafi should come out, as hoped for by the whole international community.
During the opening ceremony of the peace conference, before the Tunisian President Kais Saied, Mrs. Williams stated flat out that "the road to the agreement will not be paved with roses and it will not be easy to achieve a good outcome. The conference, however, is the best opportunity in the last 6 years to put an end to civil war".
Seventy-five delegates, chosen by the United Nations to represent an array of political viewpoints, regional interests and social groups, sit at the negotiating table as the main warring sides that have opposed one another since in 2014 General Khalifa Haftar – in an attempt to put an end to chaos and contain the aggressiveness of Islamist militias – founded the "Libya Liberation Army" and launched "Operation Dignity", which actually led to the splitting of Libya into three macro geographical areas that roughly correspond to the Velayat, the three regions into which the Ottoman rulers had divided the country: Tripolitania, Fezzan and Cyrenaica.
In Tripolitania the following entities are present: the "Government of National Accord" (GNA) established in 2015 under the aegis of the United Nations, recognized (but not supported, as we will see later on) by the international community and led by Fayez al-Sarraj, that controls part of Tripolitania; the Tobruk government that occupies the whole Cyrenaica with Haftar's troops; a conglomerate of tribal militias representing the independent municipalities of Fezzan.
The key players on the scene are, of course, Haftar and al-Sarraj. A few days ago, the latter – after announcing his resignation last September – announced his intention to hold office until an agreement is reached.
As said by Mrs. Williams, the road is not "paved with roses", for the additional reason that at the negotiating table there are the long shadows of the external sponsors of the two main warring factions. These sponsors have actually turned the Libyan civil war into a low-intensity international conflict which, however, is potentially very dangerous for the stability of North Africa and the whole Middle East.
General Haftar is openly supported by Egypt, the United Arab Emirates, Jordan, France and Russia, while al-Sarraj can count on the support of Erdogan's Turkey, Qatar and – in its small way – Italy.
Turkey and Qatar support Tripoli for ideological and religious reasons, as all the militias that have so far kept al-Sarraj's fragile government alive are strongly Islamist, while Italy – with an uncritically "legitimist" position – has sided with the "Government of National Accord" (GNA) to emphasize its loyalty to the UN decisions.
As we will see later on, however, not only religious or nationalistic interests are at stake, but also the interests linked to Libya's wealth, thanks to its huge oil and gas fields, which are still partly untapped.
The external sponsors of the civil conflict have come out since last spring, when General Haftar's "Libyan Liberation Army" launched an offensive on the West, with the aim of conquering Tripoli and getting rid of al-Sarraj and his government once and for all. Faced with this prospect, the Turkish President Tayyp Recep Erdogan – who had already signed an agreement with the Tripoli government for the joint exploitation of oil and gas resources in Libya's "exclusive economic zone" (practically the whole South-Eastern Mediterranean) – sent his own military and – with a very severe and dangerous move for the region's future stability – he transferred to the Libyan territory 13,000-20,000 Syrian militiamen, veterans of the anti-Assad civil war, all fierce and experienced veterans and, above all, siding with the most intransigent front of Islamic extremism.
Thanks to Turkey's decisive support at military level and Qatar's at economic level, al-Sarraj managed to stop General Haftar at Tripoli's gates and, since the end of last August, the front has stabilized west of Sirte and a fragile "ceasefire" has brought some calm to a country that is beginning to suffer also under the Covid-19 blows. On October 23, in the Geneva UN headquarters, the truce on the ground was formalized with a "ceasefire" agreement.
While al-Sarraj could rely on Turkey's active support, throughout last spring's offensive General Haftar was supported by the Russian mercenaries of the "Wagner Group" – an organization of former members of the Russian special forces that was very active during the Syrian civil war – and on the fundamental support of the United Arab Emirates, which, together with Jordan, constantly supplied the "Libyan Liberation Army" with sophisticated and modern armaments.
From Abu Dhabi, fundamental help has been provided to Haftar's troops by the parastatal company International Golden Group (IGG), an armament company that has close business relations with similar Western groups, first and foremost the French Thales.
The International Golden Group is in partnership with the "Royal Group", a holding company owned by Tahnoon Bin Zayed Al Nahyan, the powerful National Security Advisor of the Arab Emirates.
IGG is therefore at the forefront in supporting the policy of intervention in Libya decided by the Crown Prince of Abu Dhabi, Mohammed Bin Zayed Al Nahyan. It is also at the forefront in arms procurement for General Haftar's faction, since it is able to purchase heavy and sophisticated armaments in Russia, such as T-72 tanks, SA-3 surface-to-air missiles, S-300 anti-aircraft batteries, all weapons that Abu Dhabi is firmly intent on delivering to General Haftar's troops.
According to reliable local sources, considering their complexity, these weapons should be entrusted to the Russian mercenaries of the Wagner Group, some of whom have already been seen driving Mi-24 helicopters during the spring offensive against Tripoli. These helicopters come directly from the Arab Emirates' arsenals.
An important source of armaments for the Emirates – and indirectly for General Haftar – is Serbia.
Thanks to the personal commitment of Mohamed Dahlan – former Head of the Palestinian intelligence service and protagonist of reckless joint operations with Israel against Hamas, who currently holds the position of advisor for the special operations of Crown Prince Mohamed Al Zayed – the "Serbian connection" was able not only to ensure a constant supply of weapons to Haftar's troops, but also to provide 80 French Leclerc tanks to Jordan, after the Jordanian State company Med Wave Sippinghad been subject to heavy sanctions by the European Union for violating the arms embargo to Libya on September 21 last.
Jordan, however,is still very active in supporting the Tobruk troops, thus managing to provide to Haftar also a substantial supply of South African Mbombe 6X6 armoured vehicles, which are very useful for fast movements in the desert.
This is the situation at the beginning of the peace talks in Tunis.
The front has stabilized along the border between Cyrenaica and Tripolitania that the Egyptian President, Al Sisi, another supporter of Haftar, declared to be a "red line" that if it were to be crossed by al-Sarraj's troops, or by Turkish soldiers and Syrian militiamen, would force Egypt to deploy its troops on Haftar' side.
The most important stakeholders of what in the past was a civil war – later degenerated into an international conflict – side with their protected, in Tripoli and Tobruk, and they will set the time schedule of a possible, but extremely difficult solution to a ten-year crisis, which is infecting the whole Mediterranean basin.
At the centre of this basin there is Italy which, almost unconsciously, under the formal UN umbrella, actually sides in Libya with Turkey and Qatar, two countries which have never made any secret of their sympathies for jihadists and the Muslim Brotherhood, as well as protagonists of unscrupulous operations in Syria to support Isis.
With these troublesome and embarrassing travel companions, Italy is now facing not only the sensitive issue of protecting its interests in Libya, starting with ENI's commitment in that region, but also having to manage the delicate affair of the 18 fishermen from Mazara del Vallo, kidnapped by Haftar's Navy for many weeks and thrown into a prison near Benghazi.
Considering that the Italian government – overwhelmed by the problems related to the spreading of the Covid-19 pandemic –seems unable to carry out – let alone to conceive – an operation for the liberation of the Sicilian fishermen using its excellent special forces, the only way to achieve their liberation is a negotiation with General Haftar, either directly or indirectly, possibly with the support of France, Russia or Jordan, not to mention Egypt, which has spent itself so much to support the Tobruk government's demands.
The Italian media have leaked news that the fishermen of Mazara del Vallo could be exchanged for a Libyan smuggler and trafficker detained in Italy.
The news appears unreliable, because it is known that all the boats transporting illegal migrants which sail daily from Libya to the Italian coast, leave from the beaches and small harbours of Tripolitania, all controlled – at least theoretically – by the forces of al-Sarraj we support because "recognized and backed" by the United Nations.
In all likelihood, General Haftar detains our fishermen to convince us to have milder political and geopolitical views, certainly not to obtain the release of a Tripolitan thug.
We have talked about the chessboard on which the pieces of the Libyan game are placed.
If we want to positively influence the final outcome of the game and do our best to protect the national economy and the safety of our fellow citizens, unjustly kidnapped and detained in the prison of Benghazi, probably we should give up the role of mere pawns and try to gain more influence in a game in which the key players are Turkey, France, Russia, Egypt, Jordan and the Arab Emirates.
A game in which you cannot participate simply by reiterating slogans such as "we need to protect the international legality enshrined by the United Nations", but which would require the same good dose of realism and courage as France has proved to have.
The Nature of Islamist Violence in France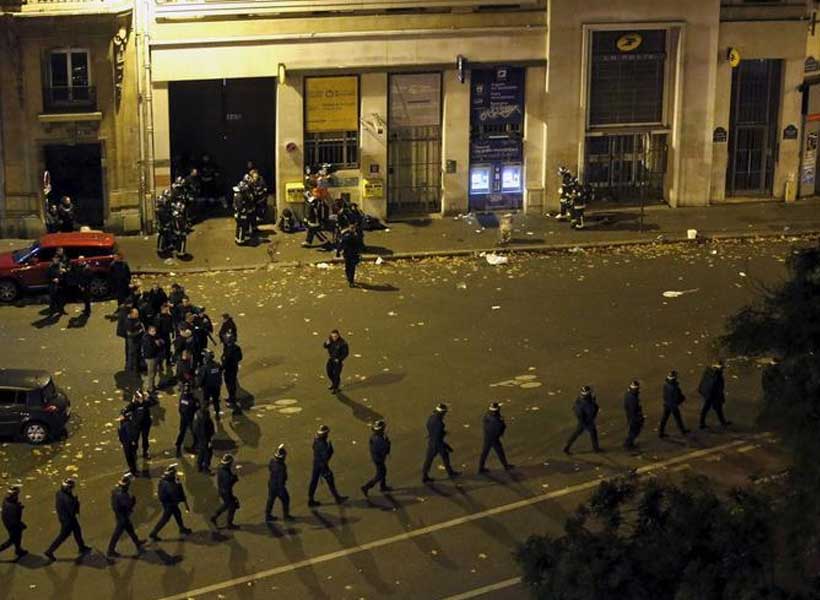 France faces a persistent jihadist threat, and all indications suggest the violence afflicting the country will continue. France has been targeted for upwards of three decades, but the frequency of attacks has increased quite dramatically over the past ten years or so. There are several reasons why it is distinctly fertile territory for jihadist activity and why militants have declared France an enemy and priority Western target. France is a European hub of jihadism and has been hit particularly hard in recent years. It has the largest Islamic population in Western Europe and, recognizing this, militant organizations devote time, effort, and resources to media production aimed at existing supporters and potentially receptive elements within French society. While only a small percentage of this varied demographic is involved with jihadist activity, individuals residing in France conduct most attacks. In other instances, militants travel to France and gain entry prior to committing violence. The country's population profile is important to consider but does not explain why some are willing to kill and die for their cause on French soil.

Historically, much of the Islamist violence against France has been motivated by French interference in Muslim lands. This was true of the Algerian Armed Islamic Group (GIA) in the 1990s and is largely the case with al-Qaeda and the Islamic State (IS) today. Jihadists have consistently made this clear in their propaganda and martyrdom statements. In addition to this, militants have struck religious targets and there has been imported conflict related to external events.

The 2015 attack on Charlie Hebdo's offices and recent series of blasphemy-motivated incidents represent a marked typological development for jihadism in France. In response to the public's demand for action, French President Emmanuel Macron has announced measures to fight "Islamist separatism" and has been working with European and international partners on matters of border security. Macron's statements and announced policies have evoked outrage from some within France and internationally. Jihadists are capitalizing upon this and propagandizing Macron's strategy in a way that hardens the enemy distinction of France, framing it as a nation that is waging war against Muslims at home and abroad. This is a very potent narrative for inciting violence.

National Security Profile
Emmanuel Macron has been criticized for his strategy as well as his comments about Islam being "in crisis". Macron's remarks are particularly noteworthy given the composition of French society. Islam is the second largest religion in France and Pew Research Center estimates there are 5,720,000 Muslims living in the country, accounting for 8.8% of the total population. Other sources place this figure closer to 5 million. Macron is accused of over-generalizing and stigmatizing the nation's Islamic population in response to the actions of a comparative few.

The veracity of Macron's claims can be debated, and the efficacy of his plan is unknown at this time but there is significant public pressure on the government to address the momentum of militant violence. The attacks have spurred discussion about strengthening French border security and immigration policy. Macron has called for the "refoundation" of the Schengen area and has urged Europe to do more to prevent illegal immigration, citing threats posed by trafficking networks with terror links.
The global context saw tremendous geographical expansion and numerical growth in Islamist militancy over recent decades. These broader international trends have notably affected the European jihadist landscape and associated ideological currents have influenced some elements within France. France is as well a site of militant network formation and there is a degree of interplay between domestic and international dynamics.
In 2018, the Center for Strategic and International Studies estimated the number of "Sunni Islamic militants" worldwide to be around four times higher than on September 11, 2001. A study by the Dutch General Intelligence and Security Service (AIVD) found that France was the Western nation most often attacked from January 2004 to December 2018, accounting for 27% of all incidents. The AIVD says the first jihadist attack on French soil during this period was in 2012 and since then, the country has experienced frequent violence. Additionally, the Program on Extremism estimated that France has been the target of 35% of all combined attacks conducted in Europe and North America since 2014.

Several other assessments have illuminated the scale of France's security troubles. In 2017, European Union anti-terror chief Gilles de Kerchove warned there were 17,000 militant Islamists living in the country. Following the December 2018 Christmas market attack in Strasbourg, France 24 reported that approximately "26,000 people who are believed to pose a danger to France are currently categorised as fiché S," and "roughly 10,000 of those are believed to be religious extremists who have been radicalised, some in fundamentalist mosques, some online, some in prison and others abroad." Upwards of 2000 French nationals have reportedly joined the Islamic State and in 2016 the French government estimated that 1,400 prison inmates were "radicalized".

Foreign Policy
From the Armed Islamic Group in the 1990s to al-Qaeda and the Islamic State today, France's enemies have been forthright about what motivates them to conduct attacks. French intervention in Muslim lands has fueled decades of Islamist resentment. Jihadist leaders continually reiterate this in their messaging, as do attack perpetrators in their martyrdom statements and claims of responsibility.

France had various degrees of involvement in the Algerian Civil War, the Gulf War, the War in Afghanistan, the Libyan Civil War, and the conflict in Mali. France has deployed 5,100 military personnel to the Sahel and has around 1,000 more troops stationed in Iraq. It maintains a military presence in Mali, Chad, Niger, Ivory Coast, and Burkina Faso as part of Operation Barkhane. This is France's largest operational military footprint in Africa since the 1950s. France has also played a highly visible and multifaceted role in fighting the Islamic State in the Middle East.

Jihadist propaganda frames the country as an aggressor, foreign occupier of Muslim lands, and a crusader state waging war on Islam. Following 9/11 and entry into the War in Afghanistan, France and other coalition nations were increasingly portrayed in this way. Al-Qaeda propagated similar narratives following the 2013 launch of Operation Serval in Mali.
The development of media campaigns specifically geared towards Western audiences has increased the reach and traction of jihadist narratives within these societies. Incorporating this approach into the overall military strategy against their enemies helped bring the war to the streets of Western cities. Al-Qaeda's propaganda efforts in the 2000s and early 2010s had some success with incitement, but the Islamic State drastically increased the offensive tempo against the West in 2014. Although there were jihadist plots in the 2000s, militants did not have a great deal of operational success on French soil again until the turn of the decade. France notably refrained from the 2003 War in Iraq and seemingly avoided much of the violent backlash associated with it. The general growth of Islamist militancy since 9/11 is another contextual trend to consider.

The Islamic State demonstrated its capabilities through its sweeping military victories, caliphate, unprecedented propaganda infrastructure, and vast global reach. When the US-led coalition intervened against the organization in Iraq and Syria, IS harnessed its robust media apparatus to launch targeted campaigns against participating nations. The Islamic State's top leadership declared France an enemy and the organization produced specialized French language video, audio, and online print materials. IS has also been very effective in its use of social media and messaging applications.

The Islamic State's spokesman at the time, Abu Muhammad al-Adnani, released a statement in September of 2014 that tracked with the evolving trends of jihadist violence in the West. Adnani was very explicit in his instructions, "If you can kill a disbelieving American or European – especially the spiteful and filthy French – or an Australian, or a Canadian, or any other disbeliever from the disbelievers waging war, including the citizens of the countries that entered into a coalition against the Islamic State, then rely upon Allah, and kill him in any manner or way however it may be." He provided simple tactical advice to streamline the attack process, "If you are not able to find an IED or a bullet, then single out the disbelieving American, Frenchman, or any of their allies. Smash his head with a rock, or slaughter him with a knife, or run him over with your car, or throw him down from a high place, or choke him, or poison him."

Blasphemy
There had been demonstrations against Salman Rushdie in the late 1980s and against the publication of cartoons depicting the Prophet Muhammad by Denmark's Jyllands-Posten in 2005, but not lethal attacks of this nature over such things on French soil. The recent surge in these kinds of incidents and the animosity over Emmanuel Macron's plan to fight "Islamist separatism" have added dimension to France's jihadist threat. Militant propaganda has focused on blasphemous acts by French citizens and has framed Macron's strategy as a direct attack on the country's Muslim population.

 There were several warning signs leading up to the 2015 Charlie Hebdo attack. A 2010 issue of al-Qaeda in the Arabian Peninsula's (AQAP) Inspire magazine featured a timeline of events related to depictions of the Prophet Muhammad from 2005 to 2010, which included explicit mention of Charlie Hebdo. Anwar al-Awlaki warned, "If you have the right to slander the Messenger of Allah, we have the right to defend him. If it is part of your freedom of speech to defame Muhammad it is part of our religion to fight you." Awlaki wrote about "the hatred the West holds towards Islam and the Prophet of Islam". He called for retaliation and claimed that "Defending the Messenger of Allah is a greater cause than fighting for Palestine, Afghanistan or Iraq; it is greater than fighting for the protection of Muslim life, honor or wealth." Awlaki focused on Western insults towards the most sacredly held beliefs of many Muslims, sanctified anger over these offences, and gave the greenlight for reprisal.

A subsequent 2013 issue of AQAP's Inspire included a section about the "French crusader intervention in Mali" and a wanted poster featuring individuals accused of insulting Islam. Charlie Hebdo's Stéphane Charbonnier was among the designated figures. On January 7, 2015, brothers Said and Cherif Kouachi conducted a raid on Charlie Hebdo's offices that killed 12 people, including Charbonnier. The shooters had trained in Yemen, identified with AQAP, and executed the attack in retaliation to the magazine's depiction of the Prophet Muhammad.
Blasphemy-motivated violence has reemerged with intensity in recent weeks, sparked again by the republication of these cartoons. Events transpired rather quickly with the high-profile Charlie Hebdo trial, the stabbing near the magazine's former offices, the announcement of Emmanuel Macron's plan, the beheading of history teacher Samuel Paty, and the church attack in Nice. Leaders of Muslim nations have scorned Macron, anti-France protests have erupted across the Islamic world, consumer boycotts have been promoted against French products, and there was a stabbing and subsequent Islamic State-claimed bombing targeting French diplomatic personnel in Saudi Arabia. Jihadist organizations and their online supporters have been actively stoking hostilities, celebrating the attacks, and calling for more violence. They have focused on Macron as a figurehead for insults to Islam and the Prophet Muhammad. The French government is accused of enabling and even encouraging blasphemy.

France is faced with a complex threat from independent actors as well as militants directed, guided, and inspired by jihadist organizations. France is in a precarious position and faces potential violence if a certain foreign policy decision is made, a citizen blasphemes, the state enacts a security measure, or an external event occurs in some foreign flashpoint. This reality informs the French desire to assert national sovereignty. France's security environment is showing signs of deterioration and there is nothing to suggest the violence will subside anytime soon. It is clear the French people want meaningful action and time will reveal if Emmanuel Macron's approach will have any real impact.
Europe's Cyber Resilience
In today's world, no organization or enterprise is completely safe from cyber-attacks or their possible consequences. In fact, one may even argue that the effects of Cyber Security incidents on our increasingly interconnected world have the potential to negatively affect every single individual on this planet. As a result, and aided by a progressively complex landscape of regulatory and legal requirements in this field and beyond, raising awareness of Cyber Security threats and, by extension, building Cyber Resilience, have developed from a traditionally rather technical matter into an increasingly important strategic topic for businesses, on the one hand, and into a critical diplomatic challenge for States, on the other hand.
The EU Network and Information Security Directive was the first piece of EU-wide Cyber Security legislation and aims to enhance Cyber Security across the EU. The national supervision of critical sectors, such as energy, transport, water, health, and critical digital service providers, including online market places, as well as the enhancement of national Cyber Security capabilities and facilitation of cross-border collaboration, are the key topics covered by the NIS Directive.[1] Moreover, the NIS Directive is part of the EU Cyber Security Strategy, which states "achieving Cyber Resilience" as one of its five priorities.[2] However, the fact that the NIS Directive was only adopted in 2016, with a deadline for national transposition by EU member States as recent as May 9, 2018, illustrates that Cyber Security and Cyber Resilience are relatively new topics in international collaborative efforts surrounding security and stability in Europe. One may argue that this recency inherently implies a certain lack of preparation for Cyber Security incidents; thus, vulnerability.
"The technology of today serves not only a Weberian predictability imperative – to further rationalise society. It makes society less safe and its individuals less free" – recently stated my former professor Anis H. Bajrektarevic discussing the EU cyber-related legislation.[3]Hence, a preparation, in other words – strategic investment in preventative measures and resources, is considered an essential aspect of Cyber Security as well as critical to Cyber Resilience. While Cyber Security is primarily concerned with the protection of information technology and systems,[4] Cyber Resilience aims to ensure the effective continuation of an organizations operations and to prevent demobilization of business- or organization-critical functions in the event of security incidents.[5] To be more specific, it is "the ability to prepare for, respond to and recover from cyber attacks" and other security incidents, such as data breaches, that is commonly referred to as Cyber Resilience.[6]
In this context, it has been argued that the creation of a resilience-conscious culture is a key element of successful Cyber Resilience strategies.[7] Creating such a cyber resilient culture involves raising awareness of Cyber Security threats, such as phishing and malware, and communicating ways to minimize risks stemming from them to people outside of Cyber Security functions.[8] The main goal here is to facilitate a cyber resilient mindset through awareness-building measures, leading to the question: If promoting awareness of Cyber Security threats ultimately enhances Cyber Resilience, how can we, first of all, assess the status quo of Europe's Cyber Resilience and subsequently, monitor the progress and effectiveness of such awareness building measures, in order to better understand, compare and ultimately enhance the Cyber Resilience of individual States and Europe in its entirety?
This essay will argue that "a false sense of security" in the private sector is a warning sign regarding the Cyber Resilience of States, hence, a warning sign regarding the status quo of Europe's Cyber Resilience. Moreover, it will argue that "a false sense of security" can serve as a valuable indicator for the effectiveness of, and increased need for Cyber Security awareness measures. This will be accomplished through the following approach:
Firstly, the essential need for and feasibility of active preparation for seemingly unlikely crisis situations, will be emphasized. To illustrate this point, the controversy surrounding the classification of the COVID-19 pandemic as "black swan event" will be discussed. Secondly, the discussion of several recent Cyber Security related incidents and their implications, will highlight that businesses and governments worldwide must, more than ever, and especially due to the C-19 related acceleration of digitalization, improve their Cyber Resilience. The main goal here will be to draw attention to the worldwide existing deficiencies regarding Cyber Resilience and, based on this, illustrate the need for and value of finding new ways to assess Cyber Resilience, but also key aspects of Cyber Resilience. Thirdly, current insights from the recently published study "Cyber Security in Austria"[9] will be discussed and contrasted with the respective risk assessment from The Global Risks Report 2019[10] to illustrate apparent discrepancies in security related self-perception in the private sector versus the reality of the risk situation. It is important to note here that "a false sense of security" means feeling safe in an unsafe environment. Therefore, such discrepancies represent "a false sense of security". As a final step, possible implications and limitations of the presented ideas will be discussed.
A black swan event is an unpredictable, highly improbable and rare event that has serious and potentially catastrophic consequences. One main characteristic of black swan events is the widespread insistence that their occurrence was obvious in hindsight; thus, should have been foreseen.[11] In the recent past, this concept, which the Lebanese-American philosopher, professor and former Wall Street trader, Nassim Nicholas Taleb, developed and already described in 2007, has, in connection with the C-19 pandemic, again become a topic of conversation – not least because of social media, such as Twitter (#blackswan). While there seems to be general disagreement as to whether the ongoing C-19 pandemic constitutes a "real" black swan event, Taleb himself stated in an interview that the eventual outbreak of a global pandemic with all its consequences was, in fact, a predictable "white swan" event, arguing that companies, corporations and especially governments, had no excuse, not to be prepared.[12]
Regardless of swan color, however, in connection with the aforementioned ability to prepare for cyber attacks, it can be argued that a particularly relevant consequence of the C-19 pandemic, in terms of Cyber Security and subsequently, security in Europe, has been the acceleration of digitalization throughout the world, affecting the public and private sector, as well as the private sphere of people's homes. Exit restrictions and other social-distancing measures imposed by governments worldwide, in an effort to curb the spread of the virus, have caused the global demand for remote working technologies to skyrocket within a remarkably short period of time. For example, the video conferencing solution provider Zoom experienced, within just a few weeks, a surge from around 10 million daily active users at the end of December 2019, to over 200 million daily active users in March 2020.[13] It was not long before data privacy and data security related problems with Zoom became apparent: "Zoom bombing" or video hijacking, which refers to the unwanted and disruptive intrusion of a person into a Zoom video meeting, a lack of end-to-end encryption and, in this regard, misleading information advertised on part of the provider, along with various IT security related vulnerabilities that allowed hackers, among other things, unauthorized remote access to end user's Mac computers – including webcam and microphone access, Zoom's deployment of in-app surveillance features, as well as questionable handling and alleged trade with the obtained user data were, already by April 2020, seen as a considerable cause for concern, leading security experts to describe Zoom as "a privacy disaster", and "fundamentally corrupt". Moreover, Arvind Narayanan, associate computer science professor at Princeton University, was quoted as saying: "Zoom is malware".[14] The most memorable piece of news concerning Zoom was, however, arguably about the British prime minister Boris Johnson accidentally posting sensitive information, including the Zoom meeting ID and the login names of several participants, when sharing a screenshot of his first-ever digital cabinet meeting via Twitter.[15]
The example of Zoom illustrates how companies, organizations, governments and private individuals benefit to an unprecedented extent from the advantages of digitalization, especially in the context of the ongoing C-19 pandemic, but also beyond such global crisis situations, while at the same time being faced with the considerable challenges and security risks brought about by the new technologies of what is known as the Fourth Industrial Revolution. This Fourth Industrial Revolution, being "characterized by a fusion of technologies that is blurring the lines between the physical, digital, and biological spheres", is changing the ways we live, work and interact,[16] resulting in significant risks to the privacy of natural persons, as well as to security and stability in general.
Several recently occurring or publicly emerging Cyber Security incidents underpin the scope of these risks: A cyber-attack on the British airline EasyJet, in the course of which personal data including email addresses and travel plans of 9 million EasyJet customers and additionally, credit card details of over 2,000 customers, were stolen, became known in May 2020.[17] This once again demonstrates that companies of all kinds can at all times become targets and victims of cyber-attacks. Costly penalties for violations of the General Data Protection Regulation (EU) 2016/679 (GDPR), as well as claims for damages and lawsuits by those affected and, last but not least, the loss of reputation often caused by such security incidents, pose significant challenges for companies under any circumstances. These challenges can, however, easily become existence-threatening, especially in view of the C-19 induced crisis situation, in which particularly the aviation industry currently finds itself in, as recently highlighted, when Austrian Airlines received EUR 450 million in financial aid from the Austrian government.[18]
On the one hand, the EasyJet security incident illustrates that Cyber Resilience has, in recent years, developed from a formerly predominantly technical matter into a business-critical strategic topic and, in today's world, competitive advantage for companies, whereas on the other hand, the case of Austrian Airlines requiring millions of Euros of state aid to continue their operations, illustrates how crisis situations faced by private companies can and do affect States.
As a matter of fact, we live in a time where the vulnerability of critical infrastructure is a real concern among security specialists[19] and States, as illustrated by the following example: A joint memo, sent out in May 2020 by German intelligence and security agencies, warned German operators of critical infrastructure against hacker attacks. The memo included a description of the hackers' approach as well as information indicating long-standing compromises in corporate networks of companies operating in the energy, water and telecommunications sector,[20] in other words, critical sectors covered by the EU Network and Information Security Directive 2016/1148 (NIS).
It is in light of security incidents like these, that the results of and contradictions arising from this year's "Cyber Security isn Austria" study (KPMG, 2020),[21] may be perceived as especially worrying: According to the study, 27% of 652 companies surveyed place great trust in their Cyber Security measures, while 58% "rather" trust their Cyber Security measures. At the same time, 57% of participating companies became victims of cyber attacks in the past 12 months, of which 74% where phishing attacks.[22] It is important to note here, that, when it comes to the prevention of phishing attacks, security experts consider regularly training employees on security awareness, essential.[23] In the context of such Cyber Security awareness measures, it seems especially interesting that the study highlighted the significance of employees in the detection of cyber attacks, as opposed to merely focusing on employees as a potential weakness: 79% of companies stated that they had become aware of a cyber attack through their own employees, while internal security systems ranked second (72%) as a means of detection. Awareness building measures must, therefore, remain a high priority for companies.[24]
Furthermore, the study established that one third of companies believe it would take them 1 to 4 weeks to safely remove attackers from their systems, while a fourth of companies even believe it would merely take them between 2 and 6 days. These findings are in direct contradiction with the considerably longer and demonstrably increasing average "dwell time" (100 to 170 days) of attackers in corporate networks.[25] Regarding Cyber Resilience, it is worth noting here, that although 69% of companies surveyed invest in awareness and security monitoring to protect themselves against cyber attacks, only 25% prepare for possible damage through cyber insurance coverage.[26] Also, the study found that 82% of companies would like to see established a government agency dedicated exclusively to Cyber Security issues and 77% would like to be supported more by the State, while at the same time, 57% state that they do not trust the authorities when it comes to Cyber Security. Additionally, it was found that the primary expectation (64% of companies) companies have toward the State is the provision of information and EU-wide support as well as exchange between experts from the State and private sector, in order to learn from each other.[27] Considering the companies' expectations regarding the exchange of information between experts, it seems particularly striking that about 90% declined to comment on the effects that past Cyber Security incidents had in terms of damage caused to their reputation. Based on this finding, it was concluded that a trustful exchange of information must be encouraged and observed, that changes to the existing legal framework would help facilitate open communication on cybercrime.[28]
All in all, it was concluded that Austrian companies mistrust others, but do not protect themselves sufficiently, that they demand cooperation, however, shy away from open communication and that they feel more secure than they are.[29] In other words, "a false sense of security" in the Austrian private sector, emerged as a key finding.
It was already established earlier that "a false sense of security" means feeling safe in an unsafe environment. Therefore, it seems only logical to look in more detail at the threat environment, also known as risk environment, in which businesses in today's world operate in. For the sake of coherence and comparability, the following section will, first of all, examine Austria's situation before briefly considering the global risk environment:
The "Risks of Doing Business 2019" report (World Economic Forum) rates cyber-attacks as the most critical business risk in Austria (46.7%) and data fraud or theft as second critical (34.1%).[30] Taking into account the previously discussed findings regarding levels of trust companies place in their security measures (27% trust "greatly", 58% "rather" trust)[31] and unrealistic company estimates of attacker "dwell time" in corporate networks, "a false sense of security" clearly reemerges. The top Risks of Doing Business 2019 on a global scale are fiscal crises (28.9%), closely followed by cyber attacks (28.2%) as the second critical risk and unemployment or underemployment (28.2%) as the third critical risk, while data fraud or theft ranks seventh (22.4%),[32] firmly establishing technological risks among the most critical risks globally.
Overall, and especially against the background of the global risk environment and increasing interconnectedness of the public and private sector, "a false sense of security", or to be more precise, "a false sense of Cyber Security" in the private sector must, therefore, be considered a significant threat for the security of private companies and, consequently, the security in Europe, a warning sign regarding the status quo of Europe's Cyber Resilience and, one may argue, valuable instrument in assessing the effectiveness of Cyber Security awareness measures.
While the scope and purpose of this essay did not allow for an in-depth analysis of how "a false sense of security" may practically be translated into a quantifiable, clearly defined key performance or risk indicator, it may serve as a starting point in doing so. Also, it may rightfully be argued that any indicator of performance or risk must be evaluated in the context of already established key performance and risk indicators, as well as existing efforts, procedures and best practices in the field, in order to fully assess its value and usefulness. Again, the scope of this essay did not allow for an in-depth analysis in this regard. Nevertheless, it may prove useful as a starting point in doing so. Other limitations and challenges arising from the scope, purpose and choice of approach as well as ideas advanced in this essay, include the risk of bias when generalizing from Austria to Europe and the risk of response bias (demand bias) when utilizing survey questions to identify "a false sense of security" with the same participants.
Nevertheless, despite these limitations, it seems possible to derive the following conclusions from the analysis conducted in this essay: a) the security and stability in Europe depend on the ability of States to continuously improve and maintain their Cyber Resilience, b) Europe's Cyber Resilience is closely tied to the Cyber Resilience of each States' private sector and, as a result, the actors operating within them, c) improving cooperation and trust between the public and the private sector as well as between States is necessary to improve Europe's Cyber Resilience and, d) an organization with the appropriate authority, financial and professional capacity as well as reach, such as, one may argue, the OSCE, must act as the initiator and governing body of projects aiming to utilize "a false sense of security" to assess Europe's Cyber Resilience and existing security awareness measures.
All in all, one may conclude that in order to ensure and enhance security and stability in Europe in our increasingly interconnected world, especially in the face of rapid technological progress, new technologies and the recent acceleration of digitalization, an urgent need to continuously improve and monitor Europe's Cyber Resilience exists. This will call for more and more cooperation between the public and private sector, as well as between States and will, consequently, likely even heighten the significance of international organizations, such as the OSCE, in initiating, financing, overseeing and supporting Cyber Resilience initiatives in Europe.
---
[1] ENISA. NIS Directive. n.d. https://www.enisa.europa.eu/topics/nis-directive (accessed June 25, 2020).
[2] European Commission. EU Cybersecurity plan to protect open internet and online freedom and opportunity. February 7, 2013. https://ec.europa.eu/commission/presscorner/detail/en/IP_13_94 (accessed June 25, 2020).
[3]Bajrektarevic, Anis. Twinning Europe and Asia in Cyberspace: the EU GDPR Legislation and its Transformative Power.January 2019. Diplomat Magazine (Hague-Brussels)
[4] RSI Security. What is cyber resilience and why is it important? August 14, 2019. https://blog.rsisecurity.com/what-is-cyber-resilience-and-why-is-it-important/ (accessed June 25, 2020).
[5] De Groot, Juliana. What is Cyber Resilience. February 4, 2019. https://digitalguardian.com/blog/what-cyber-resilience (accessed June 25, 2020).
[6] IT Governance Ltd. What is cyber resilience? n.d. https://www.itgovernance.co.uk/cyber-resilience (accessed June 25, 2020).
[7] Hughes, Mark. Beyond awareness: Create a cyber resilient culture. September 2019. https://thrive.dxc.technology/2019/09/10/beyond-awareness-create-a-cyber-resilient-culture/ (accessed June 6, 2020).
[8] Hughes. Beyond awareness: Create a cyber resilient culture. September 2019.
[9] KPMG. Cyber Security in Österreich. Study, Vienna: KPMG Security Services GmbH, 2020.
[10] World Economic Forum. Risks of Doing Business 2019. 2019. https://reports.weforum.org/global-risks-report-2020/survey-results/global-risks-of-highest-concern-for-doing-business-2020/ (accessed June 25, 2020).
[11] Chappelow, Jim. Black Swan. March 11, 2020. https://www.investopedia.com/terms/b/blackswan.asp (accessed June 25, 2020).
[12]Taleb, Nassim Nicholas, interview by Bloomberg TV. Taleb Says "White Swan" Coronavirus Was Preventable (March 31, 2020).
[13]Fuscaldo, Donna. Zoom's Daily Active Users Surged to 200 Million in March… and That's Part of the Problem. April 2, 2020. https://www.nasdaq.com/articles/zooms-daily-active-users-surged-to-200-million-in-march…-and-thats-part-of-the-problem (accessed June 25, 2020).
[14] Paul, Kari. 'Zoom is malware': why experts worry about the video conferencing platform. April 2, 2020. https://www.theguardian.com/technology/2020/apr/02/zoom-technology-security-coronavirus-video-conferencing (accessed June 25, 2020).
[15] futurezone. Netzpolitik: Boris Johnson postet aus Versehen sensible Infos.April 1, 2020. https://futurezone.at/netzpolitik/corona-boris-johnson-postet-aus-versehen-sensible-infos/400800110 (accessed June 25, 2020).
[16] Schwab, Klaus. The Fourth Industrial Revolution: what it means, how to respond. January 14, 2016. https://www.weforum.org/agenda/2016/01/the-fourth-industrial-revolution-what-it-means-and-how-to-respond/ (accessed June 25, 2020).
[17] Hauser, Christine. EasyJet Says Cyberattack Stole Data of 9 Million Customers. May 19, 2020. https://www.nytimes.com/2020/05/19/business/easyjet-hacked.html (accessed June 25, 2020).
[18] Hodoschek, Andrea. Wirtschaft: AUA-Rettungspaket steht: 450 Millionen Euro Staatshilfe.June 8, 2020. https://kurier.at/wirtschaft/aua-rettungspaket-steht-450-millionen-euro-staatshilfe/400934555 (accessed June 25, 2020).
[19] Allianz. Cyber attacks on critical infrastructure. n.d. https://www.agcs.allianz.com/news-and-insights/expert-risk-articles/cyber-attacks-on-critical-infrastructure.html (accessed June 25, 2020).
[20] Tanriverdi, Hakan. Kritische Infrastruktur: Behörden warnen vor Hackerangriffen.May 27, 2020. https://www.br.de/nachrichten/deutschland-welt/kritische-infrastruktur-behoerden-warnen-vor-hackerangriffen,S0CJ1JP (accessed June 25, 2020).
[21] KPMG. Cyber Security in Österreich. 2020.
[22] KPMG. Cyber Security in Österreich. 2020: 6.
[23] Lord, Nate. Phishing Attack Prevention: How to Identify & Avoid Phishing Scams in 2019. July 12, 2019. https://digitalguardian.com/blog/phishing-attack-prevention-how-identify-avoid-phishing-scams (accessed June 25, 2020).
[24] KPMG. Cyber Security in Österreich. 2020: 13.
[25] KPMG. Cyber Security in Österreich. 2020: 4.
[26] KPMG. Cyber Security in Österreich. 2020: 6.
[27] KPMG. Cyber Security in Österreich. 2020: 23.
[28] KPMG. Cyber Security in Österreich. 2020: 14.
[29] KPMG. Cyber Security in Österreich. 2020: 4.
[30] World Economic Forum. Risks of Doing Business 2019. 2019.
[31] KPMG. Cyber Security in Österreich. 2020: 6.
[32] World Economic Forum. Risks of Doing Business 2019. 2019.
Extortion, bio-warfare and terrorism: Extremists are exploiting the pandemic
Criminals and violent extremists are exploiting the pandemic to build their support networks, undermine trust in government and even weaponize the virus, according to a research report published on Wednesday by the United Nations Interregional Crime and Justice Research Institute (UNICRI).
"Terrorist, violent extremist and organized criminal groups are trying to take advantage of the Coronavirus disease (COVID-19) pandemic to expand their activities and jeopardize the efficacy and credibility of response measures by governments", UNICRI Director Antonia Marie De Meo wrote in the introduction to the report, entitled "Stop the virus of disinformation".
Social media incitement
"It is also alarming that some terrorist and violent extremist groups have attempted to misuse social media to incite potential terrorists to intentionally spread COVID-19 and to use it as an improvised form of a biological weapon", Ms. De Meo wrote.
Social media could be used to "inspire terrorism", motivating self-radicalized terrorists to perpetrate real attacks, the researchers found.
"There are cases in which right-wing extremist groups… explicitly asked their followers to spread the virus by coughing on their local minority or by attending to specific places where religious or racial minorities gather. Other groups…advocate to spread the coronavirus disease in countries with large populations or high levels of pollution", the report said.
'Inspired terrorism' case
A notable case of "inspired terrorism" was that of Timothy Wilson, who plotted to detonate a bomb in a hospital caring for coronavirus patients in Kansas City. He died during a firefight with the US Federal Bureau of Investigation in March.
He had been active in at least two neo-Nazi channels on the social media platform Telegram, and his last online comment was an antisemitic message regarding the origin of COVID-19, the report said.
The researchers examined three groups of non-State actors: right-wing extremists; groups associated with the ISIL or Da'esh terror group and Al-Qaida; and organized crime groups.
They described how extremists, especially right-wing groups, used social media to spread conspiracy theories and disinformation about the virus, expanding their networks by exploiting algorithms that identify potentially sympathetic people who have liked and forwarded particular memes.
Conspiracy theories
The conspiracy theories often melded different and contradictory stories, the report said, including "the identification of the 5G mobile phone signal as a vehicle to transmit the virus, or the false claim that the pandemic has been masterminded by Bill Gates to implant microchips into human beings, or the false idea that the virus is a hoax and does not exist".
The economic crisis created by the pandemic was also giving criminal groups openings to take control of legitimate companies and shops that may be at risk of bankruptcy, citing the case of drug cartels trying to take over pharmacies in four Mexican states, and investigations into extortion in Italy.
Debunking tools
The UNICRI researchers identified several instruments to debunk disinformation and misinformation, including data science tools, fact-checking apps and artificial intelligence, but warned that technology countermeasures alone cannot stop abuse of social media.
In a separate case of disinformation, the UN refugee agency (UNHCR), has warned about fake information circulating on social media concerning the refugee situation in Ethiopia, such as reports that UN staff had been arrested in the Tigray region and had their vehicles confiscated.
"These are false. All of our personnel and vehicles in Tigray are accounted for. We urge those using social media to share information responsibly and from corroborated sources only", the UN agency said.