In International relations, policy of appeasement is a tactic of diplomacy and it means when a state accepts some demands of the other aggressive state that are not to be accepted otherwise, provide them with concessions to pacify and to avoid the conflict through negotiations. Appeasement diplomacy surely has pros but after the failure of Munich Agreement in 1938, the cons of appeasement diplomacy have been increased than its pros. Appeasement diplomacy has strength to prevent any war but history shows us that appeasement diplomacy rarely does. It can be used to pacify the aggression of the other state but on the other hand it can give confidence and courage to other state to increase that aggression. As there is an old saying: "Give them an inch and they'll take a mile." Moreover, states can use this as a tactic to buy time as it would allow a state to prepare itself for war that is likely to be conducted in near future. At present, appeasement is considered as a sign of weakness of a state and other states termed it as cowardice act. When an aggressive state doesn't face any hurdle and restriction in its way, it continues to go in the same way and to maximize itself because it knows that there is no one out there who can challenge my actions. So, appeasement has both pros and cons and it depends on the angle we are observing an event with. For Example: Showing appeasement towards Germany and let it become so powerful was a big mistake by victorious power, according to some strategists. While on the other hand, some believes that it was a good tactic as it provided Britain a good amount of time to prepare itself completely for the war against Germany. Historically, appeasement is referred to the policy of Britain and France in 1930s when they allow Hitler to expand Germany's power and territory and they didn't keep check on Germany. Same thing they did to Japan and Italy. At that time, this policy was popular and looked like a practical one but now it is seen as a weakness in policy. Now, why it was so popular back then; there are several reasons for that. British People and PM Neville Chamberlain wanted to void another destructive and vicious war.
Historical Background:
Following the World War 1, Treaty of Versailles was signed in 1919 in Paris. According to Treaty of Versailles, Germany was the responsible for initiating the World War 1. Some very harsh treatment was given to Germany in the form of loss of territory, demilitarization, and paying the cost of World War 1. Germans resented against this Treaty of Versailles and this resentment and economic sufferings give rise to the ultra-nationalistic sentiments which led towards the dawn of Adolf Hitler and ultimately World War 2. It is important to discuss the terms of Treaty of Versailles in order to understand the appeasement diplomacy in inter war periods. Peace Negotiations were held in Paris and big four leaders from the winning western nations were present in the talks. These leaders include Woodrow Wilson, USA; David George, Great Britain; Georges Clemenceau, France; and Vittorio Orland, Italy. The defeated powers, i.e. Germany, Turkey, Bulgaria, and Austria-Hungary, were not representing themselves in the negotiations in Paris. Big Four had their objectives in the talks: Georges Clemenceau wanted to avoid France from going into another with Germany and also to protect it from any kind of attack from Germany. To refrain Germany from attacking again, he decided to minimize the strength of Germany and for this he demanded heavy repartitions from Germany as it would put Germany in economic crisis and Germany would only fight with the domestic problems. David George wished to see Germany as a trade partner of Britain. Vittorio Orland, on the other hand, wanted to increase the influence of Italy and to transform it into a big power. Woodrow Wilson of USA was against the territorial demands of Italy and he believed to make a new world order that would be in line with his Fourteen Points. But he seemed to be a very idealistic by other leaders as his points were not easy to convert them into policy. At last, under the Treaty of Versailles, Germany was forced by European powers to leave 10% of the territory. Germany was allowed to keep limited nave and army only. German now could not keep an air force. More importantly, Germany, under Article 231 of Treaty of Versailles also known as war guilt clause, was forced to accept the responsibility for initiating World War 1. On Germany side, Hitler had aims to make Germany great again and he wanted to make it a great power. He decided to attain this by destroying the Versailles settlements. He dreamed to build a strong army. He also wanted to regain the territories Germany lost in World War 1 which includes Polish Corridor, the Saar, Alsace-Lorraine that was given to France, and Schleswig. Other than that, he also had aims to gain territories from Poland and Czechoslovakia and wanted to annex Austria.
Phases of appeasement diplomacy:
This appeasement diplomacy can be divided into two phases. Firstly, from 1920s-1937, Britain and France wanted to avoid war at any cost. For this reason, they were accepting the breaches of Treaty of Versailles and they had sealed their lips against the aggressive acts of aggressive power. Examples are reoccupation of the Rhineland and rearmament of Manchuria, Germany and Abyssinia. Secondly, in 1937, when Chamberlain came in power, he actually gave much room to Hitler and he used the track negotiations instead of going towards war or using force.
In 1920s it all started and Britain tried to appease Hitler through Dawes and Young Plans. Locarno treaties were also signed to avoid conflicts; Locarno treaties were signed in 1925 and were actually seven agreements that were negotiated among Britain, Italy, Germany, France and Belgium. Then at Munich, appeasement was at its climax when France and Britain, to stay away from war, gave Germany a gift of Sudetenland and they also remained silent in Czechoslovakia case. Despite doing lot of efforts and giving concessions, this policy of appeasement appeared to be a failure.
Reasons for policy of appeasement:
Firstly, Britain and France had to face a lot of destruction during World War 1 and the next war was believed to be much destructive than before. Britain and France were facing economic crisis and they were not in a position to once again go into war and build their army. This opinion was basically build by the public opinion because people had not forgot the horror memories of World War 1 yet. So, Britain and France thought about accepting the demands of Hitler in order to avoid the Second World War. Secondly, Treaty of Versailles; it was a harsh treatment to Germany as Germany was declared as the reason of war and it had to bear the cost of world war and humiliations. For Britain, this treaty was some kind of injustice and ill treatment towards Germany. Britain showed sympathy towards Germany and Italy and that's why it gave room to Germany and accepted Hitler's demands so that it would improve their relations. Thirdly, failure of League of Nations; after WW1, League of Nations was established to maintain peace and stability in the world and to avoid another world war though League of Nations failed to do its job. So, Britain and France believed that we cannot solve disputed by use of force and negotiations are required there. They also wanted to enlighten Mussolini and Hitler so that they would respect and follow international law. For that they do direct negotiations with the leaders and let the Germans do what they wanted to do. Fourthly, fear of communism, communism ideology was started spreading in the world after WW1while western democratic countries were following the capitalism. At that time communism threat was much more dangerous than Hitler, according to some British Conservatives. Britain and France, being a capitalist country, wanted to use Germany and Italy to counter communism in the world. Germany and Italy could go in the camp of communism and to avoid that victorious powers tried their best to not to be strict towards Germany as it could become a buffer in front of communist expansion. Lastly, Britain wanted to let the economy of Germany grow so that it could use its huge market in future and that's also one of the reasons Britain was ready to accept the demands of Hitler. They thought that growth of Germany's economy would also decrease the internal violence of Germany. Other than that, Britain didn't want too harsh treatment with Germany as it France would be left alone on the continent. To put in another way, Britain was hesitant to see France dominating the European continent alone. So, Britain wanted to keep Germany capable and strong enough so that they could give challenge to France. Apart from that reasons, there was a feeling in the Britain military and politician's camp that Britain cannot go into a full-scale war and we don't have enough strength at that time to fight against 2 countries. Britain's navy that was considered as the strongest threw down their morale that defending Britain Empire against the simultaneous attacks of Japan, Germany and Italy would become far more difficult. France was weak at that time and didn't want to go in war and US was following the policy of Isolation. Britain PM Chamberlain believed that the longer the appeasement would last, the better it would be for Britain to stand up again.
The Dawes and Young Plan:
After World War I, the relations of Germany and Allies deteriorated due to issues of the reparations and refunding of debts. The victorious countries of the WWI demanded that Germany and its allies should repay the cost of the catastrophes of the conflict. In the Paris Peace Conference of 1919 the European countries and German failed to reach to a conclusion of the amount of payments due to which a Reparation Commission formed to bring a plan acceptable to all. The commission finalized a bill of $31.5 billion but later in 1923 German defaulted and their currency collapsed which standoff the repayments. The U.S was not interested in collecting money from the Germans but more interested in repayment of the $10 billion which U.S had paid during the war time to the Allied powers during war. However, the U.S rejected the call to cancel the debt of the Allies afterward in 1922 London made a statement that the U.K would seek wartime debt repayment from all the European countries equivalent to its U.S debts. In the same year the U.S made a commission to negotiate the debts repayments provided to 17 countries during the wartime.
In 1923 European countries formed a committee headed by Charles G. Dawes to review the situation of German reparations. The Dawes Plan proposed that initially the reparation payment would be reduced and with economic stability the amount would be increased to collect the full amount. The foreign banks will provide a $200 loan to German government while France and Belgium would reorganize the economic policies and evacuate Ruhr to stabilize the economic situation of the country. The U.S banks would provide ample amounts of money to Germans to pay the debts of France and U.K but in return these countries would use money to repay the debts of the U.S.
In 1929 another committee formed to settle the German reparation headed by Owen D. Young which proposed a reduction in the amount to $29 billion and will be paid within 58 years. The loans would float which ultimately led to the end of foreign troop's supervision in Germany however, the plan is also designed to smooth the way for the reparation payments. But after the great depression the loans to Germans dried up and their economy troubled. In 1931 all the countries paused the collection of debts due to economic depression. After the elections of the Roosevelt, U.K and France drew a link between the war debts and reparations and tried to cancel their debts of the U.S but the U.S did not accept and in 1933 European except Finland defaulted on loans of the U.S. An important effort was made by the U.S in the shape of Dawes and Young Plan, moreover, after rejection of the Treaty of Versailles and League of Nations by U.S, the Dawes and Young Plan played a pivotal role in reestablishing affairs with European countries.
Munich Agreement:
On September 30, 1938, the annexation of Sudetenland in western Czechoslovakia by Germany was permitted by Great Britain, France, and Italy. This settlement was known by the Munich Agreement. However, the events that led to the agreement are worth mentioning.
Soon after taking of Austria by Germany in 1938, Hitler was eager of taking over Sudetenland, where more than 50 percent of population was of German origin. Hitler discussed with his army head command Wilhelm Keitel about the political and military aspects of "Case Green," the code name for the predictable takeover of Sudetenland. As agreed, an out of the blue attack would have strong retaliation, hence the decision of diplomatic pressure along with the German political agitation going on in Czechoslovakia since 1933, will create ideal conditions for a military action.
Czechoslovakia was relying on French military assistance, with whom they had alliance along with Soviet Union. Soviet Union also offered their military assistance if the Great Britain and France come to Czechoslovakia's defense, however, their offer was largely ignored. Meanwhile war mongering speeches were at peak in Germany by Hitler, making war seem inevitable. Both UK and France were reluctant towards defending Czechoslovakia, however, they were anxious to avoid any military confrontation. French announced they were not obliged to go to war for Czechoslovakia under the Franco-Czechoslovak Treaty of alliance of 1924. Equally Britain announced they could not go to war in Czechoslovakia's defense if the population of Sudetenland were themselves in favor of Hitler.
Seeing no other option, British Prime Minister Neville Chamberlain insisted to Prague of territorial concessions to Germany of the Sudeten German areas from Czechoslovakia in hopes of avoiding war. Chamberlain insisted Hitler not to go to war and that he will try convincing his cabinet and the French to handover Sudeten German areas of Czechoslovakia to Germany, something which Hitler agreed upon. Though rejected by Prague in the beginning, however, they were forced to accept the condition. However, by September 22, Hitler's demand became harsher which was rejected by both French and the British, and war came closer than ever.
In hopes of avoiding war at the last hour, Chamberlain proposed a four-power conference, which was agreed by Hitler. Hitler, Chamberlain, Daladier, and Italian dictator Benito Mussolini met in Munich, where it was decided that the Germans would occupied the Sudetenland by October 10, and international commission would be set up to decide about what would happen to other disputed areas. Meanwhile, Czechoslovakia was informed either to submit to the proposal or resist it all alone, having no option, Czechoslovakia submitted to the proposal.
Chamberlain and Hitler also signed a mutual desire to resolve differences through consultation to assure peace before leaving Munich. Chamberlain was given a warm welcome by crowds for securing peace, however, Churchill was not happy about it, saying Chamberlain chose dishonor over war. The Munich Treaty became void after a year when Hitler annexed the remaining of Czechoslovakia and invaded Poland, which initiated the Second World War Even though the Munich Agreement gave some time for the Allies to increase their military preparedness; it did become a motto for its uselessness of appeasing expansionist totalitarian states.
Signs of Appeasement during Interwar periods:
Firstly, Britain did not take any action to have eyes on the German rearmament. Secondly, proper measures and action were not taken when Italy invaded Abyssinia. Apart from that, a naval agreement was also signed between Germany and Britain which was sign of acceptance for German naval rearmament. They signed this agreement and didn't include Italy and France in consultation. Thirdly, France remained reluctant to mobilize its troops even when Germany reoccupied the Rhineland in March 1936. Hitler played very cleverly and he had offered peace of 25 years to Britain which then became the reason that Britain didn't back France in most of the situations. Britain was hesitant to see France dominating the European continent alone. So, Britain wanted to keep Germany capable and strong enough so that it could give a challenge to France in the region. Moreover, in Spanish Civil War, Britain and France decided to stay away while Italy and Germany were helping Francisco Franco. Britain officially recognized the Italy's control of Abyssinia and in return they demanded Italy to bring back its troops that were assisting Francisco Franco in Spanish Civil War. Britain kept and fulfilled its promise while Mussolini failed to complete his side of work. Other than that, observing no strict action against Germany, Hitler went on to demand for Czechoslovakia. It was actually ineffective handling the events from Britain which gave Hitler a confidence to make such wishes. It was a greatest victory of Hitler when Chamberlain followed the appeasement on that issue. If we talk about Czechoslovakia then it was clear that Hitler was going to destroy Czechoslovakia because strategically it was an important location. By controlling the area of Czechoslovakia, Germany would dominate in the central Europe militarily and economically. Secondly, Czechoslovakia was made under the Treaty of Versailles and Hitler had many reservations to it which was also the reason for Hitler going towards Czechoslovakia. Nazi conducted huge protests in the Sudetenland giving the excuse of discrimination towards Sudeten Germans. Clashed started emerging between Germans and Czechs and French and Britain were afraid that it could lead us towards World War 2. To avoid this any length, they persuade Czech and put huge pressure on them to give concessions to Germany and Hitler. At last, it was agreed that Germany can take over Sudeten Germans. After this, Chamberlain had a talk with Hitler to give this offer and Hitler at first accepted it but then in the next meeting which was held at Godesberg he made more demands of taking more territories of Czechoslovakia and instant entrance of troops of Germany into the Sudetenland. Edvard Benes, the then president of Czechoslovakia, didn't agree to this demand and ordered for the mobilization of his army. Czechs were quite hopeful that they would defend the boundaries of Czechoslovakia with the help of USSR and France against the attacks of Germany and Austria and Hungary. Despite of all the negotiations and agreements, World War 2 broke out in 1939.
Did Appeasement diplomacy become the cause of World War 2?
The answer to this question varies for different historians. Some believed that it was appeasement diplomacy which deteriorated the situation and led us into World War 2. Appeasement policy also became one of the main reasons for the collapse of League of Nations because western democracies couldn't provide a solid and firm leadership to League of Nations. It also brought Germany, Japan and Italy close to each other and they form Berlin-Rome-Tokyo axis. The concept of balance of power in Europe got disturbed with the emergence of this new alliance. Britain intentions were also not very clear which gave Hitler a trust to attack Poland and with this attack, World War 2 began. To many historians, France and Britain should have stood like a wall in front of Hitler so that Germany could not become so strong. Appeasement diplomacy was encouraging Hitler to do more and go beyond the limits and it was actually appeasement which rose Hitler's prestige in the eyes of public. When Hitler saw no challenge and no restriction in front of him then he reached out to take huge risks. It could be possible that Hitler was not thinking of waging World War 2, it was the victory at Munich which pushed him to stake on war with Poland. Britain and France, at Munich, had given Hitler a clear idea that they would not go in war with Germany despite Germany is going for more and more. Many historians criticized Chamberlain for not supporting the Czechs at Munich because Poland was even much weaker than Czechoslovakia and Britain and France were not in a position to defend Poland. On the other hand, many defend Chamberlain by saying that what he did at Munich was just to buy time so that Britain would rearm itself for a fight against Hitler. If we see wisely, that actually happened and Britain got a year to rebuild its army for eventual fighting with Germany. John Charmley, a British Historian, wrote in his book about Chamberlain that realistically Chamberlain got stuck and he had no other option but to fulfill the demands of Hitler because there were no alternatives available at that time. Many even think that Chamberlain should be given credit for trying his best to prevent war.
Conclusion:
To conclude the whole discussion, it can be said that Britain adopted this appeasement diplomacy to prevent another full scale war against Germany but it proved to be a disaster for Britain. Hitler found a vacuum and he used it as an advantage and he continued to expand Germany more. We can say that Britain used this tactic to gain more time but had Britain stopped Germany at first place, there would have not been another disastrous and destructive war. Appeasement diplomacy, in the present times, is seemed to be a weaker point of any country and it should be used wisely after doing considerable amount of homework on it repercussions and consequences.
Biden-Putting meeting: Live from Geneva
19:00 The places of the flags on the Mont Blanc bridge on which President Biden and President Putin will pass to reach the meeting venue on Wednesday usually hold the flags of the different Swiss cantons. Not today. The American and Russian flags have been placed to welcome the two leaders.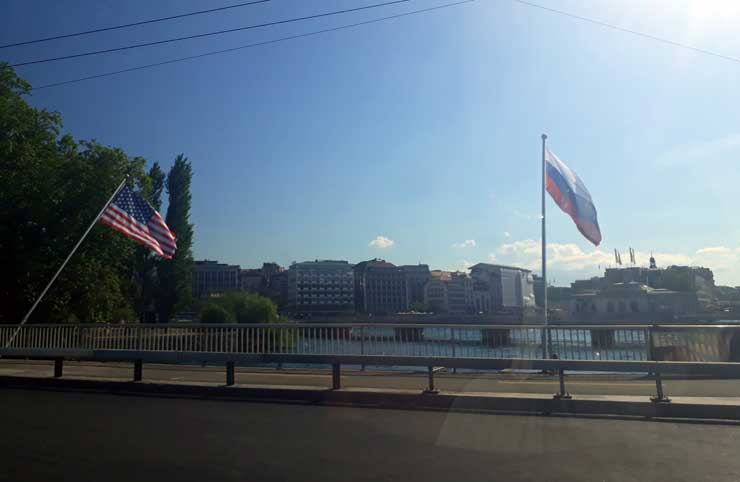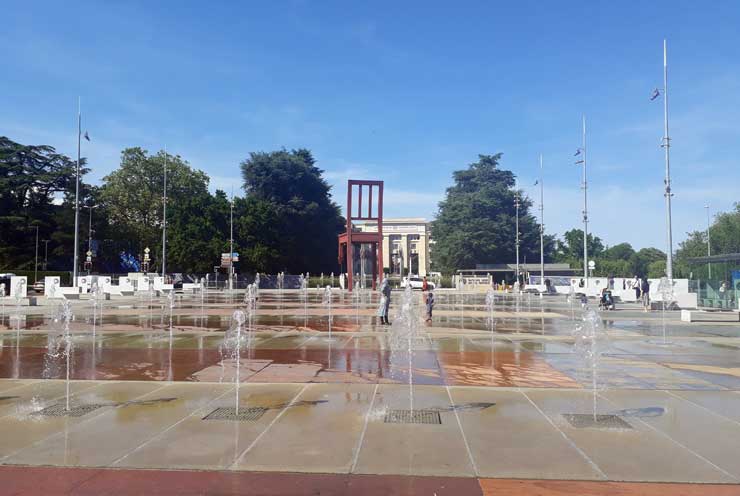 18:00 A day before the Geneva summit: Hotel Intercontinental where the American delegation and probably President Biden himself is staying, how the city looks like a day before the meeting, what are the security measures like, why isn't the UN involved and are the usual protests expected?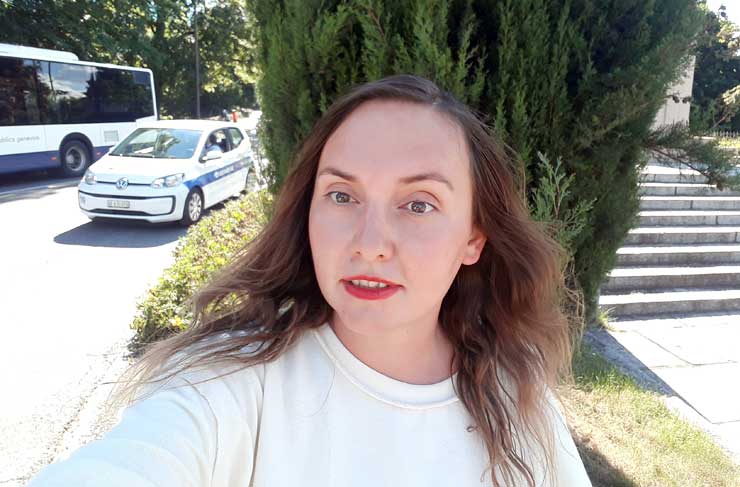 Iveta Cherneva with live video political commentary from Geneva one day ahead of the Biden-Putin Summit
Will the promotion of cricket in GCC add to its Soft Power?
In recent years, Gulf Cooperation Council (GCC) countries, have been trying to bolster their 'Soft Power' in a number of ways; by promoting tourism, tweaking their immigration policies to attract more professionals and foreign students and focusing on promoting art and culture. The United Arab Emirates (UAE) has taken the lead in this direction (in May 2017, UAE government set up a UAE Soft Power Council which came up with a comprehensive strategy for the promotion of the country's Soft Power). Under Crown Prince Mohammad Bin Salman (MBS), Saudi Arabia has also been seeking to change its international image, and it's Vision 2030 seeks to look beyond focusing on economic growth. In the Global Soft Power Index 2021, Saudi Arabia was ranked at number 24 and number 2 in the Gulf region after the UAE (the country which in the past had a reputation for being socially conservative, has hosted women's sports events and also hosted the G20 virtually last year)
Will the promotion of cricket in GCC add to its Soft Power?
One other important step in the direction of promoting Soft Power in the GCC, is the attempt to popularize cricket in the Gulf. While the Sharjah cricket ground (UAE) hosted many ODI (One Day International )tournaments, and was witness to a number of thrillers between India and Pakistan, match fixing allegations led to a ban on India playing cricket at non-regular venues for a duration of 3 years (for a period of 7 years from 2003, Sharjah did not get to host any ODI). The Pakistan cricket team has been playing its international home series at Sharjah, Abu Dhabu and Dubai for over a decade (since 2009) and the sixth season of the Pakistan Super League is also being played in UAE. Sharjah has also hosted 9 test matches (the first of which was played in 2002).
Sharjah hosted part of the Indian Premier League (IPL) tournament in 2014, and last year too the tournament was shifted to UAE due to covid19 (apart from Sharjah, matches were played at Dubai and Abu Dhabi). This year again, the UAE and possibly Oman are likely to host the remaining matches of the IPL which had to be cancelled due to the second wave of Covid19. The ICC Men's T20 World Cup to be held later this year (October-November 2021), which was actually to be hosted by India, could also be hosted not just in the UAE, but Oman as well (there are two grounds, one of them has floodlights). International Cricket Council (ICC) is looking for an additional venue to UAE, because a lot of cricket is being played there, and this may impact the pitches. The ICC while commenting on the possibility of the T20 World cup being hosted in the Middle East said:
, "The ICC Board has requested management [to] focus its planning efforts for the ICC Men's T20 World Cup 2021 on the event being staged in the UAE with the possibility of including another venue in the Middle East'
GCC countries are keen not just to host cricketing tournaments, but also to increase interest in the game. While Oman has a team managed by an Indian businessman, Saudi Arabia has set up the SACF (Saudi Arabian Cricket Federation) in 2020 and it has started the National Cricket Championship which will have more than 7,000 players and 36 teams at the school level. Peshawar Zalmi, a Pakistani franchise T20 cricket team, representing the city of Peshawar the capital of Khyber Pakhtunkhwa, which plays in the Pakistan's domestic T20 cricket league – the Peshawar cricket league — extended an invitation to the SACF, to play a friendly match against it. It's owner Javed Afridi had extended the invitation to the Saudi Arabian team in April 2021. Only recently, Chairman of SACF Prince Saud bin Mishal met with India's Ambassador to Saudi Arabia, Dr Ausaf Saeed, to discuss ways for promoting the game in Saudi Arabia. He also visited the ICC headquarters at Dubai and apart from meeting officials of ICC also took a tour of Sharjah cricket ground.
GCC countries have a number of advantages over other potential neutral venues. First, the required infrastructure is already in place in some countries, and there is no paucity of financial resources which is very important. Second, there is a growing interest in the game in the region, and one of the important factors for this is the sizeable South Asian expat population. Third, a number of former cricketers from South Asia are not only coaching cricket teams, but also being roped in to create more enthusiasm with regard to the game. Fourth, UAE along with other GCC countries, could also emerge as an important venue for the resumption of India-Pakistan cricketing ties.
Conclusion
In conclusion, if GCC countries other than UAE — like Saudi Arabia and Oman — can emerge as important cricketing venues, their 'Soft Power' appeal is likely to further get strengthened especially vis-à-vis South Asia. South Asian expats, who have contributed immensely to the economic growth of the region, and former South Asian cricketers will have an important role to play in popularizing the game in the Gulf. Cricket which is already an important component of the GCC — South Asia relationship, could help in further strengthening people to people linkages.
Analyzing the role of OIC
Composed of fifty-seven countries and spread over four continents, the Organization of Islamic Conference (OIC) is the second-largest intergovernmental body following the United Nations (UN). And it is no secret that the council was established in the wake of an attack on the Al-Aqsa Mosque in Jerusalem. Safeguarding and defending the national sovereignty, independence, and territorial integrity of its member states is the significant provision of the OIC's charter. OIC charter also undertakes to strengthen the bond of unity and solidarity among member states. Uplifting Islamic values, practicing cooperation in every sphere among its members, contributing to international peace, protecting the Islamic sites, and assisting suppressed Muslim community are other significant features of its charter.
Recently, the world witnessed the 11-days long conflict between Hamas and Israel. In a recent episode of the clash between two parties, Israel carried out airstrikes on Gaza, claiming many innocent Palestinian lives. The overall death toll in the territory rose to 200, including 59 children and 35 women, with 1305 injured, says Hamas-run health ministry. This event was met with resentment from people across the world, and they condemned Israeli violence. After 11 days of violence, the Israeli government and Hamas agreed to a ceasefire. The event of Israeli violence on Palestinians has called the role of OIC into question. The council, formed in the aftermath of the onslaught on Al-Aqsa mosque, seemed to adopt a lip service approach to the conflict. However, the call for stringent measures against Israeli aggression by the bloc was not part of its action.
Likewise, the Kashmir issue, which has witnessed atrocities of Indians on innocent Kashmiris, looks up to the OIC for its resolution. Last year, during the 47th session of the Council of Foreign Ministers (CFM) in Niamey, Niger, the CFM reaffirmed its strong support for the Kashmir cause. The OIC categorically rejected illegal and unilateral actions taken by India on August 5 to change the internationally recognized disputed status of the Indian Illegally Occupied Jam­mu and Kashmir and demanded India rescind its illegal steps. However, the global community seems to pay deaf ears to the OIC's resolution. The Kashmir issue and the Palestine issue are the core issues of the world that are witnessing the worst humanitarian crisis. And the charter of the bloc that aims to guard the Muslim ummah's interest rings hollow. About a year ago, the event that made rounds on electronic and social media was the occurring of the KL summit, which reflected another inaction of the OIC. The move of influential Muslim countries (Iran, Turkey, and Indonesia), to sail on the idea to establish another forum to counter the OIC, manifested the rift in the bloc.
Many OIC countries are underdeveloped and poorly governed and are home to instability, violence, and terrorism. The consequences of the violence and terrorism in the OIC countries have been devastating. According to Forbes, 7 out of 10 countries, which suffer most from terrorism are OIC members. The Syrian conflict is another matter of concern in the Mideast, looking up to OIC for a way out. An immense number of people have lost their lives in the Civil war in Syria.
Several factors contribute to the inefficiency of the bloc. The first and foremost reason is the Saudi-Iran stalemate. Influential regional powers (Iran and the Kingdom of Saudi Arabia) in the Mideast share strained links following the Islamic Revolution in Iran. Both sides dissent each other on many fronts. Saudi Arabia accuses Tehran of interfering in its internal affairs, using terrorism as a tool to intimidate neighbors, fuelling sectarianism, and equipping proxies to de-stabilize and overthrow the legitimate government. Locked in a proxy war in the Mideast, the KSA and Iran vie for regional dominance. Moreover, Iran's nuclear program is met with strong resentment in the KSA since it shifts the Balance of Power towards Iran. Such developments play a vibrant role in their stalemate, and the bloc's effectiveness is hostage to the Saudi-Iran standoff.
Political and social exclusion in many OIC states is the norm of the day, contributing to upheaval and conflict. In OIC countries, the level of political participation and political and social integration is weak. This fact has rendered OIC countries vulnerable to unrest. Arab Spring in 2011 stands as the best example. Furthermore, conflicts, since the mid-1990s, have occurred in weak states that have encountered unrest frequently.
Saudi Arabia has tightened its grip on the OIC. The reason being, the OIC secretariat and its subsidiary bodies are in the KSA. More importantly, the KSA's prolific funding to the bloc enhances its influence on the bloc. One example includes, in the past, the KSA barred an Iranian delegation from the OIC meeting in Jeddah. Saudi authorities have not issued visas for the Iranian participants, ministry spokesman, says Abbas Mousavi. "The government of Saudi Arabia has prevented the participation of the Iranian delegation in the meeting to examine the deal of the century plan at the headquarters of the Organization of Islamic Cooperation," Mousavi said, the Fars news agency reported. Given the Iranian growing influence and its access to nuclear capabilities, the KSA resorted to using financial leverage to reap support from Arab countries against Iran. For instance, in past, Somalia and several other Arab states such as Sudan and Bahrain received a commitment of financial aid from Saudi Arabia on the same day they cut ties with Iran. Furthermore, the summits of OIC, GCC, and Arab League are perceived as an effort by Saudi Arabia to amass support against Tehran.
Division in the Muslim world and their clash of interests is yet another rationale behind its inefficacy. These days, many Muslim countries are bent on pursuing their interests rather than paying commitment to their principles, that is, working collectively for the upkeep of the Muslim community. Last year, the governments of Israel and the United Arab Emirates (UAE) announced that they had agreed to the full normalization of relations. Following this, the Kingdom of Bahrain became another Muslim country to normalize its links with Israel. Such moves by the Islamic countries weaken the OIC agenda against Israel.
OIC's efficacy would be a distant dream unless the Saudi-Iran deadlock finds its way. For this purpose, Pakistan can play a vital role in mediating between these two powers. Pakistan has always been an active player in the OIC and played its role in raising its voice against Islamophobia, Palestine Issue, and the Kashmir issue. Shunning their interests and finding the common goals of the Muslim ummah, should be the utmost priority for the members of the bloc. Every OIC member ought to play its part in the upkeep of the bloc. Furthermore, a split in the bloc should come to an end since it leads to the polarization of member states towards regional powers. Many OIC countries are rich in hydrocarbons (a priceless wealth, which is the driver for the growth of a country); if all OIC members join hands and enhance their partnership in this sphere they can fight against energy security. And OIC is the crux for magnifying cooperation among its member states to meet their energy needs.
In this era of globalization, multilateralism plays a pivotal part. No one can deny the significance of intergovernmental organizations since they serve countries in numerous ways. In the same vein, OIC can serve Muslim ummah in multiple ways; if it follows a course of adequate functioning.