Rethink Education to Prepare Developing Asia for the Future of Jobs and Skills
As technological change and automation increasingly disrupt many aspects of daily life, developing economies in Asia and the Pacific must rethink education and training to ensure students have the right skills for the jobs of the future, according to a new book published by the Asian Development Bank (ADB).
Anticipating and Preparing for Emerging Skills and Jobs examines the impacts on society, the economy, and the evolving world of work from phenomena including the emergence of new technology and globalization and their implications for education and training.
"Most education systems around the world were founded 100–150 years ago to meet the needs of the first and second industrial revolutions," said ADB Education Sector Group Chief Brajesh Panth, co-editor of the book. "Yet, they're facing serious challenges in meeting emerging labor market needs that relate to 21st century skills and the Fourth Industrial Revolution. While developing Asia has made remarkable progress in enhancing access to education, we must now rethink education itself to ensure learning for all so that students are able to absorb and apply the skills necessary to prosper in the 21st century."
To ensure that students are equipped with digital skills and soft skills, as well as others beyond reading, writing, and arithmetic, the book advocates a two-pronged strategy for developing countries to go "back to basics" to improve learning outcomes for all students while paving opportunities for leapfrogging.
The book outlines a series of recommendations, including that schools move away from classifying all learners into one category, and the customizing of education to meet the learning needs of all types of learners. Besides laying a solid foundation at school level to leapfrog industrialization, the book recommends that developing countries build high-quality universities to prepare graduates in key areas such as agricultural modernization, biotechnology, and digital skills—drawing lessons from the Republic of Korea, Singapore, and others that have become economic powerhouses by investing in human capital.
Also highlighted in the book is the vital role of technology in transforming future learning outcomes in ways ranging from adaptive learning programs to help students learn at their own pace through personalized learning, to continuous skills enhancement for teachers through online blended courses. Technology has enabled the surge in online learning for the estimated over 1.5 billion children who were out of school worldwide at the peak of the coronavirus disease (COVID-19) pandemic, according to UNESCO.
The publication is a collection of 40 articles contributed by eminent policymakers, practitioners, and researchers, and is co-edited by Rupert Maclean from the School of Education at RMIT University in Melbourne, Australia. It is the latest in the Springer Book Series Education in the Asia Pacific Region: Issues, Concerns and Prospects, first published in 2002.
Addressing the climate emergency and advancing the SDGs through circular economy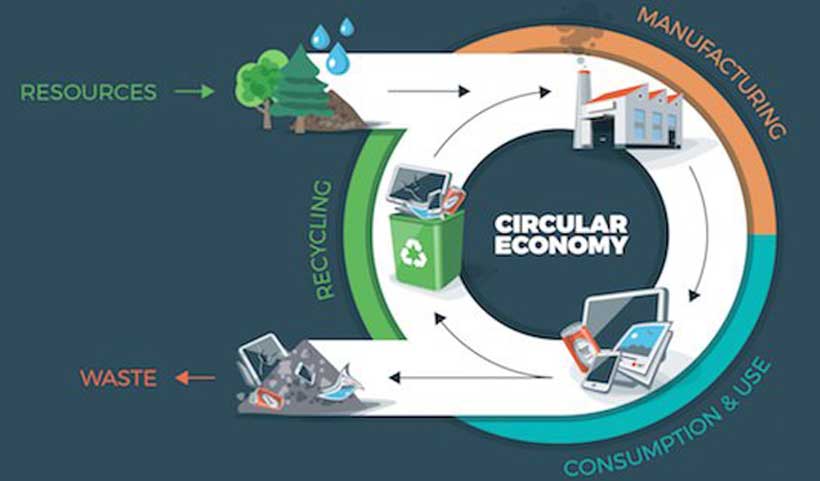 Accelerating the adoption of circular economy principles, policies and practices is essential if we are to make the progress on the Sustainable Development Goals and fully implement the Paris Agreement.
This was the key message from more 300 representatives of national governments, United Nations entities, intergovernmental and non-governmental organizations, the private sector and academia brought together by the United Nations Industrial Development Organization (UNIDO) in a series of regional meetings on the circular economy held virtually between 13 and 20 November 2020.
These regional meetings, convened for the African Group, the Asia-Pacific Group, the Eastern European Group, the Latin American and the Caribbean Group, and the Western European and Other States Group, focused on exchanging experiences and sharing knowledge, identifying benefits, challenges and barriers, and considering ways and means to enable the transition to a circular economy.
While addressing the African Group, Stephan Sicars, Managing Director of Environment and Energy at UNIDO, quoted one of the world's most inspirational leaders and prominent change-makers, Nelson Mandela: "I dream of our vast deserts, of our forests, of all our great wildernesses. We must never forget that it is our duty to protect this environment." Sicars stressed the urgency of these words and pledged the continued support of UNIDO to foster partnerships, conceive initiatives and mobilize stakeholders for action on the circular economy in developing countries.
Ornela Çuçi, Deputy Minister of Tourism and Environment, Albania,emphasized that "Nature is the biggest asset in Albania. We must preserve our environment to be able to build a strong and resilient economy. We are therefore working on legislation on the circular economy that will integrate this concept into our reality".
Ilan Fluss, Deputy Head of the Economic Division of Israel's Ministry of Foreign Affairs, said, "Cooperation between governments, the private sector and civil society is critical for promoting a circular economy. To close gaps between countries and societies, it is important to create partnerships, share best practices and exchange experiences."
Noting that despite the opportunities, challenges remain, Claude Koutoua, President of the Environment, Quality, Hygiene, Security and Energy Committee, General Confederation of Enterprises, Côte d'Ivoire,said, "One of the main challenges is making technological innovations available, especially those that allow for carbon-free processes. We are in a world of competition and if we do not have a sufficiently attractive cost factor, it may happen that industries will not find the necessary enabling environment. What is more, we need support to make sure there is a political will to effectuate transformational changes".
Van Keaheak, Director General for Industry at Cambodia's Ministry of Industry, Mines and Energy,stressed "that stakeholders are very important. Stakeholders involved should be the government, United Nations agencies, NGOs, the private sector and consumers. They all should be aware of the importance of the circular economy to deal with the environmental impacts. The circular economy is an opportunity to green our society".
Alex Saer, Director for Sectorial and Urban Environmental Affairs at Colombia's Ministry of Environment and Sustainable Development, explained that "as a successful case, we have worked with UNIDO on eco-efficient industrial parks. We believe that this is a very important way to promote industrial symbiosis in the country, as industry is an essential part of a circular economy".
The outcomes of the regional meetings will inform UNIDO-led global consultations on circular economy, scheduled for January-February 2021. The global consultations aim to develop a set of policy recommendations to advance the work of Member States and various stakeholders on the circular economy, thereby promoting inclusive and sustainable industrial development in the framework of the United Nations' Decade for Action.
Indonesian President Addresses Global Business Leaders at the WEF Special Dialogue
Today, President Joko Widodo of Indonesia took part in a dialogue with global business leaders, hosted by Klaus Schwab, Founder and Executive Chairman of the World Economic Forum.
The dialogue focused on the need for deeper public-private cooperation – currently focused on helping manage the COVID-19 pandemic – as well as providing a boost to the country's economic recovery. Indonesia is currently experiencing its first recession in 22 years, and like many nations, is in the midst of tackling the pandemic; the country surpassed half a million confirmed cases of the disease this week.
"I would like to express my appreciation to the World Economic Forum for hosting the Country Strategy Dialogue on Indonesia at such a pivotal time for our country and the world," said President Joko Widodo. "The Government of Indonesia remains strongly committed to engaging in public-private partnerships that support the country's path towards sustainable and resilient economic recovery."
In his opening remarks, the president said that the enactment of the Omnibus Law will help improve Indonesia's investment climate and legal certainty, adding that: "Significant support from the business community in its implementation is essential, as it will add value to the government's efforts in handling the pandemic and supporting economic recovery in a balanced and synergetic manner."
More than 50 global business leaders took part in an interactive virtual discussion, during which they listened and offered suggestions to the president and members of his cabinet, who laid out their plans for economic revival.
"Indonesia with its large population, is making impressive progress in fighting COVID-19, and at the same time is using this pandemic as a means to restructure, modernize and upgrade its economy," said Klaus Schwab, Founder and Executive Chairman of the World Economic Forum.
The president emphasized measures his government would be taking to manage the spread of COVID-19. The focus is on providing treatment and ultimately vaccinations for the population, while also cutting red tape to fast-track needed investment aimed at restoring Indonesia's growth and securing its competitiveness post-pandemic.
Several important cabinet members, including Erick Thohir, Minister of State-Owned Enterprises and Retno L. P. Marsudi, Minister of Foreign Affairs, and Luhut B. Pandjaitan, Coordinating Minister for Maritime Affairs and Investment, took part in the dialogue. They presented details of the planned establishment of the country's multibillion dollar sovereign wealth funds, implementation of the Job Creation Laws and planned investment incentives, as well as prioritizing environmental sustainability in recovery efforts, to ensure the country's leadership in the area of green growth.
Global chief executive officers responded by presenting their plans for further investment and offered suggestions for collaboration.
James Quincey, Chairman and Chief Executive Officer of The Coca-Cola Company said: "I appreciate the government's efforts to encourage investment, maintain sustainability at the centre of their rebuilding efforts and clearly communicate their ambition to work together with different stakeholders to create new and innovative ways to foster growth."
The Government of Indonesia and the World Economic Forum have agreed to continue the dialogue aimed at developing multistakeholder solutions in areas such as mainstreaming low-carbon investments, supporting Micro Small and Medium-sized Enterprises (MSME) through reskilling and upskilling, and building long-term resilience for the country's travel and tourism sector.
Pakistan PM Khan Speaks with Global CEOs on Strategic Priorities in Post-Pandemic Era
The World Economic Forum today hosted a "Special Dialogue with Prime Minister Imran Khan" for its members and partners, chaired by Forum President Børge Brende. The session gave chief executives from across the world an opportunity to hear directly from the prime minister on the factors behind Pakistan's resilience to the economic shocks of the pandemic and his country's post-COVID-19 recovery strategy.
In the virtual session, Khan explained the policy priorities of the Government of Pakistan, including regional connectivity projects like the China-Pakistan Economic Corridor (CPEC), and progress on talks to improve trade flows between Afghanistan and Pakistan following his visit last week to the Afghan capital. Khan also responded to questions from chief executives on promoting a digital economy in Pakistan and improving the enabling environment for long-term investors.
"My aim is for Pakistan's economy to emerge greener, fairer and stronger from the pandemic. It is crucial for us to work with the international business community and partners like the World Economic Forum to share the important reforms underway here and help global businesses participate in the emerging opportunities in Pakistan," said Imran Khan, Prime Minister of Pakistan.
"Pakistan's economy has shown remarkable resilience to the pandemic, placing it in a strong position to rebound quickly from the shock. The Forum convened this dialogue with Prime Minister Khan for global business leaders to discuss the country's economic response in greater detail and to understand where they could contribute to Pakistan's ambitious recovery strategy," said Børge Brende, President, World Economic Forum.
More than 70 members and partners of the World Economic Forum from around the world participated in the virtual session.