China is a unique country as it holds a world with Chinese Characteristics. China has rapidly transformed from an underdeveloped country to a key player in international politics.
Mao Zedong stated- "Political Power grows out of the barrel of the gun" reflects a perspective of hard power but Hooghe stated that the Chinese havechanged and do not even like the idea of smart power as it holdsa hard power component in it. President Hu Jintao in the 17th Party Congress favored smart power as he believed that China needs to keep a balance between hard power and soft power to avoid other countries create a coalition against China.
China becomes a difficult country to analyze as it holds a strong Confucian face-saving culture and does not like being criticized butits opponents continue to demonize it.
China understands the scene in international politics and prepares a centralized plan to acquire politicaland economic gains.
In 2005, China tried to gift two pandas to Taiwan which was refused by Taiwan as Taiwan consider this would violate the 1963 Convention on International Trade of Endangered Species of Wild Fauna and Flora.
China had argued that the transfer of Panda would remain an internal transfer within China even when the Taiwanese wanted to acquire two pandas that were appealing to its public theyfailed to acquire them. This could have helped China to gain the legitimacy of its one-China policy without provoking any actor.
The concept of soft power can be far more complex, as it could be a process to gain legal recognition without provoking a hostile population. The American production of Kung Fu Panda helped China in enhancing Panda Diplomacy.
Chinese more effectively controls Hollywood with Chinese investment and as American producers' make an effort to be screened in Chinese theatre by being accepted in China's quota for moving screening in Chinese theatre.
Tiktok which now is in a position of being banned in the United States indicates that the government is forced to take measurements due to the rising popularity of Chinese application in the American market.
China's ban of the National Basketball Association (NBA) for a year also reflects China can force its opponents to maintain self-censorship for the sake of material incentives as mentioned by Ikenberry and Kupchan as a form of 'external inducement' leading to 'policy change' which would change the standard norm.
China has effectively used education as a medium to socialize with other countries which gets difficult to scrutinize by western powers.
The Former Prime Minister of Kazakhstan Karim Massimov and the President of EthiopiaMalatu Teshome had studied in China and later enhanced the relationship between their countries after they took offices. China's 2008 defensewhite paper mentions4,000 military personnel from around 130 countries came to study in China for military education. China can combine educational diplomacy as a technique to enhance its military diplomacy and even use it to forge political allies.
Chinese Government operates Confucius Institutelike German use Goethe-Institut and France use Alliance Française to promote their languages.
The western world has worried as universities have started to impose regulations in favor of China after they operate Confucius Institute and even the students are likely to speak in a favorable tone to maintain a good image for the sake of acquiring a scholarship.
Dong and Chapman's research showed that 94.3% believed they had made the right choice coming to China, 91.6% believed that the scholarship would help in building a bilateral relationship between their countries, and 77.4% of people were satisfied studying in China.
China effectively funds various educational programs that educate smart or elite students from developing countries which generally hold a positive viewpoint of China as being emotionally connected to Chinese friends and tutors.
Chinese books such as Sun Tzu Art of War and Laozi's book Dao De Jing have gained international attention which has allowed people to respect Chinese philosophy.
China is far more powerful than many scholars imagine and is more than just the factory of the world. China can use institutions such as cinematics, education, and various forms of arts in its favor.
China with heritages that include the Great Wall of China and Shaolin Temple has helped China to create a powerful image that is both precious and timeless.
China is one of the key three East Asian countries that has played a significant role in shaping international politics. The region is a strong contender in Olympics, have excellent cuisine,and are well recognized for their digital tools that are celebrated in around the world.
China
Japan
South Korea
PhysicalDiplomacy
Cuppings, Tai chi
Karate, Judo
Taekwondo
a) Olympics Medals
608
498
337
Gastrodiplomacy
Noodles, Dumplings
Sushi, Wasabi
Gimbap, Kimchi
Audio-visual diplomacy
Tiktok
Anime, Manga
K-pop
The Soft Power 30 (2019)
Rank:27
Score:51.25
Rank:8
Score:75.71
Rank:19
Score:63.00
Economic Diplomacy
a) Exports (2018)
$2.59trillion Rank:1
$713 billion Rank:4
$617 billion Rank:5
b) Brands
Xiaomi, Alibaba
Toyota, Honda
Samsung,Hyundai
a) World Heritage Sites
55
23
14
b) Intangible Cultural Heritage
40
21
20
c) WEF, Travel & Tourism Competitive (2019)
Rank: 13
Score:4.9
Rank: 4
Score:5.4
Rank: 16
Score:4.8
d) Revenue by Tourism (2018)
$11 billion
$45 billion
$18.46 billion
The public generally does not have time to go into details of the report but would make a quick judgment by looking at the score and rank given by various organizations that would help build the national image.
The chart indicates China is surrounded by one of the most competitive neighborhoods which also contributesto building an environment that is boiling with soft and smart power.
China has an advantage in Travel and Tourism due to its massive as China has the highest World Heritage Site and Intangible Heritage List while South Korea and Japan are making more revenue through tourism.
China is also the world's largest exporter and sits beside other major exporting countries creating a hot belt of traders. The culture of competing in sports help China in building a competitive culture with its neighbors.
The presence of South Korea and Japan are significant as these two are also very important countries with Confucian values.
China intends to develop its soft power to use and buildi) national cohesion, ii) a stable and reliable economy, iii) a trustworthy state, and iv) an ancient but vibrant country.
Chinese gallery, clinics, and restaurants serve as a place for gathering and sharing their rich heritage. They could feel blessed with Chinese culture as well as feel strong being the world's largest exporter. The Chinese dream creates this cohesive attitude and legitimacy of the regime.
Stability plays a key role in obtaining and holding Foreign Direct Investment. Stability is also key to the continuity of growth and helps in generating wealth to purchase and maintain security instruments.
Trustworthiness has been extremely difficult for China with its historic secretive attitude specifically in case of its habit of not disclosing international health threats as quickly as possible as they feel threatened by mass panic and face-saving culture.
In 2013 President Xi Jinping remarked that the Chinese Dream would benefit other countries and their peopleby connecting the idea of an ancient country with modern technology.
The amount of criticism China receives projects the fear of foreign countries associated with the Thucydides trap. However, China still needs to modernize itself to be accepted as an ancient but vibrant country.It still needs to learn from its mistakes to be seen as a trustworthy and stable country to build its smart power to its full potential.
Time to play the Taiwan card
At a time when the dragon is breathing fire, India must explore alternative tactics, perhaps establishment of formal diplomatic ties with Taiwan can be a landmark step
***
The standoff on the Ladakh border between the Indian Army and the PLA (People's Liberation Army) continues amid failing talks and casus belli measures being unleashed by the Chinese regime. While the union government and the armed forces make it clear that they will do whatever it takes to protect India's sovereignty and integrity, precious little has been done on the foreign policy front. While India and its democratic allies which comprise the Quad security grouping declare their intent to form the 'Asian NATO', the Quad continues to suffer from indecisiveness which was pretty much evident when the Quad did not even issue a joint statement to condemn China at the foreign ministers meeting held last year, only America publicly called out China.
In such a situation, it is imperative that India explore alternate diplomatic and militaristic routes to tame the dragon.
Recognizing Taiwan
Establishing formal diplomatic ties with Taiwan after recognizing should be vigorously pursuing by South Block. Indo-Taiwan ties date back to the early 1950s when Chiang Kai Shek, the ex Chinese president and former head of state fled to the island of Formosa following the victory of Mao Zedong in the long drawn out Chinese civil war called on Nehru to establish and further ties with Formosa, however Nehru believing that Chiang was nothing but a "peanut" decided to ignore his call, choosing instead to concentrate on building ties with People's Republic of China (PRC).
Seven decades on, plethora of changes has taken place on the foreign affairs front, while both China and India have developed considerably both militarily and economically the dragon has surpassed elephant to become an economic powerhouse in its own might. It has now embraced aggressiveness to enforce its 5th century vision of the 'Middle Kingdom'. In such a situation providing legitimacy to the existence of Taiwan is a necessary first step.
Paradigm shift in policy
Establishing formal diplomatic ties with Taiwan will bring about a paradigm shift vis-à-vis India's foreign policy. It will enforce the idea that liberal democracy is the last word in the battle of ideologies as Francis Fukuyama had visualized in his landmark book 'The End of History and the Last Man' and that there is no alternative to human rights and liberties, not even the Chinese model of 'authoritarian development'. It will be the boldest step that any global leader has taken, not even the mighty US which has no formal diplomatic relations with Taiwan has taken this step.
Recognizing Taiwan will entail a lot of benefits for the mandarins of India's foreign policy regime- firstly, Taiwan is a robust democracy with a booming economy, it will prove to be an alternative to China albeit in a relatively less proportion, secondly, India can bolster the legitimacy as the leader of the democratic world at a time when the democratic institutions in the US-often regarded as the cradle of democracy has been undermined.
Thirdly, India can get the support of another powerful ally in its attempt to carve out a new supply chain alliance which India-Japan-Australia formalized recently. Fourthly, recognizing Taiwan will make it clear to China that India means some serious business and if the need arises then India will not back down from sending dedicated naval and air assets in the disputed South China Sea region to enforce freedom of navigation principle in the resource rich region. Lastly, the Quad security grouping will be institutionalized which in the near future can even be extended to include new members, it will be the first time that India will be a part of any dedicated military and economic alliance which will deter the aggression of the Chinese war machine in the strategic Indian Ocean and Indo-Pacific Region.
Caveats remain
However the recognition may invite severe ramifications for India. China will be infuriated and can choose to ratchet up tensions with India. India must be extremely careful while dealing with China as China is our second largest bilateral trade partner and a key export partner of India with regard to raw materials and goods. According to a FICCI report, India imports more than 40% of several important goods like the API (Active Pharmaceutical Ingredients), television, chemicals, chips, textiles and many more.
The dragon will as a possible retaliatory measure can activate its propaganda machinery to wage psychological warfare with India. It can also activate its terror financing networks which for years remained a chronic internal security for India in the northeast of the country. China will also collaborate with its 'iron brother' Pakistan to try and deter India by intensifying terrorism in the Kashmir valley and elsewhere. Further, China can use its potent disinformation empire to try and peddle fake news about the credibility of India's indigenous vaccines at a time when the light at the end of the tunnel of a pandemic stricken world has appeared.
Exercising caution
Keeping all the dangers in mind, the Modi government must keep national interests in mind. Despite all the risks, it must work with all the like- minded countries to take own the mighty dragon responsible for unleashing a deadly virus which has wrecked havoc on humanity. For the sake of the free world, India must take the hard step which will reinforce India's position in cementing its place as the leader of the free world.
Pro-Communism warping Hong Kong
The latest turmoil in the Covid-ridden strata of mainland China is not servile to any pandemic, however, the issue has been one of the most queer and rare kinds, enough to be classified as one of the endemic issues in the global affairs. The tension at helm is the chaos following the announcement of a "New Security Law" by the Chinese regime which is being eyed as one of the monumental events of this decade; slicing off a sliver of attention from the deadly Corona virus that continues to exponentiate around the world in its second wave and sporadic variants.
The law that set out by the Chinese lawmakers back on 22nd May 2020, threatens the liberties of subversion and sedition enjoyed by the citizens of Hong Kong under a constitution. Simplistically named "Basic Law", it aims to tame the country scaffolded by the "One country, Two systems" framework since the power handover by the former colony to China back in 1997. This act came around amidst strained economic relations between the two superpowers of the world; China and USA, each passing the baton in the blame game of who sustains the blood-crown of the catastrophe impending on the world courtesy of the lethal virus that engulfs every periphery in each continent on the globe. The matters seem complex at sight and a glimpse to the historical timeline of how riddled the relations were could hint at how strained they could reach.
The colony, known as 'Hong Kong' today, had been the battle ground, figuratively, to the major competitors of the 20th century: The Great Britain and China. The British dominated the colony for more than 150 years, tracing back to the late 19th century; leasing the territory for the span to morph it into the modernised metropolis marking it as the hub we know today. In 1997, an agreement was reached via an accord, 'The Sino-British Joint Declaration' between the two sides. The treaty allowed Hong Kong a semi-autonomous status, that is, relaying self-sufficiency in all the national domains except in defence and foreign affairs. The allotted autonomy arches under the sovereignty of China until year 2047, henceforward melding into the mainland China as harkened by the Chinese hegemony over decades.
Despite of the granted protection of Hong Kong's own legislation, borders and freedom of speech, the liberties have been trampled on by the Chinese government over the last couple of decades. A similar law abolishing the right to sedition was initiated in 2003 yet mass protests calling out up and about 50,000 citizens impeded the efforts that went futile and drastically ended up being shunned for good. The Communist party under the wings of Chinese president Xi Jinping have expounded further in tightening their talons on the city since 2012 as efforts were made to corrode the educational system of the country via meddling with the curriculum, biasing the foundation to hail Chinese communism. These acts were proactive reactions to the advances of the United States forging relations with the city. China even tried to manipulate the elections in 2014, tampering with the selection their Chief Executive leading to a 3-month long protest known as the 'Umbrella movement' and ultimate downfall of Hong Kong's autonomous political system.
The security law falls in tandem to the events of 2019; the legislation allowing the convicts from Hong Kong to be extradited in China causing a rave of fear of a massive tactical crackdown of the Anti-communist activists of Hong Kong, sighting it just as ruse to underwhelm the right of sedition of the people of Hong Kong. The Law passed by the parliament notions to only one thing; The ultimate end to Hong Kong. The lawmakers in China, hailing from the National People's Congress (NPC), sight this move as extricating a threat to the national security and stability of the country while many of the pro-activists in Hong Kong deem the law as betrayal, accusing China of walking back on its promise of high-degree autonomy and freedom of speech, marking it as the final straw, the last struggle before the country could override the laws in the city and indirectly, transition from the entity holding the right to veto the laws to now gripping the law altogether.
Despite of the speculated protests to spark like the history dictates, many of the sage minds predict either a relatively dormant demonstrations or none at all, having a tint of finality in the statement shote the protests are "high stake in risk and repression". The recent arrest of the leading activists of Hong Kong standing up to voice their disdain to the separatist efforts of China further solidify the notion. Despite of a global condemnation to the new law, the efforts of China resume to subdue any opposition in Honk Kong no matter how sparse. Foreseeing no way out for Hong Kong this time; the Covid-19 paralysis the United States in its own crisis and the legislature inclining towards the Chinese pressure, a complete erasure of Hong Kong is sighted and could not be restrained- for better or for worse.
The Belligerent Chinese Diplomacy and Its Failure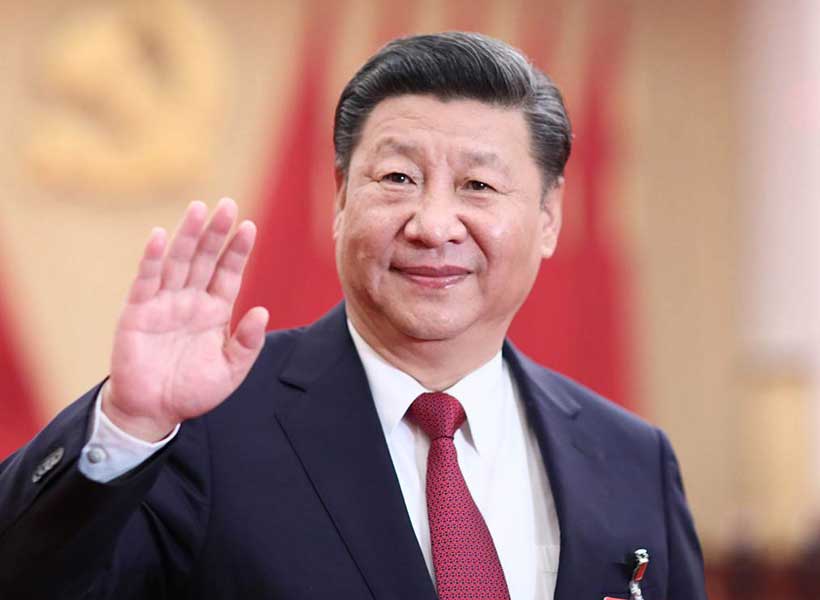 The Chinese media has recently reported of Xi Jinping writing a letter to George Schultz the former chairman of Starbucks, the US coffee giant. In the letter, he has requested Schultz to play a positive role in advancing the US-China relations. While head of a major state writing letter to big corporate heads is not a common but not an unusual development either, this letter from Jinping should be seen in a relevant context. It indicates a certain amount of desperation and difficulty of China in its dealings with the US.
It suggests that after months of aggressive posturing and verbal duels against Trump, the State Department and Pentagon, China is now cosying up to the new Joe Biden administration. Further, it also means the recent Chinese aggressive posturing, wolf diplomacy has failed to bring in the desired results and that the Xi Jinping-led CCP is under more pressure now to soft-pedal the recent acrimonious ties between the two.
The year 2020 had been a very disappointing and calamitous year for the world. And Corona pandemic could well be cited as the most important reason. While the world as a whole has struggled to fight this unknown enemy individually as well as collectively, one country that has been in the limelight, for all the wrong reasons, been China.
Foreign policy and diplomacy is all about protecting and promoting the perceived national interests of a country. While achieving its objectives, the country tries to create and maintain a favourable image in the international community. The Chinese diplomatic endeavour since the ascension of Xi Jinping has been starkly opposite. From the most likely origin of Corona virus, to rebuking leaders, diplomats and media of other countries, China has been trying to create a new diplomatic norm, a new normal where none of the countries would dare criticising China, through political discourse, media or any other way while silently acceding to its territorial expansionary designs.
There have been unusually vitriolic reactions by Chinese diplomats against seemingly innocuous comments or actions by governments, politicians, diplomats or media in various countries. A very rational request by the Australian government to initiate investigations by the international community into the genesis of Corona virus, made China so furious that apart from making crude undiplomatic comments, it even created a virtual political, diplomatic and trade war against the country. Critical comment by certain politicians in Brazil and Japan, led Chinese diplomats to publicly issue personalised attacks against them.
The Chinese ambassador to Sweden has went on to lambast the country's media in most rustic manner. No wonder, in the last two years, he has been summoned to the Swedish foreign ministry an unprecedented 40 times and there have been demands from native politicians for his expulsion. In India, a country that is being seen as the closest political and military rival by China but is scared of admitting it publicly, the diplomats have kept on reminding the government and media not to play the so-called Tibet card or must adhere to One-China policy by not getting close to Taiwan, have repeatedly been ignored by the government as well as the media.
No wonder, a recent Pew Research study has revealed that globally China has lost a huge amount of goodwill. A significantly very high majority of natives in nine of the advanced economies like the US, UK, Germany, Australia, South Korea, Sweden, Netherlands think negatively of China. Australia (81%), UK (74%), Sweden (85%), Netherlands (73%) show a very high increase in the negative perception against China, very recently and that has affected their politico-commercial relations too.
With the US, the Trump administration acting aggressively in the backdrop of the November Presidential elections, the Chinese actions of challenging the lone superpower has not helped the country anyway. On the contrary, US has become more supportive of Taiwan, politically as well as militarily, making it even more difficult or virtually impossible to China to even think of occupying the territory forcibly in near future. India that had maintained a cautious approach towards Taiwan till recently, have started enhancing political and commercial relations with the country.
In Asia, its aggressive military designs against India's northern borders has had a very rude awakening for China. Used to a timid Indian approach since 1950s under Nehru, it never expected the aggressive Indian response that even put its own military positions in Moldo and other strategic positions vulnerable. To further undermine political and military calculations, its adversaries in South China seas like Vietnam, Indonesia and Philippines today are in advance negotiations with India to secure sophisticated missiles and armaments.
A very significant strategic development in the form of QUAD has taken the preliminary shape and that whenever gets in a concrete form, could well portend an ominous future for China, politically and militarily. The belligerent Chinese behaviour, especially since the onset of Corona virus has brought India, Australia, the US and Japan very close. With talks of Vietnam, Philippines and others in south-east Asia joining it later, the future of a QUAD could well be a security nightmare for China.
In the economic realm, India has reacted sharply too. Being a huge market for Chinese cheap goods and scores of apps till recently, India has not only banished hundreds of apps but has also been working on a mechanism to regulate, control and even stop imports in a number of segments from China. A big share of enormous infrastructural contracts in telecommunications, roads, ports, airports and railways in India too, have become difficult for Chinese companies. And taking a leaf out of India, the US and other countries too, are making it difficult for Chinese organisations to secure big contracts in their respective countries.
Over the next few years, China is going to lose a huge chunk of its popular and big market in India while territorially too, it has failed to make any significant gains. Strategically what China wished to see was countries like Japan, India, Australia, Vietnam, US all having disputes with it dealing individually rather than getting together and forming a coordinated and collective political, economic and strategic response against it. And the very opposite has happened. There have been greater and collective political, military and economic coordination amongst all these countries today and most of the strategies are aimed against one country, China.
All these developments including Xi's letter to Schultz, indicate one point very certainly that Chinese belligerence has backfired hugely. It needs to reorient its diplomacy and political behaviour significantly and if it fails to do so, its position in the emerging post-Covid geopolitical order could be anything but that of an emerging superpower.