In 2020, Germany and Russia celebrate several important anniversaries in their bilateral relations, marking events that did much to lay the foundations of the two states' current cooperation: 65 years since diplomatic relations were established between the Federative Republic of Germany and the Union of Soviet Socialist Republics, 50 years since the Treaty of Moscow was signed, 30 years since the reunification of Germany and the signing of the founding agreements related to this, including Treaty on the Final Settlement with Respect to Germany and Treaty between the Federal Republic of Germany and the Union of Soviet Socialist Republics on Good-Neighbourliness, Partnership and Cooperation. They were signed in August–November. In these months of the anniversary year, the bilateral relations are facing major tests.
Officially, the stages in Russia–Germany relations are measured not in anniversaries but in legislative periods of Germany's governmental coalitions that formulate their own four-year foreign political agenda. Traditionally, Russia is part of this agenda and Germany's programme in relation to Russia is determined by the factional makeup of the German Government, the current international situation and the domestic political processes in Russia. The latest coalition agreement between the CDU/CSU bloc and the SPD was concluded for the period between March 2018 and September 2021. It contains statements about Russia violating the European world order ("annexation" of Crimea, intervention in the east of Ukraine), about there being great potential for civil and public dialogue and economic cooperation, about Germany's commitment to the idea of a common space from Lisbon to Vladivostok. The coalition members believe that "Germany is sincerely interested in good relations with Russia and in close cooperation with a view to ensuring peace and resolving important international problems" though "Russia's current politics compel us to be particularly careful and flexibly stable. … The goal of our Russian policy remains: a return to relations based on mutual confidence and a peaceful balance of interests allowing the parties to once again achieve close cooperation."
Moscow's relations with Germany are determined by Russia's foreign policy concepts, the latest of which was adopted on November 30, 2016. Among the EU states, Germany has traditionally been assigned the place of the leading partner and a revitalization of mutually advantageous bilateral relations with that partner is viewed as an important resource for "promoting Russia's national interests in European and global affairs."
The first two and a half years of the current German coalition government's legislative period were marked by a series of events that had a major effect on the political backdrop for the bilateral cooperation. The Salisbury incident of March 4, 2018 ("the Skripal affair") resulted in the "collective West" states, including Germany, expelling Russian diplomats, adopting new sanctions, with Berlin, particularly the Aussenamt, and developing negative sentiments toward Moscow. This all coincided with the new governmental coalition starting its work on March 14 and Russia's "new old" president being elected on March 18. Under such difficult circumstances, Russian and German leaders continued their constructive communication largely based in a mostly closed-door meeting held in Sochi in early May 2017. Details of another meeting between Vladimir Putin and Angela Merkel held in the same city in May 2018, as well as the working discussion of topical questions in Meseberg, were also not revealed to the public, yet they shaped generally positive sentiments that contributed significantly to smoothing out the influence the March events had had on shaping the anti-Russian sentiments in Germany's political community and media. Regular meetings held in 2018 between heads of various agencies (primarily foreign ministries) were also conducive to positivity.
On August 23, 2019, Zelimkhan Khangoshvili, a Georgian citizen of Chechen origin, was killed in Berlin. This also engendered negativity as it resulted in further exacerbation of diplomatic relations and in the expulsion of two Russian diplomats in December 2019. Russia's Ministry of Foreign Affairs reciprocated.
On January 11, 2020, Angela Merkel made an unexpected visit to Moscow and discussed topical problems in international relations with Vladimir Putin. At the same time, the two states' foreign ministers also held a meeting. The German politicians' visit confirmed that Berlin was ready to continue the constructive dialogue. The coronavirus pandemic that broke out in March pushed most bilateral issues into the background somewhat.
In mid-May, Angela Merkel expressed her highly negative personal opinion concerning the cyberattack on the Bundestag in the spring of 2015, which German special services believed to have been organized by the Main Intelligence Directorate of the Russian Ministry of Defence. Even though the experts at the Federal Criminal Police Office confined themselves to stating that "this fact is highly likely," without providing incontrovertible proof, Berlin adopted this version as "final and incontrovertible."
On July 1, 2020, Germany assumed the presidency of the Council of the European Union. Its Presidency Programme has only one paragraph on Russia, stating that relations with Russia need to be actively formed on the basis of the EU's five principles (the 2016 Mogherini principles) and that their implementation needs to be analyzed. On May 27, 2020, the Federal Chancellor delivered a speech at the Konrad Adenauer Foundation in Berlin focusing a lot on Russia. While emphasizing the objective importance their bilateral relations have for both states, the Chancellor reminded her audience that she had, from the outset, had a critical constructive attitude to the bilateral dialogue and to the importance of respecting the values and recognized international rules that, in her opinion, Russia "has repeatedly violated." Consequently, Berlin will "speak out" against subsequent breaches of these by Moscow. Simultaneously, within the framework of its value-based approach, Germany sees opportunities for new impetus in the development of bilateral relations, including such areas as climate protection and global healthcare.
The August 20 incident with Alexei Navalny was a litmus test for the true level of anti-Russian sentiments in some parts of Germany's political community. This time, the paper turned dark purple. "The Salisbury spirit" made a comeback to the public discourse with active support from some EU capitals. There were insistent voices calling for "punishing the Kremlin" by imposing sanctions on, among other things, Nord Stream II, up to and including shutting the project down. Moscow has no success in its attempts to transform those unfounded and harshly formulated demands and accusations into a constructive discussion: Berlin saw a clear violation of its values and legal rules that, in her May speech, the Chancellor referred to as being possible. At the same time, in his message of greetings to Angela Merkel and Frank-Walter Steinmeier on the 30th anniversary of Germany's reunification, Vladimir Putin confirmed "Russia's invariable commitment to dialogue and interaction with German partners on the pressing issues on the bilateral and international agenda."
Against the backdrop of clearly dubious proof of "the Russian authorities once again using chemical weapons" to eliminate undesirable persons, the "collective West" continued to apply unprecedented pressure; in October 2013, it prompted Russia's Foreign Minister Sergey Lavrov to make several harsh statements to the effect that Russia could stop communicating with the European Union. Let us note that, officially, the EU put a freeze on the top-level dialogue from the spring of 2014. The same applies to Russia–EU summits and intergovernmental consultations with EU states. Yet, Russia's working consultations with individual states, primarily Germany and France, continue. The inter-parliamentary dialogue has never stopped. Moreover, the Russian-German High-level Working Group on strategic economic and financial cooperation resumed its meetings in June 2016, while the inter-agency High-Level Working Group on Security Policy resumed its meetings in November 2018. Clearly, neither party is interested in having their communications come to a halt.
Both Brussels and Berlin heard Sergey Lavrov, but it did not prevent them, on October 15, 2020, from imposing EU sanctions on six high-ranking Russian officials and on a research institution. These sanctions had been proposed by the France–Germany tandem. On October 15 2018, the Council of the EU adopted a mechanism for imposing restrictions as part of combating use and proliferation of chemical weapons. This mechanism served as the legal grounds for the sanctions: the EU celebrated the second anniversary of this mechanism in style. On October 22, Brussels imposed sanctions on two Russian citizens for having allegedly participated in organizing a cyberattack on the Bundestag.
On October 17, Germany's Minister of Foreign Affairs Heiko Maas noted that the EU had adopted appropriate sanctions, that Brussels was ready to respond henceforth to "Russia's unacceptable actions," while also admitting that no one was interested in cutting off the dialogue with Moscow as this dialogue is required for resolving conflicts, including those in Libya, Ukraine, Nagorno-Karabakh and elsewhere. Nonetheless, on October 26, Andrea Sasse, a German Foreign Ministry spokesperson, responded negatively to Vladimir Putin's suggestion that a moratorium be imposed on deploying land-based intermediate- and short-range missiles in Europe. Agreeing with NATO's Secretary-General Jens Stoltenberg, she believed this initiative did not inspire confidence. On October 27, in an interview with the Croatian newspaper Vecernji List, Sergey Lavrov confirmed his previous statements, saying, "I hope our European colleagues will have the wisdom, vision and pure common sense, so that our dialogue with the European Union and its member states is fully restored on the basis of the principles of neighbourly relations, good faith, predictability and openness." On October 28, Russia's Ministry for Foreign Affairs commented on Andrea Sasse's remarks, pointing out, in particular, that this was "a typical example of a biased and, in fact, knee-jerk reaction, no effort being made to understand what the Russian proposal is about."
In the year that marks the 75th anniversary of the end of the Great Patriotic War and the Second World War, the European Union and its member states have begun distorting history, including the role of the Soviet Union in the victory over Nazism. For instance, the resolution the Bundestag adopted on October 9 on bolstering the memory of war victims stipulates creating a new historical and memorial centre about Nazi crimes. The text of the resolution suggests the likelihood of distorting the historical memory and using the centre to instrumentalize insinuations "equating the Soviet Union with the Third Reich when it comes to unleashing the war," which, from Russia's point of view, is absolutely impermissible.
As of early November 2020, relations between Russia, Germany and the EU are still based on the "selective engagement" principle, with the European participants having no clearly defined strategic approach to the development of these relations. Germany apparently has no conceptual framework for working in this area and, in its presidency of the Council of the EU, Germany has essentially abandoned its opportunity to spearhead a discussion of the contents of future interaction to which there are no alternatives.
Clearly, Moscow and Berlin will continue their working contacts on political matters, although these contacts will have as their backdrop a profound crisis of confidence crisis and a minimal level of understanding on a series of controversial issues (cyberattacks, Zelimkhan Khangoshvili, Alexei Navalny). Yet, that circumstance will not significantly affect the Normandy format or the cooperation on the Syrian, Libyan, Iranian and other tracks.
The paradox of today's crisis of relations is that it is taking place against the background of decent (despite the effect of the coronavirus pandemic) relations in other areas, such as the economy, culture, science and education. In recent years, these have received an additional impetus to development.
Back in 2014, Russia and Germany's foreign ministries launched a new format, a Russian-German Cross Year, which was intended to boost bilateral cooperation in specific areas. The first years were dedicated to language and literature, youth exchanges, and regional and municipal cooperation.
The Russian-German Year of Scientific and Educational Partnerships was held in 2018–2020. The events that year bolstered cooperation in inter-university interactions, cutting-edge research and support for young scientists and innovations. Currently, about 1,000 joint university partnerships are functioning, involving 203 German and 233 Russian universities, as well as 33 organizations with other status, and their numbers are constantly rising. Russia is Germany's ninth-largest partner in this area.
Since July 2017, the German Government has been protecting the principles of European energy security and sovereignty and attempting, for that purpose, to counter the consistent steps taken by the US Administration (and their EU supporters) against Nord Stream II. Yet, that opposition has thus far not been particularly effective. In early 2020, Washington first succeeded in having the construction of the gas pipelines suspended; subsequently, threatening extra-territorial sanctions against the current and future project partners, the US put a question mark over the project being completed/ the pipeline being put into operation. In early August 2020, EU Ambassador to Russia Markus Ederer said that the EU was designing a mechanism that would "also ensure that the EU becomes more resilient to exterritorial sanctions by third countries," including Washington's possible economic restrictions against Nord Stream II. The "Communication on Strengthening the EU's Financial and Economic Sovereignty" is to be ready by the end of 2020.
In June 2019, the economic ministers of both states signed a Memorandum on Partnership for Efficiency based on provisions from the position paper of the Eastern Committee of the German Economy (January 2019) intended for developing cooperation in principal economic areas such as energy, climate protection, nuclear security, outer space, healthcare, support for small- and medium-sized enterprises, further professional training, digitization, agriculture, visa liberalization, etc. In February 2020, in Berlin, Germany's Minister for Economic Affairs Peter Altmaier and Russia's Minister for Industry and Trade Denis Manturov agreed to form a joint energy group.
In December 2019, the EU adopted the European Green Deal mandating a transition to a climate-neutral economy for EU member states by 2050; this deal became a challenge for Russia–Germany cooperation. Interaction with Germany on hydrogen energy could be a promising area for cooperation. Even though Germany and the EU's hydrogen strategies do not mention Russia, there is every objective reason for Russia to find a niche in that sphere. The Eastern Committee of the German Economy and the German-Russian Chamber of Commerce (GRCC) deserve credit for bringing this matter up in their reports in early July 2020. On September 17, the GRCC formed a Hydrogen Initiative Group with a view to determining and promoting Russian and German companies' pilot projects. On October 12, the Russian Government approved a "roadmap" for developing Russian hydrogen energy, which envisages active involvement by Russia in international cooperation.
The obvious challenges entailed by the Green Deal include introducing carbon tariffs intended to bar imported goods manufacture of which produces considerable СО2 emissions. Many Russian businesses had prepared in advance for this contingency by investing heavily in reducing their emissions, in waste treatment facilities and in circular technologies. Even so, they face an uphill battle as they attempt to convince EU officials that their products meet the European requirements. Today, Brussels mostly believes that all Russia-made goods leave a large carbon footprint.
Actually, Russia is arriving at comprehending, at all levels, that there are no alternatives to environmental thinking and conduct. For several years running, there have been successful Russian-German projects for introducing the most accessible technologies, primarily in the sectors that produce the biggest amounts of СО2. Despite certain difficulties, cooperation has been launched in environmentally friendly waste disposal and processing. Individual regions are becoming increasingly interested in environmental protection measures, building sustainable energy sources, in particular wind farms. Energy-saving technologies are being used in constructing new buildings and facilities. German companies have good opportunities for participating in Russia's "green" modernization, though this has only just been launched.
Falling global energy prices and the rigid restrictions Germany and Russia have imposed on the movement of capital, services, and manpower have resulted in a decline in mutual trade estimated at up to 25% at the end of 2020. Drops in Russian exports to Germany are several times greater than drops in German exports to Russia since the two states' economic cooperation is still largely tied to the energy sector, whose economic agents determine a significant part of foreign trade flows and mutual investment flows. Foreign trade is being restructured at a very slow rate owing, among other things, to the inadequate pace of Russian economic reforms and creation of a critical mass of competitive small- and medium-sized businesses. The state is taking steps to support the economic agents' exports performance and incentive mechanisms are becoming more effective, but this is clearly not enough to achieve a qualitative breakthrough.
Even though the number of German businesses in Russia has fallen by about a third, the German business community remains the biggest and best organized among all foreign communities as it is continuing to invest and lobby its members' interests. They name bureaucracy and protectionism on the part of the Russian authorities among the most prominent negative factors. In recent months, visa restrictions imposed in connection with the pandemic have become a significant obstacle. The GRCC obtains exceptions and charters special flights, but this does not solve the mobility problem for German top managers and for skilled professionals that assemble and service German-made equipment. The situation will clearly not improve during the second wave of the pandemic.
Russian companies in Germany have recently also faced frequent non-market problems but, unlike their German partners, they do not have such powerful support as that provided by the Eastern Committee and the German-Russian Chamber of Commerce, which can set up a direct dialogue between the country's leaders and major entrepreneurs.
In conclusion, it is important to remind our readers that the year of Germany in Russia was officially inaugurated in late September. It will feature various events intended to introduce Russians to the culture and cutting-edge economic, educational and scientific achievements of Russia's principal European partner. This year, Germany itself will experience difficult societal, economic and political developments that will shape electoral sentiment at the 2021 elections to the Bundestag, Landtags and local councils. The elections to the Bundestag will bring a new governmental coalition and a new chancellor and officially introduce a new period in Russia-Germany relations. On the one hand, Germany's new leadership will assume a harder stance towards the Kremlin. On the other hand, following the initial interaction between the states' leaders, there will be an opportunity for a joint search for a common denominator in both states' interests and for ways of gradually emerging from the current crisis of confidence and achieving an understanding on the critical points on strategic issues and areas. Both sides already need to be preparing for this.
From our partner RIAC
Council of Europe fights for your Right to Know, too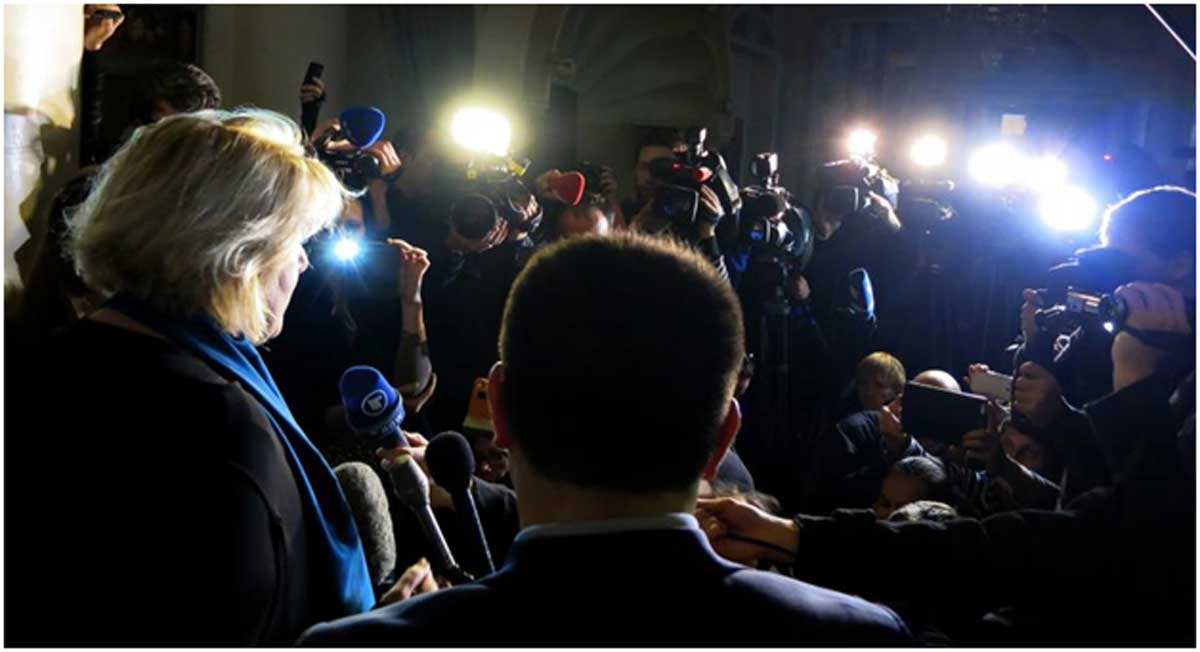 Authors: Eugene Matos de Lara and Audrey Beaulieu
"People have the right to know what those in power are doing" -Dunja Mijatovic Council of Europe, Commissioner for Human Rights.
Access to information legislation was first seen in 1766 in Sweden, with parliamentary interest to access information held by the King. Finland in 1951, the United States in 1966, and Norwayin 1970 also adopted similar legislation. Today there are 98 states with access laws; of these, more than 50 incorporated in their constitution. The Inter-American Court of Human Rights 2006 and the European Court of Human Rights 2009 both ruled that access to information is a human right, confirmed in July 2011 by the United Nations Human Rights Committee, a sine qua non of 21st-century democracy.
Global civil society movements have been promoting transparency, with activists and journalists reporting daily on successes in obtaining information and denouncing obstacles and frustrations in the implementation of this right. To this end, the Council of Europe was inspired by pluralistic and democratic ideals for greater European unity, adopted the Council of Europe Convention on Access to Official Documents recognising a general right of access to official documents held by public authorities. It brings a minimum standard for the fair processing of requests for access to official documents with the obligation for member states to secure independent review for restricted documents unless with held if the protection of the documents is considered legitimate.
The right to freedom of information
Access to information is a government scrutiny tool. Without it, human rights violations, corruption cases, and anti-democratic practices would never be uncovered. Besides exposing demerits, the policy is also known to improve the quality of public debates while increasing participation in the decision making process. Indeed, transparency of authorities should be regarded as a fundamental precondition for the enjoyment of fundamental rights, as guaranteed by Article 10 of the European Convention on Human Rights. The policy equips citizens and NGOs with the necessary tool to counter refusal from authorities to provide information. The European Court of Human Rights recognized that withheld documents could be accessed in specific circumstances. In principle, all information should be available, and those upheld can also be accessed, particularly when access to that particular information is crucial for the individual or group to exercise their freedoms unless of course, the information is of national security or of private nature.
Access to information in times of crisis a first line weapon against fake news
The COVID pandemic has enabled us to test access policies and benchmark the effectiveness of the right to know during trivial times, as Dunja Mijatovic mentioned. In fact, having easy access to reliable information protects the population from being misled and misinformed, a first-line weapon dismantling popular fake news and conspiracies. Instead, during COVID, access to information has supported citizens in responding adequately to the crisis. Ultimately, transparency is also a trust-building exercise.
Corruption and environmental issues
Information is a weapon against corruption. The Council of Europe Group of States against Corruption (GRECO) is looking at the specific issue of access to official documents in the context of its Fifth Evaluation Round, which focuses on preventing corruption and promoting integrity in central governments and law enforcement agencies. In about a third of the reports published so far, GRECO has recommended the state to improve access to official documents. In regards to the environment, the United Nations Convention on Access to Information, Public Participation in Decision-Making and Access to Justice in Environmental Matters, commonly referred to as the Aarhus Convention, expands the right of access to information on environmental matters thus complementing the Tromsø Convention. Declaring these policies as the primary tools that empower citizens and defenders to protect the environment we live in.
Good models exist
Most Council of Europe member states have adequate mechanisms regarding the right to information. For example, in Estonia, "the Public Information Act provides for broad disclosure of public information" states Mijatovic. Moreover, "in Croatia, Serbia, Slovenia and several other countries there is an independent oversight body – such as an Information Commissioner – responsible for monitoring and enforcing the right to information, while some other countries entrust Parliamentary Ombudsmen with supervision of the right of access to information". Finally, "the constitutions of several European countries do indeed guarantee the fundamental right to information." Nonetheless, there are still in consistent levels of transparency among state institutions or a failure to meet the requirement for proactive disclosure. The entry into force of the Tromso Convention willbe an opportunity to bring back to the table the importance of the right to information and to read just European States practices regarding the enhancement.
Barriers and Challenges
Digitization is still recent, and authorities are not accustomed to dealing openly. There is a sentiment of reservation and caution. Before the advent of the internet, governments enjoyed a level of political efficiency and practical obscurity. Viewing public records required the time and effort of a visit to the records' physical location and prevented easy access to details of individual files. Openness has made the policy cycle longer, with a more thorough consultation process and debates. The availability of digital documents has caused an unavoidable conflict.
One of the conflicts is a privacy protection and policy safeguards invoked against freedom of information requests. Requirements to provide transparency of activities must be mitigated with national security, individuals' safety, corporate interests, and citizens' right to privacy. Finding the right balance is essential to understand how local governments manage the dichotomy between providing open access to their records by maintaining the public's privacy rights.
Several governments think twice before pursuing transparency policies. Access to information hasn't been a priority for some of the European States. Mijatovic reported that "filtering of information and delays in responses to freedom of information requests have been observed in several member states". Although there is a growth in these laws' popularity, we are always a step behind meeting the supply and demand of information objectives in an era of digitization.
Legal perspectives
Tromso Convention has only been ratified by eleven countries, which are mostly located in Scandinavia (Finland, Norway and Sweden) or in Eastern Europe (Bosnia, Estonia, Hungary, Lithuania, Moldavia and Ukraine). Reading this statement, three questions should come to our minds:
1. Why not all European states have ratified Tromso Convention?
2. Why do Scandinavian countries have chosen to ratify the Convention?
3. Why are most of the Member States from Eastern Europe?
Regarding the first question, the answer resides in the fact that the ones who haven't taken part in the Convention already have strong national laws protecting freedom of information and don't need to bother with extra protection and external surveillance. For instance, Germany passed a law in 2005, promoting the unconditional right to access information. Many other European states such as Belgium, Croatia, Denmark, France &Poland have similar national law.
Regarding the second question, considering that all Scandinavian countries already have national laws assessing freedom of information, the most likely reason behind their ratification would be symbolic support to the cause or because the Convention's framework is less restrictive than their national laws.
Finally, concerning the last question, we could suppose that most Eastern countries have an interest in demonstrating themselves as more transparent, more following the rule of law. For example, if we examine Montenegro's case, we could assume that taking part in the Tromso Convention is a step closer to their accession to the EU in 2025.
As for the reservations that have been made, only Finland, Norway and Sweden have made some noticeable. Regarding Norway, the country declared that "communication with the reigning Family and its Household" will remain private in accordance with Article 3,paragraph 1 of the Convention. This limitation covers something interesting, considering that, as mentioned earlier, access to the data type of legislation was first adopted in order to get access to information held by the King. In parallel, Finland declared that "the provisions of Article 8 of the Convention concerning the review procedure [will] not apply to a decision made by the President of the Republic in response to a request for access to a document. Article 8 provides protection against arbitrary decisions and allows members of the population to assert their right to information. Sweden has made a similarreservation on Article 8 paragraph 1 regarding "decisions taken by the Government, ministers and the Parliamentary Ombudsmen".
Thoughts towards better implementation
For smoother data access implementation, governments can act on transparency without waiting for legislation through internal bureaucratic policy. These voluntary provisions for openness can be an exercise towards a more organic cultural transformation.
Lengthy debates on open access are entertained by exceptions to access. To be sure, governments have enough legal and political tools to withhold information, regardless of how exemptions have been drafted. Instead, a more productive and efficient process is possible if we concentrate on positive implementation and enforcement, including the procedures for challenges on legal exemptions.
The implementation phase of access laws is challenging due to a lack of leadership motivation, inadequate support for those implementing these requests, especially since they require a long term social and political commitment. To do so, an overall dedication and government bureaucratic cultural shift should take place. Although the implementation of access to information should be included internally in all departments, considering a standardized centralized approach to lead the new regime with authority could send an important message. Record keeping and archiving should be updated to respond to requests with improved information management systems. As such, the goal would be to make a plethora of information immediately and unconditionally available.
France's Controversial 'Separatism' Bill
In his very first days at the Elysee Palace, French President Emmanuel Macron vowed to detail his views on secularism and Islam in a wide-ranging speech. It took more than three years for this to happen, with the much awaited speech actually taking place in October a week after a teacher was violently killed for revealing the caricatures of Prophet Muhammad(PBUH) during a lecture on freedom of expression. Macron said during his speech that "Islam is a religion which is experiencing a crisis today, all over the world", adding that there was a need to "free Islam in France from foreign influences". Mr. Macron and his Parliament allies have described the bill as a reaction to the rise of Islamic separatism, which the President defines as a philosophy that seeks to create a parallel state in France where religious laws replace civil law. Referring to the cartoons at a citizenship ceremony earlier and before the latest attacks, Macron defended the "right to blasphemy" as a fundamental freedom, even as he condemned "Islamic separatism."
"To be French is to defend the right to make people laugh, to criticize, to mock, to caricature," the president said. The proposed law allows religious associations and mosques to report more than €10,000 ($12,000) in international support and to sign a promise to uphold the French republican ideals in order to obtain state subsidies. The bill will also make it possible for the government to close down mosques, organizations and colleges that have been described as criticizing republican values.The controversial bill is blamed for targeting the Muslim people and enforcing limits on nearly every part of their lives. It allows government to oversee the funds of associations and non-governmental organizations belonging to Muslims. It also limits the schooling options of the Muslim community by prohibiting families from providing home education to children. The law also forbids people from selecting physicians on the grounds of gender for religious or other purposes and mandates a compulsory 'secularism education' on all elected officials. Physicians will either be charged or jailed under the law if they conduct a virginity test on girls. Critics argue the so-called "separatism law" is racist and threatens the 5.7 million-strong Muslim population in France, the highest in Europe. Its critics include the 100 imams, 50 teachers of Islamic sciences and 50 members of associations in France who signed an open letter against the "unacceptable" charter on 10 February.
A criminal act for online hate speech will make it easier to easily apprehend a person who shares sensitive information about public sector workers on social media with a view to hurting them and will be disciplined by up to three years in jail and a fine of EUR 45.000. The banning or deleting of pages spreading hate speech would now be made smoother and legal action accelerated. The bill expands what is known in France as the 'neutrality clause,' which forbids civil servants from displaying religious symbols such as the Muslim veil and holding political opinions, outside public sector workers to all commercial providers in public utilities, such as those working for transport firms.
French Members of Parliament held two weeks of heated debates in the National Assembly. People of Muslim faith interviewed outside the Paris Mosque and around Paris on the outdoor food market before the vote had hardly heard of the rule. "I don't believe that the Muslims here in France are troublemakers or revolutionaries against France," said Bahri Ayari, a taxi driver who spoke to AP after prayers inside Paris' Grand Mosque. "I don't understand, when one talks about radicalism, what does that mean — radicalism? It's these people who go to jail, they find themselves with nothing to do, they discuss amongst themselves and they leave prison even more aggressive and then that gets put on the back of Islam. That's not what a Muslim is," he added.
Three bodies of the French Council of Muslim Worship (CFCM) have unilaterally denounced the "charter of principles" of Islam, which reaffirms the continuity of religion with France. The three parties said that the Charter was accepted without the full consensus of the other integral components of the CFCM, including the provincial and departmental councils and the imams concerned. "We believe that certain passages and formulations of the submitted text are likely to weaken the bonds of trust between the Muslims of France and the nation. In addition, certain statements undermine the honor of Muslims, with an accusatory and marginalizing character," the Milli Görüş Islamic Confederation (CMIG) and the Faith and Practice movement said in a joint statement. The bill is blamed for targeting the Muslim community and enforcing limits on nearly any part of their lives. It allows for interference in mosques and organizations responsible for the operation of mosques, as well as for the oversight of the funds of associations and non-governmental organizations belonging to Muslims.
It is a difficult time for the nation, which has also accused its protection bill of containing the press freedom. The law introduced aims at making it unlawful to post photographs of police officers in which it is identifiable by "malicious intent" However, law enforcement has criticized the government after the declaration by Macron of the development of an online forum to flag police brutality.
Why Is Europe Hostile Towards Russia?
In his seminal 1871 work Russia and Europe, the famous Russian intellectual and Slavophile Nikolay Danilevsky set forth his theory that "Europe recognizes Russia as something alien to itself, and not only alien, but also hostile," and that Russia's fundamental interests should act as a "counterweight to Europe."
One hundred and fifty years have passed since that work was published. The world has changed. No matter what anti-globalists might say, the rapid development of modern technologies and their use in our everyday lives has forced us to re-evaluate many of our beliefs about relations between states and people. The exchange of information, scientific discoveries and knowledge, and the sharing of our cultural wealth bring countries closer together and open up opportunities for development that did not exist before. Artificial intelligence does not know any boundaries and does not differentiate users by gender or nationality. Along with these new opportunities, the world is also faced with new problems that are increasingly supranational in nature and which require our combined efforts to overcome. The coronavirus pandemic is the latest example of this.
It is against the background of these rapid changes, which for obvious reasons cannot unfold without certain consequences, that we can occasionally hear this very same theory that "Europe is hostile towards Russia." Although the arguments put forward to support this claim today seem far less nuanced than those of Nikolay Danilevsky.
Even so, ignoring this issue is not an option, as doing so would make it extremely difficult to build a serious long-term foreign policy given the prominent role that Europe plays in global affairs.
Before we dive in, I would like to say a few words about the question at hand. Why should Europe love or loathe Russia? Do we have any reason to believe that Russia has any strong feelings, positive or negative, towards another country? These are the kind of words that are used to describe relations between states in the modern, interdependent world. But they are, for the most part, simply unacceptable. Russia's foreign policy concepts invariably focus on ensuring the country's security, sovereignty and territorial integrity and creating favourable external conditions for its progressive development.
Russia and Europe have a long history that dates back centuries. And there have been wars and periods of mutually beneficial cooperation along the way. No matter what anyone says, Russia is an inseparable part of Europe, just as Europe cannot be considered "complete" without Russia.
Thus, it is essential to direct intellectual potential not towards destruction, but rather towards the formation of a new kind of relationship, one that reflects modern realities.
At the dawn of the 21st century, it was clear to everyone that, due to objective reasons, Russia would not be able to become a full-fledged member of the military, political and economic associations that existed in Europe at the time, meaning the European Union and NATO. That is why mechanisms were put in place to help the sides build relations and cooperate in various fields. Bilateral relations developed significantly in just a few years as a result. The European Union became Russia's main foreign economic partner, and channels for mutually beneficial cooperation in many spheres were built.
However, EU-Russia relations have stalled in recent years. In fact, much of the progress that had been made is now being undone. And positive or negative feelings towards one another have nothing to do with it. This is happening because the parties have lost a strategic vision of the future of bilateral relations in a rapidly changing world.
Speaking at the World Economic Forum in Davos, President of the Russian Federation Vladimir Putin said that Russia is part of Europe, and that, culturally, Russia and Europe are one civilization. This is the basic premise—one that is not based on emotions—that should underlie Russia's policy in its relations with Europe.
Russia and the European Union disagree on many things, but the only way to overcome misunderstandings and find opportunities to move forward is through dialogue. In this context, the recent visit of the EU High Representative to Moscow was a much-needed step in the right direction, despite the criticism that this move received from the European side. Nobody was expecting any "breakthroughs" from the visit, as the animosities and misunderstandings between the two sides cut too deep. Yet visits and contacts of this kind should become the norm, for without them we will never see any real progress in bilateral relations.
In addition to the issues that currently fill the agendas of the two sides, attention should be focused on developing a strategic vision of what EU-Russia relations should be in the future, as well as on areas of mutual interest. For example, it is high time that Europe and Russia broached the subject of the compatibility of their respective energy strategies, as well as the possible consequences of the introduction of "green energy" in Europe in terms of economic cooperation with Russia. Otherwise, it will be too late, and instead of a new area of mutually beneficial cooperation, we will have yet another irresolvable problem.
In his work Russia and Europe, Nikolay Danilevsky, while recognizing the good that Peter the Great had done for his country, reproached him for "wanting to make Russia Europe at all costs." No one would make such accusations today. Russia is, was and always will be an independent actor on the international stage, with its own national interests and priorities. But the only way they can only be realized in full is if the country pursues an active foreign policy. And one of the priorities of that policy is relations with Europe.
From our partner RIAC