Erdogan: A Man Obsessed With Neo-Ottomanism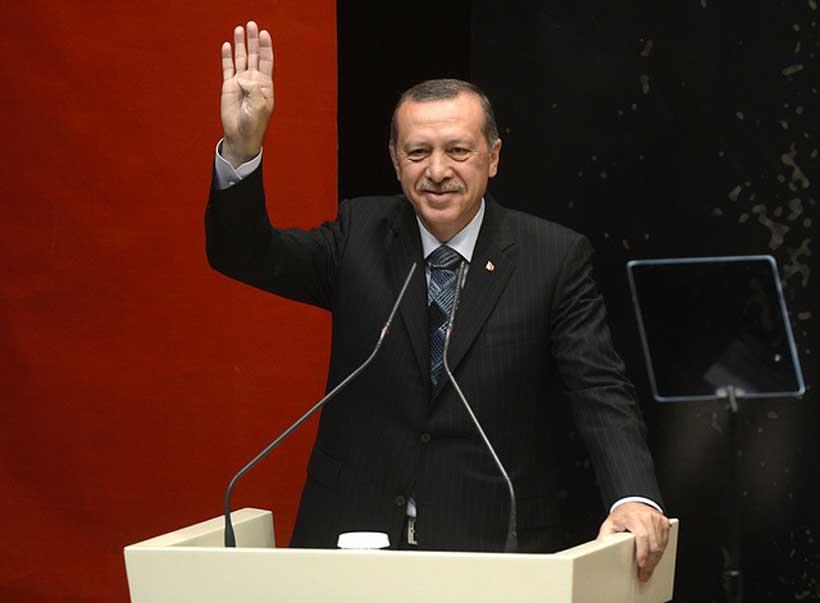 What Tayyib Erdogan is poised to do after the expiration of treaty of laussane by 2023? Is he really endeavoring to resurrect ottoman caliphate? Almost every political discourse, nowadays, led by political luminaries, spin doctors and academicians, revolves around such questions. The whole world is curious to learn what Turkey under the auspices of its ambitious leader Erdogan is likely to do beyond 2023. Further, to intensify the apprehensions of the foes of Turkey, exceedingly popular Turkish drama Series "Dirilis: Ertugrul" premised on the history of Ottoman Empire and patronized by the Erdogan administration, has also sent shock waves across the world for the drama is an implicit move of Turkish authorities to rejuvenate the struggle for reclaiming the ottoman empire.
So far as Erdogan's ambition to revive Ottoman Empire is concerned, it is quite evident through his policies as well as orientations that he is paving the way to reclaim Ottoman Empire by hook or crook no sooner does the treaty of Lausanne go dead by 2023. Although denied, during teething period of his political ascent, his aspiration to re-install ottoman state, his recent inflammatory rhetoric and aggressive policies towards opposition, neighboring states and international powers vividly reveal his desire to assume the title of " New sultan" or " Caliph" in neo-ottoman dispensation.
To translate his dream into a reality, Erdogan has taken myriad endogenous and exogenous measures that clearly reflect his aggressive policy and passion to regain lost glory of Muslims by breathing into a dead Empire. His bid to do so is conspicuous in his move of dismantling and restructuring of the Turkish identity through invoking the manifestations and symbols of the Ottoman heritage. Alongside, his domestic re-engineering, He has also adopted hegemonic and expansionist policies with the aim of reproducing the "Ottoman colonization" era in the Middle East region.
Let's analyze how Erdogan is flattening the ground locally and internationally for the erection of neo-ottoman Empire.
Domestically, Erdogan knew that without consolidating his power, it was almost impossible to put his brilliant brainchild of re-building ottoman caliphate into a practice. He, therefore, realizing this undeniable fact, resumed consolidating his power. To this end, he transformed Turkish political outlook from parliamentary to presidential one that, for sure, gave him absolute powers at par with that of king or Sultan. Abdul Rehman Dilliak , a Turkish thinker affiliated with Erdogan's regime, opined that the transformation of Turkey's presidential dispensation will allow Turkey to turn into a caliphate state, Erdogan to caliph of Muslims, and will culminate into opening representative offices of the ottoman Islamic caliphate at his palace.
In addition, following the footprints of sultans of Ottoman Empire, Erdogan has left no stone unturned to crush dissention. He employs the Ottoman legacy as a repressive tool to eliminate political opponents, seeking to put forward an ideology that is diametrically different from Kemal's secularism (Mustafa Kemal Ataurk). Erdogan attempts to do this through implementation of social re-engineering tactics to influence the population to restore the Ottoman values and practices as part of the collective memory. This ensures his political hegemony and the exclusion of opponents, since he is part of the "Ottoman Sultans", for whom the term "opposition" was not in the lexicon of their administration.
He, therefore, to keep the dissent voices at bay, arrested a large number of opponents after the failed military coup attempt in July 2016. The political crackdown included dismissal of state employees, police and military officers, restructuring the administrative apparatus of the state, domination over the judiciary, consolidating his power; making Erdogan all in all by concentrating all legislative, executive and judicial powers into his hands.
Inter alia, Erdogan, indubitably, is a man of unprecedented political acumen. He knows that without giving his regime a religious tint, he would not be able to embark at his destination. Hence, he is employing all of his occupied resources to morph secular turkey into an Islamized dispensation. For justification of all of his just or unjust moves, he constantly takes refuge in Islamic cocoon. In his bid to Islamize turkey, he has made religious education mandatory in Turkish schools which, off course, confirm his intention to disinter ottomanism.
Moreover, in order to re-build the image of grandeur, magnificence and splendor that Ottoman Empire epitomized, among his countrymen and in the world, Erdogan seeks to revive the historic and architectural patrimony of the Ottoman Empire. In July 2016, for example, Erdogan announced his intention to reconstruct some military barracks in Istanbul and to demolish the Ataturk Cultural Center, stating: "We will reconstruct the historic Taksim military barracks in Istanbul's Gezi Park, whether they like it or not," defying the opposition of many Turkish citizens.
Further, In August 2016, he renamed the largest bridge on the Bosphorus in Istanbul "Selim I", amid intense opposition from Shi'ite Alawis in Turkey, due to historical hostility between Sultan Selim I and Shi'ites.
Erdogan is also keen to use Ottoman Empire-inspired symbols in all the details of daily life. For example, he appeared in a photo posted on Twitter in November 2017, with the banner of the 57th Ottoman Army division in front of him.
In addition, he appeared in more than one official occasion – such as during his reception of Azerbaijani President Ilham Aliyev in January 2015- accompanied by contingent dressed in Ottoman warriors' attires and carrying flags of 16 countries founded by the Ottomans. This component was added to the formal parades on a permanent basis. MP of Balikesir city from the Justice and Development Party posted a photo in which Erdogan was surrounded by soldiers and commented by saying: "The 90-year-long Ottoman caliphate's advertising break is over".
Further to say is that Erdogan authorized the teaching of the Ottoman language in schools, announcing in December 2014 that "Teaching of the Ottoman language will inevitably be implemented…whether they like it or not." He also slammed those who oppose the move, describing them as the greatest danger, believing that that move will protect the identity of the state till the day of resurrection.
Moreover, on advice of Erdogan, In January 2015, AKP members of parliament put forward a bill calling for the adoption of the Ottoman Empire "tughra" as the official emblem of the Turkish nation, which had been abolished in 1922 after the fall of the Ottoman caliphate. The Constitutional Affairs Committee of the Turkish National Assembly agreed on this proposal notwithstanding the opposition of the MPs. This too corroborates the fact that Erdogan is aggressively pursuing his latent agenda of ottomanization.
To add, the most appalling and terrifying aspect of Erdogan's scheme for his foes is his move to develop a new army named as "The new Janisaries," at par with that of "old Janisaries" under ottoman rule, exclusively tailored to effect the idea of neo-ottoman empire. For example, leaks reported by the Turkish media and published by Fouad Avni, known as the "Snowden of Turkey" in January 2017, said that the SADAT International Defense Consultancy Inc, founded by Adnan Tanriverdi, Erdogan's advisor, is training young men from the Justice and Development Party on fighting.
As mentioned earlier, Erdogan also encourages Turkish series and movies that show events dating back to the Ottoman era, one manifestation of this support was his visit, in November 2016, to the locations of the scenes of the "Diriliş: Ertugrul," a series about the historical founders of the Ottoman state.
By resorting to such moves, Erdogan is playing very smartly. By adhering to the Ottoman principles and fanaticism of the Ottoman State, its history and symbols, Erdogan wants to send an implicit message that he is the legitimate heir of the Ottoman caliphate; a matter has been repeatedly highlighted by the AKP's media. For example, pro-Erdogan newspapers put his portrait next to the image of Sultan Abdulhamid II, one of the strongest Ottoman sultans.
Externally, Erdogan thinks that the Ottoman legacy gives the Turkish nation a historic right to regional hegemony and to represent the Muslim world. Thus, Erdogan sees his meddling in the Arab countries, deploying military forces in Syria and Iraq, his support of extremist religious organizations in the Arab states as part of the "imperial policy" that reinforce his colonial vision of the Turkish role in the Middle East.
Erdogan has pursued regional expansion through constant interference in the affairs of other countries. His speeches reveal his attempts to interfere in the sovereignty of neighboring countries. He tends to use an aggressive tone towards those whom he deems as "regional adversaries" of Turkey's hegemony.
To add, regional expansionism is not limited to only fiery rhetoric, as Turkey has backed extremist religious movements in several regional states and has provided them shelter , sums and media platforms to promote their ideas.
In the same regard, Turkey has engaged in direct military interventions in Syria and Iraq. It maintains a number of military bases in various countries, including: Qatar, Northern Cyprus, Syria, and Azerbaijan, where it built its first military base in the latter in November 2017, and plans to build another eight military bases. All these factors clearly insinuate that Turkey is re-asserting herself as emerging regional hegemonic power.
To sum it up, in the light of preceding discussion, it can safely be concluded that Erdogan is aggressively pursuing his mission to re-install Ottoman Empire. He would, for sure, re-double his efforts to this end after the expiration of treaty of Lausanne by 2023. If the things go as planned, the world is likely to face a novel geopolitical reality that warrants pro-active measures to be taken not only by international organizations for peace and security but also by the countries which are going to bear the burnt of this formidable geopolitical metamorphosis .
Why is Melih Bulu Seen as a Pro-AKP "Trustee" Rector?
The new year started under the shadow of social tensions triggered by Melih Bulu's appointment to the rectorate of Bosphorus University by President Recep Tayyip Erdoğan. Professor Melih Bulu had founded the Sarıyer district organization of the incumbent AK Party in 2002. Bulu who in 2015 became a candidate for being a deputy from AK Party could not gain nomination to run in the elections. Bulu also worked as a rector in two private universities before: İstinye University and Haliç University.
On December 31 2020, Bulu was the rectorate of Haliç University. The abrupt appointment of Bulu as the rector to Turkey's most prestigious university prompted a major outrage since the move was regarded as a direct interruption of academic freedom.
Melih Bulu's appointment to the rectorate of Bosphorus University caused a large unrest among Bosphorus students, graduates and scholars. In addition, people coming from different sectors of society who are critical of Erdoğan administration have also joined the "anti-Bulu" protest campaign on social media. After Bulu's appointment, Bosphorus University students protested the appointment on social media by using the hashtag #KayyumRektörİstemiyoruz ("We don't want a trustee rector"). For a couple of days, students of Bosphorus University have been making protests calling Bulu to resign. However Bulu posted an announcement on his Twitter account saying that he will embrace everyone and he is very excited and happy for his new duty.
After Bulu's appointment, not just his political identity affiliated with AK Party was put under debate but also his academic background was put under scrutiny as well. Allegations of plagiarism against him broke out especially on Twitter. Bulu defined these allegations as "slander" and argued that this was the literature survey part of his PhD thesis and said, "I did not write some parts between quotation marks. We did not have something written available. There were different citation rules but I put it in the bibliography section."
According to the Global Academic Freedom Index Turkey has only 9.7 points out of 100 and it is in the rank of 135 out of 144 countries. Turkey is in the similar level with Syria and Turkmenistan.
In previous weeks, journalist Cüneyt Özdemir hosted Bulu in his live Youtube programme and in live broadcast, Bulu saluted the students from the window of his office at rectorate building while the students yelled asking for his resign and this act of Bulu caused surprises and ironies on social media. Amid this environment, on January 5, a group of Bosphorus University academics staged a peaceful protest by standing with their backs to the rectorate building during the handover ceremony for Bulu. The academics of Bosphorus University made a public statement underlining that this appointment is a practice introduced for the first time after the 1980s military tutelage.
Their full statement is as follows:
"'We don't accept, we don't give up!'
On January 1, 2021 at midnight, an academic outside Bogazici University community was appointed as rector, which is a practice introduced for the first time after the 1980s military tutelage.
This is yet another case of many ongoing anti-democratic practices since 2016, aiming at abolishing rectorial elections. We do not accept it as it clearly violates academic freedom and scientific autonomy as well as the democratic values of our university. We refuse to compromise the principles the University Senate officially stated in 2012:
1. To enhance scientific research and social development, it is indispensable that universities be free from any pressure or influence from a person or an institution and not be used as a political tool.
2. For academic freedom, it is imperative that decision-making processes be delegated to democratically elected academic administrators and boards. All academic administrators including the Rector, Deans, Directors of Institute, Directors of Schools and Department Heads can be appointed only after being elected by the university community.
3. As universities are autonomous constitutional establishments, it is vital that university instructors and/or university boards decide on academic programs and research policies, which is an essential prerequisite for scientific freedom and creativity.
We strictly adhere to the principles above and we pledge to follow them up with all the other members of our university community."
On the other hand, police forces detained more than 20 university students in home raids after the protests against the appointment of Bulu. In the mainstream pro-government media actors' coverage of these events, it is argued that the detained people are not students, but they are members of illegal organizations whereas Canan Kaftancıoğlu, the Republican People's Party's current provincial president in Istanbul rejected this and argued that they are students.
According to Althusser (1971), the modern state keeps the authority and control through two main systems: Repressive State Apparatuses & Ideological State Apparatuses. One of areas concerning the ideological state apparatuses is known as education. In this regard, Erdoğan's appointment of Bulu can be seen as a step of using ideological state apparatuses.
Morocco Increases Pressure on Hezbollah by Arresting One of its Alleged Financiers
At a time when global attention is focused on the fight against the pandemic and the global effort to vaccinate populations, terrorist organizations and organized crime are trying to take advantage of the situation to carry out operations to finance their operations. In this context, Morocco's announcement of the arrest of an alleged international con man linked to Hezbollah is considered a success for the Moroccan security services.
According to an official statement relayed by the Moroccan Official Agency, a suspect was arrested last Wednesday by the National Brigade of the Judicial Police (BNPJ). The 57-year-old Lebanese national is linked to the Hezbollah movement, an organization supported by Iran and considered as a terrorist group by the United States, the Netherlands and the United Kingdom. During the search conducted by the Moroccan police force, following intelligence and investigative work carried out by the Directorate General of Territorial Surveillance (DGST), investigators found European passports – French and Italian – as well as identity documents listed in the Interpol database as stolen. The suspect was taken into custody and brought before the King's Prosecutor in order to continue the investigation, in partnership with Interpol and the countries involved in the alleged identity document thefts.
U.S. Recognition of Moroccan Sovereignty over Western Sahara
Moroccan authorities believed the suspect used these false identities to present himself as holding important roles in multinational corporations to defraud victims with promises of juicy deals and quick profit. While it is unclear at this stage of the investigation whether the international swindler intended to raise funds for Hezbollah, the arrest comes at a particularly crucial time for Morocco, following the recognition by the United States of America of Moroccan sovereignty over the disputed territory of Western Sahara on December the 10th, and the resumption of diplomatic relations with Israël. After this recognition, The US announced a 3 billion dollars investment plan to help Morocco boost its economy and development, as well as the opening of a regional office of its "Prosper Africa" initiative. Moreover, this Sunday, the Assistant Secretary of State for Near Eastern Affairs David Schenker came to Western Sahara on the 9th of January to inaugurate a U.S. consulate in the coastal city of Dakhla, alongside the Moroccan minister for foreign affairs, Nasser Bourita.
Morocco Broke off diplomatic relations with Iran in 2018
Since 2018, Morocco has vigorously denounced Hezbollah's alleged links with the Polisario Front separatist movement, and broke diplomatic relations with Tehran in the process, as explained by the Think-Tank Atlantic Council . Although both Iran and Hezbollah immediately refuted Morocco's accusations regarding the organization's alleged links with the Polisario Front, Rabat continued to increase its pressure and has since taken substantive action to curb the actions of the organization's agents. In March 2017, Kingdom arrested at the Casablanca airport Kassem Tajjedine, described by the Americans as the main financier of the organization. The latter was wanted for fraud, money laundering, and financing of terrorist activity, according to Reuters. Tajjedine was extradited to the US where he was sentenced to five years in Prison, and was released on July 2020 as part of a secret US-Iran deal.
Morocco is considered a stable country in North Africa, both on the political and economic level, as well as an important Hub for doing business in Africa and Europe. Over the last twenty years, the Kingdom had a steady growth rate of its GDP at around 4% and built top-class infrastructures, including the largest African port in Tangiers, 2000 Miles of Highway, a High-Speed train between Tangiers and Rabat, and the largest solar station of Africa in the south of the country.
Egypt's search for a fig leaf: It's not the Handball World Championship
Hosting major sports tournaments can confer prestige on a country, but in the case of Egypt, the 2021 Handball World Championship will do little to repair its relations with the US, Italy and states in the Gulf, argues James M. Dorsey in this analysis.
***
Egyptian general-turned president Abdel Fattah Al-Sisi sees the 2021 men's handball world championship in Cairo and Alexandria as an opportunity to put his best foot forward at a time when Egypt's relations with its closest regional and global partners are encountering substantial headwinds.
Successful hosting of the championship, the first to involve 32 rather than 24 competing teams, would also serve to counter criticism of the government's handling of the coronavirus pandemic. Egyptian health minister Hala Zayed recently admitted that many more Egyptians contracted the virus than the government has so far reported. A successful hosting would further put a crown in the feather of Egyptian-born International Handball Federation (IHF) president Hassan Moustafa.
Egypt has put strict pandemic-related precautionary heath measures in place for the tournament from the moment teams, officials, and journalists arrive at Cairo International Airport. The measures apply to training, lodging and media arrangements as well as the transport to and from hotels and the championship's four designated match venues. Egypt is determined to ensure that the championship does not turn into a spreader of Covid-19.
That concern prompted the IHF and Egyptian authorities at the last minute to shelve a plan to allow fans into the four venues that include the Cairo Stadium Sports Hall, the New Capital Sports Hall in Egypt's newly built desert capital east of Cairo, the Dr Hassan Moustafa Sports Hall in Giza, and the Borg Al Arab Sports Hall in Alexandria.
The IHF said the decision was taken "considering the current COVID-19 situation as well as concerns that have been raised, amongst others by the players themselves."
Critics charge that Egypt is hosting the tournament even though it seems unable to meet the basic requirements of medical personnel who are on the frontline of the fight against the pandemic.
Doctors and nurses have protested against the high number of infections in their ranks because they lack access to sufficient personnel protection equipment and are threatened with imprisonment if they fail to report to work despite the risk to their lives.
Symptomatic for Mr. Al-Sisi's brutal crackdown on any kind of criticism, several doctors have been arrested on terrorism charges for voicing their grievances.

Putting aside the fact that the impact of a handball tournament pales when compared to the prestige of hosting a mega-event like the World Cup or the Olympic Games, the handball tournament is unlikely to provide much of a fig leaf for Mr. Al-Sisi's hardhanded repression of anyone voicing an opinion but his sycophantic supporters.
That is particularly true for the incoming administration of US President-elect Joe Biden that has not only promised to emphasize human rights in its foreign policy but also needs to do so in its bid to repair America's image and restore its credibility, severely damaged by four years of Donald J. Trump, widely viewed as an authoritarian who undermined foundations of democracy.
Similarly, the tournament will not change perceptions in Italy and much of Europe that hold Mr. Al-Sisi's intelligence service and law enforcement responsible for the kidnapping, torture and killing of Giulio Regeni.
A 28-year-old postgraduate student at Cambridge University, Mr. Regeni had been researching Egypt's independent unions before he went missing in late January 2016. His body was found in a ditch so badly mutilated that his mother could only identify her son by the tip of his nose. He reportedly had sustained a broken neck, wrist, toes, fingers, and teeth before his death, while initials were carved into his severely burned and bruised skin.
Relations between Egypt and Italy last month deteriorated further when Egypt's public prosecution closed its investigation into Mr. Regeni's murder, rejecting Italian prosecutors' findings that accused four Egyptian security officials of responsibility for his death.

Mr. Al-Sisi's abominable human rights record may not be of concern to the United Arab Emirates and Saudi Arabia but equally the tournament will do little to repair cracks in his relationship with the two Gulf states, his main financial backers.
In a move that will not have gone unnoticed in Gulf capitals, Egypt anointed the newly opened, Qatari-owned St. Regis hotel on the banks of the Nile River in Cairo as one of the tournament's key logistics nodes, including its media center.
Qatari Finance Minister Ali Sharif al-Emadi landed in Cairo last week to inaugurate the hotel hours after a Gulf Cooperation Council (GCC) summit lifted a 3.5-year long Saudi-UAE led economic and diplomatic boycott of Qatar, in which Egypt as well as Bahrain participated. Mr. Al-Emadi was the first Qatari Cabinet official to visit Egypt since the boycott was imposed in 2017.
Showcasing the hotel was meant to counter-intuitively signal to Saudi Arabia and the UAE Egypt's concern that reconciliation with Qatar involved far too many concessions, including dropping demands for the closure of Qatar's state-funded, freewheeling Al Jazeera television network and a halt to support of political groups like the Muslim Brotherhood.
Egypt was forced to reluctantly agree to lifting the boycott even though it accepted continued Qatari investment and Qatari gas supplies over the last 3.5 years.
Egypt also felt sidelined by the UAE and Bahrain's establishment of diplomatic relations with Israel. The move deprived Egypt of its role as Israel's primary official diplomatic conduit to the Arab world at a moment that the Al-Sisi regime is seeking to put its best foot forward in anticipation of Mr. Biden taking office.
Mr. Al-Sisi's concerns are compounded by Emirati support for Ethiopia with which he is at odds over the construction of a dam on the Nile that threatens Egypt's water supply; the UAE's growing influence in neighboring Sudan; plans to link the UAE and Israel through a pipeline that would compete with Egypt in selling gas to Europe; and Emirati interest in the port of Haifa that could create an alternative to the Suez Canal.
All of this could undermine Egypt's position as a key pillar of US Middle East policy and persuade the US to further shift the focal point of its broader Middle East and North Africa policy to the Gulf.
Mr. Al-Sisi has sought to pre-empt an incoming Biden administration by releasing prisoners, highlighting his good relations with Egyptian Christians, and hiring US lobbying firms to plead his case to the Biden camp as well as Capitol Hill.
Hosting a handball world championship is a minor maneuver in the mountain that Mr. Al-Sisi is trying to move, particularly one that Mr. Trump tarnished by describing the Egyptian leader as "my favorite dictator." That is a label a handball tournament is unlikely to alter.
Author's note: This article first appeared on Play the Game