Why is the International Community silent on caste-based violence in India?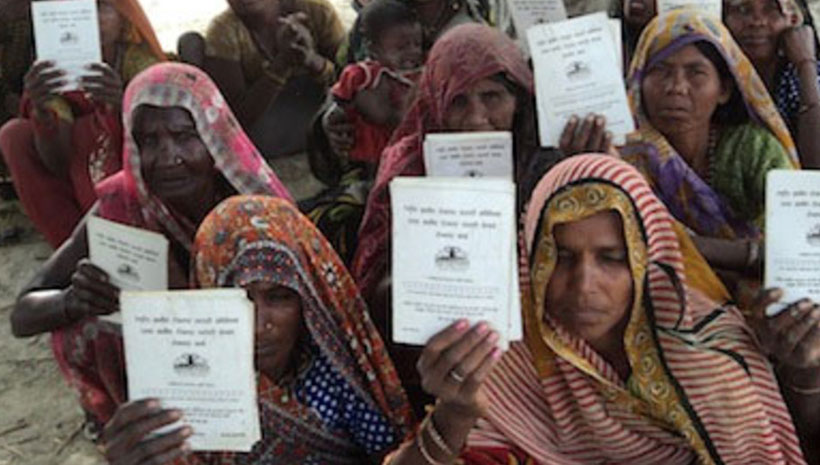 "Silence is Golden" is what I learned in my school but it's not a coherent decision to consciously opt for silence when every new day 8-12 Dalit women (ladies belonging to the 'untouchable' caste) are raped in India. To stay apolitical on this contemporary issue is a matter of vociferous ignorance and 'privilege of elitism'. The predicament does not stop here. The Dalit community, even in today's century, continues to experience exploitation and discrimination in different forms, despite of the fact that the architect of Indian Constitution (Dr B R Ambedkar) was a Dalit. It's assumed by the toadies of the ruling party that 'casteism does not exist', but little do they know that cowbelt states (Madhya Pradesh: 53%, Himachal Pradesh: 50%, Chhattisgarh: 48%, Rajasthan and Bihar: 47%, Uttar Pradesh: 43%, Uttarakhand: 40%) often practice untouchability or casteism willfully than other regional states in India. Majority of the caste-apologists here are Hindus, Sikhs and Jains. These findings come from a report (2011–12) by NCAER which conducted 'India Human Development Survey (IHDS-2)' across 42,000 households.
The buck does not stop in India alone. Wherever a Hindu travels, casteism inherently travels with his soul. A survey (2016) conducted by Equality Labs figured out that around 1,500 people of South Asian origin in the United States confirmed that Dalits often face various types of caste discrimination in South Asian American institutions. This discrimination ranges from derogatory jokes and slurs to physical violence and sexual assault. In the survey, around 26% of Dalit respondents said they had faced physical violence because of their caste while 20% reported discrimination at their work places. When it came to religion, 40% were made to feel unwelcome at their places of worship, the report said. And, 40% of Dalits said they had been rejected as romantic partners because of their caste. In all, 60% of Dalits reported that they had experienced caste-based derogatory jokes and comments.
Casteism is a social structure founded on the tenets of Brahminical hierarchy that determines the caste of a person based on birth and colour. On Wikipedia, it's defined as "a form of social stratification characterized by endogamy, hereditary transmission of a style of life which often includes an occupation, ritual status in a hierarchy, and customary social interaction and exclusion based on cultural notions of purity and pollution.Its paradigmatic ethnographic example is the division of India's Hindu society into rigid social groups, with roots in India's ancient history and persisting to the present time." It does not just openly exist in the rural areas of India, but it is also existing in meso and micro forms (even in urban areas) too. From separate utensils to casteist slurs, from arranged marriage systems to ghettos, casteism is horrendously and vociferously practiced. In fact, urban cities are known to be the 'path of development and prosperity' but unfortunately the very privileged ones residing in the non-rural spheres (not just on the realm of facebook and twitter alone) often condemn and scorn affirmative actions, inter-caste marriages (6% as per the 2011 census report, against the total population), compartmentalization and social equity, etc. A recent series 'Indian Matchmaking' on Netflix also tells how educated Indians consider caste to be an important parameter before tying the knot. To add to this woe, the Lok Foundation-Oxford University survey(2018) administered by the Centre for Monitoring Indian Economy (CMIE) ratiocinated that maintaining caste-based endogamy still remains an important feature of marriage in India. Interestingly, the report also found that lower caste communities slightly practise more inter-caste marriages or exogamy than the upper caste.
What astonishes me is why the international community, other than few UN reports on HR or some renowned NGOs, is unable to collectively call-out the issue? The epoch in India is presently infected with Hindutva nationalism and it continues to 'otherises' the minorities, including sexual minorities. Rape culture is something India conserves, excuses, and ignores when crimes are committed against women. It's the system and the society that has vociferously failed to emancipate and free the Dalit community from a web of oppression. More than ever, it is brutally important to make people aware that casteism, not just caste alone, remains a bitter reality today that stimulates bigotry and sexual exploitation of vulnerable communities. Discussions around abolishing the caste system have been long ongoing. One seminal text is 'Annihilation of Caste' by Dr Babasaheb Ambedkar, written in 1936. Ambedkar was part of Jat-Pat Todak Mandal (Society For The Abolition Of Caste System), an anti-caste platform that challenged conventional societal norms and orthodoxy of Hindu Society. There is a dire need to think out of the box in abolishing casteism and freeing people from the age-old matrix of slavery. The Annihilation of Caste was a radical work for its time, and it continues to be, although it is not introduced in the exercises of parenting and schooling. The book's theme revolves around the effect of casteism (as it matters for 'untouchables' like Ambedkar himself). The caste system is a conventional, misogynistic, and a very rigid social order that discriminates and exploits people, except the upper-caste (Brahmins), on the basis of birth, color, gender, identity, and community. It is proven that casteism lynches the very scope of social mobility, cultural emancipation, and freedom of individuality.Ambedkar sought to comprehend and thrust the inequality of casteism into the Hindu consciousness, to divulge social and economic inequality. This question or the social question of political reform is coupled with economic reform, thinking through the characteristics of 'Indian' society, but from the perspectives of Dalits. For Ambedkar, it is casteism that prevents a human being from practicing humanity with other humans and nevertheless deprives 'segmented' individuals in the hierarchy of caste from experiencing empathy and fraternity.
In 2016, a report on caste-based discrimination by the United Nations Human Right Council's special rapporteur for minority issues Rita Izsák-Ndiaye irked the present Indian government. It was expected that the government would turn schizophrenic against the report. Her report quoted India's National Crime Records Bureau data highlighting that there has been an increase in reported crimes against the Dalits by 19% in 2014 compared to the previous year. It mentions that despite prohibition through legislation, the state has institutionalised the practice with "local governments and municipalities employing manual scavengers". Further, the SR's report notes that casteism directly affects the health of the discriminated, citing an Indian study which "demonstrated stark disparities between Dalit and non-Dalit women in terms of life expectancy and access to prenatal and postnatal care".
Buddha aka Siddhartha Gautama himself condemned and scorned the practices of casteism and untouchability in his discourses. He welcomed Hindu untouchables like Prakriti, Suneet, Uppali, etc in his sangha (community). The scripture 'Majjhima Nikaya' records it. Thus, it is a logical error to blame the introduction of casteism on Britishers alone, as assumed in today's India, when casteism has been the core practice since ages. At the same time, currently, not just the academic textbooks of History, international communities too have ignored divulging India on circumventing caste-based massacres: Kilvenmani massacre (1968), Karamchedu massacre (1985), Dalelchak-Bhagora massacre (1987), Tsundurmasscare (1991), Bara massacre (1991), Bathani Tola massacre (1996), Melavalavu massacre (1996), Laxmanpur Bathe massacre (1997), Senari massacre (1999), Kambalapalli massacre (2000), Khairlanji massacre (2006), Mirchpur massacre (2011), Dharmapuri massacre (2012), Saharanpur violence (2017) and other individual cases that unfortunately experienced bigotry, rape and lynching. All these massacres stem from the cultural philosophy of casteism. There have been many cases of Dalits killed, beaten and abused for riding a horse, flaunting moustache, eating in front of upper caste, sitting on a chair, etc. It's high time for the international community to call-out the culture of casteism that is practised in India and enshrine accountability over human rights violations on the global level too.
Dance and games offer glimpses of life – and death – in ancient Italy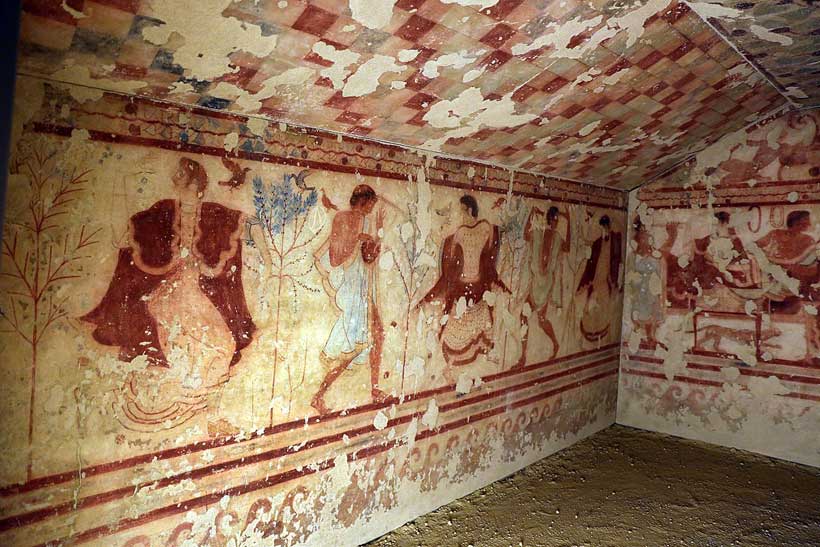 Tomb and urn images shed light on the intricacies of Etruscan and Roman civilisation at least 2 000 years ago, reviving it for modern times.
By ALEX WHITING
A 2 500-year-old Etruscan tomb in the Italian city of Tarquinia has walls covered in paintings of brightly coloured dancers and musicians. A 1st-century funerary urn of a woman who died in nearby Rome depicts a couple playing a board game.
While tombs and urns might seem to be unlikely places to find scenes of people dancing or playing board games, in classical antiquity they conveyed important messages about personal relationships and society.
Game of seduction
The Roman marble urn, for example, bears an inscription identifying the deceased woman as Margaris, a slave of Marcus Allius Herma. The couple is playing "Little Soldiers", a game of strategy symbolising seduction, and Margaris is winning.
'The image of the board game shows intimacy between the couple,' said Véronique Dasen, professor of classical archaeology at the University of Fribourg in Switzerland. 'It is a very beautiful thing because she is a slave, but she's also the beloved one and the leader. The game is also a message to say they will be together forever.'
Although games were an important part of ancient life – even the gods played them – for a long time they went unstudied. The only major work on the topic was published in 1869.
Dasen is leading an EU-funded research project called Locus Ludi to address this gap. It is carrying out the first comprehensive study of the written, archaeological and iconographic records of games, which have been largely forgotten in museums and libraries.
Beastly boys, good girls
Some Roman sarcophagi of children are carved with scenes of boys playing. These are no simple illustrations of childhood amusement – they have a twist.
The beautiful carvings show the boys fighting over their game and pulling each other's hair. One boy is even biting his playmate.
This reflects the extent to which violence was allowed in games and was culturally part of the fun, according to Dasen. Romans valued this behaviour.
Roman girls, on the other hand, were never depicted fighting over games. Instead, they are always shown playing nicely and quietly.
Such pastimes were a way for children to experience winning and losing and to learn to master their emotions.
Play it again
In addition to studying the hidden messages in the images of games in ancient Roman as well as Greek art, the Locus Ludi team has recreated some and made them available to play online.
The "Little Soldiers" amusement played by the slave and her lover is the only Roman strategic board game described in detail in Roman literature.
The researchers used these descriptions and archaeological finds to recreate the rules of the game so that it can be played again today, along with several other ancient pastimes that have been made accessible to modern-day players.
The aim is to help integrate ancient games as cultural material in school and university programmes today, according to Dasen.
Knowing more about the educational and societal role of play in the past is important to understand the present and widen the debate about high-tech toys and new forms of sociability. Locus Ludi, whose funding is through the European Research Council, started in 2017 and runs through September this year.
Female authority
Unlike the ancient Romans and Greeks, women in Etruscan society had equal status to men. The Etruscans controlled central Italy before the region became part of the Roman empire. Many of their rituals were adopted by the Romans.
'The Greeks were shocked by the status that Etruscan women had and described them as women of ill repute,' said Dr Audrey Gouy, an archaeologist specialising in pre-Roman Italy at the University of Lille in France.
Scenes painted in underground tombs in Tarquinia not only show women and men dancing together as equals, they also depict the females as leaders in their community.
The dancers are performing an ancient funeral ritual. A woman playing castanets leads them. Bands of sacred cloth are draped over her arms – a symbol of her religious authority.
'This woman controlled the ritual,' said Gouy, who was the first person to study Etruscan dance.
The castanet player led people through the ritual's different stages. She opened up a connection between the world of the living and the world of the dead, helping the deceased pass through.
Dance at a funeral also served people coping with grief, according to Gouy.
'Dance has a psychological effect on the body that helps to heal after a death,' she said.
Gouy studied textiles in Etruscan art as part of an EU-funded project called TEXDANCE, which ended in 2021, and published a book on the subject last year.
Costume signals
She said researching the dancers' clothes in paintings and carvings reveals a lot about their movements and the sounds they made.
'Through the clothes we can see the different phases of the dance,' Gouy said.
The garments in the tombs show that the dancers move slowly at first, then spin and leap faster and faster. Gouy – herself a dancer – is planning to recreate these clothes and make a video of their movements to show how the ritual might have been performed.
In addition to clothes, male and female dancers wore bracelets and belts, which would have jangled as they moved.
The women's accessories may have given light, high-pitched sounds. The men's belts bore larger objects that may have sounded like a low-pitched rattle.
The possible differences of sound between young men and women in dance led Gouy to think that there may have been a sort of gender soundscape in Etruscan dance.
'The Tarquinian tombs fascinate me because the Etruscans created an envelope of paintings around their dead to protect them for all eternity,' she said. 'They are full of representations of joy, of life, and they tell us so much about Etruscan society.'
Research in this article was funded via the EU's European Research Council and the Marie Skłodowska-Curie Actions (MSCA). The article was originally published in Horizon, the EU Research and Innovation Magazine.
The Threat of Brain Drain: Causes, Implications, and Solutions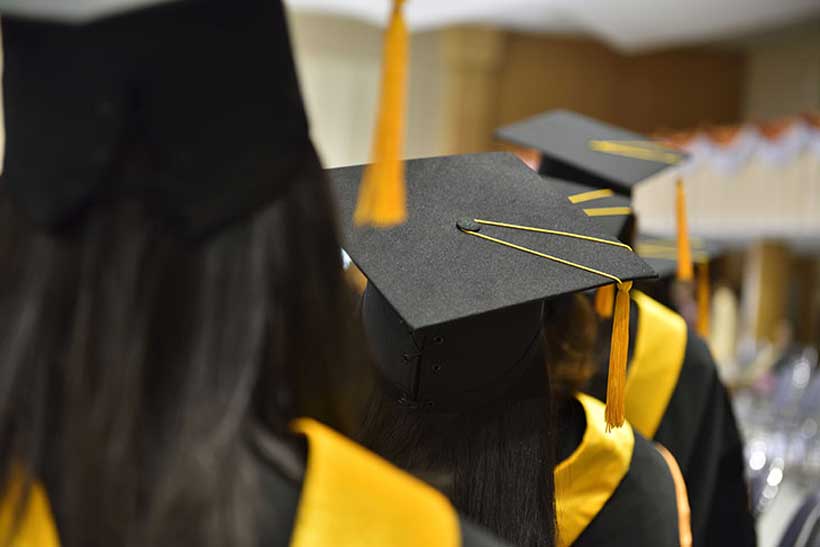 The phenomenon of highly educated and skilled professionals moving from their home country to another country in search of better employment opportunities, living conditions, and other benefits is known as brain drain. This phenomenon presents several difficulties, including a sizable loss of human capital, a decline in the innovation and productivity of the source nation, and a potential imbalance in the distribution of talent globally.
Brain drain has become a major issue for many developing nations, as it results in the loss of talented people who could make significant contributions to the economic and social development of their home nations. Since a large number of highly skilled professionals have left Pakistan in search of better employment opportunities, the nation has struggled with a serious brain drain issue.
Causes of Brain Drain
The brain drain is caused by a number of factors. The absence of employment options in the country of origin is the main factor. It can be difficult for many highly qualified professionals to find employment that matches their education and experience, which causes them to look for opportunities elsewhere. Due to low pay and unfavorable working conditions in some countries, professionals may also struggle to support their families. Instability in politics, poor infrastructure, and limited access to technology can all be contributing factors.
The same is true for Pakistan, where one of the main reasons for the brain drain is a lack of economic opportunities. Many highly qualified professionals, such as doctors, engineers, and IT experts, are compelled to look for opportunities abroad because they cannot locate domestic jobs that match their skill sets. Similarly, long-standing political unrest in Pakistan has been characterized by frequent administration changes and a pattern of military takeovers.
Simultaneously, through their financial contributions, the diaspora communities—which include expatriates, overseas Pakistanis, and Pakistani Americans—have a significant impact on Pakistan's economy. Whereas, doctors, engineers, scientists, and business owners are just a few of the highly qualified professionals living in the Pakistani diaspora. These professionals can help Pakistan develop by sharing their skills and knowledge because they have worked in developed nations where they have gained invaluable experience and knowledge.
Implications of Brain Drain
There are several detrimental effects of brain drain on developing nations. First, it leads to a shortage of highly skilled professionals, making it challenging to develop critical sectors such as healthcare, education, and technology. An additional effect is a decrease in investment in education and training. Secondly, governments invest a lot of money in professional development and education, and when these people leave the workforce, that investment is lost. Third, a reduction in innovation, research, and development may result from brain drain. It can also worsen economic inequality because most highly skilled and educated individuals can afford to emigrate.
Moreover, brain drain has serious repercussions for the country of origin. Highly skilled individuals frequently leave the country, resulting in a sizable loss of human capital that can harm the nation's economic development. Sectors like healthcare, education, and research—which demand highly skilled personnel—feel the impact of this loss most acutely. Furthermore weakening the nation's economy is the possibility of brain drain causing a general decline in productivity and innovation. Additionally, the exodus of talented people can make already-existing social and economic disparities worse by depriving the country's marginalized communities of qualified professionals who can assist in meeting their needs.
Possible Solutions for Brain Drain
The issue of brain drain has been addressed with a number of solutions. In-country wage increases and better working conditions are two potential solutions. This may attract highly qualified professionals and persuade them to remain and support the growth of their nation. Making investments in vital industries like healthcare, education, and technology is an additional solution. Whereas, governments can foster an environment where professionals are more likely to stay and contribute to the growth of their nation by offering more employment opportunities and better infrastructure. A further way to entice professionals to stay in the country is by providing incentives like tax breaks and housing subsidies.
However, Pakistan must create a comprehensive strategy to address this issue that aims to retain its skilled workforce and draw in foreign investment. To provide training opportunities and help Pakistanis develop industry-specific skills, one potential solution is to form partnerships with foreign institutions. With this strategy, education, and training can be of higher quality, increasing the employability of Pakistan's skilled labor force.
Pakistan should also concentrate on improving the environment in which companies can operate. The government should offer incentives to foreign investors to set up their businesses in Pakistan, which will create more job opportunities for the local workforce. To create a stable and conducive environment for businesses to operate, the government should prioritize investments in vital sectors like infrastructure, healthcare, and education.
Raising the standard of living in Pakistan is another way to draw and keep skilled workers. This can be done by funding social welfare programs, enhancing the standard of healthcare, and making sure that people live in a safe and secure environment. With this strategy, Pakistan's citizens and the wider world may have a more favorable impression of the country.
Conclusion
The development of many developing nations is seriously threatened by brain drain. Some of the main reasons include a lack of job opportunities, low pay, unfavorable working conditions, poor infrastructure, limited access to technology, and political unrest. The detrimental effects of brain drain include a lack of highly skilled workers, a reduction in investments in education and training, a decline in innovation, research, and development, and a worsening of economic inequality.
However, there are potential solutions to these problems, such as enhancing working conditions and raising salaries, investing in important industries, and providing incentives like tax breaks and housing subsidies. Governments can improve the environment for professionals to stay and contribute to the growth of their nation by putting these solutions into practice, which will ultimately result in more economic and social advancement.
Last but not least, the loss of talent from Pakistan is a serious issue that hinders the development and growth of the economy in that nation. The main causes of this trend are the state of the global economy, unstable political conditions, and a weak educational system. By investing in education and training, fostering a more welcoming environment for businesses, and raising the general standard of living of its people, Pakistan can, however, position itself to attract and retain skilled workers in a fiercely competitive global marketplace.
Pakistan's Support from Girls education and importance of women progress in Afghanistan
Pakistan firmly believes that girls' education is one of the cardinal rights of all human beings in Islam, and it is committed to promoting gender equality and women's empowerment. Pakistan has a strong stance in support of Afghan women, particularly in ensuring their access to education, which is currently at risk due to the Taliban's takeover of Afghanistan in August 2021.
Islam places great importance on education, and the Holy Quran encourages both men and women to seek knowledge. The Prophet Muhammad (PBUH) also emphasized the importance of education and made it obligatory for all Muslims, regardless of gender. Therefore, Pakistan strongly believes that denying girls' education is a violation of the fundamental rights of human beings and goes against the teachings of Islam.
Pakistan's support for girls' education extends beyond its borders, particularly in Afghanistan. Following the Taliban's takeover of Afghanistan in August 2021, Pakistan has been at the forefront of efforts to ensure that Afghan girls have access to education. Pakistan has provided humanitarian aid to Afghan refugees, including education and health care services. Pakistan has also been a key player in the international community's efforts to support Afghan women's rights and education.
Pakistan has repeatedly called on the Taliban to respect women's rights, particularly their right to education. Pakistan's Prime Minister has stated that the Taliban must ensure that girls have access to education and that women can participate fully in Afghan society. Pakistan has also urged the international community to support Afghan women and girls, particularly in providing access to education and protecting their fundamental rights.
The participation of women in public and political life is critical for the future of Afghanistan. Afghan women have faced numerous challenges in accessing education, healthcare, and political participation, particularly under the Taliban's previous regime. However, with the recent Taliban takeover of the country, the situation for Afghan women is even more precarious, and their participation in public and political life is in serious jeopardy.
The participation of women in public and political life is essential for a healthy and functioning democracy. It ensures that women's voices are heard and their interests are represented in policymaking processes. Moreover, women's participation in public life can lead to the development of policies that benefit both men and women, such as improving access to education and healthcare.
Despite the numerous challenges that Afghan women have faced in accessing education and participating in politics, they have made significant progress over the past two decades. Women have held important positions in government, including serving as ministers, members of parliament, and ambassadors. Women have also played a critical role in the peace process, advocating for the inclusion of women's voices and interests in peace negotiations.
However, with the Taliban's recent takeover of the country, the situation for Afghan women is uncertain. The Taliban have a history of denying women's rights and imposing strict gender segregation and dress codes. The Taliban's track record on women's rights has raised concerns about the future of Afghan women's participation in public and political life.
The international community must take concrete steps to support Afghan women's participation in public and political life. This includes providing support for women's education, healthcare, and economic empowerment, as well as advocating for women's inclusion in peace negotiations and political decision-making processes. It is essential to ensure that Afghan women have access to safe and inclusive spaces to participate in public life and that their fundamental rights are protected.
Pakistan firmly believes that girls' education is one of the cardinal rights of all human beings in Islam, and it is committed to promoting gender equality and women's empowerment. Pakistan's stance in support of Afghan women and their right to education is a testament to its commitment to promoting human rights and dignity, particularly for women and girls.
The international community must work together with Pakistan to ensure that Afghan women have access to education and that their fundamental rights are protected. Only then can we build a more just and equitable society where all human beings can fulfill their potential and contribute to the betterment of the world. Afghan women have made significant progress over the past two decades, but their participation is now in serious jeopardy. The international community must take concrete steps to support Afghan women and ensure that their fundamental rights are protected, including their right to participate in public and political life. It is only through the full inclusion and participation of women that Afghanistan can build a just and equitable society and secure a peaceful and prosperous future.