Thomas Carlyle's political philosophy can be applied to inform Islamism and the construction of a post-Islamist political doctrine. This is because Carlyle's conception of transcendentalism in Sartor Resartus is itself a philosophical/theological construct in the Platonic lineage that is a successor to Islam. Carlyle satirically conceptualized transcendentalism in the 19th century in Sartor Resartus, a work of fiction. F.A. Lea, reflecting on and arguing on behalf of the merits of Carlyle's forecasts of the future during the midst of World War II in his book Carlyle: Prophet of To-day, calls Sartor Resartus the "highest achievement of the Romantic movement in Europe." "Romanticism" is a nebulous construct but it connotes the European reaction to Enlightenment rationalism and empirical science by seeking to prioritize what it took to be beyond the scope of both rigid scientific positivism and dogmatic theology/ideology such as intuition, nature, spirituality, and aesthetics.
An analytical treatment of transcendentalism in the context of the global political climate in 2020 demonstrates it can be applied in the context of political development as a cosmopolitan post-Islamism. By casting Carlyle's transcendentalism as "cosmopolitan," I argue that it is a post-Islamism that belongs to all the world and is applicable to be "at home" all over the world. As such, Carlyle's transcendentalism is not a post-Islamism for the Middle East solely but could initially be most applicable in the context of Islamic Middle Eastern countries. Subscribers to liberalism, communism, and Islamism promote each ideology as global and cosmopolitan. Like Islam, Carlyle's transcendentalism is a philosophy/theology that can be cast as a political doctrine to serve a political purpose. In Sartor Resartus, Carlyle offers a comprehensive philosophy that is simultaneously a moral, social, and political philosophy in much the same fashion as how Islam has been converted into the political ideology of Islamism.
Carlyle's transcendentalism is not a widely practiced philosophy and it has not, heretofore, been recognized as a political doctrine. Carlyle's Sartor Resartus was a chief inspiration for American Transcendentalism as a 19th century intellectual and social movement led by perhaps the two most iconic American philosophers on the world stage—Ralph Waldo Emerson and Henry David Thoreau. Emerson and Thoreau were also inspired by Hinduism and Indian philosophy to elevate the mysticism of nature/spirituality as a primary focal point of their attention. Like Islamism, transcendentalism has yet to be constructed as a coherent doctrine that is accepted universally by those who identify with the respective doctrines. For example, both Islamism and transcendentalism are much less theoretically dogmatic than Marxism as a political doctrine.
Carlyle describes the tenets of the "philosophy of clothes"—a term synonymous with transcendentalism–through the voice of Professor Diogenes Teufelsdrӧckh, the protagonist in Sartor Resartus:
'Whatsoever sensibly exists, whatsoever represents Spirit to Spirit, is properly a Clothing, a suit of Raiment, put on for a season, and to be laid off. Thus in this one pregnant subject of CLOTHES, rightly understood, is included all that men have thought, dreamed, done, and been: the whole external Universe and what it holds is but Clothing; and the essence of all Science lies in the PHILOSOPHY OF CLOTHES.'
Carlyle's philosophy of clothes culminates in attaining transcendentalism. Carlyle defines transcendentalism succinctly as the view that matter is spirit and as such is the manifestation of spirit. In other words, transcendentalism views the entirety of the universe (and all that comprises it) as enchanted with spiritual divinity rather than entirely bereft of spiritual divinity. As such, transcendentalism is a minimalist and nominal theological dogma that offers no theological narrative beyond such a simple theism. Carlyle thus defines transcendentalism as the view that all that is material and immaterial in the entirety of the universe (and thus in the entirety of human history) is ephemeral and cannot be accounted for without considering it as symbolic of a divine spiritual order. Carlyle concludes that all science seeks to account for what comprises the universe and thus transcendentalism rests at the apex of all scientific deliberations. The role of a transcendentalist is to ponder the universe in its entirety as a manifestation of spirit.
Transcendentalism is relevant to politics as a prospective political doctrine in that it offers a means to achieve consensus and yield social solidarity in the context of local and national political communities and in the context of the global political community. Carlyle derives conceptions of social solidarity and renunciation (of antagonism and economic consumption) as corollaries of his conception of transcendentalism. At this juncture, it should be acknowledged that the New Age and counterculture that defined much of the West (and the world) in the 1960s and 1970s was an unconscious, incoherent, and non-mainstream reincarnation of American Transcendentalism as a descendant of American Transcendentalism. The elements of the New Age and counterculture—non-dogmatic spirituality, social solidarity, and renunciation of economic consumption—were once coherently constructed and deemed a superior philosophy relative to dogmatic theology and dogmatic materialism (aka capitalism and communism) by Thomas Carlyle, Ralph Waldo Emerson, and Henry David Thoreau as modern Platonic philosophers.
Carlyle frames transcendentalism in another manner by asking, through the voice of Teufelsdrӧckh, "'what is Nature? Ha! why do I not name thee GOD? Art thou not the 'Living Garment of God?' O Heavens, is it, in very deed, He, then, that ever speaks through thee; that lives and loves in thee, that lives and loves in me?'" It is in this context that Carlyle is "transcendental" in concluding that all matter embodies divine spirit. It is on this basis that Carlyle delivers what is perhaps the climactic thesis of Sartor Resartus, which is also a succinct definition of what he coins the "Everlasting Yea" as a concept that informs transcendentalism: "'The Universe is not dead and demoniacal, a charnel-house with spectres; but god-like, and my Father's!'" Upon attaining this perspective, Teufelsdrӧckh reflects on its social application and its implications to achieve social solidarity:
'With other eyes too could I now look upon my fellow man; with an infinite Love, an infinite Pity. Poor, wandering, wayward man! Art thou not tried, and beaten with stripes, even as I am? Ever, whether thou bear the Royal mantle or the Beggar's gabardine, art thou not so weary, so heavy-laden; and thy Bed of Rest is but a Grave. O my Brother, my Brother! why cannot I shelter thee in my bosom, and wipe away all tears from thy eyes.—Truly, the din of many-voiced Life, which, in this solitude, with the mind's organ, I could hear, was no longer a maddening discord, but a melting one: like inarticulate cries…which in the ear of Heaven are prayers. The poor Earth, with her poor joys, was now my needy Mother, not my cruel Stepdame; Man, with his so mad Wants and so mean Endeavours, had become the dearer to me; and even for his sufferings and his sins, I now first named him Brother.'
The non-dogmatic (i.e. not Christian or Islamic but simultaneously post-Christian, post-Islamic, and post-dogmatic) view of humanity as an embodiment of spiritual divinity yields the legitimacy and validity of social solidarity and the corresponding renunciation of antagonism.
Carlyle theorizes of the primacy of human spiritual interests relative to and as a function of the insatiability of human material appetites. In this context, renunciation can be defended and legitimized as rational through Teufelsdrӧckh's philosophical construction:
'Man's Unhappiness, as I construe, comes of his Greatness; it is because there is an Infinite in him, which with all his cunning he cannot quite bury under the Finite. Will the whole Finance Ministers and Upholsterers and Confectioners of modern Europe undertake, in joint-stock company, to make one Shoeblack HAPPY? They cannot accomplish it, above an hour or two; for the Shoeblack also has a Soul quite other than his Stomach; and would require, if you consider it, for his permanent satisfaction and saturation, simply this allotment, no more, and no less: God's infinite Universe altogether to himself, therein to enjoy infinitely, and fill every wish as fast as it rose…So true is it, what I then said, that the Fraction of Life can be increased in value not so much by increasing your Numerator, as by lessening your Denominator. Nay, unless my Algebra deceive me, Unity itself divided by Zero will give Infinity. Make thy claim of wages a zero, then; thou hast the world under thy feet. Well did the Wisest of our time write: 'It is only with Renunciation (Entsagen) that Life, properly speaking, can be said to begin.''
Essentially, without pursuing renunciation humanity (at the level of the collective and at the level of the individual) is either consciously or unconsciously pursuing the satisfaction of an insatiable appetite for materialist consumption. Renunciation of materialist consumption is thus the only means for humanity (at the level of the collective and level of the individual) to not be dissatisfied and makes primary humanity's non-materialist spirituality. The conclusion that can be drawn from this is that humanity needs to achieve a decent material standard of living that crosses a minimal threshold and then renounce any additional materialist consumption (which is bound to entail the pursuit of infinite consumption). The current unprecedented and unsustainable nature of increasing consumer and national debt in the context of the United States provides an exemplary lens to view Carlyle's conception of renunciation.
An inference that can be drawn from Sartor Resartus is that humanity must attain the "Everlasting Yea" at the level of the individual so that social solidarity could then be yielded at the collective level. A corollary inference could be made that human conflict in all its forms will persist and replicate itself indefinitely until every individual reaches the "Everlasting Yea." Essentially, one must consciously come to the conclusion that not only oneself is the embodiment of divine spirit but all of one's fellows embody divine spirit in the same non-dogmatic sense so as to renounce antagonism and achieve social solidarity. Dogmatic theologies, by contrast, facilitate dis-unity and conflict about their incommensurable theological doctrines.
Conflict, more generally, takes place because the antagonistic parties are unconscious of the notion that their disparate and highly dogmatic ideologies/theologies are individually and collectively "dream-theorems" and such a realization would unify them, ostensibly, into becoming transcendentalists. Carlyle asks, through the voice of Teufelsdrӧckh, "'what are all your national Wars, with their Moscow Retreats, and sanguinary hate-filled Revolutions, but the Somnambulism of uneasy Sleepers?'" Carlyle implies that those who are sleeping to "dream-theorems" (i.e. ideologies/theologies themselves not transcendentalism), and thus not awake to transcendentalism, engage in wars and revolutions as a form of "sleep-walking" to their "dream-theorems." Such wars and revolutions take place as a function of humanity collectively being unawake to and not subscribing to transcendentalism. Carlyle's discussion of being unawake to transcendentalism is analogous to Plato's allegory of the cave in the sense that non-transcendentalists are akin to those in the cave who think the shadows on the wall are the truth. By analogy, non-transcendentalists believe their dogmatic ideologies and/or theologies are truth when, from the vantage point of transcendentalism, they are arbitrary, mutually incommensurable, and thus fodder for mutually interminable conflict.
The inference can thus be made that Carlyle offers a gateway for humanity to achieve mutual accord rather than discord if hypothetically humanity were to universally attain to the "Everlasting Yea." This is because the "Everlasting Yea" provides a communitarian model to attain communal existence through the transcendental rather than through divisive material attributes such as race, economic class, incommensurable dogmatic theological traditions, etc. Carlyle's transcendentalism embodies a rationale for collective renunciation rather than collective antagonism.
The exposition of Carlyle's transcendentalism and his derivative philosophical conclusions with respect to renunciation and social solidarity provides a foundation for the political application of transcendentalism as a prospective political doctrine. Transcendentalism's relevance to politics is that the consideration of its prospective hegemony as an ideology itself provides a prospective telos for a populace to attain, a telos that has been hidden and has gone unrecognized in the analysis of Sartor Resartus and in the history of political thought.The universal popular consciousness of universal spiritual divinity (with the absence of dogma)could potentially facilitate renunciation and social solidarity popularly in much the same manner it did for Teufelsdrӧckh personally. The prospective phenomenon of transcendentalism's political application could hypothetically connote a new stage of human political development. Carlyle's transcendentalism supplies a coherent doctrine that could potentially be instrumental in achieving a material or political end. Transcendentalism is an anti-ideology in that it does not seek to proselytize converts to a strict dogma and is "immaterial" on economic matters in that it promotes renunciation rather than insatiable economic consumption. Carlyle makes known, through the voice of the narrator, that "wild as it looks, this Philosophy of Clothes, can we ever reach its real meaning, promises to reveal new-coming Eras, the first dim rudiments and already-budding germs of a nobler Era, in Universal History."
Transcendentalism, Christianity, Islam, and Islamism
Transcendentalism can be cast as a successor philosophy/theology to Islam (and Islamism) because Carlyle and American Transcendentalism is recognized as post-Christian and Carlyle, Emerson, and Thoreau themselves consciously identified as post-Christian. As Islam was an evolution from Christianity subsequent to Christianity's inauguration, transcendentalism was an evolution from both Christianity and Islam subsequent to Islam's inauguration. Like Islam's inherent recognition of the inadequacy of Christianity, transcendentalism was incarnated with the inherent view that the Christian and Islamic theological traditions needed to be built upon (and could be preserved as a function of being re-tailored) with an innovation.
Transcendentalism, as an evolution from Christianity and Islam, embodies a much different standing than a rejection of Christianity and Islam. Carlyle both praises and critiques Christianity and Islam and provides an argument in defense of transcendentalism as a doctrine on a higher plane. Such praise of Christianity and Islam alongside recognizing their inadequacies is literally not a popular track to take and leaves nearly the entire universe of the public uncomfortable in that transcendentalism is inherently a third-way to dogmatic theological tradition on the one hand and secular atheism on the other. Transcendentalism, by leaving Christians, Muslims, adherents to all other dogmatic theologies, and agnostics/atheists uneasy, can be cast and perceived as a type of Hegelian synthesis of theological dogmatism and atheism. As a synthesis, it too embodies a type of hybrid and moderation between the polar and comparatively extreme positions of theological dogmatism on the one end and the dogmatic faith in atheism on the other end. This is another lens to be able to cast and construct transcendentalism as a type of cosmopolitan consensus in the context of global religiosity.
Carlyle is perhaps the most recognizable and most ardent European Islamo-phile in modern European intellectual history. He lectured publicly and courageously on Muhammad (and not Christ) as the embodiment of "Hero as Prophet" before a London audience (in the heart of Christendom) in 1840 and published his lecture in On Heroes, Hero-Worship, and the Heroic in History. Although himself not a Muslim, Carlyle's praise of Muhammad on multiple occasions makes possible the inference that Carlyle's transcendentalism can be cast as and situated as an evolutionary development within the context of the Islamic tradition. Carlyle's affinity toward Islam demonstrates a consensus between himself and Islam with respect to valuing the spiritual and divine over the material, earthly, and utilitarian. For example, Carlyle chastises Jeremy Bentham's utilitarianism by drawing on Muhammad in On Heroes, Hero-Worship, and the Heroic in History:
Benthamee Utility, virtue by Profit and Loss; reducing this God's world to a dead brute Steam engine, the infinite celestial Soul of Man to a kind of Hay-balance for weighing hay and thistles on, pleasures and pains on:–If you ask me which gives, Mahomet or they, the beggarlier and falser view of Man and his Destinies in this Universe, I will answer, It is not Mahomet!
According to Carlyle, the "advance to a very different epoch of religion" from paganism to Islam is a "great change" and Carlyle remarks "what a change and progress is indicated here, in the universal condition and thoughts of men!" Casting Islam as a "change and progress" inherently casts it as a milestone in the continuous evolution of how humanity theorizes with respect to the divine. In this context of continuous theological evolution from paganism to Christianity to Islam, Carlyle characterizes Muhammad, perhaps coyly, as "by no means the truest of Prophets; but I do esteem him a true one." In Sartor Resartus, Teufelsdrӧckh defines theology, what he calls "Church Clothes," as "the Forms, the Vestures, under which men have at various periods embodied and represented for themselves the Religious Principle; that is to say, invested the Divine Idea of the World with a sensible and practically active Body, so that it might dwell among them as a living and life-giving WORD." Such a characterization underscores Carlyle's conception of the variability, evolution, and perhaps a level of arbitrariness of dogmatic theologies that naturally occurs in the context of history.
The juxtaposition of Sayyid Qutb's Milestones with Carlyle's Sartor Resartus is valuable in illustrating the prospective political application that can be made of Carlyle's transcendentalism. Qutb can be cast as a type of "default" representative of Islamism, as there is no official representative of Islamism. Islamism can be defined as a pluralistic movement to revive Islam's political application as a doctrine for governance in the 20th century since the end of the Caliphate of Constantinople in 1924. The political tactics associated with Islamism are diverse, ranging from grassroots political organizing in the context of political parties and electoral politics all the way to violent terrorism associated with terrorist groups. President Erdogan's recent reversion of Hagia Sophia to an Islamic religious institution can be perceived as a mildly Islamist policy compared to the violent extremism of groups such as Taliban and ISIS.
Qutb's Milestones is perhaps the most influential source of modern Islamic political theory and a chief intellectual inspiration for Islamism. The book's influence on Islamism can be analogized to the influence of Karl Marx's "Communist Manifesto" on communism. In other words, Milestones is a call to action to implement Islamism as the sole hegemonic political doctrine and seeks to provide an intellectual defense of the supremacy of Islamism. Qutb is considered a spiritual and intellectual father of Islamism in general and the radical Islamist group al Qaeda, in particular.
An analytical and literal interpretation of Qutb leaves an opening to consider the possibility of the evolution of Islamism into transcendentalism. Qutb cryptically calls on "the establishment of Islamic society" on the basis of a "movement" that takes the "form of an evolutionary system." Islam's preservation in transcendentalism and transcendentalism's capacity to be a universal, cosmopolitan, and non-dogmatic doctrine to achieve consensus in recognition of the divine order (alongside its commitments to renunciation of economic, racial, and national antagonisms) demonstrates the theoretical pathway by which Islamism could evolve and embrace transcendentalism as a new stage of political development. After all, it is the unyielding devotion to Islam as a singular, particularistic, ossified, and branded theological dogmatism on the part of Islamists that prevents the realization of what may be called the spirit of "Islamic society." Moreover, the realization of the spirit of Islamism is prevented from taking place given that Islamists themselves each adhere to plural particularistic versions of Islam and themselves cannot agree with respect to the theology of Islam.
Carlyle's conception of religion is in profound tension with Qutb's commitment to Islam as the only valid religion. Qutb is adamant that Islam is the final doctrine to serve all of humanity's needs both at the level of the individual and the collective and is the only viable totalizing doctrine to guide humanity both in the public and private spheres. He thus offers a basis as to why we should reverse course from being engulfed in jahiliyyah, a state in which God's laws are rejected, to embrace Islam for every need in personal and social life.
Jahiliyyah is a term taken from the Koran and is usually translated as the "age of ignorance," in reference to the pre-Islamic era on the Arabian peninsula. According to Qutb, Jahiliyyah in its modern incarnation "owes its existence to the putrid element of lordship of man over man, and which separates man from the all-embracing system of the universe." Qutb writes that the extermination of Jahiliyyah has been humanity's grand project and that modern Jahiliyyah has been the condition of humanity's existence since the dawn of civilization, in both the pre-Islamic and post-Islamic eras. Elementally, Jahiliyyah as the hegemonic social order has persisted largely unchanged throughout the entirety of human history.All hegemonic non-Islamic political systems ranging from democracy to aristocracy to communism can be cast as Jahiliyyah since they perpetuate the rule of man over man and thus humanity's oppression at the hands of humanity. Qutb theorizes on the prospects of a compromise with Jahiliyyah:
Islam does not accept any half-way compromise with Jahiliyyah. Whether it is the question of its concepts and ideology or the laws of life based on this concept, either Islam shall exist or Jahiliyyah. No third course is acceptable or agreeable to Islam in which Jahiliyyah and Islam share equally. Islam's point of view in this regard is quite clear and bright. It says that Truth is a unit which cannot be analysed. If there will be no Truth, it shall be falsehood. Mutual intermixing and intermingling of Truth and Falsehood and their co-existence is impossible. Either the command of Allah will prevail or that of Jahiliyyah. Either the Divine code will operate or the desire of self-will rule.
Qutb describes the dynamics of the relationship between Islam and Jahiliyyah:
There is a wide yawning valley between Islam and Jahiliyyah which cannot be bridged for the purpose that both should be able to meet midway. If at all such a bridge could be built it could be for the purpose that the folk of Jahiliyyah should cross over and take refuge in the lap of Islam, whether they are the so-called Islam-professing residents of Islamic country or those residing outside it.
Qutb defines religion as "the system and way of life which brings under its fold the human life with all its details." Qutb contends that the problem religion confronts is "to banish all the fabricated gods through the establishment of the rule of God, Most High." Qutb, it can be inferred, vindicates Carlyle's transcendentalism with his claim that all previous theological conceptions of god were "fabricated" while not suggesting precisely the rationale behind why he thinks all other gods were "fabricated" yet the Islamic god is an exception to the rule. Islam itself is a re-fabrication and evolution from Judaism and Christianity and is premised on the failure of these religions. Yet, Qutb calls on all "fabricated" gods to be banished and labels all Jewish and Christian societies as "Jahili" societies. Such a contradiction can be resolved by subscribing to Carlyle's transcendentalism as a non-dogmatic and non-particularistic theism that can be positioned as post-Islamism.
Carlyle's transcendentalism can be theorized and constructed as embodying and preserving Judaism, Christianity, and Islam in a non-denominational and non-dogmatic modern theism. As such, transcendentalism can be cast as a theism that is suitable for modern, cosmopolitan, and universal subscription. Transcendentalism is the opposite of atheism in that it is purely theism without the theology. It is a construct that can be applied to achieve an ideal social order. Just as Marxism is dogmatic atheist materialism and Islamism is a dogmatic political theology, transcendentalism is a non-dogmatic philosophical/theological construct. The application of an analytical and political lens to transcendentalism allows one to consider how the political and social orders on any scale (from a local community to the global community) could change if a simple and non-dogmatic theism reigned hegemonic.
Carlyle's transcendentalism shows itself to embody what Qutb sought to argue is embodied by Islam, namely that Islam is "different in respect of its nature and reality from all concepts which have been rampant in the world so far."According to Qutb, humanity must achieve a perfect harmony with the nature of the universe and such a harmony would naturally connote the "end" of human political development:
When man evolves an atmosphere of coordination and uniformity with nature, it results in the establishment of a state of concordance between the mutual relationship of man and the general struggle of life, for when man adopts an attitude of cooperation with nature it consequently follows in the birth of complete agreement between human life and the universe, and only one system prevails in the human life and the universe. Thus the collective side of mans' life becomes free from mutual clash and discord, and mankind is benefitted with total goodness. Thereafter various (mysteries) of the universe do not remain secret any more. Man becomes the knower of natures' secrets. Hidden powers of the universe become apparent to him, and he gets the trace of the hidden treasures in the spacious universe. He harnesses all those powers and treasures under the direction of God's laws for the total well-being and prosperity of mankind, leaving no room for any clash or conflict between man and the nature. Otherwise there is a constant struggle between them and the desires and carnal passions are raising their head against the Divine code.
Qutb prescribes the ideal society as being a society not "in a condition that some are driven by greed while others burning with envy; that all of the affairs of the society are decided by the baton and sword, by threat, duress and violence; that the hearts of the population are desolate and their spirits broken, as is happening under the systems which are based on the authority of others than Allah's." For Qutb, Islamic society suppresses "all the frivolous prejudices and weak associations of race, colour, language, country, material considerations and geographical boundaries."
According to Qutb:
[Communism] claimed to demolish all the walls which were raised by colour and race, nation and country and geography. But the foundations of this society were also not erected on the all-embracing base of "human friendship" rather "class conflict" was made the basis of this society. Viewing from this angle, the communist society is another facet of the ancient Roman society. While the Roman society conferred distinction on the "nobility" the communist society imparts this status to the "Proletariate", and the underlying emotion is the feeling of hatred, malice and envy. Such a degraded and malicious society cannot bear any other fruit except exciting the base human feelings.
Carlyle concludes in a manner largely synonymous with Sayyid Qutb's 20th century advocacy of Islamism: "for only in looking heavenward, take it in what sense you may, not in looking earthward, does what we can call Union, mutual Love, Society, begin to be possible." Carlyle describes the teachings of Islam and how Islam's core philosophical precepts are shared by Christianity and are thus not exclusive to a particularistic and ecclesiastical theological tradition but offer a universal, non-dogmatic, and non-branded application to philosophy/theology writ-large:
[God] made us at first, sustains us yet; we and all things are but the shadow of Him; a transitory garment veiling the Eternal Splendour. 'allahakbar, God is great;'—and then also 'Islam,' That we must submit to God. That our whole strength lies in resigned submission to Him, whatsoever, He do to us. For this world, and for the other! The thing He sends to us, were it death and worse than death, shall be good, shall be best; we resign ourselves to God.—'If this be Islam,' says Goethe, 'do we not all live in Islam?' Yes, all of us that have any moral life; we all live so….I say, this is yet the only true morality known. A man is right and invincible, virtuous and on the road towards sure conquest, precisely while he joins himself to the great deep Law of the World, in spite of all superficial laws, temporary appearances, profit-and-loss calculations; he is victorious while he cooperates with that great central Law, not victorious otherwise:–and surely his first chance of cooperating with it, or getting into the course of it, is to know with his whole soul that it is; that it is good, and alone good! This is the soul of Islam; it is properly the soul of Christianity;–for Islam is definable as a confused form of Christianity; had Christianity not been, neither had it been. Christianity also commands us, before all, to be resigned to God….
Carlyle, in his lecture on Muhammad, remarks that "Islam means in its way Denial of Self, Annihilation of Self [and] this is yet the highest Wisdom that Heaven has revealed to our Earth." In Sartor Resartus, Carlyle similarly comments that "Annihilation of Self [is] the first preliminary moral Act" to attaining the "Everlasting Yea," which he casts as the highest philosophical perspective. Carlyle, in discussing Muhammad's inspiration for the concept of annihilation of self, de-emphasizes the importance of Islam's theological narrative and underscores Islam as a contribution to philosophy: "[Muhammad] called it revelation and the angel Gabriel;–who of us yet can know what to call it? It is the 'inspiration of the Almighty' that giveth us understanding. To know; to get into the truth of anything, is ever a mystic act,–of which the best Logics can but babble on the surface." In this quote, Carlyle sounds as if synonymous with Plato in his endorsement of the concept of intellectual and mystical intuition as a means of retrieving and realizing the Platonic Forms on Earth.
Carlyle too theorizes of what he takes to be the inadequacy of Christianity when he writes, as a question Teufelsdrӧckh would hypothetically pose to Voltaire:
"'Sufficiently hast thou demonstrated this proposition, considerable or otherwise: That the Mythus of the Christian Religion looks not in the eighteenth century as it did in the eighth…But what next? Wilt thou help us to embody the divine Spirit of that Religion in a new Mythus, in a new vehicle and vesture, that our Souls, otherwise too like perishing, may live? What! thou hast no faculty in that kind?'"
The inference can be made while synthesizing Carlyle's commentary on Christianity and Islam with Carlyle's conceptualization of transcendentalism in Sartor Resartus that transcendentalism as a post-Christian and post-Islamic philosophy/theology has compatibility with Christianity and Islam and is a legitimate successor in their lineage. Essentially, Christianity and Islam can be viewed as milestones on the road to the incarnation of transcendentalism as a non-dogmatic and non-particularistic account of spiritual divinity. As such, the inference can also be made that Carlyle's semi-endorsements of Christianity and Islam implies their preservation and embodiment in transcendentalism. An inference from this is, as a function of such compatibility among transcendentalism, Islam, and Christianity, Muslims and Christians can retain their theological beliefs in Islam and Christianity as creeds while also mutually adopting transcendentalism as a type of theological/philosophical consensus. Such a consensus would embody a means of being able to simultaneously retain one's theological beliefs while avoiding hostile antagonism toward others that subscribe to disparate theological beliefs. On a larger scale, transcendentalism could provide the means to attain such a consensus among the adherents to the universe of non-transcendentalist ideologies and theologies that are incommensurable and thus naturally antagonistic toward one another. For example, in the Indian case, the religious conflict between Hinduism and Islam provides a context for the prospective application and inauguration of transcendentalism as a means to attain conflict resolution.
John Rawls set about theorizing a prospective "overlapping consensus" to ensure the stability of liberalism since he articulated the problem of liberalism as follows: "How is it possible that there may exist over time a stable and just society of free and equal citizens profoundly divided by reasonable though incompatible religious, philosophical, and moral doctrines?" Carlyle's transcendentalism offers such a prospective consensus, but on a larger scale beyond merely the scope of liberalism in the context of a nation-state. Transcendentalism also potentially can foster consensus among nation-states in the context of international relations by embodying simultaneously a post-ideological and non-nationalist doctrine.
Just as Islam has been appropriated for political purposes by Islamism, transcendentalism can be cast as a political doctrine to achieve what Islamism could not. Islamism could not achieve its aims to unite humanity in submission to the divine as a means to resolve economic, racial, and nationalist conflict (and all forms of conflict) because Islam is a dogmatic and particularistic theology that is mired in interminable conflict with competing dogmatic and particularistic theologies. Since Islam is in competition on the plane of dogmatic and particularistic theologies, such competition is incommensurable. There is no empirical means to establish the superiority of either Christianity or Islam (or any of the other dogmatic and particularistic theologies) over its counterparts in the realm of theology. As a function of this, there is no philosophical means to establish the superiority of Islamism in the realm of political ideology (that includes liberalism, Marxism, and fascism), which has necessarily resulted in jihad being the primary mechanism to establish Islamism as a hegemonic doctrine for governance.
Conclusions
Alasdair MacIntyre's conceptualization of incommensurability informs Islamism's status of being incapable of establishing its hegemony through mechanisms other than jihad.In After Virtue, MacIntyre asserts that, in the context of liberalism, it is impossible to achieve consensus of any form because political disagreements are incommensurable and thus interminable. MacIntyre conceives of incommensurability as taking place when divergent arguments with respect to a political, philosophical, and/or moral problem are logically valid, the conclusions follow from the premises, yet "the rival premises are such that we possess no rational way of weighing the claims of one as against another." MacIntyre theorizes on the bleak nature of contemporary moral and political debates:
Moral philosophy, as it is dominantly understood, reflects the debates and disagreements of the culture so faithfully that its controversies turn out to be unsettlable in just the way that the political and moral debates themselves are. It follows that our society cannot hope to achieve moral consensus.
MacIntyre's conceptualization of incommensurability provides a foundation to be able to assert that, as a function of there being no rational means of weighing the claims of Islam against the claims of Christianity (or any other dogmatic theology), there is no rational means of weighing the claims of Islamism against the claims of any other highly dogmatic political doctrine.
Transcendentalism, as a non-dogmatic and non-particularistic doctrine, has the means to achieve the aims of Islamism, namely universal world peace. Carlyle's conception of transcendentalism was informed and influenced by Kant and Hegel, and it could be a fulfilment of their mutually-antagonistic doctrines. In the context of Hegel, Carlyle's transcendentalism was conceptualized in Sartor Resartus ironically largely as a satirical parody (and refutation) of Hegelian philosophy. That Carlyle's conception of transcendentalism itself could represent the synthesis of Hegelian dialectics to achieve the "end of history" in a political climate favorable to its inauguration as a practical ideology almost two centuries after the publication of Sartor Resartus should definitely be entertained. Transcendentalism has a favorable climate because we have witnessed the dissolution of Marxism (with the exception of China and a few other states) and fascism, leaving liberalism and Islamism as the remaining hegemonic ideologies. Liberalism is vulnerable to dissolution as a function of the COVID-19 pandemic dissolving the liberal dream of the pursuit of insatiable economic consumption as the "end of history" and the concurrent increasingly transgressive (i. e. violent) political contention in Europe and the United States with no long-term liberal resolution on the horizon. Carlyle's transcendentalism could be a vehicle to secure Kant's theory of a global"perpetual peace"by concurrently taking up the mantle of post-liberalism and post-Islamism.
The recognition of transcendentalism as such would leave only atheism/nihilism as a competitor doctrine. The elevation of the hegemony of atheism/nihilism promises only an elevation of perpetual discord in the context of every individual going down Nietzsche's path of becoming an Übermensch and seeking to dominate all other individuals in the absence of any shared social doctrine. With the decline of Platonism and Christianity (and religiosity generally)in the West, we have in fact been witnessing atheist materialism wreak havoc in the form of Marxism on the left and fascism on the right as partners that engage in a mutual self-cancellation. Those elements that date from the 20th century have increasingly re-emerged in Europe and the United States in the 21st century under such guises as "anti-fascism" and populism and are bound only to lead to a similar conflagration as World War II.
Thoreau equated Carlyle with Muhammad as a means of underscoring what he took to be the magnitude of Carlyle's influence: "[Carlyle] has the earnestness of a prophet. In an age of pedantry and dilettantism, he has no grain of these in his composition. There is no where else, surely, in recent readable English, or other books, such direct and effectual teaching, reproving, encouraging, stimulating, earnestly, vehemently, almost like Mahomet, like Luther." Emerson comments, with respect to Carlyle, "He is a man of the world. He does not belong to this or that country only, but by his broad genius and talent of satire, which he throws about him, he is cosmopolitan; but his aims are as good as can be."
That Carlyle wrote Sartor Resartus as a work of satirical fiction and a parody of Hegel's historicism should not prevent an analytical treatment of Sartor Resartus. Carlyle's cryptic verbosity, hyperbole, and satirical tone in Sartor Resartus has blinded readers from acknowledging the practical applications of Carlyle's philosophical conclusions. To put it as a metaphor, Sartor Resartus is perceived as just another bookcase when in actuality it is a magic bookcase that embodies and conceals a passageway toward transcendentalism as a new doctrine. Transcendentalism can be constructed as a viable political doctrine as a function of being situated in the context of other doctrines. By doing such, the vulnerabilities of other doctrines can be seen through the "lens" of transcendentalism.
Carlyle's transcendentalism is an alternative to all other ideologies and theologies, which are necessarily and inherently dogmatic, particularistic, and mutually incommensurable since they are themselves not transcendentalism. Carlyle chastises dogma when he writes, "Which of your Philosophical Systems is other than a dream-theorem; a net quotient, confidently given out, where divisor and dividend are both unknown?" Such dogmatic ideological and/or theological "dream-theorems" would not be so bad if they did not serve as fodder for non-violent and violent conflict between needlessly antagonized parties. Wars and revolutions continuously replicate because the world is unawake to and unconscious of transcendentalism as the means to put them to an end. Ostensibly, dogma will fight dogma, identity will fight identity, nation will fight nation, and scarce resources will be antagonized over until there is a universal acceptance of transcendentalism as an anti-dogma and acceptance of renunciation as a rational social virtue that is a corollary (and derivative of transcendentalism).
The analogy to Plato's allegory of the cave is valuable in this context because the philosopher descending back into the cave to bring wisdom to the cave-dwellers is analogous to a transcendentalist informing the uneasy sleepers of their somnambulism. As Plato wrote in The Republic:
You must go down, then, each in his turn, to live with the rest and let your eyes grow accustomed to the darkness. You will then see a thousand times better than those who live there always; you will recognize every image for what it is and know what it represents, because you have seen justice, beauty, and goodness in their reality; and so you and we shall find life in our commonwealth no mere dream, as it is in most existing states, where men live fighting one another about shadows and quarrelling for power, as if that were a great prize; whereas in truth government can be at its best and free from dissension only where the destined rulers are least desirous of holding office.
Carlyle himself never promoted transcendentalism, likely because the economic, political, and social climates would not have even facilitated his contemplation of transcendentalism as a viable hegemonic doctrine for governance in the context of what was then only the advent of the hegemony of industrial liberal capitalism in partnership with the longstanding and still-potent hegemony of Christianity.
Teufelsdrӧckh speaks of "'Religion, in unnoticed nooks, weaving for herself new Vestures'" and it is on such a basis the narrator in Sartor Resartusasks the question, "Teufelsdrӧckh himself being one of the loom-treaddles?" Carlyle follows up this question immediately with the following remark from the narrator of Sartor Resartus: "Elsewhere [Teufelsdrӧckh] quotes without censure that strange aphorism of Saint-Simon's, concerning which and whom so much were to be said: L'age d'or qu'une aveugle tradition a place jusqu'ici dans le passé est devant nous; The golden age which a blind tradition has hitherto placed in the Past is Before us." It is at this particular place in Sartor Resartus where the inference can be made that Carlyle prophesies that transcendentalism will become a viable doctrine in the future because transcendentalism is precisely the "new Vesture" that Teufelsdrӧckh "loom-treaddles" and such a vesture would inaugurate the new "golden age."
Pakistan On Its Way to Promote Interfaith Harmony
People from various cultural, racial, and religious backgrounds live in Pakistan. 96.28 percent of the country consists of a Muslim population. Minority groups make up 4% of the population, with Christians at 1.59%, Hindus at 1.60%, and Ismaili and Qadianis make 0.22 %. Unluckily this diversity is now being mistreated. Whether it is the ongoing violence against non-Muslims or the sectarian violence among Muslims across the nation, these misperceptions about other religions are a major contributor to violence among religious communities. Unfortunately, Pakistan has fallen prey to these social ills.
The government of Pakistan has contributed significantly by carrying out numerous initiatives and plans to guarantee all of Pakistani society with various religious and ethnic backgrounds the opportunity to socialize with one another. The 1973 Constitution of Pakistan specifically mentioned the rights of minorities to preserve interreligious harmony. To represent religious minorities' voices Article 51 (2A) of the Constitution grants ten additional public services to the Christian, Hindu, Sikh, Buddhist and Parsi religious communities in the national assembly. The Supreme Court (SC) of Pakistan mandated the establishment of a National Council for Minorities. The prime objective of the Council is to oversee, the effective application and protection of rights guaranteed to minorities by the Pakistani Constitution. The Council also demands from the Federal and Provincial Governments to structure the policy proposals to uphold and defend the rights of minorities as per the 2014 Jurisdiction of SC.
Since the last decade Pakistan has been working on the issues of protection of religious minority's rights however, the process speeded up in 2018. The Ministry of Human Rights created the Action Plan against Religious Persecution in 2016. The election campaign of the political Party "Pakistan Tehrik-e-Insaf" introduced, in their manifesto to establish a "legally empowered, well-resourced, independent National Commission on Minorities, followed by provincial Commissions/Departments".The strategy outlines a strenuous effort to be undertaken with numerous stakeholders to protect and advance religious minorities so that they are better able to contribute to the peace and development of the nation and become a part of Pakistan's mainstream social fabric fearlessly. It constitutes a task force at the federal level for developing a strategy for promoting religious tolerance. Curb hate speech in social media. The creation of an endowment fund for student scholarships, development of a complaint/redress mechanism, review/proposal of amendments for discriminatory laws, and protection of places of worship are just a few of the initiatives mentioned in the Action Plan. Others include raising awareness and providing training on interfaith harmony, reviewing and revising education curricula at all levels to foster a peaceful and inclusive society, and raising funds for student scholarships.
Subsequently, it is pertinent to mention here that religious harmony is crucial for maintaining interreligious relations. For this purpose, On January 16, 2018, a National Narrative (Paigham e Pakistan) for Peaceful and Moderate Pakistani Society based on Islamic Principles was presented under the watchful eye of government officials. In January 2019, the Paigham-e-Pakistan Centre for Peace and Reconciliation Studies released a fatwa (verdict) signed by over 1800 Pakistani religious scholars denouncing suicide bombings, armed uprisings, and other acts of terrorism committed in the name of Sharia.
One of the main issues facing minorities, which is being echoed around the world, is the forced conversion of young girls. The Hindu Marriage Act of 2017 was passed by the National Assembly in response to this challenge, covering all of Pakistan except Sindh. To make it easier for the Hindu community to get married under the Sindh Hindu marriage Rules, 2019, the Sindh government passed the Sindh Hindu Marriage Act 2016 (amended in 2018). Additionally, to resolve the issue and dispel any negative perceptions about forced conversion, the Pakistan Hindu Council and Ulema confined an agreement. According to this agreement, the law approved by the Parliament will be adopted regarding conversion. Any Hindu who approaches ulema for conversion will be reported to the local Hindu community leader, to meet with their parents (in absence of Ulema), until the law is approved. Still, if he/she wishes to convert will be allowed to do so.
The Pakistani religious and political elite have used religious segregation by emphasizing "divide and rule" and discouraging the idea of "unity in diversity to effectively consolidate their power. Segregation based on religion has become a major tool for encouraging violence against non-Muslims. This encourages extremism by instilling the desire in jihadist groups to commit acts of religious terrorism against members of other faiths. It is therefore essential to oppose any misuse of religion. Likewise, we must guard against religious fanaticism and extremism to promote interfaith harmony. Under the guise of religion, encourage hatred or even terrorist acts are destructive and poses a serious threat to the peace and prosperity of Pakistan.
Betting on the wrong horse: The battle to define moderate Islam
Proponents of a moderate Islam that embraces tolerance, diversity, and pluralism may be betting on the wrong horse by supporting Muslim scholars on autocrats' payroll.
Polling in the Middle East seems to confirm that state-sponsored clerics lack credibility.
Recent research suggesting that non-violent protest has increasingly become less effective magnifies problems posed by the clerics' legitimacy deficit.
The combination of lagging credibility and reduced effectiveness enhances the risk of politically inspired violence.
Add to that that young Muslims gravitate towards militancy in a world of perceived persecution of the faithful.
Tam Hussein, an award-winning investigative journalist and novelist, who has spent time with jihadists in various settings, noted in a recent blog and an interview that a segment of Muslim youth, who see Western militaries operating across the Muslim world, often embrace the jihadist argument that Muslims would not be victims if they had a genuinely Muslim state with an armed force and religious laws that would garner God's favour.
Achieving a state, the jihadists say, has to be 'through blood (because) the rose isn't got except by putting one's hand on the thorns.'
Mr. Hussein cautioned that "this sentiment of young Muslims…cannot be combated with platitudes, ill thought out deradicalisation programmes, and naff websites set up to combat social media."
Mr. Hussein's insight goes to the crux of a rivalry for religious soft power in the Muslim world that, at its core, involves a struggle to define concepts of moderate Islam.
In essence, Mr. Hussein argues that a credible response to religiously inspired militancy will have to come from independent Islamic scholars rather than clerics who do Muslim autocrats' bidding.
The journalist's assertion is undergirded by some three-quarters of Arab youth polled annually by Dubai-based public relations firm ASDA'A BCW who have consistently asserted in recent years that religious institutions need to be reformed.
Commenting on the agency's 2020 survey, Gulf scholar Eman Alhussein said that Arab youth had taken note of religious figures endorsing government-introduced reforms they had rejected in the past.
"This not only feeds into Arab youth's scepticism towards religious institutions but also further highlights the inconsistency of the religious discourse and its inability to provide timely explanations or justifications to the changing reality of today," Ms. Alhussein wrote.
Mr. Hussein warned that "what many…well-intentioned leaders and Imams don't realise, and I have seen this with my own eyes, is that radical preachers…have a constituency. They hit a nerve and are watched" as opposed to "those they deem to be 'scholars for dollars'… There is a dissonance between the young and the imams. …
When the no doubt erudite Azhari sheikhs such as Ali Gomaa seemingly support Sisi's killing of innocents followed up by Habib Ali Jifri's support for his teacher, one cannot help but understand their predicament and anger," Mr. Hussein said, referring to scholars of Al Azhar, a citadel of Islamic learning in Cairo.
Mr. Hussein was pointing to Ali Gomaa, who, as the grand mufti of Egypt, defended the killing of some 800 non-violent protesters on a Cairo square in the wake of the 2013 military coup led by general-turned president Abdul Fatah al-Sisi. The coup toppled Mohamed Morsi, a Muslim Brother and Egypt's only democratically elected president.
A Yemeni-born UAE-backed cleric, Mr. Al-Jifri, a disciple of Mr. Goma, is part of a group of Islamic scholars who help project the Emirates as a beacon of an autocratic form of moderate Islam that embraces social reforms and religious diversity, rejects political pluralism, and demands absolute obedience of the ruler.
The group includes the former Egyptian mufti, Abdullah Bin Bayyah, a respected Mauritanian theologian, and his disciple, Hamza Yusuf, one of America's foremost Muslim figures.
Mr. Hussein could have included Mohammed al-Issa, the secretary general of the Muslim World League, the primary vehicle employed by Saudi Crown Prince Mohammed bin Salman to garner religious soft power and propagate his autocratic version of Islam.
Autocratic reformers such as UAE President Mohammed bin Zayed and Mr. Bin Salman offer an upgraded 21st-century version of a social contract that kept undemocratic Arab regimes in office for much of the post-World War Two era.
The contract entailed the population's surrender of political rights in exchange for a cradle-to-grave welfare state in the oil-rich Gulf or adequate delivery of public services and goods in less wealthy Arab states.
That bargain broke down with the 2011 and 2019/2020 popular Arab revolts that did not spare Gulf countries like Bahrain and Oman.
The breakdown was sparked not only by governments' failure to deliver but also by governments, at times, opening political space to Islamists so that they could counter left-wing forces.
Scholar Hesham Allam summarised the policy as "more identity, less class." In effect, Middle Eastern government were hopping onto a bandwagon that globally was empowering religious and nationalist forces.
Using Egypt as a case study in his just publisjed book, Classless Politics: Islamist Movements, the Left, and Authoritarian Legacies in Egypt. Mr. Sallam argued that" in the long run, this policy led to the fragmentation of opponents of economic reform, the increased salience of cultural conflicts within the left, and the restructuring of political life around questions of national and religious identity."
To revive the core of the social contract, Messrs. Bin Zayed and Bin Salman have thrown into the mix degrees of social liberalization and greater women's rights needed to diversify their economies and increase jobs as well as professional, entertainment, and leisure opportunities.
At the same time, they have cracked down on dissent at home and sought to impede, if not at times brutally, reverse political change elsewhere in the region.
Even so, researcher Nora Derbal describes in her recently published book, Charity in Saudi Arabia: Civil Society under Authoritarianism, discrepancies between interpretations of Islamic guidance as provided by government officials and state-sponsored clerics and charity and civil society groups that have their own understanding.
In one instance, Ms. Derbal noted that the government sought to restrict charity recipients to holders of Saudi national id card. She quoted a representative of one group as saying that "Islamically speaking, any person, Muslim or not Muslim, deserves aid if in need."
Nevertheless, the notion of an autocratic moderate Islam appears to work for the UAE and holds out promise for Saudi Arabia but is on shaky ground elsewhere in the Middle East and North Africa.
Recent polling by ASDA'A BCW showed that of the 3,400 young Arabs in 17 Arab countries aged 18 to 24 surveyed, fifty-seven per cent identified the UAE as the country where they would like to live. Thirty-seven per cent wanted their home country to emulate the UAE.
The survey's results starkly contrast Mr. Hussein's perceptions of discontented, radicalized Muslims and jihadists he encountered in Syria and elsewhere.
The diverging pictures may be two sides of the same coin rather than mutually exclusive. The survey and other polls and Mr. Hussein likely tap into different segments of Muslim youth.
Nobel Literature Prize laureate Orhan Pamuk described the men and women that Mr. Hussein discussed as having a "sense of being second or third-class citizens, of feeling invisible, unrepresented, unimportant, like one counts for nothing—which can drive people toward extremism."
Some of those responding to polls may be empathetic but probably wouldn't pull up their stakes because they are at a point where they have too much to lose.
Even so, recent surveys by the Washington Institute for Near East Policy showed that 59 per cent of those polled in the UAE, 58 percent in Saudi Arabia, and 74 per cent in Egypt, disagreed with the notion that "we should listen to those among us who are trying to interpret Islam in a more moderate, tolerant, and modern way."
Given that in the milieu that Mr. Hussein depicts, the UAE is "seen by many as actively subverting the aspirations of millions of Arabs and Muslims for their own political ends, one can see why these (angry) young men will continue to fight," the journalist said.
"When scholars don't act as their flock's lightning rod, or do not convey their sentiments to power, or are not sufficiently independent enough, the matter becomes hopeless and young men being young men, look for other avenues," Mr. Hussein added.
Pakistan is one place where Mr. Hussein's scenario and Mr. Pamuk's analysis play out. In July, a United Nations Security Council report said that Tehreek-e-Taliban Pakistan (TTP), also known as the Pakistani Taliban, boasted the largest number of foreign militants operating from Afghan soil.
The report suggested that many of TTP's 3,000 to 4,000 fighters were freed from Afghan jails shortly after last year's fall of Kabul.
Recent academic research suggesting that non-violent dissent is seeing its lowest success rate in more than a century even though the number of protests has not diminished magnifies the resulting threat of militancy.
One study concluded that the number of protest movements worldwide had tripled between 2006 and 2020, including the dramatic 2011 popular Arab uprisings. Yet, compared to the early 2000s when two out of three protest movements demanding systemic change succeeded, today it is one in six, meaning that protests are more likely to fail than at any time since the 1930s, according to Harvard political scientist Erica Chenoweth. Ms. Chenoweth suggested that the sharp decline was starkest in the past two years.
By comparison, armed rebellion has seen its effectiveness decline more slowly than non-violent protest, making the two strategies nearly tied in their odds of succeeding. "For the first time since the 1940s, a decade dominated by state-backed partisan rebellions against Nazi occupations, non-violent resistance does not have a statistically significant advantage over armed insurrection," Ms. Chenoweth said.
Ms. Chenoweth and others attribute the evening out of success rates of violent and non-violent agitation to deep-seated polarization, militant nationalism, media echo chambers, increased restrictions on freedom of assembly and expression that cut off avenues to release pent-up anger and frustration, and an enhanced authoritarian toolkit. The toolkit includes divide and rule strategies, digital repression, propaganda and misinformation, and the declaration of emergency powers under pretexts such as the recent public health crisis.
Said Ms. Chenoweth: "As authoritarian movements gain ground, democratic movements worldwide are struggling to expand their constituencies among those who have grown frustrated with the systems of inequality and injustice that continue to plague…countries worldwide."
Wither India's secularism?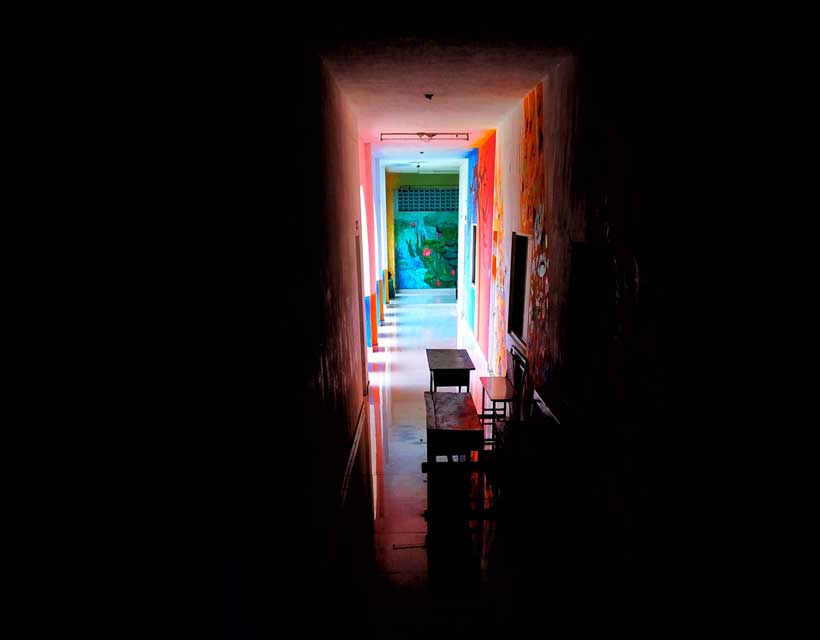 Florets International School in Kanpur's Gandhinagar area is owned by Hindu owners. It is viewed as a paragon of quality education and interfaith harmony. According to the school's principal Ankita Yadav, the school has a long established tradition of beginning its morning session by reciting prayers of four religious faiths (Hindu, Muslim, Sikh and Christian) since the school opened in 2003. After closure due to COVID19, the interfaith prayers were recited to the morning assembly.
No-one ever objected to the practice. But some extremist Hindu outfits (Bajrang Dal and the Vishwa Hindu Parishad) and BJP's leaders got inkling of the practice. On August 2, they forced a few parents to register a First Information Report against the school's administration.
The FIR inter alia accused school's managing director, Sumeet Makhija of 'sowing the seeds of conversion' and indulging in "shiksha jihad" (jihad teaching). He has been booked under Section 295A (outraging religious feelings and infringing Uttar Pradesh Prohibition of Unlawful Conversion of Religion Act, 2021). The police hastily sealed the school. The complainants said that it was never their intention to get the school closed down. They have no intention to move their wards to any other school.
The façade of secularism
The Preamble to the Indian Constitution turned India into a secular state through the Constitution (42nd Amendment) Act, 1976. The underlying objective was to provide for the unity of the people of India, professing numerous faiths. The state was bound to protect all religions equally and did not itself uphold any religion as the state religion. The secular objective of the state was specifically expressed by inserting the word 'secular' in the Preamble .Besides, the liberty of 'belief, faith and worship' promised in the Preamble was censured by incorporating the fundamental rights of all citizens relating to 'freedom of religion' in Articles. 25-29. These articles guarantee to each individual freedom to profess, practice and propagate religion, assure strict impartiality on the part of the state and its institutions towards all religions.
Religious persecution caricatures India's constitution
Not only Muslims but also the other minorities have a miserable plight. Article 25-A of India's Constitution provides for religious freedom. Yet, the US Commission on International Religious Freedom called for putting it on religious freedom blacklist. The report noticed: 'In 2019, religious freedom conditions in India experienced a drastic turn downward, with religious minorities under increasing assault'. Not only Muslims but also Christians, Dalit (downtrodden) and other minorities are persecuted communities.
US Senators' letters to Secretary of State
Fourteen U.S. Senators sent a letter to Secretary of State reminding him of the recommendation by US Commission for International Religious Freedom (USCIRF) to designate India a country of particular concern. The Senators went on to demand that "targeted sanctions" be imposed against Indian agencies and officials responsible for escalating religious intolerance and violence.
According to USCIRF, violations of the religious freedom rights of minorities have reached a point where India should be considered amongst the world's worst violators. The Senators when on to request the Secretary of State to provide Congress with reasoning as to why the USCIRF recommendations are not being followed and why India is not designated "a country of particular concern"
Manifestation of persecution
A Christian preacher was burnt alive right in front of his two minor kids in Orissa by a serial killer Dara Singh. Several Indian states have passed anti-conversion laws. They are aimed at restricting the right to propagate religion, which is guaranteed by Article 25 of the Indian Constitution.
India claims to be a secular country but unfortunately, the country's legislative history, relating to the issue of conversion underscores the reality that the government always harbored a grudge against conversion. Orissa, Madhya Pradesh, Rajasthan, Arunachal Pradesh and Tamil Nadu have passed Freedom of Religion Acts. A common feature of these anti-conversion laws is that they made so-called 'forced conversion' a cognizable offence under sections 295 A and 298 of the Indian Penal Code. Several Indian states have passed anti-conversion laws.
Cognisability of the offence licensed police to harass missionaries and converts under the influence of Hindu fanatics or government functionaries. Some Indian courts intervened to stop the persecution of converts or Christian preachers. For instance, Chief Justice A.N. Ray in Reverend Stanislaus v. State of Madhya Pradesh (AIR 1977 SC 908), and Yulitha v. State of Orissa and others, ruled that propagation is different from conversion. Ray observed adoption of a new religion is freedom of conscience, while conversion would impinge on 'freedom of choice' granted to all citizens alike. But the state governments remained nonchalant to the courts' observations.
To discourage Dalits from converting to Christianity, not only the center but also the Indian states have deprived 'Dalit Christians' of minority-status privileges. The courts' decisions being declaratory (certiorari), not mandatory (mandamus), remained un-implemented. Interestingly, India's Ministry of Home Affairs (February 1981) advised the state government and union territories to enact laws to regulate change of religion on the lines of the existing Acts in Madhya Pradesh, Orissa and Arunachal Pradesh. Such legislations violate the UN Charter of Human Rights which gives a person right to change his or her religion.
Since the Bharatiya Janata Party (BJP) took power in 2014, religious intolerance and anti-Christian violence has surged across India. Six women at Kilipala village in Jagatsinghpur district (Orissa) had their heads tonsured by influential Hindus. Their offence was abandoning Hindu faith at their own free will. Christian missionaries are harassed, deported and even killed. Indian government ordered 'deportation of three American preachers from Church of Christ in North Carolina on the first available flight to the US.' To insult them even further, the preachers were even attacked by Hindu fanatics.
Indian courts often act as kangaroo.
A few years back, Hindus attacked Christians as a response to a book which allegedly insulted Hindu deities. Investigations revealed that the book was not written by any Christian. But it happened to be displayed on one of the Emmanuel Mission's bookshops for sale. The mission is a Christian organization that runs a chain of schools in various Indian states.
Hindus ignore the fact that Christian missionaries started coming to India, particularly the North-East, in the late 19th century. They promoted education and socio-economic developmental work in the region. In Rajasthan, the Emmanuel Mission, alone, runs over 50 schools.
Surge in persecution under BJP
Since the Bharatiya Janata Party (BJP) took power in 2014, religious intolerance and anti-minority violence surged across India. In 2014, the Evangelical Fellowship of India (EFI) documented 144 violent attacks on Indian Christians. In 2019, the latest data available, the number of attacks has more than doubled with EFI documenting 366 violent attacks.
The plight of Muslims is no less miserable. They join Muslim munch, a component f Rashtriya Swayamsevak Sangh to escape persecution. Indian courts ruled that a mosque was not necessary for the Muslim mode of worship. Muslims offering prayers in open space were brutally eaten. Some Muslims, wearing prayer caps, were also beaten. Beef sellers or eaters are lynched. A Goa legislator complained that cow vigilantes (gau rakhshak) intercept beef trucks into Karnataka and put phenyl on it to make it unfit for eating.
Judge Mahesh Chandra Sharma of the Rajasthan High Court, in his 193-page judgment, stunned people by mentioning the mythical benefits of cow milk, urine and dung. His judgment, a mélange of scriptures and law, glistens with claims like 'cow is a surgeon', 'a complete pharmacy', and cow is a 'national animal'.
While lynching the beef eaters, Hindus ignore that, according to the National Sample Survey Office, more than 80 million Indians consume beef, of whom Hindus account for 12.5 million, the rest belonging to various other communities, including Muslims and Christians.
Moreover, according to 2015 figures, India has been the largest exporter of beef since 2014 and has been outpacing Brazil in that realm steadily over the past few years. India's Al-Dua is a leading exporter of halal/kosher meat to Arab nations.
BJP legislator Sangeet Som is a beef exporter. Goa allows beef consumption as does the Northeast. Both, Union Minister of State for Home Affairs Kiren Rijiju and Arunachal Pradesh Chief Minister openly admitted being beef eaters.
Indian authorities linked dozens of cases of COVID-19 to a Muslim missionary group (tableghi, preachers) that held its annual conference in Delhi in early March, and health officials raced to track down anyone who had contact with the participants. Videos falsely claiming to show members of the missionary group spitting on police and others quickly went viral on social media, exacerbating an already dangerous atmosphere for Muslims.
tweets with the hashtag #CoronaJihad appeared over 300,000 times and were potentially seen by 165 million people on Twitter. The social posts were mostly fake. For instance, one post purported to show a person spitting on a Hindu. The graphic post was fabricated in Thailand.
On the heels of the propaganda came religious pogroms conducted by Hindu nationalists leaving 36 Muslims dead, their houses and shops burnt, including some mosques where they took refuge, in Delhi. The pogroms were rooted in anti-Muslim hatred, dating back to pre-partition of the sub-continent. Subconsciously, Hindus believe that Muslims are untouchable. They are treated as a malaise.
The Indian Supreme Court validated the demolition of the Babri masjid. The Supreme Court judge Ranjan Gogoi was inducted, shortly after his retirement as a member of the Rajya Sabha (council of states) as quid pro quo for his pro-government decisions.
He took no action on the abolition of Kashmir's special status. The serving Supreme Court judges rejected a petition for inquiry into Gogoi's in-service conduct. The National Crime Records Bureau withheld collected data on murders; burning Muslims alive, cow-related lynching and offences committed for religious reason.
Hindu-monk chief minister Yogi Adityanath of India's Uttar Pradesh state equated cows with human beings. He directed that cow-related offences be registered under India's national Security Act. He jailed people for social posts `Love jihad' and Pakistan zindabad. He declared that only the pandemic prevented him from allowing the whole India to make pilgrimage (Ram dashing) at the under-construction Ram temple at Babri mosque. Anyone differing with ruling BJP's policies is prosecuted for sedition.
Concluding remarks
Persecution of minorities caricatures India's secular face. The fanatic Hindus view Muslims as "anti-national, terrorists, and enemy of Hindu nation. Love jihad, "ghar wapsi" (reconversion), and cow vigilantism are tools to persecute Muslims. Indian prime minister refused to condemn lynching of the 55-year old Muhammad Akhlaq at Dadri in Uttar Pradesh by a mob about a hundred guards. Muslim are treated as second-class citizens. Sikhs are treated, legally, as Hindus. They have petitioned the British parliament against this juggernaut.