Guterres: 'Take urgent steps' to calm intercommunal violence in Ethiopia
Inclusive dialogue is crucial to diffuse tensions across Ethiopia, said the UN Secretary-General on Tuesday, following reports of dozens killed and injured during brutal attacks in the west of the country over the weekend.
According to news reports based on eyewitnesses, more than 50 were killed, many after being rounded up and killed, while homes were torched and livestock stolen, in attacks on three villages which are being widely viewed as ethnically-motivated.
The rebel Oromo Liberation Army (OLA) is being reportedly blamed for the attacks on Sunday in Oromia state, a breakaway militia from the Oromo Liberation Front (OLF), an opposition party that returned from exile following the election of Nobel Peace Prize-winning Prime Minister Abiy Ahmed, in 2018.
The civilians targeted were mainly children, women and elderly persons, who were reportedly members of the Amhara ethnic group.
The Oromo and Amhara, reportedly make up nearly two-thirds of Ethiopia's population.
Since coming to power, Prime Minister Abiy has freed political prisoners, legalized some formerly banned opposition groups and advanced peace with neighbouring Eritrea, leading to challenges to his rule and increased ethnic tensions.
In June, widespread violence broke out following the death of a leading Oromo singer, who was gunned down in the capital Addis Ababa. Hundreds were killed and arrested, and Amhara civilians were among the minorities reportedly attacked in the Oromia region.
'Grave concern'
"The Secretary-General expresses his grave concern over reports of recent inter-communal violence and attacks targeting civilians in Ethiopia", said the statement issued on behalf of UN chief António Guterres.
"He expresses his deep condolences to the families of the victims and wishes a speedy recovery to the injured."
The Secretary-General called for the perpetrators to be brought to justice, and "appeals to all stakeholders to take urgent steps to calm tensions in the country and to resolve challenges through an inclusive and peaceful dialogue", the statement continued.
Mr. Guterres reiterated the commitment of the UN "to supporting the Government in its efforts towards ensuring a stable and prosperous Ethiopia, which will contribute to further strengthening peace and sustainable development in the Horn of Africa."
Closer Africa-Europe collaboration needed to deliver food and nutrition security roadmap
Africa's apex organization for coordinating and advocating for agricultural research and innovation has called on more African and European countries to prioritize investment in science, technology and innovation for agriculture on the continent.
The Forum for Agricultural Research in Africa (FARA) updated partners on a joint initiative between the European Union and the African Union to promote sustainable agriculture during its General Assembly this week. FARA also called on the agricultural research for development sector on the continent to unite and implement a roadmap for food and nutrition security.
The Long-term EU-AU Research and Innovation Partnership for Food and Nutrition Security and Sustainable Agriculture (LEAP4FNSSA), which is running from 2018 to 2022, supports intercontinental collaboration over agricultural research and innovation. This partnership will establish, by 2022, an International Research Consortium (IRC) to facilitate cooperation in agricultural research and innovation of mutual benefit to Africa and Europe.
"The general objective of LEAP4FNSSA is to establish a sustainable platform for the efficient and coherent implementation of the AU-EU Research and Innovation Partnership," said Yemi Akinbamijo, Executive Director of FARA.
"Agriculture is biology, and our agriculture is as good as our science. FARA drives the AU's mandate to strengthen the application of science and technology to accelerate agricultural transformation in Africa and ensure equitable access to resources like the International Research Consortium. Meanwhile,it is vital that African partners play their part to help drive the agenda for improved food and nutrition security across the continent."
The 8th FARA General Assembly included presentations from Dr Philippe Petithuguenin from the French research centre CIRAD, Dr. Shadrack Moephuli the President of South Africa's Agricultural Research Council and Dr George Essegbey from the Science and Technology Policy Research Institute (CSIR-STEPRI) in Ghana. The Assembly called on African institutions to rally around FARA in its efforts to coordinate agricultural research for development on the continent.
"FARA holds an important mandate on the continent, which the LEAP4FNSSA can leverage for the establishment and operation of the International Research Consortium by Africa and Europe," said Dr. Bouchaib Boulanouar, Partnerships Coordinator in Agriculture and Agro-industry at the African Development Bank and FARA Board Member.
"The roles of FARA and sub-regional organisations in building the IRC partnership platform are crucial. Among others, they involve inviting partners and disseminating information among stakeholders. FARA will ensure the IRC composition is equitable to advocate for mutual interests of Africans and Europeans."
Speaking at the high level plenary panel of the 16th Comprehensive Africa Agriculture Development Programme (CAADP) Partnership Platform, which preceded discussions on the LEAP4FNSSA, FARA's Executive Director also updated the African Union Commission and other stakeholders on the organisation's perspectives in mobilizing support to African countries to enable them achieve CAADP targets, with the EU-funded CAADP XP4 programme as case study.
Several international development partners such as the International Fund for Agricultural Development (IFAD), the Organisation of African, Caribbean and Pacific States (OACPS), the European Commission and the African Union Commission reiterated their support around the interventions that FARA is leading on the continent.
FARA has also recently acquired web-based survey instruments and training materials on Capacity Strengthening on Knowledge Management as legacy products of another joint institution, the Technical Centre for Agricultural and Rural Cooperation (CTA), which is winding down in December 2020. These will be used by African institutions to assess the state of institutional knowledge management and design appropriate responses to their needs.
CTA was established under the Cotonou Agreement between the EU and Africa, Caribbean and Pacific (ACP) states to support smallholder agriculture.
"FARA appreciates the support received from CTA in sharing these intellectual assets so that we can continue the important work of fostering EU and African collaboration by ensuring they remain shared resources for a common vision," added Dr. Akinbamijo.
"As neighbours and, increasingly, as trading partners, Europe and Africa have many shared interests and much to learn from one another as our food systems face the challenges of the future."
As part of FARA's ongoing support for sustainable food systems across Africa, the organisation will also host the virtual Biennial Africa Climate Smart Agriculture Stakeholders Conference on December 1-2, which will provide updates on the state of CSA initiatives and contributions of science to a food systems approach in Africa.
Somalia at a crossroad, UN envoy urges 'deepened' political consensus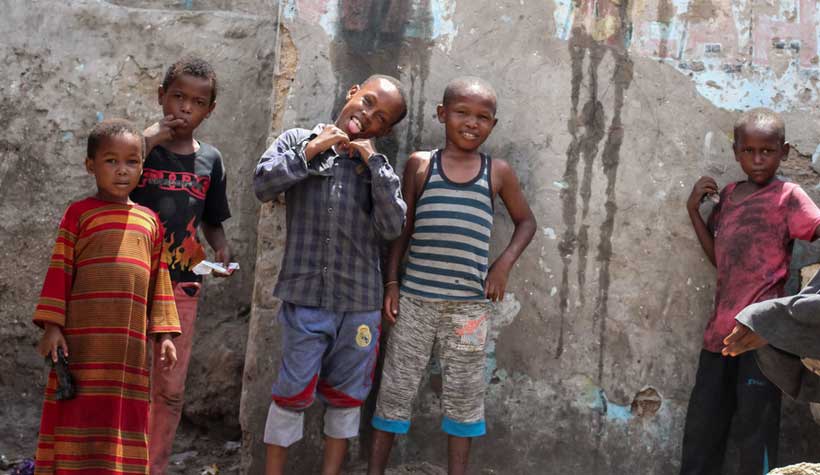 The "broad political consensus" reached in September that ended a two-year stalemate in Somalia must be "preserved and indeed deepened", the country's UN envoy told the Security Council on Monday.
Although the agreed model of voting "regrettably fell short" of the constitutional requirement for parliamentary elections based on the principle of universal suffrage, Special Representative James Swan, who also heads the UN Assistance Mission in Somalia (UNSOM), acknowledged that it did reflect "wide Somali political consensus and ownership".
"In addition to the support of the President and federal member state leaders, the indirect model was also endorsed by other key Somali stakeholders, including political parties and civil society, and was ratified by the Federal Parliament", he said via videoconference.
"A transition year'
The UN official painted a picture of a country facing critical decisions, namely "an electoral process to choose the parliament and president in the coming few months; a security transition so that Somalis can assume lead security responsibility by the end of 2021; and urgent priorities for humanitarian response and economic reforms".
Dubbing 2021 "a transition year in which Somalia takes lead responsibility on security matters", Mr. Swan sought a "strategic vision" for the country's security that would be supported by diverse backers, including "external actors".
He also lauded, among others, the Somali security forces and African Union (AU) Mission in the country, for contributing to collective gains in the security realm.
Inclusive processes
The UNSOM chief underscored that agreed-upon processes must be "more participatory and inclusive" and welcomed the agreement of political leaders to ensure a 30 per cent quota for women to sit in Parliament.
As Somalia focuses on the electoral process, he upheld that the UN would continue to press for "participation by historically underrepresented groups", including women, youth and marginalized communities.
"They all have much to contribute to peace, stability, and development in their country", upheld the Special Representative.
Turning to the longer-term, Mr. Swan explained that in collaboration with the UN Development Programme (UNDP), the U Support Office in Somalia (UNSOS) and international partners, UNSOM would contribute to implementing the electoral agreement and "universal suffrage elections in the future".
"To this end, we urge Somali leaders to prepare consensually a roadmap with clear timelines and benchmarks to ensure one-person-one-vote elections take place in 2024/25", he said.
Freedom and respect
The UN's development work in Somalia is centred around human rights and justice, according to the UNSOM chief.
"With elections approaching, I underscore my previous calls for the protection of political space, for tolerance of divergent opinions, for respect of free speech and association, and for media freedom", he reiterated.
In closing, Mr. Swan assured the Council of UNSOM's ongoing work in promoting political cooperation.
"Our good offices are aimed at fostering the widest levels of inclusion and consensus possible", he stated.
Protracted dialogue necessary
Also briefing was Francisco Caetano Jose Madeira, Special Representative of the Chairperson of the AU Commission for Somalia and Head of the AU Mission, who said that "protracted and painstaking" dialogue was needed to achieve consensus on a parliament-endorsed electoral process.
Mr. Madeira also expressed confidence regarding recent State efforts to improve governance, promote dialogue and strengthen security while underscoring the AU's role in ensuring successful elections and highlighting the need for increased support and training of Somali police forces.
Training women to avoid conflict in Sierra Leone
In the West African country of Sierra Leone, the UN is supporting a government programme, training women and men to take on leadership roles in areas such as peacebuilding, with the aim of promoting peace and non-violence.
"We have learned how to see the sparks before they turn into fires, metaphorically speaking," says Susan Pessima, from Selenga Chiefdom, Bo District, in the south of Sierra Leone. "That's important, because fires can spread fast if the conditions are right for it".
Ms. Pessima is talking about the fires of conflict and violence, fanned in part by the climate crisis, and dwindling natural resources. Often these take the form of land disputes. For example, there may be a disagreement over the boundary line between two properties. The problems often seem small, but they reflect larger and long-simmering tensions over class, ownership, and land rights. Sometimes, these disputes turn violent, and may even unleash bigger waves of violence.
'Women see things other people don't'
That's why the government is training local people, including Ms. Pessima, to take on new leadership roles in peacebuilding, agriculture, entrepreneurship, and governance in their communities. So far, a total of 80 "community peace and conflict monitors" have been trained to work in their villages and towns to spot the signs of conflict before it leads to violence.
A big emphasis has been placed on training women, who make up three quarters of the peace and conflict monitors. "It's no coincidence that these problems sprout and grow bigger even as women are discriminated against," says Nyabenyi Tito Tipo, Country Representative for the Food and Agriculture Organization (FAO) in Sierra Leone. "Any solution that leaves out half the population is bound to fail."
Women, says Ms. Pessima, are essential to building peace, and must be empowered. "We women know our communities well. We are in the homes, we are in the markets. We go out on the streets. We see things that other people don't."
Taking charge
The project involves women not just in making peace but in making decisions. Women have been appointed to half of the positions in all of the 16 newly created "village area land committees" in the four participating districts, and two villages have their first-ever women Town Chiefs.
Another training session brought together Paramount Chiefs, local leaders, and "mammy queens" (important women leaders) in selected chiefdoms to help empower women in implementing the government's National Land Policy.
One of the training participants was Desmond Kagobai, Paramount Chief of Selenga Chiefdom, Bo District. He says the message of the training was strong, and the practical guidance was useful. "If we want lasting peace and prosperity in our communities, then women must be involved from top to bottom and from start to finish."
Mutual support
The four-district program has also trained nearly 1,000 farmers—85% of them women—on finance and cooperatives. Women farmers have a harder time to secure resources than their male counterparts, as they are liable to be discriminated against in financial services—a big factor in poverty. Participants have formed Village Savings and Loan Associations (VLSA) for mutual support.
VLSA members can get small loans to cover expenses such as school fees and medical bills without selling farm equipment or other productive assets. That means they can contribute more to their household incomes. With support from UN-backed programmes, eight new farming cooperatives are now being registered with the government.
Another 2,500 people—80% of them women—have been trained in climate smart agriculture (CSA), with a focus on groundnuts, cassava, rice, and pepper and other leafy vegetables. Previously, most women farmers were practicing slash-and-burn agriculture; such practices may be more profitable in the short-term, but they damage the land and environment in the long-term. So, farmers have been taught good farming practices such as, mulching, soil and water conservation techniques, liquid and organic manure, among other conservation practices.
Imaging a better future for Sierra Leone
Training programme officials and participants say they feel more hopeful than ever before about the prospects for their villages and their country. "I learned a lot in the training, and I appreciate that," says Paramount Chief Desmond Kagobai. "Just as important is the fact that the government and the United Nations have affirmed the role of women in the country's future."
One solution to the problems of Sierra Leone and the Sahel is simple but very difficult", says Ms. Tipo. "Women have got to be empowered and men have got to embrace women's power. There's nothing we can't do if we do it together."