Chinese Taipei Contributes to Inclusive and Sustainable Growth Initiatives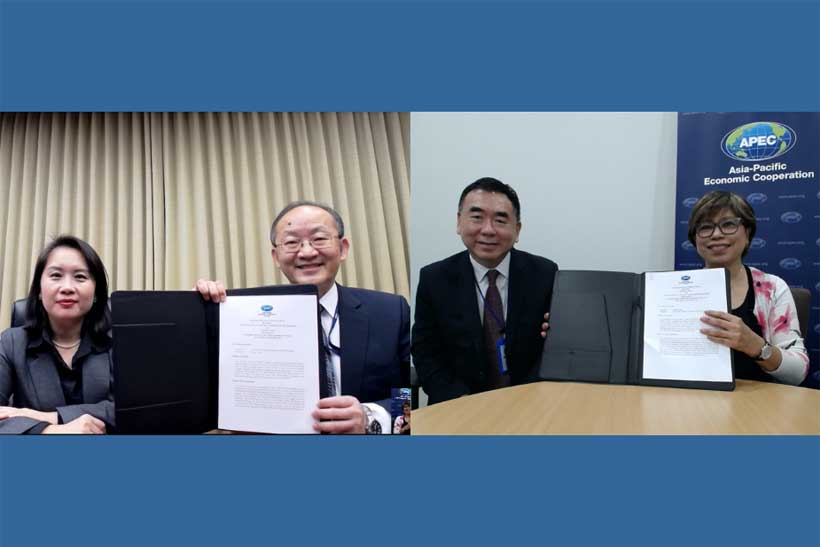 Chinese Taipei has contributed USD 1.5 million in funding to support APEC's economic and technical cooperation initiatives, particularly members' capacity building needs and to promote regional economic integration and inclusive and sustainable growth by doubling its contribution of USD 750,000 in 2019.
The contribution was confirmed in a Memorandum of Understanding signed virtually by Bob Loong-jin Chen, Chinese Taipei's APEC Senior Official, and Dr Rebecca Sta Maria, Executive Director of the APEC Secretariat, a week before the start of the 2020 APEC Economic Leaders' Week.
"Chinese Taipei is committed to the shared responsibility in APEC's collective response to the devastating COVID-19 pandemic," said Chen. "We wish to reaffirm our solidarity with all fellow economies as we continue to work closely and tirelessly together to find solutions to the current crisis, mitigating its impact, preventing its recurrence and recovering better together."
APEC projects are important for taking forward the policy direction set by APEC Economic Leaders and Ministers creating tangible benefits for people living in the Asia-Pacific region. The forum provides funding for over 100 projects each year, with around USD 16.5 million available in 2020.
Around USD 1 million of the contribution will be directed to support APEC activities in the area of human security which includes health security, emergency preparedness as well as energy and trade security.
Additional funding will go to efforts to improve the growth of the digital economy in the region, improving management of land and sea-based sources of marine debris to prevent and reduce marine debris and supporting the APEC Policy Support Unit, the research and analysis arm for APEC.
"We will recover better and thrive when we work and collaborate closer together, which is the strength of APEC as a forum," said Dr Rebecca Sta Maria, Executive Director of APEC Secretariat. "Support for capacity building initiatives focused on emergency preparedness and health will help APEC build a much more resilient environment for our people in the region."
10 new cities chosen for World Economic Forum circular economy initiative
The World Economic Forum's Scale360° initiative announced today the 10 city-based hubs joining its Circular Shapers programme.
Scale360° leverages innovation hubs in cities, countries and regions worldwide, bringing together leaders in science, policy and business to trigger circular change. Circular Shapers engage with local public, private, and civil society stakeholders to design, organise, and deliver circular economy projects tailored to local needs.
Circular Shapers are competitively selected from the Global Shapers Community, a network of committed and energized young volunteers in 448 city-based hubs around the world. These changemakers have the energy, skill, networks and commitment needed to transform their cities into centres of circular economy innovation.
The latest Circular Shaper cohort hails from four continents and includes: Ankara, Asuncion, Auckland, Beijing, Bucharest, Lahore, Manama, Milan, Morelia, and Thimphu.
The cities selected to the latest cohort will apply Scale360°'s tested methodology – the Scale360° Circular Innovation Playbook – to fast-track Fourth Industrial Revolution impact to keep more goods in use. Their initiatives will explore ways to apply circular design principles, improve reuse, and to eliminate waste, all while strengthening economies and boosting job growth.

These join the successful pilot cohort which included four Global Shapers hubs in Mexico City, Brussels, Turin and Bangkok and ran from February to July 2021.

In just a few months, those pilot cities built critical relationships with leaders in government, the private sector, and NGOs, making critical early steps towards driving circular innovation. Specific achievements include:
Bangkok: Mobilized a range of partners from researchers to advertising agencies to popularize solutions to air pollution and plastics. Solutions included: assembling a catalogue to help businesses choose alternatives to single-use plastics in food packaging and a social media campaign to build momentum for clean air regulation.
Brussels: Partnered with local NGOs on its "Eat, Play, Live Circular" initiatives to create bottom-up solutions for more circular lifestyles. Initiatives included an 'Idea-thon' for food and packaging waste solutions and a series of experiments with the public to make one Brussels public space more circular.
Mexico City: Trained public, private and government stakeholders in Scale360° methodology to bridge circular economy knowledge gaps and drive the circular transition through focusing early conversations.
Turin: Built critical relationships with stakeholders from 14 organizations including regional policy makers, members of the private sector, academia, and existing networks to help foster and support much-needed discussions and collaboration on circular needs and priorities.

The Circular Shapers tap into World Economic Forum networks of experts and leaders in civil society, government, industry global organizations, including the Platform for Accelerating Circular Economy (PACE).

"It's powerful to see how Scale360° methodology has spread so rapidly and empowered Global Shapers to become leaders driving circular innovation in their cities. Now in 14 hubs around the world, Circular Shapers is one of the largest cross-hub collaborations in the Global Shapers Community," said Katie Hoeflinger, Specialist, Climate and Environment, Global Shapers Community.
The United Arab Emirates, a key supporter of Scale360°'s approaches, agrees that these new hubs will play an important role in building circular innovation. "The UAE supports Scale360° in driving the transition to circular economy locally and globally," said his Excellency Dr. Abdullah Belhaif Al Nuaimi, Minister of Climate Change and Environment. "This program will go a long way in fostering innovations that have the potential to fast-track the implementation of the circular economy principles around the world."

These efforts can also fuel a just transition, noted Head of Global Opportunities for Sustainable Development Goals (GO4SDGs), United Nations Environment Programme (UNEP), Adriana Zacarias Farah. "Jobs and skills are central to getting the political buy-in for the transformation from linear to circular. UNEP through the initiative Global Opportunities for SDGS (GO4SDGS) is happy to collaborate with the Forum and Scale360° on circular cities and the just transition narrative."

Building circular capabilities can help meet critical climate goals. "Scaling up circular business models and solutions is vital for environmental reasons and needs to happen fast," said Carsten Gerhardt, Partner at Kearney and Founder at Circular Valley (leading partners of Scale360° Germany).

With new Circular Shaper hubs in place, momentum for circular innovation can build further. Added Scale360°'s Global Lead, Helen Burdett: "This latest cohort is another example of local action for global impact on the circular economy transition."
World Bank Group's $157 Billion Pandemic Surge Is Largest Crisis Response in Its History
In response to COVID-19 severely damaging the lives and livelihoods of millions of people in developing countries, the World Bank Group deployed over $157 billion to fight the pandemic's health, economic, and social impacts over the last 15 months (April 1, 2020 – June 30, 2021). This is the largest crisis response of any such period in the Bank Group's history and represents an increase of more than 60% over the 15-month period prior to the pandemic. Bank Group commitments and mobilizations in fiscal year 2021 (FY21) alone (July 1, 2020 – June 30, 2021) amounted to almost $110 billion (or $84 billion excluding mobilization, short-term financing, and recipient-executed trust funds).
Since the start of the pandemic, the Bank Group supported countries to address the health emergency, strengthen health systems, protect the poor and vulnerable, support businesses, create jobs and jump start a green, resilient, and inclusive recovery.
Following last year's COVID-related economic deterioration, the global economy is expected to expand 5.6% in 2021. Thus far, the recovery is uneven and many of the world's poorest countries are being left behind. While about 90% of advanced economies are expected to regain their pre-pandemic per capita income levels by 2022, only about one-third of emerging market and developing economies are projected to do the same. In 2020, global extreme poverty rose for the first time in over 20 years, with nearly 100 million people pushed into extreme poverty.
"Since the start of the pandemic, the World Bank Group has committed or mobilized a record $157 billion in new financing, an unprecedented level of support for an unprecedented crisis," said World Bank Group President David Malpass. "We will continue to provide critical assistance to developing countries through this ongoing pandemic to help achieve a more broad-based economic recovery. The Bank Group has proven to be a rapid, innovative, and effective platform to support developing countries as they respond to the pandemic and strengthen resilience for future shocks. But we must do more still. I remain deeply concerned about limited availability of vaccines for developing countries, which are critical to save lives and livelihoods."
World Bank Group Commitments (in U.S. billions)
World Bank Group
Q4-FY20
FY21*
15-mo ending June 21*
IBRD
15.1
30.5
45.6
IDA
17.2
36.1
53.3
IFC
11.2
31.5
42.7
Long-term finance (own account)
4.9
12.5
17.4
Mobilization
4.1
10.8
14.9
Short-term finance
2.2
8.2
10.4
MIGA
2.4
5.2
7.6
Recipient-executed trust funds (RETF)
1.5
6.4
7.9
TOTAL (excluding short-term finance, mobilization, and RETF)
39.6
84.3
123.9
TOTAL (including short-term finance, mobilization and RETF)
47.4
109.7
157.1
*Preliminary and unaudited numbers as of July 14.
In the 15 months ending June 30, 2021, the Bank Group stretched its balance sheets, accelerated leveraging and disbursements, and front-loaded resources. Support to countries from the International Bank for Reconstruction and Development (IBRD) totaled $45.6 billion – including drawing down IBRD's $10 billion crisis buffer in addition to Board-approved sustainable annual lending limits. Grants and zero or low-interest loans to the world's poorest countries from the International Development Association (IDA) amounted to $53.3 billion. To meet increased financing needs, the World Bank fully used all remaining IDA18 resources in FY20 and frontloaded about half of all the three-year envelope of IDA19 resources in FY21. In February 2021, IDA donor and borrower country representatives agreed to advance IDA20 by 12 months to enable continued surge financing in the coming years.
In addition, over the same 15 months, the International Finance Corporation (IFC), the Bank Group's private sector development arm, reached a record high of $42.7 billion in financing, including short-term finance ($10.4 billion) and mobilization ($14.9 billion), 37% of which was in low-income and fragile and conflict-affected states. IFC provided liquidity for businesses to remain in operation, while ramping up investments in companies on the frontlines of the pandemic response. To address the COVID-induced increase in the trade gap, IFC has expanded its trade and supply chain finance activities. IFC's "Upstream" work continues to create the conditions to attract much-needed private investment to some of the world's most difficult places and preparing the ground for a faster private sector recovery.
Despite a challenging year for borrowers and financial markets, IDA doubled the amount it raised last fiscal year from investors, reaching almost $10 billion. IBRD raised $68 billion, by mobilizing financing from investors around the globe. IBRD and IDA, both rated AAA/Aaa, raised awareness for a variety of development themes to successfully mobilize finance for sustainable development. The year also included innovations such as a unique $100 million five-year bond issued by IBRD to support the global response to COVID-19 through UNICEF. IFC, also rated AAA/Aaa, issued close to $13 billion in bonds for private sector development and job creation in emerging markets.
The Multilateral Investment Guarantee Agency (MIGA), whose mandate is to drive impactful foreign direct investment to developing countries, issued $7.6 billion in new guarantees over the same 15-month period since the onset of the pandemic, of which 19% supported projects in IDA countries and fragile settings.
In FY21, the World Bank Group's climate finance totaled over $26 billion, it's largest year of climate finance ever (25% above FY20, which was itself also a record). The new Climate Change Action Plan for 2021-2025 aims to integrate climate and development goals, and commits 35% of Bank Group financing to climate, on average, over the next five years, with at least 50% of World Bank climate finance supporting adaptation. In the same time frame, the Bank Group will align financing with the goals of the Paris Agreement, while helping client countries meet their Paris commitments, including supporting and implementation of development of their Nationally Determined Contributions (NDCs) and Long-Term Strategies.
World Bank in Turkey Focuses on Protecting People and Firms
As Turkey continued to battle the health, economic and social impacts of COVID-19, the World Bank extended financing worth $1.5 billion for five critical development projects, during Fiscal Year 2021, which ended on June 30.
The financial support, together with technical and policy advice and analytical work, contribute to the implementation of Turkey's 11th National Development Plan, as laid out in the World Bank Group's Country Partnership Framework (FY17-23). With the new lending approvals in 2021, the active lending portfolio in Turkey has reached just over $7 billion covering 23 projects.
"Given the ongoing challenges from the COVID-19 crisis, the World Bank is supporting Turkey to limit the harm from the pandemic, while advancing progress on long-term development needs. Our programs, during the fiscal year that just ended, help to preserve jobs, maintain the private sector, improve resilience to climate change and other development priorities," said Auguste Kouame, World Bank Country Director for Turkey.
Highlights of financing support during FY21 are:
Supporting Turkey's Response to the COVID-19 Response
After delivering two pandemic response projects in FY20 for health, education and access to finance for export firms, the Bank delivered in FY21 two additional critical projects to help preserve jobs and viable small and medium size firms:
The $500 million Turkey Emergency Firm Support Project aimed at ensuring access to finance for small and medium enterprises (SMEs) affected by – or adapting to – the economic impacts of COVID-19. The project is being implemented through sub-loans managed by VakifBank and the Development Bank of Turkey (TKYB).
The $300 million Rapid Support for Micro and Small Enterprises during the COVID-19 Crisis Project, implemented by KOSGEB, aims at averting the closure of viable micro and small enterprises (MSEs) affected by the pandemic and maintain their employment levels. The project supports people and firms by providing reimbursable financing for manufacturing firms and other innovative young firms focusing on manufacturing, scientific research and development, and computer programming.
Maintaining a Focus on the Long-term Development Agenda
The Bank's emergency COVID-19 operations did not derail the focus on long-term development challenges or its strategy to support Turkey's climate change mitigation, adaptation and resilience efforts. In line with the Country Partnership Framework (CPF), the Bank's regular program of support continued to focus on inclusive and sustainable growth with a renewed focus on the climate change agenda:
A $300 million Organized Industrial Zones (OIZ) Project for Turkey, implemented by the Ministry of Industry and Technology (MoIT), with the objective to support investments in basic infrastructure – such as new roads, water and gas pipelines, power lines, and logistics facilities – as well as in "green" infrastructure – including improved energy and water efficiency facilities, advanced wastewater treatment plants, and energy-efficient buildings in industrial zones.
A $135 million Turkey Resilient Landscape Integration Project (TULIP) aimed at improving livelihoods and resilient infrastructure services for rural communities in the Bolaman River Basin, located in the eastern Black Sea Region, and Cekerek River Basin in central Anatolia Region. The project will support investments in resilient landscape integration in targeted areas and restore and maintain green infrastructure and promote sustainable livelihoods.
A $265 million loan to Turkey's Seismic Resilience and Energy Efficiency in Public Buildings Project to strengthen the safety of public buildings against the dangers of earthquakes while also improving energy efficiency to reduce energy bills and harmful carbon emissions. The project aims at better insulating, strengthening or reconstructing more than 140 schools, dormitories, hospitals, and government buildings, directly benefiting about 26,000 people who live, work or use these buildings, including school children and employees. More broadly, the benefits will accrue to more than 6 million citizens reliant on the public services provided by the targeted buildings.
Development Challenges Related to the Syrian Refugee Crisis
The Bank also contributed to Government efforts in managing the refugee crisis which has been exacerbated by the COVID-19 pandemic and requires stronger efforts to protect those most at risk, including women. As part of the program of support to regions and municipalities hosting refugees, the Bank continued to implement and prepare new projects that benefit from the EU Facility for Refugees in Turkey (FRIT) financing.
Building on the success of projects managed by the World Bank under FRIT-1, the Bank signed Administrative Agreements for five new Recipient Executed Trust Funds (RETFs) from the second batch of FRIT Funds also known as FRIT-2. The five projects, worth € 392 million, are:
Municipal Services Improvement Project in Refugee Affected Areas;
Formal Employment Creation for Refugees and Turkish Citizens;
Employment Support and Activation of Work-Able People under Protection and Turkish Citizens Project;
Agricultural Employment Support for Refugees and Turkish Citizens through Enhanced Market Linkages;
Social Entrepreneurship, Empowerment and Cohesion in Refugee and Host Communities.
Sharing Knowledge for Better Policies
The World Bank delivered policy-oriented research and analytical work that has informed Government policy and programs, facilitated the preparation of many WBG-funded projects, and underpinned investments from other development partners. In FY21, areas of focus for the World Bank's Advisory Services and Analytics (ASA) included the bi-annual Turkey Economic Monitoring (TEM) reports; Policy dialogue on the digital economy in Turkey; Women's Access to Economic Opportunities in Turkey; Leveraging Global Value Chains for Growth in Turkey; Buildings Resilience in Turkey; Improved Equity and Social Services; Impact of Syrian Refugee Crisis; Turkey Business Environment; Advisory Support for Turkey on Smart Grid Options, Generation Planning and Commercial Financing; Enhancing the Impact of the Turkish Court of Accounts on Good Public Governance; Review of National Planning, Policy Formulation and Public Financial Management Institutions and Performance; Building Institutional Capacity for Risk Informed Decision Making and Urban Resilience in Turkey.
Looking Ahead
"We are very pleased to have had a productive fiscal year 2021 working closely with the Government as well as many stakeholders and development partners in Turkey to support the people of Turkey in the face of COVID-19 and the refugee crisis while contributing to Turkey's long-term development ambitions and its strong climate change agenda. We look forward to building on this success as we start a new fiscal year yea," added Mr. Kouame.
Projects under preparation for the new Fiscal Year include: Geothermal Development Project Additional Financing; Urban Resilience Project; Integrated Water Conservation Project; Climate Smart and Competitive Growth in Agrifood Value Chains; Scaling-up Distributed Solar PVs in Turkey; and Izmir Post-Earthquake Green, Resilient and Inclusive Emergency Reconstruction Project. For these projects, no lending agreement has been signed yet. Finalization of the preparation of these projects and their submission for internal approval are subject to the confirmation of continued interest from all involved borrowing and pre-identified implementing institutions.
Analytical work underway includes: Climate Change and Development Report (CCDR); Sustainable Recovery and Green Growth Analytical and Advisory Program including a Low-Carbon Options Paper; Emissions Trading Scheme (ETS) Technical Assistance; Impact of the proposed Carbon Border Adjustment Mechanism; Public Expenditures and Fiscal tools to support green transformation; Private Investment for Climate Adaptation; Regional Disparities and Development; Human Capital Review and Education Quality; Social Development; Energy Transition and E-Mobility; Pandemics Preparedness; Institutional Development for High Income Status; Options for Enabling Long Term Financein Turkey.