AIIB Support Helps Keep Russia's Railways on Track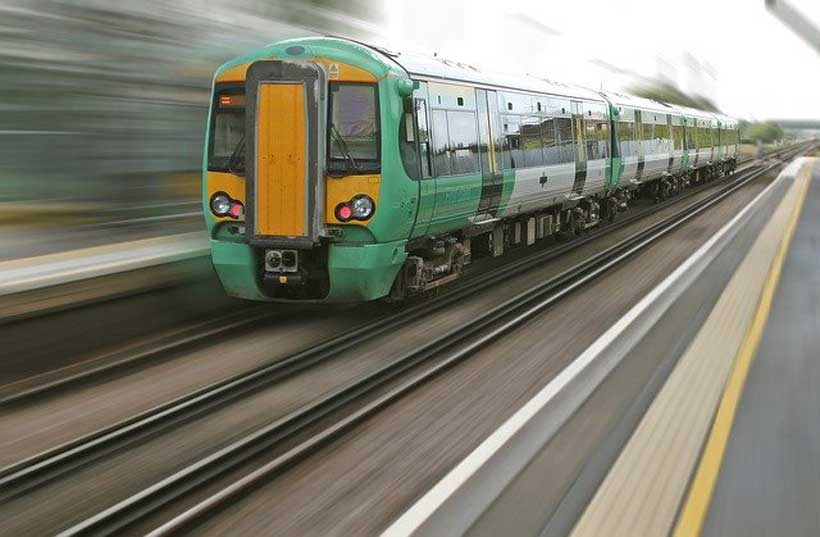 To help alleviate the temporary liquidity constraints caused by the decline of long-haul passenger transportation and deferred client payments against the backdrop of the COVID-19 outbreak, AIIB is extending financing to Russian Railways (RZD) in the local currency equivalent of USD300 million. RZD owns and operates Russia's integrated national passenger and freight railway network and is the largest commercial employer in Russia with around 900,000 employees at the end of 2019. This AIIB loan will contribute to the company's efforts to preserve jobs and the working conditions of employees and ensure continuous operations.
Covering approximately 85,500 kilometers of track, Russia's railway system is the world's third longest railway network, second largest railway in terms of freight turnover and fourth largest railway in terms of passenger turnover. In addition to transporting passengers across large distances, its rail routes link to busy seaports that service Asia and Europe, serving as a "land bridge" between them, thus contributing to Russia's domestic and foreign trade.
However, as with all transportation companies, RZD faces the negative impacts of COVID-19. In particular, long-haul passenger rail operations in Russia have been severely affected; in some months, the decline in passenger turnover reached 70 percent.
The project aligns with AIIB's commitment to support infrastructure clients in responding to the COVID-19 crisis through the Bank's COVID-19 Crisis Recovery Facility (CRF). With such support, clients can successfully overcome temporary liquidity constraints and maintain critical long-term investments.
"With this project, AIIB contributes to the support for railway transportation services, which remain a socially significant and the most affordable means of transport for millions of citizens, and an efficient way to transport large quantities of goods and freight," said AIIB Vice President, Investment Operations, Konstantin Limitovskiy. "AIIB's commitment to sustainability has to go beyond just the infrastructure itself. It must also account for the people, both those who provide and those who depend on its services."
This project is funded by the AIIB Crisis Recovery Facility, and is AIIB's first approved nonsovereign CRF project in Russia.
The CRF provides up to USD13 billion of financing to both public and private-sector entities facing serious adverse impacts as a result of the pandemic. As of Oct. 15, 2020, AIIB's Board of Directors has approved a total of 22 projects amounting to over USD6.645 billion to help 16 members navigate the challenges of these highly uncertain times.
Rising demand for agricultural products adds to competing pressures on tropical forest landscapes
Annual consumption of food and agriculture products rose by 48% between 2001 and 2018 – more than twice the rate of increase in human population – as reported in a new analysis published by the Tropical Forest Alliance at the World Economic Forum entitled Forests, food systems and livelihoods: Trends, forecasts and solutions to reframe approaches to protecting forests.
The report, which tracks the relationship between the rising demand for food and agricultural products and deforestation, paints a picture of increasing competing demands on tropical forest landscapes. Since 2001, 160 million people have been lifted out of poverty and undernourishment increasing the per capita food consumption, particularly protein which has risen 45% since 2000.
In producer countries, these trends are often linked to economic development and rural livelihoods that creates a set of complex trade-offs for decision makers. For example, soybeans are now the most valuable export product for Brazil, and around 16.3 million people (12% of the total workforce) are employed in the palm oil industry in Indonesia.
The report also highlights the significant loss of primary forests, which are rich stores of carbon and biodiversity. An area exceeding 60 million hectares of primary tropical forests have been lost since 2002 – almost the size of France. The loss was 12% higher in 2020 than the previous year, despite all the efforts by governments, businesses and civil society. More than 80% of this deforestation happened in landscapes where agriculture is the dominant driver and much of this is linked to the production of globally traded commodities including soy, palm oil, cattle, cocoa, coffee and wood pulp.
In the face of this reality, the report concludes that those working to reverse deforestation need to deploy systemic solutions that take into account the multiple competing demands on these landscapes. For example, incentives can be provided for farmers to conserve more while producing food, with potential sources coming from both carbon finance and domestic finance for rural credit. More effort needs to be applied to boost productivity sustainably, particularly for smallholder farmers in the face of greater climatic stress. Improved technical assistance and new plant material to help increase yields, as well as support with the diversification of income streams, are essential.
Mr Samuel Abu Jinapor, the Minister of Lands and Natural Resources, Ghana says: "The time for action is now. We will pursue progressive policies with the overarching view to restoring the forest cover of Ghana, thereby contributing to the global effort against climate change."
Justin Adams, Executive Director, Tropical Forest Alliance, says: "No single policy or solution can resolve this. Commodity-driven deforestation must not be treated in isolation – either as a purely environmental issue or a supply-chain problem. Keeping forests standing is linked directly to sustaining rural livelihoods, ensuring food security for a growing global population and supporting economic development. Crucially, the community of action working on this issue must broaden beyond those engaged at the forest frontier and environmental issues to include actors in the food system more broadly, such as farmers, local communities, local businesses and local governments."
There is some evidence that private sector supply-chain strategies are helping to reduce deforestation. For example, Nestlé has assessed that 90% of key ingredients – including palm oil, sugar, soy and meat – are deforestation-free as of last year, and has committed to 100% deforestation-free products by 2025. Magdi Batato, the Executive Vice President and Head of Operations of Nestlé says: "A forest positive future is possible if the private sector collectively moves its focus on achieving a positive impact in the critical landscapes that underpin our food systems, and if we work hand-in-hand with farmers and local communities, and governments to form wider solutions across local, regional and global levels. The benefits are numerous: more resilient communities and livelihoods, more sustainable food systems, and a healthier planet."
While many companies are committing to ambitious efforts in their own supply chains, it is also critical that this is done in conjunction with a broader sector-wide transformation to reduce net deforestation. Landscape-scale or jurisdictional approaches, which promote sustainable practices by rooting them in local governance systems, offer a practical way for both companies and governments to collaborate.
Christine Montenegro McGrath, Vice President and Chief Global Impact and Sustainability, Mondelēz International and Co-Chair, Consumer Goods Forum Forest Positive Coalition of Action says: "Important shifts are taking place – and as we look ahead to the UN Food Systems Summit and COP26 this year – we need to integrate food production as a critical part of the collective action required to meet both the Paris Agreement and goals on biodiversity. This report shows that landscape-scale initiatives provide a crucial piece of that puzzle for businesses who are on the journey to becoming forest-positive."
The Intergovernmental Panel on Climate Change (IPCC) last month provided alarming evidence about the irreversible changes to the climate including for forests, and has also established that climate change is already having an adverse impact on food security and terrestrial ecosystems, with the tropics among the most vulnerable regions in terms of crop yields. This report predicts a shrinking agricultural labour force, posing even further risks for agricultural production.
President of the World Economic Forum Borge Brende says: "This combination of risks from climate change and demographic shifts suggests that the rural development models that have underpinned the expansion of tropical agriculture in the first two decades of the century are coming under increasing pressure from several angles. This underpins the need for a multistakeholder approach to find systemic solutions exemplified by the work of the Tropical Forest Alliance and the FACT Dialogue that will be presenting its findings at COP26 in Glasgow."
Finally, the report points to the need to tackle data gaps that can enhance transparency in supply chains. There have been a number of promising innovations in recent years in improving transparency and data quality, especially the use of satellite imagery. However, despite this progress, gaps remain, including concession boundary maps, trade and export data, distinguishing between tree cover loss and deforestation, spatial data on crop production, incorporating information on time lags (between deforestation and associated production) and improving the rigour by which drivers of deforestation are understood.
Better Targeting of Social Protection Programs can Significantly Reduce Poverty in Bangladesh
Social Protection Programs remain central to Bangladesh's sustainable development policy and are progressively benefitting the poorer households. By improving targeting of the social protection programs, the country can further reduce poverty. Reallocating existing transfers to the poorest could reduce poverty from 36 percent to 12 percent, says a new World Bank report launched today.
The report titled 'Bangladesh Social Protection Public Expenditure Review' reflects on Bangladesh's continued investment towards social protection and how it can improve on its existing framework including planning, designing, programming, and delivery of the various social protection programs and projects.
The report finds that the social protection programs are mostly focused in rural areas. But, with almost 1 in 5 of the urban population living in poverty, and half of the households at the risk of falling into poverty, there is a need for rebalancing geographic allocations between rural and urban areas. About 11 percent of people in urban areas are covered by social protection whereas 19 percent of urban population is poor. The coverage in rural areas is higher than the poverty rate, with programs reaching 36 percent of people, while 26 percent live in poverty. Using a social registry, such as the National Household Database can improve targeting of both programs and households at a reduced cost.
"Over the last decades, Bangladesh expanded its coverage of social protection programs that now reach three in every 10 households in the country," said Dandan Chen, World Bank Operations Manager for Bangladesh and Bhutan. "The COVID-19 pandemic has accentuated the need for a more robust, efficient, and adaptive social protection system. Going forward, well-targeted and less fragmented social protection programs that consider the demographic change, unplanned urbanization, labor market vulnerability, and frequent shocks will help the country continue with its success of poverty reduction."
In FY 20, Bangladesh spent about 2.6 percent of GDP in social protection, which is in line with countries with similar income levels. However, some risk groups remain underserved, in particular there are gaps in programing for early years and for the economic inclusion of poor and vulnerable youth and adults. For example, in every eight poor persons, one is a young child. Yet, the poor young children receive only 1.6 percent of social protection expenditures. Spending will be more effective if the allocations are aligned with the share of the poor in different categories, and with the different functions played by programs.
"Investing in early childhood helps a child grow healthier and be more productive in adult life and thus break the cycle of poverty across generations," said Aline Coudouel, World Bank Lead Economist and a co-author of the report. "The country has taken innovative programs, reflecting the life-cycle approach. As patterns of risk change in different phases of life, the life-cycle approach needs to encompass support from pregnant mothers to old age, persons with disabilities, as well as from households facing shocks to those in chronic poverty."
To boost the quality and efficiency of service delivery, Government to Person (G2P) and mobile financial services should be scaled up. It takes about two months to transfer the funds from treasury to the beneficiary. The G2P scheme can cut processing time to 10 days.
This also needs to be paired with increased allocations for staffing, capacity-building training including digital literacy, and improved equipment, which will facilitate enhanced implementation of programs at the local level.
Women in Albania to Gain Greater Access to Global Digital Jobs Market
"Digital Jobs Albania" is a new World Bank initiative that will help women in Albania gain better access to online work opportunities and connect with the global economy. The initiative will provide intensive 3-month training in digital skills for women aged 16-35 years, empowering them to access online freelancer job opportunities in graphic design, web development and digital marketing.
The emergence of online freelancer job markets is creating new opportunities for Albanians to connect with the global economy. Websites such as Upwork, Fiverr and People Per Hour allow Albanians with the right skills to access online project work commissioned by companies and individuals anywhere in the world, while staying in their local communities.
Women in particular stand to gain. The female labor force participation in Albania is still 14.6 percentage points lower than for males. The gender pay gap remains 6.6 percent, according to 2020 data from the Albanian National Statistical Authority (INSTAT). The emerging online freelancing work model can play an important role in narrowing these gaps. Flexible work hours and the ability to work from home can help more women with the right skills stay in the labor market and gain financial independence.
The Digital Jobs Albania initiative, implemented in partnership with the Government of Albania, Coderstrust (an international digital skills training provider), and EuroPartners Development (a local consulting company), will provide an online training program to equip selected participants with in-demand technical skills. It will also provide mentorship to participants and help them develop the soft skills needed to successfully compete for project work on online freelancer websites.
"This initiative offers an exciting new opportunity for Albanian women to acquire digital skills and join the online economy – a blueprint to inspire future projects in this space," says Emanuel Salinas, World Bank Country Manager for Albania. "No one can afford to be left behind in the ongoing digital transformation."
The initiative is part of broader ongoing World Bank engagement in Albania to help the country leverage the economic opportunities associated with digital trade in goods and services.
"Albania has recognized the importance of digital markets as an opportunity for economic development. We have mobilized a team from across the World Bank to support this effort, through this new initiative and others in the future," says Christoph Ungerer, the World Bank task team leader for the Albania Digital Trade Project.