Pakistani Hypocrisy on Combating Discrimination in Europe
As people are being hacked to death in France, Pakistani Prime Minister Imran Khan decided to lecture Europe about discrimination. In addition to incredible tone deafness, Pakistani hypocrisy is astounding, considering its own domestic and international policies. So before casting stones, Khan should first press his neighbor China to end their mass atrocities against Uighur Muslims and do more to protect religious minorities at home. Until then, his recent letter urging action falls short.
What triggered Khan's statement? A series of tragic events in Europe touching on interconnected issues of freedom of expression, integration, religion, and extremist violence. In France, before the September trial of the accused Charlie Hebdo attackers, the satirical magazine reissued its infamous cartoons of the Prophet Mohammed. Soon thereafter, a Pakistani man attacked individuals standing outside of what he thought were their offices (they have moved to a secret location).
A week after the stabbing, President Macron released a plan to prevent "Islamic separatism." Parts of the program problematically tries to force reforms on a religion, running roughshod over beliefs and customs. Macron referred to Islam as in crisis, which triggered protests in some countries.
And then occurred the ghastly beheading of Parisian teacher Samuel Paty for showing his class the Mohammed cartoons. At the funeral, Macron proclaimed, "We will not give up cartoons, drawings, even if others back down." He promised France would continue "the fight for freedom."
Ignoring the death toll, Khan's letter urges Muslim government leaders to respond to the "ridicule and mockery" of the founder of their faith. Absent is any expression of sympathy to Mr. Paty's family or those murdered at Charlie Hebdo. Khan calls for criminal bans on offensive speech, drawing a false parallel to Holocaust denial laws. Most glaringly, the letter lacks a clear denunciation of violence but instead offers ambiguous language warning, "Hurtful actions result in reactions from Muslims as they see their faith and their beloved Prophet targeted." With all that's happened, including an attack at a church in France on Thursday, it is hard to promote dialogue about offensive cartoons without unequivocally stating violence is never a permissible response.
For sure, a double standard is often foisted on Muslims, asking they constantly denounce the actions of criminals. And they do, regularly speaking out against violence. But not Khan, despite radical Islamist groups threatening more attacks. By seeking the limelight, he needs to clearly denounce violence. The cartoons are offensive and gratuitous. We want to promote understanding, but free societies must also have room for a diversity of views, regardless of how offensive they may be. This is not a maximalist position but minimalist — people shouldn't be murdered for drawings. 
Khan's letter is long on accusations and short on reflection. Increasingly secular Europe has certainly struggled to accommodate the practices of religious minorities, particularly Muslims. Khan is not incorrect to site Muslim women "denied their right to wear clothing of their choice" in public and other forms of discrimination. These are issues Europe needs to address. But he fails to acknowledge how European Muslims enjoy tremendous religious freedom. It must be remembered the principles protecting Islamic practices in Europe also protects offensive speech. One cannot be separated one from the other.
In fact, because of Europe's commitment to human rights, Muslims can practice their faith with greater freedom and security than in Pakistan. Last week, a bomb exploded in a Pakistani madrassa, killing eight students and wounding 130 others. More than half of Pakistan's population of blasphemy inmates are Muslim. The government has a uniquely repressive regime targeting the Ahmadi Muslim sect for purely theological concerns. Pakistan's education system is rife with intolerance. And religious minorities in Pakistan are horribly persecuted, well beyond the discrimination cited in Europe. Pakistan continues to imprison Christians for blasphemy and does little to stop the forcible conversion and marriage of Hindu girls (a euphemism for rape). 
But Khan's real hypocrisy is calling out Europe while ignoring China. Beijing aims at nothing less than destroying Islam in its western province of Xinjiang, numbering more than 10 million people. In a throwback to the days of Mao, Communist China has forced more than 1 million Uighur Muslims into 1,000+ "reeducation" camps. Dangerous crimes of "religious extremism" include prosaic tenants of the faith, such as beards, refusing alcohol, or fasting during Ramadan. As widely reported, detainees suffer "torture, rape, sterilization, and other abuses," with nearly 500,000 Muslim children forcibly "separated from their families and placed in boarding schools." Internal Chinese documents confirm a repression campaign, as does drone footage showing Uighur Muslims bound and gagged.
Has Pakistan spoken out? Not once, as Khan appreciates China's help to his government. In fact, the one letter Pakistan signed regarding Chinese policies supported their draconian measures against Muslims in Xinjiang. So instead of defending Muslims where they are persecuted, Khan issues a public letter on discrimination in Europe. Khan's criticism costs him little, while distracting from failures at home and bolstering his Islamic credentials.
The stratospheric level of Khan's hypocrisy is hard to ignore. He criticizes European discrimination while people are murdered in France. Before commenting, Khan would be wise to unequivocally denounce violence, while pressing China to end their mass atrocities against Muslims and protecting religious minorities in Pakistan. Then he could legitimately raise concerns about discrimination in Europe.
Northern Ireland: Peace in the province – still a pipe dream?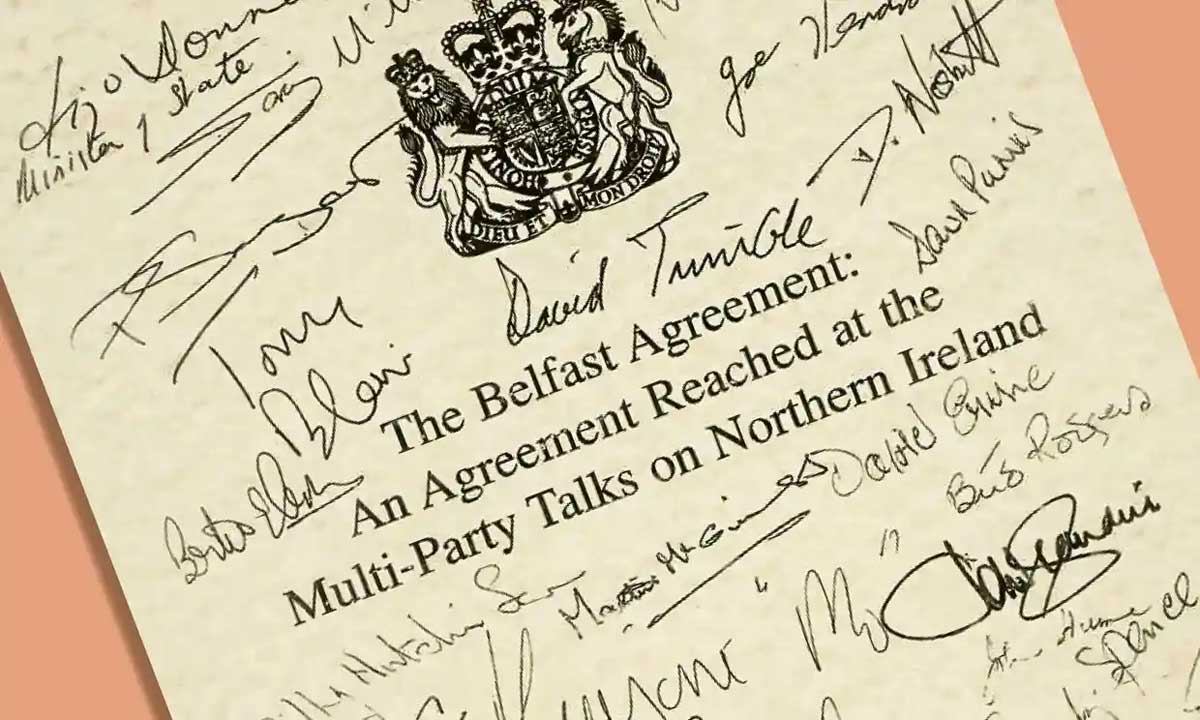 All eyes are currently – and understandably – on the bitter and still unfolding war in Ukraine.
The first anniversary of the conflict recently passed with, sadly, no sign that it will end any time soon.
But it is not just Ukraine that should be of concern to political leaders, on both sides of the Atlantic.
Many in the UK and Europe had hoped – and assumed – that violence in a country much closer to home had been consigned to the distant past.
But, sadly, it appears this may not be entirely the case in Northern Ireland where, just this week, the terror threat level has been raised to "severe" after recent New IRA attacks.
MI5, the British security service, has raised the threat level from "substantial" to "severe," meaning an attack is regarded as highly likely.
The move follows a rise in dissident Republican activity, including a gun attack last month that left a police officer fighting for his life.
This comes with Joe Biden, the U.S President, due to make a long-awaited and landmark trip to Belfast next month to celebrate 25 years of peace.
On Wednesday (28 March) Members of the European Parliament also commemorated the 25th anniversary of the Belfast Good Friday Agreement, which was designed to bring 30 years of violent conflict in Northern Ireland to an end.
This act of statecraft, it appeared, paved the way for the transformation of Northern Ireland by laying a new foundation for a safer, more prosperous and inclusive future for all.
However, the 25th commemorations come just weeks after a police officer was shot and seriously wounded in Northern Ireland, in an attack blamed on the dissident Republican group known as the New IRA and the raised level follows "an increase in levels of activity relating to Northern Ireland-related terrorism which has targeted police officers.
All parties hope that current tensions can be defused so that, truly, the dark days of what became known as The Troubles – a 30-year conflict which claimed the lives of over 3,000 people – will never be repeated.
But it is not just the current security situation in the province that has given cause for concern of late. The same might be said for the political landscape, with uncertainty about the so-called Withdrawal Agreement and Northern Ireland protocol only just now starting to fade.
It has been almost 7 years since the UK referendum to exit the European Union but hopes are high that the agreement recently brokered between the EU and UK – known as the Windsor Agreement – can deliver the smooth flow of trade within the UK (and protects Northern Ireland's place in the Union).
Socialist MEP Pedro Silva Pereira,the European Parliament's rapporteur for the implementation of the Withdrawal Agreement, says, "While it has not always been an easy or pleasant path to get here, we are hopeful that the Windsor Framework lays the foundations for the building blocks of a new relationship with the UK."
The so-called Windsor Framework is a new joint understanding that allows more flexible and more effective implementation of the trading arrangements for goods entering Northern Ireland from Great Britain, so that both the EU's much-vaunted Single Market and the Good Friday Agreement can be fully safeguarded.
Jessika Roswall, Minister for EU Affairs of Sweden, says the Framework will benefit people and businesses in Northern Ireland and should allow the EU and the UK "to open a new chapter in our relations."
Worryingly, the terror threat level in Northern Ireland may have suddenly been raised but the next few days will still see numerous high level commemorations of the Good Friday Agreement.
Also known as the Belfast Agreement, the GFA was signed on 10 April 1998 by the British and Irish governments, and confirmed by referendums in Ireland and Northern Ireland in May the same year. The agreement established devolved political power-sharing structures for the nationalist and unionist communities in Northern Ireland, and brought the 30-year period of violent conflict in Northern Ireland to an end.
In Wednesday's commemorative ceremony, European Parliament President Roberta Metsola hailed the Good Friday agreement (GFA) as one "which has instilled harmony between people", adding that there were few examples in history of a "peoples' peace agreement".
People's lives in Ireland have been transformed thanks to the agreement, Metsola said, adding that throughout the years preceding 1998, the European Parliament had provided a platform for the dialogue that led to peace.
European Council President Charles Michel said the GFA is a "remarkable achievement" steered by visionary leaders who did not fear compromise. It echoes the Treaty of Rome in 1957, he believes, citing how the tragedy of World War II inspired Europeans to build a unifying spirit and to draw borders that do not divide. He added that the two historical events are couched in the same ideal – "making the most of the richness of diversity."
Commission President Ursula von der Leyen believes that "25 years ago, the impossible came true" and the Belfast Agreement "opened a new era of cooperation and was a new beginning".
Since then giant steps forward have been taken, she states.
MEPs, at their sitting in Brussels this week, celebrated the GFA as a historic development that remains essential to peace and reconciliation in Northern Ireland. They reiterated that the Agreement was central to the EU's negotiating of a post-Brexit relationship with the UK, as was the prevention of a hard border emerging on the island of Ireland. The EU, they said, should not just be a passive spectator to the GFA.
Beyond Brussels, the exact date for President Biden's showpiece visit to Northern Ireland has not yet been announced – April 11 has been mooted – but it will top off a week of events to mark the GFA's 25th anniversary.
Other architects of the deal including the former US senator George Mitchell, who chaired the talks between unionists and republicans that ultimately resulted in the IRA and loyalist paramilitaries laying down their arms, Tony Blair and the former taoiseach Bertie Ahern, who shepherded the deal over the line, will also attend.
Despite the recent and disturbing increase in violence, all will be hoping that, together with UK Premier Rishi Sunak's recent deal with the EU, the 25th anniversary will help further cement a settled and peaceful future for the province.
Why Europe Must Do More to Support Ukraine
As we speak, the Islamic Republic of Iran, who is only weeks away from obtaining a nuclear weapon, is supplying drones on a systematic basis to Russia, who is deploying these indiscriminate weapons against Ukrainian civilians. In recent days, 500 protesters gathered outside of the European Parliament in Brussels, where they voiced not only their indignation for the world's silence in the face of Iran's brutal suppression against its own people, but also their inaction as Iran essentially props up Putin's war in the Ukraine. By Iran backing up Putin, the Islamic Republic has become a direct threat not only to the State of Israel but also to Ukraine and all of Europe.
As a former Israeli Communication Minister, I say that enough is enough. Over five million people have become internally displaced persons and many more people have fled the Ukraine with little more than the clothing on their back merely because Putin could not accept that the Ukrainians wanted to veer towards the West and away from them. They have savagely treated the Ukrainians merely for wanting to be part of the West, literally leveling entire buildings to the ground and transforming what used to be another European country into something reminiscent of Syria.
Human Rights Watch recently reported, "Russia's full-scale invasion of Ukraine on February 24 and the ensuing war had a disastrous impact on civilians, civilian property and energy infrastructure, and overshadowed all other human rights concerns in the country. Russian forces committed a litany of violations of international humanitarian law, including indiscriminate and disproportionate bombing and shelling of civilian areas that hit homes and healthcare and educational facilities."
According to them, "In areas they occupied, Russian or Russian-affiliated forces committed apparent war crimes, including torture, summary executions, sexual violence, and enforced disappearances. Those who attempted to flee areas of fighting faced terrifying ordeals and numerous obstacles; in some cases, Russian forces forcibly transferred significant numbers of Ukrainians to Russia or Russian-occupied areas of Ukraine and subjected many to abusive security screenings."
For all of these reasons, the sanctions against Russia must be much stronger than the presently are today. After all, it was recently reported that Russia's diesel exports have reached a record high this month despite the EU sanctions in place. This is because these sanctions, although curtailing Russia's energy exports, hardly put a halt to them, as China, India, the United Arab Emirates and many other countries still utilize Russian oil.
Recently, Bloomberg News published the top six companies who continue to purchase Russian oil despite the imposition of sanctions by the West. These include the Hong Kong based Noad Axis Ltd., which purchased 521,000 barrels of Russian oil till December; Dubai based Tejarinaft FZCO, which bought 244,000 barrels a day till December; QR trading, which purchased 199,000 barrels a day till December; Hong Kong based Concept Oil Services LTD., which purchased 152,000 barrels per day till December; Hong Kong based Belerix Energy LTD., which purchased 151,000 barrels per day till December; and Coral Energy DMCC, which purchased 121,000 barrels per day till December, although they stopped dealing with Russian oil from January 1.
According to the Times of Israel, Tahir Karaev and Azim Novruzov are standing behind Coral: "What's really funny, if you can call it funny, is that Mathieu Philippe appears as UBO for some of the vessels they operate after he was kicked out of UML because he was Coral's man."
All of this makes a mockery of human rights and the desire for the Ukrainian people to obtain justice, after Russia essentially destroyed their lovely country. The time has come for the world to sanction Putin harder. The time has come to force China, India and other countries to stop trading in Russian oil. The time has come for Putin to face the wrath of the international community due to the crimes against humanity he has committed. The time has come for Putin to become truly persona non-grata in Europe.
If Paris sneezes, will Europe catch cold?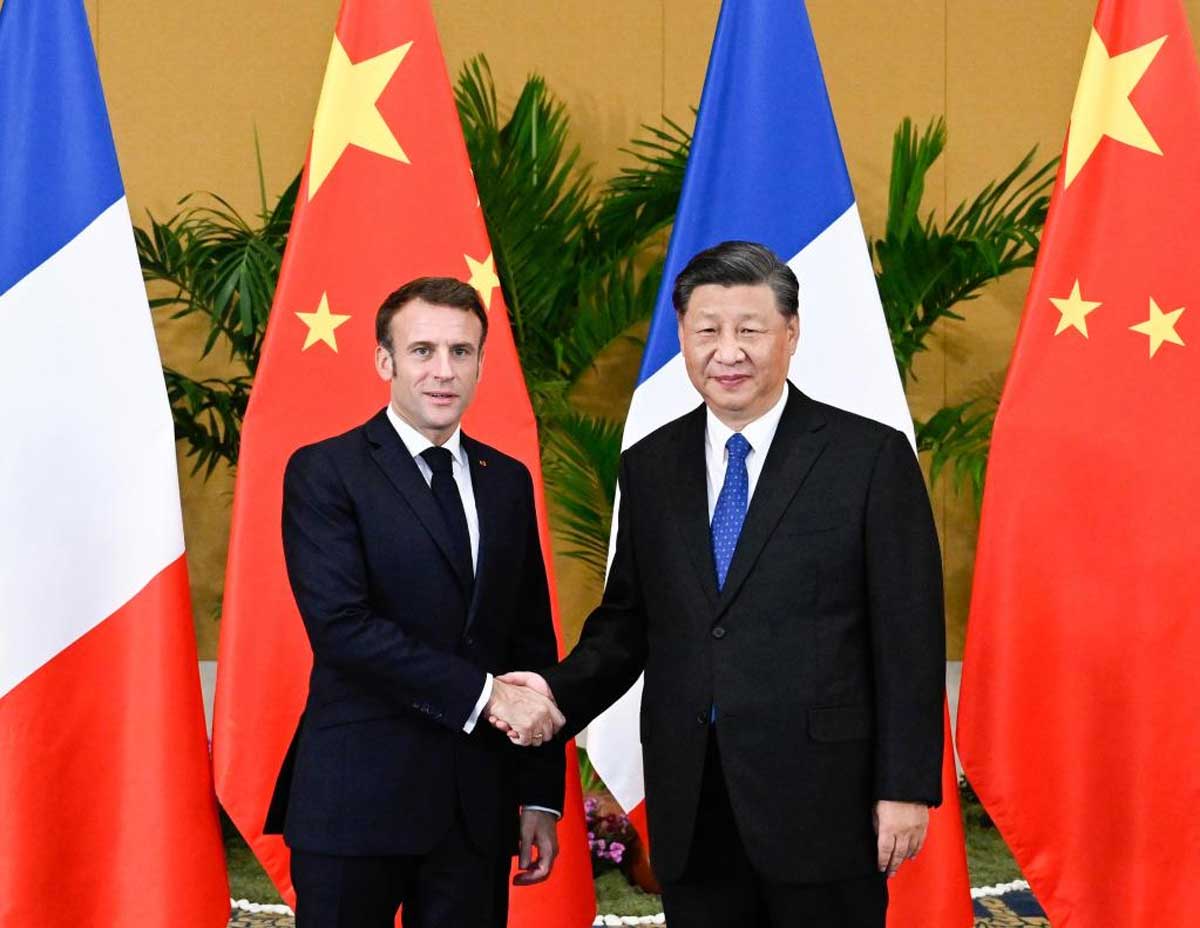 The Austrian Chancellor Metternich once said "Quand Paris s'enrhume, l'Europe prend froid" ("When Paris sneezes, Europe catches cold"). With the French President Emmanuel Macron all set to visit Beijing in early April, can France lead the rapprochement between the European Union and China?
"Une voix européenne"
Set to be accompanied by the President of the European Commission Ursula von der Leyen, the French President plans to "carry a European voice" on his state visit to China, the details of which were revealed by L'Élysée on Friday. On top of his list is the agenda to end the Ukraine War. Macron has called China's engagement in resolving the Russia-Ukraine conflict that came in the form of a 12 point plan a "good thing". Beijing's position paper urges all parties to support Russia and Ukraine in negotiating a way out of the conflict while upholding the UN Charter and values such as respect for territorial sovereignty, abandoning Cold War mentality, non-interference in internal affairs among others.
The French President has further urged China not to militarily aid Moscow, an accusation made by the Western powers that Beijing has consistently denied. He plans to push China to use its influence over Russia so as to prevent the latter from using chemical or nuclear weapons. Macron noted that the War would only come to an end if "Russian aggression was halted, troops withdrawn, and the territorial sovereignty of Ukraine and its people was respected". Spanish Prime Minister Pedro Sanchez has also expressed a similar willingness and is ready to visit China in April. Luxembourg too resonates the opinion of engaging closely with Beijing.
Both Chinese and Western media reports note that this "competition to book flights to China" among EU leaders stems from their realisation that they "cannot lose China" owing to the latter's increasing international significance. While many have voiced support for engaging with Beijing, not all are on the same boat.
A House Divided
The European Council meeting earlier this week, which remained focussed on Germany's tussle with EU leaders on its decision to end the use of traditional combustion engine cars, did discuss China albeit in an inconclusive manner. While France, Germany, Spain and Luxembourg have signalled their intentions to engage with Beijing; Latvia, Lithuania, Sweden, Poland have expressed concerns over Chinese President Xi Jinping's recent high profile visit to Moscow which is being seen as "cementing of a dangerous alliance". The concern is not just suspected military aid to Moscow but also the growing threat of a war between Beijing and Washington over Taiwan where Europe finds itself caught in the middle. Apprehensions too remain over increasing economic reliance on China.
While there has been no consensus on how the EU as a bloc must shape its China policy, Macron has clarified– although France values EU's coordination, it follows an "independent foreign policy" thus highlighting that he would push to negotiate with China, with or without his regional allies.
Paris et Pékin
Beijing is not only France's 7th largest customer and 2nd largest supplier (with a 9% market share in France) but also presents an opportunity for the French President who idealises Former leader General Charles de Gaulle to challenge what the French call hyperpuissance or unchallenged "hyperpower" of the United States. For Macron, relating himself to General de Gaulle is equivalent to "claiming to own a piece of the true cross". Afterall, it was the General who defied Western allies to establish ambassadorial relations with Beijing in 1964, a period of simmering Cold War tensions that brought Paris seething criticism. Though Macron has no serious qualms with Washington, he does seek a voice that crafts his role as a major leader on the international stage.
On the domestic front, Monsieur le Président finds himself in trouble. The highly unpopular Pension Reform Bill that raises retirement age from 62 to 64 was passed without a Parliamentary vote, resulting in nationwide protests. Opponents suggest other measures such as increasing taxes for the rich and the corporates, a move refuted by Macron for the possibile harm it might bring to the financial system. Amidst a scenario where things have gotten as serious as nationwide halts in services and a no-confidence motion against the President, enhanced ties that bring more investments from China can help, an opportunity Macron will try hard to clinch. But the political environment certainly makes things difficult.
Worsening ties and a Confident China
The "Balloongate" controversy was yet to cool off when a new crisis in Sino-US relations erupted in the form of calls to ban the TikTok app over alleged illegal data collection which many in the US Congress suspect land in the Chinese Communist Party's records. Parallely can be seen a change in Chinese attitudes towards Washington.
Amidst the recent session of the National People's Congress, President Xi criticised "Washington-led attempts" to "contain, encircle and suppress" China which pose "serious challenges to Beijing's development" ("以美国为首的西方国家对我实施了全方位的遏制、围堵、打压,给我国发展带来前所未有的严峻挑战。"), a rare moment when the Chinese leadership has clearly named the United States in its criticism.
A policy shift too seems to be on the cards. Xi's new 24 Character Foreign Policy, which Dr. Hemant Adlakha believes, marks "China's new foreign policy mantra in the 'New Era' " acting as its "ideological map to attain national rejuvenation by 2049", has replaced Deng Xiaoping's 24 Character Strategy focussed on never seeking leadership and assuming a low profile. The characters "沉着冷静;保持定力;稳中求进;积极作为;团结一致;敢于斗争 " which translate as "Be calm; Keep determined; Seek progress and stability; Be proactive and go for achievements; Unite under the Communist Party; Dare to fight" clearly demonstrate a more pronounced international role that China envisages for itself.
China's confidence is further elevated by its success in brokering peace between staunch rivals Saudi Arabia and Iran. With the handshake that brought the Sunni Arab Kingdom and the Shiite Persian theocracy together, Beijing has not only garnered accolades from nations across the region but has also succeeded in pulling American allies such as Riyadh to its side to some extent. Xi's Moscow visit shows how he is determined to craft Beijing as an alternative negotiator to Washington, no matter how much criticism comes his way.
How much can France influence the EU?
As the political climate between US and China heatens, those trying to balance between the two would find the alley narrowing. But considering the stakes, Macron will try. The question however arises, how much of an influence could France exert on the EU?
Being the only Permanent seat holder of the United Nations Security Council post-Brexit, France certainly has a heavy weightage when it comes to policy making in the European Union. Macron too is a leader with a vision. His "grand plan" includes uniting the regional body as a strong political, economic and social bloc by shedding off the influence of the United States. However, there have being many tussles and Paris has found itself at loggerheads with many in the bloc including Turkey and Germany.
Macron has also raised eyebrows over his stance on Russia. After attempts to charm Putin failed, the French President assumed an ambiguous position which included criticising the war but not commiting to defend Ukraine. As expected, it did not fare well with the allies in Europe.
The air has finally cleared and a "defeat Russia but don't crush it" stance has appeared. Monsieur le Président certainly wants to chart a pragmatic path that inflicts minimum harm and that's what would be a priority when he lands in Beijing to talk about the war. Would he receive the support of EU allies? Seems difficult, given his past misjudgements and the regional organisation's recent tussles with Beijing ranging from trade negotiations to the issue of human rights violation.
How successful Macron gets in making EU negotiate with China also depends on how successful Beijing gets in getting Moscow on board, which after all is more difficult than dealing with Tehran and Riyadh. While Russia seems agreeable to China's plan of ending the war, Putin has bigger ambitions and far lower stakes in launching an all-out war with Washington and allies than Beijing does. The deepening "comprehensive strategic partnership of coordination for new era" between China and Russia remains unclear and so is how much dependence on Beijing would dictate any change in Putin's plans. Even if China's actions embolden Russia as claimed, Beijing knows it is in its favour to tone down Moscow's belligerence considering the economic costs and military harm that Washington is capable of lashing. Macron too is unsure about how tightly he would like to embrace China. For now, better ties is what he eyes. The question arises – If Paris sneezes in favour of resetting ties with Beijing, would the rest of Europe catch the cold? Only time will tell.