Women leaders 'essential to peace and progress for all'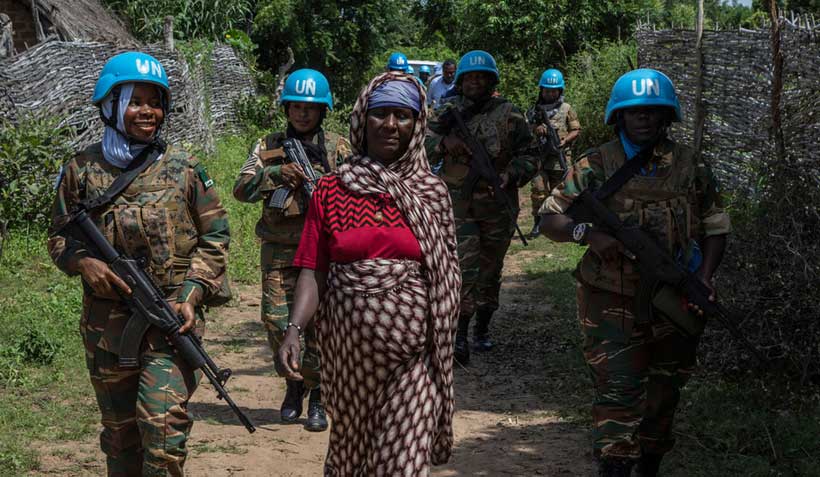 Women continue to be under-represented in key decision-making over the battle against COVID-19, the chief of the UN gender empowerment agency said on Thursday, addressing the Security Council, adding that the situation is even "worse for women in conflict areas".
"In war zones and everywhere in the world", individuals are "calling for inclusion and representation, which is one of the main reasons why so many ordinary people are taking to the streets, organizing protest and raising their voices", UN Women Executive Director Phumzile Mlambo-Ngcuka emphasized to the 15-member body.
Global ceasefire
Meanwhile, Secretary General António Guterres reiterated his call for a global ceasefire, underscoring that the COVID-19 pandemic is "the greatest test" the international community has faced since the Second World War.
"I appealed for an immediate global ceasefire so that we could focus on our common enemy: the COVID-19 virus", he said.
Pointing to the 20-year-old landmark resolution 1325, he noted that in supporting the global ceasefire, the Council made a "strong and valuable link" to the Women, Peace and Security agenda.
COVID-19 and resolution 1325
Citing the resolution, Mr. Guterres observed that COVID-19 is having a disproportionate negative impact on women and girls, leaving them victims of rising gender-based violence while simultaneously diverting resources from their health care, including sexual and reproductive services, as well as threatening long-term impacts on women's employment and girls' educations.
"This will contribute to the continued marginalization of women from political decision-making and peace processes, which damages everyone", he upheld.
Leading the charge
Moreover, women are on the front-line responses of the pandemic, keeping communities, economies and societies running through their crucial work as care givers, nurses, teachers and farmers, among other vital services. And they are peacebuilders at the local level and in communities around the world.
"We must also recognize women who step up every day in conflict zones to help those at risk, mediating between groups to enable access by civilians and humanitarian aid, building trust and strengthening social bonds", Mr. Guterres continued.
Noting that the resolution calls for women to be in positions of leadership and decision-making, the top UN official remarked their "remarkable" successes in containing the pandemic while also supporting livelihoods.
"This confirms an obvious truth: Institutions, organizations, companies, and yes, Governments work better when they include half of society, rather than ignoring it", he stressed, saying that women are "essential to peace and progress for all".
In addition to turning the climate crisis around, reducing social divisions and making sustained peace, "women's leadership in all spheres will be critical to finding the fastest, safest route through this pandemic, and to building a more peaceful and stable future", added the Secretary-General.
Continuing the uphill battle
Over the past two decades that the resolution was adopted, women have made important strides towards inclusion, but gender equality remains aloof.
The UN chief painted a picture of power structures dominated by men, including that women lead only seven per cent of the world's countries; mostly men make decisions about international peace and security; and while women are represented in UN mediation teams, "they remain largely excluded from delegations to peace talks and negotiations".
Women's meaningful participation in mediation "broadens the prospects for peace, stability, social cohesion and economic advancement", stated the Secretary-General, advocating for innovative, "rapid and decisive' solutions to include them in peace processes.
"Women must be included as a priority from the outset", he said urging all States to use their "political influence, funding and support to incentivize and create conditions for women's equal representation and participation in peace talks".
UN on record
The UN chief outlined his work in ending discrimination against women within the Organization and affirmed the importance of women's "full participation for uniformed personnel".
He commended the Council for passing the first resolution this year focused on women in peacekeeping, noting that although the numbers are still too low, they continue to increase significantly, which is an important trend as women bring their own perspectives and expertise to every issue, including peace and security.
Gender links
The women, peace and security agenda challenges the relentless focus on interstate conflict at the expense of measures to protect women with 20 years of research and practice demonstrating the close links between gender equality, conflict prevention, and peace.
"For Governments and international institutions everywhere, gender equality is one of the surest ways of building social cohesion and trust, and inspiring people to be responsible, participating citizens", he flagged.
"We cannot wait another twenty years to implement the women, peace and security agenda", concluded the Secretary-General. "Let's start that work together, today".
Women step up, speak out
Adding her voice, UN Women Goodwill Ambassador Danai Gurira, who is also an actor and award-winning playwright, said that when women make their mark "in spite of impossible odds" it was not because they were given "the space and the opportunity, but because they protested against their exclusion and persisted".
In her briefing, Zarqa Yaftali, Afghan Activist and Executive Director of Women and Children Legal Research Foundation said that "peace cannot come at the cost of women's rights".
"All we have achieved hangs in the balance in the current notiations between the Talban and the Afghan Government", she asserted.
'We cannot rest' until child labour is eliminated
Countries taking part in the 5th Global Conference on the Elimination of Child Labour this week in South Africa, are being urged to do more to end child labour by 2025.
The strong call for urgent action at the conference taking place in Durban, aims to combat an uptick in the numbers of children being forced into work.
Latest figures indicate that 160 million children – almost one in ten worldwide – are still being affected. Furthermore, numbers are on the rise, with the pandemic threating to reverse years of progress, as child labour becomes a bigger scourge in particular among the vulnerable five to 11-year-old age group.
Make a difference
Speaking at the start of a week of hybrid format discussions, South African President Cyril Ramaphosa called on delegates to commit to taking "far-reaching actions" to make a difference in the lives of children.
"We are here because we share a common conviction that child labour in all its facets is an enemy. Child labour is an enemy of our children's development and an enemy of progress.
"No civilization, no country and no economy can consider itself to be at the forefront of progress if its success and riches have been built on the backs of children."
Mr. Ramaphosa's call was echoed by Guy Ryder, Director-General of the International Labour Organization (ILO), who underlined that "child labour is a violation of a basic human right, and our goal must be that every child, everywhere is free from it. We cannot rest until that happens."
According to the ILO, global progress against child labour has stalled for the first time in 2020, after two decades of moving in the right direction. In addition, the COVID-19 crisis is likely to have pushed millions more children into the workforce.
First in Africa
This is the first time the Global Conference on the Elimination of Child Labour is being held in Africa, a region where child labour numbers are highest, and progress has been slowest, ILO notes.
According to recent data, most child labour on the continent – some 70 per cent – is in the agricultural sector, often in settings where children are working alongside other family members.
The conference builds on four previous Global Conferences, held in Buenos Aires (2017), Brasilia (2013), The Hague (2010), and Oslo (1997), which raised awareness of the issue, assessed progress, mobilized resources, and established a strategic direction for the global movement against child labour.
Call for action
With the 2025 UN Sustainable Development Goals deadline for the elimination of child labour looming, many speakers outlined the urgent need to recover the progress that had been made in many regions, prior to the COVID-19 pandemic.
The Conference is expected to conclude with a formal Call to Action that will outline concrete commitments to scale up action to eliminate child labour.
Israel: UN rights chief calls for end to 'culture of impunity'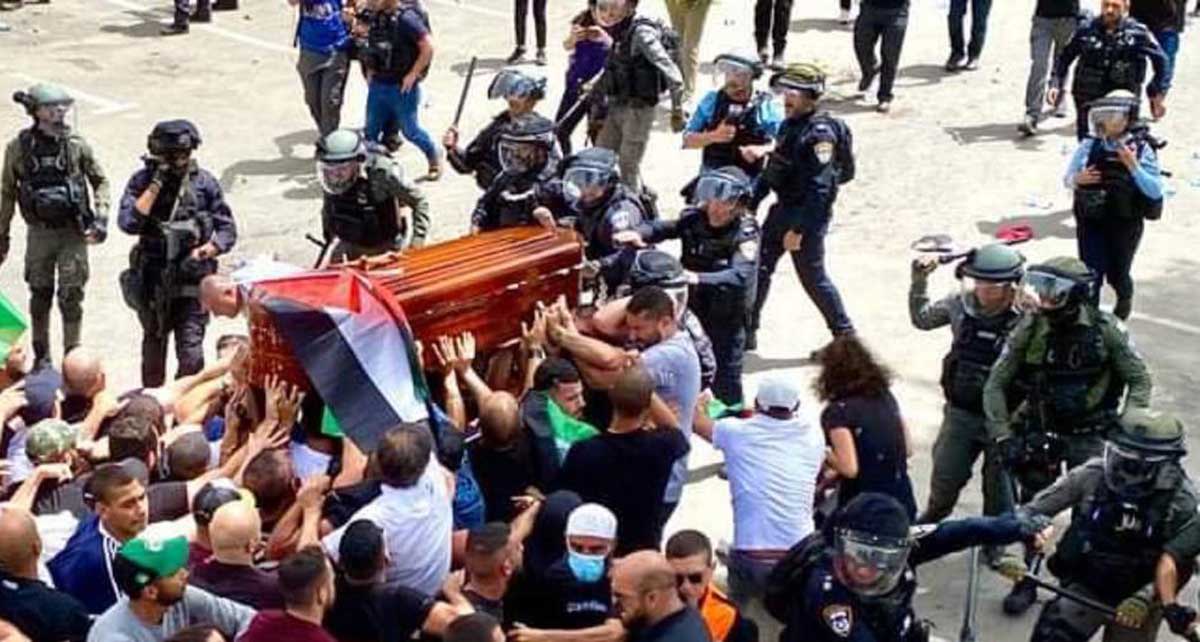 Investigations must be held into the actions of the Israeli security forces, UN High Commissioner for Human Rights Michelle Bachelet said on Saturday, calling for accountability and an end to impunity.
Her appeal comes in the wake of the killing of Al Jazeera correspondent Shireen Abu Akleh, who was fatally shot on Wednesday while covering an Israeli raid in Jenin, West Bank.
The veteran Palestinian-American journalist was buried in East Jerusalem on Friday and huge crowds turned out for her funeral.
'Shocking' use of force
The High Commissioner issued a statement saying she was following "with deep distress" the events in the occupied West Bank, including East Jerusalem.
"Footage of Israeli police attacking mourners at the funeral procession of journalist Shireen Abu Akleh in East Jerusalem on Friday 13 May was shocking. Reports indicate that at least 33 people were injured," she said.
Ms. Bachelet said the Israeli use of force, which was being filmed and broadcast live, appeared to be unnecessary and must be promptly and transparently investigated.
"There must be accountability for the terrible killing not just of Shireen Abu Akleh but for all the killings and serious injuries in the occupied Palestinian territory," she said.
Call for investigations
The UN rights chief reported that 48 Palestinians have been killed by Israeli security forces so far this year.
The latest death occurred on Saturday when a young man called Walid al-Sharif, succumbed to injuries sustained during clashes last month at the Al Aqsa Mosque compound in Jerusalem.
"As I have called for many times before, there must be appropriate investigations into the actions of Israeli security forces," said Ms. Bachelet.
"Anyone found responsible should be held to account with penal and disciplinary sanctions commensurate to the gravity of the violation. This culture of impunity must end now."
Security Council condemnation
The killing of Ms. Abu Akleh has sent shockwaves across the globe, and UN officials have been among those calling for an investigation.
The journalist was shot even though she wore a vest that identified her as a member of the press corps. Her producer also was wounded.
The UN Security Council issued a statement on Friday strongly condemning her killing, reiterating that journalists should be protected as civilians.
The Council also called for an immediate, thorough, transparent, and fair and impartial investigation into her killing, and stressed the need to ensure accountability.
World Bank to support Education Recovery Strategy in Brazil
The World Bank Board of Directors approved today the US$250 million Recovering Learning Losses From COVID-19 pandemic in Brazil project. The program will support the Brazilian strategy to promote learning recovery and address school dropout rates related to the health emergency crisis, by implementing innovative programs and systems to strengthen education management in primary and lower secondary schools in the North and Northeast region of the country.
"The COVID-19 pandemic inflicted unprecedent challenges to global education. A systematic recovery strategy will allow Brazil not only to revert learning losses related to the pandemic, but also to promote solid and sustained improvement in education," says the Ministry of Education Victor Godoy Veiga.
Brazil had one of the longest school closures in the region due to the pandemic. According to Brazilian Ministry of Education, public schools remained closed for 287.4 days on average (or about 9.5 months) while private schools closed for 247.7 days (about 8 months), representing a 40-day public-private difference. The North and Northeast regions registered an even longer period of school closure, with the state of Bahia registering the longest school closure (366.4 days on average), followed by Roraima (349.4 days), Rio Grande do Norte (336.5 days), Acre (332.7 days) and Amapá (332.4 days).
Despite efforts to promote online classes, connectivity barriers both in schools and in students' homes impaired learning, especially in the North and Northeast regions of Brazil. According to the 2020 School Census, only 60 percent of public schools in Brazil have internet. This situation is even more serious in North and Northeastern Brazil, where internet connectivity is only available in 48.5 percent of public schools (broadband in only 39 percent).
The proposed Operation aims to reduce regional gaps by supporting innovative online and face-to-face programs. Some key initiatives include: (i) the implementation of National and State Observatories of School Dropouts (OSD); (ii) an Early Warning System (SAP), to help identifying students at high risk of dropping out; Personalized Tutoring for Teachers and Socioemotional Initiative (SIS), to rebuild students' socioemotional skills and to incentivize them to learn effectively.
Once back in school, the challenge is to make students (re)learn effectively. In this aspect, the program has two lines of action: face-to-face approaches by offering Personalized Tutoring (APA) Program to small groups of students with similar learning gaps; and structured group discussions in SIS to mitigate the impacts of the pandemic on student socioemotional skills. The second line of action focuses on hybrid strategies and education systems to recover learning losses, by providing internet connectivity to schools, access to internet for vulnerable students under the law 14,172 and to take to inner municipalities the Creativity and Innovation Labs, facilities in which teachers and principals will be trained to use technology in the classrooms and to master the foundational teaching skills needed to help students recover learning losses.
The project will also offer support to two innovative educational systems: The Education Solution Ecosystem, that aims to offer an array of education tools to public schools, including adaptive learning platforms; and the Integrated Education Management Platform, that focuses on integrating the education management system from the Ministry of Education. By strengthening hybrid learning models, training teachers to use technology and consolidating education systems, the project expects to build resilience to future pandemics and natural disasters that may disrupt learning and teaching.
"The world is facing a silent crisis in education. Urgent action is necessary. By supporting this comprehensive and innovative learning recovery program, the World Bank strongly believe that Brazil will become a role model for countries in the region on how to fight against learning crisis", says World Bank Director for Brazil, Paloma Anós Casero.
Outcomes supported by the program include:
Creation of National and State Observatories of School Dropouts (OSD).
Implementation of an Early Warning System (SAP).
Implementation of an Education and Family Program.
Implementation of a Personalized Tutoring (APA) Program.
Implementation of Socioemotional Initiative (SIS).
This loan from the International Bank for Reconstruction and Development (IBRD) to the Ministry of Education is guaranteed by the Federative Republic of Brazil and has a final maturity of 34.5 years, with a 5 years grace period.