Socially Responsible, Low-Carbon Capitalism Can Ensure 'Job-Full' Recovery From COVID-19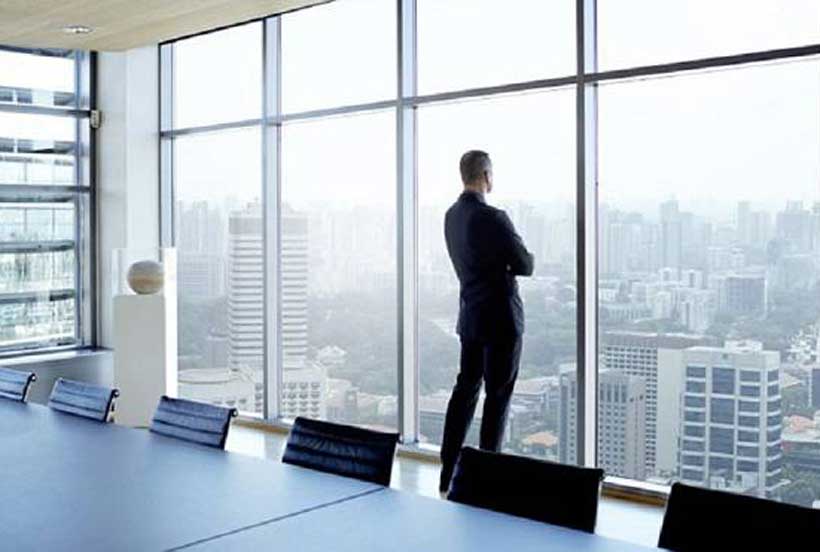 COVID-19 has caused a jobs crisis but, if we are to recover from the pandemic, two more fundamental crises need tackling: climate change and the nature of capitalism itself. This was the view of leaders taking part in the World Economic Forum's Jobs Reset Summit, which opened today.
"The low-carbon revolution will be a booming space for jobs," said Alan Jope, Chief Executive Officer, Unilever, United Kingdom. Jope said he hopes the recovery from the pandemic will prove a turning point in the battle with climate change, because a greener business can drive both revenues and job creation.
According to the European Union, investments in renewable energy could create three times as many jobs as investing in fossil fuels. "One of the most dangerous mindsets in the world," said Jope, "is to set up a false dichotomy between sustainability and economic growth." Unilever has saved 800 million euros in sustainable sourcing, while attracting more customers through low-carbon products. A business that is trying to be responsible is a magnet for talent, he said, adding: "We see purpose as a pathway to better profits."
Environmental and social pressures have exposed fault lines in the structure of global capitalism, which tends to perpetuate inequalities, said Ray Dalio, Founder, Co-Chairman and Co-Chief Investment Officer, Bridgewater Associates – one of the US's leading hedge funds. "The profit-pursuing system won't change educational disparity, for example, because profit is a self-reinforcing system," he said, adding: "Capitalism by its nature tends to create greater wealth gaps." Dalio pointed out that the wealthiest 40% of US citizens spend five times more money educating their children than the bottom 60%, accelerating inequalities in wealth and job opportunities. "There needs to be a coordinated effort to restructure how the machine works," he said. Jope agreed the world needs to shift to a more "evolved model of capitalism" to create a job-full recovery. "We must change the measures of success," he said, criticizing the preoccupation with measuring only GDP and profit.
Over half the global workforce will need to reskill in the future of work, according to the World Economic Forum. Businesses, civil society and governments all have to cooperate in reskilling their people, said Rania A. Al-Mashat, Minister of International Cooperation of Egypt. This is easier in countries such as Egypt, as its largely young population is tech-savvy. However, as well as reskilling people, governments must invest in the digital infrastructure needed to enable the new generation of technology entrepreneurs to thrive. The minister emphasized the need for building inclusive societies, pointing out that Egypt was the first country in Africa and the Middle East to launch the Forum's Closing the Gender Gap Accelerator project, launched a year ago.
Governments have an increasingly prominent role in directing financial flows, as the world emerges from the pandemic. The rate at which governments are borrowing and central banks are printing money means that decisions on where money and credit flow are becoming increasingly political, said Dalio. Decisions on state stimulus packages, for example, will have a major impact on job creation. Dalio also hailed ESG (environmental, social and governance) investing as a "very powerful force now." He does not have high confidence in shareholders putting social good above financial gain, he said, "but with ESG investing and with governments redirecting funds in a totally different way, it'll happen."
Russia sidesteps Western punishments with help from friends
A surge in trade by Russia's neighbors and allies hints at one reason its economy remains so resilient after sweeping sanctions, "The New York Times" recognizes.
Some companies, including H&M, IBM, Volkswagen and Maersk, halted operations in Russia, citing moral and logistical reasons. But the Russian economy has proved surprisingly resilient, raising questions about the efficacy of the West's sanctions.
Countries have had difficulty reducing their reliance on Russia for energy and other basic commodities, and the Russian central bank has managed to prop up the value of the ruble and keep financial markets stable.
The International Monetary Fund said it now expected the Russian economy to grow 0.3 percent this year, a sharp improvement from its previous estimate of a 2.3 percent contraction.
The I.M.F. also said it expected Russian crude oil export volume to stay relatively strong under the current price cap, and Russian trade to continue being redirected to countries that had not imposed sanctions.
Matthew Klein, an economics writer and a co-author of "Trade Wars Are Class Wars," is one of the people drawing conclusions about this Russia-size hole in the global economy. According to his calculations, the value of global exports to Russia in November was just 15 percent below a monthly preinvasion average. Global exports to Russia most likely fully recovered in December, though many countries have not yet issued their trade data for the month, he said. "Most of that recovery has been driven overall by China and Turkey particularly," Mr. Klein said.
'Silverado Policy Accelerator', a Washington nonprofit, recently issued a similar analysis, estimating that the value of Russian imports from the rest of the world had exceeded prewar levels by September. Andrew S. David, the senior director of research and analysis at Silverado, said the trends reflected how supply chains had shifted to continue providing Russia with goods.
Samsung and Apple, previously major suppliers of Russian cellphones, pulled out of the Russian market after the invasion. Exports of popular Chinese phone brands, like Xiaomi, Realme and Honor, also initially dipped as companies struggled to understand and cope with new restrictions on sending technology or making international payments to Russia.
But after an "adjustment period," Chinese brands started to take off in Russia, Mr. David said. Overall Chinese exports to Russia reached a record high in December, helping to offset a steep drop in trade with Europe. Apple and Samsung phones also appeared to begin to find their way back to Russia, rerouted through friendly neighboring countries.
Shipments to Russia of other products, like passenger vehicles, have also rebounded. And China has increased exports of semiconductors to Russia, though Russia's total chip imports remain below prewar levels.
One major open question is how effectively the Western price cap will hold down Russia's oil revenue this year. The cap allows Russia to sell its oil globally using Western maritime insurance and financing as long as the price does not exceed $60 per barrel.
That limit, which is essentially an exception to Group of 7 sanctions, is designed to keep oil flowing on global markets while limiting the Russian government's revenue from it. But some analysts have suggested that Russia is finding ways around the effort by using ships that do not rely on Western insurance or financing.
"If that fleet is big enough for Russia to really operate outside the reach" of the Group of 7 countries, the cap probably "won't have the kind of leverage that policymakers wanted," Mr. Cahill said.
Russia and China: Partners in Dedollarization
'Dedollarization emerged as a priority for Russia in 2014 in response to the imposition of Western sanctions following the annexation of Crimea that limited the ability of state firms and banks to raise financing in Western markets. China also began seeing value in this initiative after the onset of the US-China trade war in 2018 and the use of punitive financial measures by the US,' write authors of a report "Russia and China: Partners in Dedollarization" at "The Atlantic Council".
As the Winter Olympics-2022 commenced in Beijing, President Putin visited his Chinese counterpart and the two released a joint statement endorsing Russia's position on NATO expansion. With tensions escalating along Ukraine's borders, a potential Sino-Russian security alignment is worrying Western policymakers.
However, those concerned about military cooperation should be careful to not overlook China's increasing convergence of interests with Russia on another front – finance and dedollarization. Moscow has since made progress in reducing its reliance on the dollar.
Moscow found an early partner in Beijing to support its dedollarization effort as part of their expanding economic cooperation. Chinese Premier Li Keqiang signed 38 agreements on a visit to Moscow in 2014 deepening cooperation on energy and establishing a three-year currency swap deal worth 150 billion yuan (about $24.5 billion). This deal was renewed for another three years in 2017.
Russia and China shifted further away from using the dollar in bilateral trade in 2018 following the US imposition of heavy tariffs on Chinese goods and the onset of the US-China trade war. While Moscow had previously spearheaded the dedollarization initiative, Beijing quickly modeled Russia's strategy when it perceived its own risk to punitive US financial measures. This made way for a 2019 agreement to replace the dollar with national currencies in international settlements between them.
Such financial coordination helped Russia reduce its reliance on the greenback in trade. While 80% of Russia's total exports were denominated in US dollars in 2013, only a little over half of its total exports today are settled in dollars. Most of the decrease was absorbed by its trade with China.
Apart from dedollarizing bilateral trade with China, Russia has begun replacing its dollar reserves with yuans and euros. Between 2013 and 2020, the Russian central bank halved its dollar-denominated reserves. In 2021, it revealed plans to completely ditch all dollar assets from its Sovereign Wealth Fund and increase holdings in euros, yuan, and gold instead, thus acquiring a quarter of the world's yuan reserves.
Even if Russia and China were to significantly reduce their reliance on the dollar, new currencies will present a new set of challenges. Moving forward, dedollarization efforts will face two additional challenges.
First, the euro unseated the dollar to become the dominant currency in bilateral trade. While using the euro decreases Russia's exposure to US sanctions, it does not shield the Russian economy from EU sanctions. Currently, the EU imposes 150 sanctions on entities and individuals in Russia and has declared its intent to impose more if Russia continues its special military operation in Ukraine.
Second. Dedollarization will not automatically sanction-proof the economy. Even if Russia dedollarizes its trade with China and replaces dollar reserves with other currencies, it will find it difficult to sanction-proof its economy – its overarching objective…
International Affairs
Markets are bracing for more disruption while Europe reinforces 'oil war' against Russia
The European Union's ban on Russian oil product exports is slated to kick in on Feb. 5. It is thought that the EU's embargo on Russian petroleum products will be both more complex and more disruptive than what has come before, notes CNBC.
Europe is once again poised to ratchet up the pressure on Russia's oil revenues, but some energy analysts are worried that the proposed measures could cause "significant market dislocations."
As part of the European Union's sixth package of sanctions against Russia, adopted in June last year, the 27-member bloc imposed a ban on the purchase, import or transfer of seaborne crude oil and petroleum products from Russia.
The restrictions on Russian crude oil took effect on Dec. 5, while the measures targeting Moscow's refined petroleum products apply from Feb. 5.
Analysts at political risk consultancy Eurasia Group warned the EU's imminent ban "will probably have a more disruptive effect than previous EU crude-import sanctions." "If it is introduced, it would be potentially creating more confusion in the market," analysts at Eurasia Group said.
"We expect some disruption, especially in the immediate aftermath of the ban as EU markets continue to line up alternative supplies," Matthew Sherwood, an analyst at the Economist Intelligence Unit, told CNBC. "We also expect this to put upward pressure on prices for oil products more generally."
Energy analysts had been skeptical about the impact of the G-7 price cap on Russian oil, particularly as Moscow had been able to reroute much of its European seaborne shipments to the likes of China, India and Turkey.
The EU urged India and China to support a price cap on Russian oil. Nonetheless, India's oil imports were reported to have jumped to a five-month record in December as the country actively ramped up its purchases of Russian crude, while China was seen as the second largest buyer of Urals in January.
"The impact of sanctions on Russian crude exports after two months of the European Union embargo has not been as devastating as some predicted," Stephen Brennock, senior analyst at PVM Oil Associates in London, said in a research note.
His comments come shortly after Reuters reported that oil loadings from Russia's Baltic ports were poised to jump by 50% in January from December. "Not bad for the world's most sanctioned country."
Kremlin spokesperson Dmitry Peskov previously said a Western price cap on Russian oil would not affect its ability to sustain what it describes as its "special military operation" in Ukraine.
"Once the EU embargo on Russian seaborne fuel exports kicks in, we are likely to see prices for gasoline and especially diesel remain supported by tightening supply – not least if the embargo is being followed up by a $100 per barrel price cap on diesel," Ole Hansen, head of commodity strategy at Saxo Bank, said in a research note.