ADB Helps Boost Philippine Military's COVID-19 Testing Capacity
The Asian Development Bank (ADB) has donated two coronavirus disease (COVID-19) testing machines that can each test nearly 100 people per hour to the Armed Forces of the Philippines (AFP) to support the country's response to the COVID-19 pandemic.
The real-time Polymerase Chain Reaction testing machines will be installed in the Philippine Army Molecular Laboratory in Fort Bonifacio, Taguig City. The laboratory will support the COVID-19 testing of AFP personnel in Metro Manila as they continue to play a key role in reducing the spread of the virus.
"ADB supports the Philippine government's strategy to prevent and control COVID-19 by expanding testing, particularly in hardest-hit Metro Manila and surrounding provinces," said ADB Director General for Southeast Asia Ramesh Subramaniam. "We have seen military personnel in action on the frontline from the beginning of the pandemic and we hope the new testing machines will help ensure the safety of AFP's essential workers."
For more than 7 months, the military has played a key role in implementing official COVID-19 control measures in the Philippines. They operate checkpoints, distribute food, and manage local quarantine regulations. The government is seeking to raise its daily COVID-19 testing capacity to about 50,000 by the end of the year, compared with nearly 31,000 as of 15 August.
Procurement of the testing machines, at $35,000 each, is part of ADB's $5 million Rapid Emergency Supplies Provision Assistance to the Philippines, approved in March 2020. The program is known locally as Bayan Bayanihan. The program involved ADB working closely with AFP to urgently deliver emergency food assistance to around 162,000 vulnerable households in Metro Manila and nearby provinces in April and May 2020. This innovative program successfully brought in additional resources from private and philanthropic organizations.
On 24 April, ADB approved a $1.5 billion loan to help the Philippine government fund its COVID-19 response program and strengthen the country's health care system in its fight against the pandemic. Other support includes a $3 million grant on 14 March to build a pandemic laboratory in the Jose B. Lingad Memorial General Hospital in San Fernando, Pampanga that can process 3,000 COVID-19 tests daily. Equipment for the new laboratory was airlifted by the Philippine Air Force from Shenzhen, the People's Republic of China, in April at the height of the strictest lockdown in Metro Manila due to the pandemic.
On 27 April, ADB approved a $200 million loan to help the government provide emergency cash subsidies to vulnerable households amid the pandemic. A $125 million loan was approved by ADB on 25 August to help the Philippines improve health services across the country through medical equipment and supplies procurement, upgrade, and related training.
Addressing the climate emergency and advancing the SDGs through circular economy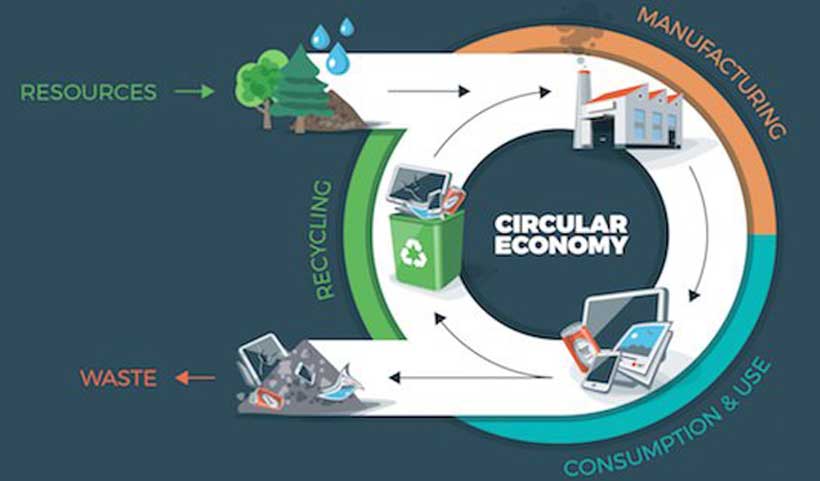 Accelerating the adoption of circular economy principles, policies and practices is essential if we are to make the progress on the Sustainable Development Goals and fully implement the Paris Agreement.
This was the key message from more 300 representatives of national governments, United Nations entities, intergovernmental and non-governmental organizations, the private sector and academia brought together by the United Nations Industrial Development Organization (UNIDO) in a series of regional meetings on the circular economy held virtually between 13 and 20 November 2020.
These regional meetings, convened for the African Group, the Asia-Pacific Group, the Eastern European Group, the Latin American and the Caribbean Group, and the Western European and Other States Group, focused on exchanging experiences and sharing knowledge, identifying benefits, challenges and barriers, and considering ways and means to enable the transition to a circular economy.
While addressing the African Group, Stephan Sicars, Managing Director of Environment and Energy at UNIDO, quoted one of the world's most inspirational leaders and prominent change-makers, Nelson Mandela: "I dream of our vast deserts, of our forests, of all our great wildernesses. We must never forget that it is our duty to protect this environment." Sicars stressed the urgency of these words and pledged the continued support of UNIDO to foster partnerships, conceive initiatives and mobilize stakeholders for action on the circular economy in developing countries.
Ornela Çuçi, Deputy Minister of Tourism and Environment, Albania,emphasized that "Nature is the biggest asset in Albania. We must preserve our environment to be able to build a strong and resilient economy. We are therefore working on legislation on the circular economy that will integrate this concept into our reality".
Ilan Fluss, Deputy Head of the Economic Division of Israel's Ministry of Foreign Affairs, said, "Cooperation between governments, the private sector and civil society is critical for promoting a circular economy. To close gaps between countries and societies, it is important to create partnerships, share best practices and exchange experiences."
Noting that despite the opportunities, challenges remain, Claude Koutoua, President of the Environment, Quality, Hygiene, Security and Energy Committee, General Confederation of Enterprises, Côte d'Ivoire,said, "One of the main challenges is making technological innovations available, especially those that allow for carbon-free processes. We are in a world of competition and if we do not have a sufficiently attractive cost factor, it may happen that industries will not find the necessary enabling environment. What is more, we need support to make sure there is a political will to effectuate transformational changes".
Van Keaheak, Director General for Industry at Cambodia's Ministry of Industry, Mines and Energy,stressed "that stakeholders are very important. Stakeholders involved should be the government, United Nations agencies, NGOs, the private sector and consumers. They all should be aware of the importance of the circular economy to deal with the environmental impacts. The circular economy is an opportunity to green our society".
Alex Saer, Director for Sectorial and Urban Environmental Affairs at Colombia's Ministry of Environment and Sustainable Development, explained that "as a successful case, we have worked with UNIDO on eco-efficient industrial parks. We believe that this is a very important way to promote industrial symbiosis in the country, as industry is an essential part of a circular economy".
The outcomes of the regional meetings will inform UNIDO-led global consultations on circular economy, scheduled for January-February 2021. The global consultations aim to develop a set of policy recommendations to advance the work of Member States and various stakeholders on the circular economy, thereby promoting inclusive and sustainable industrial development in the framework of the United Nations' Decade for Action.
ADB $300 Million Loan to Promote Macroeconomic Stability in Pakistan
The Asian Development Bank (ADB) has approved a $300 million policy-based loan to help promote macroeconomic stability in Pakistan by facilitating improved trade competitiveness and export diversification.
"While COVID-19 hit Pakistan at a critical point in its macroeconomic recovery, the government's ongoing efforts to ensure stability have started showing encouraging results this fiscal year," said ADB Principal Public Management Specialist Hiranya Mukhopadhyay. "ADB's program will support these efforts and help Pakistan to improve its export competitiveness—now more important than ever given the impacts of the pandemic."
ADB's program will help Pakistan recover its current account deficit in a sustained manner and continue to facilitate export diversification. It will introduce important tariff- and tax-related policy reforms to help improve Pakistan's international competitiveness and further strengthen key institutions, including accreditation bodies, the Export–Import Bank of Pakistan, and the Pakistan Single Window.
The new financing falls under Subprogram 2 of the Trade and Competitiveness Program. Under the first phase, ADB helped the government usher in key reforms, including reducing or abolishing tariffs and ad hoc duties on a large number of raw materials and intermediate goods. Several steps were also taken to introduce e-commerce, strengthen key institutions involved in facilitating trade, and enhance the export certification process.
Since fiscal year 2004, Pakistan has registered a rise-and-fall pattern of export growth reflecting underperformance in its export industry and long-term decline in export competitiveness. This is compounded by lost export growth momentum from COVID-19, which has reduced high-income countries' demand for manufacturing goods and disrupted the supply of raw materials.
ADB is coordinating its efforts with other development partners and donors while the program complements International Monetary Fund-led reform initiatives by helping to improve competitiveness, which will help build robust foreign exchange reserves.
Kenya's GDP Contracts Under Weight of COVID-19, Impacting Lives and Livelihoods
The latest World Bank economic analysis for Kenya projects the economy to contract by between 1.0 percent and 1.5 percent in 2020, as ongoing COVID-19 containment measures and behavioral responses restrict activity in Kenya and its trading partners.
The Kenya Economic Update, Navigating the Pandemic, notes the downturn in economic growth reflects the more severe economic impact of the pandemic to date than had been initially anticipated, including a large impact on the national accounts of the closure of education institutions since March. In response, the government has deployed both fiscal and monetary policies to support the healthcare system, protect the most vulnerable households, and support firms to help preserve jobs, incomes and the economy's productive potential. With a sharp decline in tax revenues due to the weakening in economic activity, and tax relief, and an increase in COVID-related spending needs, the fiscal deficit has widened, and debt vulnerabilities have risen. The fiscal deficit widened to 8.2 percent of gross domestic product (GDP), up from the pre-COVID budgeted target of 6.0 percent of GDP, and Kenya's debt to GDP ratio has risen to 65.6 percent of GDP as of June 2020, up from 62.4 percent of GDP in June 2019.
"As the COVID-19 pandemic continues to threaten both the lives and livelihoods of Kenyans, we remain committed to supporting the government to allocate sufficient resources to the health sector to combat the pandemic, continue with mass testing, support self-quarantine, social distancing, and protect the most vulnerable groups," said Keith Hansen, World Bank Country Director for Kenya. "It is equally critical to provide well-targeted support to the most vulnerable affected households."
Beyond strengthening health systems and protecting incomes, the report recommends several near-term actions that can play a role to combat recession and revive the economy's productivity, creating the conditions for a resilient and inclusive recovery. Ensuring continued access to safe healthcare, including for non-COVID-19 related health concerns, remains a priority. Given fiscal constraints, this will require redirecting expenditures to the highest priority areas, whilst maintaining a focus on raising the efficiency of spending and ensuring the transparent use of funds.
Following the job and income losses precipitated by the crisis, the report notes support is needed for the "new poor" whose livelihoods have been affected. This could be achieved through a horizontal scale-up of social protection programs, appropriately targeted, timely, and temporary while the crisis persists.It is critical to ensure continued support to vulnerable households, while safeguarding human capital through expanded access to digital technology, combined with better access to information to mitigate usage of negative coping strategies (i.e. asset liquidation) and combat food insecurity while offsetting the increase in poverty.
"Following the extraordinary economic support efforts necessitated by the crisis, Kenya's economic recovery can be supported by the authorities returning to an appropriately-timed and balanced fiscal consolidation path, to reduce mounting debt vulnerabilities and safeguard macroeconomic stability," said Alex Sienaert, World BankSenior Economist and lead author of the report. "Kenya will also need to enhance its existing institutional setup for monitoring and responding to future communicable disease outbreaks, and further the still-critical "Big 4" agenda for medium-term inclusive growth, including realizing the government's vision of sustainably providing universal healthcare."
Kenya's economic outlook remains highly uncertain, as the COVID-19 pandemic continues to unfold in the country, and globally. Under baseline assumptions, the economy is projected to rebound quickly in 2021, lifting real GDP by 6.9 percent y/y. A major factor in this strong rebound is the unusual impact on the national account's treatment of education sector output normalizing, which is projected to add 2.2 percentage points to real GDP growth next year.Delayed availability of vaccines, and prolonged social distancing and other needed COVID-19 countermeasures, could undermine the projected recovery in economic activity.
The report's policy section focuses on options to strengthen healthcare system and testing capacity, to support firms, and to protect the most vulnerable households to cope with the COVID-19 global pandemic.