Yoshihide Suga's Official Trip: What Does He Expect from Vietnam and Indonesia?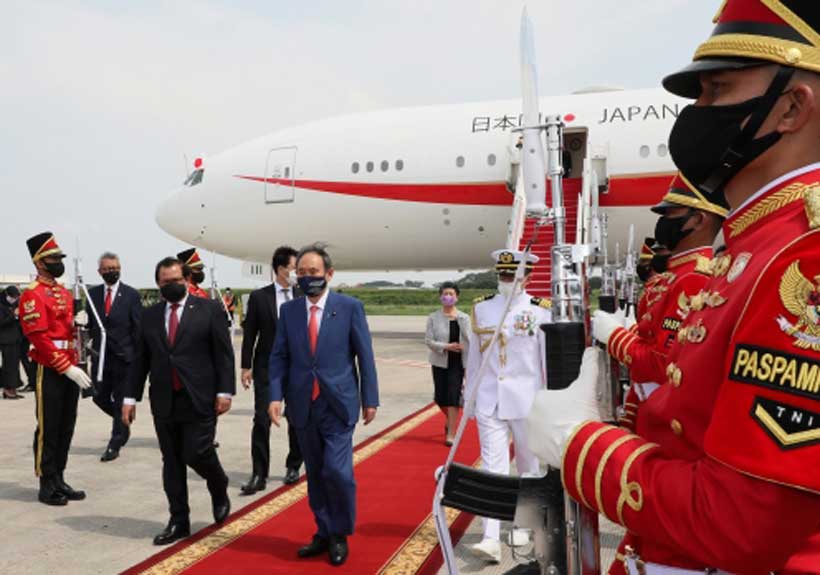 Prime Minister Yoshihide Suga's certainly understands the political importance of continuity, especially in Southeast Asia. Suga making a first stop in Hanoi, Vietnam and his second visit in Jakarta, Indonesia. Southeast Asian countries as key to pursuing Japan's "free and open Indo-Pacific," strategy. There must be other reasons for Suga to visit these two countries, Vietnam is current ASEAN chair, while Indonesia as the only member of the Group of 20 major economies from Southeast Asia. Both of them have important roles to share historical, economic cooperation, and political ties. Are those the only reasons?
Katsunobu Kato, a cabinet secretary Japan, states that Indonesia and Vietnam as the partners to exchange opinions over how to handle the regional and global impeding agendas such cooperation for realizing a fee and open Indo-Pacific strategy, address South China Sea issues and North Korean Situations. hence, there are three keys Suga's first foreign visit as Japan PM amid Chinese Aggression in South China Sea, Indo-Pacific Partnership and North Korea situation.
As one of the key strategic Japanese objective to expand Indo-Pacific Partnership by implementing an internal balancing that involves efforts to enhance the state's power by increasing one's economic resources and military strength in order to be able to rely on independent capabilities in response to a potential hegemon, in this case China, and be able to compete more effectively in the international system. Promoting coordination between partners like Indonesia and Vietnam and helping both countries to strengthen their economic and maritime capabilities to build up resilience in front of Chinese aggression and its influence.
During the pandemic, Japan economy has been hit harder by the crisis than the US or EU that 3.4% fall in growth domestic product (GDP) for the first three months of 2020. Since the Tokyo 2020 Olympic Games will be postponed until next year, due to the COVID-19 pandemic. As a result of this, Japan is set to suffer severe economic blows. Vietnam's growth potential and low-cost labor supply continue to curry favor among Japanese companies, making Vietnam has been selected by Japanese firms as the most promising place in Asia to invest in 2020with 42.1 percent of the 820 valid responses. Previously, Japan has given ¥200 million in aid to help Vietnam fight the COVID-19 pandemic. On the other hands, Suga pledged low-interest loans of 50 billion yen ($473 million) to Indonesiato overcome with the economic fallout from the coronavirus pandemic. As the symbols of strong friendship ties between Indonesia and Japan, which support each other's.
Japan also seek stronger security, Vietnam is critical to the balance of power in Asia and Indonesia faced off against China in the Natuna Sea. In order to response the Chinese Aggression in South China Sea, Japan seeks to strengthen ties with countries in the region amid growing tensions between its main security ally the United States and its biggest trading partner China, over trade, security. Japan hailed an agreement in principle to supply Vietnam and Indonesia with military gear and technology to response the China's assertiveness in the region. China claims some part of Vietnam's exclusive economic zone as well as the Paracel and Spratly Islands while Indonesia has been angered by Chinese coast guard intrusions into Natuna Islands. In this regard, Suga expect that both of Indonesia and Vietnam will agree to work together over a range of regional issues, including China's growing maritime presence in South China Sea. Japan wanted to emphasize that the existence of Indonesia and Vietnam was very important in the eyes of Japan. In this context, Indonesia and Vietnam is expected not to rely only on one country, which is China, with its economic and technological strength. Meanwhile, Japan also wants to invite Indonesia and Vietnam to continue developing growth in the Indo Pacific region. Since Indonesia is currently pursuing stronger relations with countries in Africa through the Indonesia-Africa Infrastructure Dialogue. On the other hand, Vietnam has been making great strides in projecting itself as an effective leader, particularly with its proactive governance in handling the COVID-19 pandemic, climate change policy, and for its political stability.
Balancing encompasses the actions that a particular state or group of states take in order to equalize the odds against more powerful states. Prime Minister Yoshihide Suga is thus seeking to build a network and partners in the Indo-Pacific, both to strengthen the current alliance system but also to proactive in defending its own interests. Vietnam and Indonesia were key to pursuing multilateral economic and security cooperation to counter China's growing power and protect sea lanes in disputed areas of the South China Sea.
50 Years of Clear Skies and Diplomatic Ties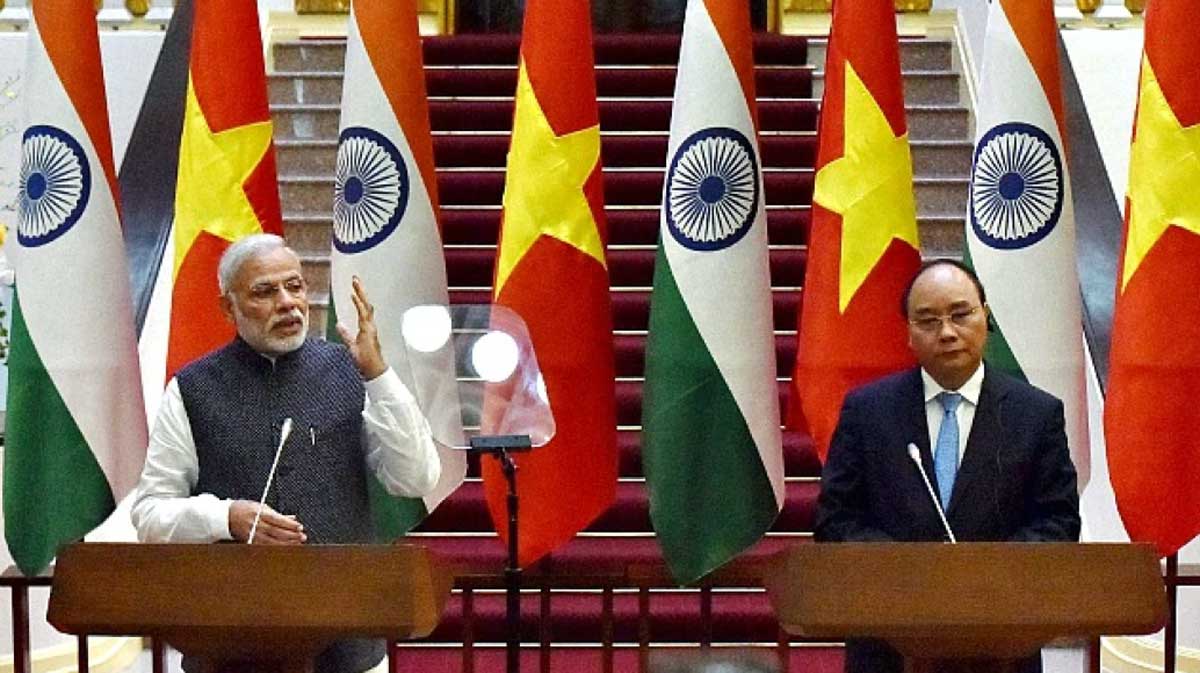 Authors: Harsh Mahaseth and Archisha Tiwari*
The late Prime Minister of Vietnam Pham Van Dong had remarked in 1980 that the relationship between India and Vietnam was "as clear as a cloudless sky", and now that the two countries celebrate 50th anniversary of the establishment of diplomatic ties it can be safely assumed that the statement has stood the test of time. Lok Sabha Speaker Om Birla paid an official visit to Vietnam on the invitation from National Assembly Chairman Vuong Dinh Hu from 19th April to 21st April 2022 following Prime Minister Narendra Modi's phone call with Nguyen Phu Trong, General Secretary of the Communist Party of Vietnam on 15th April 2022. There is a constant reiteration of Vietnam's role in India's Act East Policy and its Indo-Pacific Vision which is cemented by bilateral relations in all fields including but not limited to economy, trade, defence and tourism.
History
From 'Bilateral Relations' to 'Strategic Partnership' to now a 'Comprehensive Strategic Partnership' the two countries have always shared close diplomatic ties which is a result of their shared experience of struggle for liberation from foreign rule and national struggle for independence. Despite having different political systems, there has been numerous high level diplomatic visits and India has time and again played a key role in Vietnam whether it was supporting its independence from France and its unification or it's commitment to provide assistance in advancing Vietnam's defence in the present decade.
India launched its Act East Policy in the year 2014 where it rightfully recognized the need for economic, strategic and cultural relations with South East Asian countries in the field of connectivity, trade, culture, defence and people-to-people contact. Vietnam is a very vital and strategic partner for India and as commented by Ambassador Pham Sanh Chu, India has become one of Vietnam's top three partners as a comprehensive strategy partner along with Russia and China, but India and Vietnam's diplomatic relations are stronger.
India's Indo-Pacific Vision is positive and inclusive of and nations in its geography and beyond who have a stake in it. ASEAN centrality and unity is an important element of the vision. This is as per the remarks delivered by Saurabh Kumar, Secretary(East), Ministry of External Affairs of the Government of India. Vietnam yet again plays a key role in the region and in India's vision especially with respect to the area of South China Sea that is currently a contested area with China blatantly violating United Nations Convention on the Law of the Sea and hereby going against India's vision for the region that aligns with Vietnam's.
Phone Talks
The telephonic conversation between Prime Minister Narendra Modi and Party General Secretary Nguyen Phu Trong turned out to be very fruitful wherein the Prime Minister requested for greater facilitation of market access for India's pharma and agri-products in Vietnam and highlighted the historical and civilization links between the two. There was an emphasis on the role of importance of international law when in context of both the current Ukrainian crisis and the situation in South China Sea.
Om Birla's Visit
There couldn't have been a more appropriate way to keep the celebratory spirit going than a visit of the Speaker of the Lok Sabha, which also marks the first official visit of India in Vietnam after the COVID-19 pandemic. SD Pradhan in his article aptly recognizes the significance of the meeting and convergence of two law making bodies and their heads who also serve as the representative of their citizens by default. It shows an intermingling of ideas and views of two countries with different political systems. Vuong Dinh Hue, the Chairman of the National Assembly of Vietnam visited India in December 2021 and gave out a three-level action plan: (1) Deepening relations of the two law making bodies. (2) Need for two sides to under one another's socio-economic development policies and (3) Developing a system of comparing notes on international issues of common concern and to seek solutions to global issues. Om Birla's visit is a step towards hastening and progressing the proposed plan. There were further considerations given to expansion in areas such as climate change and sustainable development, health care and digital economy. Reiterating the previous phone call and the Indo Pacific Vision, there was a discussion on defence and increase in maritime security with the acquisition of BrahMos by Vietnam being discussed. Dr. Rajaram Panda in his analysis of India-Vietnam comments on how Vietnam considers India a global power and supports India to play a greater role in a muti polar world based on standards of international law.
A very important part of Indian-Vietnam relations is the cooperation on economic policies and trade. India is the most important market for Vietnam accounting got 80% of Vietnam's total trade with South Asian nations. Om Birla mentioned the desire to increase the bilateral trade to reach US $15 billion from the previous US $13.2 billion while admiring the growth of Vietnam on a variety of economic sectors.
There was a discussion on the partnership in the energy sector with the hopes of renewal of the ONGC Videsh Limited contract for another 15 years. Not only that on a more cultural level, Om Birla also while meeting the Party Secretary Nguyen Van Nen, highlighted the common civilization heritage. The cultural ties are also evident when the topic of tourism was brought up and discussed with an agreement to enhance cooperation in tourism. Speaking of tourism, after the suspension of direct flights between New Delhi and Hanoi in light of the pandemic, the air connectivity was impacted but Birla's visit restored the connectivity.
Way Forward
Currently the two countries are implementing the 2021-2023 Action Program that aims to implement all the agreements and discussions that took place in the official meets and telephonic conversations. The relationship is a long standing one with deep understanding of each other's needs and a mutual sense of respect. With a pending invite for the Prime Minister Narendra Modi and policies that expand years, the sky continues to be as clear as it was in 1980.
*Archisha Tiwari is a Research Assistant at the Nehginpao Kipgen Center for Southeast Asian Studies, and a law student at Jindal Global Law School, O.P. Jindal Global University, India.
Myanmar: Crimes against humanity committed systematically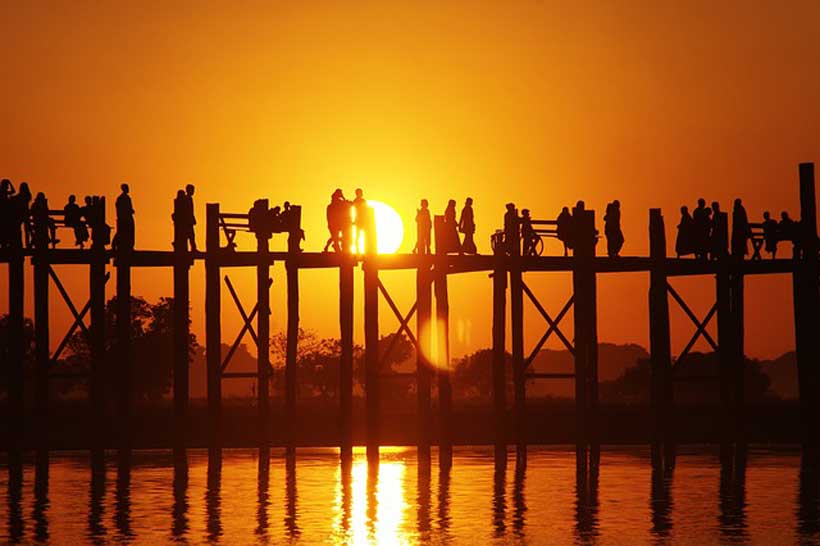 Crimes against humanity continue to be systematically committed in Myanmar, with ongoing conflicts severely impacting women and children, according to a UN report released on Tuesday.
The evidence gathered to date by the Independent Investigative Mechanism for Myanmar (IIMM), which is outlined in its Annual Report, indicates that sexual and gender-based crimes, including rape and other forms of sexual violence, and crimes against children have been perpetrated by members of the security forces and armed groups.
"Crimes against women and children are amongst the gravest international crimes, but they are also historically underreported and under-investigated," said Nicholas Koumjian, Head of the Mechanism.
Deep dive collection
Since starting operations three years ago, IIMM has collected more than three million pieces of information from almost 200 sources, according to the report.
These include interview statements, documentation, videos, photographs, geospatial imagery and social media material.
The report reveals that children in Myanmar have been tortured, conscripted and arbitrarily detained, including as proxies for their parents.
"Our team has dedicated expertise to ensure targeted outreach and investigations so that these crimes can ultimately be prosecuted," said Mr. Koumjian.
'Widespread' violations
According to the publication, "there are ample indications that since the military takeover in February 2021, crimes have been committed in Myanmar on a scale and in a manner that constitutes a widespread and systematic attack against a civilian population" and the nature of potential criminality is also expanding.
This includes the execution by Myanmar's military of four people on 25 July 2022, which was carried out after the report was prepared.
"Perpetrators of these crimes need to know that they cannot continue to act with impunity. We are collecting and preserving the evidence so that they will one day be held to account," said Mr. Koumjian.
Rohingya
This latest analysis was released just two weeks before the five-year commemoration of clearance operations that resulted in the displacement of nearly one million Rohingya people.
The Rohingyas have faced decades of systematic discrimination, Statelessness and targeted violence in Myanmar's Rakhine State. Violent attacks in 2017 triggered an estimated 745,000 Rohingya, including more than 400,000 children, to flee to Bangladesh.
Most of the Rohingya who were deported or forcibly displaced at that time are still in camps for refugees or internally displaced persons.
"While the Rohingya consistently express their desire for a safe and dignified return to Myanmar, this will be very difficult to achieve unless there is accountability for the atrocities committed against them, including through prosecutions of the individuals most responsible for those crimes," Mr. Koumjian explained.
"The continued plight of the Rohingya and the continuing violence in Myanmar illustrate the important role of the Mechanism to facilitate justice and accountability and help deter further atrocities."
Dedicated work
Meanwhile, with the consent of its information sources, IIMM is sharing relevant evidence to support international justice proceedings currently underway at the International Court of Justice (ICJ) and International Criminal Court (ICC).
The Mechanism was created by the UN Human Rights Council in 2018 to collect and analyse evidence of the most serious international crimes and other violations of international law committed in Myanmar since 2011.
It aims to facilitate justice and accountability by preserving and organizing evidence and preparing case files for use in future prosecutions of those responsible in national, regional and international courts.
Will Evolving Relation Between Arakan Army and NUG lead To Any Political Change in Myanmar?
On May 18, Myanmar's Civilian National Unity Government (NUG) held an online meeting with the Arakan Army in the Rakhine (Arakan) state. Arakan Army Chief Major General Tuan Mrat Naing and his Deputy Brigadier General Neo Tun Aung spoke for about two hours with Foreign Minister Jin Mar Aung of the shadow government's coalition relations committee and Democratic leader Wu Min Ko Ning. The NUG is believed to have taken the initiative in an effort to engage with armed groups that could help bring down Myanmar's military regime. Basically, the current situation in Myanmar and the activities of the shadow government were discussed. This sudden alliance of NUG with the Arakan Army leads to the question: Is the political situation in Myanmar taking a new turn?
The current situation in Myanmar
After the military seized power in Myanmar, the anti-coup resistance group (PDF) and allies of their ethnic armed group have been fighting the junta for more than a year, with Kachin, Karen, Karenni, and Chin ethnic groups, in particular, supporting the PDF. Myanmar's military has not been able to contain the opposition, despite unwarranted attacks, lawsuits, assassinations and arson. On the contrary, in many parts of the country, the administrative system has collapsed, while their troops are losing due to killing and fleeing in the face of resistance. Resistance groups have, however, also failed to oust the junta or drive it out of their area altogether resulting in neither side having any decisive win yet. On the contrary, around 600,000 people have been displaced since the coup due to the civil war. About 30,000 people have taken shelter in India and 6,000 in Thailand. Though Myanmar's economic prospects have almost shattered, the military sustains as strongly as its former military rulers. The impact of Western sanctions is negligible as multinational companies from China, Russia, India, Japan, Thailand, and South Korea are doing their usual business. On the other hand, The NUG government is trying to launch its own administrative system in central Myanmar (especially Sagaing, Mandalay and Magway-centric) through its armed forces PDF.
Relations between the Arakan Army and the NUG
Following the coup, in April last year, Aung San Suu Kyi's party, the National League for Democracy (NLD), formed the NUG as a shadow government with lawmakers and allies of ethnic minorities to challenge the junta's legitimacy at home and abroad. With the promise of a federal democratic union, if military rule ends, the NUG is trying to build trust with ethnic armed groups (EAOs) to fight the military rule. In this effort, NUG is establishing relations with the Arakan Army. On May 15, NUG issued a statement on the occasion of Rakhine National Day and expressed its condolences to the people affected by the military and political conflict in Rakhine. It has also promised to work with relevant agencies to establish justice. The shadow government sent a message of greetings and worked together on April 10, the 13th anniversary of the founding of the Arakan Army.
However, Aung San Suu Kyi and her party's relationship with the Arakan Army has not been good in the past. While came into power in 2015, the NLD-led government did not play a significant role in promoting democracy, human rights, and the autonomy of ethnic areas. Even having secured the largest number of seats in the Rakhine state, the NLD refused to allow the Arakan National Party (ANP) to elect a state chief minister. When war broke out in Arakan between the Arakan Army and the Myanmar army in 2018, the NLD clearly sided with the army, which angered the Rakhine people. The NLD administration at the time agreed to the world's longest Internet shutdown in Rakhine State, branding the Arakan Army as a terrorist organization and canceling elections in large parts of Rakhine State. These steps by the Aung San Suu Kyi government further tempted the Arakan Army to transform its demand for autonomy into a struggle for liberation and independence.
Relations between the Arakan Army and the Military Junta
The post-coup civil war situation spread throughout Myanmar, but the Rakhine state was an exception. A ceasefire agreed upon between the Military and the Arakan Army in November 2020 has kept the region relatively calm ever since. The Arakan Army has discouraged mass protests against the coup, and the Rakhine state remains relatively peaceful while other parts of the country were engulfed in violence. As a result, while the military was busy suppressing resistance across the country to consolidate its power, the political wing of the Arakan Army, the United League of Arakan, established administrative control over two-thirds of the state (especially rural areas) and introduced its own tax system and judiciary. To ensure stability in Rakhine, the junta also, as part of its political and military strategy, withdrew the Internet blackout in Rakhine and withdrew the Arakan Army from the list of terrorist organizations after the coup, and released many political prisoners associated with it.
But, the Arakan Army's recent reluctance to meet directly with junta chief Min Aung Hlaing and its currently evolving relational proximity to the NUG has made the military rethink its strategic and operational orientations toward the armed group to some extent, prompting the military to step up security in Rakhine and urge locals not to contact the Arakan Army. In response, the Arakan Army is also threatening the head of the Myanmar Army's Western Command, accusing it of interfering in internal affairs. There have also been a few minor clashes between the two forces, such as an exchange of fire, signaling likely future disability.
Change on Course
Although the Arakan Army has not yet institutionalized a dream of independence of independent Arakan, they are committed to gaining autonomy. And the Arakan Army has an endless opportunity to gain international support by involving the Rohingya in gaining autonomy purposefully demonstrated by Arakan Army Chief General Tuan Mrat Naing while making positive comments in favor of Rohingya repatriation and civil rights to the Rohingya. NUG has already announced that it will return civil rights to the Rohingya, with the implicit intent of gaining international recognition. It has even supported the ongoing jurisdiction in the International Court of Justice on the ethnic cleansing campaign of the Myanmar army against the Rohingya.
The Myanmar army has been pursuing a policy of procrastination with respect to the Rohingya repatriation, effectively to gain the support of the Bamar tribe in line with its long-standing policy of feeding Buddhist Nationalism for political scores. However, the experience of the Bamar people being persecuted by the junta in the post-coup period has created an anti-military attitude in the Bamar tribe itself. Now the military is hanging the Rohingya repatriation issue as a trump card in the international arena though they have the potential for international sympathy by repatriating the Rohingya.
If the Arakan Army changes its current silent stance in favor of the NUG, the landscape of Myanmar's internal politics may change. Realizing that, NUG is trying to gain the support of the Arakan Army. Now evolving relational proximity between the Arakan Army and NUG will likely invigorate the already growing collective resistance further against the oppressive Junta regime. With the potential for further change in the already complex political landscape in Myanmar, now the question is: How much will the military Junta change its current policy orientation, be it to the people's democratic aspiration or rights to the Rohingya minorities?