Erdogan's Calamitous Authoritarianism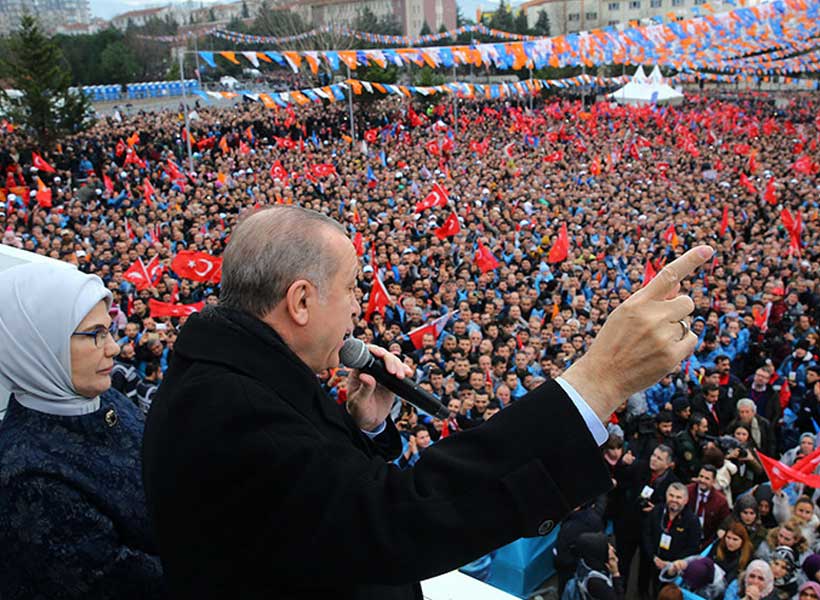 Turkey's President Erdogan is becoming ever more dangerous as he continues to ravage his own country and destabilize scores of states in the Middle East, the Balkans, and North Africa, while cozying up to the West's foremost advisories. Sadly, there seems to be no appetite for most EU member states to challenge Erdogan and put him on notice that he can no longer pursue his authoritarianism at home and his adventurous meddling abroad with impunity.
To understand the severity of Erdogan's actions and ambitions and their dire implications, it suffices to quote Ahmet Davutoglu, formerly one of Erdogan's closest associates who served as Minister of Foreign Affairs and subsequently Prime Minister. Following his forced resignation in May 2016 he stated "I will sustain my faithful relationship with our president until my last breath. No one has ever heard — and will ever hear — a single word against our president come from my mouth."
Yet on October 12, Davutoglu declared "Erdogan left his friends who struggled and fought with him in exchange for the symbols of ancient Turkey, and he is trying to hold us back now…. You yourself [Erdogan] are the calamity. The biggest calamity that befell this people is the regime that turned the country into a disastrous family business."
The stunning departure of Davutoglu from his earlier statement shows how desperate conditions have become, and echoed how far and how dangerously Erdogan has gone. Erdogan has inflicted a great calamity on his own people, and his blind ambition outside Turkey is destabilizing many countries while dangerously undermining Turkey's and its Western allies' national security and strategic interests.
A brief synopsis of Erdogan's criminal domestic practices and his foreign misadventures tell the whole story.
Domestically, he incarcerated tens of thousands of innocent citizens on bogus charges, including hundreds of journalists. Meanwhile he is pressuring the courts to send people to prison for insulting him, as no one can even express their thoughts about this ruthlessness. Internationally, Erdogan ordered Turkish intelligence operatives to kill or smuggle back to the country Turkish citizens affiliated with the Gülen movement.
He regularly cracks down on Turkey's Kurdish minority, preventing them from living a normal life in accordance with their culture, language, and traditions, even though they have been and continue to be loyal Turkish citizens. There is no solution to the conflict except political, as former Foreign Minister Ali Babacan adamantly stated on October 20: "… a solution [to the Kurdish issue] will be political and we will defend democracy persistently."
Erdogan refuses to accept the law of the sea convention that gives countries, including Cyprus, the right to an Exclusive Economic Zone (EEZ) for energy exploration, while threatening the use of force against Greece, another NATO member no less. He openly sent a research ship to the region for oil and gas deposits, which EU foreign policy chief Josep Borrell called "extremely worrying."
He invaded Syria with Trump's blessing to prevent the Syrian Kurds from establishing autonomous rule, under the pretext of fighting the PKK and the YPG (the Syrian Kurdish militia that fought side-by-side the US, and whom Erdogan falsely accuses of being a terrorist group).
He is sending weapons to the Sunni in northern Lebanon while setting up a branch of the Turkish Cooperation and Coordination Agency (TIKA) in the country—a practice Erdogan has used often to gain a broader foothold in countries where it has an interest.
While the Turkish economy is in tatters, he is investing hundreds of millions of dollars in the Balkans, flooding countries with Turkish imams to spread his Islamic gospel and to ensure their place in his neo-Ottoman orbit. Criticizing Erdogan's economic leadership, Babacan put it succinctly when he said this month that "It is not possible in Turkey for the economic or financial system to continue, or political legitimacy hold up."
Erdogan is corrupt to the bone. He conveniently appointed his son-in-law as Finance Minister, which allows him to hoard tens of millions of dollars, as Davutoglu slyly pointed out: "The only accusation against me…is the transfer of land to an educational institution over which I have no personal rights and which I cannot leave to my daughter, my son, my son-in-law or my daughter-in-law."
Erdogan is backing Azerbaijan in its dispute with Armenia (backed by Iran) over the breakaway territory of Nagorno-Karabakh, which is inhabited by ethnic Armenians and has been the subject of dispute for over 30 years.
He is exploiting Libya's civil strife by providing the Government of National Accord (GNA) with drones and military equipment to help Tripoli gain the upper hand in its battle against Khalifa Haftar's forces. Former Foreign Minister Yasar Yakis said in February 2020 that "The unclear Turkish foreign policy by Erdogan may put Turkey in grave danger due to this expansion towards Libya."
He is meddling in the Israeli-Palestinian conflict in an effort to prevent them from settling their dispute unless Israel meets Palestinian demands. He granted several Hamas officials Turkish citizenship to spite Israel, even though Hamas openly calls for Israel's destruction.
He betrayed NATO by buying the Russian-made S-400 air defense system, which seriously compromises the alliance's technology and intelligence.
He is destabilizing many countries, including Somalia, Qatar, Libya, and Syria, by dispatching military forces and hardware while violating the air space of other countries like Iraq, Cyprus, and Greece. Yakis said Turkey is engaging in a "highly daring bet where the risks of failure are enormous."
Erdogan supports extremist Islamist groups such as the Muslim Brotherhood and Hamas, and an assortment of jihadists, including ISIS, knowing full well that these groups are sworn enemies of the West—yet he uses them as a tool to promote his wicked Islamic agenda.
He regularly blackmails EU members, threatening to flood Europe with Syria refugees unless they support his foreign escapades such as his invasion of Syria, and provide him with billions in financial aid to cope with the Syrian refugees.
The question is how much more evidence does the EU need to act? A close look at Erdogan's conduct clearly illuminates his ultimate ambition to restore much of the Ottoman Empire's influence over the countries that were once under its control.
Erdogan is dangerous. He has cited Hitler as an example of an effective executive presidential system, and may seek to acquire nuclear weapons. It's time for the EU to wake up and take Erdogan's long-term agenda seriously, and take severe punitive measures to arrest his potentially calamitous behavior. Sadly, the EU has convinced itself that from a geostrategic perspective Turkey is critically important, which Erdogan is masterfully exploiting.
The EU must be prepared take a stand against Erdogan, with or without the US. Let's hope, though, that Joe Biden will be the next president and together with the EU warn Erdogan that his days of authoritarianism and foreign adventurism are over.
The views expressed are those of the author.
Why the West Want to Stop Iran Becoming a Nuclear Power?
Iran is a regional powerhouse in the Middle East only rivals Saudi Arabia, Egypt and Turkey. The rivalry between Saudi Arabia and Iran is centuries old in terms of sectarian differences of Shiite Iran and Sunni Saudi Arabia. The thousand year of schism of Islam presents in the Middle East. Moreover, the Islamic Revolution made Iran a fundamentalist impulsive state hostile to the West and Sunni neighbors. Iran is trying to be a nuclear power since 2007 following the great powers and other nuclear states. Iran has always interpreted its nuclear ambition as only to acquire energy and always express against use it as weapon. But this is not true at all as it is going to acquire it to show power against the rival Saudi Arab, the West and USA. There are convictions that the Western Powers let India, Pakistan and Israel to be a nuclear power but they are now against Iran. But this is not the case as several Reasons are behind to stop Iran to be a nuclear power.
Firstly, if Iran becomes a nuclear power, it will simply emerge as the sole regional superpower in the Middle East. Saudi Arabia, the ally of the West will not be a match for Iran. The Middle Eastern 'balance of power' will not be maintained. This will lead to very severe repercussions and the chance of maintaining future 'balance of power' in the reason will be in disarray. As a result, Saudi Arabia will want to acquire nuclear weapon to counter Iran in the region. As Saudi Arabia has money, either it can acquire nuclear weapon by researching or to buy weapons or technology from Pakistan.
From 1990s, Pakistan is selling nuclear technology to Iran, Libya and North Korea. As the economy of Pakistan is in great disarray, it might sell its nuclear technology to Saudi Arabia for billons of dollar. Turkey might try to acquire nuclear weapon to counter Saudi Arabia and the Egypt will want to acquire nuclear weapon to counter Turkey. It will start a sick competition in the Middle East to acquire the nuclear weapons which later may spread throughout the world. The efforts of Nuclear Proliferation will be null and void in a decade.
Another problem will arise if Iran becomes a nuclear power in terms of the failure of calculating nuclear deterrence. It is not unknown that USA acquired nuclear power first, then USSR acquired to counter or balance the power of USA, then it was the beginning of arms race. India acquired nuclear weapon to balance China in the region after the loss of 1962 war. Pakistan countered Indian nuclear power as it is unable to fight and win a war against a mighty power like India. Western powers primarily imposed sanctions on them but later withdrew. But if Iran acquired it, the nuclear deterrence or the calculation of nuclear war threats will be complicated. Who will counter who, who will attack who the probability or the calculation of the probability will be huge. There will be miscalculations and chances of total devastating war will be huge. Nuclear power Israel might attack Iran as preemptive action. In this indicating situation, Waltzs' nuclear deterrence does not work.
Secondly, Iranian world view and ideology does not support the idea of Westphalia world order. The leaders of Iran and its revolution including Ayatollah Khomeini declared in 2013, they want to unite the believers (Muslim Ummah); they want to vanquish the dominance of the Western powers, USA and its allies. Iran is now influenced by Radical Islamist Syed Qutb according to Henry Kissinger, and working both with Shiite and Sunni Radical organization. According to Kissinger, Iran has connection to Al-Qaeda and Taliban as they armed them. Iranian leadership thinks that they are on a Holy War (Jihad) against the unbelievers and these ideas are making the nuclear program even threatening. If Iran has nuclear weapon, can be in the hands of terrorist organizations or the radical and impulsive leadership might be threat to the nearby states, US allies, Russia, China or Israel. Any impulsive leadership can use it to wipe out the unbelievers in fighting a Jihad. Even they can use the nuclear arms as bargaining chip with the West or neighboring countries as North Korea did.
Thirdly, Iran already has its own nuclear delivery system and missile technologies. This made Iran a more ready nuclear power than previous nuclear powers like India and Pakistan, have been. So the only way to inhibit the nuclear capability of Iran is to reduce its capability to enrich Uranium. Iran has thousands of Uranium centrifuges and they wanted to reduce capacity of the half of the centrifuge to only 5 percent Uranium. According to Iran they will not enrich Uranium to 20 percent. This 20 percent Uranium is not important as 5 percent Uranium as this 5 percent Uranium is the threshold from where in a few months Iran can produce weapon category Uranium which make Iran as more unreliable.
In 2015 Iran signed Joined Comprehensive Plan of Action (JCPOA), a nuclear treaty with the five members of United Nations Security Council (P5) plus Germany which is called P5+1. As a result sanctions were withdrawn from Iran by the West. Ex-President Donald Trump declared withdrawal from the deal in 2018 and imposed the sections on Iran. Iran in 2019, Iran breached the limit set on the deal and IAEA confirmed it. After the Baghdad Airstrike killed Qasem Solaimani, Iran wanted to increase its nuclear capability. The good news is, in December 2020, America desired to rejoin the deal, and the new Biden administration is working on it.
Iran is a pivotal country in the Middle East. Anything Iran does may echo in the region. Middle East is already a complicated region with a lot of conflict and potential problematic issues. To sustain peace in the region including the balance of power, world powers are working on it. Time will tell how fruitful the initiatives are. The West must ensure that Iran respect and be a part of the Westphalia order which is a good start.
Escalation of violence in Jerusalem
According to some analysts, a clause of the Emirates-Bahrain and Israel agreements opens the door to the prayers of Jews in the sacred place
On the afternoon of May 10, the Al-Qassem brigade in Gaza gave an ultimatum to the Israeli occupiers to leave the Al-Aqsa complex and release the prisoners. An hour later, missiles were fired from Gaza towards Jerusalem. An anti-tank missile was fired at an Israeli army jeep near the Gaza border. Subsequently, other volleys of missiles were fired by other resistance groups at targets near Gaza.
The Israeli military canceled the start of a large-scale maneuver it had planned to carry out over the next 30 days. That move was seen as a preparation for an all-out attack on Hezbollah in Lebanon. Yesterday Hezbollah announced a general mobilization of its forces to deter a potential surprise attack. Israeli troops are now on alert for potential escalation within Israel and Gaza. After four elections, Israel still does not have a new government. Prime Minister Netanyahu is on trial for corruption. A broader war that can turn into a victory could help him avoid judgment and get votes in the next election. According to Jewish tradition, the ancient Jewish temple was located exactly where the Al-Aqsa mosque is now located. The Zionist movement aspires to rebuild the third temple, but in order to do so they must first remove the mosque.
According to an investigation by Terrestrial Jerusalem (TJ) an Israeli non-governmental organization, the claims contained in the normalization agreements between the United Arab Emirates (UAE), Bahrain and Israel (known as the "Abraham Accords") mark a "radical change in the status quo and have far-reaching and potentially explosive consequences ". The violence that is taking place these days depends on those agreements.
According to the status quo established in 1967, only Muslims are allowed to pray on al-Haram al-Sharif [the Noble Shrine in Arabic, i.e. the Temple Mount], Temple Mount, according to the Jews, also known as the Al mosque complex Al-Aqsa. Non-Muslims can visit the site, but not pray. Benjamin Netanyahu, the Israeli prime minister, confirmed this status quo in a formal statement in 2015. However, a clause included in the recent agreements between Israel and the Gulf states indicates that this may no longer be the case. According to the joint statement between the US, Israel and the UAE issued on August 13, 2020, by US President Donald Trump: "As set forth in the Vision for Peace, all Muslims who come in peace may visit and pray at the Al Aqsa Mosque, and Jerusalem's other holy sites should remain open for peaceful worshippers of all faiths".
But Israel defines Al-Aqsa as a 'mosque structure', as in the statement, clarifies TJ's report: "…according to Israel (and apparently to the United States), anything on the Mount that is not the structure of the mosque is defined as 'one of Jerusalem's other holy sites', and open to prayer by all–including Jews", says the statement.
"Consequently, this choice of terminology is neither random nor a misstep, and cannot seen as anything but an intentional, albeit surreptitious attempt to leave the door wide open to Jewish prayer on the Temple Mount, thereby radically changing the status quo".
The same statement was repeated in the agreement with Bahrain.Palestinians have long been concerned about possible attempts to partition the holy mosque, as happened with the Ibrahimi mosque [Tomb of the Patriarchs for Jews] in Hebron.
A Temple Movement has developed over the years, consisting largely of "far-right nationalist religious Jews seeking to change the status quo" reports TJ. Some ask for prayer for the Jews inside the sacred complex, while others aim to build the Third Temple on the ruins of the Dome of the Rock which, according to Messianic prophecies, would announce the coming of the Messiah.
Over the years, the Israeli NGO Ir Amim has published numerous reports of this once marginal group, but which is now part of a dominant political and religious trend and enjoys close ties with the Israeli authorities.
These activists believe that allowing Jews to pray as a whole and divide the sacred site between Muslims and Jews is a step towards sovereignty, to one day achieve their ultimate goal, the construction of the temple.
A more brazen statement was included in the "deal of the century", the plan for the Middle East unveiled in late January 2020 by Trump and Netanyahu in the White House.
Jared Kushner, Trump's senior adviser and son-in-law, was the most prominent person working on the proposal, while Ron Dermer, Israel's Ambassador to the US, was credited with formulating the agreement.
The plan stipulates that "the status quo of the Temple Mount/Haram al-Sharif should remain unaffected", but the next sentence also says that "people of all faiths can pray on the Temple Mount/Haram al-Sharif".
The clause caused controversy and prompted David Friedman, US Ambassador to Israel, to retrace his steps during his press meeting on January 28, 2020. "There is nothing in the plan that would impose any alteration of the status quo that is not subject to agreement of all the parties", he said.
Friedman's quick retraction of the sentence contained in Trump's plan attests that Dermer probably inserted it and that Kushner did not understand it. The fact that it was Friedman who retracted and not the White House also means that the language of Trump's plan is still official and decisive when it comes down to it.
The normalization agreements come after the Israeli authorities installed loudspeakers on the east and west sides of the Al-Aqsa complex without the permission of the Waqf (Islamic institution).
The sacred complex is administered by the Islamic Waqf based in Jordan. According to the status quo, Israel is only responsible for security outside the gates. In his report, TJ notes that the agreement does not mention the Waqf and its autonomous role.
Meanwhile, Israel has killed 20 Palestinians in Gaza and injured hundreds in Jerusalem as tensions in Al-Aqsa flare up.
Attack On Jerusalem – Where Is The International System?
Since mid-20th century the conflict has been referred to as the 'most intractable conflict' in the world with the ongoing Israeli occupation. For more than about 54 years the international system has failed to settle this dispute and the two countries did not reach a peace agreement. In past, the Israeli Government had restricted the Palestinians and have been involved in many illicit activities violating human rights. Palestinians remain subject to Israeli military occupation and the recent attack on Masjid Al-Aqsa is strong evidence of this fact. Tensions in Jerusalem and West Bank accelerated during the Holy month of Ramadan including evictions of Sheikh Jarrah in East Jerusalem.
The third holiest site for the Muslim community, Temple Mount also known as Masjid Al-Aqsa, located in the city of Jerusalem has been attacked by the Israel forces on the Holy night of Laylat al-Qadar and again after two days in the morning. The incident has been brought forward by the media in several ways calling it an attack conflict or clash. The Israeli police forces stormed hundreds of Palestinians during prayer time. The unrest resulted as cops entered the compound, creating an atmosphere of fear echoes of prayer together with the noise of stun grenades and fires. More than 200 Muslims offering prayer have been targeted and hit by rubber bullets and a score of attackers themselves were wounded. When the prayer zone was turned into a battlefield, the loudspeakers of the mosque called for peace and calm.
"Police must immediately stop firing stun grenades at worshippers, and the youth must calm down and be quiet!"
Violation of Human Rights pushed Palestine to demand a session of the United Nations Security Council (UNSC). President of Palestine, Mahmoud Abbas "held (Israel) responsible for the dangerous developments and sinful attacks taking place in the holy city." Israel's obligations under international humanitarian law have been violated many times and now the international community is no more silent about it. Whatever is happening in East Jerusalem its occupation, has no legitimate claims. UNSC has asked Israel to withdraw many times and has passed a number of resolutions demanding this. The United Nations has asked Israel to cancel any forced evictions in Israeli-annexed east Jerusalem, warning that its activities could add up to "war crimes". Moreover, Israel has no legal claim on the city but is still carrying out an ethnic cleansing campaign in East Jerusalem. The most recent example includes the eviction of Palestinian families from Sheikh Jarrah.
Once again many statements have been given by the international community condemning the actions not finding the solution to end this. Muslim countries united joining hands in hands with their Muslim brothers and sisters. Iran, Saudi Arabia, Pakistan, UAE gave their stance against Israeli actions and made it crystal clear that such actions cannot be tolerated at any cost. Moreover, European Union (EU) and United States (US) also expressed their concerns about violence.
The atrocities of Israeli police forces have now met the definitions of apartheid and persecution as stated by the report of Human Rights Watch (HRW); "A Threshold Crossed: Israeli Authorities and the Crimes of Apartheid and Persecution" released in April. This includes the crime against humanity in the region of Ghaza Strip, West Bank, and Israel. This well-researched report however has very little impact on the bilateral relations between Palestine and Israel. It states that a system of systematic oppression and racial domination with a claim over land and demographics is what Israel intends to have. Israel's foreign minister claimed it to be an 'anti-Israel agenda' being both false and preposterous.
Blockade of Ghaza strip and freedom movement limitations further poses a serious threat to the population during the COVID-19 pandemic, making it more vulnerable. The firing by Islamic Jihad and its counter-attack, airstrikes against Ghaza and Hisbullah, demolitions, forcible transfers, violation of international law, discrimination, and use of force are all factors that aided the current situation between the two countries. Lack of access to health care units, feeling of fear and terror everywhere, insecure atmosphere all poses a serious question; "Where does the international system stand?"
With each escalation, all that comes forward is another resolution by UNSC for Israel to withdraw, statements from various states condemning the situation, and wait for another incident. While considering the Israel-Palestine conflict one might comprehend this issue as a failure of the international system to maintain peace. Many predictions and solutions have been brought forward by analysts and researchers each with some evidence supporting their stance. However thinking about a solution and solving the problem in actual seem to be two opposite poles of a magnet, but definitely not attracting one another.
For negotiations and peace agreements, the two states need to share a common vision which seems to be very unlikely to happen. The Israeli occupation of Palestinian territories seems to end only by establishing a relationship between the two that involves a feeling of trust and security for other states. For this, the political arrangement should be right with adequate involvement of International Organizations such as the UN. Boarder modifications and acceptance for two-state solution tend to develop the ideal conditions for this relationship.
Thus reality points in a different direction and this raises a question to the international system. Where is the international law securing the lives and freedom of people in East Jerusalem? Where is the UN Charter providing education, health, and other facilities to the people of Gaza? Where are the efforts of great powers such US, China, Russia to safeguard and secure the local citizens and maintenance of peace? Where are the rights of citizens during occupation under Geneva Convention? Where is the role of International Organizations while considering this dispute? And last but not least where the answer to all these questions is.