UN chief calls for end to reported police brutality in Nigeria
The UN Secretary-General on Wednesday said he was closely following recent developments across Nigeria, in the wake of reports that protesters had been shot dead and wounded, and called for "an end to reported police brutality and abuses."
António Guterres said in a statement issued by his Spokesperson, that he condemned "the violent escalation on 20 October in Lagos which resulted in multiple deaths and caused many injuries."
According to witnesses, Nigerian security forces opened fire on Tuesday night in Africa's largest city, as protests continued over a now-disbanded and discredited police unit, known as the Special Anti-Robbery Squad, or SARS.
The Government has pledged to carry out further police reforms, and improve police accountability.
A curfew has been imposed on Lagos and other parts of Nigeria, with reports that tensions continued into Wednesday, with police across the city firing shots in the air, in an effort to disperse protesters who were defying the order to stay off the streets.
The UN chief expressed his condolences to the families of the bereaved, and wished a speedy recovery to those injured.
Act with 'maximum restraint', demonstrate peacefully
He called on Nigerian authorities "to investigate these incidents and hold the perpetrators accountable."
Mr. Guterres also urged security forces "to act at all times with maximum restraint while calling on protestors to demonstrate peacefully and to refrain from violence."
"The Secretary-General encourages the authorities to swiftly explore avenues to de-escalate the situation", the statement continued. "He reiterates the readiness of the United Nations to support national efforts towards finding a solution."
'Root and branch' examination of security forces needed: Rights chief
The UN human rights chief, Michelle Bachelet on Wednesday, also strongly condemned the excessive and disproportionate force by Nigerian armed forces in Lagos, in a statement issued by her office, OHCHR.
She called on the Nigerian authorities to take urgent steps to deal decisively with the underlying problem of persistent violations committed by security forces, and make a far stronger effort to bring police and army personnel guilty of crimes against civilians to justice.
"While the number of casualties of yesterday's shooting at the Lekki toll plaza in Lagos is still not clear, there is little doubt that this was a case of excessive use of force, resulting in unlawful killings with live ammunition, by Nigerian armed forces," Ms. Bachelet said.
"Reports that CCTV cameras and lighting were deliberately disabled prior to the shooting are even more disturbing as, if confirmed, they suggest this deplorable attack on peaceful protestors was premeditated, planned and coordinated."
'Already at boiling point'
The High Commissioner noted that the country "was already at boiling point before this shooting because of the revelations about years of unchecked violence, including alleged killings, rape, extortion and other violations, by the Special Anti-Robbery Squad.
"While the authorities have now dissolved SARS and announced a series of inquiries at both Federal and State levels, there have still been few if any charges levelled against its members despite abundant evidence against various members of the squad, as well as members of other security forces and the army."
She said the continued protests are several weeks of demonstrations, was evidence that there was no public trust in the authorities' response thus far:
"I appreciate that the Government has taken a number of measures to address the protestors' demands," Ms. Bachelet said. "However, the immediate creation of another elite police SWAT team to replace the SARS – without first addressing some of the root causes of police violence and putting in place sufficient safeguards to prevent future violations – has eroded the public's trust even further. This latest terrible event in Lagos is like wantonly adding fuel to a fire that was already starting to rage out of control."
'Immediate concrete steps'
She added that the authorities needed to take immediate concrete steps to show they are genuinely committed to tackling impunity, after years of inaction.
"There need to be immediate, independent, transparent and thorough investigations, not just into last night's killings, but also into all the previous violations committed by security forces…Those appointed to carry out such investigations must not only be independent and impartial, but must be widely perceived as such. And, where sufficient evidence already exists to warrant charges, immediate suspension of officers – including senior officers – suspected of committing serious crimes, should take place long before the conclusion of such investigations."
She said now was the time for "a root and branch re-examination of the entire security sector, and of its civilian oversight…This should include a full-scale review of rules of engagement and training systems and methods."
Ms. Bachelet also called for immediate investigations into reports of violent and provocative attacks on peaceful protestors by unidentified groups armed with cudgels, cutlasses, sticks or guns, in some cases apparently with the overt backing of police or other security forces.
Fundamental rights
"Nigerians, like everyone else, have a fundamental right to peaceful assembly and protest," the High Commissioner said. "The Government has a responsibility to take positive measures to ensure the realization of this right, including deterring others who intend to prevent them from protesting peacefully. The world's attention is now focused sharply on how Nigeria's Government and security forces react over the coming days and weeks."
"In a population with such a young median age, it is important to listen to the grievances of the younger generation and make an effort to address the multiple problems they face, which include – but are far from confined to – police brutality and violations."
Climate Change Could Further Impact Africa's Recovery
The World Bank's new Groundswell Africa reports, released today ahead of the 26th session of the Conference of the Parties (COP 26), find that the continent will be hit the hardest by climate change, with up to 86 million Africans migrating within their own countries by 2050.
The data on countries in West Africa and the Lake Victoria Basin show that climate migration hot spots could emerge as early as 2030, and highlight that without concrete climate and development action, West Africa could see as many as 32 million people forced to move within their own countries by 2050. In Lake Victoria Basin countries, the number could reach a high of 38.5 million.
"From pastoralists travelling the Sahel to fishermen braving the seas, the story of West Africa is a story of climate migrants. As countries are experiencing rises in temperatures, erratic rainfall, flooding, and coastal erosion, Africans will face unprecedented challenges in the coming years," says Ousmane Diagana, World Bank Vice President for Western and Central Africa. "This series of reports identifies priorities for climate action that can help countries move towards a green, resilient and inclusive development and generate opportunities for all African people."
Slow-onset climate change impacts, like water scarcity, lower crop and ecosystem productivity, sea level rise, and storm surge will increasingly cause people to migrate. Some places will become less livable because of heat stress, extreme events, and land loss while other areas may become more attractive as consequence of climate-induced changes, like increased rainfall. Unattended, these shifts will not only lead to climate-induced migration, potentially deepening existing vulnerabilities and leading to increased poverty, fragility, conflict, and violence
The authors highlight that people's mobility will be influenced by how slow onset of climate impacts will interact with population dynamics and the socio-economic contexts within countries. However, efforts to support green, inclusive, and resilient development, could reduce the scale of climate migration by 30% in the Lake Victoria region and as much as 60% in West Africa.
"Investments in resilience and adaptation can promote green industries, and when paired with investments in health, education, the digital economy, innovation, and sustainable infrastructure, they also have tremendous potential to create climate-smart jobs and boost economic growth," asserts Hafez Ghanem, World Bank Vice President for Eastern and Southern Africa. "As part of this, a focus on women's empowerment is critical to improve human capital and to reap the demographic dividend—significant aspects of building climate resilience in the years to come."
The scale and trajectory of climate-induced migration across Africa will require countries to take bold, transformative actions:
Net-zero targets: the global community has the responsibility to cut greenhouse gas emissions to reduce the scale and reach of climate impacts.
Locality and context matter: countries will need to embed internal climate migration in far-sighted green, resilient, and inclusive development planning across Africa.
Data: investing in research and diagnostic tools is key to better understand the drivers of internal climate migration for well-targeted policies.
Focus on people: invest in human capital to engage people in productive and sustainable climate smart jobs.
The Groundswell Africa series is a sequel to the 2018 Groundswell report and complements the recently released Groundswell II report, providing in-depth analysis on potential scale and spread of internal climate migration in West African and the Lake Victoria Basin, with country level analysis from Nigeria, Senegal, Tanzania, and Uganda to better inform policy dialogue and action.
World Bank to support reconstruction plan for Cabo Delgado in Mozambique
The World Bank will provide US$100 million (€86 million) to support the Mozambican government in the reconstruction plan for Cabo Delgado, a province affected by incursions by armed groups since 2017, an official source announced Monday.
"With the recently reconquered areas, we have realised that there are many people who want to return to their areas of origin. But they cannot return without the basic conditions being in place. As a result, we have an additional 100 million dollars for support," said Idah Pswarayi-Riddihough, World Bank Country Director for Mozambique.
She was speaking to the media, moments after a meeting between the Mozambican prime minister, Carlos Agostinho do Rosário, and heads of diplomatic missions to discuss the Cabo Delgado Reconstruction Plan.
According to her, the new World Bank support comes on top of a first donation (also totalling US$100 million), announced in April and which was earmarked for the Northern Integrated Development Agency (ADIN), which is promoting social and economic projects for youth inclusion across northern Mozambique.
In the new donation, which is expected to be disbursed in January, the World Bank wants the money to be invested in the reconquered areas in the north of the province, and psychosocial support, reconstruction of public buildings and restoration of basic services are among the priorities.
"The idea is to give the affected people a decent place to live after the traumas they have suffered," she said.
The Reconstruction Plan for Cabo Delgado, approved in September by the Mozambican government, is budgeted at US$300 million (258 million euros), of which almost US$200 million (172 million euros) is earmarked for the implementation of short-term actions, which include restoring public administration, health units, schools, energy, water supply, amongst other aspects.
According to the deputy minister of Industry and Trade, Ludovina Bernardo, the priority of the executive is to ensure a gradual and safe return of the inhabitants to the reconquered areas, at the same time as basic conditions are created.
"We want to make interventions on the ground, but safeguarding security. Our forces are on the ground and as soon as they ensure that the return of families to their areas of origin is possible, the process will begin", he said, pointing, as an example, to the return of families from Palma, which has already begun.
The United Nations resident representative in Mozambique, Myrta Kaulard, also gave assurances that the organisation would continue to support the Mozambican government in the process, highlighting the importance of the "classic interventions" of the entity in cases of humanitarian crises.
"I would like to remind you that on the humanitarian side, international partners have contributed, in the year 2021 alone, a total of 160 million dollars (137 million euros). It is important to continue with this humanitarian support, while promoting reconstruction," she stressed and highlighted the importance of creating a working group among international partners to combine actions and broaden appeals in the face of the humanitarian crisis in Northern Mozambique.
Cabo Delgado province is rich in natural gas but has been terrorised since 2017 by armed rebels, with some attacks claimed by the extremist group Islamic State.
The conflict has led to more than 3,100 deaths, according to the ACLED conflict registration project, and more than 824,000 displaced people, according to updates from Mozambican authorities.
Since July, an offensive by government troops with support from Rwanda, later joined by the Southern African Development Community (SADC), allowed for an increase in security, recovering several areas where there was rebel presence, including the town of Mocímboa da Praia, which had been occupied since August 2020.
Nigeria becomes the first country in Africa to roll out Digital Currency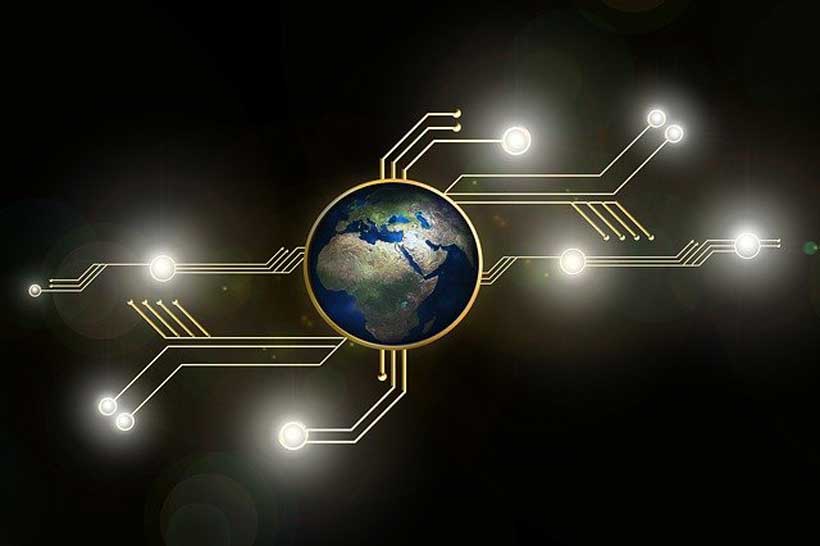 The Central Bank of Nigeria joined a growing list of emerging markets betting on digital money to cut transaction costs and boost participation in the formal financial system.
"Nigeria has become the first country in Africa, and one of the first in the world to introduce a digital currency to her citizens," President Muhammadu Buhari said in televised speech at the launch in Abuja, the capital. "The adoption of the central bank digital currency and its underlying technology, called blockchain, can increase Nigeria's gross domestic product by $29 billion over the next 10 years."
The International Monetary Fund projects GDP for Africa's largest economy to be $480 billion in 2021.
The issuance of the digital currency, called the eNaira, comes after the central bank earlier in February outlawed banks and financial institutions from transacting or operating in cryptocurrencies as they posed a threat to the financial system.
Since the launch of the eNaira platform, it's received more than 2.5 million daily visits, with 33 banks integrated on the platform, 500 million c ($1.2 million) successfully minted and more than 2,000 customers onboarded, central bank Governor Godwin Emefiele said at the launch.
Central bank digital currencies, or CBDCs, are national currency — unlike their crypto counterparts, such as Bitcoin and Ethereum, which are prized, in part, because they are not tied to fiat currency. The eNaira will complement the physical naira, which has weakened 5.6% this year despite the central bank's efforts to stabilize the currency.
"The eNaira and the physical naira will have the same value and will always exchange at one naira to one eNaira," Emefiele said.
The digital currency is expected to boost cross-border trade and financial inclusion, make transactions more efficient as well as improve monetary policy, according to the central bank.
"Alongside digital innovations, CBDCs can foster economic growth through better economic activities, increase remittances, improve financial inclusion and make monetary policy more effective," Buhari said. Digital money can also "help move many more people and businesses from the informal into the formal sector, thereby increasing the tax base of the country," he said.
The Central Bank of Nigeria in August selected Bitt Inc. as a technical partner to help create the currency that was initially due to be introduced on Oct. 1.
Nigeria joins the Bahamas and the Eastern Caribbean Central Bank in being among the first jurisdictions in the world to roll out national digital currencies. China launched a pilot version of its "digital renminbi" earlier this year. In Africa, nations from Ghana to South Africa are testing digital forms of their legal tender to allow for faster and cheaper money transactions, without losing control over their monetary systems.