EU steps up support for Africa's Central Sahel countries
European Union, Denmark and Germany and the United Nations co-host a virtual Ministerial Roundtable on Africa's Central Sahel region, with the participation of donors and international organisations, as well as the countries concerned: Burkina Faso, Mali and Niger. The event will discuss longer-term perspectives for countries in the region to overcome the spiral of violence and humanitarian crises they are currently facing. It also aims at mobilising support for the region, especially as coronavirus pandemic increases humanitarian needs.
Representing the EU at the event, Janez Lenarčič, Commissioner for Crisis Management, will pledge a total of €43.6 million on behalf of the EU to the three countries in the Central Sahel region for the rest of 2020.
Janez Lenarčič, said: "Throughout recent years, the EU has been particularly committed to the Sahel and international support provided has been significant. Yet, the security, social and humanitarian situation in Central Sahel is only deteriorating. In face of this dramatically worsening situation, together – the international community and the governments concerned – we must do better, more and act fast. Only by addressing the deep-rooted causes can we succeed in providing a better life to the people caught in the crises afflicting the region."
Jutta Urpilainen, Commissioner for International Partnerships said: "Today's conference is a very clear sign of our solidarity towards the Sahel region and its people. Our €20 million support to the World Food Programme will help the most vulnerable in Burkina Faso, Mali and Niger, and especially pregnant and breastfeeding women and young children. We hope to assist 65,000 people next year with this project. If we all join forces along the peace-development-humanitarian nexus and our partner countries take responsibility for improving governance and reforms, I am convinced that we can make a difference for the people in the Sahel. Team Europe will keep on supporting the people of Sahel."
The EU's pledge consists of:
€23.6 million in funding for humanitarian actions in Burkina Faso, Mali and Niger.
€20 million in development funding to address the food crisis afflicting the Central Sahel region, in cooperation with the World Food Programme.
Overall, EU and the EU Member States have mobilised around €8 billion since 2014 to help stabilise the Sahel region.
Background
Burkina Faso, Mali and Niger are at the core of one of the world's fastest growing humanitarian crises created by a combination of conflict, climatic changes and poverty. It is estimated that a staggering 13.4 million people across the Central Sahel are in need of humanitarian assistance.
In 2020, the EU has mobilised a total €84.6 million in humanitarian assistance for Central Sahel countries, including the amount that will be pledged today. In June 2020, the EU also organised two EU Humanitarian Air Bridge flights to Burkina Faso, carrying 26 tonnes of humanitarian supplies and equipment needed for the coronavirus response in the country.
Since 2014, the EU has invested more than €3.4 billion in development cooperation for the three Central Sahel countries Burkina Faso, Mali and Niger, with the objective to strengthen the capacities of the state in the long term, while providing a short and medium-term response to the needs of the most vulnerable population. The investments covered a broad range of areas: from security; good governance; transparency; public finance; the respect of human rights to basic social services (education, food security and health).
Training women to avoid conflict in Sierra Leone
In the West African country of Sierra Leone, the UN is supporting a government programme, training women and men to take on leadership roles in areas such as peacebuilding, with the aim of promoting peace and non-violence.
"We have learned how to see the sparks before they turn into fires, metaphorically speaking," says Susan Pessima, from Selenga Chiefdom, Bo District, in the south of Sierra Leone. "That's important, because fires can spread fast if the conditions are right for it".
Ms. Pessima is talking about the fires of conflict and violence, fanned in part by the climate crisis, and dwindling natural resources. Often these take the form of land disputes. For example, there may be a disagreement over the boundary line between two properties. The problems often seem small, but they reflect larger and long-simmering tensions over class, ownership, and land rights. Sometimes, these disputes turn violent, and may even unleash bigger waves of violence.
'Women see things other people don't'
That's why the government is training local people, including Ms. Pessima, to take on new leadership roles in peacebuilding, agriculture, entrepreneurship, and governance in their communities. So far, a total of 80 "community peace and conflict monitors" have been trained to work in their villages and towns to spot the signs of conflict before it leads to violence.
A big emphasis has been placed on training women, who make up three quarters of the peace and conflict monitors. "It's no coincidence that these problems sprout and grow bigger even as women are discriminated against," says Nyabenyi Tito Tipo, Country Representative for the Food and Agriculture Organization (FAO) in Sierra Leone. "Any solution that leaves out half the population is bound to fail."
Women, says Ms. Pessima, are essential to building peace, and must be empowered. "We women know our communities well. We are in the homes, we are in the markets. We go out on the streets. We see things that other people don't."
Taking charge
The project involves women not just in making peace but in making decisions. Women have been appointed to half of the positions in all of the 16 newly created "village area land committees" in the four participating districts, and two villages have their first-ever women Town Chiefs.
Another training session brought together Paramount Chiefs, local leaders, and "mammy queens" (important women leaders) in selected chiefdoms to help empower women in implementing the government's National Land Policy.
One of the training participants was Desmond Kagobai, Paramount Chief of Selenga Chiefdom, Bo District. He says the message of the training was strong, and the practical guidance was useful. "If we want lasting peace and prosperity in our communities, then women must be involved from top to bottom and from start to finish."
Mutual support
The four-district program has also trained nearly 1,000 farmers—85% of them women—on finance and cooperatives. Women farmers have a harder time to secure resources than their male counterparts, as they are liable to be discriminated against in financial services—a big factor in poverty. Participants have formed Village Savings and Loan Associations (VLSA) for mutual support.
VLSA members can get small loans to cover expenses such as school fees and medical bills without selling farm equipment or other productive assets. That means they can contribute more to their household incomes. With support from UN-backed programmes, eight new farming cooperatives are now being registered with the government.
Another 2,500 people—80% of them women—have been trained in climate smart agriculture (CSA), with a focus on groundnuts, cassava, rice, and pepper and other leafy vegetables. Previously, most women farmers were practicing slash-and-burn agriculture; such practices may be more profitable in the short-term, but they damage the land and environment in the long-term. So, farmers have been taught good farming practices such as, mulching, soil and water conservation techniques, liquid and organic manure, among other conservation practices.
Imaging a better future for Sierra Leone
Training programme officials and participants say they feel more hopeful than ever before about the prospects for their villages and their country. "I learned a lot in the training, and I appreciate that," says Paramount Chief Desmond Kagobai. "Just as important is the fact that the government and the United Nations have affirmed the role of women in the country's future."
One solution to the problems of Sierra Leone and the Sahel is simple but very difficult", says Ms. Tipo. "Women have got to be empowered and men have got to embrace women's power. There's nothing we can't do if we do it together."
Heartbreaking stories from refugees fleeing Ethiopia violence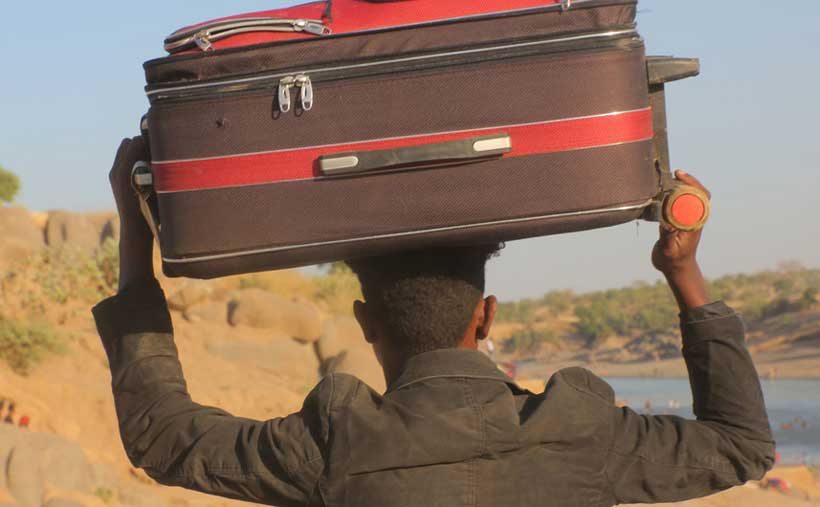 In a briefing to journalists on Thursday, a senior UN humanitarian official in Sudan recounted moving testimony from refugees who are crossing the border from Ethiopia in their thousands, fleeing fighting in Tigray province.
"Many of the refugees left behind children, and parents. They did not have time to assemble their families and leave together", said Babacar Cissé, the UN Resident and Humanitarian Coordinator in Sudan. "They arrived at the camps after having walked for several days, exhausted and with nothing. Seeing families and children sleeping in the open was heartbreaking".
Many of the refugees are young men, who told UN staff that they had been targeted by armed fighters. One man told Mr. Cissé that he had walked for two days, and had seen two family members killed. Another, a medical doctor, said that he had been forced to leave his family behind: he is now treating other refugees in the camp.
Response plan by the weekend
With the influx of refugees higher than expected, the UN in the region is planning for the arrival of some 200,000 over the next six months, said Mr. Cissé.
The UN, donors, and local authorities, are working closely on a response plan, which should be finalized by this weekend, he added. In the meantime, enough food to support 60,000 people for one month is being prepared for delivery from Kassala in the coming days.
"This crisis started on 7 November. After a week, we had about 20,000 and now over 30,000 refugees", Mr. Cisse explained. "People were in reception centres for registration before being relocated in refugee camps. They are not supposed to stay there for more than two days and we are committed to immediately addressing this urgent challenge."
Mr. Cissé was speaking following his return from a two day mission – along with the country representatives of the UN refugee agency (UNHCR), World Food Programme (WFP), UN Childrens' Fund (UNICEF) and UN Population Fund (UNFPA) – to assess the situation in refugee camps in the southeastern region of Sudan.
So far, the largest number of refugees are entering Sudan at the small town of Hamdayet. During the two-day mission, the UN officials, and Sudanese authorities, visited the Hamdayet Reception Centre, where an emergency response has been set up to register and provide assistance to thousands of women, children and men crossing into the country.
Urgent health needs
The main concern centres around hygiene, as more and more people arrive. At their arrival in the camp, refugees can access clean water and soap, and receive hot meals and high-energy food supplies. More latrines are being built, and WFP has delivered supplies such as cooking pots, tank loads of water, and a mobile storage unit.
Tigray is Ethiopia's third most-affected region in terms of COVID-19, and there is concern surrounding the movement of people and the risk this entails for the spread of pandemic.
Mr. Cissé warned that refugees are arriving at the camps without any masks or other forms of protection against the virus. Masks are being distributed in the camps but, as of now, there is no capacity for testing.
The most urgent needs are food, clean water, and shelter. The UN and partners are providing health and nutrition services, as well as hygiene and other non-food kits, and are working non-stop to address the needs of the population.
This includes supporting pregnant women, those who are breastfeeding, traumatized children and others who immediately need psychosocial assistance.
'Keep children out of harm's way'
Also on Thursday, UNICEF underscored the growing risks children on both sides of the border – the child refugees sheltering in Sudan, and the children inside Ethiopia's Tigray region.
Henrietta Fore, Executive Director of UNICEF, said that conditions for refugee children are "extremely harsh" and that the UN agency is working to urgently provide critical life-saving support, including health, nutrition, water, sanitation and hygiene services.
Inside Ethiopia's Tigray region, "restricted access and the ongoing communication blackout have left an estimated 2.3 million children in need of humanitarian assistance and out of reach," she added.
According to UNICEF, there is also a growing threat of malnutrition rates in the region, with acute malnutrition rates rising by a third since last year, primarily due to a desert locust infestation and COVID-19.
"I am concerned that, without sustained humanitarian access, many more children will be at risk as malnutrition treatment supplies in the region will last only until December," warned Ms. Fore.
She called on all parties to the conflict to allow urgent, unimpeded and sustained humanitarian access to all affected communities, underscoring that "every effort" be made to keep children out of harm's way, and to ensure that they are protected from sexual and gender-based violence, as well as from recruitment and use in the conflict.
Guterres pledges support for sustainable industrial development in Africa
The COVID-19 crisis was impacting Africa "well before the pandemic spread across the continent", the UN chief said on Friday, marking Africa Industrialization Day, arriving at a point when many economies were expanding and "poverty was in decline".  
"Technology and innovation were being embraced across the continent, and progress had been made in unity and economic integration", Secretary-General António Guterres added.
Moreover, the entry into force of the African Continental Free Trade Area promised "a strong boost" in trade between nations.
A stunning reversal
However, the prolonged pandemic has taken a sizable toll on economic activity and pushed the region into its first recession in 25 years, according to UN figures.
There has been falling demand for African commodities and products, disruptions in trade and travel, reduced remittances and foreign investment, and vast job and income losses.
And the combination of domestic lockdowns and lower external demand due to the global recession will weigh heavily on the industrial sector.
A 'more resilient' continent
In working to realize the objectives of the Third Industrial Development Decade for Africa, which runs from 2016 to 2025, and by following the roadmaps laid out by the 2030 Agenda for Sustainable Development and Africa's Agenda 2063, Mr. Guterres said, "the response to the COVID-19 crisis offers an opportunity to redress structural inequalities and vulnerabilities and promote transformative change for a more resilient Africa". 
Industry can enhance productivity, increase the capabilities of the workforce, and generate employment, by introducing new equipment and new techniques.
And with strong linkages to domestic economies, industrialization will help African countries achieve high growth rates, diversify their economies and reduce their exposure to external shocks.
"On Africa Industrialization Day, I reaffirm the commitment of the United Nations system to support inclusive, resilient and sustainable industrial development in Africa", he upheld.
A chorus of support
"All farmers should have access to innovation and digital resources to transform agri-food systems and achieve rural development", said QU Dongyu, chief of the Food and Agriculture Organization (FAO). "Let's grow, nourish and sustain, together for a modern and sustainable African agriculture!".
The UN Industrial Development Organization (UNIDO) tweeted that "industrialization helps African countries achieve high growth rates, diversify economies and reduce exposure to external shocks, such as COVID19", pledging its commitment to the third Industrial Development Decade and Agenda 2063.
The General Assembly proclaimed 20 November Africa Industrialization Day in 1989. Since then, the UN has organized global events on that day to raise awareness about the importance of Africa's industrialization and the challenges faced by the continent.