Burkina Faso 'one step short of famine'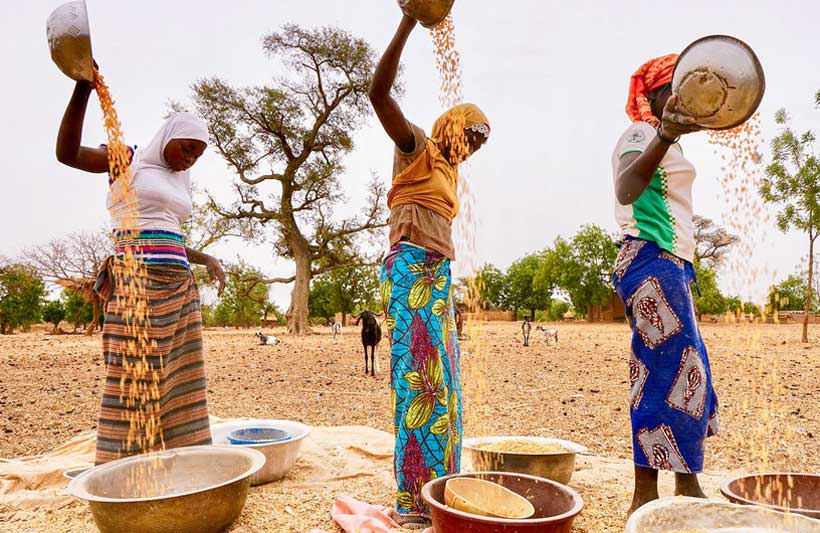 Unless access is urgently granted to humanitarian organizations, thousands in the Central Sahel will be "pushed into further destitution", the UN emergency food relief agency warned on Monday.
Ahead of Tuesday's High-Level Ministerial Conference on the Central Sahel in the Danish capital Copenhagen, the World Food Programme (WFP) sounded the alarm that catastrophic levels of hunger could hit parts of Burkina Faso, Mali and Niger.
'Tragic' food insecurity spike
Violence and insecurity have pushed 7.4 million people in the Central Sahel region of West Africa into acute hunger, according to WFP.
Additionally, the number of internally displaced people has risen from 70,000 two years ago to nearly 1.6 million today – including over 288,000 in Mali, more than 265,000 in Niger and over one million in Burkina Faso, which is now home to the world's fastest growing displacement crisis.
"When we can't get to vulnerable communities, we're seeing tragic spikes in food insecurity", said Chris Nikoi, WFP Regional Director for West Africa.
He explained that "dreadful violence and conflict" in parts of northern Burkina Faso have left over ten thousand people there "one step short of famine".
"The world cannot wait to take action until children, women and men have died", stressed the WFP official.
Food deliveries on the way
As the delivery efforts of humanitarian organizations have been jeopardized by worsening conflict and insecurity, life-saving assistance to the neediest communities has become inaccessible.
Moreover, aid workers are increasingly targeted by non-State armed groups in Burkina Faso, Mali and Niger.
WFP, which was recently awarded the 2020 Nobel Peace Prize, is urging conference participants to find ways for organisations to engage with communities and all actors on the ground to open safe passageways for humanitarian assistance to reach those in need.
A worrying outlook
Meanwhile, in response to the deepening crisis and growing needs, WFP has continued to ramp up lifesaving assistance, reaching more than 3.4 million people in August alone.
In scaling up to meet the growing needs in Burkina Faso, WFP worried about its financial outlook.
The UN agency has already been forced to reduce rations from July and risks, by next month, a break for emergency assistance to displaced people who – having fled their homes, farms and jobs – have no other options.
Building resilience 
At the same time, WFP is working to strengthen resilience-building support for at-risk communities.
Its interventions include rehabilitating community assets, improving degraded land, feeding students, and community-based nutrition activities, to prevent and treat malnutrition.
Since 2018, more than one million people have benefitted from WFP's integrated resilience activities in Niger, Mali and Burkina Faso.
Humanitarian event
The UN is co-hosting the conference in Denmark along with Germany and the European Union.
It will feature on Tuesday, a ministerial round table that follows up on a virtual 8 September meeting, focused on forward-looking plans relating to humanitarian action, development and peace efforts, among other things.
We are witnessing the birth pangs of a new World Order
Unlike in the bipolar world during the Cold War, the behaviour of the majority is the most crucial factor that will determine the structure of the future international order, writes M.K. Bhadrakumar, Indian Ambassador and prominent international observer.
The latest happenings in international politics may seem esoteric, like the secret ceremonies of Knights Templar of the medieval order. But they are anything but abstruse. It has dawned on most rational minds that the conflict in Ukraine is not intrinsic but symptomatic of an epochal struggle consequential to the making of the World Order.
On March 20, British Defence Minister Annabel Goldie stated in the House of Lords that her government would provide Ukraine with shells containing depleted uranium. Indeed, there is a tragic precedent — NATO's use of depleted uranium shells while carpet-bombing Serbia during Yugoslavia's dismemberment. (Today, the highest incidence of cancer in entire Europe occurs in Serbia.)
Britain, chafing under its free fall as a world-class power, is overzealous about power projection, and, fortuitously, Washington also desperately requires a 'game changer' to stave off defeat in Ukraine. But madness has limits. If the Anglo-Saxon bravado translates into action, there is bound to be a fearsome Russian reaction.
Suffice to say, we are tiptoeing toward use of tactical nuclear weapons in modern warfare, with all its horrific implications for South Asia. India must voice concern over the Anglo-Saxon move.
Again, on March 14, the United States, the United Kingdom, and Australia (AUKUS) unveiled the details of their plan to create a new fleet of nuclear-powered submarines. AUKUS is undermining nuclear non-proliferation efforts. Alongside, AUKUS is also preparing for a military showdown with China.
Furthermore, Japan continues to ratchet up its hostile power projection vis-a-vis Russia and China, while simultaneously returning to the path of militarisation which it abandoned after World War II. Whether New Delhi voiced its concerns to the Australian and Japanese Prime Ministers visiting India recently we do not know.
There is another side to this, too. For, AUKUS is coercing the IAEA Secretariat into endorsement on the relevant safeguards issues. This is yet another instance of the Western powers systematically dismantling the United Nations system to serve their geopolitical interests.
Plainly put, the US is replacing the UN with NATO as a global security organisation, anticipating that its capacity to dominate the world body is fast diminishing. NATO's arrival in Asia is already foretold.
Two other major developments last fortnight — the reinvigoration of the "no limits" strategic partnership between Russia and China, and the China-brokered Saudi Arabia-Iran normalisation pact — are of a different genre, but signify the shape of things to come in India's external security environment.
One lifts the veil on the military-political confrontation between Russia and the West which is going to shape international politics in the 21st century, while the second development in India's extended neighbourhood carries a sense of immediacy as the harbinger of international politics being shaped by the many states that do not seek to align themselves with the banners of the opposing sides. Here lies the germane seed of the new world order for countries such as India, stresses M.K. Bhadrakumar.
Shedding light on the Sun
As questions abound about the Earth's closest star, scientists are seeking answers critical to forecasting solar flares that threaten satellites and other electronics.
By ANTHONY KING
For most of humankind's history, it has been hard to explain the Sun as anything other than a powerful deity.
For instance, the ancient Greek god Helios – the personification of the Sun – raced his chariot across the sky to create night and day, whereas the ancient Egyptians worshipped their falcon-headed sun god, Ra, as creator of the universe.
Powerful surprises
Since then, science has revealed that, for example, the Sun on average turns on its axis once every 28 days. But at its equator, the hot plasma ball rotates once every 25 days, while it takes around 35 days at the poles, creating a swirling soup of piping hot plasma.
Nonetheless, the power of the Sun can still offer surprises, with blasts fierce enough to fry communication satellites or electronics on Earth. Scientists warn of more powerful solar flares as a peak of activity approaches in late 2024 and early 2025.
'There is this turbulent motion inside our star, called convection, that is a bit like how water wrinkles just before it boils,' said Professor Sacha Brun, director of research at CEA Paris-Saclay, part of the French Alternative Energies and Atomic Energy Commission.
An infamous magnetic storm that hit Earth in September 1859, known as the Carrington Event, triggered spectacular auroras far from polar regions and sizzled telegraph systems around the world.
There have been more since. In 1989, a geomagnetic storm caused a blackout in Quebec, Canada, according to Brun.
Greater knowledge about the Sun is needed to predict and understand such events.
That swirling ball of hydrogen and helium is also unimaginably hot – with core temperatures of 15 million °C. And it's ginormous – more than 1 million Earths fit inside the Sun.
Its peaceful presence on a summer's day belies the intense nuclear reactions at its core that generate vast amounts of energy. The Sun is a churning ball of plasma, with gases so hot that electrons are booted out of atoms, generating intense magnetic explosions from its surface that spew billions of tonnes of matter into space.
Magnetic charm
As it spins, the Sun's mechanical energy turns into magnetic energy – a bit like the dynamo on a bicycle light, where pedal motion is converted into magnetic energy.
On the Sun, twisty ribbons of magnetism rise and break out as sunspots, dark patches at the surface where the magnetic field is 3 000 times more intense than in the surrounding areas.
Sunspots can trigger those solar flares that damage electrical equipment. But this activity isn't constant.
'The magnetism of the Sun is variable over an 11-year cycle,' said Brun, an astrophysicist.
Over that cycle, coronal mass ejections rise in frequency, from one every three days to an average of three per day at its peak.
'As we go further into the cycle, more outbursts will emerge from the Sun,' Brun said. 'People don't realise that the Earth bathes in the turbulent magnetic atmosphere of our star.'
So there's an obvious need to anticipate when such solar storms approach. For example, a solar flare in February 2022 knocked out 40 SpaceX commercial satellites by destroying their electronics.
Those energetic particles take just 15 minutes to reach Earth from the Sun. The threat posed by magnetic clouds usually takes a few days, offering more time to brace for any onslaught.
Brun co-leads an EU-funded project called WHOLE SUN to understand the interior and exterior layers of the only star in the Earth's solar system.
Running for seven years through April 2026, the initiative focuses on the inner turbulence of the Sun and the complex physics that turns the inner turmoil into magnetism in the outer layers.
This requires the most powerful supercomputers in the world. Yet forecasting solar flares means that scientists gain greater understanding of the insides of the Sun.
A star is born
What about the distant past of the Sun? It has been around for 4.6 billion years – 100 million years before Earth. Where and how it was formed would seem to be an impenetrable mystery.
Not so, according to Dr Maria Lugaro at the Konkoly Observatory of the Hungarian Academy of Sciences.
Lugaro, an Italian astrophysicist, is researching this very question in the EU-funded RADIOSTAR project. It began in 2017 and runs through August this year.
'We believe that the Sun wasn't born alone, but was born in a star-forming region where there's lots of stars,' Lugaro said.
She is looking into this past by examining chemical fossils in meteorites today.
Radioactive atoms are unstable. They release energy and decay into so-called daughter atoms, over a certain length of time, which are measurable. The daughters are therefore chemical fossils, offering information about long-gone radioactive atoms.
Lugaro's research suggests that the Sun originated in a stellar nursery that contained lots of siblings, including exploding stars – supernovas. But digging into the Sun's history first requires finding meteorites, bits of rock formed before Earth.
These meteorites can contain traces of the radioactive atoms such as aluminium-26 and hafnium-182. It is known that these lived only a certain length of time. Together, traces of such atoms can be used as a radioactive clock to compute the age of the stars that made them, relative to the age of the Sun.
Vivid discourse
Some radioactive atoms are made in only certain types of stars. Their presence in meteorites helps to recreate a picture of the Sun's birthplace, albeit one that's up for debate.
It may be that the Sun was birthed amid dust and gas clouds in a tempestuous region alongside supergiant stars and exploding stars.
Within perhaps 20 million years, the different stars begin to make their own way out of the nursery. But things are far from being scientifically settled.
'Every year there's debate: is the Sun normal or is it a weird star?' said Lugaro. 'It's quite fun.'
Research in this article was funded via the EU's European Research Council (ERC). The article was originally published in Horizon, the EU Research and Innovation Magazine.
Biden is preparing Americans to lose the Second Cold War?
Vladimir Putin's approval rating is 82%. Joe Biden's is 42%. Xi Jinping's is anyone's guess, but the Chinese near-unanimously trust their government. More than half of Russians trust their government. Less than a third of Americans trust theirs. These statistics are not random but speak to America's imminent loss in this, the Second Cold War, writes 'The American Thinker'.
Why aren't Americans rallying around the flag? Pride, approval, and support for their respective flags in China and Russia, but not the same in America, is not an accident. All governments influence the memories they want their people and foreigners to have of them. It's called political memory.
A look at how the governments of Russia, China, and the United States are leveraging political memory sheds light on why Russians and Chinese love their governments and rulers, and Americans are souring on America and Biden. This simultaneous occurrence is not an accident. Russia and China are preparing to win the second round of the Cold War, and America is handing them the opportunity to do this.
The goal of Russia's political memory is "to give students and ordinary citizens a simple and consistent narrative of a powerful nation they can take pride in." School begins by singing the national anthem and raising the Russian flag. Taking a knee or disparaging the Russian flag is unthinkable. Putin, to be certain of unified support for the actions taken, restore Ukraine to its rightful place, and prepare for Cold War II, launched a new patriotic history in 2022. Putin described the purpose: "A deep understanding of our history… to draw correct conclusions from the past."
Russia's political memory constantly conditions Russians to fear existential threats, particularly from the West. It's why they revere their militaries and have always been prepared to endure heavy casualties in war. The military prevents the Russian state from being subjugated.
Russia's approach to political memory is consistent with China's approach and motivated by the same theme: China lives with a perceived existential threat to its independence, particularly from the west. Cold War II will test its resilience.
China began preparing for round two at the end of Cold War I. This is when it began its "Patriotic Re-education Campaign." Cementing patriotism in China, as in Russia, is key to preparing for and achieving victory in Cold War II.
China's and Russia's approaches to political memory are contrary to the U.S. government's. Instead, America appears to be preparing to wave a white flag, or maybe a rainbow-colored one. Pride in America has been sinking, and this ties to the government's design for America's political memory.
This political memory could emphasize things such as America being the first colony to defeat a European empire or its WWII victory over fascism. Or it could tell how, in just over 150 years, America became an economic powerhouse on the back of capitalism and then sustained this with an education system designed to unify Americans and later foster innovation.
Instead, the center of history in 4,500 schools is to depict American slavery via exaggerated interpretations of personal memories, untempered by facts. Instead of a history of patriotism and achievement, the American government is supporting a history of trauma, including systemic racism and inequality.
In 2022, it was reported that the average IQ of Americans dropped for the first time in 100 years. The researchers speculated that it was due to changes in the educational system.
The Biden government's trauma-centered political memory strategy to divide America politically, and racially has motivated this Russo-Chinese partnership and escalated the likelihood of Cold War II, – writes the "American Thinker".