Energy Research Platform Takes Central Stage under Russia's BRICS Chairmanship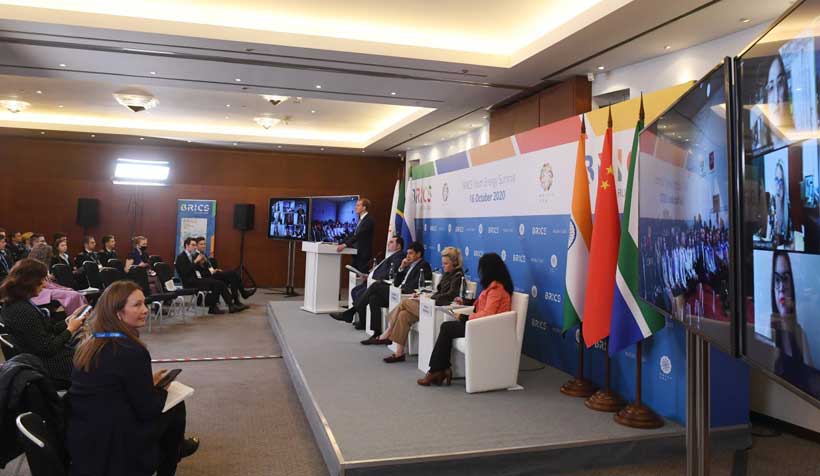 After the Ufa declaration in 2015, BRICS, an association of five major emerging economies that includes Brazil, Russia, India, China and South Africa, has made energy cooperation one of its priorities besides attaining an admirable significant influence on regional affairs and very active on the global stage.
That 7th summit held in July in the Russian provincial city of Ufa in Bashkortostan, under Russia's initiative the BRICS adopted the key guideline for expanding among many other spheres, development of energy cooperation, bridging the scientific and technological gap, as well as finding solutions to the challenges in the energy sector among the members.
The Ufa Declaration (point 69) states "Recognizing the importance of monitoring global trends in the energy sector, including making forecasts regarding energy consumption, providing recommendations for the development of energy markets in order to ensure energy security and economic development, we call on our relevant agencies to consider the possibilities of energy cooperation within BRICS."
"Taking into consideration the role of the energy sector in ensuring the sustainable economic development of the BRICS countries, we welcome balancing the interests of consumers, producers and transit countries of energy resources, creating the conditions for sustainable and predictable development of the energy markets," it further stated.
Worth to remind here that it was Russia's proposal to hold the first meeting of the BRICS Ministers of Energy during the fourth quarter of 2015. While reaffirming the importance and necessity of advancing international cooperation in the field of energy saving, energy efficiency and developing energy efficient technologies, the BRICS look forward to developing intra-BRICS cooperation in this area, as well as the establishment of the relevant platform.
In 2020, Russia holds the rotating chair of BRICS. BRICS has neither a secretariat nor a charter. The country that chairs BRICS organizes the group's summit and coordinates its current activities. Russia has been holding series of conferences focusing on different directions. In mid-October, the BRICS Energy Ministers held their meeting and approved a roadmap for cooperation in energy sphere that runs until 2025. Due to coronavirus pandemic, it was video conference chaired by Russian Energy Minister Alexander Novak.
The influence of BRICS nations on the international arena is increasing due to the increasing economic power of the participating states, and it is imperative for them to coordinate their positions in energy cooperation, Minister Novak said during the meeting.
"Today, the BRICS nations represent nearly one fourth of global GDP and over a third of global consumption and production of energy. In this regard, it is very important to coordinate the positions of our nations where we have common interests and speak from a unified position in global platforms which concern themselves with matters of international energy cooperation," he said.
"We have already begun to implement this idea in practice. Our nations have launched informal consultations on the sidelines of the G20 and on the sidelines of the World Energy Council. Beginning our work this year, we have collectively determined three key vectors of the energy dialogue. These are the support for the development of the national energy systems of BRICS nations, technological cooperation and facilitation of improved terms for investment in energy, contributing to the stability of energy markets and increasing the role of BRICS in the global energy dialogue," Novak emphasized.
The roadmap adopted at the end of the meeting is the first comprehensive document that sets out agreed plans for the development of the energy dialogue between the five countries. The meeting also issued a communique confirming the intention to strengthen their strategic partnership in the energy sector and the area of energy security, and noting the important role of all types of energy, including fossil fuels and nuclear power.
The ministers affirmed that energy transition should correspond to national conditions and each country should determine the optimal policy without being compelled to adopt models that do not fit BRICS countries, according to the Russian ministry statement.
On October 15, Moscow hosted the first Annual Meeting of the BRICS Energy Research Platform, where analytical reports by the BRICS countries presented. That was followed by the largest youth energy event in BRICS. This year, delegations from all five countries comprised of representatives of Line Agencies responsible for the implementation of energy and youth policies as well as over 150 young scientists and experts from 40 leading universities and industrial organizations took part in the summit.
According to surveys conducted by the VTsIOM, Russian public opinion research centre, the number of families that have been taught to save energy has doubled over the past five years. That the BRICS countries are taking part in the #TogetherBrighter International Energy Saving Festival, as part of the BRICS Energy Week (October 16 – 20) was a landmark event of Russia's BRICS Chairmanship.
Notably, the Energy Research Platform designed to encourage the research community's involvement in the practical activities on drawing up energy resource plans. Two major events took place as part of the Energy Research Platform. The results submitted for consideration by the heads of state for effective industrial interaction and practical cooperation in developing and implementing new joint energy.
Based on national statistics and forecasts, leading BRICS experts have prepared the "BRICS Energy Report" – a review of the energy sectors in the five countries, and the "BRICS Energy Technology Report" – focuses on the priorities of technological development of the fuel and energy sectors in BRICS. The reports came from leading experts, representatives of major research institutes and energy companies from the BRICS countries as well as international energy organizations, such as OPEC, GECF, the World Energy Forum, the Clean Energy Ministerial and the World Energy Council.
In September, Foreign Minister Sergey Lavrov held an online meeting of the BRICS Foreign Ministers Council in Moscow. That was second of such meetings this year under Russia's chairmanship. The first one was dedicated exclusively to mobilizing efforts to prevent the spread of the coronavirus infection.
Within an updated Strategy for BRICS Economic Partnership to 2025, Russia has drawn proposals on developing a new mechanism for the five member's interaction in securing sustainable economic development in the post-pandemic age.
The theme of the Meeting of the Leaders of BRICS countries is "BRICS Partnership for Global Stability, Shared Security and Innovative Growth" which is planned for November 17 via videoconference, to be coordinated and moderated in Moscow. This year the five countries have continued close strategic partnership on all the three major pillars: peace and security, economy and finance, cultural and people-to-people exchanges.
"Despite the current global situation due to the spread of the coronavirus infection, the activities under the Russian BRICS Chairmanship in 2020 are carried out in a consistent manner. Since January 2020, more than 60 events have been organized, including via videoconferencing. The BRICS Summit will provide impetus for further strengthening cooperation together with our partners and ensure well-being of BRICS countries," – noted Anton Kobyakov, Adviser to the President of the Russian Federation, Executive Secretary of the Organizing Committee to Prepare and Support Russia's SCO Presidency in 2019 – 2020 and BRICS Chairmanship in 2020.
Since 2009, the BRICS nations have met annually at formal summits, with Brazil having hosted the most recent 11th BRICS Summit in November 2019. Russia is pushing forward significant issues of five-sided cooperation in the bloc's three areas of strategic partnership: policy and security, economy and finance, and cultural and educational cooperation. The five BRICS countries together represent over 3.1 billion people, or about 41 percent of the world population.
The EV Effect: Markets are Betting on the Energy Transition
The International Renewable Energy Agency (IRENA) has calculated that USD 2 trillion in annual investment will be required to achieve the goals of the Paris Agreement in the coming three years.
Electromobility has a major role to play in this regard – IRENA's transformation pathway estimates that 350 million electric vehicles (EVs) will be needed by 2030, kickstarting developments in the industry and influencing share values as manufacturers, suppliers and investors move to capitalise on the energy transition.
Today, around eight million EVs account for a mere 1% of all vehicles on the world's roads, but 3.1 million were sold in 2020, representing a 4% market share. While the penetration of EVs in the heavy duty (3.5+ tons) vehicles category is much lower, electric trucks are expected to become more mainstream as manufacturers begin to offer new models to meet increasing demand.
The pace of development in the industry has increased the value of stocks in companies such as Tesla, Nio and BYD, who were among the highest performers in the sector in 2020. Tesla produced half a million cars last year, was valued at USD 670 billion, and produced a price-to-earnings ratio that vastly outstripped the industry average, despite Volkswagen and Renault both selling significantly more electric vehicles (EV) than Tesla in Europe in the last months of 2020.
Nevertheless, it is unlikely this gap will remain as volumes continue to grow, and with EV growth will come increased demand for batteries. The recent success of EV sales has largely been driven by the falling cost of battery packs – which reached 137 USD/kWh in 2020. The sale of more than 35 million vehicles per year will require a ten-fold increase in battery manufacturing capacity from today's levels, leading to increased shares in battery manufacturers like Samsung SDI and CATL in the past year.
This rising demand has also boosted mining stocks, as about 80 kg of copper is required for a single EV battery. As the energy transition gathers pace, the need for copper will extend beyond electric cars to encompass electric grids and other motors. Copper prices have therefore risen by 30% in recent months to USD 7 800 per tonne, pushing up the share prices of miners such as Freeport-McRoran significantly.
Finally, around 35 million public charging stations will be needed by 2030, as well as ten times more private charging stations, which require an investment in the range of USD 1.2 – 2.4 trillion. This has increased the value of charging companies such as Fastnet and Switchback significantly in recent months.
Skyrocketing stock prices – ahead of actual deployment – testify to market confidence in the energy transition; however, investment opportunities remain scarce. Market expectations are that financing will follow as soon as skills and investment barriers fall. Nevertheless, these must be addressed without delay to attract and accelerate the investment required to deliver on the significant promise of the energy transition.
Lebanon and Syria: A Complicated Relationship between Energy and Geopolitics
Syria continues to offer the ground where Russia and the United States compete over control of oil and gas fields and the transportation routes that bring energy to consumers. Russia seeks to expand its energy footprint in Syria to build influence over rebel-controlled areas in Northeast Syria that are backed by the American military and over neighbouring Lebanon through Syria's Mediterranean coast.
The Syrian government's decision to sign exploration and production contracts with Russian energy companies Mercury LLC and Velada LLC for three blocks in different parts of Syria ensures delivery on Russian objectives. The contracts for oil and gas exploration include a gas field north of Damascus, and oilfields in west of Deir Ez-zor and near the oil-producing town of Rasafa in Northeast Syria. Russian energy companies have also reportedly taken over contracts for hydrocarbon exploration in three blocks off Syria's Mediterranean coast, while a Russian ship conducted geophysical mapping across Syrian and Lebanese territorial waters for gas exploration. The presence of Russian energy companies Mercury LLC and Novatek, both with direct ties to Kremlin, in Syrian and Lebanese maritime blocks signal a long-term involvement of Russia in the East Mediterranean's energy geopolitics.
New sanctions on Syria under the Caesar Act that took effect in June 2020 are an American tool to counter Russian companies from doing business in the Syrian petroleum and military sectors and in rehabilitating Syria's energy infrastructure. The presence of small sized American Delta Crescent Energy company in northeast Syria solidifies American energy interests in the region and cements U.S. alliance with the Syrian Democratic Forces. The fact that the U.S. Department of Treasury extended a waiver to Delta Crescent Energy to allow development of oil and gas fields and to revamp the energy infrastructure in northeast Syria shows American commitment to maintain a long-term presence in Syria.
In fact, Delta Crescent Energy plans to build a refinery in northeast Syria at a cost of 150 million dollars. The aim is to reduce the northeast's dependence from the Assad government where currently there is no refining capacity and as consequence, all extracted oil from the American-backed Syrian Democratic Forces is sold to the Assad government and is bought again after it is refined. Delta Crescent Energy signed a contract with the Syrian Democratic Forces that foresees not only exploration and development of energy resources but also construction of transportation infrastructure so that energy products reach the international market either through Turkey or the Kurdistan region of Iraq.
In this complex context, it seems that it would be of great value if revenues from oil and gas trade are directed to alleviate the humanitarian burden in Syria and to restore basic infrastructure.
In neighbouring Lebanon, the surge in coronavirus cases in Lebanon and global low oil prices prompted the government to postpone the second international licensing round for the third time to the end of 2021. This development along with the failure to identify commercially viable gas in block 4 impedes Lebanon from proceeding with long-anticipated projects like Liquefied Natural Gas (LNG) terminals and Floating Storage and Regasification Units (FSRU). In addition, the lack of bidders or potential financiers puts on hold the construction of power plants that will convert gas into electricity for domestic consumption.
The development of Lebanon's hydrocarbon reserves faces internal and external challenges ranging from lack of institutional mechanisms to enhance transparency and accountability to geopolitical complexities that hinder overall exploitation in block 9 that is located on the disputed Lebanon-Israel maritime border. Poor drilling results in block 4 that lies in the Lebanese Exclusive Economic Zone (EEZ) has surfaced the absence of transparency that favoured the diffuse of conspiracy theories. One such conspiracy held that the block's consortium found gas but was forced to falsify its report for political reasons. In fact, conspiracies have come to counterbalance perpetual failure of the existing political system to address deep-seated economic problems that plague Lebanon.
Lebanon's gas hopes are built on exploration of block 9 that is partly disputed by Israel. Lebanon has been sceptical about Israel's initiation of oil and gas exploration activities in a maritime area close to disputed Block 9 and within block 72, previously known as Alon D, that lies in the northern part of Israel's EEZ. Interestingly, Israel has released a map, in light of the upcoming 4th international offshore licensing round, that does not extend the northern limit of block 72 into the Lebanon-Israel disputed maritime area. This can be viewed as a token of de-escalating bilateral tensions while leaving room for third party mediation.
American mediation to settle the Lebanon-Israel maritime 854 km dispute resumed in October 2020 at a base of UNIFIL, the UN peacekeeping force. Discussions have been conducted upon a map that was registered with the UN in 2011 with Lebanon raising demands for an extra sea area of 1,430 sq. km further south extending partly to Israel's Karish gas field that is owned by Greek medium-sized company Energean Oil & Gas. On the other side, Israel demanded the maritime border to be moved further north in compliance with its traditional position that it is entitled to potential gas findings in Block 9.
For the resolution of the maritime dispute that could unleash Israel's and Lebanon's energy potential, various proposals have been put in place. The most representative is the 2019 proposal of David Satterfield, former US deputy assistant secretary of state, that centred on the establishment of a mutual trust fund under UN supervision so that profits are allocated to Lebanon and Israel in accordance with an agreement over gas fields' distribution and profit-sharing percentages. Another proposal that surfaced recently revolves around a likely constructive role of the UAE in the resolution of the Lebanon-Israel maritime dispute through the taking over of a development and operational stake in northern Israeli blocks and in Lebanese southern blocks. Overall, likely unitization agreements can ensure joint development and production of the reservoirs across the disputed maritime border maximizing the economic recovery of gas from licenses of the contract areas.
Evidently, Syria and Lebanon must explore opportunities in terms of financing, revenue sharing and political relations with third countries. Despite challenges both countries have an interest in ensuring that they are not excluded or left behind from regional energy cooperation. In this respect, time is of paramount importance.
Future Belongs To Renewable Sustainable Energy: Geothermal is one of them
The future of power depends on the sustainable and renewable energy resources which are eco-friendly. The demand of the 21stcentury is to execute the non-conventional resources of energy for the betterment of environment and planet earth. According to national geographic report 320 billion kilowatt-hours of energy consume on daily basis worldwide. Energy obtained from the conventional resources contributes greatly towards the emission of greenhouse gases causing ozone depletion by the release of chemical compounds of chlorine and bromine by industrial and human activities. The need of the hour is to incorporate the replacement of conventional energy resources by different renewable energy sources like ocean energy, wind energy, solar energy and geothermal energy which are more suitable, convenient and environment friendly.
Renewable energy sources introduce the ecological balance and provide solutions for environmental, social and economical problems by mitigating the emission of carbon dioxide, carbon monoxide and sulfur dioxide. With an increase in population and industrialization the energy demand is readily increasing exponentially; fossil fuel energy is disastrously effecting the environment of mother planet. Strategic decisions ought to be taken by higher authorities to overcome the monopoly and oligopoly of the giants of oil and gas industry and engage them to exploit the modern techniques for the extraction of geothermal energy either from the hydrothermal reservoirs, hot dry rocks, and high pressure zones in subsurface or magma. Endorsements of geothermal power plants provide an alternative source of energy by significant contribution to meet the essential requirement of energy. Initiative of sustainable energy plants by the collaboration of current Stake holders of oil and gas industries and balancing interstate energy relations are the most crucial tasks to launch the renewable energy resources in the current traditional market of oil and gas. States should endeavor and propose the private stake holders of oil industries economical shared based models for introducing the new phase of renewable energy. It is obvious and crystal clears that without the enthusiasm and support of monopolistic lobby of industrialist; it will not be an easy task to replace the world from conventional to solar, wind or geothermal energy.
According to the report published in an article on sustainable energy in "energy exploration and exploitation" journal that heat energy within the subsurface at depth of about 0-10km holds245.106 EJ(exajoules)and 181.106 EJfor high and low temperature respectively. Only 0.1% of the geothermal reserves are enough to run the wheel of technology for 1000 years. Most of the developed countries have planted the geothermal projects and producing billion of kilowat hours energy to meet their power needs. United States leads the world by projecting seven geothermal power plants and exploring 16 billion kilowatt hours of energy to fulfill the energy requirements in the states of California, Nevada, Utah, Oregon, Hawaii, Idaho and New Mexico. EIA (Energy Information Administration) of US validates in 2018 that 83 billion KWh of electricity is generated from geothermal resources by 27 countries like Indonesia, Kenya, Italy, Iceland and etc. Ambitious and extensive plans of geothermal energy should be encourage for execution in the developing countries. Although the transition of fossil fuel is a challenging task but once we will pass this obstacle it will impart enormous impacts on the future economic growth and furthermore, it we be a great courtesy on climate and environment of the entire globe.
The recent facts and figures of IRENA (International Renewable Energy Agency) of the last decade shows an increasing trend from 9992MW to 13909MW in geothermal installed capacity of power generation. The exigency of the hour is to follow the new paradigms of developed countries on sustainable energy like an Iceland is surprisingly providing 100% sustainable electricity by making use of wind, solar and mostly geothermal. Geothermal is one of the most reliable renewable source of energy amongst solar, wind and biomass because of the exceptionally constant source of energy. An International financial advisory and asset management firm (Lazard) summarizes head to head comparison of 16 renewable energy sources versus six conventional sources and incorporate the cost of financing, operating, building and maintaining. The analysis depicts distinctly that the average cost of 10 renewable technologies is $147 per megawatt-hour; 18$ less than the conventional or traditional sources. Although the projection of new technology plants like solar, wind and geothermal is costly, but once it is build, it has dramatically less cost of maintenance and operation and 25% to 50% high efficiency as compared to the fossil fuel.
To recapitulate all facts and figures along with environmental factor, geothermal is one of the most vital technique to unfold the hidden assets of renewable energy. Furthermore, it provides constant source of energy along with the high efficiency and long lasting life span of heat pumps with little or no maintenance cost validates its future economic prospect.