'We want justice for these girls': The Kenyan helpline for victims of gender violence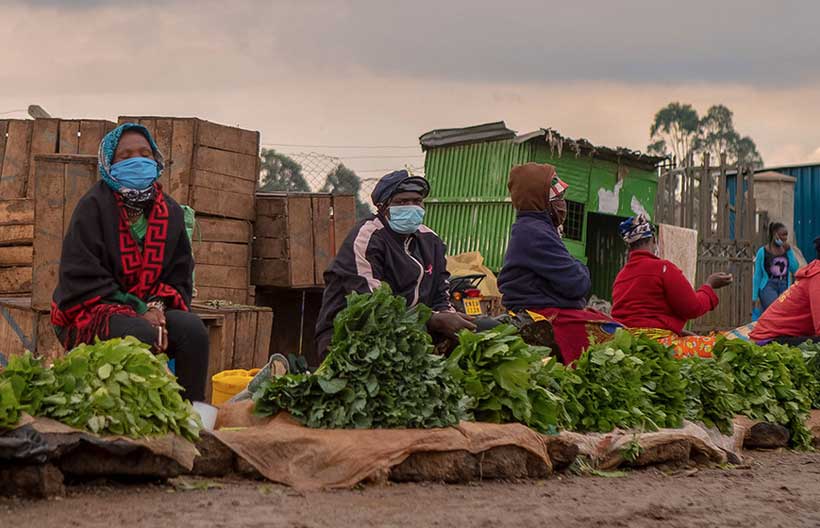 Around four million girls worldwide suffer female genital mutilation every year. Although it is forbidden in Kenya, COVID-19 has led some families to revive itthe traditional practice, and a UN-supported phone helpline for victims of gender-based violence in the country has seen a big rise in calls since the pandemic hit.
Somewhere in Kenya, an early morning in July: A woman organizes a once-in-a-lifetime "ceremony" for her 11-year-old niece: The girl's genitals will be cut off as part of her cultural transition into adulthood.
All schools in the country have been closed for months. No classmate will notice the girl's absence, no teacher will be aware and report the case to the police. The school community cannot protect the girl now.
During the ceremony, the fresh wound starts bleeding heavily. The procedure was performed by a local "cutter," and there is no anaesthesia and no painkillers. The bleeding doesn't stop, and, eventually, the family has no choice but to take the girl to the nearest hospital.
'I don't want to see people suffering'
A few hours later, a telephone rings in an office in Nairobi. The phone is connected to the number 1195, the national helpline for gender-based violence. One of the girl's relatives has called in to report the incident anonymously — she does not want to be considered as a family troublemaker.
"What we want is justice for these girls," says "Steve," one of 31 staff in the call centre. (Counsellors interviewed for this article use pseudonyms to protect their anonymity.) After receiving the call, Steve and his colleagues respond immediately. The police are dispatched to search for the mother and aunt, and a safe home is arranged for the girl once she is released from the hospital.
The helpline is staffed 24 hours a day by trained counsellors who stay on the line with callers until help arrives, whether in the form of the police, an ambulance, a village elder, a child protection officer. Counsellors arrange for health care, security, and legal aid. They also spend long hours on the phone, giving psychosocial support to callers in need.
Female genital mutilation or FGM is just one of the reasons people call the hotline. Others include assault, rape, child neglect and defilement, child marriage. The list goes on. "So many cases go unreported," Steve says. Asked why he works at the call centre, he says simply, "I don't want to see people suffering".
Some calls will break your heart
COVID-19 has aggravated the situation: "Women have been violated like never before," says Fanis Lisiagali, who heads the 1195 helpline. "We've seen women committing suicide, we have heard of women being killed. Both men and women are seriously depressed."
Indeed, the number of cases handled by the hotline rose from 86 in February to over 1,100 in June of this year. Cases dropped in July, but the total number of calls is four times higher than during the same period last year. Not all of the callers are women. Around one third of the callers who report psychological violence from their spouses and families are men, saying they have been harassed or abused for failing to provide for the family.
Sitting at their desks, a half-dozen tele-counsellors are equipped with masks and gloves and are separated by acrylic glass walls. Aside from Swahili and English, they speak other local languages, from Kikuyu to Luhya to Kalenjin; the aim is for callers from everywhere in Kenya to have someone to talk to.
"You find that psychological problems come up during things people go through every day," says another counsellor, "June." In 2009 she became a caregiver with another organization for sexually abused girls and, five years later, she joined the helpline staff.
Some calls will break the heart of even the most experienced counsellor, says June. Earlier this year, she took a call from an 18-year-old woman who had been cast out by her father and then endured an abusive marriage. When she became pregnant and gave birth, her husband rejected her, claiming the baby was crying too much and that it couldn't possibly be his. Having been disowned for a second time, the woman's desperation became unbearable. She threw the baby into a pit latrine and ran away. The girl walked into a rescue centre and called the GBV helpline.
"At first the girl was too shocked to speak. When she finally opened up, what I heard made me completely numb," says June. She sent the caller to a psychiatrist and his attestation prevented her from being imprisoned. June is still in contact with the young woman, and is helping her build a future. "My job gives me an opportunity to give back to society," she says. "I cannot always help, but sometimes I have a chance to help in a little way."
A beacon of hope
The helpline is a beacon especially now during the pandemic. Many rescue centres have to turn away survivors of gender-based violence, as they do not have the resources necessary to quarantine new arrivals for COVID-19.
The helpline was established in 2010 by an organization called Healthcare Assistance Kenya, with the support of UN Women, which is still the NGO's main partner. It is now also supported by UNFPA, the UN Population Fund.
"COVID-19 exacerbates the already horrifying levels of sexual and gender-based violence in Kenya," says Anna Mutavati, UN Women Country Representative. "But the helpline is saving lives. While services like 1195 are fundamental, we need to tackle society's underlying causes that perpetuate these gross human rights violations and wider gender inequality."
During the COVID-19 crisis, the helpline has proven its worth and needs to be strengthened, says Healthcare Assistance Kenya director Fanis Lisiagali. "In the coming years," she says, "I would like to see the helpline known to all communities in all counties throughout Kenya, so that anybody who needs it has a place to turn to".
The Strategic Partnership between Eritrea and Russia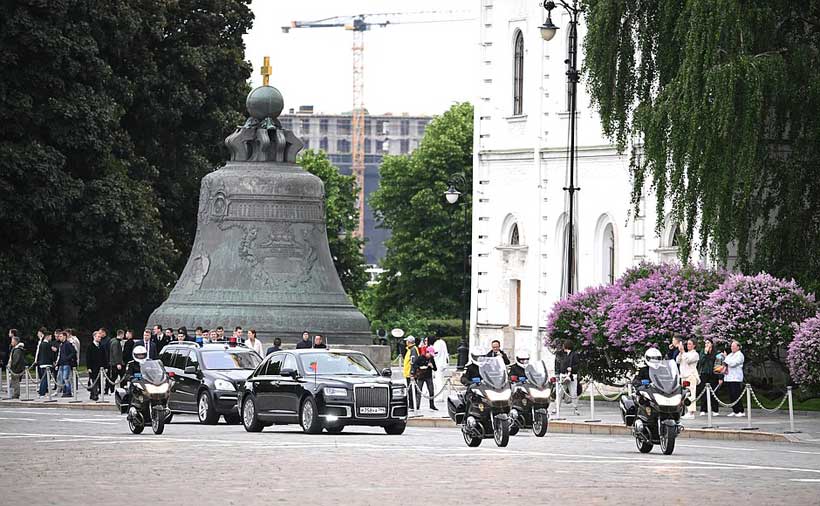 In this extremely poor Eritrea nation located in the Horn of Africa, with a population 3.6 million, what factors could attract to strengthen cooperation in the spheres highlight by the Russian President Vladimir Putin during a meeting with President of the State of Eritrea Isaias Afwerki at the Kremlin. According to reports that emerged from the Kremlin on May 31, Putin made reference to the fact that Eritrea has recently marked 30 years of its independence. This was when two countries established diplomatic relations too.
Russia is attracted due to its highly strategic location. Eritrea is bordered to the northeast and east by the Red Sea, Sudan to the west, Ethiopia to the south, and Djibouti to the southeast. The undemarcated border with Ethiopia is the primary external issue currently facing Eritrea. Geopolitical history informed us that Eritrea's relations with Ethiopia turned from that of cautious mutual tolerance, following the 30-year war for Eritrean independence, to a deadly rivalry that led to the outbreak of hostilities from May 1998 to June 2000 that claimed approximately 70,000 lives from both sides.
Despite the differences between Ethiopia and Eritrea, Russia maintains good relations with the two. But the main significance as stressed during the meeting was trade and economic relations which deserve primary attention. There could only be a few, of course not a lot, of potential in many areas. From our studies, agriculture makes up 11 percent of the wider economy's value, and is the main economic activity in Eritrea.
In 2013, the pickup in growth had been attributed to the commencement of full operations in the gold and silver Bisha mined by Canadian Nevsun Resources, the production of cement from the cement factory in Massawa and investment in Eritrea's copper and zinc. Chinese are very active in the mining sector and the Australians operate Colluli potash mining. In 2020, the IMF estimated Eritrea's GDP at $2.1 billion.
With that economic background however, Russia sees an opportunity to develop trade and economic ties between the two countries. "Of course, we must first of all pay attention to the development of trade and economic ties, here we have good prospects in many areas," Putin said.
As expected, there was a display passion for packing official documents. After series of substantive consultations on partnership and intensive preparations between Asmara and Moscow, the delegation signed several intergovernmental agreements. "I am sure that our talks today will be successful and will benefit the development of relations between the Russian Federation and Eritrea," Putin stressed.
The trade turnover between Russia and Eritrea in 2022 amounted to $13.5 mln, including $11.5 mln from wheat exports, according to materials for the talks between Putin and Isaias Afwerki in the Kremlin.
"The trade turnover between Russia and Eritrea in 2022 amounted to $13.521 mln (exports: $12.745 mln, including $11.5 mln – wheat (27,500 tons); imports: $776,000)," the statement said.
In 2021, the trade turnover between the two countries amounted to $9.314 mln. Exports of wheat amounted to $8.125 mln, oil products – $175,000, sulfates – $888,000. At the same time, imports of ready-made clothes reached $126,000.
According to the statement, Eritrea is highly interested in strengthening ties with Ural Automobile Plant and Kamaz. In 2018, Kamaz delivered 56 cars and 5 buses valued around $5 mln to Eritrea.
"In my view, the global order, which is on the cusp of a radical transformation, requires objective appraisal and mutual consultations on the timeless subject matter and phenomena of paramount importance and significance. The common assessment that we undertake will, in turn, revitalise the formulation of programmes and partnership that we chart on," Isaias Afwerki said during the meeting.
Isaias Afwerki believes that the Russia was the primary competitor and rival of the policy of encirclement and containment by the forces of domination from the early 1990s, and its global impact in the past 30 years was considerable indeed. Russia too, did not undertake, at the outset, all the necessary preparations for effective resistance.
An integrated and comprehensive strategy of resistance was not accordingly set in motion. But with time, and as the latent policy of containment against China becomes more transparent, international awareness of the free peoples has increased.
"It is imperative to expand and deepen this awareness, chart out a comprehensive strategy and concrete plans that encompass all fields, create dynamic mechanisms, marshal the necessary resources so as to ascertain the advent of and transit to a civilised international order of mutual respect, cooperation, complementarity and prosperity, where justice and the rule of law prevail. This is not an option but an obligation," he explicitly pointed out to Putin.
It is important to remind here that Russian Foreign Minister Sergey Lavrov visited Eritrea in January 2023. He said the agenda for Russia-Eritrea cooperation has a key focus on the implementation of potential joint projects, including the logistics hub in Asmara. At a meeting at that time, Afwerki and Lavrov also discussed the radical changes in the international situation and key directions for the development of Russian-Eritrean relations. Lavrov reported to Putin about the results of his African tour at a Security Council meeting.
Afwerki has been president since 1993 when Eritrea gained independence from Ethiopia. He is the first and the only person to hold the post so far. Sergey Lavrov visited Eritrea in January as he toured Africa. The commercial activities revolve around this strategic location as a transit point and the strategic location also makes the country prime for an increased military presence. This is the strategic importance for Russia.
Lavrov spoke extensively about economic cooperation. According to him, Russia's truck maker KAMAZ was already working in Eritrea, supplying its products to that country, as was Gazprombank Global Resources, which was building cooperation in the banking sector. The same year 2018, concrete talks were held to build a logistics centre at the port of Eritrea, that makes world's class logistics and services hub for maritime transportation through the Suez Canal and definitely set to promote bilateral trade.
Still that same year, Eritrea was interested in opening a Russian language department at one of the universities in the capital of the country, Asmara. Lavrov further indicated: "We agreed to take extra measures to promote promising projects in the sphere of mining and infrastructure development and to supply specialized transport and agricultural equipment to Eritrea."
In April 2022, Eritrea's top diplomat, Osman Saleh, made a quick reciprocal visit to Moscow to recieve an honor and congratulations for opposing resolution in New York. That was in March 2022, Eritrea was one of the countries who voted against the resolution condemning Russia over the situation in Ukraine at the United Nations.
Eritrea is now a member of the African Union. The Eritrean government previously withdrew its representative to the African Union to protest the AU's alleged lack of leadership in facilitating the implementation of a binding border decision demarcating the border between Eritrea and Ethiopia. Eritrea is also a member of the United Nations.
Nigeria and Ghana Expediting Actions on Abidjan-Lagos Highway Construction
Popularly referred to as the Abidjan-Lagos corridor, this is a long highway which stretches from Abidjan to Lagos, crossing five independent states (Côte d'Ivoire, Ghana, Togo, Benin, and Nigeria) from west to east, and includes two political capitals and many regional economic centers. By European standard too long, but this highway which has a length of approximately 965 kilometers is considered the most mega-project to undertake in Africa.
Due to the linguistic, cultural and political differences between the countries, the region's economic potential has not yet been fully exploited. There has been little alignment of standards and construction of common infrastructure, and even within the countries, transportation links are often unreliable. The idea to undertake this transport connection has still been on the planning table, with the its gibbest headache about source of finance.
Reports emerged that there have been series of negotiations and meetings at highest levels to determine effective ways of financing and its final realsation in the region. In this extreme case for this gaint infrastructure, global key players offer reassurance but there has not been any successful noticeable financial committment.
The Ministerial Steering Committee of the Abidjan-Lagos Corridor Highway Development Project held its 19th in May 2023 to take decisions on expediting the completion of technical studies, securing of lands for the right of way, financing the construction of the highway project and the operationalization of the Abidjan-Lagos Corridor Management Authority (ALCoMA).
Welcoming participants on behalf of the ECOWAS Commission, the Commissioner for Infrastructure, Energy and Digitalization, Sediko Douka lauded the commitment of the member countries and highlighted the fact that the Abidjan-Lagos Highway remains a flagship project for the Commission, and is one of the interventions that could change the narrative of ECOWAS by highlighting the contribution to the total economic growth of community citizens with projects in transport, health, agriculture, customs, migration, education and more.
"It will enable citizens of the community to better appreciate and be informed about tangible achievements of ECOWAS. Indeed, it is our duty to accentuate the visibility of ECOWAS achievement on physical infrastructure projects in the area of transport, energy, telecom, water resource and agriculture just as this project has been presented at various African Investment Forums by the African Development Bank, he said.
Commissioner Douka, however, charged the participants to take interest in ensuring that the project becomes a reality. "We keep calling on both public and private investors to accompany the countries and ECOWAS in the realization of this visionary venture," Douka added.
The feasibility and preliminary designs studies have been completed, whiles the final phases should be completed before the end of this year. "On resource mobilization, it should be noted that ECOWAS has just adopted a new regulatory framework on the Public Private Partnership (PPP) that is an incentive for the entry of Private Sector in large Investments like the nature of this project," according to the Commissioner.
Ministers of Roads and Works of Corridor Countries took turns to express their continued commitment to support the completion of the technical studies and accompany ECOWAS and Development Partners to raise the needed investment to fund the project.
Chairman of the Ministerial Steering Committee and Minister of Public Works and Housing of the Federal Republic of Nigeria, Babatunde Raji Fashola expressed his pride at the achievements so far attained from the outset. He highlighted that projects of such magnitude usually encounter several challenges at the preparatory stages, but through the hard work of Project Engineers and Member States, most challenges have been overcome.
"We are building a road over one thousand kilometers, across five (5) countries, across diversity of languages and political structures, in a modern era of climate change, people's rights and sustainability on our horizon. We have heard issues about compensation; environment, social impact assessment, resettlement and action plan etc. because at the end of the day this is all about people. So, we must build in a way that takes care not only of people's interest but also climate and other diversities," noted Babatunde Raji Fashola.
In this case, partners and stakeholders are still highly optimistic about the completion the necessary reports to address all the obstacles realting to the project. "If we get this right, then constructing the project will be very easy, so please do not despair. It may look difficult, but with my little experience, this is the hardest part, and we are almost there," he said and intimated that the operationalization of the Management Authority that will manage the corridor highway development project has commenced with the formation of the Board of Directors.
Vice President of the Republic of Ghana delivered a keynote address during the meeting, through Yaw Osafo Maafo, Senior Advisor to the President. The Vice President commended the ministers and ECOWAS for their sustained effort and strong collaboration in preparing the Corridor Highway Project. He hinted that in preparation for the construction Ghana's section of the Multinational Highway, Ghana has embarked on massive sensitization drives along the host communities.
He expressed excitement over the assurance of African Development Bank (AfDB) to raise the required funds for the highway construction, describing the project as top on the agenda of Ghana government. "The Abidjan-Lagos Corridor Highway Project is on the priority list of the Government of Ghana, and we keenly look forward to the day that the sword will be raised for the commencement of this construction. We believe that this project will give a new dimension to ECOWAS, and we believe it will change the economies of the five (5) countries and the region, and therefore whatever we can do to support it, we will do it," concluded Yaw Osafo Maafo.
Construction of a highway route from Abidjan to Lagos is tentatively scheduled to begin in 2025. The project is expected to cost $15 billion and will significantly increase regional economic integration. The African Development Bank (AfDB) is involved in the financing. In broad terms, it contributes to poverty reduction and economic and social development in the least developed African countries by providing concessional funding for projects and programs, as well as technical assistance for studies and capacity-building activities.
The population within the region is experiencing rapid growth, and nearly 50 million people are expected to live within the corridor by 2035. The Abidjan-Lagos Corridor Highway offers opportunity for significant portion of West Africa's economic output to be generated, and it is also envisaged that cities within the corridor will become the most economically developed across the West Africa region – in the Economic Community of West Africa.
G20 has become the epitome of economic governance since its inception. Its existence for 14 years at the summit level shows its practical purpose in the global arena. As a key grouping, G20 has treated Africa as a subject of development rather than as an active member. African issues have always been figured in G20 discussions. South Africa, is the only African country that has raised the African agenda in G20 and the need for greater voice and representation in the G20.
This paper briefly examines the growth of Africa in G20's agenda, a more holistic representation of the African continent, and AU's permanent membership by tracing opportunities for India to play a more substantial role in the inclusive global south by providing AU membership in its presidency.
The Growth of Africa in G20's Agenda (2010-2020)
G20 governance concerning Africa highlights that the continent has received diverse observations from different presidencies. G20 members have always talked about Africa's development and growth and showed concern for the continent's betterment. However, African countries were never allowed to represent themselves. South Africa has consistently called for a broader representation of African interests at G20 and has supported the African union's demand for permanent membership of G20.
In this regard, The Toronto Summit was a landmark event in the growth of the African Agenda, where AU participated at the G20 Summit for the first time.
The G20 created the Development Working Group(DWG) as a result of the Toronto Summit in 2010. The DWG highlights the need for G20 leaders to narrow development gaps, along with poverty reduction measures, to ensure a robust and resilient global economy. At the G20s Seoul summit, AU participated and adopted the Seoul Development Consensus for shared economic growth and equal partnership between donors and low-income countries.[1]
Significant Developments
Hangzhou Summit
African issues received massive support and assistance from the G20 members at the Hangzhou summit. This summit formulated various programs for the African continent. Thus, the Chinese presidency increased its engagement with the continent, bringing out different G20 policies for the continent at the Hangzhou summit held in 2016. Furthermore, China also supported "African industrialization" in the Hangzhou summit communique, the first in G20's history. China also provided training to African youth. From 2016-2018 China also provided training to 40,000 African people on tech and management skills. Two lakh African technicians acquired training in vocational skills[2].
Hamburg Summit
The German presidency made Africa's economic development one of the primary concerns of the Hamburg summit. As a result, the Compact with Africa(CwA) became the conference's major highlight. It Focused on areas like economic development, growth, sustainability, infrastructure and renewable energy investment, capacity building, employment opportunities for the continent's youth, knowledge-sharing and building institutions for managing environmental climate change risks, etc. CwA framework also includes systemic investor Response Mechanisms (SIRM) and business arbitration courts, prioritizing investor interest over the public interest.[3]
African states like Benin, Burkina Faso, Guinea, Côte d'Ivoire, Ghana, Egypt, Ethiopia, Morocco, Rwanda, Senegal, Togo, and Tunisia, are part of CwA. CwA also included World Bank(WB), the International Monetary Fund (IMF), and the African Development Bank (AfDB).
CwA was seen as a Marshall Plan for Africa proposed by Germany's Federal ministry for economic cooperation and development[4]. However, it was not suitable for low-income African countries.
Osaka Summit
The 2019 G20 Summit, which was held in Osaka (Japan), focused on Infrastructure development, fiscal sustainability, adequate policy response, people-centered development, and investment in human capital. These factors remained very crucial for Africa's comprehensive growth. During Japan's G20 presidency, parallelly 7th Tokyo International Conference on African Development, or (TICAD7)[5] was held in Yokohama in August 2019.
TICAD is a platform that promotes high-level policy dialogue between African leaders and Africa's development partners in Japan. Thus, the TICAD conference assisted G20 Osaka Summit in coordinating and administering every African country more elaborately.
Why G20 needs AU
In the Bali Summit, Indonesia, held in 2022, South African president Cyril Ramphosa called for the African Union (AU) to become a permanent member of the G20. Also, Senegalese President Macky Sall, the current Chairperson of the African Union, has previously called for greater African representation in international bodies like G20[6]. However, many G20 members have supported AU's permanent membership. European Union's president Charles Michel decided to support AU's permanent membership at the G20. The AU status of a guest invitee always limits their participation in policy-making bodies on various international affairs. AU's permanent membership of G20 is essential as it leads toward holistic solutions for good governance and sustainable development.
The African Union (AU) today represents an economic bloc listed as the eighth largest in the world. The African Continental Free Trade Area (AfCFTA)[7] unites Africa's 55 economies into a single market. Thus, the G20 needs African nations as they possess essential resources to meet international energy challenges. For instance, 64% of the EU's Bauxite comes from Guinea, 36% of Tantalum, 68% of Cobalt from the Democratic Republic of Congo, and 71% of platinum from South Africa[8].
India's role in promoting the African agenda at G20:
According to India's Foreign policy experts, Africa is one of India's top priorities. External Affairs Minister S. Jaishankar states, "India thinks that the development of Africa is essential to rebalancing global powers"[9] India's efforts to build a resilient Africa can be seen in its various programs. For instance, India accounted for 3.7 % of investments made in Africa between 2011 and 2020, making it the eighth-largest investor.
Fig: India's projected capital investment in Africa
Source: FDI Markets, Financial Times, and India Exim Bank Analysis
According to the Ministry of Finance, Government of India, and Reserve Bank of India (RBI), "Approved cumulative investments made by India in Africa from April 1996 to March 2022 were $73.9 billion". New Delhi assists the International Solar Alliance (ISA) in developing off-grid solar energy projects in Africa. ISA's partnership with AfDB African Development Bank to generate 10,000 MW of solar power system in the Sahel Region provides electricity to around 600 million Africans disconnected from electricity facilities.
The pandemic has further emphasized the necessity for collaboration in critical areas like agriculture and agro-processing, renewable energy, healthcare, etc. Africa currently contributes significantly to global value chains by exporting agricultural products and raw natural resources to other nations for processing and value addition in its development.
Over the years, African Union has called for wider representation at the G20. Africa's growing role in India's foreign policy is evident from its expanding diplomatic outreach within the continent. India is currently engaging with 43 African states. India has always been vocal about greater African representation at multilateral forums like UNSC, WTO, BRICS, IBSA, etc. Under the G20 presidency, India has the largest-ever representation from Africa with six invitees, Egypt, Mauritius, Nigeria, the Chair of AU, and the Chair of (AUDA-NEPAD) African Union Development Agency -New Partnership for African Development. Therefore, India is likely to support the African interest at the G20 as India wants to use its G20 presidency to support the need for a global south representation at the multilateral institutions and it aims to achieve this through its sustainable partnerships between developed and developing countries.
Conclusion
In the premier forum for international economic cooperation, G20 plays a significant role in shaping and strengthening global architecture and governance on all major international issues. Therefore institutions like the AU, which represents a bloc of 54 countries with diverse cultures, should be given permanent membership to express their collective interest in the forum. African countries would have a vote in the G20's decisions on key issues. However, India can step up its game to distinguish itself as Africa's partner by supporting Africa's bid for permanent membership at G20. Therefore AU's incorporation as a permanent member of G20 will benefit G20, Africa, and the world.
---
[1] Bhatia, R. (2020, September 17). "India, the G20, and an African agenda". Gateway House. https://www.gatewayhouse.in/india-g20-african-agenda/ (Accessed: January 18, 2023).
[2] Jinyan, Z. (2017, August 3). "From Hangzhou to Hamburg: Africa at the center". CHINAFRICA. http://www.chinafrica.cn/China/201708/t20170803_800101706.html (Accessed: January 19, 2023).
[3] Chakrabarty, M. (2019, June 28). "G20's compact with Africa: How beneficial for Africa is it?" Observer Research Foundation. https://www.orfonline.org/expert-speak/g20s-compact-with-africa-how-beneficial-for-africa-is-it-really-52528/ (Accessed: January 20, 2023).
[4] "A new marshall plan with Africa". Rural 21: The International Journal for Rural Development. January 30, 2017.https://www.rural21.com/english/publications/detail/article/a-new-marshall-plan-with-africa.html?no_cache= (Accessed: February 8, 2023).
[5] "The seventh Tokyo International Conference on African Development (TICAD7)". Ministry of Foreign Affairs of Japan. November 26, 2019. https://www.mofa.go.jp/afr/af2/page25e_000274.html (Accessed: January 23, 2023).
[6] "Africa Union asks for permanent seat in G20".. B&FT Online. November 21, 2022. https://thebftonline.com/2022/11/21/africa-union-asks-for-permanent-seat-in-g20/ (Accessed: February 9, 2023).
[7] "Creating one African Market". AfCFTA. Home page. https://au-afcfta.org/ (Accessed: February 1, 2023).
[8] Eguegu, Ovigwe. (2022, July 29). "Why the G20 needs African Union as a member"., The Africa Report. https://www.theafricareport.com/226417/why-the-g20-needs-african-union-as-a-member/ (Accessed: February 8, 2023).
[9] "Address by External Affairs Minister, Dr S. Jaishankar at the Launch of Book: India-Africa Relations: Changing Horizons". May 17, 2022. Ministry of External Affairs, Government of India. https://www.mea.gov.in/Speeches-Statements.htm?dtl%2F35322%2FAddress%2Bby%2BExternal%2BAffairs%2BMinister%2BDr%2BS%2BJaishankar%2Bat%2Bthe%2BLaunch%2Bof%2BBook%2BIndiaAfrica%2BRelations%2BChanging%2BHorizons (Accessed: January 30, 2023).