The world economy needs a new engine of economic recovery-ILO
As labour markets around the world continue to reel from the COVID-19 crisis , ILO Director-General Guy Ryder has called for sustained social spending as well as structural changes to counter the dangers of growing poverty, joblessness and inequality.

In statements submitted to the Annual Meetings of the International Monetary Fund and the World Bank Group , Guy Ryder outlined the particularly harsh impact of COVID-19 on many of the two billion workers in informal employment, as well as on those with little protection such as temporary, domestic or migrant workers.

"While some have access to sick leave and health services and continue to receive a salary, for many of those at the bottom of the income distribution, the consequences of COVID-19 have been catastrophic," he said.

"The COVID-19 crisis has exposed deep-rooted inequalities. Without profound structural changes these will merely intensify, with consequences that would be very difficult to predict."

Ryder called for post COVID-19 policy frameworks to be consistent with the principles set out in international human rights instruments and social security standards.

"Today this is particularly relevant in order for fiscal policies to underpin much-needed investments in universal social protection systems," said Ryder.

Most states have mobilized their social protection systems. However, many of the adopted measures have been temporary and often insufficient to offset the steep decline in incomes during this protracted crisis.

Many countries have adopted large scale fiscal packages in response to the crisis, particularly to support incomes and businesses. However, the ILO has found that fiscal stimulus has been unevenly distributed worldwide when compared to the scale of labour market disruptions. Nearly nine-tenths of the global fiscal response to the crisis has been in advanced countries.

"Filling the stimulus gap in emerging and developing countries requires greater international solidarity while improving the effectiveness of stimulus measures. The poorest countries should not be forced to choose between honouring their debt obligations and protecting their people," said Ryder.
A human approach to recover faster and better
The ILO Director-General also warned against the profound and lasting effects of the COVID-19 crisis on the world economy and living conditions, in the context of global transformations already underway, driven by automation, geopolitics, ageing, migration and climate change.

"A combination of crisis-related and structural pressures could create a perfect storm of challenges for employment, household income and other aspects of human security in many countries over the next decade. These are the ultimate determinants of consumer and investor confidence, aggregate demand and economic growth and development," Ryder said.

"The world economy needs to find a new, or at least supplemental, engine of economic recovery" he said, referring to the fundamental building blocks of economic and social progress: widely available employment for all, skilling opportunities, decent working conditions, sustainable enterprises, adequate social protection and increased gender equality, with all of the contributions to productivity growth, purchasing power and consumer and investor confidence these bring.

"An extraordinary collective effort, built on social dialogue and focusing more directly on strengthening these cornerstones of national economic strength and social cohesion will be required if the world is to achieve its stated ambition of building back better – and faster – from the crisis," he concluded.
COVID-19 crisis accentuating the need to bridge digital divides
Improved Internet connectivity and skills have helped many countries to cope with the health and economic crisis from COVID-19. Yet the pandemic has raised the bar for the digital transition and underscores the need to close the digital divides that risk leaving some people and firms worse off than others in a post-COVID world, according to a new OECD report.
With some Internet providers reporting increases in traffic of 60% since the start of the pandemic, as people adapt to living and working online, the OECD's latest Digital Economy Outlook reveals the gaps between and within countries in access to fast and reliable Internet. For example, the share of fibre in fixed broadband subscriptions in OECD countries ranges from 82% in Korea and 79% in Japan to below 5% in Austria, Belgium, Germany, Greece, Israel and the United Kingdom, with high-speed connections often sparse in rural areas. OECD countries count roughly twice the level of high-speed mobile Internet subscriptions per inhabitant and three times the level of fixed broadband subscriptions as non-OECD countries.
"Digital technologies have helped our economies and societies to avoid a complete standstill during the COVID-19 crisis, and have enabled us to learn more about the virus, accelerate the search for a vaccine and track the development of the pandemic," said OECD Deputy Secretary-General Ulrik Vestergaard Knudsen, launching the report at a virtual event."But the crisis has also accentuated our dependence on digital technologies and exposed the reality of the digital divides between and within countries. We are at a turning point in the digital transformation, and the shape of our economies and societies post-COVID will depend on how well we can progress and narrow these divides."
The digital transformation was accelerating prior to COVID-19 as an increasing number of governments place digital strategies at the heart of their policy agendas. Surging demand for bandwidth-intensive communication services from e-commerce, teleworking, online social activities and increased cross-border collaboration by governments and academics should spur further progress. Today's reliance on digital solutions has also added urgency to concerns around privacy and security by creating a fertile environment for cybercriminals.
Average mobile data usage per subscription in OECD countries already quadrupled in the four years to June 2019, and prices for high-usage mobile broadband fell by 59% over 2013-19, according to the report, which draws data from the OECD's regularly updated Broadband Portal. As of June 2020, 5G commercial services were available in 22 OECD countries.
OECD economies counted 113 high-speed mobile Internet subscriptions per 100 inhabitants as of June 2019, up from 32 per 100 a decade earlier, while non-OECD countries counted 60 such subscriptions per 100 people. Fixed broadband subscriptions number 32 per 100 inhabitants in OECD countries (more than three times the non-OECD level of 9 per 100) with fibre connections accounting for 27% of subscriptions. There are persistent gaps between rural and urban households in terms of availability of quality fixed broadband connections.
Prior to the pandemic, in 2019, only a quarter of firms with over 10 employees across the OECD made e-commerce sales, while a third of firms had purchased cloud computing services and more than half had a social media presence. The share of people using e-government services stood at 58% in 2019, up from 43% in 2010.
The share of adults using the Internet ranges from over 95% in some OECD countries to less than 70% in others. Gaps in Internet access or usage due to age or income level mean uneven access to public information and services, especially critical during a pandemic. In a future where jobs, education, healthcare and even social interactions may depend on digital technologies, failing to ensure widespread digital access risks deepening inequalities and hindering countries' efforts to emerge stronger from the pandemic, the report says.
Governments can strengthen broadband deployment by promoting private investment and competition, encouraging infrastructure sharing and setting minimum levels of coverage for rural areas in spectrum auctions, the report says. To meet the current surge in demand for network connectivity, the report recommends measures like temporarily releasing additional spectrum or approving commercial transactions that put unused spectrum into service, upgrading interconnection capacity between networks and finding ways to encourage broadband providers to deploy more fibre deeper into networks.
Addressing the climate emergency and advancing the SDGs through circular economy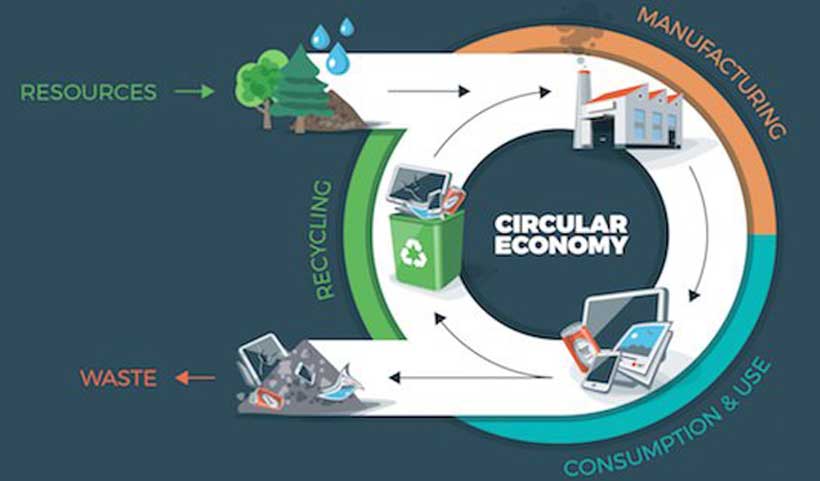 Accelerating the adoption of circular economy principles, policies and practices is essential if we are to make the progress on the Sustainable Development Goals and fully implement the Paris Agreement.
This was the key message from more 300 representatives of national governments, United Nations entities, intergovernmental and non-governmental organizations, the private sector and academia brought together by the United Nations Industrial Development Organization (UNIDO) in a series of regional meetings on the circular economy held virtually between 13 and 20 November 2020.
These regional meetings, convened for the African Group, the Asia-Pacific Group, the Eastern European Group, the Latin American and the Caribbean Group, and the Western European and Other States Group, focused on exchanging experiences and sharing knowledge, identifying benefits, challenges and barriers, and considering ways and means to enable the transition to a circular economy.
While addressing the African Group, Stephan Sicars, Managing Director of Environment and Energy at UNIDO, quoted one of the world's most inspirational leaders and prominent change-makers, Nelson Mandela: "I dream of our vast deserts, of our forests, of all our great wildernesses. We must never forget that it is our duty to protect this environment." Sicars stressed the urgency of these words and pledged the continued support of UNIDO to foster partnerships, conceive initiatives and mobilize stakeholders for action on the circular economy in developing countries.
Ornela Çuçi, Deputy Minister of Tourism and Environment, Albania,emphasized that "Nature is the biggest asset in Albania. We must preserve our environment to be able to build a strong and resilient economy. We are therefore working on legislation on the circular economy that will integrate this concept into our reality".
Ilan Fluss, Deputy Head of the Economic Division of Israel's Ministry of Foreign Affairs, said, "Cooperation between governments, the private sector and civil society is critical for promoting a circular economy. To close gaps between countries and societies, it is important to create partnerships, share best practices and exchange experiences."
Noting that despite the opportunities, challenges remain, Claude Koutoua, President of the Environment, Quality, Hygiene, Security and Energy Committee, General Confederation of Enterprises, Côte d'Ivoire,said, "One of the main challenges is making technological innovations available, especially those that allow for carbon-free processes. We are in a world of competition and if we do not have a sufficiently attractive cost factor, it may happen that industries will not find the necessary enabling environment. What is more, we need support to make sure there is a political will to effectuate transformational changes".
Van Keaheak, Director General for Industry at Cambodia's Ministry of Industry, Mines and Energy,stressed "that stakeholders are very important. Stakeholders involved should be the government, United Nations agencies, NGOs, the private sector and consumers. They all should be aware of the importance of the circular economy to deal with the environmental impacts. The circular economy is an opportunity to green our society".
Alex Saer, Director for Sectorial and Urban Environmental Affairs at Colombia's Ministry of Environment and Sustainable Development, explained that "as a successful case, we have worked with UNIDO on eco-efficient industrial parks. We believe that this is a very important way to promote industrial symbiosis in the country, as industry is an essential part of a circular economy".
The outcomes of the regional meetings will inform UNIDO-led global consultations on circular economy, scheduled for January-February 2021. The global consultations aim to develop a set of policy recommendations to advance the work of Member States and various stakeholders on the circular economy, thereby promoting inclusive and sustainable industrial development in the framework of the United Nations' Decade for Action.
Indonesian President Addresses Global Business Leaders at the WEF Special Dialogue
Today, President Joko Widodo of Indonesia took part in a dialogue with global business leaders, hosted by Klaus Schwab, Founder and Executive Chairman of the World Economic Forum.
The dialogue focused on the need for deeper public-private cooperation – currently focused on helping manage the COVID-19 pandemic – as well as providing a boost to the country's economic recovery. Indonesia is currently experiencing its first recession in 22 years, and like many nations, is in the midst of tackling the pandemic; the country surpassed half a million confirmed cases of the disease this week.
"I would like to express my appreciation to the World Economic Forum for hosting the Country Strategy Dialogue on Indonesia at such a pivotal time for our country and the world," said President Joko Widodo. "The Government of Indonesia remains strongly committed to engaging in public-private partnerships that support the country's path towards sustainable and resilient economic recovery."
In his opening remarks, the president said that the enactment of the Omnibus Law will help improve Indonesia's investment climate and legal certainty, adding that: "Significant support from the business community in its implementation is essential, as it will add value to the government's efforts in handling the pandemic and supporting economic recovery in a balanced and synergetic manner."
More than 50 global business leaders took part in an interactive virtual discussion, during which they listened and offered suggestions to the president and members of his cabinet, who laid out their plans for economic revival.
"Indonesia with its large population, is making impressive progress in fighting COVID-19, and at the same time is using this pandemic as a means to restructure, modernize and upgrade its economy," said Klaus Schwab, Founder and Executive Chairman of the World Economic Forum.
The president emphasized measures his government would be taking to manage the spread of COVID-19. The focus is on providing treatment and ultimately vaccinations for the population, while also cutting red tape to fast-track needed investment aimed at restoring Indonesia's growth and securing its competitiveness post-pandemic.
Several important cabinet members, including Erick Thohir, Minister of State-Owned Enterprises and Retno L. P. Marsudi, Minister of Foreign Affairs, and Luhut B. Pandjaitan, Coordinating Minister for Maritime Affairs and Investment, took part in the dialogue. They presented details of the planned establishment of the country's multibillion dollar sovereign wealth funds, implementation of the Job Creation Laws and planned investment incentives, as well as prioritizing environmental sustainability in recovery efforts, to ensure the country's leadership in the area of green growth.
Global chief executive officers responded by presenting their plans for further investment and offered suggestions for collaboration.
James Quincey, Chairman and Chief Executive Officer of The Coca-Cola Company said: "I appreciate the government's efforts to encourage investment, maintain sustainability at the centre of their rebuilding efforts and clearly communicate their ambition to work together with different stakeholders to create new and innovative ways to foster growth."
The Government of Indonesia and the World Economic Forum have agreed to continue the dialogue aimed at developing multistakeholder solutions in areas such as mainstreaming low-carbon investments, supporting Micro Small and Medium-sized Enterprises (MSME) through reskilling and upskilling, and building long-term resilience for the country's travel and tourism sector.