COVID-19: 'Little or no' benefit from trials of anti-virals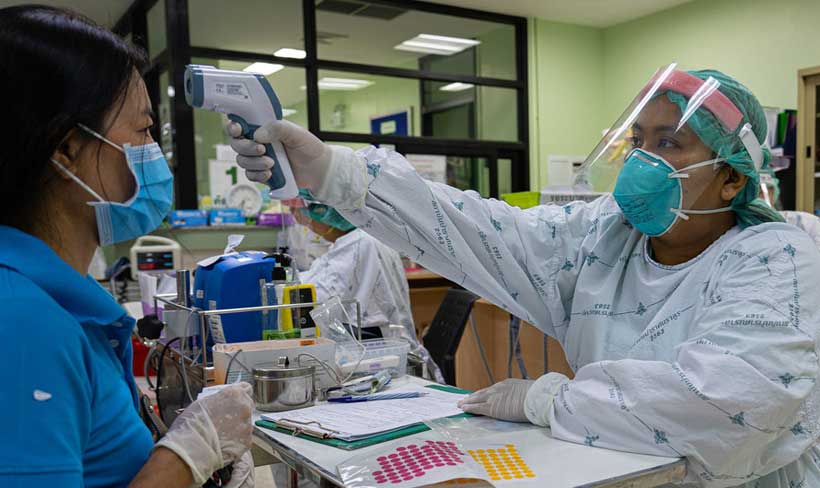 Latest results from a UN-coordinated international trial on four COVID-19 therapeutic drugs, indicate that they have "little or no" positive impact on preventing deaths in patients infected with the new coronavirus.
The Solidarity Therapeutics Trial, overseen by the World Health Organization (WHO), shows that medications Remdesivir, hydroxychloroquine, lopinavir/ritonavir and interferon, repurposed to treat new coronavirus infections, "appeared to have little or no effect on 28-day mortality or the in-hospital course of COVID-19 among hospitalized patients", WHO said in a statement on Friday.
The study, which began in March and spans more than 30 countries, looked at the effects of these treatments on overall mortality, initiation of ventilation, and duration of hospital stay in hospitalized individuals.
Other uses of the drugs, for example in treatment of patients in the community or for prevention, would have to be examined using different trials, the WHO explained.
Associated blood pressure risks
In a related announcement, the UN health agency said that COVID-19 had also highlighted the increased vulnerability of people with high blood pressure to the coronavirus.
The warning is based on data from more than 120 countries showing significant COVID-related disruption to treatment for people suffering from chronic health conditions, with findings showing these patients make up 50 to 60 per cent of all deaths from COVID.
Dr. Bente Mikkelsen, Director of WHO's Department of Noncommunicable Diseases, said that more than 1.13 billion people around the world suffer from hypertension.
Of this number, 745,800,000 live in low and middle-income countries and 80 per cent of these nations have fewer than 50 per cent of people on treatment.
Many unaware they are sick
On average, one in four men suffer from the condition, compared with one in five women, according to WHO data. In addition, two in five people are not aware that they even have hypertension.
"When it comes to COVID-19 and hypertension, the 122 countries that have reported tells us that in over 50 per cent of the countries their health care services is disrupted fully or partially…In addition, we see a high number of fatalities", Dr. Mikkelsen told journalists in Geneva.
Noting that global figures have yet to be calculated, she added that for those countries where data was available, "we see in the range of 50, 60 per cent of the people that are severely ill and die in hospitals from COVID have hypertension, diabetes", and other non-communicable diseases.
Pandemic resurgence
Highlighting how the pandemic has made a resurgence in many countries across all continents after the easing of restrictions, and the additional health threat posed by the impending influenza season in the global north, the WHO official appealed to governments everywhere to address hypertension urgently.
She also cited growing evidence that poor and salty diets along with rising inactivity, have contributed to worsening hypertension rates globally.
To coincide with World Hypertension Day on 16 October, Dr Mikkelsen unveiled a series of recommendations and products developed by the WHO to promote action on hypertension "during and beyond the pandemic".
By doing so, health authorities can help people to keep their blood pressure under control and prevent stroke, heart attack, and kidney damage, the WHO believes.
The new protocols are based on successful patient blood pressure management in 18 countries involving more three million people.
Today, only 20 per cent of the world's nations are on track to reduce hypertension by 25 per cent by 2025, a global target set by the World Health Assembly in 2013, according to the UN health agency.
COVID-19 cases rise for first time in seven weeks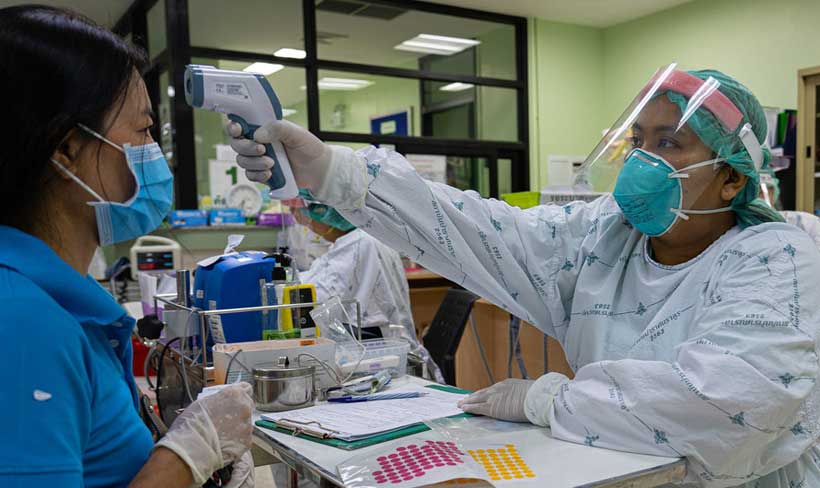 After six consecutive weeks of decline, COVID-19 cases worldwide increased last week for the first time, the World Health Organization (WHO) said on Monday.
Four of the agency's six regions reported a rise in numbers, with Africa and the Western Pacific excluded.
"This is disappointing, but not surprising", said WHO chief Tedros Adhanom Ghebreyesus, speaking during his biweekly press briefing from Geneva.
"Some of it appears to be due to relaxing of public health measures, continued circulation of variants, and people letting down their guard."
The jump in cases comes as the rollout of COVID-19 vaccines continues.
"Vaccines will help to save lives, but if countries rely solely on vaccines, they're making a mistake", Tedros warned, underscoring the importance of basic public health measures such as testing, contact tracing, wearing masks and avoiding crowds.
'Encouraging' signs
Ghana and Côte d'Ivoire began vaccinating health care workers on Monday, becoming the first countries to benefit from a global mechanism for ensuring vaccine equity.
Through the COVAX Facility, WHO and our partners are working to ensure every country can begin vaccination within the first 100 days of the year.
COVAX will deliver 11 million doses to countries this week. By the end of May, some 240 million doses will be allocated to 142 participating countries.
Dr. Soumya Swaminathan, WHO's Chief Scientist, pointed to "encouraging" signs as the world continues to gear up for what is the largest vaccine deployment in history.
"We've seen early data from countries where vaccination campaigns started months ago, the impact that this is having on reducing hospitalizations, reducing deaths, particularly in the older age groups, amongst the vulnerable. We've even seen very encouraging data in reduction in infections among health care workers who have received the vaccine", she said.
"So, these are still early days, but the signs are encouraging; the safety profile is encouraging. About 250 million doses have been given worldwide, and so far, there have been no major safety signals, so that is reassuring as well."
Concern for Tigray region
WHO explained that some countries have received COVAX vaccines early due to several factors such as the level of government preparedness, but logistical challenges in distributing vaccines, which include labelling, packaging and shipping, can also affect deployment.
Dr. Michael Ryan, WHO Executive Director, spoke about the difficulty in reaching conflict areas such as the Tigray region in Ethiopia, where government and regional forces have been fighting since November.
He said the situation is of grave concern, as water, sanitation, essential health services and COVID-19 intervention have been disrupted. Many people are living in displacement camps, increasing risk of diarrhoeal disease, malaria and other illneses.
WHO has worked to provide essential supplies to cover 450,000 people, or roughly 10 per cent of the population, for three months, Dr. Ryan told journalists.
"Our primary aim as an organization, wherever we work, is to ensure that all people have access to the basic, essential human right of access to basic health care", he said.
"We will work with the Ministry of Health; we will work with health cluster partners and anybody else who can help us to provide better access to the population there."
Over 500,000 people have been inoculated against COVID-19 in Moscow
The number of people who wish to receive a COVID-19 vaccination in Moscow has reached half a million, and over 500,000 of them have already received their first jab. Every day between 12,000 and 20,000 residents of the city sign up for vaccination.
Vaccines are being administered in 100 vaccination points in city polyclinics and 20 popular public places, where mobile teams have been deployed. The list of categories of citizens entitled to vaccination is constantly expanding and the city's vaccination campaign is picking up pace.
The list of categories of citizens prioritized for vaccination also includes Muscovites over the age of 60 years old (who form the largest risk group and are most vulnerable to COVID-19). More than 9,000 residents of 33 retirement homes have already been vaccinated. In addition, vaccination is recommended for people with chronic diseases who need to stay at home, as well as college and university students over 18 years of age.
A convenient online vaccination appointments system has been set up specially for Muscovites in the mos.ru portal. It can be accessed by going to 'Doctor's Appointment' in the list of services and selecting 'Vaccination Against COVID-19'.
In addition, vaccine appointments can be made via the My Moscow mobile app, the Moscow Gosuslugi government services website and the emais.info medical services portal, as well as by calling a vaccination center. The vaccine is administered in two doses, with appointments for the second injection being made automatically.
Many large employers are requesting on-site vaccination of their staff, and this network will be gradually expanded. Naturally, the throughput capacity of such organizations and, most importantly, the employers' wishes are being taken into account.
Detailed information on the vaccination program has also been posted in the portal's special project.
The Sputnik V vaccine consists of two components requiring two injections, and provides a reliable immune response. Volunteers will first be injected with the first component of the vaccine, with a second vaccination following 21 days later. Only the first appointment needs to be booked, as the doctor will arrange the patient's second visit on the day of their first vaccination. To ensure that people do not forget about their re-vaccination, they will receive an SMS message the day before it, reminding them of the date, time and clinic they need to attend.
The vaccination process takes at least an hour, including a 10-minute examination by a doctor before the vaccination and 15 minutes spent preparing the vaccine, which is stored in frozen state (with five doses in one vial) and thawed for five patients at once when they have been examined. Post-vaccination observation and examination take a further 30 minutes. Each patient receives a certificate recording the two injections and confirming that they have been vaccinated against the coronavirus.
The vaccine was produced using a biotechnological process based on the most modern technological platform created by Russian scientists. It is safe because it does not contain the coronavirus. It is based on special structures (carrier vectors) created in the laboratory that contain only a part of the virus gene. Upon encountering the vaccine, the human immune system produces protective antibodies.
Natalia Vodianova joins UNFPA to tackle stigma and advance women's health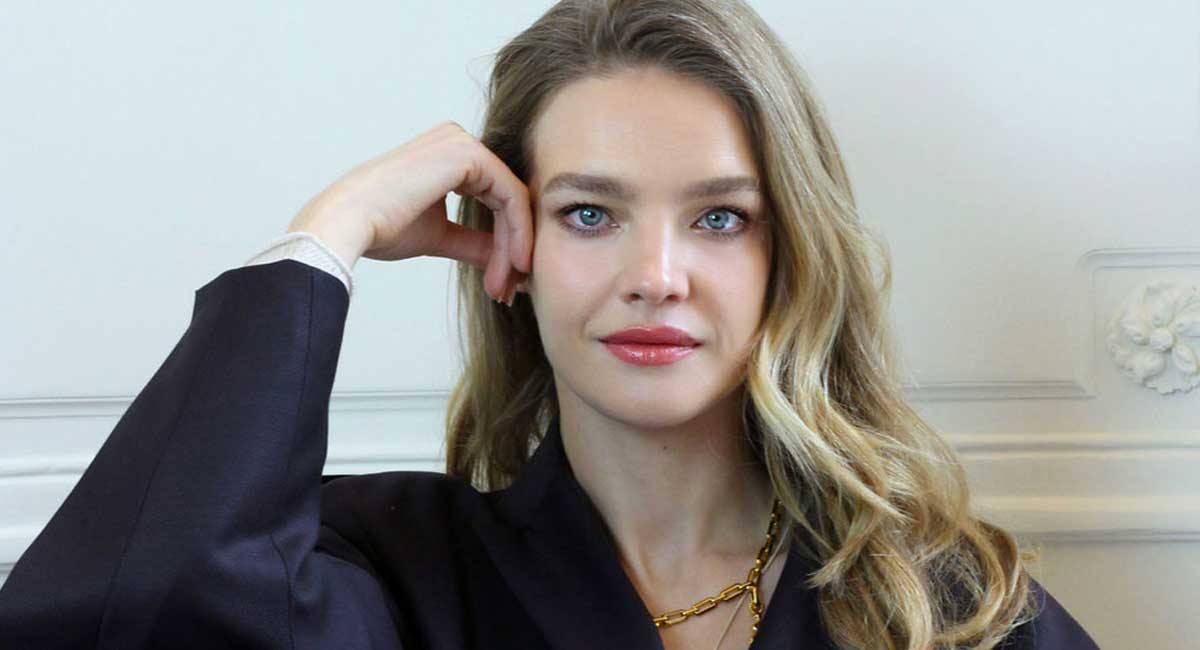 The UN's sexual and reproductive health agency, UNFPA, on Wednesday appointed supermodel, philanthropist, and impact investor Natalia Vodianova as its newest Goodwill Ambassador, in an effort to empower women and girls, including fighting stigma surrounding menstruation.
"For too long, society's approach to menstruation and women's health has been defined by taboo and stigma", said Ms. Vodianova, stressing that the situation "has undermined the most basic needs and rights of women."
In her new role with UNFPA, officially known as the UN Population Fund, Ms. Vodianova will seek to help culturally redefine menstruation, as a normal bodily function.
On any given day, more than 800 million women and girls aged 15 to 49 are actively menstruating. In many countries, taboos surrounding the cycle leaves girls vulnerable and can even be life-threatening, says UNFPA, as they are excluded from public life, denied opportunities, sanitation and basic health needs.
Major mission
The agency said in a press release, that the issue has been starved of the attention it deserves, but in recent years that has started to change, and "achieving this, is central to UNFPA's mandate".
"It's a tragic irony that something as universal as menstruation can make girls feel so isolated…We all have a role to play in breaking the taboos around menstruation", said UNFPA Executive Director Natalia Kanem, underscoring the significance of spotlighting the damage caused.
She added that the agency "is pleased to partner with such a powerful and committed advocate. Societies prosper when girls are confident, empowered and making their own decisions!"
Building on past momentum
Over the past three years, Ms. Vodianova has teamed up with UNFPA to launch a series of "Let's Talk" events worldwide, which have mobilised policy makers, civil society and the private sector to help tackle shame, exclusion and discrimination, faced routinely by millions of women and girls.
Leaders from various sectors such as fashion, politics, sport, technology and media have also gathered in Turkey, Kenya, Switzerland, Belarus and India to advance women's health.
Raised in poverty by a single mother in Russia, along with caring for a half-sister who has cerebral palsy and autism, Ms.Vodianova is a passionate advocate for human rights, including reproductive rights and the rights of people living with disabilities, UNFPA noted.
The agency said it was looking forward to working with her in her role as a bridge builder across the fashion and technology industries, where she's an influential international voice, to help achieve the Sustainable Development Goals by 2030.