Future Economy: Upskilling Exporters & Reskilling Manufacturers
Pandemic recovery is now openly calling global thought leaderships to speak up and enter their bold debates on national/global economic development issues to foster grassroots prosperity to avoid a billion displaced magnetized to populism. Seriously missed during the last decade, collaborative synthesizing with diversity and tolerance and wrongly replaced by seek and destroy economics creating trade wars… now is the time to cooperate, upskilling, and reskill working citizens of all nations.
The United Nations should lead with a global mandate…
Upskilling Exporters: When exporters in any country suffer lack of market share and their lower prices bringing in lower profits because of lack of quality upskilling and reskilling becomes mandatory. When innovative excellence is parked under the umbrella of entrepreneurialism national mobilization becomes number one priority. The pandemic recoveries across the world coping with a billion displaced all have now critical needs of both upskilling and reskilling. Upskilling is the process of learning new skills to achieve new thinking. Reskilling is the process of learning new skills to achieve new performances. Today, in super advanced and globally competitive markets raw hard work will not achieve global competitiveness only upskilling and reskilling will create a sharp edge.
Reskilling Manufacturers: When factories start having larger warehouses to hold unsold inventories and when production commoditized and price becomes the only deciding factor, reskilling on "real value creation" becomes mandatory. Advanced Manufacturing Clusters in various nations will greatly help, but understanding of global-age expansion of value offerings with fine production is a new art and commercialization to 200 nations a new science.
Now under the patronage of His Highness Sheikh Mohammed bin Rashid Al Maktoum, Vice-President and Prime Minister of the UAE and Ruler of Dubai, The Annual Investment Meeting, organized by the UAE Ministry of Economy, scheduled to be held from 20th to 22nd October 2020.. The AIM under the theme "Reimagining Economies: The Move towards a Digital, Sustainable and Resilient Future." This is a gathering of the global investment community with participants attending from more than 170 countries. The conference addresses multiple issues on FDI, national digitization and uplifting SME and midsize business economies with great speakers from around the world.
The future of economies, exports, Chambers of Commerce, Trade Associations and SME and midsize economic developments all called for bold and open regular debates. The zoomerang impact of global thought leadership now forcing institutions to become armchair Keynote speakers and Panelists to deliberate wisdom from the comfort of their homes round the clock events… study how Pentiana and Expothon Project tabled advanced thinking on such trends during the last decade. For fast track results, follow the trail of silence and help thought leadership to engage in bold and open debates and help show them guidance to overcome their fears of transformation. The arrival of Virtual leadership and Zoomerang culture is a gift from pandemic recovery, acquiring mastery.
The Difficult Questions: Nation-by-nation,when 50% of frontline teams need 'upskilling' while 50% of the back-up teams need 'reskilling' how do you open discussions leading to workable and productive programs? Each stage challenges competency levels and each stage offers options to up skill for better performances. Talent gaps need fast track closing and global-age skills need widening. New flat hierarchical models provide wide-open career paths and higher performance rewards in post pandemic recovery phases. When executed properly such exercises match new skills and talents with the right targeted challenges of the business models and market conditions. The ultimate objective of "extreme value creation" in any enterprise must eliminate the practices of 'extreme value manipulations". Study of the last top 10 highly exposed global scale corporate scandals on 'value manipulation' spanning years and decades and recognize their fake reign of legitimacy during such traps as lessons. Economies around the world solely based on 'value manipulations' are not economies, they are schemes. The billion displaced need optimization and upskilling to contribute to real value creation.
The upskilled and reskilled in platform economies are agile builders of the future workforce. Study the major cycles of the last century, how in the 70s and 80s billions trained on desktop computers for the world to enter the "Digital Age". Best career paths now based on digital trajectory matched with critical thinking and complex problem solving when all combined will boost the enterprise to newer heights. The economies of the future must declare upskilling of national citizens as prime mandate.
All transformations must start from the very top; nation-by-nation…true upskilling and reskilling cascading with new vision and with pragmatic solutions to precisely enhance skills to match the digital age and our smart world. The culture must embrace upskilling and reskilling as a daily open routine of lifelong learning and future planning to carve a distinct position in the marketplace. Study 'national mobilization of entrepreneurialism' on Google. A very bright future awaits. The rest is easy.
Mosul's recovery moves towards a circular economy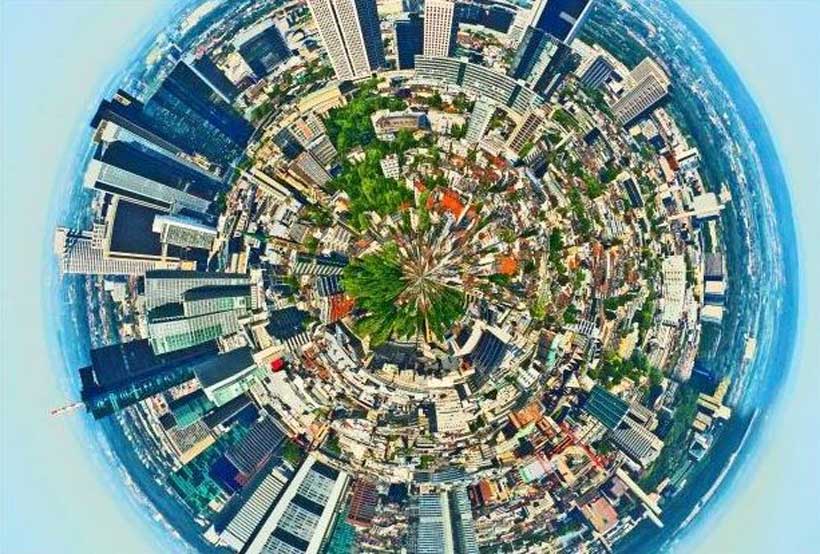 Five years since the end of the ISIL(so-called Islamic State in Iraq and the Levant) conflict in 2017, the International Organization for Migration (IOM) in Iraq and the UN Environment Programme (UNEP), with funding from the Government of Japan, has established a debris recycling centre in Mosul. After its initial use, the centre has now been handed over to Mosul Municipality for its continued, sustainable operation.
"On behalf of the Iraqi Government, the Ministry of Environment expresses its gratitude to the Government of Japan for generously supporting this important project and to UNEP and IOM for enabling the sustainable management of the huge quantities of conflict debris and restabilization of the liberated areas in an environmentally sustainable manner," said Iraq's Minister for Environment, Dr. Jasim Abdulazeez Humadi.
The handover of the Mosul debris recycling centre marks a significant step in the sustainable management of the huge volumes of debris — an estimated 55 million tonnes — created by the ISIL conflict. It also opens the way for the recycling of routine construction and demolition waste, contributing to 'building back better' and an increased circularity in Iraq's development.
UNEP West Asia Regional Director, Sami Dimassi, emphasized that "by reducing waste, stimulating innovation and creating employment, debris recycling also creates an important business opportunity." Indeed, construction companies in Mosul have expressed interest in purchasing the recycled aggregate, thereby underscoring the longer-term sustainability of debris recycling.
"This project supports recovery and livelihoods by drawing on principles of a circular economy, wherein waste and land pollution is limited through production processes that reuse and repurpose materials for as long as possible," explained IOM Iraq Chief of Mission, Giorgi Gigauri. "Collaboration and sustainability are key priorities in IOM's work toward durable solutions to displacement, and we are pleased to have partnered with UNEP and the Government of Japan so that this is represented not only in the function of the plant itself, but also in its functioning, by supporting local authorities to be prepared to effectively operate the plant moving forward."
On 28 July 2022, Mosul Municipality hosted an event to officially hand over the debris recycling centre, attended by senior government officials and academia, as well as representatives from IOM, UNEP and the United Nations Assistance Mission for Iraq (UNAMI).
Masamoto Kenichi, Charge d'Affaires, Embassy of Japan to Iraq stated: "We are glad to know that the project funded by the government and people of Japan has contributed to cleanup of debris and reconstruction of Mosul. We would like to commend UNEP, IOM and the city of Mosul for their tremendous efforts of turning the legacy of ISIL's devastation into building blocks of reconstruction".
Through the rubble recycling project, nearly 25,000 tonnes of debris have been recovered and sorted, of which around half was crushed into recycled aggregate. Material testing of the recycled aggregate endorsed by the National Center for Structural Tests of the Ministry of Planning confirms its compliance with the Iraqi State Commission for Roads and Bridges design standards for road foundational layers and its suitability for several low strength end-use applications such as concrete blocks and kerbstones.
The project created 240 much-needed jobs through cash-for-work schemes targeting vulnerable persons, including 40 women.
Building on this experience, IOM has set up two other debris recycling operations in Sinjar and Hamdaniya in Ninewa Governorate, and a third in Hawija in Kirkuk Governorate, where a pilot phase using a mobile crusher was implemented in al-Buwaiter Village in 2021. In addition, two other conflict-affected governorates — namely Salah al-Din and Anbar — have also shown a high-level of interest in replicating and scaling up debris recycling in their own regions.
UNEP has been supporting Iraq in cleaning up the huge volumes of debris created by the ISIL conflict since June 2017. Initially, this included carrying out technical assessments and planning workshops with UN-Habitat, and subsequently designing and implementing debris recycling pilot projects to support returns in Mosul, Kirkuk and other conflict-affected areas in cooperation with IOM.
Digital Futures: Driving Systemic Change for Women
Authors: Erin Watson-Lynn and Tengfei Wang*
As digital technology continues to unlock new financial opportunities for people across Asia and the Pacific, it is critical that women are central to strategies aimed at harnessing the digital financial future. Women are generally poorer than men – their work is less formal, they receive lower pay, and their money is less likely to be banked. Even when controlling for class, rural residency, age, income, and education level, women are overrepresented among the world's poorest people in developing countries. Successfully harnessing digital technology can play a key role in creating new opportunities for women to utilise formal financial products and services in ways that empower them.
Accelerating women's access to the formal economy through digital innovations in finance increases their opportunity to generate an income and builds resilience to economic shocks. The recently issued ESCAP guidebook titled, Harnessing Digital Technology for Financial Inclusion in the Asia Pacific, highlights the fact that mechanisms to bring women into the digital economy are different from those for other groups, and that tailored policy responses are important for women to fully realise their potential in the Asia-Pacific region.
Overwhelmingly, the evidence tells us that how women utilise their finances can have a beneficial impact on the broader community. When women have bank accounts, they are more likely to save money, buy healthier foods for their family, and invest in education. For women who receive Government-to-Person (G2P) payments, there is significant improvement in their lives across a range of social and economic outcomes. Access to safe, secure, and affordable digital financial services thus has the potential to significantly improve the lives of women.
Despite the enormous opportunity, there are numerous constraints which affect women's access to financial services. This includes the gender gap in mobile phone ownership across Asia and the Pacific, lower levels of education (including lower levels of basic numeracy and literacy), and lower levels of financial literacy. This complex web of constraints means that country and provincial level diagnostics are required and demands agile and flexible policy responses that meet the unique needs of women across the region.
Already, across Asia and the Pacific, governments are implementing innovative policy solutions to capture the opportunities that come with digital finance, while trying to manage the constraints women often face. The policy guidebook provides a framework to examine the role of governments as market facilitators, market participants and market regulators. Through this framework, specific policy innovations drawn from examples across the region are identified which other governments can adapt and implement in their local markets.
A good example of how strategies can be implemented at either the central government or local government levels can be found in Pakistan. While central government leadership is important, embedding tailored interventions into locally appropriate strategies plays a crucial role for implementation and effectiveness. The localisation of broader strategies needs to include women in their development and ongoing evaluation. In the Khyber Pakhtunkhwa province, 50,000 beneficiary committees comprising local women at the district level regularly provide feedback into the government's G2P payment system. The feedback from these committees led to a biometric system linked to the national ID card that has enabled the government to identify women who weren't receiving their payments, or if payments were fraudulently obtained by others.
In Cambodia and the Philippines, governments have implemented new and innovative solutions to support remittance payments through public-private-partnerships and policies that enable access to non-traditional banks. In Cambodia, Wing Money has specialised programs for women, who are overwhelmingly the beneficiaries of remittance payments. Creating an enabling environment for a business such as Wing Money to develop and thrive with these low-cost solutions is an example of a positive market intervention. In the Philippines, adjusting banking policies to enable access to non-traditional banking enables women, especially those with micro-enterprises in rural areas, to access digital products.
While facilitating participation in the market can yield benefits for women, so can regulating in a way that drives systemic change. For example, in Lao People's Democratic Republic and India, different mechanisms for targets are used to improve access to digital financial products. In Lao People's Democratic Republic, the central government through its national strategy, introduced a target of a 9 per cent increase in women's access to financial services by 2025. In India, their targets are set within the bureaucracy to incentivise policy makers to implement the Digital India strategy and promotions and job security are rewarded based on performance.
These examples of innovative policy solutions are only foundational. The options for governments and policy makers at the nexus of market facilitation, participation and regulation demands creativity and agility. Underpinning this is the need for a baseline of country and regional level diagnostics to capture the diverse needs of women – those who are set to benefit the most of from harnessing the future of digital financial inclusion.
*Tengfei Wang, Economic Affairs Officer
This article is the second of a two-part series based on the findings of the United Nations Economic and Social Commission for Asia and the Pacific (ESCAP) Policy Guidebook: Harnessing Digital Technology for Financial Inclusion in Asia and the Pacific, and is jointly prepared by ESCAP and the Griffith Asia Institute.source: UNESCAP
Empowering women-led small businesses in Nepal to go digital
Authors: Louise Anne Sophie Lavaud and Mitch Hsieh*
Throughout the years, Laxmi Shrestha and her husband saw the opportunities that opening an online shop could bring to her family business.
"Looking at the trend of TikTok and other sites, we thought selling online could help us but we weren't technically sound," said Laxmi, the owner ofLaxmi Hastakala Store, in Banepa, Nepal, and part of a family of artisans.
As she learned about selling online, she picked up on how to market her shop digitally and, according to Laxmi: "It has surely given our business a push we always wanted. Recently we started selling our products online and we also receive payments online."
Laxmi Hastakala Store is among the 1,800 women-led micro, small and medium enterprises (MSMEs) in Nepal being trained on digital and financial literacy by Sparrow Pay – one of the winners of the Women Fintech MSME Innovation Fund launched in 2019 by the United Nations Economic and Social Commission for Asia and the Pacific (ESCAP) and the United Nations Capital Development Fund (UNCDF).
Sparrow Pay has created a local digital marketplace where women-led MSMEs can offer products and services to its existing 800,000+ digital payment service users. Additionally, Sparrow Pay is supporting these women entrepreneurs in adopting digital payments and creating a payment history to support access to additional financial services.
MSMEs are a vital source of employment and a significant contributor to a country's GDP. However, more than 45 per cent of MSMEs in Asia and the Pacific are constrained from accessing finance and other support for their businesses. Socio-cultural norms mean women-led enterprises have to overcome gender-specific barriers to access institutional credit and other financial services.
ESCAP and UNCDF aim to encourage easy access to digital finance for MSMEs in Asia and the Pacific, break the financial barriers surrounding women-led enterprises and support entrepreneur-centric growth and inclusiveness throughout the region. Initiatives by the 10 winning fintech companies are currently supporting more than 9,000 women-led MSMEs in Bangladesh, Cambodia, Fiji, Myanmar, Nepal, Samoa and Viet Nam.
Just like Laxmi, these women business owners plan on successfully growing their companies in the digital area.
The Women Fintech MSME Innovation Fund is part of a regional programme "Catalyzing Women's Entrepreneurship: Creating a Gender-Responsive Entrepreneurial Ecosystem," which seeks to support the growth of women entrepreneurs in Asia and the Pacific by enabling a policy environment for such business owners, providing them with access to finance and expanding the use of ICT for entrepreneurship.
*Mitch Hsieh Chief, Communications and Knowledge Management Section