Tripartite dialogue over Kashmir: Only Way out
Dr. Moeed Yusuf, Special Advisor to Prime Minister of Pakistan on National Security and Strategic Policy disclosed in an interview with senior Indian journalist, Karan Thapar (October 13, 2020) that India sent us a message for a desire to a conversation. He added that Pakistan stands for conversation that moves us forward. He however emphasized that there are three parties to the dispute, Pakistan, India and there is a principal party, called Kashmiris. The only thing that matters is the wishes of the people of Kashmir.
We whole heatedly welcome the articulation of Dr. Yusuf to include the Kashmiri leadership in the talks. The people of Kashmir will welcome any talks between India and Pakistan as long as the genuine leadership of the people of Jammu & Kashmir is the part of process of negotiations. They steadfastly maintain that tripartite talks are the only way to resolve the Kashmir issue that has dominated the South Asian region for over 73 years. They maintain this constructive position, despite the outrage caused and the indescribable suffering inflicted on them, by the barbarities of the Indian occupation forces.
The people of Kashmir want to emphasize that as the dispute involves three parties –Government of India, Government of Pakistan and the people of Kashmir who are the most directly affected – any attempt to strike a deal between two parties without the association of the third, will fail to yield a credible settlement. The contemporary history of South Asia is abundantly clear that bilateral efforts have never met with success. The agreement between India and pro-India Kashmiri leaders, like Sheikh Abdullah failed because they sought to bypass Pakistan. Similarly, the agreements between India and Pakistan, like Tashkent Declaration and Simla Agreement failed because they sought to by pass the Kashmiri leadership. All these attempts served only to prolong the dispute, leaving the basic issue unsettled and preserved the stalemate. Although the Simla Agreement of 1972 is irrelevant to the Kashmir dispute, yet it did visualize a 'final settlement', but failed for a concrete course of action toward determining Kashmir's status by the will of its people.
No longer can the mere holding of talks between India and Pakistan defuse the situation. It is a matter of record that during the 72 years history of dispute, India has merely used the façade of talks to evade settlement and ease internal or external pressure. In 1962, when India was facing grave difficulties because of war it had launched against China, it agreed to a round of ministerial talks only to delude two eminent emissaries sent by the United States and the Great Britain. The six seemingly serious sessions were simply exercise in futility. After the end of the 1965 war, when the Security council had committed itself to address the underlying cause of the India – Pakistan conflict – which was none other than the Kashmir dispute – Indian secured the support of its ally, the former Soviet Union and the tacit acquiescence of others to help consign the dispute to limbo as far as the United Nations was concerned. Today, India is again in confrontation with China on one side and with Pakistan on the other. We earnestly hope that the Indian Government's message to Pakistan 'for a desire to have a conversation' will not be one more step in that direction to sabotage the real intent of the talks through diversionary tactics.
Dr. Moeed Yusuf's approach is based on pragmatism when he said that there can be no progress in talks if they are not accompanied by practical measures, like:
i. To release all political prisoners; ii. Reverse military siege in Kashmir, iii. Pull back the Domicile Law that changes the demography of Kashmir; iv. End human rights violations; and v. Stop Indian state terrorism.
In the past, India has not desisted from its human rights violations while announcing its intent to talk. India has to be told in an understandable language that peace cannot be held, nor continued as long as terror reigns over Kashmir and India remains at war with Kashmiris.
The people of Kashmir believe that the conversion of Line of Control (LoC) into an international border is a non-solution. Such an idea is an insult to the intelligence of the people of Kashmir. They fought against status quo and as Dr. Moeed Yusuf said 'Line of Control is a problem and cannot become a solution.'
We hope that the Secretary General of the United Nations maintains and intensify his watch over the situation in Kashmir and not be lulled into the belief that India and Pakistan will initiate any meaningful dialogue over Kashmir unless there are some mediatory initiatives by an impartial third party. Third party could be the United Nations itself or a person of an international standing who could be delegated by the United Nations to bring all the three parties together.
The policy that aims at merely defusing the situation, whatever that may mean, and not encouraging a credible settlement has not paid in the past. It is likely to do even less now.
Ensuring 'Vaccine for All' in the World: Bangladesh Perspective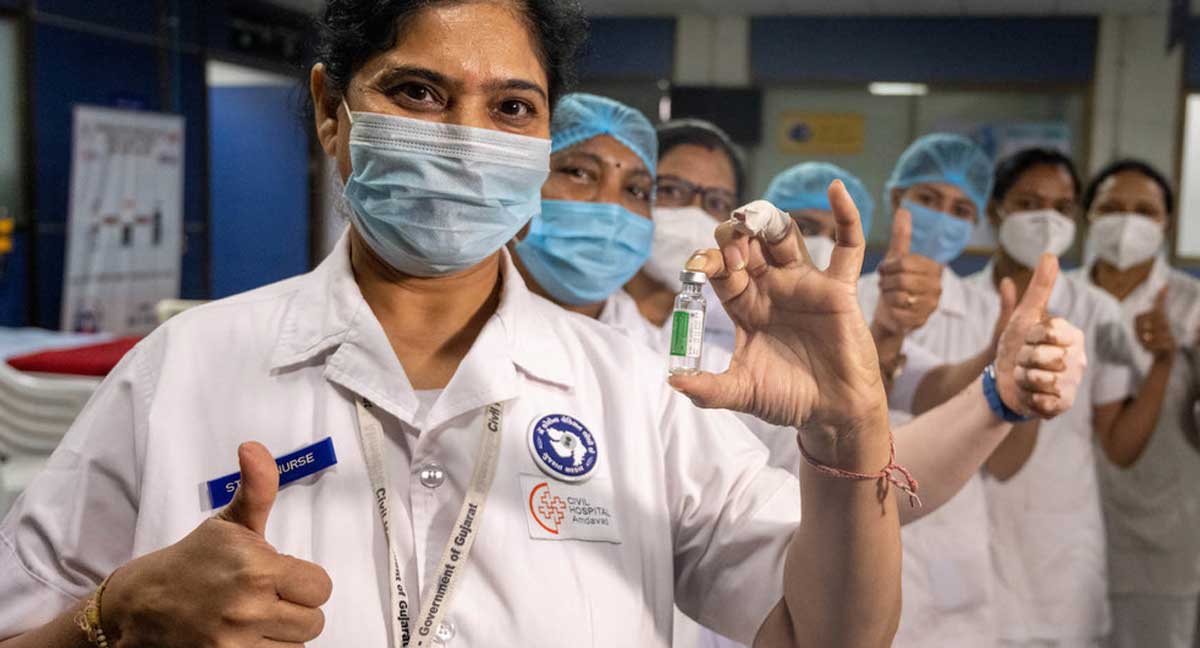 Health experts and analysts argue that the massive scale of vaccination is the most effective way to save people and the economy around the globe. Meanwhile, one can see a timid response of the global institutions in this regard. The neglect of multilateralism since the very inception of this crisis exacerbated the efforts of different countries, particularly in the developing and underdeveloped regions. The US withdrawal from World Health Organization (WHO) under the Trump Administration greatly hampered the global process in the early days of COVID-19. However, the US has rejoined WHO under the Biden Administration, but it has already been delayed and slowed down the global engagement. As a result, we have witnessed hectic vaccine diplomacy over the past year, where bilateral frameworks have played a pivotal role. It may be mentioned that COVAX was launched by WHO, EU and France in 2020 to deal with the global accessibility of COVID-19 vaccines. Coordinated by Gavi, the Vaccine Alliance, the Coalition for Epidemic Preparedness Innovations (CEPI) and the WHO, COVAX aims to ensure vaccines are shared fairly among all nations, rich and poor. However, the worrying issue is that the current level of access to vaccines for the developing and least developed nations is extremely low compared to the developed and rich countries. Against this backdrop, the vaccine for all becomes a critical global need to overcome the biggest humanitarian crisis in a century. Bangladesh has a unique contribution to advance the goal of vaccine for all, for that matter, facilitating the availability and accessibility of COVID-19 vaccines to every corner of the world.
With a motto of 'vaccine for all', the Bangladesh Prime Minister, Sheikh Hasina, warned the world during her speech for the 31st Special Session of the United Nations General Assembly (UNGA)in September 2020. Bangladesh placed a three-point proposal in the special UNGA session to deal with the challenge of COVID-19: ensuring universal and equitable access to quality Covid-19 vaccine, transferring technology to developing countries to manufacture it locally, and providing them with financial assistance to face challenges in wake of the pandemic. She vehemently asserted that the COVID vaccine is for the global public good. In her words, "It is imperative to treat the vaccine as a 'global public good'." In this context, the World Health Organization (WHO) initiative of Access to Covid-19 Tools (ACT) and Covax facility can play a vital role in this regard. Highlighting the global responsibility of achieving the 2030 Development agenda of the fundamental role of Universal Health Coverage for achieving the SDGs guided by the principle of equity, Bangladesh underscored the need for universal access to vaccines. She argued, "In the same spirit, when it comes to access to vaccines, no one should be left behind … This would help us to defeat the pandemic, save lives and accelerate our economic recovery."
Bangladesh Prime Minister called upon the developed countries to commit to technology transfer for the local manufacturing of vaccines in developing countries, using IP rights waiver under TRIPS Agreement. Sheikh Hasina reminded the international community that the fates of people across the globe were intertwined amid the COVID-19 pandemic, as she called on world leaders to ensure that any proven vaccine is made accessible to all at the same time. She also highlighted the need for multilateralism and reiterated Bangladesh's 'unflinching commitment' to multilateralism as embodied in the UN Charter. She clearly spelled out, "The pandemic has indeed aggravated existing global challenges. It has also reinforced the indispensability of multilateralism."She emphasized, "The UN, International Financial Institutions (IFIs), civil society alongside the national governments must do their share and actively cooperate with each other to combat Covid-19." The crux of multilateralism on the COVID-19 global pandemic is pumping necessary financial assistance to the developing countries.
Bangladesh also pointed out that the world should recognize the vaccine manufacturing capacities of developing countries like Bangladesh. She floated the idea that Bangladesh's pharmaceutical industry has the capacity to mass-produce a vaccine if given the "technical know-how and patents."Prime Minister Sheikh Hasina asserted that Bangladesh is ready to produce Covid-19 vaccines. It is critical to remember that Bangladesh did forecast the current scenarios of vaccine crisis and politics long ago. The situation gets further worse when the US, the UK, and the European Union have all blocked the move of nearly 100 developing countries who petitioned the World Trade Organization (WTO) to temporarily waive intellectual property protections on vaccines during the pandemic so that they could manufacture generic vaccines domestically. Besides, developing countries, including Bangladesh, approached vaccine producing companies such as Oxford-AstraZeneca to share technical know-how and patents, which has not seen any positive responses. Serum Institute of India, a co-manufacturer of Oxford-AstraZeneca also appealed to the US President Joe Biden to consider exporting raw materials for producing COVID-19 vaccines. Besides, a local company in Bangladesh, Globe Biotech Ltd, also joined the global COVID-19 vaccine race with the announcement of its vaccine named Bongavax that started clinical trials.
The Bangladesh Prime Minister reiterated her vision for the vaccine for all at the Boao Forum for Asia Annual Conference virtually held on 20 April 2021. She clearly uttered that COVID-19 vaccines should be declared as global public goods. She asserted, "Countries producing the vaccines should help others produce the vaccines with a view to attaining universal vaccine coverage."All nations and international organizations must work together to meet the medical requirements of this pandemic. WHO, GAVI and other relevant organizations must uphold the rights of member states and ensure equity and justice. The prime minister called the COVID-19 pandemic possibly the "greatest global challenge" and emphasized it had brought the world to a crossroad of human history. As cautioned by the Bangladesh Prime Minister in September 2020, the world witnesses a horrific race for vaccines leaving behind billions of marginalized people in the world.
The neglect of the causes of the survival of a great number of humanity by relying on politics, parochial national interests, and diplomatic considerations, the developed world will jeopardize the existence of global society. The so-called diplomacy of 'zero-sum' gains has brought about a devastating impact in the age of new normal. One can see alarming statistics of current scenarios in the world regarding vaccine procurement. Out of total worldwide confirmed purchases of Covid-19 vaccines, high-income country confirmed dose total 4.6 billion, upper-middle-income country totals 1.3 billion, lower-middle-income country total 608 million, low-income country total 670 million and COVAX total 1.12 billion. Besides, vaccine diplomacy has turned into a race for intensifying bilateral frameworks that contributes to more competition and rivalry in the world. Countries from Africa to Latin America have been witnessing this trend. Rivalries between the vaccine manufacturing countries such as the US vs China, Russia vs the US, India vs China, EU vs Russia and China are on display in the global arena.
In conclusion, Bangladesh's 3-point proposal in fighting against the COVID-19 pandemic through equitable access to vaccines must be the basis of any global or regional initiatives. It is the formula for saving humanity from the greatest disaster on earth. It is an inescapable option for the world to immediately declare COVID-19 vaccine as a public good that the Bangladesh Prime Minister urged to the world in the UNGA in 2020. Intellectual property rights mechanisms be immediately relaxed for sharing technology with Pharmaceutical companies in countries like Bangladesh, Brazil, India and Indonesia to produce vaccines for the world. Fair and equitable access to the COVID-19 vaccines must be based on the slogan of 'vaccine for all' and no time lost or delayed to save the humanity and economy.
The man who saved the world from Pakistan
But for a few brave souls like Frits Veerman, Pakistan would have become the world's most frightening nightmare. Not that it is not today but it could have been worse: we could have been facing a nuclear Armageddon now.
Veerman, a professional photographer in Amsterdam, was one of the first to ring warning bells about Pakistan's skullduggery in stealing nuclear documents, materials and technology to build its own nuclear bomb. His warnings were brushed aside, he was forced to keep quiet, sacked and harassed to no end for speaking the truth. In a just world, he should have been hailed as an icon of courage. He died in relative obscurity recently.
His story will, however, continue to live, a story of courage to speak out in a world where truth often falls to realpolitik. When Pakistan was running a big nuclear smuggling ring from its diplomatic missions and other agencies, governments and security officials in different parts of the world chose to look the other way. In fact, many connived in the colossal thievery. They knew what Khan and his associates were doing but business and political interests trumped over reason.
Veermen was the only one to say that `the emperor was naked`. He could have easily succumbed to pressure or greed but he did not, and even at a great cost to his life, he chose to speak out, rather than keep quiet.
Veerman discovered the Pakistani game when he was a young professional photographer in Amsterdam. He used to work at a consultancy firm, FDO (Fysisch-Dynamisch Onderzoek), as a technical photographer. An important client of FDO was Ultra Centrifuge Netherlands which was part of a top secret project run by a consortium of Dutch, British and German scientists at a nuclear plant in Almelo. In May 1972, a young and charming Pakistani scientist, Abdul Qadeer Khan joined the team as a translator of technical documents. He soon became friends with Frits Veerman. He took pictures of centrifuges for him. The two shared an office and met at dinners in the evening. Veermen was introduced to Khan's wife and two daughters and often went to their house for dinner.
Khan quickly expanded his circle of friends and he would freely access areas at the nuclear plant which were hitherto prohibited. It was sometime in 1973, a year after the Pakistani joined the consultancy firm, that Veermen had his first doubts. He thought there was something fishy about the manner in which the Pakistani was charming his way through the rank and file of the establishment.
It was two years later that Veermen's suspicions became stronger. He realised that the young Pakistani was in fact a thug–he was stealing classified papers from the plant. This happened one day when he went to Khan's house near Schiphol airport for dinner.
What he saw took his breath away. He saw top secret centrifuge drawings lying around in Pakistani scientist's house. They were supposed to be at the plant and locked up in vaults. As Veerman later recalled in an interview with BBC, "That was my biggest worry, what was he doing with those drawings? All the little pieces of the jig-saw put together made me come to the conclusion that Abdul was spying." Khan asked him to photograph the documents for him but Veermen refused. He also happened to overhear a telephonic conversation between the Pakistani and his old professor in Leuven about sensitive centrifuge matters. Veerman lost no time in reporting the matter to his superiors. His seniors heard him out and told him to keep quiet. He was asked not to speak about what he saw and found to anyone.
In late 1975, when AQ Khan realised that he was coming under greater scrutiny from a multitude of agencies, he took leave from the office, and along with his family flew back to Pakistan. He never returned. What many did not realise for some time was that Khan had smuggled out precious drawings and a no less useful rolodex of key suppliers of nuclear material and technology in Europe and elsewhere.
But Veerman had not heard the last of Khan. From Pakistan, his former friend wrote to him frequently seeking answers to technical questions about nuclear technology. When he showed one such letter to his superiors, he was asked to burn it. Less than a year after Khan fled Amsterday, FDO held a meeting on the issue where Veerman repeated his assertion that Khan was a spy. Veerman later gave a statement about Khan to Dutch police. But, as Veerman were to find out later, his blunt accusations did not endear him his superiors or others in the government. In fact, the nuclear consortium and consultancy firm, FDO, were delighted when Khan sent his emissaries with a long list of items and work he wanted to contract to European firms. Soon after, Khan's technicians began arriving at FDO to take a " "a course in 'how to build an ultracentrifuge'', Veerman commented.
In 1978, Veerman lost his job. No reasons were given but he knew he was being sacrificed for speaking out against Khan's smuggling ring and the complicity of the nuclear plant officials as well as government authorities. The powerful nuclear industry lobby did not want any investigation because it would have exposed its laxity and complicity. The government too was not keen on any probe because it would have been embarrassing and would have impacted diplomatic relations with some countries. So they all kept quiet. The one man who spoke was asked to shut up.
In 1983, during a meeting with FDO officials, when he realised that his only crime was his outspokenness, Veerman was furious and decided to tell the story to a Dutch newspaper. But nothing came out of his expose and he quietly retreated to a lowly paid job and into obscurity. The state, however, chose to punish him further–he was put on an international watch list and for many years questioned by police whenever he travelled abroad. He was stalked by the police. In one such instance, his family in a car was stopped by armed police.
It was only in 2016 that his role in breaking the world's most dangerous nuclear smuggling network was acknowledged by the authorities. The Whistleblowers Authority, a Dutch institution created in 2016, came to the conclusion that Veerman was unfairly treated at the time, as it considered it likely that whistleblowing was the reason for firing him in 1978. A recent report of the Huis voor Klokkenluiders, the Dutch Whistleblowers Authority, showed that the agency had finally absolved Veerman of any charges and in fact pointed out hy he, and not Khan, was punished.
In many ways, Veerman's honesty and tenacity saved the world from even a more dangerous Pakistan. His act of courage deserves international recognition.
Pakistan and Germany are keen to Sustain Multifaceted and Mutually beneficial Cooperation
Pakistan has varied history of relationship and cooperation with other countries in international arena. Despite of proactive foreign policy Pakistan has been struggling to acquire global or regional status as a major power. Now in the age of globalization, the foreign relations between states have become more significant than before. Global and regional organizations, societies, economic zones and countries have network to attract and develop relationship among them. A major goal of Pakistan's foreign policy is to develop good relations with international community and to handle global and regional issues. Activism of Pakistan's foreign policy reflects on the domestic socio-economic development. The national interest of Pakistan also support to regulate inputs from the external atmosphere into internal situation and to strive security and territorial integrity in the region and glob which always remained top concern of Pakistan. As bearing geo-strategic position, Pakistan seeks good relations with regional and global powers like America, China and European Union. Within European Union Germany has emergence as the developed economy in Europe. It is not only playing vital role within European Union but at the global level. Pakistan is also enjoying cordial relations with Germany on the base of common interest and perception on all international issues. Germany is also very keen to see sustainable development in Pakistan and acknowledges that the Pakistan is playing constructive role for regional peace. Germany greatly values Pakistan intense to strengthen multifaceted and mutual beneficial cooperation. Both the countries have been engaged on political, economic and socio-cultural partnership.
In past, East and West Germany had tilted towards forming alliance with India in 1950s but in 1960s, President Ayob Khan's visit to West Germany established economic relation between both the countries. Post Pak-India war 1971, East Germany was the first country of the Europe who recognized Bangladesh. During 1990s, Pakistan and Germany established Pakistan German Business Forum and Germany had become the fourth largest trade partner of Pakistan in 2000. Germany also was ally of Pakistan in the war against terrorism in the north-west part of the country. Since the last few years, both the countries developed trade relations as well as Germany invested in the field of science and technology in Pakistan. On August 24, 2014, Germany built Pakistan Gate in Berlin to provide business and trade facilities to the businessmen of both the countries.
In November 2018, Pakistan offered Germany to join CPEC and to invest in the Special Economic Zone (SEZs). The mutual trade between both the countries enhanced to 3.0 billion euro in 2019.In 2021, Both Pakistan and Germany are celebrating 70th anniversary of establishment of bilateral relationship. Both the countries are planning to undertake several activities in this regard. Last month German Ambassador visited Karachi Chamber of Commerce and industries to call German companies, entrepreneurs and investors to earn from the potential and opportunities which are available in Pakistan and to bring business communities of both the countries more closer as well. Foreign minister of Pakistan has visited to Germany and meeting with business and members of Pakistani community. The foreign Minister held meetings with the leadership of Germany and repeated the desire of expansion of bilateral economic activities and exchange of technology. Both sides also discussed rapidly changing situation of Afghanistan and South Asian region. During the discussion, Pakistani Foreign Minister Shah Mehmood Qureshi and Foreign Minister of Germany Heiko Mass, Pakistan and Germany agreed to review the entire gamut of Pakistan-Germany relationship and tools of further deep bilateral cooperation in the field of trade, investment security and defense, health, education, tourism. The mass of both the countries want to utilize the potential of good relationship but it is observed that both sides have lack of political hierarchy, dedication and sincerity in past. The development and expansion of bilateral relationship lies on the path of peaceful coexistence and serious changes in the socio-economic structure is needed. Peace process with the neighboring countries like Afghanistan and India may attract Germany to invest in CPEC projects and other local project of education, vocational training, dam construction, tourism and economic activities in Pakistan. There is a need to organize a forum for the students and scholars of both the countries could interact and exchange their expertise for academic, economic and technology growth. There is potential of people to people interaction and development of cooperation between Pakistan and Germany. Pakistan may be more benefit from the relationship with Germany if the serious efforts be made on government level.