Greater equality a 'prerequisite' for overcoming global crises
In reviewing, assessing and acknowledging the effects of the Transatlantic Slave Trade, enslavement and colonialism, the groundbreaking Durban World Conference of 2001, represented a "milestone" in the common fight against racism, xenophobia and related intolerance, the UN human rights chief said on Monday.
High Commissioner for Human Rights, Michelle Bachelet said that in examining "the legacy of some of the most appalling chapters in human history", the historic conference in South Africa, and resulting declaration inspired by the host nation's struggle against Apartheid, is a work in progress, she reminded the Intergovernmental Working Group on the declaration's Programme of Action.
Durban was the first UN Conference to address the historical roots of contemporary racism and acknowledge slavery and the slave trade, as crimes against humanity.
'A long way to go'
Recent months, however, have been a reminder that "there is still a long way to go for human rights to be equally enjoyed by all", flagged the UN rights chief, naming COVID-19 a "stark" example of a recent obstacle.
Ms. Bachelet noted that the pandemic has taken more than a million lives, prompting the deepest economic recession since the Second World War. She said more than 100 million people may be pushed into extreme poverty, the first global rise since 1998.
"As we have seen since the beginning of this crisis, while the virus itself does not discriminate, its impacts certainly do", she attested, painting a picture of those whose voices are silenced and interests rarely served, as being worst affected by COVID-19, through health or socio-economic repercussions.
Systemic discrimination
Among them are the indigenous, people of African descent and those belonging to national or ethnic, religious and linguistic minorities, whose rights have been denied by systemic racial discrimination.
Ms. Bachelet emphasized that those suffering racial discrimination, more often work in the informal sector, many living in poverty and at risk of losing their jobs, with no social protection.
"Yet again, those facing racial discrimination are most often the ones with fewer conditions to study at their homes, fewer digital skills and limited or no access to the Internet. Some may even never return to school".
Still, despite overwhelming evidence, a lack of disaggregated data on how the COVID-19 pandemic has been affecting victims of racial discrimination are underestimating – or even denying – disparities and human rights violations.  MW
Scapegoating migrants
The pandemic has also revealed the additional vulnerability of migrants, refugees, asylum seekers and Stateless people, Ms. Bachelet pointed out.
Without State protections and with serious restrictions on their rights, many are harassed, arbitrarily arrested and face mass deportation.
"We have seen a rise in discriminatory and xenophobic attitudes affecting Asians and people of Asian descent, which often lead to violence", Ms. Bachelet underscored.  "Even before the pandemic, we were witnessing a worldwide increase in negative stereotypes against certain groups".
Migrants and other racially discriminated groups are often the scapegoats for problems, particularly in relation to housing and employment shortages, according to the High Commissioner.
Women facing 'excessive burden'
The crisis is disproportionately impacting women as well, particularly those already facing gender, race and ethnic discrimination.
"They are subject to an excessive burden of unpaid work, increased poverty, job insecurity and limited access to public services", the UN rights chief said. "Women have also been on the frontlines of response to the health crisis and are more exposed to infection".
Greater equality is "an ethical obligation…a pre-requisite for overcoming these crises and a requirement to recover from COVID-19 and build back better", she upheld.
Substantial progress made in Vienna; sides focusing on Safeguards
The third day of talks between experts from Iran and the EU centered around technical and legal matters regarding the Safeguards agreement between Iran and the International Atomic Energy Agency (IAEA).
Delegates from Iran, the EU and the U.S. resumed talks in Vienna on Thursday after nearly a five-month hiatus. This round of talks started on Thursday without the presence of nuclear negotiators from the European trio – Germany, France and Britain. Only experts from these three countries have attended the negotiations.
Iran believes that any agreement on restoring the nuclear deal, officially called the Joint Comprehensive Plan of Action (JCPOA), is dependent on putting an end to unsubstantiated allegations about Iran's past nuclear program. Iran insists that these questions had already been resolved within the PMD, when the nuclear deal was signed in July 2015.
According to reports, substantial progress has been made in bringing the views of Iran and the U.S. closer together during the last three days. However, in Tehran's view nothing is resolved until everything is settled.
Behrouz Kamalvandi, the spokesman for the Atomic Energy Organization of Iran (AEOI), also confirmed on Saturday that talks are mainly focused on Safeguards issues.
"We are now negotiating," Kamalvandi said of the talks between Iran's nuclear experts with Mora.
On the atmosphere of the talks, he said, "It is not bad."
Mohammad Marandi, a senior expert on nuclear issues, also told Al-Mayadeen TV that "progresses" have been made in Vienna, but one should be "cautious". He argued the success of talks is 50 percent. Marandi said the differences remain only between Iran and the United States.
He added, "We have heard from certain European sources that the Americans have revived their views on certain issues."
The Russian chief negotiator in the Vienna talks, Mikhail Ulyanov, also tweeted that there is "no unresolvable issue" on the table in the Vienna talks.
Source: Tehran Times
Escalation of violence in Gaza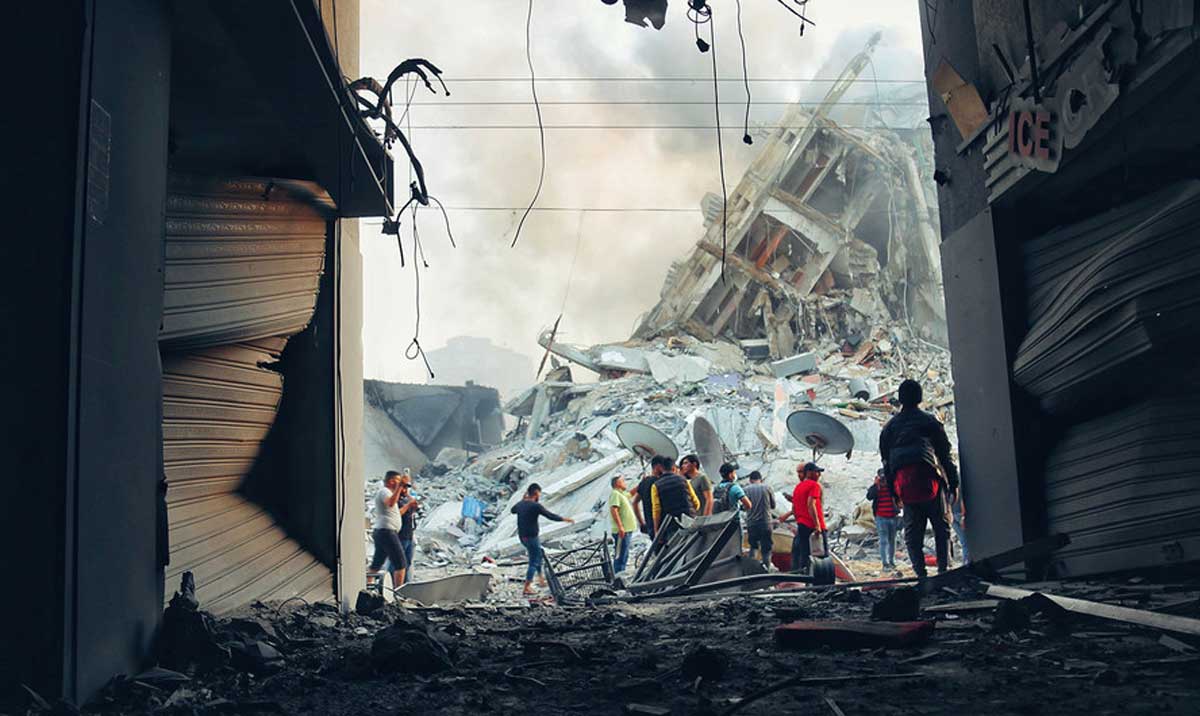 The ongoing and serious escalation of violence in and around Gaza between Palestinian militants and Israel has claimed the lives of 13 Palestinians by Israeli airstrikes, including a 5-year-old child and one woman, informed Lynn Hastings, UN Humanitarian Coordinator in the territory.
In a statement published on Saturday, Ms. Hastings expressed her grave concern for the situation that has left more than 100 Palestinians injured, as well as 7 Israelis.
Residential areas in both Gaza and Israel have also been hit and 31 families in Gaza are now homeless.
"The humanitarian situation in Gaza is already dire and can only worsen with this most recent escalation. The hostilities must stop to avoid more deaths and injuries of civilians in Gaza and Israel. The principles of international humanitarian law including those of distinction, precaution and proportionality must be respected by all parties", she urged.
Basic services in danger
Ms. Hastings warned that fuel for the Gaza Power Plant is due to run out this Saturday and electricity has already been cut.
"The continued operation of basic service facilities such as hospitals, schools, warehouses, and designated shelters for internally displaced persons is essential and now at risk", she cautioned.
The Humanitarian Coordinator added that movement and access of humanitarian personnel, for critical medical cases, and for essential goods, including food and fuel into Gaza, must not be impeded so that humanitarian needs can be met.
She also underscored that Israeli authorities and Palestinian armed groups must immediately allow the United Nations and its humanitarian partners to bring in fuel, food, and medical supplies and to deploy humanitarian personnel in accordance with international principles.
"I reiterate the United Nations Special Coordinator's appeal on all sides for an immediate de-escalation and halt to the violence, to avoid destructive ramifications, particularly for civilians", Ms. Hastings concluded.
Nuclear-free world is possible, test-ban treaty chief says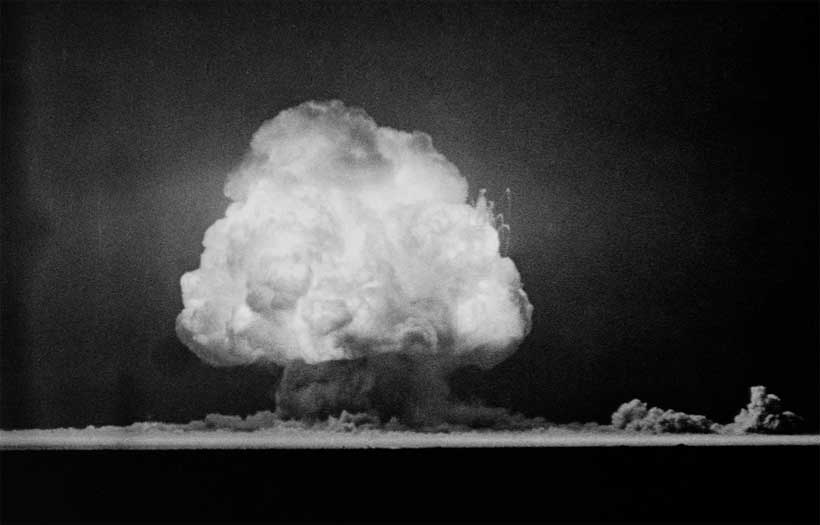 Nuclear weapons will continue to pose a risk to humanity unless countries fully adhere to the treaty that prohibits their testing, a senior UN official said at a press conference in New York on Friday.
Journalists were briefed by Robert Floyd, Executive Secretary of the body that oversees the Comprehensive Nuclear Test-Ban Treaty (CTBT), which opened for signature 25 years ago but has yet to enter into force because it requires ratification by a handful of key countries, which have nuclear capabilities.
"Once in force, the CTBT will serve as an essential element of a nuclear weapons-free world. In order to achieve this world, we all aspire to, a universal and effectively verifiable prohibition on nuclear testing is a fundamental necessity," he said.
World at risk
Mr. Floyd was speaking against the backdrop of the latest nuclear non-proliferation conference, which began this week at UN Headquarters after two years of pandemic-related delays.
Countries are reviewing progress towards implementing the 50-year-old Treaty on the Non-Proliferation of Nuclear Weapons.
At the opening on Monday, UN Secretary-General António Guterres warned that the world was "just one misunderstanding, one miscalculation, away from nuclear annihilation".
"Until we have full adherence to the CTBT, nuclear testing and the proliferation of nuclear weapons will continue to pose unacceptable risk to humanity," said Mr. Floyd.
Drop in testing
The CTBT complements the non-proliferation treaty, said Mr. Floyd, and it has already made a difference in the world.
"We've gone from over 2,000 nuclear tests conducted between 1945 and 1996, to fewer than 12 tests since the treaty opened for signature," he said. "Only one country has tested this millennium."
The treaty has also received near-universal support. So far, 186 countries have signed the CTBT, and 174 have ratified it, four in the last six months alone.
However, entry into force requires that the treaty must be signed and ratified by 44 specific nuclear technology holder countries, eight of which have yet to ratify it: China, Egypt, India, Iran, Israel, the Democratic People's Republic of Korea, Pakistan and the United States.
Asked about these countries, Mr. Floyd replied "they have their own calculus and strategic objectives and geopolitical considerations as to whether they feel free to move forward", adding that they all support the CTBT and its objectives.
Helping nations
Mr. Floyd also reported on the activities of the organization that promotes the treaty, which he heads.
The CTBTO, as it has known, has built a state-of-the-art verification system to detect nuclear explosions, capable of 24/7 monitoring.
Staff also train inspectors from Member States so that they are ready to conduct on-site verifications once the treaty enters into force. Furthermore, countries use CTBTO data for civilian and scientific applications, such as tsunami warning systems and other university research.
"Even without having entered into force, the CTBT is already helping to save lives in countries around the world," said Mr. Floyd. "Even those that have not yet ratified the treaty are benefiting from this global collaboration and technological expertise."