Greater equality a 'prerequisite' for overcoming global crises
In reviewing, assessing and acknowledging the effects of the Transatlantic Slave Trade, enslavement and colonialism, the groundbreaking Durban World Conference of 2001, represented a "milestone" in the common fight against racism, xenophobia and related intolerance, the UN human rights chief said on Monday.
High Commissioner for Human Rights, Michelle Bachelet said that in examining "the legacy of some of the most appalling chapters in human history", the historic conference in South Africa, and resulting declaration inspired by the host nation's struggle against Apartheid, is a work in progress, she reminded the Intergovernmental Working Group on the declaration's Programme of Action.
Durban was the first UN Conference to address the historical roots of contemporary racism and acknowledge slavery and the slave trade, as crimes against humanity.
'A long way to go'
Recent months, however, have been a reminder that "there is still a long way to go for human rights to be equally enjoyed by all", flagged the UN rights chief, naming COVID-19 a "stark" example of a recent obstacle.
Ms. Bachelet noted that the pandemic has taken more than a million lives, prompting the deepest economic recession since the Second World War. She said more than 100 million people may be pushed into extreme poverty, the first global rise since 1998.
"As we have seen since the beginning of this crisis, while the virus itself does not discriminate, its impacts certainly do", she attested, painting a picture of those whose voices are silenced and interests rarely served, as being worst affected by COVID-19, through health or socio-economic repercussions.
Systemic discrimination
Among them are the indigenous, people of African descent and those belonging to national or ethnic, religious and linguistic minorities, whose rights have been denied by systemic racial discrimination.
Ms. Bachelet emphasized that those suffering racial discrimination, more often work in the informal sector, many living in poverty and at risk of losing their jobs, with no social protection.
"Yet again, those facing racial discrimination are most often the ones with fewer conditions to study at their homes, fewer digital skills and limited or no access to the Internet. Some may even never return to school".
Still, despite overwhelming evidence, a lack of disaggregated data on how the COVID-19 pandemic has been affecting victims of racial discrimination are underestimating – or even denying – disparities and human rights violations.  MW
Scapegoating migrants
The pandemic has also revealed the additional vulnerability of migrants, refugees, asylum seekers and Stateless people, Ms. Bachelet pointed out.
Without State protections and with serious restrictions on their rights, many are harassed, arbitrarily arrested and face mass deportation.
"We have seen a rise in discriminatory and xenophobic attitudes affecting Asians and people of Asian descent, which often lead to violence", Ms. Bachelet underscored.  "Even before the pandemic, we were witnessing a worldwide increase in negative stereotypes against certain groups".
Migrants and other racially discriminated groups are often the scapegoats for problems, particularly in relation to housing and employment shortages, according to the High Commissioner.
Women facing 'excessive burden'
The crisis is disproportionately impacting women as well, particularly those already facing gender, race and ethnic discrimination.
"They are subject to an excessive burden of unpaid work, increased poverty, job insecurity and limited access to public services", the UN rights chief said. "Women have also been on the frontlines of response to the health crisis and are more exposed to infection".
Greater equality is "an ethical obligation…a pre-requisite for overcoming these crises and a requirement to recover from COVID-19 and build back better", she upheld.
Cindy Sirinya Bishop new UN Women Regional Goodwill Ambassador for Asia Pacific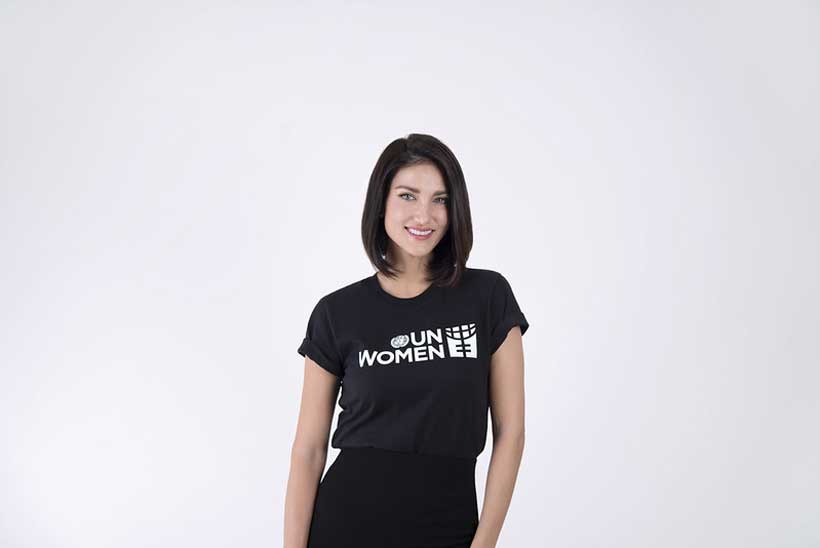 Thai celebrity and rights activist Cindy Sirinya Bishop is working to stop violence and other abuses against women as the newly appointed UN Women Regional Goodwill Ambassador for Asia and the Pacific.
Bishop, 41, is a model and actress who is best known as the host of Asia's Next Top Model, a television show broadcast in most countries in the region.
During her 2-year appointment, which began in September, Bishop is representing UN Women to promote gender equality and other UN Women priority goals, raise funds and build partnerships. She is promoting public awareness through education, dialogue and cooperation with schools, communities and governments.
"It is truly an honour to become the first UN Women Goodwill Ambassador to Asia and the Pacific," Bishop said. "My mother instilled in me very early on a strong sense of justice and fierce belief in the resilience and strength of women, and these values continue to guide me today. I am so deeply grateful for the opportunity to work towards achieving greater gender equality in the region, especially in the areas of eliminating gender-based violence and in providing equal opportunity for girls and women to realize their full potential."
Bishop is one of Thailand's leading campaigners on ending violence against women.
In early 2018, she came across a newspaper headline about Thai authorities telling women to not look "sexy" if they want to avoid sexual assault during the Thai new year festival. Having experienced violence herself at the festival, Bishop spoke out in a social media video hashtagged #DontTellMeHowtoDress. #DontTellMeHowtoDress quickly evolved into a movement championing gender equality and has been extensively covered by local and international media.
In July 2018, Bishop collaborated with UN Women to organize the Social Power Exhibition Against Sexual Assault. The exhibition was supported by United Nations agencies; the governments of Thailand, the Philippines and Singapore; the Association of Southeast Asian Nations; embassies; the media; and civil society and youth groups. Bishop worked with civil society organizations in the Philippines and Singapore on #DontTellMeHowToDress.
In November 2018, Bishop received the "Activist of the Year Award" from the office of the Prime Minister of Thailand.
Bishop also is the Knowledge Director of Dragonfly360, a regional platform that advocates for gender equality in Asia. She is writing a series of children's books on safety, rights and respectful relationships.
"Your strong commitment to ending violence against women, demonstrated through your creation of the #DontTellMeHowtoDress movement and your work with UN Women so far, has shown you to be a compelling and eloquent advocate," UN Women Regional Director Mohammad Naciri said in inviting Bishop to be UN Women regional goodwill ambassador.
UN Women is the United Nations organization dedicated speeding up progress on gender equality and the empowerment of women worldwide.
Misuse of terrorism laws during conflict creates 'unmitigated calamity'
The misuse of terrorism laws during conflict situations often leads to an "unmitigated calamity" on the ground, an independent UN expert has warned.
Fionnuala Ní Aoláin, UN Special Rapporteur on the promotion and protection of human rights while countering terrorism, told the General Assembly on Thursday that what are being billed by some governments as counter-terrorism measures, are being applied frequently to address domestic strife and in complex humanitarian settings.
In these cases, they can have a catastrophic impact on civilian populations, she said, which are being "squeezed by broadly framed terrorism laws and practices with little or no recourse, when misuse occurs".
Protecting rights, enforcing norms
The independent expert identified a "profoundly" worrying pattern whereby some States are ignoring or undermining humanitarian rules because counter-terrorism "offers a more open-ended, under-regulated and opaque set of tools", to manage complex problems.
Her report tracks the essential relationship between protecting the human rights of the most vulnerable – including the elderly and children – in complex and fragile settings and enforcing basic humanitarian norms, including providing humanitarian assistance.
"I am profoundly troubled by the failure to apply humanitarian exemptions for activities that are humanitarian and impartial in nature", said Ms. Ní Aoláin.
"Such short-sighted tactics of withholding or criminalizing humanitarian assistance only prolongs conflicts, alienates those who are needed to ultimately resolve such conflicts, and hurts the most marginal in society".
Affirm compliance
In her report, the Special Rapporteur acknowledged the Security Council's "persistent and unequivocal affirmation" that counter-terrorism measures must "always and fully" comply with the overarching norms of international human rights law, international humanitarian law and refugee law.
She called on States to review existing sanctions systems to make sure that they are rule of law-compliant and provide "meaningful opportunity to challenge, review and end sanctions practices for affected individuals and their families".
The UN envoy also applauded the work of impartial humanitarian actors, who carry out their duties in extreme conditions and under significant stress to protect the vulnerable.
"The challenge now for States is to acknowledge and protect these actors effectively", she spelled out.
Bolivia elections, an opportunity to defuse extreme polarization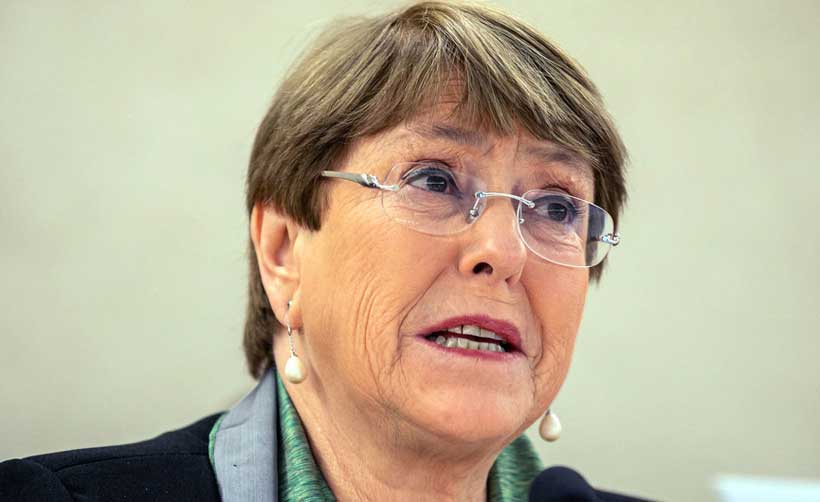 The UN's top human rights official has called on all actors in Bolivia to remain calm and refrain from any action that could undermine the peaceful conduct of the general elections, taking place on Sunday.
Michelle Bachelet, UN High Commissioner for Human Rights, urged Bolivians to use the polls as an opportunity to "defuse extreme polarization" plaguing the Latin American country over the past few years.
"Everyone should be able to exercise the right to vote in peace, without intimidation or violence," she said in a statement, on Friday.
"These elections represent an opportunity to really move forward on social and economic fronts, and to defuse the extreme polarization that has been plaguing Bolivia over the past few years."
In light of the political and human rights crises unleashed during the previous attempt to carry out the elections a year ago, Ms. Bachelet expressed hope that Sunday's elections would take place in a calm, participatory and inclusive manner, in an environment that ensures respect for the human rights of all people in Bolivia.
Bolivia fell into crisis last October after President Evo Morales declared victory in disputed elections that would have granted him a fourth term, prompting mass protests. Dozens were killed and hundreds injured, amid reports of widespread human rights violations and abuses.
Mr. Morales later stepped down and left the country.
'Serious concern' over inflammatory language
The High Commissioner also voiced serious concern at the inflammatory language and threats made by some political actors in recent weeks, as well as the increasing number of physical attacks that have been taking place.
"It is essential that all sides avoid further acts of violence that could spark a confrontation," she said.
"No one wants to see a repeat of last year's events, which led to extensive human rights violations and abuses, including at least 30 people killed and more than 800 injured – and ultimately to everyone losing out."
The UN human rights office (OHCHR) deployed a mission to Bolivia in November 2019. The mission remains in the country, to monitor and report on any human rights violations and abuses, including in the context of the elections.