Corruption represents 'ultimate betrayal' of public trust
Corruption is not only a crime but immoral and the "ultimate betrayal" of public trust, the UN Secretary-General has said, calling on everyone to work together and stamp out the global scourge, in all its forms.
In a statement issued on Thursday, Secretary-General António Guterres underlined that in the midst of the COVID-19 pandemic, corruption was proving to be even more damaging in its impact on the most vulnerable.
'New opportunities' for exploitation
"The response to the virus is creating new opportunities to exploit weak oversight and inadequate transparency, diverting funds away from people in their hour of greatest need," the Secretary-General said.
Corruption during the pandemic can seriously undermine good governance globally, and send the world even further off-track in in its efforts to achieve the Sustainable Development Goals (SDGs), he added.
There are also very direct risks to health: "Unscrupulous merchants peddle faulty products such as – defective ventilators, poorly manufactured tests or counterfeit medicines", said Mr. Guterres, noting that collusion among those who control supply chains has led to outrageous price hikes, skewing the market and denying many people life-saving treatment.
The UN will continue to prioritize transparency and accountability, in and beyond the COVID-19 response, the UN chief pledged.
Verify suppliers, determine fair prices
The Secretary-General called on Governments to be careful and not act in haste, making sure to vet suppliers, and ensure fair pricing of essential goods as supply chains continue to be under strain.
He also urged everyone to join hands against corrupt and exploitative acts.
"We must work together to stop such thievery and exploitation by clamping down on illicit financial flows and tax havens; tackling the vested interests that benefit from secrecy and corruption; and exercising utmost vigilance over how resources are spent nationally", urged Mr. Guterres.
We must create more robust systems for accountability, transparency and integrity without delay, he added.
Everyone has a part to play
Mr. Guterres also called for governments and leaders to be transparent and accountable, and for businesses to act responsibly, highlighting the importance of a vibrant civic space and open access to information.
Whistle-blowers who expose wrongdoing, must get the legal protection they deserve, in calling out corruption.
"Technological advances can help increase transparency and better monitor procurement of medical supplies," explained the Secretary-General, adding that anti-corruption bodies should be supported and empowered.
UN Convention against Corruption
The Secretary-General also urged nations to use a vital tool, provided by the UN: adopted by the General Assembly in 2003, the United Nations Convention against Corruption, entered into force in December 2005. It currently has 187 States Parties.
It is the only legally binding universal anti-corruption instrument, and its far-reaching approach and the mandatory character of many of its provisions make it a unique tool for developing a comprehensive response to corruption.
Through five key areas – preventive measures; criminalization and law enforcement; international cooperation; asset recovery; and technical assistance and information exchange – the Convention covers many different forms of corruption, such as bribery, trading in influence, abuse of functions, and various acts of corruption in the private sector.
PM Kishida Outlines Vision for a New Form of Capitalism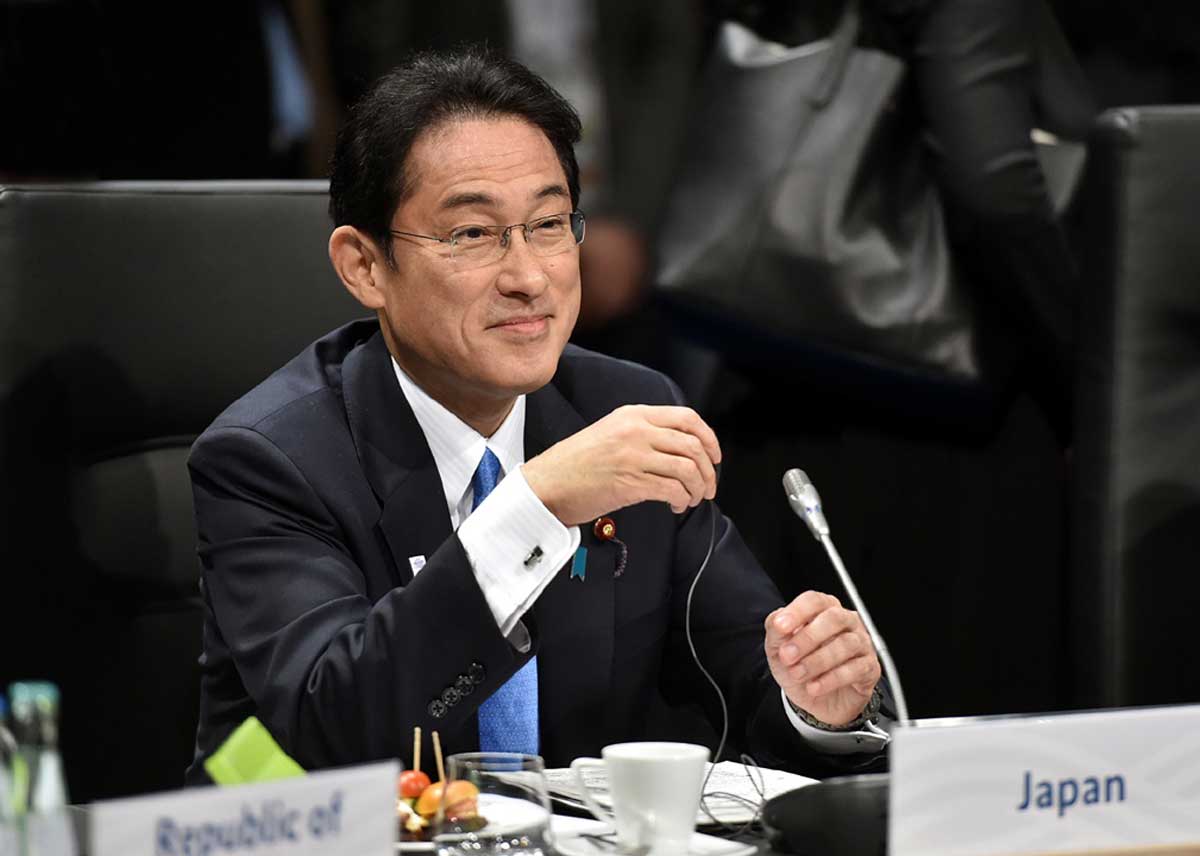 Japanese Prime Minister Kishida Fumio called for a new form of liberal democratic capitalism, balancing economic growth and distribution, in a special address to business, government and civil society leaders taking part in the World Economic Forum's virtual event, the Davos Agenda 2022.
"A key focus of my administration will be the revitalization of Japan through a new form a capitalism," he said. Unfettered state capitalism without adequate checks and balances produces problems such as widening income gaps, rural-urban disparities and social tensions, he added.
Kishida emphasized that the time has come for "historic economic and social transformations". He said Japan will pioneer a new form of public-private partnership, with leaders of government, industry and labour all working together to develop paradigm-shifting policies. "There has been an overreliance on competition and self-regulation to constrain the excesses of market forces," he added. "This must change."
These reforms will build on emerging strength shown by Japan's economy. However, he reiterated that current policies are not sufficient to ensure that growth is sustainable and inclusive.
The prime minister called for Japan to lead the world in green transformation. He said investment in green technology "will be more than doubled" and become an engine of growth. He also announced that a carbon pricing system will be introduced as soon as possible and Japan will continue to support the Asian emissions trading market.
"Japan remains committed to the Paris Agreement and will achieve carbon neutrality by 2050," he said. Private and public sector leadership will work tightly together on the demand and the supply side to support the transformation. One focus for Japan's clean energy strategy is to reform the energy sector, which accounts for more than 80% of greenhouse gas emissions. Smart grids, upgraded power and distribution networks as well as low-carbon energy sources like solar and wind energy are all part of the solution, he said.
Another important pillar for Japan's transformation is digitization. "While Japan has traditionally lagged in digital uptake, COVID-19 has given Japan a chance to leap-frog its digitization efforts," Kishida said. To support this, the government will invest heavily in next-generation networks, optical fibre and 5G-related infrastructure – extending it to 90% of the population over two years.
Kishida also laid out plans for increased corporate disclosure to encourage investment in human capital. "Investment in people is often regarded as a cost, but it is a source of medium to long-term corporate value," he said.
The prime minister pointed out that Japan continues to take a cautious approach to COVID-19, with borders closed until the end of February. "Changes will be made to border policies as more data comes in," he said. The government is taking a realistic view and he stressed that a zero-tolerance policy towards COVID-19 is neither possible nor appropriate.
Klaus Schwab, the World Economic Forum's Founder and Executive Chairman, thanked Japan for taking an active part in collaborative global efforts to combat shared challenges. "The capabilities of the Fourth Industrial Revolution open up new possibilities and opportunities," Schwab said. "The future will be much greener, more digital and human-centred."
China: $1.9 Trillion Boost and 88M Jobs by 2030 Possible with Nature-Positive Solutions
Nearly $9 trillion, two-thirds of China's total Gross Domestic Product (GDP), is at risk of disruption from nature loss. Making China's economy 'nature-positive' could generate $1.9 trillion in additional annual revenue and create 88 million jobs by 2030.
These are the findings of the latest report by the World Economic Forum Seizing Business Opportunities in China's Transition Towards a Nature-positive Economy.
"Businesses can create a virtuous cycle between people, planet and profit. Investing in and living in harmony with nature will better secure sustained performance and prosperity. Chinese businesses can harness technologies and innovation, while adopting and promoting the UN Global Biodiversity Framework to collectively shape a more resilient and beautiful future for China," said Gim Huay Neo, Managing Director, World Economic Forum.
The new report, in collaboration with Golden Bee, shows how significant business opportunities can be created if new business practices are adopted across three socio-economic systems: food, land and ocean use; infrastructure and the built environment; and energy and extractives. These systems are interconnected and can unlock untapped economic potential.
The report highlights progress to date, provides case studies and offers recommendations to accelerate new growth across these three systems.
– Food, land and ocean use: Six transitions can generate almost $565 billion in additional annual revenue and create 34 million new jobs by 2030. One of transitions identified would be – eco-tourism, projected to create some $53 billion of additional revenue in China – providing the largest business opportunity in accelerated ecosystem restoration and avoided land and ocean over-exploitation.
– Infrastructure and built environment: Five transitions to transform this system could add roughly $590 billion in annual revenue and create 30 million new jobs by 2030. An example of a key opportunity in this system's transformation is promoting the use of smart parking – a market worth $94 billion in 2020 but expected to grow to around $219 billion by 2025.
– Energy and extractives: Four transitions could create almost $740 billion in additional revenue per year and 23 million new jobs by 2030. Improving how resources are used or reused throughout the vehicle lifecycle could create roughly $122 billion of commercial value and over 3.7 million jobs by 2030 in China.
"Nature is critical to China's continued prosperity and social development. It is also at the heart of its 'ecological civilization' vision and intrinsically linked to its climate agenda. While our economy is currently facing non-negligible risk from nature loss, this report shows that taking bold action to 'put nature first' can secure our economic, social and climate ambitions while creating substantial business value." said Justin Lin Yifu, Dean, Institute of New Structural Economics, Peking University, Beijing.
The report also sets out how China is well-placed to lead the transition to a carbon-neutral and nature-positive economy by delivering its "ecological civilization" vision and implementing its new national biodiversity conservation strategy.
The potential gains for China in transforming its economy represent nearly 20% of global business opportunities and jobs creation. As the world enters a decisive decade for action on nature and climate, Chinese government and businesses need to work closely to raise global ambition on biodiversity commitments, drive policy and regulatory changes, lead technological innovations, and mobilize investment.
"China is uniquely positioned to lead a global movement towards a nature-positive, carbon-neutral future. As the president and host of the Convention on Biological Diversity's COP 15, it provides leadership in setting forth an integrated agenda which builds societal, economic and ecological resilience." said Elizabeth Mrema, Executive Secretary of the United Nations Convention on Biological Diversity.
Vietnam's economic growth is expected to accelerate to 5.5% in 2022
Vietnam's economic recovery is likely to accelerate in 2022 as GDP growth is expected to rise to 5.5% from 2.6% in the year just ended, the World Bank's economic update for Vietnam Taking Stock says.
Assuming the COVID-19 pandemic will be brought under control at home and abroad, the forecast envisions that Vietnam's services sector will gradually recover as consumer and investor confidence firms, while the manufacturing sector benefits from steady demand from the United States, the European Union, and China. The fiscal deficit and debt are expected to remain sustainable, with the debt-to-GDP ratio projected at 58.8 percent, well below the statutory limit.
The outlook, however, is subject to serious downside risks, particularly the unknown course of the pandemic. Outbreaks of new variants may prompt renewed social distancing measures, dampening economic activity. Weaker-than-expected domestic demand in Vietnam could weigh on the recovery. In addition, many trading partners are facing dwindling fiscal and monetary space, potentially restricting their ability to further support their economies if the crisis persists, which in turn could slow the global recovery and weaken demand for Vietnamese exports.
Careful policy responses could mitigate these risks. Fiscal policy measures, including temporary reduction of VAT rates and more spending on health and education, could support aggregate domestic demand. Support for affected businesses and citizens could be more substantial and more narrowly targeted. Social protection programs could be more carefully targeted and efficiently implemented to address the severe and uneven social consequences of the crisis. Heightened risks in the financial sector should be closely monitored and addressed proactively.
Entitled "NO TIME TO WASTE: The Challenges and Opportunities of Cleaner Trade for Vietnam," this edition of Taking Stock argues that greening the trade sector should be a priority. Trade, while an important driver of Vietnam's remarkable economic growth over the past two decades, is carbon-intensive —accounting for one-third of the country's total greenhouse gas emissions — and polluting.
While Vietnam has started to decarbonize activity associated with trade, more needs to be done to respond to mounting pressures from main destination markets, customers, and multinational companies for greener products and services.
"Trade will be key component of Vietnam's climate actions in the years to come," said Carolyn Turk, World Bank Country Director for Vietnam. "Promoting greener trade will not only help Vietnam follow through on its pledge to reach net zero emission in 2050 but will also help it keep its competitive edge in international markets and ensure trade remains a critical income and job generator."
The report recommends the Government act on three fronts: facilitate the trade of green goods and services, incentivize green foreign direct investment, and develop more resilient and carbon-free industrial zones.
Taking Stock is the World Bank's bi-annual economic report on Vietnam.