Terrorism and FATF's Sword of Damocles
Pakistan is struggling hard to wriggle out of the Financial-Action –Task-Force grey. Pakistan needs 15 out of 39 votes to get rid of being listed. But, it may remain on grey list if it gets only three votes.
The whole listing procedure looks biased as it does not accommodate Pakistan's perception. The main allegation is that Pakistan harborus UN-designated terrorists. But, the yardstick with which the US measures its allegation is lopsided. The UN views ongoing freedom movement in the Jammu and Kashmir State, a dispute d territory under UN resolutions, `terrorism', aided by Pakistan.
In the historical context, the term meant different things to different individuals and communities. The oldest 'terrorists' were holy warriors who killed civilians. Recent examples of religious terrorists are Aum Shinrikyo (Japanese), Rabbi Meir Kahane and Baruch Goldstein and Yigal Amir (Jews).The Jewish-controlled media describes Hezbollah and Hamas as 'religious terrorists'. In the first century A.D Palestine, the Jews publicly slit the Romans' throats, in the seventh century India, the thugs strangulated gullible passersby to please the Hindu Devi Kali, and the 19th century adherents of Narodnaya Volya (People's Will) mercilessly killed their pro-Tsar rivals.
`Terrorist' and `freedom fighter' had been interchangeable labels subject to expediency. Not long ago the US treated the taliban as freedom fighters. Ronald Reagan accorded red carpeted welcome to Jalluddin Haqqani. Cuban terrorists were decorated in US gallery as freedom fighters.
The term 'terrorism' received international publicity during the French reign of terror in 1793-94. It is now common to dub one's adversary a 'terrorist'. Doing so forecloses possibility of political negotiation, and gives the powerful definer the right to eliminate the 'terrorist', an individual or a country. FATF is employed as a Sword of Damoclese in case of Pakistan.
Doval doctrine: In line with India's security Czar Ajit Doval's Doctrine, RAW aims at fomenting insurgency in Pakistan's sensitive provinces. Doval is inspired by India's nefarious efforts which resulted in the secession of East Pakistan. Naila Baloch's `free Balochistan' office has been working in New Delhi since 23 June 2018. BJP MLAs and RAW officers attended its inauguration.
B Raman in his books admitted that not only India's then prime minister Indra Gandhi but also the heads of RAW and IB created and trained Mukti Bahini. Doval publicly claims that he acted as a spy under a pseudonym in Pakistan for 11 years.
`Free Balochistan': It sponsored offensive posters on taxi cabs and buses in Switzerland and Britain. The USA has recently outlawed Balochistan Liberation Army. However, earlier, in 2012, a handful of Republican had moved a pro-separatist bill in US Congress. It demanded `the right to self-determination'.
Aid to Afghan insurgents: India's ambassador Bharath Raj Muthu Kumar, with the consent of then foreign minister Jaswant Singh, `coordinated military and medical assistance that India was secretly giving to Massoud and his forces'… `helicopters, uniforms, ordnance, mortars, small armaments, refurbished Kalashnikovs seized in Kashmir, combat and winter clothes, packaged food, medicines, and funds through his brother in London, Wali Massoud', delivered circuitously with the help of other countries who helped this outreach'. When New Delhi queried about the benefit of costly support to Northern Alliance chief Massoud, Kumar explained, "He is battling someone we should be battling. When Massoud fights the Taliban, he fights Pakistan."
Pushtun Tahafuz Movement: Pushtun Tahafuz Movement is apparently being backed byA India. In their over-ebullient speeches, PTM's leaders openly scold Pakistan's national security institutions. For instance, Manzoor Pashteen, in an interview, berates Pak army operations and extols drone strikes. He says, 'The army did not eliminate even a single Taliban leader. All the 87 Taliban commanders killed in the last 18 years were eliminated in drone strikes'. At a PTM meeting in Britain, even Malala Yusafzai's father (Ziauddin), like His Master's Voice, echoed anti-Army sentiments. He said, "Pakistan army and intelligence agencies knew that Fazalullah was a terrorist who continued to operate a radio station in Swat."
RAW officers Raman's and RK Yadav's self-incriminating disclosures: In a published letter, Yadav made startling revelation that India's prime minister Indira Gandhi, parliament, RAW and armed forces acted in tandem to dismember Pakistan. The confessions in his letter are corroborated by B. Raman's book The Kaoboys of R&AW. He reminds `Indian parliament passed resolution on March 31, 1971 to support insurgency. Indira Gandhi had then confided with Kao that in case Mujib was prevented , from ruling Pakistan, she would liberate East Pakistan from the clutches of the military junta. Kao, through one RAW agent, got hijacked a Fokker Friendship, the Ganga, of Indian Airlines hijacked from Srinagar to Lahore.
Kulbushan Jadhav unmasked: Jadhav was an Indian Navy officer, attached to RAW. His mission was to covertly carry out espionage and terrorism in Pakistan. Pakistan also alleged there were Indian markings on arms deliveries to Baloch rebels pushed by Jadhav. To India's chagrin, India's investigative journalists confirmed from Gazettes of India that he was commissioned in the Indian Navy in 1987 with the service ID of 41558Z Kulbhushan Sudhir. A later edition of the Gazette showed his promotion to the rank of commander after 13 years of service in 2000. His passport, E6934766, indicated he traveled to Iran from Pune as Hussein Mubarak Patel in December 2003. Another of his Passports, No. L9630722 (issued from Thane in 2014), inadvertently exposed his correct address: Jasdanwala Complex, old Mumbai-Pune Road, cutting through Navi Mumbai. The municipal records confirmed that the flat he lived in was owned by his mother, Avanti Jadhav. Furthermore, in his testimony before a Karachi magistrate, Karachi underworld figure Uzair Baloch confessed he had links with Jadhav. India's prestigious Frontline surmised that Jadhav still served with the Indian Navy. Gazette of India files bore no record of Jadhav's retirement. India told the International Court of Justice (ICJ) that Jadhav was a retired naval officer. But, it refrained from stating exactly when he retired. The spy initially worked for Naval Intelligence, but later moved on to the Intelligence Bureau. He came in contact with RAW in 2010.
Unexplained contradiction: It is not understood why freedom movement in disputed Kashmir is terrorism while India-sponsored insurgency, followed by armed intervention, in erstwhile East Pakistan isn't. B. Raman, in his book The Kaoboys of R&AW: Down Memory Lane makes no bones about India's involvement up to the level of prime minister in Bangladesh's insurgency. One is shocked to read accounts of former diplomats and RAW officers about executing insurgencies in some other neighbouring countries also.
Conclusion: India portrays the freedom movement in Kashmir as `terrorism'. What about India's terrorism in neighbouring countries? Will the world take notice of confessions by India's former intelligence officers and diplomats? Pakistani outfits sdympathising with kashmiri freedom fighters are dubbed as terrorists. But, Indians abetting terrorism in Sri Lanka, or supplying IED components to ISIS go scot free.
B Raman 's book, and RK Yadav's letter of 14 August 2015 published in Indian and Nepalese media confirms India's involvement in terrorism against Pakistan. Kalbushan Jhadav wanted to replay the Mukti Bahini experience in Balochistan and Khyber Pakhtunkhwa.
The conduct of Indian diplomats amounts to state-sponsored terrorism. For one thing, India should close the `Free Balochistan' office on her soil, and stop resuscitating propaganda skeletons of pre-Bangladesh days.
'Disturbing spike' in Afghan civilian casualties after peace talks began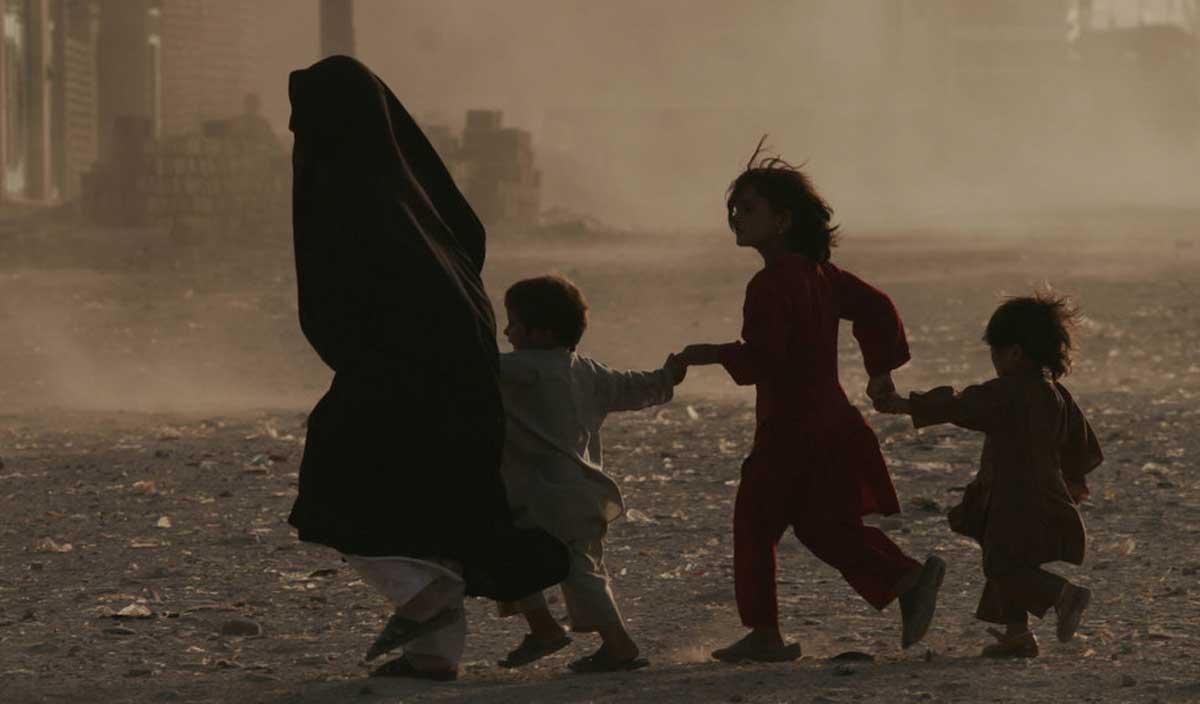 Civilian casualties in Afghanistan witnessed a sharp rise since peace negotiations started in September last year, even though overall deaths and injuries dropped in 2020, compared to the previous year, according to a UN human rights report launched Tuesday.
In their annual Afghanistan Protection of Civilians in Armed Conflict Annual Report, the Office of the UN High Commissioner for Human Rights (OHCHR) and the UN Assistance Mission in the country (UNAMA) documented some 8,820 civilian casualties (3,035 deaths and 5,785 injuries) in 2020, about 15 per cent less than in 2019.
It was also the first time the figure fell below 10,000 since 2013.
However, the country remains amongst the "deadliest places in the world to be a civilian", according to Michelle Bachelet, UN High Commissioner for Human Rights.
"I am particularly appalled by the high numbers of human rights defenders, journalists, and media workers killed since peace negotiations began in September", she said.
At least 11 rights defenders, journalists and media workers lost their lives since September, resulting in many professionals exercising self-censorship in their work, quitting their jobs, and even leaving their homes and the country – in hope it will improve their safety.
Rise in 'targeted killings'
According to the report, the overall drop in civilian casualties in 2020 was due to fewer casualties from suicide attacks by anti-Government elements in populated areas, as well as drop in casualties attributed to international military forces.
There was, however, a "worrying rise" in targeted killings by such elements – up about 45 per cent over 2019. The use of pressure-plate improvised explosive devices (IEDs) by the Taliban, air strikes by the Afghan Air Force, and ground engagements also resulted in increased casualties, the report said.
According to the report, anti-Government elements bore responsibility for about 62 per cent civilian casualties, while pro-Government forces were responsible for about 25 per cent casualties. About 13 per cent of casualties were attributed to crossfire and other incidents.
2020 could have been 'a year of peace'
Deborah Lyons, Special Representative of the UN Secretary-General for Afghanistan and head of UNAMA, called on all parties to take immediate and concrete action to protect civilians, urging them "not to squander a single day in taking the urgent steps to avoid more suffering".
"2020 could have been the year of peace in Afghanistan. Instead, thousands of Afghan civilians perished due to the conflict", Ms. Lyons said.
The "overriding objective" of the report is to provide the parties responsible with the facts, and recommendations, so they take immediate and concrete steps to protect civilians, she added.
Ms. Lyons highlighted that "ultimately, the best way to protect civilians is to establish a humanitarian ceasefire" – a call consistently made by Secretary-General António Guterres and the Security Council.
"Parties refusing to consider a ceasefire must recognize the devastating consequences of such a posture on the lives of Afghan civilians."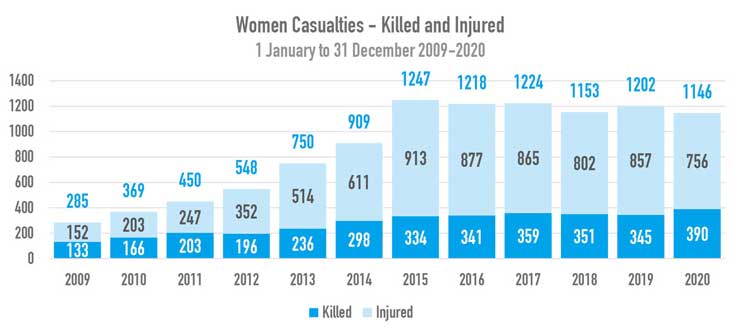 UNAMA-OHCHR report: Women casualties (killings and injuries) documented between 1 January 2009 and 31 December 2020
'Shocking toll' on women and children
The report went on to note that the years-long conflict in Afghanistan "continues to wreak a shocking and detrimental toll" on women and children, who accounted for 43 per cent of all civilian casualties – 30 per cent children and 13 per cent women.
"This report shows the acute, lasting needs of victims of the armed conflict and demonstrates how much remains to be done to meet those needs in a meaningful way", High Commissioner Bachelet said.
"The violence that has brought so much pain and suffering to the Afghan population for decades must stop and steps towards reaching a lasting peace must continue."
Attacking civilians 'serious violations'
With the conflict continuing, parties must do more to prevent and mitigate civilian casualties, the report said, urging them to fully implement the report's recommendations and to ensure that respect and protection of human rights is central to the ongoing peace negotiations.
It also reminded the parties that deliberately attacking civilians or civilian objects are serious violations of international humanitarian law that may amount to war crimes.
Is Blacklisting on Cards for Pakistan?
Financial Action Task Force (FATF) has been an integral part of the economic decision making and regulatory procedures of the country. The days of the ultimate decision are finally on cards as the Global Watchdog is expected to evaluate and review the performance and strategies of Pakistan via virtual meeting tentatively scheduled for February 22-25, 2021. This would be a much-anticipated review since a keen eye would be payed following a long hiatus to the litigations recently undertaken by the country to eliminate the risks and gaps in the financial framework which might earn Pakistan, a way out from the grey list. However, while the preceding meeting only guided more hopes for better litigation and measures to curb terror financing, brimming foreign propaganda and nefarious rulings within the country itself might hamper the way out but instead could dig the trench further towards a harrowing financial turmoil.
Pakistan was placed on the grey list back in June 2018 due to strategic deficiencies. Just before the Covid-19 pandemic wreaked havoc in the world, Pakistan was allowed a breather of 4-months to comply with the 27-point action plan; of which Pakistan met only 14 targets while missing out on the rest of 13 targets. Moreover, Pakistan could only satisfy 10 of a total of 40 recommendations devised by the task force. These lags led to a major pitfall in the Pakistan's Stock Market; PSX plummeting bellow 30,000 points. Furthermore, a bitter narrative started blooming regarding arch-rival India pulling all the strings to push Pakistan down further, even in the blacklist. This was largely shunned by the Indian representatives but the failure of the economic and diplomatic front of Pakistan was evident by now.
The FATF plenary was scheduled, like traditionally, in June. However, all scheduled evaluations and review procedures were deferred for 4-months in the wake of the Covid-19 pandemic, allowing yet another unforeseen yet thoroughly welcomed relief span to Pakistan to strive more actively to meet the requirements.
In the preceding 4 months, Pakistan acutely worked to amend the contradicting laws and policies, the parliament playing an agile role to introduce new bills relating to counter-terrorism and countering money laundering as an act to expedite compliance to the international laws and ultimately meeting up all 27 points in the action plan. Almost all the bills presented, albeit some political resistance, were eventually passed which even led to optimism in the stock market; PSX climbing back over 40,000 points after more than half a year, rallying to record high levels despite of the pandemic wreaking havoc on the investors' mentality across the globe.
The meeting held, after a steep deferral, back in October 2020; the FATF committee observed and commended on the vigilant stance assumed by Pakistan to crawl out of the Grey list. Pakistan has since delivered on 22 out of the 27 core points of the action plan defined. However, the meetings adjourned till February, retaining Pakistan in the grey list under the tag of 'jurisdiction under enhanced monitoring' whilst praising the steps of counter-terrorism and anti-money laundering adopted by Islamabad.
Pakistan was warned back in February last year that if not complied by the 27-point action plan, it could be a great threat to the foreign mechanism and would be eventually moved to the monitored jurisdiction, notoriously also known as the 'Blacklist'. Later this month, FATF would examine if Pakistan meets the 8 key categories of the action plan; remedial actions taken against money laundering, counterfeit terrorism while also reviewing the vigilance of the institutions in countering Terror Financing and actively managing risk. The committee representing Pakistan would perpetually convince the plenary that the country in-fact meets the criteria and transitioning over the next month, the fate of the tormented economy would finally prevail in light of the decision made.
However, Pakistan has been sluggish in taking action against the notorious entities linked to terrorism around the region. The meeting nears with the pinned watch of UN regarding Pakistan's role of providing a safe haven to Lashkar-e-Taiba founder, Hafiz Saeed, or the notorious acquittal of Ahmed Omer Sheikh, the prime culprit of the Daniel Pearle Murder case of 2002. Pakistan, however, claims to have made virtue on 22 of the defined 27 points while has garnered 'Substantial progress' on the remaining 5 points. Thus, the optimism brews that the meeting would push the country out of the list and would open more financial avenues especially in these distressful conditions.
Although Pakistan's Foreign Office including the Foreign Minister, Shah Mahmood Qureshi, appears optimistic to climb out of the grey list after 3 years, the infamous decisions passed by the Supreme Court of Pakistan, the excessive money laundering cases surging against the ex-office holders of Pakistan and the determined efforts of India to subvert Pakistan in global politics, all thwart down that optimism bit by bit. And while some of the economic experts claim that the decision of advancing Pakistan off the Grey list would be naïve move and would arguably impact regional dynamics, the decision could fall in tandem with the preceding outcome of sustaining the grey list status or could deteriorate the level further as gauged by a political expert, opining his narrative: "The facts demand that Pakistan remain on the grey list. The FATF shouldn't just keep Pakistan on the grey list. It should rather warn Islamabad that absent rapid and wide-ranging reform; blacklisting is coming".
Europe Must Confront Iranian Regime's Terrorism
After a two-and-a-half-year investigation, on 4thFebruary 2021, a Belgian court sentenced four culprits for attempting to bomb a large gathering of tens of thousands, including politicians and dignitaries, at a global summit organized by the Iranian opposition – the National Council of Resistance of Iran (NCRI) – in Villipinte, France in June 2018.
The perpetrators who attempted to attack the global summit included Assadollah Assadi, a senior accredited Iranian diplomat, who received the maximum sentence of 20 years in prison on attempted murder and terrorism charges – and his three accomplices who were imprisoned for 15,17, and 18 years, respectively. This was the first time that an Iranian diplomat was convicted in Europe.
The conviction and the sheer scale of the crime requires the EU to reconsider its approach to the Iranian regime.
The 2018 global summit was attended by tens of thousands of people who advocate for democracy and freedom in Iran. If the foiled terrorist plot had been successful, thousands of innocent people, including European citizens and prominent political figures, would have been killed or injured. The head of Belgium's national security has blamed the Iranian regime for orchestrating the attack, including Iran's Foreign Ministry and Ministry of Intelligence and Security who played a significant part in the execution of the attack.
Such terrorism-related trials are not new for the regime. In 1997, the regime was tried for a major terrorist act in Germany. The proceedings were called the Mykonos trial after a Berlin restaurant in which regime agents gunned down several opponents.
In a report dated April 10, 1997, the European Union's Presidency stated: "The High Court of Justice's findings in Berlin in the Mykonos case indicates Iranian regime officials' involvement at the highest level."
On April 29, 1997, the Council of the European Union reaffirmed that progress in normalizing relations between the EU and Iran would only be possible if Tehran's officials respect international law and cease terrorist acts, including those against Iranians residing abroad. When the regime refused to comply,Europe made a declaration to expel Iranian nationals with intelligence and security ties. Twelve countries that were not members of the European Union at the time also complied with the declaration.
21 years after the Mykonos trial, Assadi used his diplomatic cover to take a high-powered explosive on a passenger plane from Iran to Austria. He then personally handed it over to two intelligence agents to detonate it at the NCRI rally in Paris. The irrefutable evidence in this case shows Iranian regime officials' involvement at the highest levels.
Separately, the regime's ambassador and three diplomats were expelled from Albania (January 2020), three diplomats were expelled from France and the Netherlands (March 2018), and a diplomat was expelled from Denmark (October 2018) in the wake of the regime's terrorist plots. All of these expulsions reveal the involvement of the regime's embassies, Foreign Ministry and Ministry of Intelligence and Security to create terror in the European region.
Despite all of this, the EU has not taken any serious measures to counter the regime's belligerence.
Europe's failure to take appropriate actions has emboldened Tehran. Inaction reassures the regime that it can act with impunity, even in Europe. Europe has essentially communicated to the world's foremost state sponsor of terrorism that not even an attempt to bomb a peaceful gathering, which could lead to the killing of hundreds of European citizens, would bear any consequences. Thus, Europe's appeasement is in large part fueling the regime's aggression.
It is naive to speculate that Tehran's Foreign Minister Javad Zarif did not know about this conspiracy. Zarif sits on the Supreme National Security Council, which approves all such major security decisions. Additionally, his ministry and embassies serve as logistical and operational centers for terrorism and espionage.
Those who hatched and approved this terrorist plot, none other than senior Iranian leadership, must be brought to justice. This step is a necessary deterrent against Tehran, the godfather of international terrorism.
German security officials are reportedly still investigating the numerous trips that Assadi made throughout Europe, where he helped establish an extensive Iranian regime spy network across the region. At the time of his arrest, he had received several receipts for payment of money. The identities of money recipients have yet to be determined. The regime has always used its embassies and so-called religious and cultural centers abroad as centers of espionage against its opponents.
Normalizing diplomatic relations with the Iranian regime must be made contingent on disbanding its terrorist apparatus in Europe and ensuring that it will never again engage in terrorism in Europe. By taking this critical step, European leaders will protect their own citizens and effectively counter the regime's terrorist threats.