Lives, challenges and triumphs of women: Interview with Chitra Banerjee Divakaruni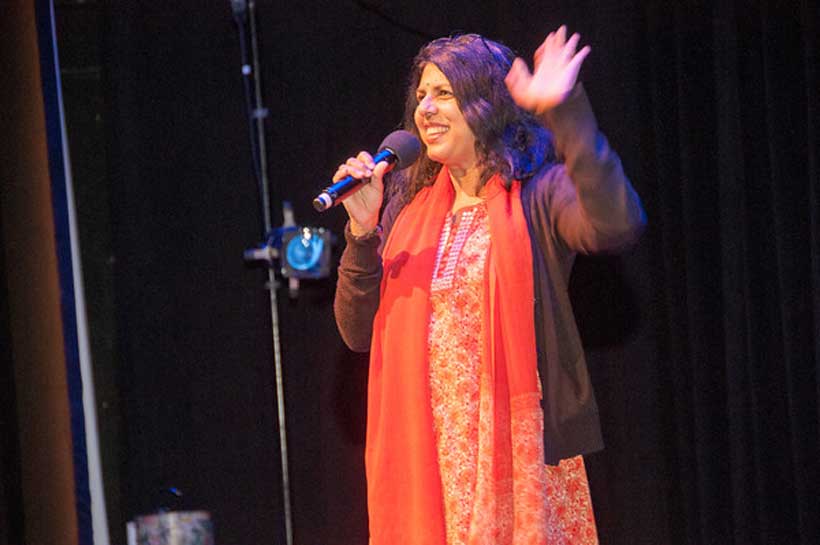 Chitra Banerjee Divakaruni, popularly known for her book "The Palace of Illusions" which narrates the Mahabharata from Drupadi's point of view talks about books, culture and feminism with Modern Diplomacy. Chitra is a celebrated feminist authors who gives voice to women in mythology whose narrative has most often been written and controlled by men. By shifting the focus from men's stories to women's narratives, she increases empathy and understanding of lived women's struggles.
First of all, congratulations on the success of your latest book The Forest of Enchantment. Your work has been loved across different age groups, globally. What inspired you to be a writer?
I was inspired by 3 things: moving to the USA when I was nineteen, the death of my grandfather, and my nonprofit work with domestic violence and trafficking.
When I moved to the US, I began to see more clearly—both the world in India that I had left behind, including many things I valued about my culture. The death of my grandfather made me aware of how fleeting memories are and how soon we forget. My community work with women made me aware of many silent problems that exist in our communities and how important it is to hear these stories and empathize with these lives. All these made me want to write and share my experiences.
Your work seems to have a central theme; Of women and understanding their identity in the backdrop of family, culture and geography. There are few notable writers who are doing good work in this. How important do you think it is, to be able to successfully deliver such stories?
It is very important to showcase the lives, challenges and triumphs of women, and to do so in a way that humanizes them and makes readers identify with them. I believe with such empathy, attitudes change for the better and thus readers' lives begin to transform. So many people have told me that they were inspired by the life of Draupadi depicted in The Palace of Illusions and Sita in The Forest of Enchantments, even though these are characters from long ago. They told me these books gave them inspiration and allowed them to move forward in their own lives. So I know firsthand the importance of women's stories. And I, too, continue to be influenced and inspired by such stories.
You were born in Bengal, a place that has given eminent writers whose works have been celebrated worldwide. Your name is a joyful addition to the already illustrations list. What has Bengal and Kolkata given you, taught you and how did it nurture you while you were growing up?
I grew up reading (in Bengali) the works of Rabindranath Tagore and Sharat Chandra, men who empathized deeply with the plight of women. Later I read Mahasweta Devi, BaniBasu and Mallika Sengupta, among others. All these books inspired me to write about women and gave me good role models. So I think the greatest gift Bengal has given me is the works of its writers.
Why do you believe that in this 21st century world, we still live in the shackles of patriarchy, something that should have been broken long back for an equal, liberal and just world?
There are many complicated reasons. I'll mention two. An important one is the lack of education for girls, which changes our thinking and gives us willpower and confidence. The other is financial independence for women, because without it women are at the mercy of others, including people in their own families. It is very important to work on these. I am happy that in my small way I support organizations like Pratham in India which focus on education as well as vocational training for women.
What is it in a human being that makes her want to express her emotions by penning down her thoughts, what we call poems. Do you believe, like many, that empathy is the most crucial trait to be a poet?
Empathy is important, yes. But observation skills and imagination are equally important. And self-honesty, because many times poems are about our own lives and our understanding of important events and challenges we have faced. Or they can be about nature, where observation and imagination are particularly important.
Your work also includes remarkably portrayed cross cultural references between India and the USA. Did that arrive out of your personal experience? In other words, was that a reflection of your own personal journey of a cultural shift? How was the reaction from the American public on this work?
In some ways, my cross-cultural stories come out of my personal experience, but more so out of my observation. Also listening. I like to listen when people discuss their lives and challenges. The overall reaction from the American public has been very good. I am grateful for all the positive reviews and awards, and some of the books have been on bestseller lists.
Writing stories from Mahabharata and Ramayana from the perspective of the female characters and protagonists. That was bold and made for a tremendous round of applause. How did you come up with the idea?
Thanks for the kind words! I have been impressed and fascinated by the stories of our epics ever since I was a little girl listening to my grandfather telling me these tales. As I grew up, I wondered more and more about the fascinating women characters in the epics, and I became aware of how little space was given to them. We knew their actions but not their thoughts or their hearts. Slowly the desire filled me to write about them, making them the heroines of their world. To really look at who they were and what they had to teach the contemporary women. They were certainly worth learning from, even when they did controversial things! I was worried, though, as to how people would react to this project. Surprisingly, the response has been immensely positive. I am grateful for that.
Your work has been touted as something that reverberates 'simplicity of the language' and is 'rooted in reality'. How important do you think such qualities are for good writing and for getting connected to the readers?
There are many kinds of writers. Each relate to life and to language and to their readers differently. I have always believed that clear, simple language is important. I wish to invite as many readers as possible into my books. I don't want them to be only for intellectual types. I like to read and write from the heart. When my mother was alive, I often thought, I want to write books that are accessible to her. (She was a wonderful, intelligent woman, but she did not have a formal English education, just what she picked up in the course of her life). I believe art should be inclusive, not exclusive.
Tell us how important it is to keep the cultural sanctity of literature festivals alive and running. What role do they play?
Literature festivals are SO important. They create excitement around books and ideas. They bring readers and writers together. They allow writers to have discourses with one another. I learn so much whenever I attend a litfest. I am so glad that India is having more and more festivals, and that some of these are in relatively remote places or smaller cities where people might not have otherwise had the exposure. I am glad to see, especially in India, that young people are excited about books. When I read from Forest of Enchantments in Jaipur, I was delighted to meet many high school and college students who had read my books. I would never have known about that otherwise.
A message that you would like to convey to the young and aspiring writers…
If writing is important to us, we must make time for it in our lives. This means we must simplify our lives to find time and energy to read and write. As writers, we need to read widely and read everyday. I recommend keeping a writer's notebook to jot down ideas that come to you while reading. It is also a good place to jot down sentences or techniques you are noticing as you read.
Try to write every day. It is also very helpful to have a few writer friends with whom you can share work. I still work with a writer's group. We meet on skype every month, share work, and learn from each other.
Athletes knock the legs from under global sports governance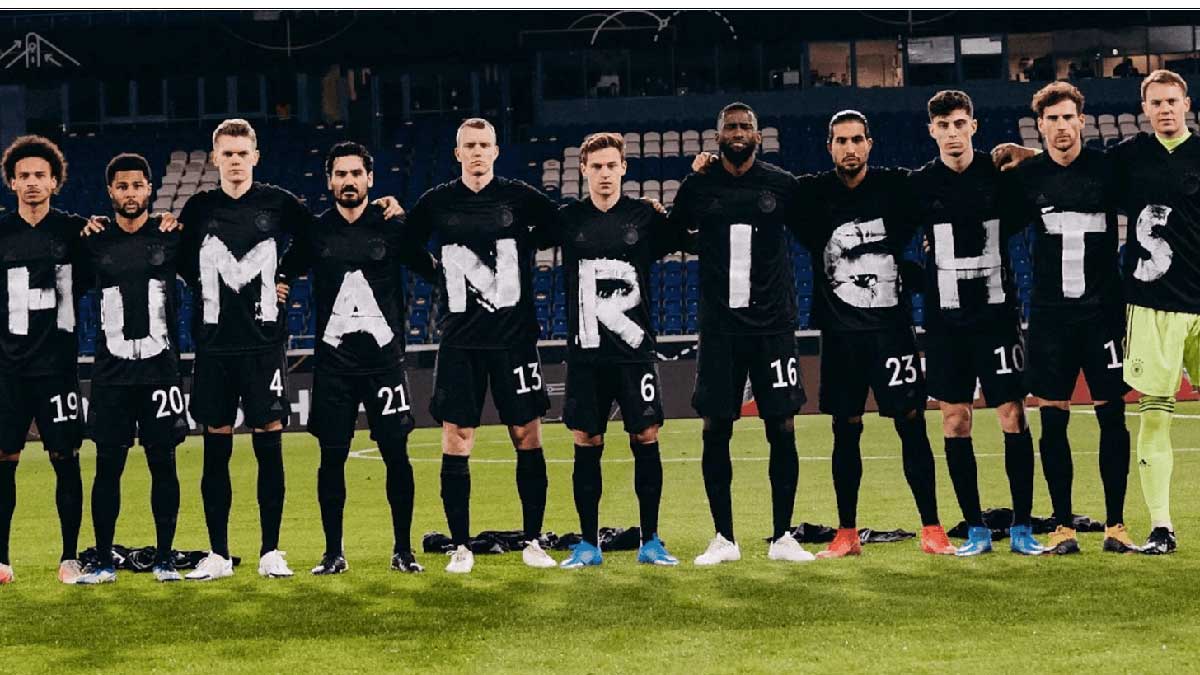 Sports governance worldwide has had the legs knocked out from under it. Yet, national and international sports administrators are slow in realizing the magnitude of what has hit them.
Tectonic plates underlying sports' guiding principle that sports and politics are unrelated have shifted, driven by a struggle against racism and a quest for human rights and social justice.
The principle was repeatedly challenged over the last year by athletes as well as businesses forcing national and international sports federations to either support anti-racist protest or at the least refrain from penalizing athletes who use their sport to oppose racism and promote human rights and social justice, acts that are political by definition.
The assault on what is a convenient fiction started in the United States as much a result of the explosion of Black Lives Matter protests on the streets of American cities as the fact that, in contrast to the fan-club relationship in much of the world, US sports clubs and associations see fans as clients, and the client is king.
The assault moved to Europe in the last month with the national soccer teams of Norway, Germany, and the Netherlands wearing T-shirts during 2022 World Cup qualifiers that supported human rights and change. The Europeans were adding their voices to perennial criticism of migrant workers' rights in Qatar, the host of next year's World Cup.
Gareth Southgate, manager of the English national team, said the Football Association was discussing with human rights group Amnesty International tackling migrant rights in the Gulf state.
While Qatar is the focus in Europe, greater sensitivity to human rights appears to be moving beyond. Formula One driver Lewis Hamilton told a news conference in Bahrain ahead of this season's opening Grand Prix that "there are issues all around the world, but I do not think we should be going to these countries and just ignoring what is happening in those places, arriving, having a great time and then leave."
Mr. Hamilton has been prominent in speaking out against racial injustice and social inequality since the National Football League in the United States endorsed Black Lives Matter and players taking the knee during the playing of the American national anthem in protest against racism.
In a dramatic break with its ban on "any political, religious or personal slogans, statements or images" on the pitch, world soccer governing body FIFA said it would not open disciplinary proceedings against the European players. "FIFA believes in the freedom of speech and in the power of football as a force for good," a spokesperson for the governing body said.
The statement constituted an implicit acknowledgement that standing up for human rights and social justice was inherently political. It raises the question of how FIFA going forward will reconcile its stand on human rights with its statutory ban on political expression.
It makes maintaining the fiction of a separation of politics and sports ever more difficult to defend and opens the door to a debate on how the inseparable relationship that joins sports and politics at the hip like Siamese twins should be regulated.
Signalling that a flood barrier may have collapsed, Major League Baseball this month said it would be moving its 2021 All Star Game out of Atlanta in response to a new Georgia law that threatens to potentially restrict voting access for people of colour.
In a shot across the bow to FIFA and other international sports associations, major Georgia-headquartered companies, including Coca Cola, one of the soccer body's longest-standing corporate sponsors, alongside Delta Airlines and Home Depot adopted political positions in their condemnation of the Georgia law.
The greater assertiveness of athletes and corporations in speaking out for fundamental rights and against racism and discrimination will make it increasingly difficult for sports associations to uphold the fiction of a separation between politics and sports.
The willingness of FIFA, the US Olympic and Paralympic Committee (USOPC) and other national and international associations to look the other way when athletes take their support for rights and social justice to the sports arena has let a genie out of the bottle. It has sawed off the legs of the FIFA principle that players' "equipment must not have any political, religious or personal slogans."
Already, the US committee has said that it would not sanction American athletes who choose to raise their fists or kneel on the podium at this July's Tokyo Olympic Games as well as future tournaments.
The decision puts the USOPC at odds with the International Olympic Committee's (IOC) staunch rule against political protest.
The IOC suspended and banned US medallists Tommie Smith and John Carlos after the sprinters raised their fists on the podium at the 1968 Mexico City Olympics to protest racial inequality in the United States.
Acknowledging the incestuous relationship between sports and politics will ultimately require a charter or code of conduct that regulates the relationship and introduces some form of independent oversight akin to the supervision of banking systems or the regulation of the water sector in Britain, alongside the United States the only country to have privatized water as an asset.
Human rights and social justice have emerged as monkey wrenches that could shatter the myth of a separation of sports and politics. If athletes take their protests to the Tokyo Olympics and the 2022 World Cup in Qatar, the myth would sustain a significant body blow.
Said a statement by US athletes seeking changes to the USOPC's rule banning protest at sporting events: "Prohibiting athletes to freely express their views during the Games, particularly those from historically underrepresented and minoritized groups, contributes to the dehumanization of athletes that is at odds with key Olympic and Paralympic values."
Disability policies must be based on what the disabled need
Diversity policies, especially when it comes to disabled people, are often created and implemented by decision makers with very different life experiences to those who their policies affect most.
We would never expect economic policy to be crafted without input from economists and bankers. We should demand the same for disability policies, if we want to create the change needed to produce inclusive societies.
Starting in 2017, I was humbled to be given an opportunity to develop the first multi-media, audio dictionary translating Bangla to English. As a disabled individual who is visually impaired, I was uniquely placed to design such a programme, based on my lived experience. The principle of entrusting service design to those who have the most experience in that area is a logical, common-sense approach to policy, yet many governments can do more in this area.
This has been particularly true throughout the pandemic, where it has been even more important to respond quickly and appropriately to the needs of citizens.
For example, school children have been failed in many countries through poor or non-existent education provision. Medical professionals have been let down due to poor access to PPE.
This begs the question, why haven't teachers created public policy regarding schools? Why haven't Doctors and nurses been a bigger part of public policy with regards to hospital management and equipment?
Those who have direct, lived experience should be able to formulate policy. I'm grateful that in Bangladesh and other nations, this is what is increasingly happening, with some groundbreaking results.
If nothing else, this approach is consistent with other professions: When applying for a job, an employer will always demand evidence of past experience. There is no reason why this should not apply to policy and politics.
You would never hire a builder to work on your house if they had never set foot on a building site: at most, you could hire an experienced interdisciplinary project manager if he or she was relying on the expertise of seasoned builders.
The benefit of applying lived experience to problem-solving has long been established in business – governments should follow suit.
The founders of the 'Lean methodology' are a great example of this, where they developed a process of continuous improvement and waste elimination that saw a failing car production company, Toyota, turn into a global market leader.
This methodology's pioneers, Kiichiro Toyoda and Taiichi Ohno, would demand that those working on the camper van, for example, would travel themselves in the vans they were trying to improve. This enabled them to uncover the sources of discomfort created through poor design, in a way that would have been impossible in a design office in Tokyo.
This cannot be directly applied to disability policy – it would be unethical and impossible to ask someone to be 'blind' for a period of time, in order to develop better policy.
The next best thing is for policy makers to engage with those who have the experience.
This isn't about denigrating the policymaking experience of those in government, but it is about helping them empathise with those whom their decisions impact. When public services are not designed with empathy for the people who use them, they are useless, or even potentially harmful.
The a2i empathy training programme, for example, arranges for relatively senior government officers to act as secret shoppers and visit citizens' access points for services outside of their ministry or area of expertise. This exercise puts them in "citizens' shoes" since they are forced to navigate public systems without any official or intellectual privileges. This experience helps participants develop a critical eye that they use to scrutinise their own agency's delivery systems and improve the overall quality of services.
This kind of real-world experience (either through engaging with service users, or by putting policy makers' in service users' shoes), as well as high-level expertise, should be part of governance as we move towards a 'new normal'.
There is no reason why Ministers for health shouldn't be ex-Doctors, and Ministers for education can't be ex-teachers. And there is no reason why disability policy cannot be informed by disabled people.
Public service is not rocket science, but if it was, it would make sense to entrust it to the rocket scientists.
Reform of mental health services: An urgent need and a human rights imperative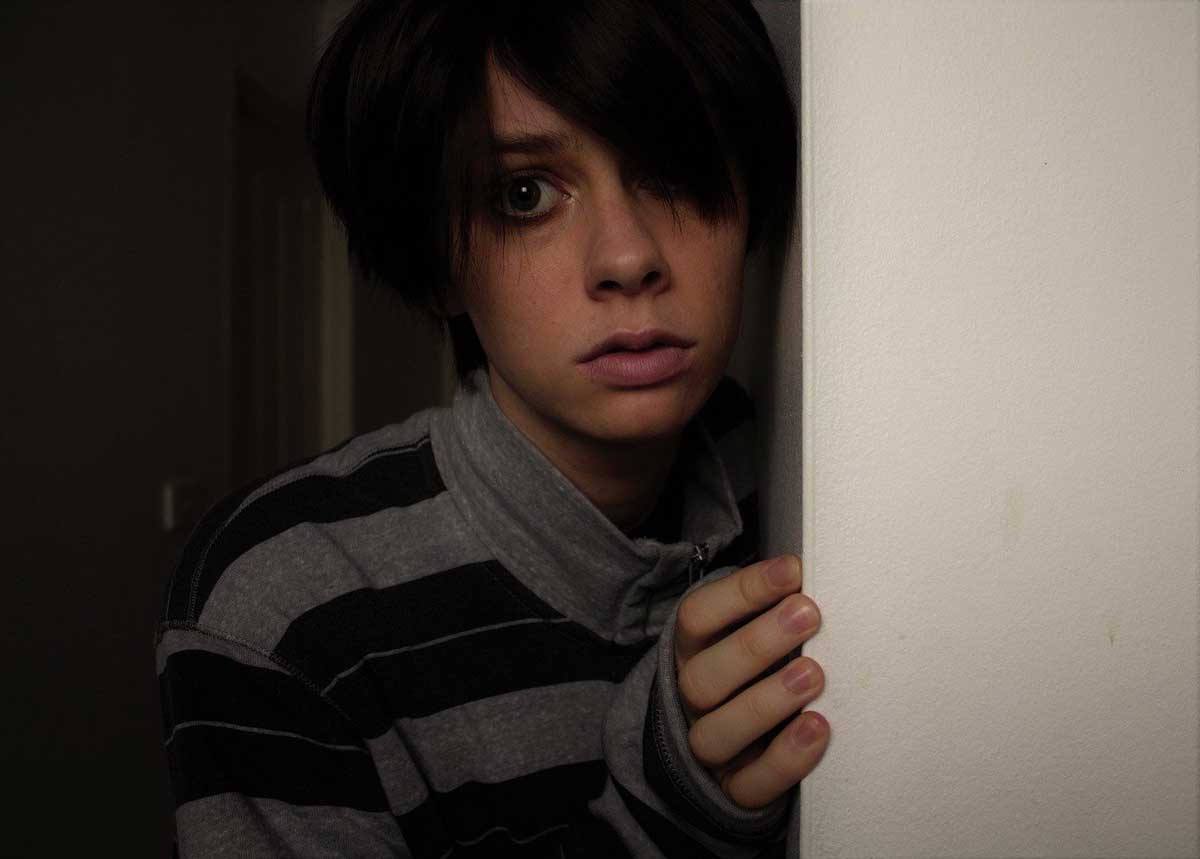 Already in the early stages of the COVID-19 pandemic, the World Health Organisation (WHO) was warning that substantial investment in mental health services was necessary to avert a mental health crisis. The evidence for the devastating impact of the pandemic on mental health is now overwhelming. The reasons for this are clear: the pandemic caused fear and anxiety for everyone, and many of us had to face illness, grief over lost family members, insecurity and loss of income. In addition to this extraordinary burden placed on our mental health, we were cut off from our usual support networks, friends and families, while the pandemic was also disrupting the delivery of existing mental health services themselves.
Not everyone has been affected in the same way by the pandemic, and mental health is no exception here. Among others, the mental health of certain demographics such as older persons, children and adolescents, and women, as well as that of disadvantaged groups such as persons with disabilities, LGBTI people and migrants has been affected more compared to the general population. For example, in a statement I co-signed with the UN Independent Expert on Sexual Orientation and Gender Identity and numerous other human rights experts, we alerted states to increasing mental health problems for LGBTI people, in particular youth, notably as a result of having to shelter with family members who were unsupportive of or hostile towards their LGBTI identity.
I recently published an Issue Paper entitled "Protecting the right to health through inclusive and resilient health care for all" in which I set out twelve recommendations. These include universal health coverage (of which mental health services are an essential component), more equality and dignity for patients, more participation and empowerment in relevant decision-making, the promotion of transparency and accountability throughout policy cycles, and better health communication policies. Since the right to health is defined as the right to the highest attainable standard of physical and mental health, these recommendations naturally apply to mental health care as well. Some recommendations, however, are more specific to mental health, such as those related to the need to ensure that mental health services are accessible to all when needed, of appropriate quality and affordable, to transition from an institutional to a community-based model and to eliminate coercive practices in mental health services.
Mental health systems: a longstanding source of human rights violations
While the additional strain generated by the pandemic is new, the mental health situation and lack of services has been a neglected human rights crisis in Europe for a long time. Despite the suffering and economic burden caused by mental health problems, mental health spending in the WHO European region was estimated to amount to only 1% of total health expenditure in 2019, and the majority of that expenditure was channelled towards mental health hospitals. In a very important report in 2017, the UN Special Rapporteur on the right of everyone to the enjoyment of the highest attainable standard of physical and mental health was already raising the alarm over the fact that "the arbitrary division of physical and mental health and the subsequent isolation and abandonment of mental health has contributed to an untenable situation of unmet needs and human rights violations".
In my Issue Paper on health, I called on governments to pay attention to the essential social determinants of health in order to rebuild more inclusive and resilient health care systems, notably social protection, living conditions, working environment and education. These are all the more relevant for mental health, since mental well-being is determined not only by individual attributes but also by the social environment which can prevent, cause or aggravate mental health problems. In recent decades, a human rights-based, holistic and psychosocial understanding of mental health has been emerging, but this approach still faces a lot of resistance in many of our member states, where a reductionist, biomedical paradigm remains prevalent. Further problems identified in the aforementioned report of the Special Rapporteur are power asymmetries in mental health policies and services, and the biased use of evidence in mental health. In combination, these reinforce a vicious cycle of stigmatisation, disempowerment, social exclusion and coercion.
In order to rise to the challenge posed by the pandemic for mental health services, it is essential to reform them, as well as relevant laws and policies, urgently and from the ground up. As with health policy generally, the imperative to prevent human rights violations must be the guiding principle behind these reforms.
The human rights of persons with mental health problems or psychosocial disabilities (i.e. disabilities arising from the interaction between a person with a mental health condition and their environment) are routinely violated in two significant ways. Firstly, their human rights continue to be violated by mental health services themselves, notably because they often display a tendency towards paternalism, coercion and institutionalisation. Secondly, affected patients may not have access to the care they need to achieve the highest attainable standard of health. In this connection, we should bear in mind that this right depends on the realisation of many other human rights, notably those enshrined in the UN Convention on the Rights of Persons with Disabilities (CRPD).
Coercion: a persistent source of human rights violations
In a recent report on its visit to Bulgaria, the European Committee for the Prevention of Torture (CPT) documented how patients in psychiatric hospitals were subjected to widespread and systematic ill-treatment at the hands of staff: they were slapped, pushed, punched, kicked, beaten with sticks, chained to beds and medicated without consent. While this example is particularly horrific, we should not forget that similar institutions, and the underlying approach taking coercion for granted, are still common in the majority of our member states, as demonstrated, for example, in recent exposés on the situation of psychiatric hospitals in Malta. My own Office has addressed human rights violations caused by such institutions in a large number of member states, including in an intervention before the European Court of Human Rights.
Why is this still accepted in 2021? Historically, fear, rejection and isolation have been our default response to persons with mental health problems. The ingrained fear and stigma of mental illness is still very strong, fuelling prejudice and the narrative that persons with mental health problems pose a danger to themselves and to society, against all available statistical evidence to the contrary – persons with mental health problems are in fact far more likely to be victims of violence than perpetrators. Mental health laws that normalise closed institutions and forced treatment confirm and reinforce these prejudices. Furthermore, while there is ample evidence that coercive treatment may lead to substantial trauma and that fear of coercion can actually deter persons experiencing mental ill-health from seeking help, there appears to be little scientific evidence to substantiate the supposed benefits of forced treatment.
In 2019, the Parliamentary Assembly of the Council of Europe unanimously adopted a groundbreaking Resolution calling on member states to end coercion in mental health, pointing to the fact that the number of persons subjected to coercion was still growing in Europe. It noted that so-called safeguards to prevent excessive use of coercion had not reduced but, on the contrary, seemed to have increased coercion, for example in France following a reform in 2011: what is defined as last resort in legislation often becomes the default approach, especially when resources are scarce. The corresponding report presented to the Parliamentary Assembly also reflects my observations concerning the marked differences in the level of involuntary placements between countries, but also between different regions of the same country or even from one hospital to another, suggesting that the main cause of coercion is not the inherent dangerousness of persons or therapeutic necessity, but an institutional culture that confines more out of prejudice or habit. This interpretation is supported by research.
In my address to the Parliamentary Assembly prior to the adoption of this Resolution, I drew attention to how my own country work allowed me to see first-hand the vicious circles caused by a mental health approach based on coercion, which perpetuates the isolation of the very persons who need the support of their community the most, fuelling more stigma and irrational fear. The lack of community-based, voluntary mental health services also results in even more coercion and deprivation of liberty.
I have also shared my observation that safeguards supposed to protect persons from arbitrariness and ill-treatment are reduced to mere formalities because they operate in a legal system where persons with mental health problems do not even have a chance to have their voices heard, owing to the profound power asymmetry between the patient and physician in most mental health settings. Judges almost invariably follow the opinion of the psychiatrist over the wishes of the patient, when the law provides for such a possibility. At their worst, such safeguards do little more than ease the conscience of those who are in fact taking part in human rights violations.
My position on coercion in psychiatry and the Resolution of the Parliamentary Assembly should be seen against the background of a growing consensus within the international community to consider involuntary measures without the informed consent of persons with mental health problems as human rights violations, or even as possibly amounting to torture. This is in large part due to the paradigm shift operated by the CRPD when it entered into force in 2008, and the efforts of civil society, in particular of persons with lived experience of mental health problems and psychosocial disabilities, to have their say in policy-making. As a result, a growing number of relevant international and national human rights bodies are now calling for an end to coercion and its replacement by community-based treatment options based on consent. This approach is slowly making headway in the medical community as well, as can be seen in the growing body of WHO guidance to states to reduce coercion, establish community-based alternatives and integrate mental health into primary care. Similarly, the World Psychiatric Association issued a position statement on the need to reduce coercion in October 2020.
This revolution is rooted in the CRPD and it would be a mistake to cling to older Council of Europe standards that place the bar lower. In this context, it is regrettable that work is still continuing in the Council of Europe on a draft Additional Protocol to the Oviedo Convention that reflects an outdated, biomedicine-driven approach reducing mental health to mental disorders and empowering physicians to forcibly confine and treat persons without consent, with virtually no limit being set on the duration of this placement or the treatments to be used. The vagueness of the definitions in this text and the trust in the judgement of a single physician, which appears misplaced given the human rights violations we are still witnessing on a daily basis, could easily give the impression of sanctioning even the worst kinds of human rights abuses in psychiatry. The opposition of the Parliamentary Assembly, several UN bodies including the treaty body of the CRPD, the unanimous protests of representative organisations of persons with psychosocial disabilities and my own opposition to this initiative have so far been ignored.
I call on member states to stop supporting such initiatives at international level, which may create confusion and become a stumbling block to necessary progress in advancing the human rights agenda when it comes to mental health. If new international standards do not nurture the paradigm shift from institutional to community-based care, and from coercive to consent-based care, they should at least do no harm by muddying the waters.
The way forward
A number of member states have started reviewing their mental health legislation in the light of these considerations, for example in Ireland and in the UK. What I found particularly positive with these two examples is the commitment to engage with civil society, and in particular users and providers of mental health services. Initiatives by representative organisations of persons with psychosocial disabilities to promote more inclusive policy-making, for example in the ongoing trialogue in Germany, are also to be commended. The active participation of persons with lived experience of using mental health services in defining policies, in particular, is a sine qua non condition of successful mental health reform, as their exclusion from the debate so far has allowed human rights violations to continue unchecked for as long as they have. This is also a general obligation under Article 4(3) of the CRPD.
The realisation of the right to full enjoyment of the highest attainable standard of mental health depends on the realisation of many other crucial human rights. In particular, member states need to conduct the necessary reforms of their mental health legislation in parallel with reforms in two crucial areas affecting core rights enshrined in the CRPD: legal capacity (Article 12) and the right to live independently and be included in the community (Article 19). Mental health care that truly respects the autonomy, dignity, will and preferences of service users is simply not possible so long as legal systems continue to tolerate substituted decision-making or segregation in institutions. Ongoing legal capacity reforms in our member states are very important in this respect. States must ensure that persons with mental health problems or psychosocial disabilities, including children, never lose their say on decisions involving their health, if necessary by providing the appropriate supports for decision-making, in order to ensure that mental health care is provided on the basis of free and informed consent. For as long as involuntary measures remain a reality, it is also crucial to ensure full access to justice to challenge any decision, an area where there are also some good practices, for example in the Netherlands.
As for institutions, I refer to the longstanding recommendations of my Office to put an end to their use, starting with immediate moratoria on future placements. Experience shows the crucial importance of closing large psychiatric hospitals where persons are involuntarily placed. To take one example, Italy was a pioneer in this respect by initiating a process of gradual closure of psychiatric hospitals from 1978, replacing them with alternatives closer to the community. While Italy is also facing a number of problems regarding the use of coercive measures in psychiatric establishments that still need to be addressed, it should be thought-provoking that the rate of involuntary placements in Italy today appear to be lower, by orders of magnitude, than in neighbouring states.
Reduction of coercive practices in psychiatric services, including the use of restraints and forced medication, and their progressive elimination should be another immediate priority. As mentioned above, the institutional culture and habits largely determine the prevalence of such measures. For example, my predecessor recommended to Denmark in 2013 that recourse to coercion in psychiatry be drastically reduced, and I was happy to note that a psychiatric centre in Ballerup had managed to put an end to the use of restraints as a first in the country, by training staff on conflict management and increasing physical activity for residents, without augmenting medication, for the benefit of both patients and staff.
The ultimate goal must be to replace institutions and a coercion-based mental health system by a recovery- and community-based model, which promotes social inclusion and offers a range of rights-based treatments and psychosocial support options. These can take many different forms and many models exist including, for example, support provided by peers or a support network, patient advocates/personal ombudspersons, advanced planning, community crisis resolution or open dialogue. It is also crucial to deconstruct the lingering stigma associated with seeking help for mental health problems, whether this is done in the school environment, at the workplace or in primary healthcare centres, through targeted awareness-raising and outreach. Only then can mental health services, as an integral part of primary care, be universally available to individuals throughout the entire life cycle. Once more, true involvement of persons with lived experience in the design, implementation, delivery and monitoring of these services is crucial.
Member states can take inspiration from several compilations of promising practices at the European and global levels, as well as ongoing projects and research conducted into community-based delivery of recovery-oriented mental health services, such as the RECOVER-E project running in Croatia, Montenegro, North Macedonia, Bulgaria and Romania. I am also conscious of the potential impact of new technologies on mental health care, which represent both opportunities and serious risks for human rights, and I refer to my general recommendations concerning human rights and artificial intelligence.
In this context, I encourage states to pay special attention to the mental health of children and adolescents, not least because of the extraordinary strain that the COVID-19 pandemic has placed on them. Lockdown measures and prolonged school closures have deprived them, more than other groups, of their usual routines, while exposing them to isolation and an increase in violence and abuse. We should not forget that childhood and adolescence are crucial periods for life-long mental health. Mental ill-health experienced in the formative years of one's life, for example as a result of adversities or trauma, affects brain development and the ability to form healthy relationships and life skills. Children and adolescents therefore need non-bureaucratic access to mental health support, as early as necessary and as least invasively as possible, without any shame attached. Institutionalisation of children, on the other hand, has a devastating impact on childhood development. We also need to bear in mind that suicide was one of the leading causes of death among adolescents in the European region even before the pandemic, which makes recent evidence of a marked increase in anxiety levels, depression and self-harm among young people particularly alarming. In order to prevent future burdens on mental health systems, it is crucial to expand our capacities for early psychosocial interventions for children by building on innovative and community-based child mental health services, rather than pursuing the worrying trend of ever-increasing use of psychotropic medication on children.
Mental health reform is an extremely challenging task for all our member states, given the complexity of the issues and the huge gap between agreed international standards and the reality on the ground. This, however, makes it all the more urgent. Let us turn the current challenge of the pandemic into an opportunity, by thoroughly transforming mental health services in Europe, with human rights as our guide and compass.