Indian Politics at Crossroads: New Dawn for a Modian Era?
Let us begin with a straight point. It is not very easy for any ordinary citizen to become prime minister, president or chancellor of even modern democratic nations. In such nations across the globe, including western democracies, there are racial, linguistic, gender and religious considerations behind selecting a political leader. These considerations work as unwritten codes of political conduct and eliminate the very basic democratic conjecture of equality before the law, because a leader has, by definition, to aspire to be(come) more than a common citizen. The influence of these considerations is also based on the act of image or cult building, in which individual identity is negated for communal/majoritarian identity. For example, one need to be aware that the United States has not had a female President so far and no Western European democracies have a black president or prime minister, except Ireland, where Leo Varadkar, a gay Irish-Indian doctor, was Prime Minister in 2017-2020 and is now the opposition leader. This reality shows the negation of individual identity over the preference of communal/majoritarian identity and is part of the practical side of global realpolitik.
Similarly, Indian politics is no exception to this unwritten code of political conduct. Provided the stratified social structure, linguistic politics and religious-caste sensitivities in Indian society are taken into consideration, the choice of prime minister of India has been decided by a variety of factors, mostly caste status and heritage of the Nehru/Gandhi clan. Though any Indian citizen with no criminal background can be considered to hold higher posts of Indian democracy, it is not always the case practically. Similar to western democracies, a multiplicity of issues can problematize the criteria of an individual's eligibility to be considered for the post of India's prime minister. Though modern India is characterized and considered to be the direct progeny of an anti-colonial, secular freedom struggle that spanned almost two hundred years, the troubled socio-political history of the Indian sub-continent always invites considerations of social capital like religion, caste, gender and financial position into democratic practices. Further, though the nation turned into a democratic republic with Indians as leaders of the various political parties and the nation, this also shows that various forms of social hegemonies continue to exert serious influence on Indian politics. As Dr. Ambedkar has rightly pointed out, India's political leadership used to indicate the message that political freedom without social freedom is impossible. This is evident as the majority of Indian prime ministers hailed from upper middle-class and upper-class elite backgrounds.
The Elite Cult
Hero cult is typical of Bollywood, the Indian Hindi film industry and also its various regional manifestations. There are a number of stereotyped qualities for a hero: A hero should be tall and fair skinned, a maestro of musical talents, and able to beat up to 50 men in one go. This cult of a hero is very influential in Indian politics as well. Since 1930 until his death in 1964, Jawaharlal Nehru, leader of the Indian National Congress and then prime minister of India for almost seventeen long years, had been the most potent figure of Indian politics. The Indian National Congress could not think of replacing Nehru. Moreover, Nehru was hailed both as the architect of modern India and the champion of South Asian authority. What is termed as Nehruvian policies used to hold a powerful sway over Indian politics until the 1990s. At the height of Nehru's power, blind followers of Nehru, such as UN Dhebar, went to the extent of eulogising that India cannot move on without Nehru's presence in Indian politics, reflected in the term 'Nehruvian', which denotes something heroic, a political hegemony of one man's unquestioned authority over the world's largest democracy. The term Nehruvian literally means 'the period of Nehru or related to Nehru', but in actuality it shows the power politics associated with the cult of an individual. This personality cult means that there is a whole plethora of blind followers who not only praise the leader but bully his opponents. The influence of Nehru in Indian politics is further indicated by Indian phrases such as Nehruvian secularism, Nehruvian socialism, Nehruvian diplomacy, Nehruvian planning, which are widely used in regular political debates and in official policies. While the term' Nehruvian' has been and is still hailed as a progressive indicator of Indian politics, the disastrous impact of the cult of 'Nehruvian' is that it forgets the basic idea that postcolonial India is a democracy in which Nehru led the government, while the term 'Nehruvian' generates feelings that Nehru was a king who ruled his Indian empire.
Not only that, the socio-cultural factors that established such a cult have also been largely unreflected While Nehru's commitment towards anti-colonialism and socialist secular values have to be recognized, if we ask what was Nehru's most important criterion to become leader of the Indian National Congress and later Prime Minister, one is not astonished to find that Nehru's family background, caste position and western education had been milestones in making a prime minister out of a Kashmiri Brahmin boy. Delving into the biographical side of Nehru's family, one finds that born into the upper caste and elite Brahmin family, as the son of a wealthy lawyer, Nehru had always been bestowed the privilege of tasting the best possible things in the world. He never experienced poverty, but leisure and lavishness. Nehru never faced slavery, though he was imprisoned for long times, but masterhood and authority were his companions. Motilal Nehru, the powerful father figure, was always there to buy Jawaharlal Nehru's achievements, including the rise to prominence in the Indian National Congress.
Post Nehru Realities
Nehru was not an exception in Indian politics, as many national and state-level leaders of Indian nationalism had an elite background and most of them utilised their social and cultural capital to become rulers at various levels in India. Following Nehru as Indian Prime Ministers, we see his daughter, Indira Gandhi, also bestowed with the best tastes of life. She lived in Teen Murti Bhavan, the prime minister's residence, was trained by her father in politics, and never experienced the life of an ordinary Indian. In the midst of her authority and personality cult, she has been hailed by her colleagues as 'India is Indira and Indira is India'. No doubt, these trends show the degeneration of Indian democracy. Indira was followed by her elder son Rajiv Gandhi, an Air India pilot by profession and a western-educated elite man with a foreign wife, who in his early forties was fated to step in. Of course there are exceptions to this elite politics. Morarji Desai, Lal Bahadur Shastri, Charan Singh, Chandra Sekhar and H D Deva Gowda were Indian prime ministers coming from more ordinary social backgrounds. However, their hold on power was also far less for various reasons.
Laymen's Rise
In this context, the rise to power of Narendra Modi as the prime minister of India since 2014 indicates a sharp deviation from the earlier regularities of Indian politics. Mr. Modi is coming from a lower caste and ordinary background, which indicates that people of lower origins can also be successful rulers if the key of Indian politics is handed over to such laymen. This does not mean that Mr. Modi is a direct incumbent to the throne of Indian politics, or that he was selected because he belonged to an ordinary social background. On the contrary, Mr. Modi had been in politics for many years before becoming India's Prime Minister in 2014. He was in power since 2001 as the Chief Minister of Gujarat and has been controversial in exercising his ministerial power at certain occasions. But even then, the fact that he got an opportunity to lead the world's largest democracy is not a small factor. As an individual, Mr. Modi does not have a financially rich family background nor socio-culturally elite parentage. Rather, his family background and parental status show that he experienced an ordinary Indian life including poverty, marginalization and negative impacts of social hierarchy, which probably indicates that he had experienced caste discrimination earlier in his life, though he is not a Dalit.
The rise to power of leaders like Mr. Modi seems to indicate that Indian politics is moving away from its elitist circles, where family background, social position and caste status decide a person's eligibility for higher office. He may not be successful in creating a 'Modian Era' as seen in the case of Nehru. But Mr. Modi represents a revolution of the laymen, showing that postcolonial Indian democracy is not about purity of race, semen or caste. In this, the persona of the current Prime Minister of India is a significant reflection, one could almost say, a mirror image, of recent re-assessments of the position of the Indian Constitution as the cornerstone of the nation. As the historian Rohit De, who teaches at Yale University, is now showing in A People's Constitution. The Everyday Life of Law in the Indian Republic (Princeton: Princeton University Press, 2018), this Constitution may have been made by elite men, but its focus is the common Indian as a rights-holding citizen. As is increasingly evident to those who are willing to leave the magic circles of elite acclaim of heroic leader figures and their products, breaking new methodological ground is possible and much-needed, as De (p. 4) claims, 'by studying the Constitution through the daily interpretive acts of ordinary people as well as judges and state officials'. The fact that India's postcolonial democracy has become attuned to the non-elitist leadership style of someone like Narendra Modi has, thus, deeper meanings and implications than just the traditional earlier privilege, elitism and somewhat haughty 'modernity' that still left most Indians feeling that they did not fully belong to this nation of now almost 1.4 billion people. Anyone paagal enough to put themselves forward to lead this nation has different agenda than earlier generations of India's leaders. In that sense, too, the stressful but relentless democratisation of the Indian Constitution that De's new book analyses is matched by the heavy labouring of the current leadership, which cannot rely on inherited privilege, but has to justify its claims to electoral acceptance by various kinds of action that make India the unique democracy that it has now become in the global world.
India's fury at Moeed Yousaf's interview?
In an interview with Indian media outlet The Wire, Moeed Yusuf , revealed that India had expressed a "desire for conversation" but said that Pakistan's agreement to talks would be conditional (Talks with India only possible with Kashmir as third party, says SAPM Moeed Yusuf, Dawn 14 Oct 2020) . India quickly denied any offier for talks. Moeed as also his interviewer were quickly dubbed anti-India jihadi.
A leader becomes a traitor the moment he stops singing paeans for "secular democracy". Take Sheikh Abdullah. Barkha Dutt recalls (This Unquiet Land, p. 154) `In a 1948 speech to the United Nations, Sheikh Abdullah … made a blistering defence of the accession to India. Sher-e-Kashmir (Lion of Kashmir) roared, :`I had thought all along that the world had got rid of Hitlers…but what is happening in my poor country I am convinced that they have transmigrated their souls into Pakistan…I refuse to accept Pakistan as a party in the affairs of Jammu and Kashmir'
Dutt says, "Sheikh Abdullah [later] began to talk about possibility of independent Kashmir…Soon after he changed his stance he was jailed and dismissed from office and was not able to lead the state for another twenty years'.
While talking to Cyril Al Maeda in an exclusive interview that appeared on 12th May, Pakistan's former prime minister Sharif had said `Militant organizations are active. Call them non-state actors, should we allow them to cross the border and kill 150 people in Mumbai?' During Kalbushan jhadav'strial, Indian counsel used the MNS statement ` to blame Pakistan for its alleged involvement in sponsoring terrorism in India'.
The factual position is that gullible Sharif had relied on statement by then serving ISI chief Shuja Pasha. Even Pasha's statement was grossly misinterpreted. Pasha never asaid that it was ISI who in any way sponsored the Mumbai operation. Even the USA never trusted interrogation of David Headley who was `linked' to the Mumbai incident.
Let me quote Mohammed Adobo and Etgar Ugur (eds.), Assessing the War on Terror, 2013, Lynne Reiner Publishers, Inc., Colorado 80301 (USA). Chapter V: Pakistan Perfidious Ally in the War on Terror, C. Christine Fair, p. 85)
According to Indian officials who interrogated him after his indictment, David Headley, an American involved in the Mumbai attacks conceded ISI involvement (Jason Burke, "ISI chief aided Mumbai terror attacks: Headley", The Hindu October 19, 2010; Jane Perlez, Eric Schmitt and Ginger Thomson, "US had warnings on Plotter of Mumbai Attack", New York Times, October 17, 2010). US officials have not endorsed this claim. Bt, according to some reports, the current director general of the ISI Shuja Pasha, acknowledged that the persons connected to the ISI were involved in attacks (Woodword, Obama's Wars, pp 46-47). Documentary analysis shows secretive Mumbai trials were translucent (Davidson, Betrayal of India: Revisiting the 26/11 Evidence).
It is a documented fact that India is stroking insurgencies in neighbouring countries. Unlike Kashmir, Bangladesh was not a disputed state like Jammu And Kashmir State. It was an integral part of Pakistan. But, harboured, nurtured, trained and armed Bangladeshi 'freedom fighters'… Some Indian diplomats and RAW cover officers have made startling revelations in their books about involvement in insurgencies or terrorism in neighbouring countries. . For instance, RK Yadav, and B. Raman (The Kaoboys of R&AW: Down Memory Lane) make no bones about India's involvement in Bangladesh's insurgency. They admitted that India's then prime minister Indira Gandhi, Parliament, RAW and armed forces acted in tandem to dismember Pakistan. Raman recalls 'Indian parliament passed resolution on March 31, 1971 to support insurgency. India Gandhi had then confided to Kao that if Mujib was prevented from ruling Pakistan, she would liberate East Pakistan from the clutches of the military junta. Kao, through one R&AW agent, got hijacked a plane Fokker Friendship Ganga of Indian Airlines from Srinagar to Lahore. India's security czar Doval publicly claims that he acted as a spy under a pseudonym in Pakistan for 11 years. India's then army chief, SAM Manekshaw confessed in video interview that India Gandhi ordered him to attack erstwhile East Pakistan. (YouTube: Indian Army Stories of the Indo-Pak War 1971 by Sam manekshaw).
United Nations' view of `accession: Aware of India's intention to get the 'Instrument of Accession' rubber-stamped by the puppet assembly, the Security Council passed two resolutions to forestall the `foreseeable accession' by the puppet assembly. Security Council's Resolution No 9 of March 30, 1951 and affirmative Resolution No 122 of March 24, 1957 outlaws accession or any other action to change status of the Jammu and Kashmir state.
Under hypnotic spell of Indian propaganda, readers naively accept IHK's `assembly' and preceding `instrument of accession' as fait accompli. No sir, they aren't. Aware of India's intention to get the 'Instrument of Accession' rubber-stamped by the sham assembly, the Security Council passed two resolutions to forestall the foreseeable` accession' by the puppet assembly. Security Council's Resolution No 9 of March 30, 1951 and confirmatory Resolution No 122 of March 24, 1957 outlaws accession or any other action to change status of the Jammu and Kashmir state.
`Accession instrument' is a myth, unregistered with the UN. Alastair Lamb, in his book Incomplete Partition (Chapter VI: The accession Crisis, pp. 149-151) points out that Mountbatten wanted India not to intervene militarily without first getting `instrument of accession' from maharajah Hari Singh. Not doing so would amount to `intervening in the internal affairs of what was to all intents and purposes an independent State in the throes of civil conflict'. But, India did not heed his advice. It marched its troops into Kashmir without maharajah's permission _ an act of aggression. Lamb says `timing of the alleged Instrument of Accession undoubtedly affected its legitimacy'(p.172, ibid). She adds `If in fact took place after the Indian intervention, then it could well be argued that it was either done under Indian duress or to regularise an Indian fait accompli'.
He argues that the maharajah was travelling by road to Jammu (a distance of over 350 km). How could he sign the instrument while being on the run for safety of his life? There is no evidence of any contact between him and the Indian emissaries on October 26, 1947. Actually, it was on October 27, 1947 that the maharajah was informed by MC Mahajan and VP Menon (who had flown into Srinagar) that an Instrument of Accession is being fabricated in New Delhi. Obviously, the maharajah could not have signed the instrument earlier than October 27, 1947. The instrument remains null and void, even if the maharajah had actually signed it. The reason, as pointed out by Alastair is that the `signatures' were obtained under coercion. Under law, any undertaking secured through coercion or duress is null and void. She points out Indian troops had already arrived at and secured Srinagar airfield during the middle of October 1947. On October 26, 1947, a further airlift of thousands of Indian troops to Kashmir took place. She questions: "Would the maharajah have signed the Instrument of Accession, had the Indian troops not been on Kashmiri soil?" Isn't it funny that, in the summer of 1995, the Indian authorities reported the original document as lost or stolen?
Lamb concludes (p. 191, ibid):`According to Wolpert, V. P. Menon returned to Delhi from Srinagar on the morning of 26 October with no signed Instrument of Accession. Only after the Indian troops had started landing at Srinagar airfield on the morning of 27 October did V. P. Menon and M. C. Mahajan set out from Delhi from Jammu. The Instrument of Accession, according to Wolpert, was only signed by Maharajah Sir Hari Singh after Indian troops had assumed control of the Jammu and Kashmir State's summer capital, Srinagar'.
It is time the Kashmiris woke up and grab the opportunity to correct their historical blunder. It is `Now or Never'. No more palliatives.
Conclusion: India is unqualified to become a permanent member of Security council as it has flouted international treaties. India is wedded to `might is right' (Noam Chomsky, Rogue States: The Rule of Force in World Affairs). It should be shunned as a rogue state and punished as a pariah states ( Tim Niblock, Pariah States and Sanctions in the Middle East).
Tripartite dialogue over Kashmir: Only Way out
Dr. Moeed Yusuf, Special Advisor to Prime Minister of Pakistan on National Security and Strategic Policy disclosed in an interview with senior Indian journalist, Karan Thapar (October 13, 2020) that India sent us a message for a desire to a conversation. He added that Pakistan stands for conversation that moves us forward. He however emphasized that there are three parties to the dispute, Pakistan, India and there is a principal party, called Kashmiris. The only thing that matters is the wishes of the people of Kashmir.
We whole heatedly welcome the articulation of Dr. Yusuf to include the Kashmiri leadership in the talks. The people of Kashmir will welcome any talks between India and Pakistan as long as the genuine leadership of the people of Jammu & Kashmir is the part of process of negotiations. They steadfastly maintain that tripartite talks are the only way to resolve the Kashmir issue that has dominated the South Asian region for over 73 years. They maintain this constructive position, despite the outrage caused and the indescribable suffering inflicted on them, by the barbarities of the Indian occupation forces.
The people of Kashmir want to emphasize that as the dispute involves three parties –Government of India, Government of Pakistan and the people of Kashmir who are the most directly affected – any attempt to strike a deal between two parties without the association of the third, will fail to yield a credible settlement. The contemporary history of South Asia is abundantly clear that bilateral efforts have never met with success. The agreement between India and pro-India Kashmiri leaders, like Sheikh Abdullah failed because they sought to bypass Pakistan. Similarly, the agreements between India and Pakistan, like Tashkent Declaration and Simla Agreement failed because they sought to by pass the Kashmiri leadership. All these attempts served only to prolong the dispute, leaving the basic issue unsettled and preserved the stalemate. Although the Simla Agreement of 1972 is irrelevant to the Kashmir dispute, yet it did visualize a 'final settlement', but failed for a concrete course of action toward determining Kashmir's status by the will of its people.
No longer can the mere holding of talks between India and Pakistan defuse the situation. It is a matter of record that during the 72 years history of dispute, India has merely used the façade of talks to evade settlement and ease internal or external pressure. In 1962, when India was facing grave difficulties because of war it had launched against China, it agreed to a round of ministerial talks only to delude two eminent emissaries sent by the United States and the Great Britain. The six seemingly serious sessions were simply exercise in futility. After the end of the 1965 war, when the Security council had committed itself to address the underlying cause of the India – Pakistan conflict – which was none other than the Kashmir dispute – Indian secured the support of its ally, the former Soviet Union and the tacit acquiescence of others to help consign the dispute to limbo as far as the United Nations was concerned. Today, India is again in confrontation with China on one side and with Pakistan on the other. We earnestly hope that the Indian Government's message to Pakistan 'for a desire to have a conversation' will not be one more step in that direction to sabotage the real intent of the talks through diversionary tactics.
Dr. Moeed Yusuf's approach is based on pragmatism when he said that there can be no progress in talks if they are not accompanied by practical measures, like:
i. To release all political prisoners; ii. Reverse military siege in Kashmir, iii. Pull back the Domicile Law that changes the demography of Kashmir; iv. End human rights violations; and v. Stop Indian state terrorism.
In the past, India has not desisted from its human rights violations while announcing its intent to talk. India has to be told in an understandable language that peace cannot be held, nor continued as long as terror reigns over Kashmir and India remains at war with Kashmiris.
The people of Kashmir believe that the conversion of Line of Control (LoC) into an international border is a non-solution. Such an idea is an insult to the intelligence of the people of Kashmir. They fought against status quo and as Dr. Moeed Yusuf said 'Line of Control is a problem and cannot become a solution.'
We hope that the Secretary General of the United Nations maintains and intensify his watch over the situation in Kashmir and not be lulled into the belief that India and Pakistan will initiate any meaningful dialogue over Kashmir unless there are some mediatory initiatives by an impartial third party. Third party could be the United Nations itself or a person of an international standing who could be delegated by the United Nations to bring all the three parties together.
The policy that aims at merely defusing the situation, whatever that may mean, and not encouraging a credible settlement has not paid in the past. It is likely to do even less now.
How the India-Bangladesh Cooperation can overcome challenges in the Agricultural Sector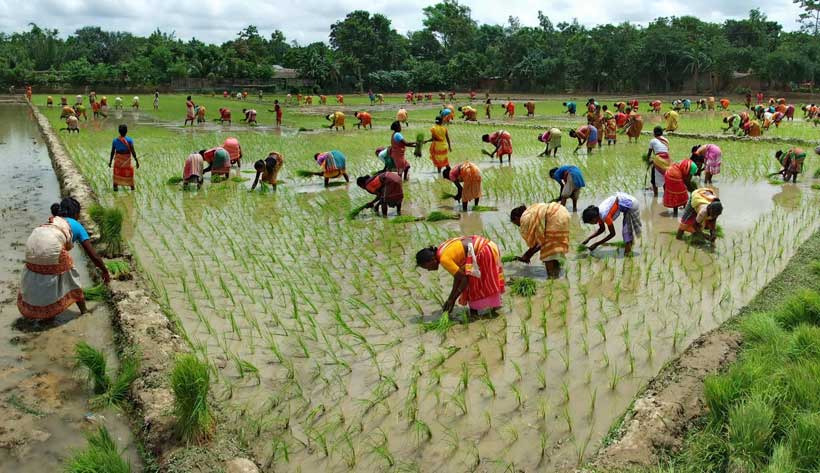 The majority of South Asia is still an agrarian society depending on agriculture for livelihood and survival. Approximately, 60% people in India and Bangladesh are involved in agricultural activities to earn their livelihood. Out of them, over 87% and 70% of rural people in Bangladesh and India respectively derive their income majorly from the agrarian sector. Therefore, it plays a crucial role in the economy of the developing countries.
Being the most prominent sector of the economy, bilateral cooperations in the agricultural sector can pave the way to overcome the current economic challenges in India and Bangladesh.
Challenges faced by India & Bangladesh in Agriculture
The coronavirus pandemic has affected the already agonized agriculture sectors in South Asia. With the spread of virus, disrupted labour and transportation during the lockdown, it is not an unknown fact that the agricultural sector has taken a hit.
Being neighbours and sharing one of the longest land borders with each other, India and Bangladesh faces similar kinds of challenges in agriculture. These are –
Coronavirus pandemic
Around the world, the coronavirus pandemic has taken a toll on economies. Both India and Bangladesh are no exception to this. India's GDP shrank 23.9% in the second quarter of 2020 even though the gross value added (GVA) from agriculture, forestry & fishing grew by 3.4% at constant prices in April-June 2020. Meanwhile, the agricultural sector in Bangladesh saw a decline to 3.11% in FY 2020 from 3.92% in FY 2019. These were the impact of the countrywide lockdown placed to reduce the spread of the Covid-19. Both of the countries being agrarian in nature, 60% of total population derives their livelihood from agriculture. Hence, it remains one of the most hit sectors in both the countries.
With the lockdown and restrictions in movement of goods and transport services, farmers struggled to harvest and sell their winter crops, hence facing widespread losses.
Mass Exodus of Migrant Workers
The workers of India and Bangladesh have faced double effects of the pandemic with the mass exodus of migrant workers and their humanitarian struggles. Millions of workers were forced to go back to their native places in both the countries due to lockdown. Many Bangladeshi workers who used to work in India also returned under the dire situation.
In India, when the lockdown announced in March 2020 put the migrant workers from rural areas in harm's way both physically and economically. With factories and transportation shut down, and no mode for survival, migrant workers took to take long walks to their homes.
Bangladesh also witnessed a similar mass exodus of migrant workers from urban areas of Dhaka, Chittagong, Narayanganj,etc. A large number of Bangladeshi migrant workers also returned from abroad. These workers have lost their source of income and cannot return until the crisis brought by the Covid 19 could be handled. Even though the government of Bangladesh introduced various initiatives to reintegrate the migrant workers into the workforce, however, the stigmatization of Covid-19 being brought by outsiders still remains in Bangladesh.
With the mass migration, there are labour issues due to which there is farm labour scarcity in some areas and excess in others. In Bangladesh, for instance, farm wages have been rising steadily in the past decade but with migrants returning to their villages, wages have gone down. In the Indian state of Punjab, farmers are ferrying migrants who have gone to their native places in Bihar, UP, Madhya Pradesh back to Punjab to work on paddy farms. Since paddy sowing depends heavily on manual labour, the shortage due to the earlier exodus has led to a rise in wages, which will impact farmer's profit margins.
Cyclone Amphan
On 20 May 2020, one of the dangerous cyclones, Cyclone Amphan hit the Bay of Bengal, affecting both India and Bangladesh. With a wind speed of 210 km/hr, it first hit the land of the Indian states of Odisha and West Bengal. In India, it affected more than 4 million people. Amphan hit particularly at the Sundarbans at the border of India-Bangladesh. Though the storm was weakened when it hit land in Bangladesh, it still impacted more than 55,600 homes and displaced over 100,000 people. Amphan was the most powerful cyclone ever to form in the Bay of Bengal, and though it weakened before making landfall, it caused widespread damage in both countries. Cyclone Amphan is considered to be the costliest disaster in the Bay of Bengal.
According to Chief Minister of West Bengal Mamata Banerjee, Amphan destroyed over 28 percent of the Sundarbans, damaging a significant portion of the area's mangrove forests. In addition to causing livelihood and human ramifications of the cyclone, it has also impacted the agriculture in both India and Bangladesh. There will be a long lasting impact on coastal communities' livelihood. The storm has surged and salinized large portions of cropland making it unusable for yielding crops in the coming years.
Monsoon Flooding
In June 2020, the monsoon flooding added additional woes to the agricultural sectors of both India and Bangladesh. Both of the countries are still facing the effects of the pandemic, the migration, cyclone and a flood on top of that, just adds to the complexities.
The monsoon floods affected eight states in India. Odisha and Madhya Pradesh were the most affected states of India. There were 17 and 19 deaths recorded so far in Odisha and Madhya Pradesh respectively. There have been over 10,382 houses and 168,904 hectares of crop area affected due to these floods.
The excessive rains in Bangladesh has opened widespread havoc impacting food insecurity, livelihood and disruption of agricultural production. Around 7.53 million people were exposed to moderate flooding causing 700,000 households requiring food security and agricultural livelihoods support. There have been severe losses of crops, poultry, livestock and fisheries in 92 percent of the total affected unions. It is estimated that 125,459 ha of agricultural land require rehabilitation.
Bilateral Cooperations for Mutual Benefits for India and Bangladesh
The ongoing crisis due to the coronavirus pandemic and the additional challenges both countries face due to monsoon floods, mass exodus of migrants, cyclones are common to both the countries. As neighbouring countries with quite a close diplomatic relation and porous land border, the need for a bilateral cooperation could be stressed between India and Bangladesh.
In a webinar on 'Regional Cooperation in Trade and Development of Agriculture: Perspectives from Bangladesh and India', the executive director of South Asian Network on Economic Modeling (SANEM), Selim Raihan said that bilateral cooperation and political willingness were most important in improving the trade in agriculture. The economic shutdown is hampering movement of products between the two countries and affecting farmers of the countries. With the opening up of the land ports, reviving the marketplaces along the borders of Bangladesh and North East India, can strengthen business-to-business communication. Hence, the enhanced cooperation will help farmers of both countries to market their agricultural products. This kind of cooperation can benefit farmers of both countries, increase regional trade and assist in export earning.