Political corruption in Lebanon traces its roots to the re-assembling in the post-civil war era, which entrenched a realm of politics dominated by war lords and militia-like mentalities operating through a sectarian discourse. The waste resulting from "confessional governance" costs Lebanon 9% of GDP each year.[1] In the early 1990s, "Lebanese political bosses either coopted or gutted institutions such as unions, professional associations and opposition parties. Public schools and hospitals were defunded." Today, many Lebanese do not send their children to public schools or hospitals. Sukleen, the company contracted by the government to collect waste in Beirut and Mount Lebanon charges 4x more per ton of waste disposed in landfills compared to providers in the UK.[2] Nearly 40% of electricity is produced by private generators established during the civil war and partially owned by various politicians today, profiting close to $1 billion a year. Electricite du Liban, the public electricity company collects payments for only half of the power it produces.[3]
Additionally, corruption and government inefficiency in collecting VAT has cost the state $5 billion a year, roughly 10% of GDP.[4] Historically known for its banking secrecy laws, 15 of 54 commercial Lebanese banks have politicians linked to their chair of the Board; four out of the top ten banks in the country possess over 70% of their shares due to crony capital, and individuals linked to political elites control 43% of assets in Lebanon's commercial banking sector.[5] In Lebanon, 46% of government revenue is dedicated to public salaries, which increased 7.5% each year for the last ten years.[6] Thirty years of this crony, capitalist decadence has expanded inequality in the country with public debt skyrocketing, as well as visible incompetence to deliver on basic social services. As a result, the majority of Lebanese find it increasingly impossible to buy their way out of such a system.[7]In exploring corruption in Lebanon through the discourse employed by recent social mobilization in October of 2019 that defined and vilified its role in politics and social life, we can begin to understand how Lebanese define or perceive corruption and how the political elite both consolidate and perpetuate this structure.
Re-defining corruption
Sentiments expressed in the protest movement, affirmand greatly emphasize the notion of theft or "stolen money" or of resources not rightfully possessed as a primary component of corruption. As the revolution began to evolve, evidence emerged that various political leaders had withdrawn sums equivalent to billions of US dollars in the span of 15 days, presumably fearing the fallout of economic collapse.[8] This development was echoed by conversations surrounding the many public work contracts, electricity budget and government salaries that have systematically resulted in the theft of state funds. This pattern of corruption underscores not simply the mismanagement of government resources, but a reaction against the acquisition of something that does not rightfully belong to a person, with little to no consequences. These sorts of actions have permeated down from the political class to the daily interactions that guide society. This and countless conversations of this nature that occurred during my field work in December of 2019 and January, 2020 in Lebanon , including my discussion with Ayman Mhanna (executive director of the Samir Kassir foundation, a civil society organization dedicated to free press and democracy) in the summer of 2019 speak to this corrosion of trust both in political leaders, but also the system they operate in, which trickles down to quotidian experiences. An "every man for himself" mentality has fueled and reproduced this notion of theft, in which at all levels, politician and citizen can or must take what is not theirs either to live how they desire or in order to survive respectively. However, this action is denoted as theft, because what is taken is not rightfully earned.
The reoccurring question of theft can also be extended beyond material needs. With many Lebanese paying dual public and private electricity and water bills, for private schools and their children forced to work or study abroad, this idea was often framed around conceptions of dignity, echoed in many uprisings in the region since 2011.[9] As this basic access to water, electricity, clean air, public transportation, and work has become increasingly harder and harder to come by, many Lebanese snapped under the mounting pressure, demanding their own dignity be recognized. Moreover, this dignity was deeply tied to the enormous brain drain currently plaguing the country, in which over 4,700 Lebanese continue to emigrate from Lebanon every month.[10] With opportunities dwindling both due to the economic situation, but also the theft of state money and inability to find work without wasta[11], the future of generations to come has also been stolen. This theft was veiled time and time again behind sectarian politics and attitudes, in which individuals' leaders evade accountability but also squarely place the blame on their counterparts for political stalemates or acts of corruption. The effects of these sectarian politics were underscored by the current movement through graffiti on the ground in Riad el Solh square facing parliament in Beirut reading "corruption=sectarianism". Finally, the symbiotic relationship between the political class, the private sector and the banks, particularly following the reconstruction of Lebanon after the civil war has produced a ruthless economic system that solely benefits political elites. Therefore, this structure is also perceived as a form of theft, and by extension corruption. Unpacking further the various symbols and organizing culture of this movement can help expand this understanding of these perceived links.
Public space and knowledge production
One of the most striking developments of the October 17th was the clear reclamation of public space and knowledge production. The reclaimed public spaces and transforming urban fabric challenged the agenda imposing a luxury oriented downtown Beirut catering to elites. Instead, the changing identity of this space now reflects the authority on the ground—the people. The discussions that took place in these spaces through unlikely gatherings of people were revolutionary because they were unprecedented in the post-war context. Without access to public space, such conversations proved impossible. Moreover, there was an observable reclamation of trust in the fellow citizen and a reclamation of solidarity through the use of public space previously denied to the Lebanese people as a means of social control. Now, the free exchange of ideas that threaten the established powers is possible. Though the protests of 2005, known as the Cedar Revolution calling for the withdrawal of Syrian forces mobilized close to a million people in Beirut, there were no substantial efforts to actively claim space through the occupation of cultural centers and the establishment of tents, lectures, street art etc. like the current movement The 2005 demonstrations had also reacted to the death of the then Prime Minister, Rafiq Hariri who was responsible for the elite nature of the downtown area that provides virtually no public space.
On New Year's Eve, the movement organized a celebration in the downtown area, markedly different to the previous year where the municipality spent generous sums to maintain the glamorous image promoted by Solidere.[12] This year, however, the celebration proved to be far more "popular" in nature, focusing instead on the achievements of the movement thus far: the resignation of the sitting Prime Minister and a sense of national unity. During the evening, a recent acquaintance turned to me, offering another expression of identification with the space, saying that the atmosphere of working-class people enjoying the space is similar to how it was before the civil war. This anecdote does not bear importance for its veracity, particularly as this individual was not alive before the civil war. Rather, it speaks to a perception that something about the general order today had robbed people of a common space that was inviting of all backgrounds. Reclaiming this space in this way, therefore is a direct rejection of the post war system and the authority legitimizing it on the ground. The public lectures and debates that had occurred in the first weeks of the revolution had shrunk significantly during the month I was present. However, across the interviews conducted, the various participants found that these initiatives created occasions for learning, a platform for self-expression, an opportunity to break up "bubbles" of typical confessional communities and to build cross-sectarian solidarity. As one interviewee added, spaces of Beirut felt more connected to her now, as she explored and ventured into neighborhoods previously unknown to her in order to attend demonstrations.
Symbols, grievances and the politics of meaning
Notions of public space reclamation, knowledge production, the visible links between corruption, sectarianism and the neo-liberal, urban reconstruction and the cartel-like economy materialized in various symbols throughout the movement. Street art and graffiti were incredibly effective tools in expressing the views of the movement. Moreover, the significance of the location of the street art strategically highlighted the decadence of the elitist reconstruction project, out of touch with the social fabric. This art often focused on issues of social injustice, social renewal (a statue of the phoenix rising), calls for a civil state as opposed to a sectarian state ("civil resistance"), the end of foreign interference (from Iran to Saudi Arabia to the United States) as well as various references to the far left (graffitied communist symbols, the Kuffiyieh—a symbol of Palestinian liberation and of leftist resistance more broadly, "down with bankism and classism," "love, freedom and social justice" "liberation" "f**k Solidere"). Moreover, this art served as another form of reclamation of this space. The artists and activists I interviewed asserted that this revolution would not have occurred at this point had Hariri "shared the wealth" with the Lebanese people, frequently referred to the political class as a set of cartels. During the "week of rage", I repeatedly heard protestors singing a song entitled شيد قصورك or "Erect your castles on the farms," a song by an Egyptian folk singer, known for composing political music sympathetic to working and oppressed classes. These images and sentiments were also reflected in chants outside the banking institutions:
الوطن ، العمال
تسقط سلطة رأس المال or "The nation, workers, down with the power of capital"
Many protestors from their balconies would bang pots and pans, a reference to the South American protest tactic, the cacerolazo. Perhaps a nod to an emerging global backlash against the many variations of this system around the world.
The locations and stops along marches and demonstrations also signified a rejection of extreme neoliberalism and the complicity of the financial system in the sectarianism and corruption of the state. Therefore, demonstrations typically became more targeted following the initial general mobilization, focusing on the banking districts, the Central bank and property of Solidere in the downtown area (Beirut Souks). Along the path of many marches, protestors would not revert to looting or thoughtless vandalism, but would smash the storefronts of banks to crystallize the message. One day during a walk towards downtown, I observed the occupation of a branch of Bank Audi in the neighborhood of Achrafieh. People had gathered in the bank, demanding the right to withdraw their funds, which had been limited to 200USD per week by the Central Bank due to the dollar liquidity crisis. Contesting these restrictions, many stayed inside the bank until their demands would be met. They were locked inside the bank, with one man placing sticky notes on the glass doors to inform outside observers of what was happening. Some of the notes wrote that they were forced to stay inside, and another wrote they were "prisoners of capitalism."
The movement also chose to demonstrate in front of the newly appointed Prime Minister's home and would identify politicians in public, frequently shaming them out of establishments. The occupation of "the ring" highway, the original site dividing East and West Beirut during the civil war underscores a repudiation of typical sectarian divisions. The use of the communist symbol along with the prevalence of the Kuffiyeh further signified renunciation of the status quo. A divisive symbol associated with the pro-Palestinian, leftist and pan-Arab faction of the Lebanese civil war, now appears an almost non-issue in the context of the revolution. Instead, this symbol was reclaimed to no longer signify this division but rather calls for greater justice across all identities and communities. Finally, beyond grievances surrounding social injustice and inequality, their connection to the notion of dignity also revealed itself in these symbols.
Alterative exchanges and democratization of mobilization
After October 17th, the movement took a vested interest in promoting Lebanese products or alternative modes of commercial exchange, both as a form of reclamation against the exportation of human capital and importation of foreign goods, but also out of compulsion. In one interview conducted, the participant described her experience in founding an alternative market with fellow revolutionaries. In this market, a committee was formed to find ways to "make ends meet" in the current economic decline before structural changes occur and raising money for those in need in a sustainable fashion. This implied vendors would have the freedom to exchange goods and build their own markets outside the formal economy. Sometimes this implied an exchange of their goods as a sort of alternative currency. The products exchanged in this market ranged from books, clothes, hygiene products, food, post cards, jewelry etc. She affirmed this alternative market was created by protestors to support those in need— "not as charity in neo-liberal sense but as act of solidarity." She stressed the revolutionary nature of this market, because she found that Lebanese are so unaccustomed to a culture of exchange, especially in this space. The market committee and vendors would often meet in the tents set up in the downtown area where various lectures and discussions had taken place. Despite some support from traditional civil society groups, this market proved to be an independent, grassroots and organic creation of the revolutionary moment. After running into a street child she had formed a bond within the early weeks of the revolution, she reiterated the importance of these horizontal exchanges claiming this allowed her to meet people she otherwise would never have interreacted with. This organizing nature of the market and various initiatives of the movement—diffused, horizontal, accessible—reflect Lebanese society in reality and embody its demands for greater equality and social justice in a system which continues to benefit a select few.
New alternative, and independent media outlets also emerged (Akhbar el Seha, Megaphone, Daleel el Thawra etc.). These pages on Instagram and Facebook, served as a direct counter to the traditional, politically affiliated media outlets in the country, which often ignored events on the ground or vilified protestors. These pages offered live coverage, updates and summaries of daily events through a new base of journalists and activists, free of traditional political persuasions or financial connections, instead empowered by the democratic nature of social media and like-minded individuals. Informal and grassroots organizations led much of the movement, particularly as the movement progressed, signifying a dispersed and decentralized approach guided by common goals and common anger. With the perception that typical civil society actors proving to be ineffective, individuals or new groups became legitimate representatives of the people. This also led to a more organic expression of inter-regional solidarity. Therefore, the democratization and individualization of the revolution emboldened Lebanese to claim their rights and reclaim trust in their fellow citizen. The individual participating in the alternative market explained that pride in her identity would not link to a romantic nationalist notion but rather to a functional system. As a citizen with rights, this desire is what pushed her to act towards claiming these rights. Moreover, this process empowered new actors to lead.
Many of those I spoke to commented that typical civil society actors they expected to be organizing during this period were more timid in their approach, often hindered by inter-personal disagreements or as one interviewee said, their inability to tangibly defy state power and continued negotiation with the system. Moreover, unions and syndicates face increasing pressure in the Lebanese context and are unable to enact change as they did in Sudan or Tunisia. Traditional institutions of this nature function less effectively because they are consistently politicized. Consequently, this failure led many individuals to mobilize in new forms. The "week of rage" was called in order to protest the appointment of the new Prime Minister and the delay in government formation. This week of marches and demonstrations seemingly led by students, feminists, and leftist activists. However, no one organizer seemed to take credit in organizing the week, instead citing social media as largely responsible for simply spreading the word that something needed to be done. As the new context demanded alternative approaches, several individuals and grassroots entities became aware of their agency, the informal feminist, leftist and student networks rose to the fore to fill the gap.
The empowerment of non-traditional actors can also be exemplified in the mobilization and contribution of women in the movement. Mobilized women and feminist activists have played a central role in combatting the status quo, particularly motivated by the injustice of personal status laws permitting child marriage, severely disadvantaging them in the case of divorce and the current citizenship law. Women participating therefore issued demands for an end to these practices, protection of their reproductive rights, protection from violence and harassment as well as greater government representation and the termination of the Kafala system (recognizing the intersections between race and gender for migrant female workers subject to some of the highest forms of violence and abuse in the country).[13] The role of feminists in the mobilization is embedded in the rejection of corruption in this current iteration. As described by the activist working in the alternative market, the political system is corrupt, racist, sectarian, unaccountable, and patriarchal. For her, patriarchy is in and of itself corruption, because men are able to advance before women in all aspects of social and political life. The system, according to her claims to be neo-liberal and open but is in fact extremely illiberal in how it treats half of the population. Therefore, it came as no surprise to observe feminists' organizers at every single protest, march and demonstration, calling for social justice through an intersectional lens and producing alternative media content.
These testimonies encouraged a sort of individualization and democratization of the mobilization since October, particularly because everyone possesses an issue at stake in the event of a transition. The discussions empowering individuals to take this step and to organize with like-minded individuals was made possible through public space reclamation. This recognition of individual agency lent itself to greater dialogue across cleavages in society normally unapproached. The sort of grassroots, broad-based and egalitarian nature of the mobilization efforts, therefore, serves as a manifesto and reflection of the grievances and desires of the movement—a Lebanon that is accountable, meritocratic, equal, fair, united against sectarian division and infantilization, and serves its citizens.
The sociological problematic and shifting mentalities
Dedicated protestors exhibited a liberation from this infantilization imposed on them by the state—the Zaim/Zu'amaor the political elite. Others noted that such a transition requires a revolution within, which they had begun to witness. An artist and activist I interviewed argued that they "must revolt against the father before (they) can revolt against the Zaim" because Lebanon possess a sociological problem that cannot be resolved in a top-down approach, beginning at the political level. Therefore, the mobilization of Lebanese appeared to be an organic demonstration of inter-regional solidarity, at least momentarily. A student activist I spoke to called this process the "death of the Zaim" and a revolution within oneself. Without this individual decision to question and revolutionize how they view governance, their identity and citizenship, they were unable to rid themselves of the dominance of the Zaim and go to the streets. The empowerment of individuals in this process of self-liberation reflects for some the unfettering from traditional bonds coercing political or communal loyalty. This transformation was illustrated across various individuals from different walks of life.
These events must not be considered universal or complete. Still, many individuals and generations are seeking to uphold the status quo, and the loyalists of the political class will not easily concede what remains of their power. The mobilization has been sustained by various age groups, sects, and classes. However, it has become clear that Shia support for the movement has dwindled, along with the support of the middle classes and the generation formed in the civil war.[14] Perhaps the rise of Sunni communities demonstrated by events occurring in Tripoli speak to a reaction to a crisis of leadership rather than a total upheaval of the political and social system. Yet, one cannot dismiss that's this popular movement has created unprecedented linkages across typical cleavages in Lebanese society in a manner that is diffused, more democratic, somehow anarchic, and in this way a rejection of the elite, unequal and corrupt post-war order.
---
[1] "Lebanon's Political System Leads to Paralysis and Corruption." The Economist, The Economist Newspaper, www.economist.com/middle-east-and-africa/2018/04/19/lebanons-political-system-leads-to-paralysis-and-corruption.
[2] "One Year on, Lebanon's Waste Management Policies Still Stink." PressReader.com – Your Favorite Newspapers and Magazines., www.pressreader.com/lebanon/the-daily-star-lebanon/20160915/281741268880633.
[3]McDowall, Angus. "Fixing Lebanon's Ruinous Electricity Crisis." Reuters, Thomson Reuters, 29 Mar. 2019, www.reuters.com/article/us-lebanon-economy-electricity/fixing-lebanons-ruinous-electricity-crisis-idUSKCN1RA24Z.; Nasnas, Roger. "Emerging Lebanon Towards Economic Growth and Social Welfare." CES, www.ces.gov.lb/uploads/files/1570_Emerging%20Lebanon%20-%20Towards%20Economic%20Growth%20and%20Social%20Welfare%20.pdf.
[4]"Lebanon Economic Vision." Economy.gov.lb, www.economy.gov.lb/media/11893/20181022-1228full-report-en.pdf. 600,613
[5]Chaaban, Jad. "I've Got the Power: Mapping Connections between Lebanon's Banking Sector and the Ruling Class." Economic Research Forum. 2016.
[6] Lebanon Economic Vision." Economy.gov.lb, www.economy.gov.lb/media/11893/20181022-1228full-report-en.pdf.
[7] El-Amine, Rayan, et al. "The Lebanese People Are Reclaiming Their Future. Can They Seize It?" Middle East Eye, www.middleeasteye.net/opinion/how-lebanese-people-are-reclaiming-their-future.
[8]Al Jazeera. "Lebanon: Banks Asked to Review Politicians' Fund Transfers Abroad." News | Al Jazeera, Al Jazeera, 16 Jan. 2020, www.aljazeera.com/ajimpact/lebanon-banks-asked-review-politicians-fund-transfers-200116162617641.html.
[9] Lebanese citizens have long suffered from an inconsistent supply of certain public services, including water and electricity. Electricity is provided publicly to citizens in Lebanon, but at most will be available for two thirds of the day. Many Lebanese have reverted to private power generators, whose sellers are typically supported by politicians, who supply homes with power using the official pubic distribution networks in exchange for monthly subscription fees. Due to the mismanagement by the government and the damage done to water systems following the 2006 war, most Lebanese receive water from their municipalities intermittently and often water that is contaminated. As a result, most are forced to pay two bills, one for municipal water and one for bottled water or some other private source, often associated with a particular political leader. Such trends manifest themselves in the provision of practically all social services in the country.
[10] "Over 4,700 Lebanese Are Emigrating from #Lebanon Every Month." Blog Baladi, blogbaladi.com/over-4700-lebanese-are-immigrating-every-month/.
[11] The term Wasta, loosely translates to an individual who finds themselves in the middle, between two actors or parties. This term more specifically, is used to refer to the use of one's connections for personal gain. Western readings of Wastaoften denote this concept as a manifestation of nepotism and for some, corruption. Wasta may include corrupt acts, but also captures a larger phenomenon in Middle Eastern societies. Some instances of Wasta are in fact legal. Such practices additionally, may be legally questionable but are in fact systematic, socially acceptable modes of behavior. Wasta is not a top down business but is diffused across society.
[12]Solidere is a firm that was partially owned by the late Rafik Hariri, the Prime Minister in the 1990s, tasked with planning and reconstructing Beirut's central district. He centered his approach of the reconstruction on foreign investment and business interests. Yet, his approach allowed the warlords of the civil war to exploit the reconstruction economy. Additionally, Hariri focused largely on creating a "modern" and luxurious downtown rather than investing in infrastructure, transportation, hospitals or schools.
[13] « Under the country's kafala (or sponsorship) system, the legal status of migrant domestic workers is in the hands of their employers. If the employer terminates their contract, the sponsorship gets automatically cancelled, turning these workers into illegal aliens and putting them at risk of arrest and/or deportation. In addition, although confiscating passports is forbidden by law, such violations continue to occur. In effect, this means that foreign workers, most of whom are women, have very little means to defend themselves should the employer abuse them in any way or refuse to pay their salary. "The Lebanese Revolution Must Abolish the Kafala System." Middle East | Al Jazeera, Al Jazeera, 14 Nov. 2019, www.aljazeera.com/indepth/opinion/lebanese-revolution-abolish-kafala-system-191114115435950.html.
[14] At times violent threats and acts were made against protesters from the Shiite Muslim community. As mentioned, this community relies on the group for protection, jobs, social services. Moreover, this community are often sidelined and neglected by state institutions and at times society at large. Therefore, a narrative from this community has emerged in which internal criticism may be permittedbut become defensive when their leadership is criticized externally. These videos seriously demotivated some from the community from participating in protests. Yee, Vivian, and Hwaida Saad. "For Lebanon's Shiites, a Dilemma: Stay Loyal to Hezbollah or Keep Protesting?" The New York Times, The New York Times, 4 Feb. 2020, www.nytimes.com/2020/02/04/world/middleeast/lebanon-protests-shiites-hezbollah.html.
Iranians Will Boycott Iran Election Farce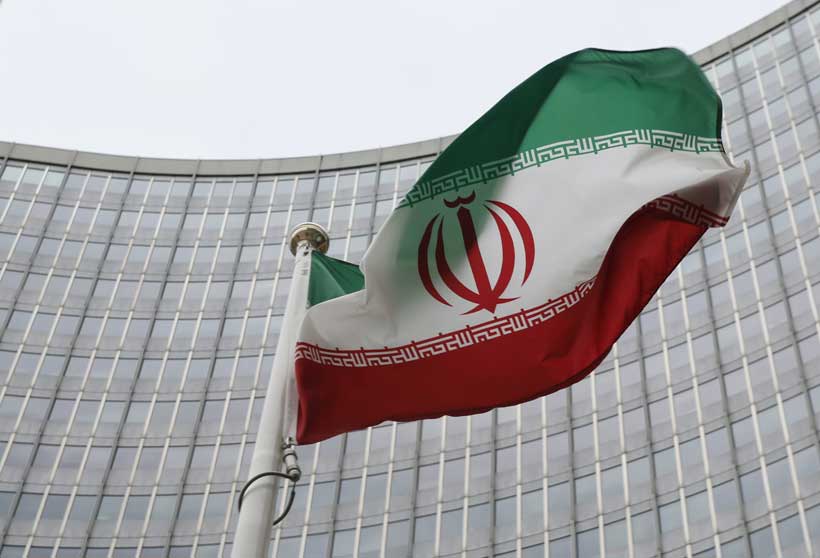 Iran and elections have not been two synonymous terms. A regime whose constitution is based on absolute rule of someone who is considered to be God's representative on earth, highest religious authority, morality guide, absolute ruler, and in one word Big Brother (or Vali Faqih), would hardly qualify for a democracy or a place where free or fair elections are held. But when you are God's rep on earth you are free to invent your own meanings for words such as democracy, elections, justice, and human rights. It comes with the title. And everyone knows the fallacy of "presidential elections" in Iran. Most of all, the Iranian public know it as they have come to call for an almost unanimous boycott of the sham elections.
The boycott movement in Iran is widespread, encompassing almost all social and political strata of Iranian society, even some factions of the regime who have now decided it is time to jump ship. Most notably, remnants of what was euphemistically called the Reformist camp in Iran, have now decided to stay away from the phony polls. Even "hardline" former president Mahmoud Ahmadinejad realizes the extent of the regime's woes and has promised that he will not be voting after being duly disqualified again from participating by supreme leader's Guardian Council.
So after 42 years of launching a reformist-hardliner charade to play on the West's naivety, Khamenei's regime is now forced to present its one and true face to the world: Ebrahim Raisi, son of the Khomeinist ideology, prosecutor, interrogator, torturer, death commission judge, perpetrator of the 1988 massacre of political prisoners, chief inquisitionist, and favorite of Ali Khamenei.
What is historic and different about this presidential "election" in Iran is precisely what is not different about it. It took the world 42 years to cajole Iran's medieval regime to step into modernity, change its behavior, embrace universal human rights and democratic governance, and treat its people and its neighbors with respect. What is shocking is that this whole process is now back at square one with Ebrahim Raisi, a proven mass murderer who boasts of his murder spree in 1988, potentially being appointed as president.
With Iran's regime pushing the envelope in launching proxy wars on the United States in Iraq, on Saudi Arabia in Yemen, and on Israel in Gaza and Lebanon, and with a horrendous human rights record that is increasingly getting worse domestically, what is the international community, especially the West, going to do? What is Norway's role in dealing with this crisis and simmering crises to come out of this situation?
Europe has for decades based its foreign policy on international cooperation and the peaceful settlement of disputes, and the promotion of human rights and democratic principles. The International community must take the lead in bringing Ebrahim Raisi to an international court to account for the massacre he so boastfully participated in 1988 and all his other crimes he has committed to this day.
There are many Iranian refugees who have escaped the hell that the mullahs have created in their beautiful homeland and who yearn to one day remake Iran in the image of a democratic country that honors human rights. These members of the millions-strong Iranian Diaspora overwhelmingly support the boycott of the sham election in Iran, and support ordinary Iranians who today post on social media platforms videos of the Mothers of Aban (mothers of protesters killed by regime security forces during the November 2019 uprising) saying, "Our vote is for this regime's overthrow." Finally, after 42 years, the forbidden word of overthrow is ubiquitous on Iranian streets with slogans adorning walls calling for a new era and the fall of this regime.
Europe should stand with the Iranian Resistance and people to call for democracy and human rights in Iran and it should lead calls for accountability for all regime leaders, including Ebrahim Raisi, and an end to a culture of impunity for Iran's criminal rulers.
Powershift in Knesset: A Paradigm of Israel's Political Instability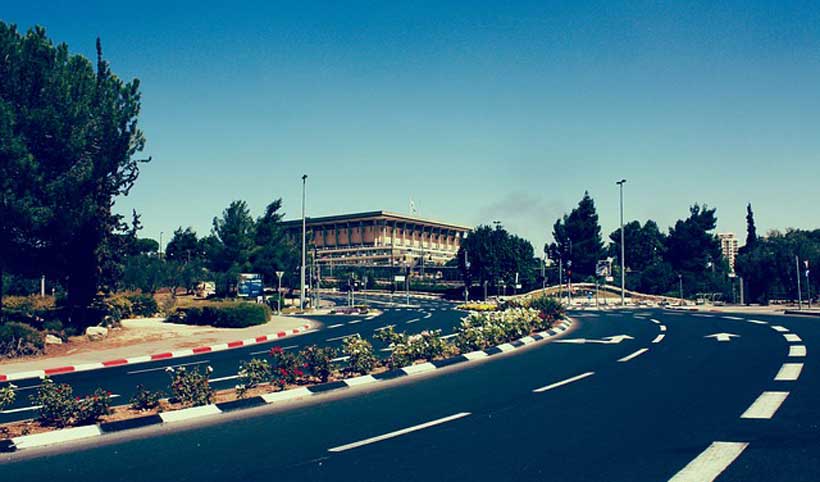 The dynamics of the Middle East are changing faster than anyone ever expected. For instance, no sage mind ever expected Iran to undergo a series of talks with the US and European nations to negotiate sanctions and curb its nuclear potential. And certainly, no political pundit could have predicted a normalization of diplomacy between Israel and a handful of Arab countries. The shocker apparently doesn't end there. The recent shift in Israeli politics is a historic turnaround; a peculiar outcome of the 11-day clash. To probe, early June, a pack of eight opposition parties reached a coalition agreement to establish Israel's 36th government and oust Benjamin Netanyahu, Israel's longest-serving prime minister. While the political impasse has partly subsided, neither the 12-year prime minister is feeble nor is the fragile opposition strong enough to uphold an equilibrium.
Mr. Netanyahu currently serves as the caretaker prime minister of Israel. While the charges of corruption inhibited his drive in the office, he was responsible to bring notable achievements for Israel in the global diplomatic missions. Mr. Netanyahu, since assuming office in 2009, has bagged several diplomatic victories; primarily in reference to the long-standing conflict with Palestine and by extension, the Arab world. He managed to persuade former US President Donald J. Trump to shift the American embassy from Tel Aviv to the contentious city of Jerusalem. Furthermore, he managed to strike off the Palestinian mission in Washington whilst gaining success in severing US from the nuclear agreement with Iran. To the right-wing political gurus, Mr. Netanyahu stood as a symbolic figure to project the aspirations of the entire rightest fraction.
However, the pegs turned when Mr. Netanyahu refused to leave the office while facing a corruption trial. What he deemed as a 'Backdoor Coup Attempt' was rather criticized by his own base as a ruse of denial. By denying the charges and desecrating the judges hearing his case, Mr. Netanyahu started to undercut the supremacy of law. While he still had enough support to float above water, he lost the whelming support of the rightest faction which resulted in the most unstable government and four inconclusive elections in the past two years.
While Mr. Netanyahu was given the baton earlier by President Reuven Rivlin, he failed to convince his bedfellow politicians to join the rightest agenda. Moreover, Mr. Netanyahu probably hoped to regain support by inciting a head-on collision with the Palestinians. The scheme backfired as along with the collapse of the Israeli-Palestinian peace process, the tremors overtook Israel's own Arab-Jewish cities resulting in mass chaos. The burning of Mosques and local Synagogues was hardly the expectation. Thus, both the raucous sentiment pervading the streets of Israel as well as the unstable nature of the Netanyahu-government led the rightest parties to switch sides.
As Mr. Netanyahu failed to convince a coalition government, the task was handed to Mr. Yair Lapid, a centrist politician. While the ideologies conflicted in the coalition he tried to forge, his counterparts, much like him, preferred to sideline the disputes in favor of dethroning Netanyahu. Mr. Lapid joined hands with a pool of political ideologies, the odd one being the conservative Yamina party led by the veteran politician, Mr. Naftali Bennett. While Mr. Lapid has been a standard-bearer for secular Israelis, Mr. Bennett has been a stout nationalist, being the standard-bearer for the rightest strata. To add oil to the fire, the 8-party coalition also includes an Arab Islamist party, Raam. A major conflict of beliefs and motivations.
Although the coalition has agreed to focus on technocratic issues and compromise on the ideological facets, for the time being, both the rightest and the leftish parties would be under scrutiny to justify the actions of the coalition as a whole. Mr. Bennett would be enquired about his take on the annexation of occupied West Bank, an agenda vocalized by him during his alliance with Mr. Netanyahu. However, as much as he opposes the legitimacy of the Palestinian state, he would have to dim his narrative to avoid a fissure in the already fragile coalition. Similarly, while the first independent Arab group is likely to assume decision-making in the government for the first time, the mere idea of infuriating Mr. Bennett strikes off any hope of representation and voice of the Arabs in Israel.
Now Mr. Netanyahu faces a choice to defer the imminent vote of confidence in Knesset whilst actively persuading the rightest politicians to abandon the coalition camp. His drive has already picked momentum as he recently deemed the election as the 'Biggest Fraud in the History of Israeli Politics'. Furthermore, he warned the conservatives of a forthcoming leftist regime, taking a hit on Naftali colluding with a wide array of leftist ideologies. The coalition is indeed fragile, yet survival of coalition would put an end to Netanyahu and his legacy while putting Naftali and then Lapid in the office. However, the irony of the situation is quite obvious – a move from one rightest to the other. A move from one unstable government to a lasting political instability in Israel.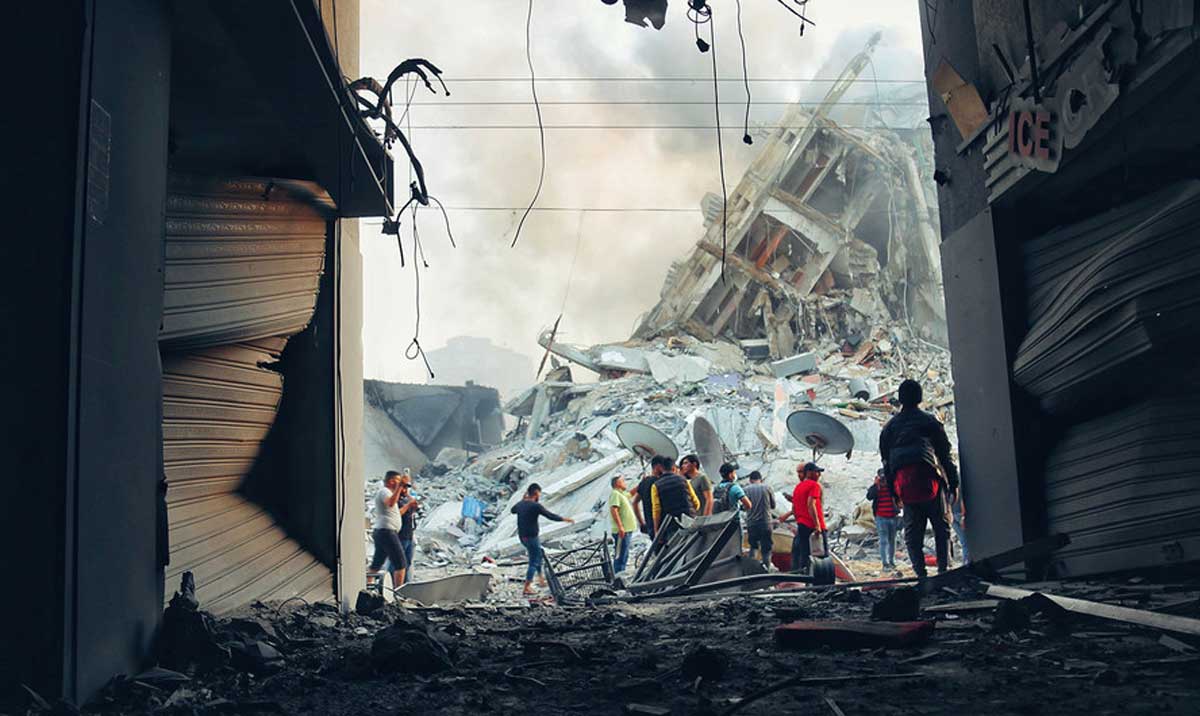 On May 22, 2021, Iran's Supreme Leader, Ali Khamenei's website, posted a congratulatory message from one of the Hamas group's leaders, Ziad Nakhaleh. In his message, Ziad Nakhaleh addresses Khamenei and says, "Qasem Soleimani's friends and brothers, especially Ismail Ghani (Iran's IRGC commander) and his colleagues, led this battle and were present with us during our recent conflict with Israel. … We pray for the preservation of the Islamic Republic of Iran and its brave soldiers."
Since the regime's establishment 42 years ago, Iran has been instrumental in inflicting war and chaos regionally. When Iran finds itself cornered and entangled with its internal problems or facing an impasse, a war or bloody conflict gets ignited by the regime to divert the Iranian people's attention. This undeclared policy of the Iranian regime frees itself from the most pressing internal issues, even temporarily.
Today's Iranian society is like a barrel of gunpowder ready to ignite. Last year, the Iranian parliament declared that more than 60 percent of Iranians live below the poverty line. According to the media close to the regime, close to 80% of the population below the poverty line this year. It is worth mentioning that Iran is one of the top 10 wealthiest countries globally, despite the challenges of the current sanctions.
This poverty is mainly the result of rampant institutionalized government corruption. According to Qalibaf, the current speaker of Iran's parliament, only 4 percent of the population is prosperous, and the rest are poor and hungry. The two uprisings of 2017 and mid-November 2019 that surprised the regime were caused mainly by extreme poverty and high inflation. The regime survived the above widespread uprisings by opening direct fire at the innocent protestors, killing more than 1500 people. There is no longer any legitimacy for the regime domestically and internationally.
The explosive barrel of the Iranian discontent is about to burst at any given moment. To delay such social eruption, Khamenei banned the import of COVID-19 vaccines from the US, Britain, and France, hoping the people will be occupied with the virus and forget about their miserable living conditions.
On the other hand, the Iranian regime is in the midst of new negotiations with the western countries regarding its nuclear program. These negotiations may force the regime to abandon its nuclear plans that have cost billions of dollars, its terrorist activities in the region, and its ballistic missiles stockpile. This retreat will inevitably facilitate the growth and spread of the uprisings and social unrest across Iran.
The Deadlock of the Regime
The regime is facing an election that could ignite the barrel of gunpowder of the Iranian society. In 1988, when Khamenei wanted to announce Ahmadinejad as the winner of the presidential ballot boxes but faced opposition from former Prime Minister Mousavi. Widespread demonstrations were ignited. The same scenario is repeating itself in this year's presidential election, where Khamenei intends to announce Raisi as the next president of Iran. There is a legitimate fear that demonstrations will ignite once again.
To avoid the happening of the same experience, Khamenei is forced to make an important decision. Like any other dictator, he pursues a policy of contraction during these challenging and crucial times, deciding to favor those loyal to him and his policies. Khamenei needs a uniform and decisive government to exert maximum repression on the Iranian people.
By disqualifying the former president (Ahmadinejad), the current vice president (Jahangiri), and most importantly, his current adviser and speaker of the two parliaments (Larijani), he has cut loose a large part of his regime. One way or another, Khamenei's contraction policy is going to weaken his grip on power.
On the other hand, the Iranian regime must comply with the West's demand for nuclear talks. In 2021, the political landscape is entirely different from 2015 in the balance of regional and global forces. The regime's regional influence in Iraq, Lebanon, and Syria has been severely weakened.
There is an explosive situation inside Iran. The resistance units spread throughout Iran after the 2019 uprising and have rapidly increased in recent months. They are spreading the message of separation of religion from the government, plus equality between men and women in a society where women do not have the right to be elected as president or a minister. The resistance units call themselves supporters of Maryam Rajavi, the Iranian regime's sworn enemy. These units can direct a massive flood of people's anger towards the Supreme Leader's establishments with every spark and explosion.
Khamenei wanted to force the West to lift all sanctions and demonstrate a show of force within Iran and the region by initiating the Gaza war. The Gaza war was intended to divert the attention from Khamenei's decisions on Iran's presidential election. In this situation, the regime wanted to break its presidential deadlock by firing rockets through Hamas and carrying out a massacre in Israel and Palestine.