We need a sustainable and inclusive recovery from the Covid-19 crisis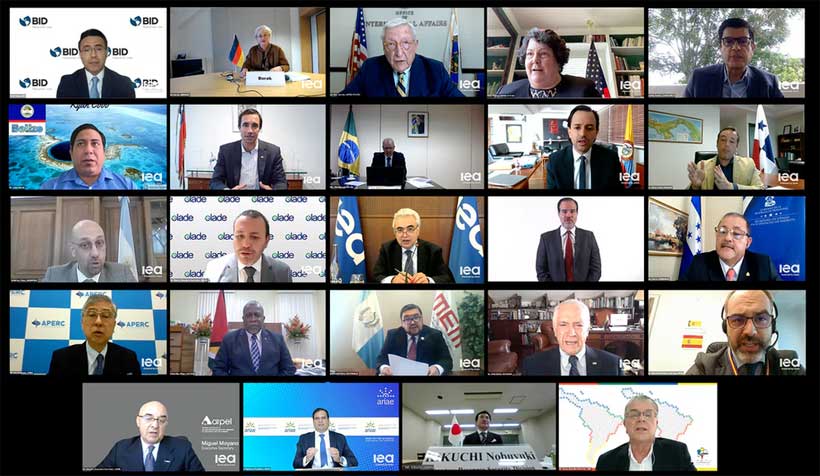 Ministers and high-level officials from Latin American countries accounting for close to 70% of the region's energy demand met on 7 October to examine how to put energy at the heart of their post-Covid economic recovery while moving towards more sustainable and resilient energy systems in a way that creates opportunity for all.
Chaired by Dr Fatih Birol, the Executive Director of the International Energy Agency, and Alfonso Blanco, the Executive Secretary of the Latin American Energy Organization (OLADE), the virtual roundtable featured contributions from leading figures including Brigadier Mark Phillips, the Prime Minister of Guyana, and Mauricio Claver-Carone, the President of the Inter-American Development Bank (IDB).
Ministers speaking at the event represented many of Latin America's leading energy producers and consumers: Minister Bento Albuquerque of Brazil, Minister Diego Mesa Puyo of Colombia, Minister Juan Carlos Jobet of Chile, Minister René Ortíz Durán of Ecuador, Minister Alberto Pimentel Mata of Guatemala and Secretary Jorge Rivera Staff of Panama. Heads of regional organisations – such as the Ibero-American Association of Energy Regulators and the Regional Commission for Energy Integration – and senior officials from Germany, Japan, Spain and the United States also took part in the discussions. The full agenda of the event is available below.
Participants agreed that the Covid-19 crisis has done tremendous damage but that it has also created some opportunities to improve Latin America's energy landscape, including by incorporating new technologies and more sustainable practices. They highlighted the need to keep up momentum behind the deployment of renewable technologies like wind and solar while ensuring security of supply, sufficient investments in grids and strengthening of regional and international cooperation.
"This vital dialogue highlighted Latin America's many strengths – both in terms of its pioneering achievements on renewables, its rich energy resources and its diverse and dynamic population. I'm confident that the region has the potential to build a bright energy future," said Dr Birol. "The IEA is very pleased to be working closely with OLADE and the IDB on many fronts, and we look forward to deepening this cooperation further. The IEA stands ready to partner with Latin American countries in pursuit of a sustainable and resilient recovery from Covid-19."
"The pandemic is forcing us to revisit our long-term strategies so that our region's energy sector can act as a motor bringing much-needed dynamism to the post-Covid economic recovery," Mr Blanco said. "OLADE is delighted to have partnered with the IEA for today's valuable discussions that will help inform the decision-making of Latin American energy leaders going forward."
OPEC+ agrees to stick to its existing policy of reducing oil production
Led by Saudi Arabia and Russia, OPEC+ agreed in early October to reduce production by 2 million barrels per day from November, – informs CNBC.
An influential alliance of oil producers on Sunday agreed to stay the course on output policy ahead of a pending ban from the European Union on Russian crude.
OPEC and non-OPEC producers, a group of 23 oil-producing nations known as OPEC+, decided to stick to its existing policy of reducing oil production by 2 million barrels per day, or about 2% of world demand, from November until the end of 2023.
The European Union is poised to ban all imports of Russian seaborne crude from Monday, while the U.S. and other members of the G-7 will impose a price cap on the oil Russia sells to countries around the world.
The Kremlin has previously warned that any attempt to impose a price cap on Russian oil will cause more harm than good.
Led by Saudi Arabia and Russia, OPEC+ agreed in early October to reduce production by 2 million barrels per day from November. It came despite calls from the U.S. for the group to pump more to lower fuel prices and help the global economy…
The looming Russian oil price "cap" has all the hallmarks of a historic debacle in the making, – notes "The Hill".
For months, the United States and the G-7 have haggled over a complex plan to constrain the money that the Kremlin makes from some of its oil exports.
Despite Russian war against Ukraine and subsequent Western sanctions on his regime, Russia is swimming in petrol dollars. By the end of the year, the Russian Economy Ministry estimates that the country will have made a record $338 billion from its energy exports.
Together with America's existing embargo on Russian crude, when the European Union's oil embargo comes into full force on Dec. 5, policymakers fear that the move will constrain global petroleum supplies and push prices upward.
Assuming that EU and G-7 leaders can sort out their current price puzzle and fix Russian crude below what the international market would prefer to pay, who will pick winners and losers in the subsequent scramble for cheap Kremlin oil: Putin and his energy cronies?
The Russian oil "cap" would not be necessary if the Biden White House had been making it easier to open the spigots of American oil from the start. The president's pledge of "no more drilling" in America continues to undercut his economic and foreign policy against Russia.
If the Russian oil price cap fails to materialize or work as officials intend, the United States and its allies should drop the scheme, – stresses "The Hill".
G7 agrees oil price cap: reducing Russia's revenues, while keeping global energy markets stable
The international Price Cap Coalition has finalised its work on implementing an oil price cap on Russian seaborne crude oil. EU Member States in the Council have also just approved in parallel its implementation within the EU.
The cap has been set at a maximum price of 60 USD per barrel for crude oil and is adjustable in the future in order to respond to market developments. This cap will be implemented by all members of the Price Cap Coalition through their respective domestic legal processes.
Ursula von der Leyen, President of the European Commission, said, "The G7 and all EU Member States have taken a decision that will hit Russia's revenues even harder and reduce its ability to wage war in Ukraine. It will also help us to stabilise global energy prices, benefitting countries across the world who are currently confronted with high oil prices."
While the EU's ban on importing Russian seaborne crude oil and petroleum products remains fully in place, the price cap will allow European operators to transport Russian oil to third countries, provided its price remains strictly below the cap.
The price cap has been specifically designed to reduce further Russia's revenues, while keeping global energy markets stable through continued supplies. It will therefore also help address inflation and keep energy costs stable at a time when high costs – particularly elevated fuel prices – are a great concern in the EU and across the globe.
The price cap will take effect after 5 December 2022 for crude and 5 February 2023 for refined petroleum products [the price for refined products will be finalised in due course]. It will enter into force simultaneously across all Price Cap Coalition jurisdictions. The price cap also provides for a smooth transition – it will not apply to oil purchased above the price cap, which is loaded onto vessels prior to 5 December and unloaded before 19 January 2023.
More Information
The EU's sanctions against Russia are proving effective. They are damaging Russia's ability to manufacture new weapons and repair existing ones, as well as hinder its transport of material.
The geopolitical, economic, and financial implications of Russia's continued aggression are clear, as the war has disrupted global commodities markets, especially for agrifood products and energy. The EU continues to ensure that its sanctions do not impact energy and agrifood exports from Russia to third countries.
As guardian of the EU Treaties, the European Commission monitors the enforcement of EU sanctions across the EU.
The EU stands united in its solidarity with Ukraine, and will continue to support Ukraine and its people together with its international partners, including through additional political, financial, and humanitarian support.
Less Russian crude on the market may result in higher crude prices early next year
When the U.S. Treasury Secretary proposed capping the price of Russian export oil to curb Moscow's revenues, oil prices spiked. And Russia's reaction was quite predictable: Moscow said it would stop exporting oil to countries that enforce the price cap that was embraced by all members of the G7, including Japan, which was granted an exemption from the cap, notes "Oil Price".
Now, while the European Union debates the level of the oil price cap, skepticism about its effectiveness has grown. The main factor driving this skepticism is the price level being discussed, which is between $65 and $70 per barrel.
According to the authors of the idea at G7, this price level would provide Russia with an incentive to continue exporting crude oil even with a cap in a bid to avoid a shortage.
The problem is that unless the EU agrees on the price cap proposed by the G7, it will have to implement its very own embargo on all maritime Russian crude oil imports. And the problem lies in the fact that an embargo could lead to substantially higher prices for European oil buyers.
Yet at the currently considered price level, the cap, while certainly ensuring that Russian oil continues to flow internationally, would fail at its second stated goal: reducing Moscow's revenues.
Yet for the EU, the matter seems to be more or less settled: Poland is not budging on its demand for a lower cap, and Greece and Cyprus are unlikely to budge on their demand to have their shipping industries protected — hypothetically — via a higher cap.
What this means? – An EU embargo on Russian oil, a squeeze on the supply of oil to the EU, and, consequently, higher prices. And higher prices for non-Russian oil may well lead to higher prices for Russian oil, too, as supply gets rerouted.
And if Russia sticks to its promise to suspend sales to cap enforcers, it might even end up with greater revenues from its oil.